Hi, today we will have a look at the latest Rocket Boy product, the figure is called Succubus-san, the figure is an adaption of an illustration from the artist Sumeragi Kohaku. After I'd received my first figure from the Rocket Boy company, the lovely Chitose, I was more than convinced to buy another of their figures, it actually happened earlier than I anticipated. As they announced the sweet and quite curvy Succubus-san, I felt quite delighted and excited.
The cute Succubus is scaled 1/6 and measures a height of 175mm, she was released by the end of January 2017.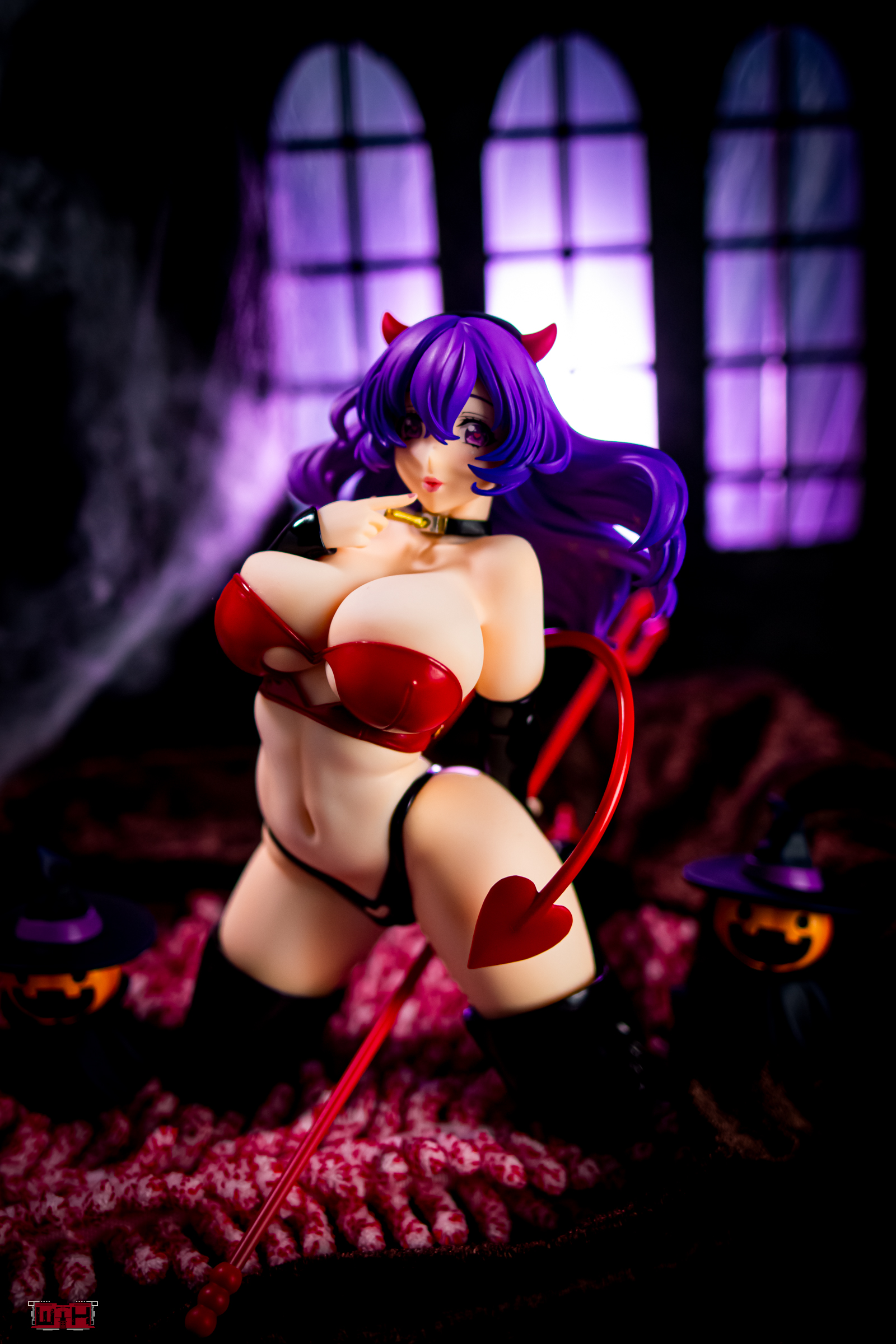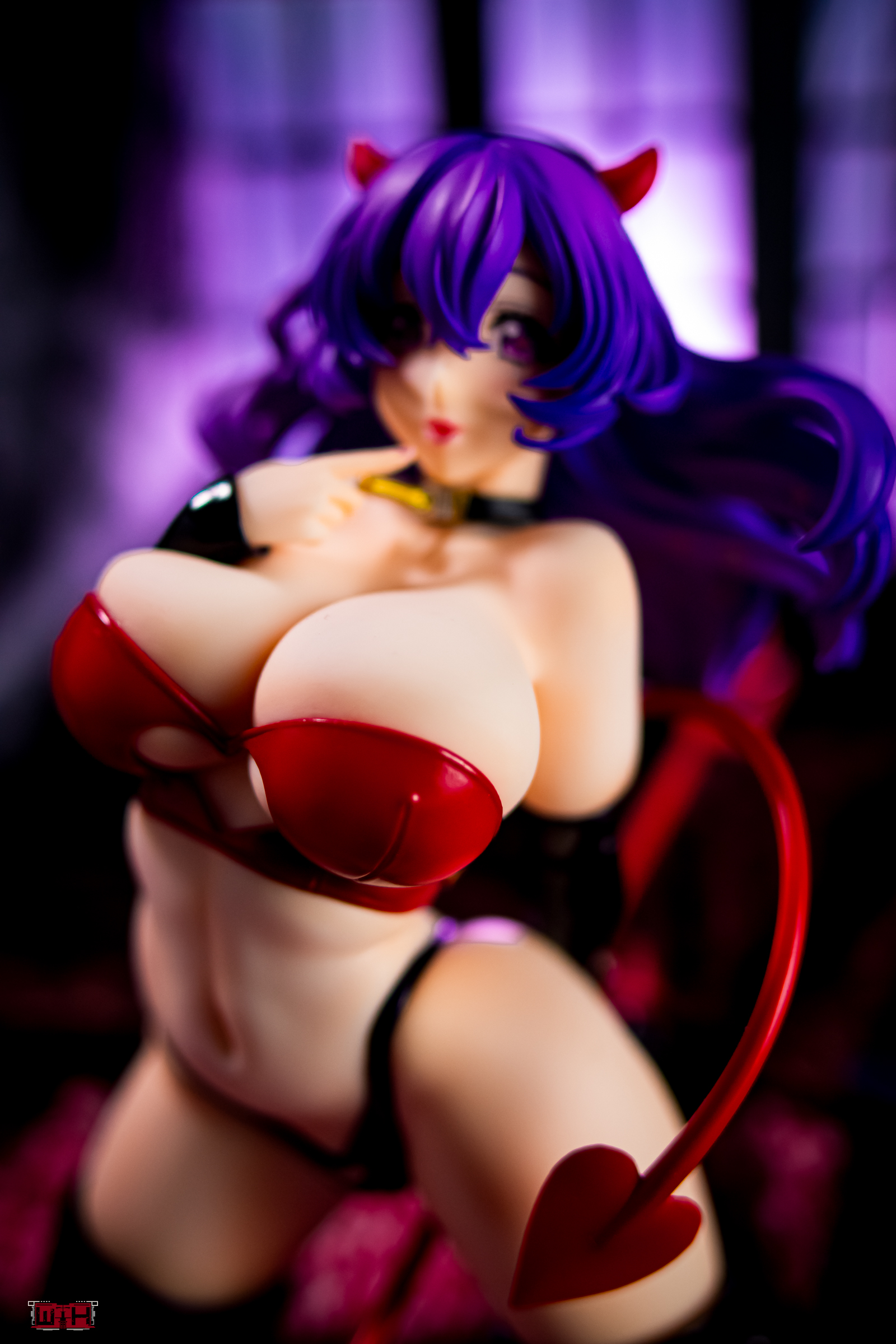 The figure comes with a black floored base and a trident. Succubus – san also has company, two Jack Lantern mascots in witch costumes are included, you can put them loosely on the base or use transparent sticks to make them appear floating. For some more revealing display option, the figure also has another beautiful torso without any clothes.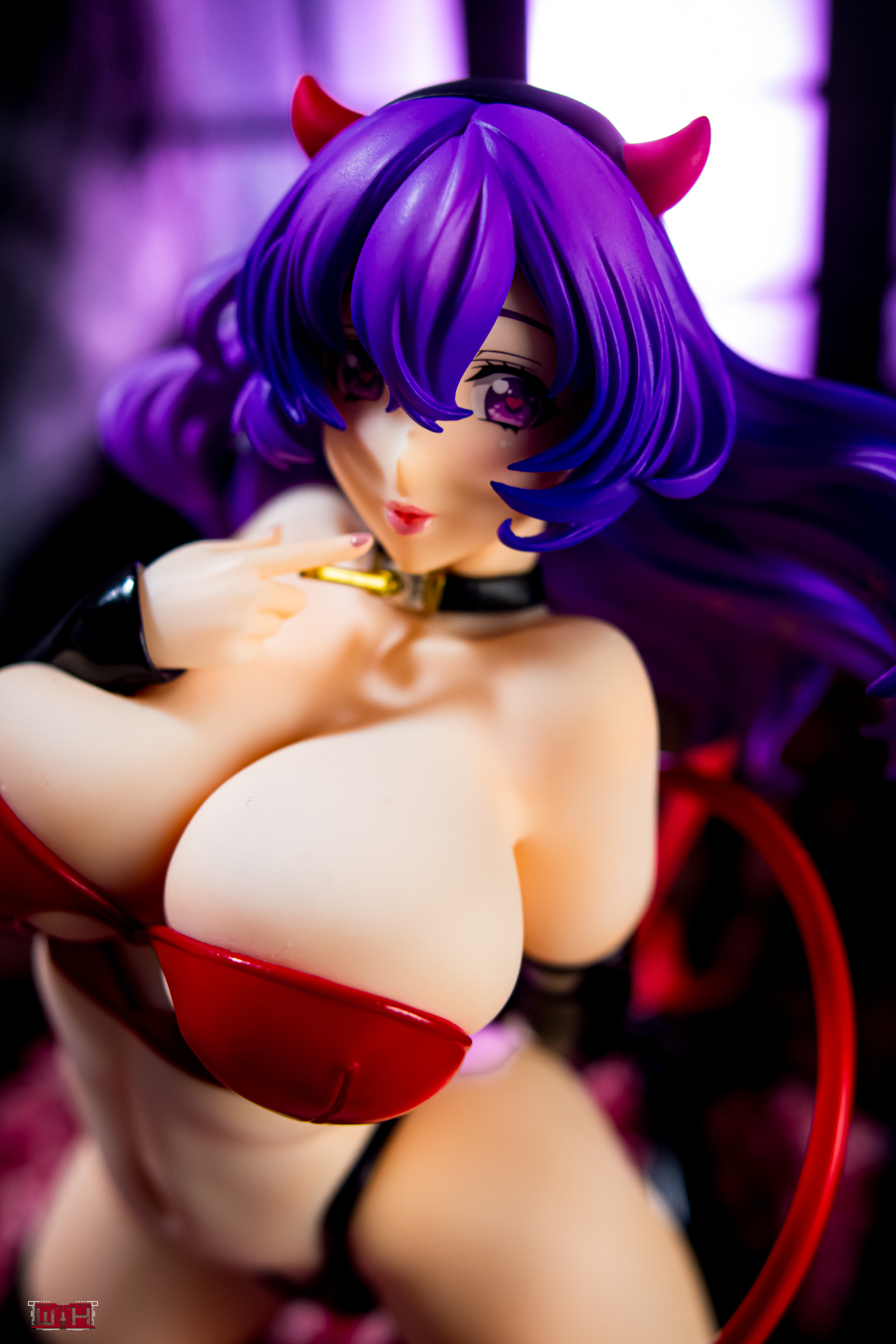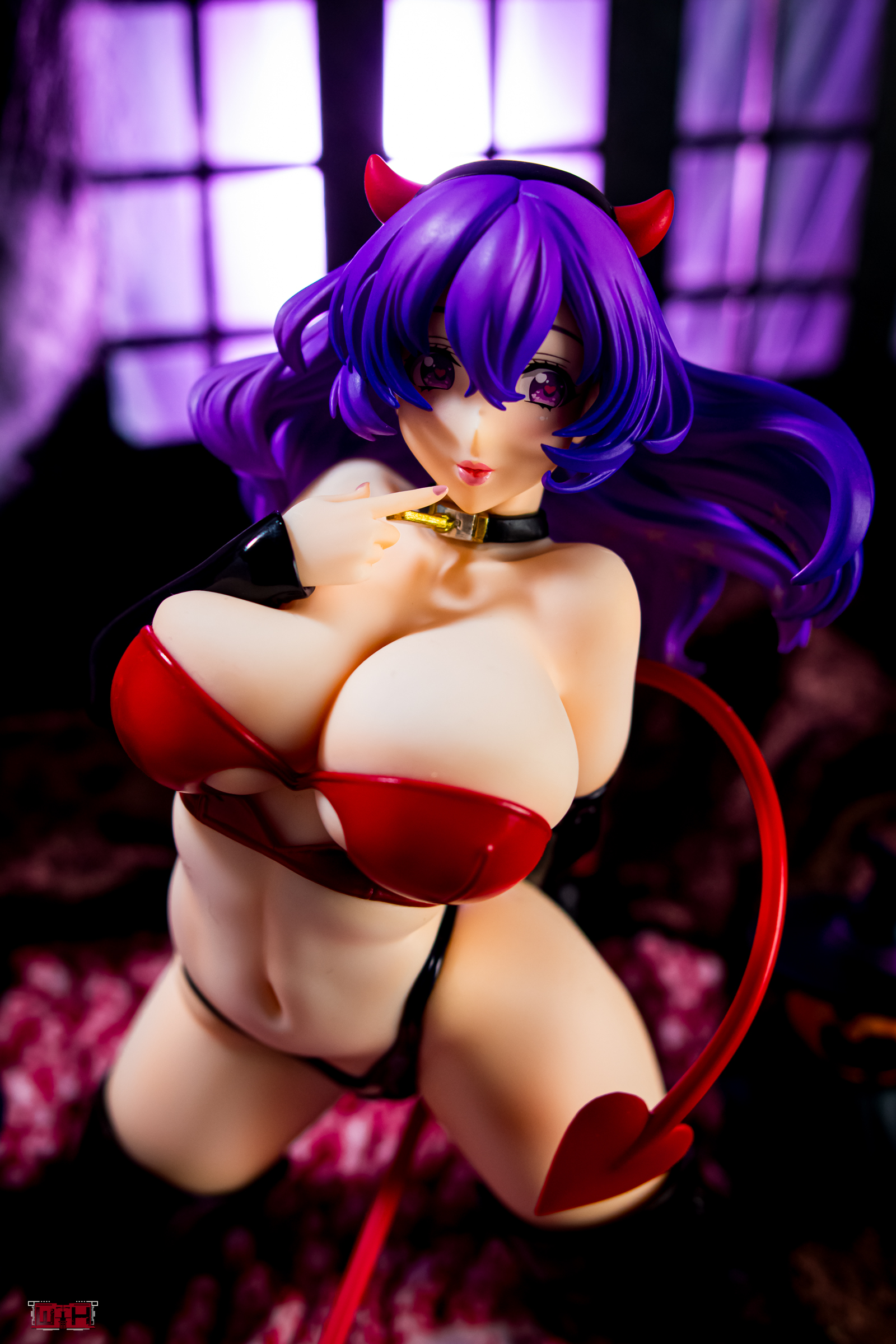 The name Succubus – san should probably indicate that the figure portrays a mature lady in a cute costume. Don't be mistaken by her outfit, she is no prostitute, it's made clear that it is just a skimpy Halloween costume.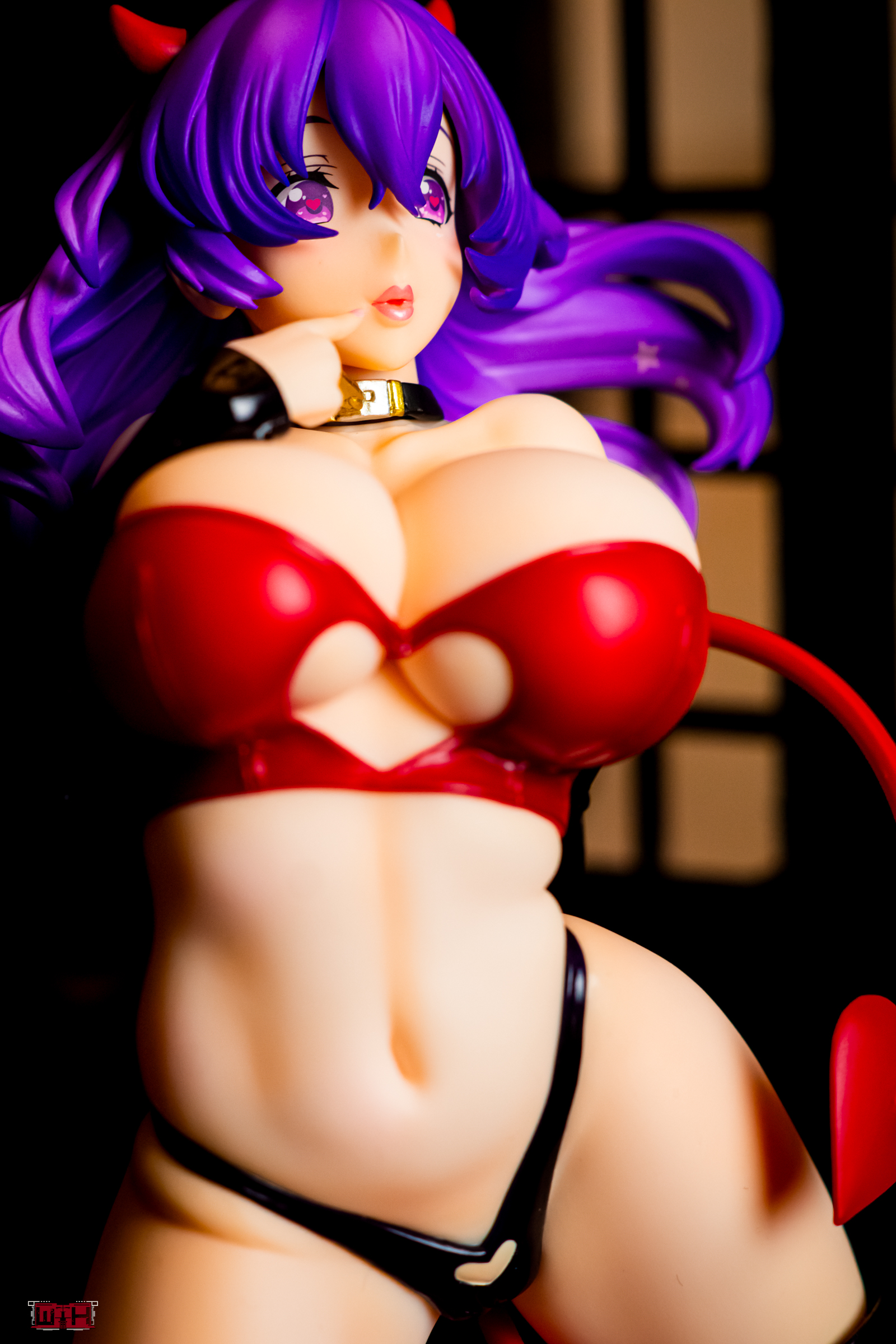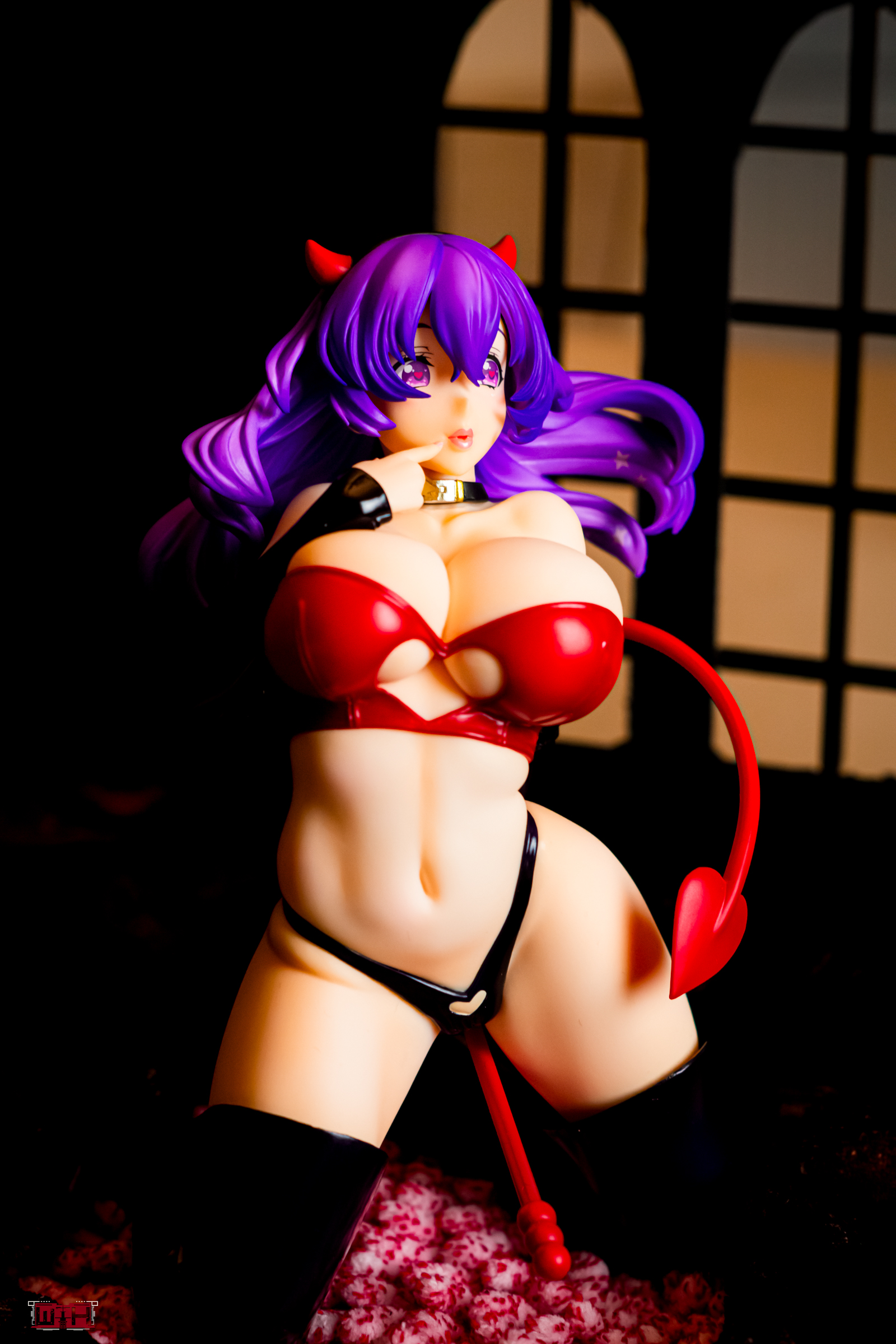 The figures outfit consists of a deep red latex top with a big heart shaped cutout and black thong with a small heart shaped cutout. She also wears hand free latex sleeves and overknees boots and a choker around her neck. She also has an alice band with small red horns and to complete the pretty Succubus look she also a tail with a heart shaped tip.
Succubus – san is sculpted as a positively chubby woman with a voluptuous and soft body, I really like how nicely buxom she was sculpted. She has marvelously wide hips and meaty thighs and is in general chubby where it matters.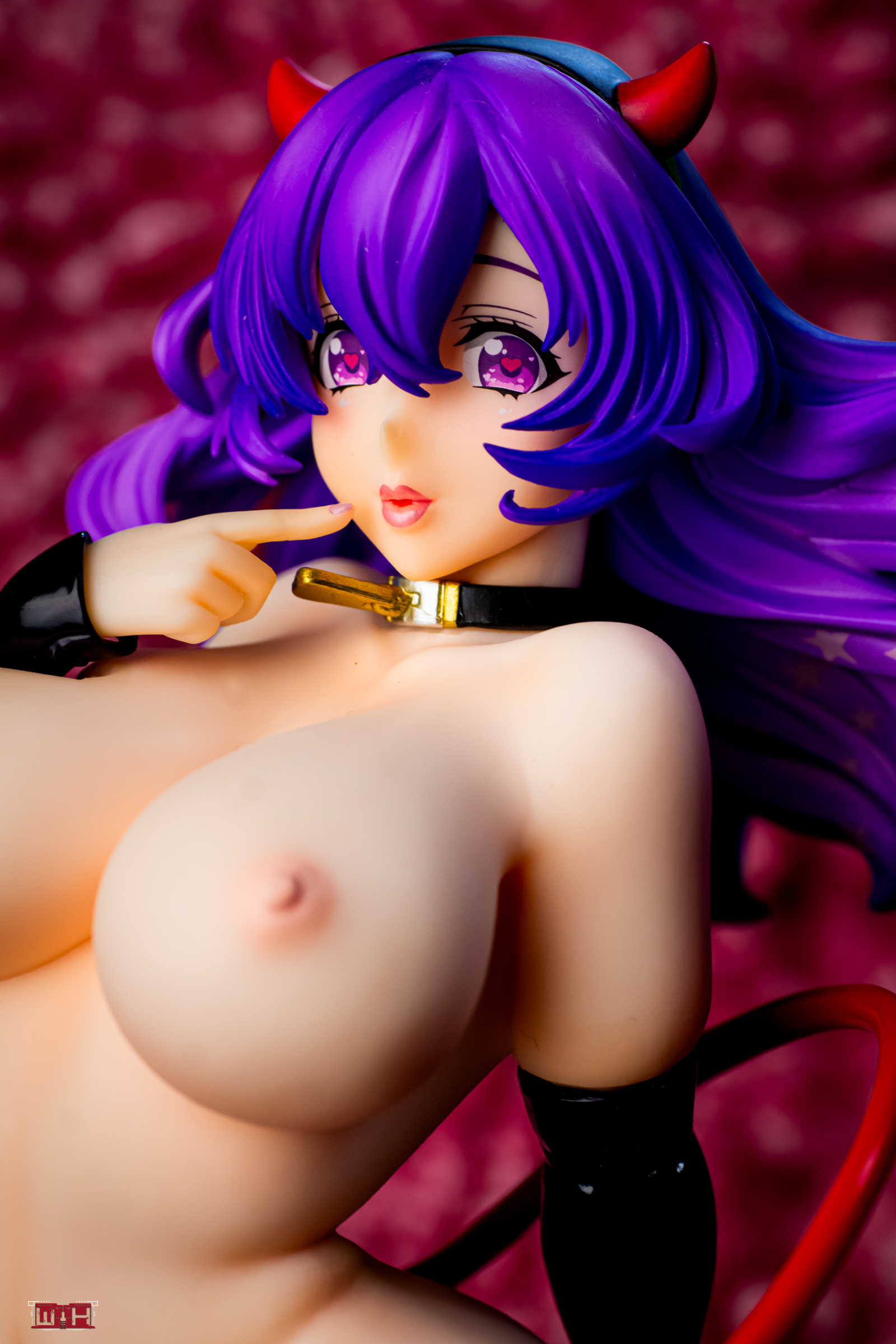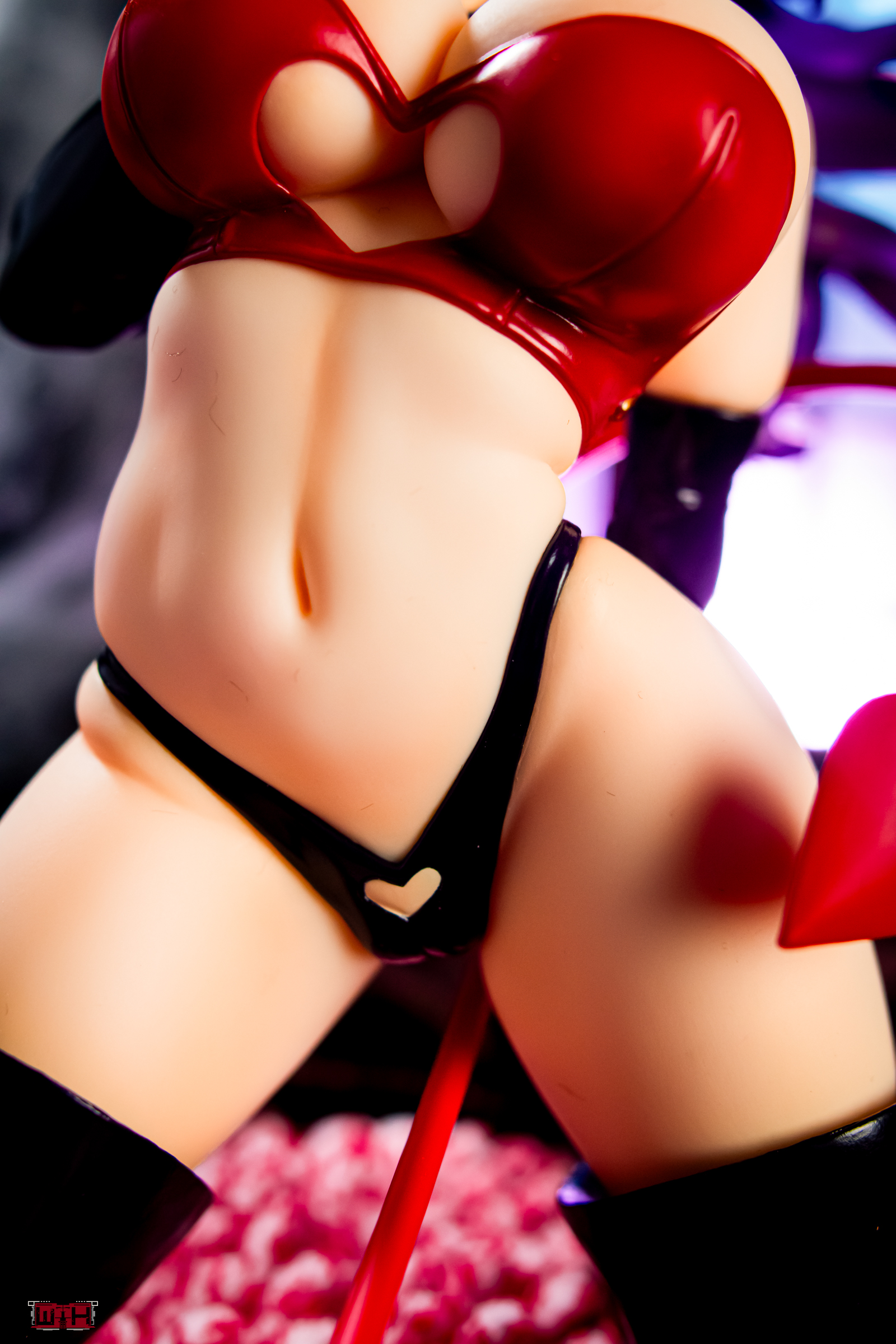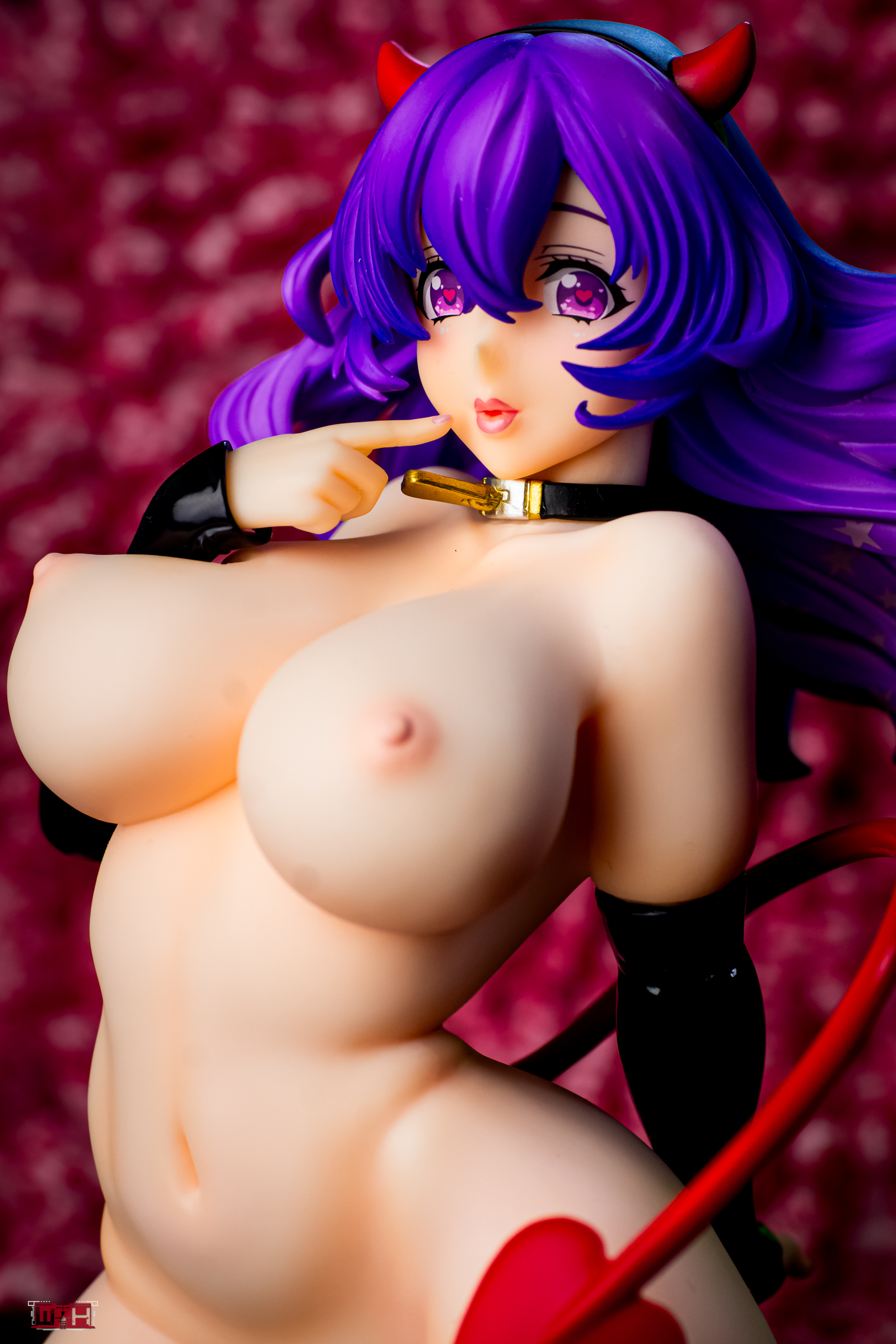 She has nice wavy hair in a pretty shade of purple, the painters applied half transparent stars at the insides of her hair.
What is also great about this figure aside from the seductively sexy body, is the really cute looking face. Her adorable face has prominent eyebrows and very detailed purple eyes with heart shapes pupils, haha apparently hearts are an often used design elements of this figure. Of course, the expression wouldn't be complete without a cute mouth, Succubus – san has sweetly seductive lips decorated with shiny pink lipstick. I really like to look at her precious face.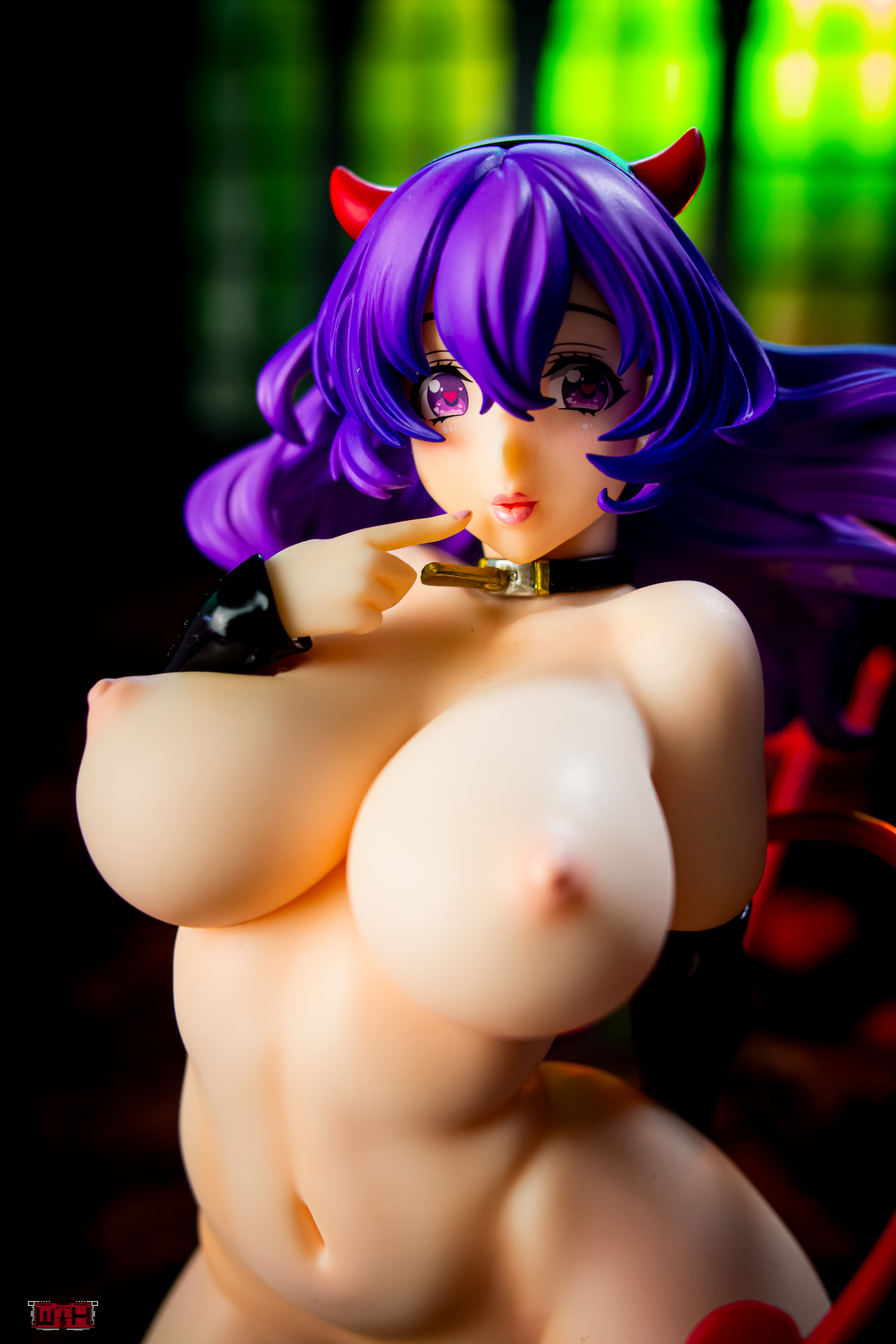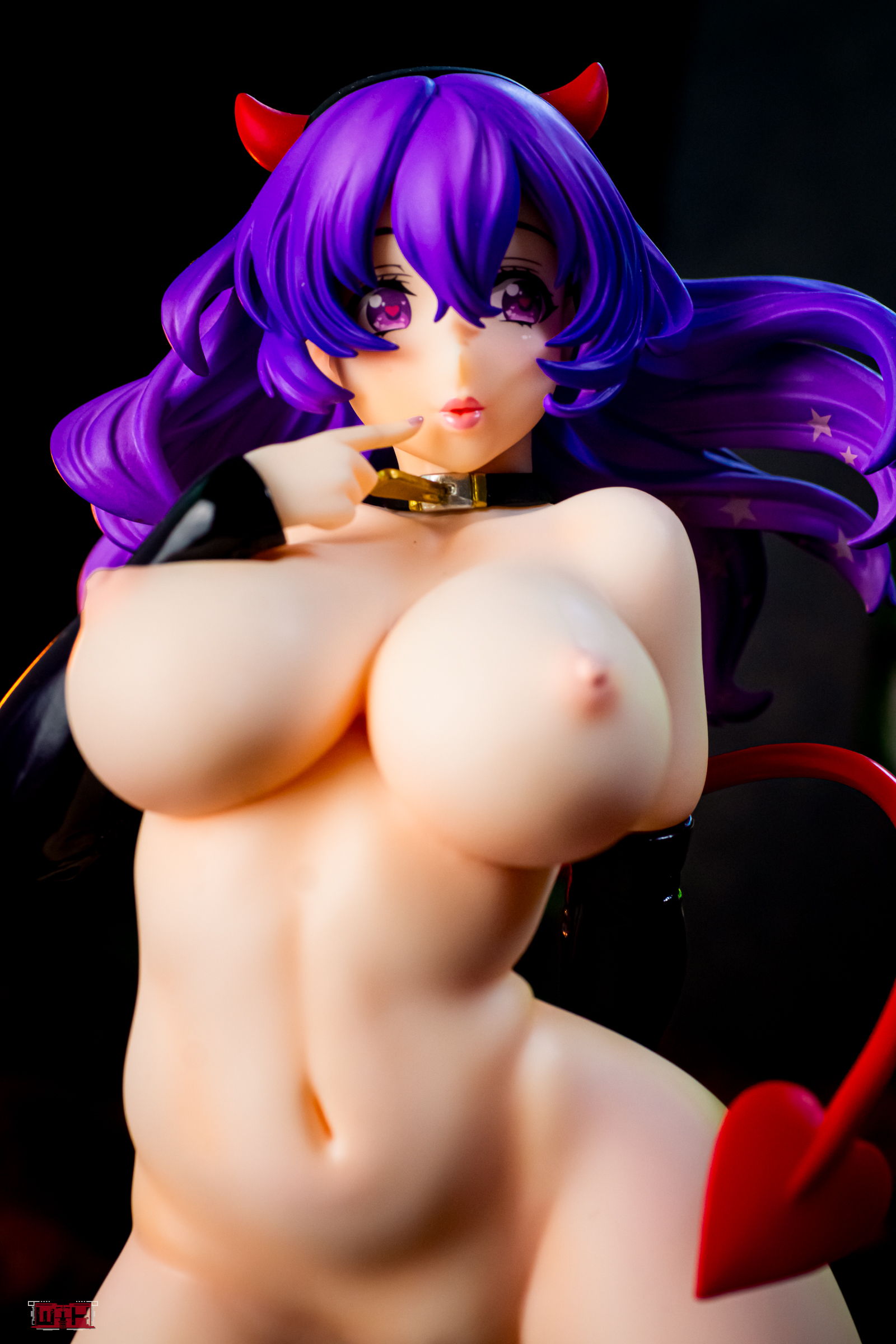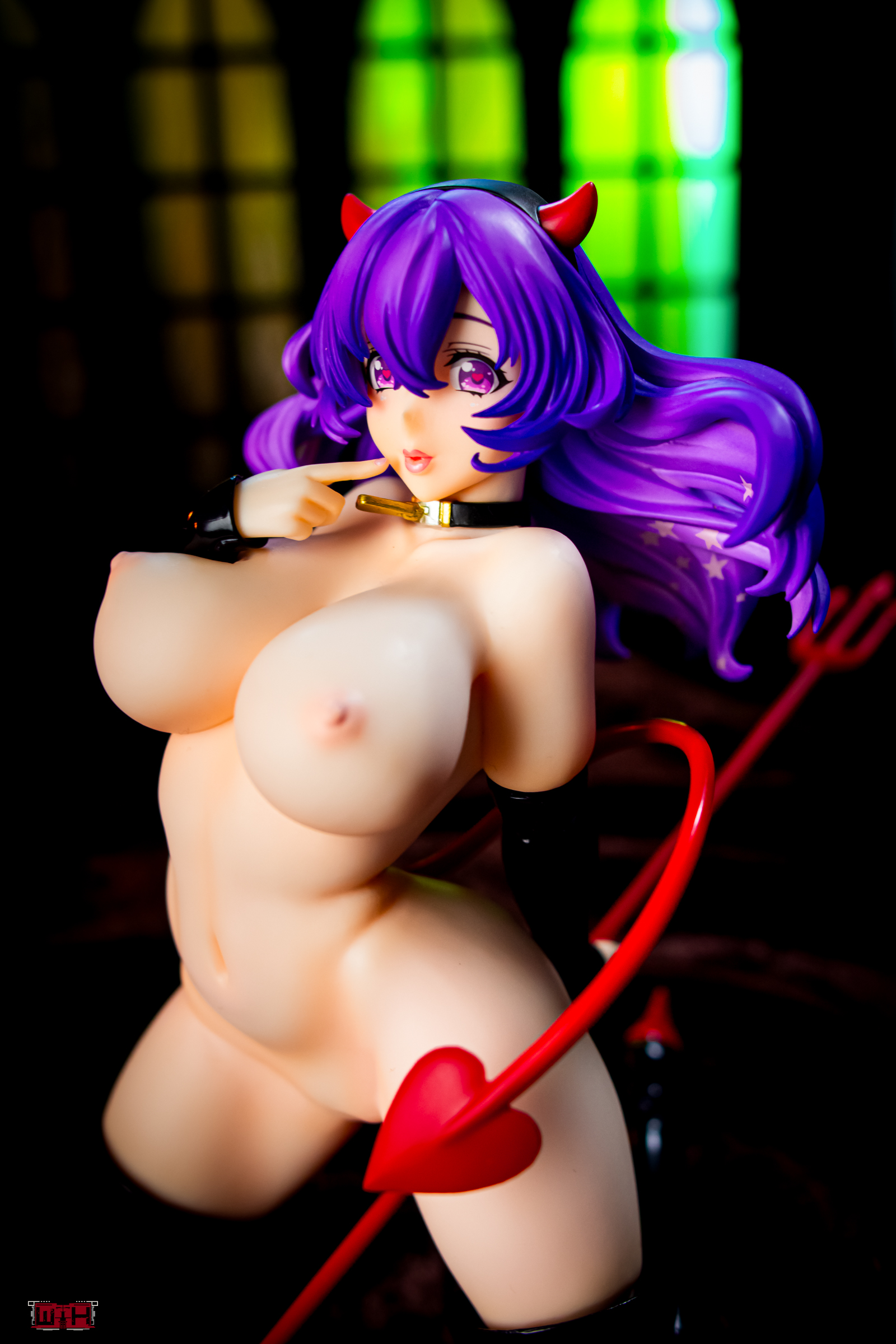 The pose closely follows the artists illustration and so the figure has a kneeling position with tilted hips and arched back, the focus is placed on her meaty thighs, the beautiful belly and her impressive bosom. In the hand of the one arm behind her back she holds the red trident in a seductively, playful manner between her legs. The other arm rest on her ample bosom, the carved indentation accentuates the softness of her skin, the hand points at her sweet pink lips.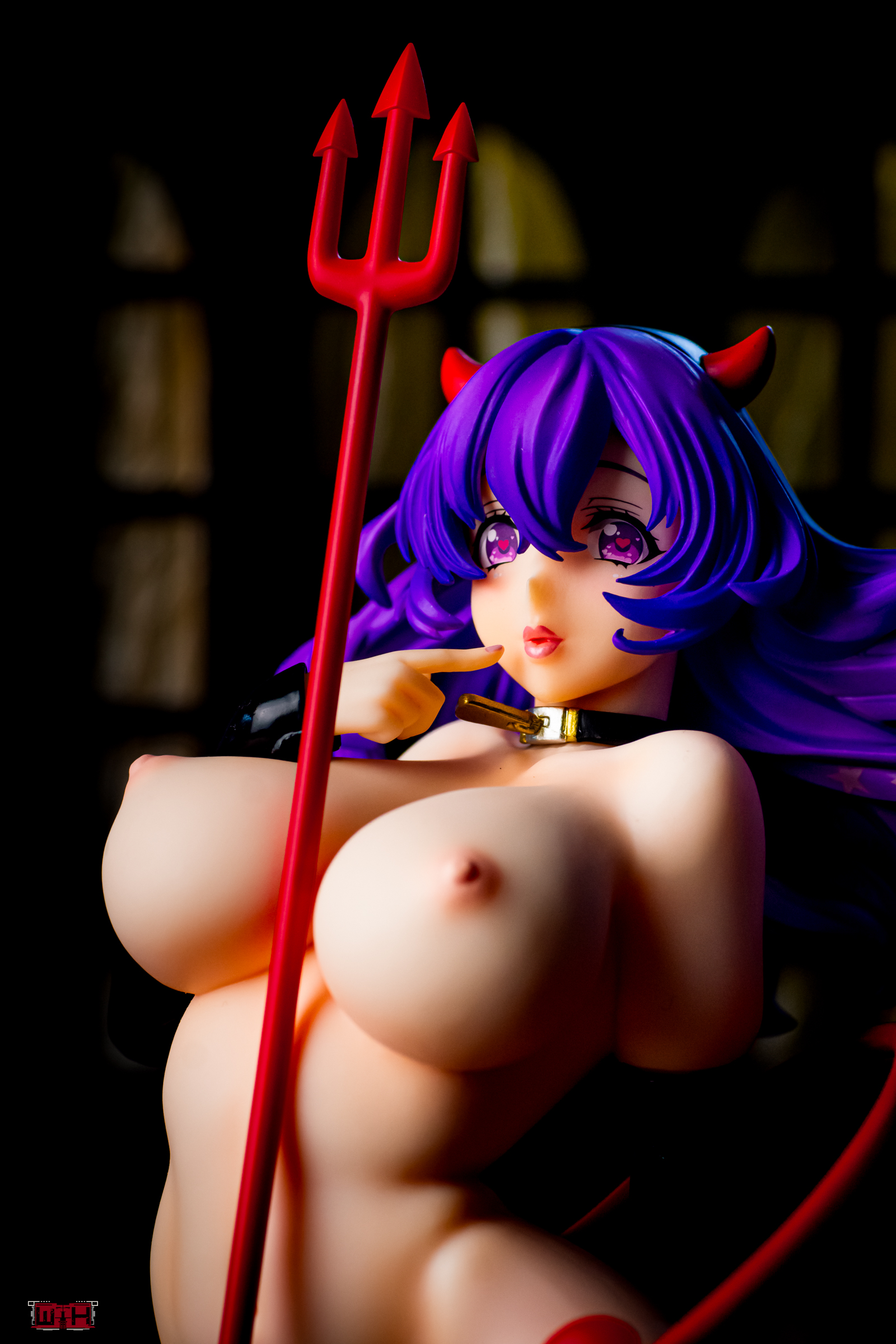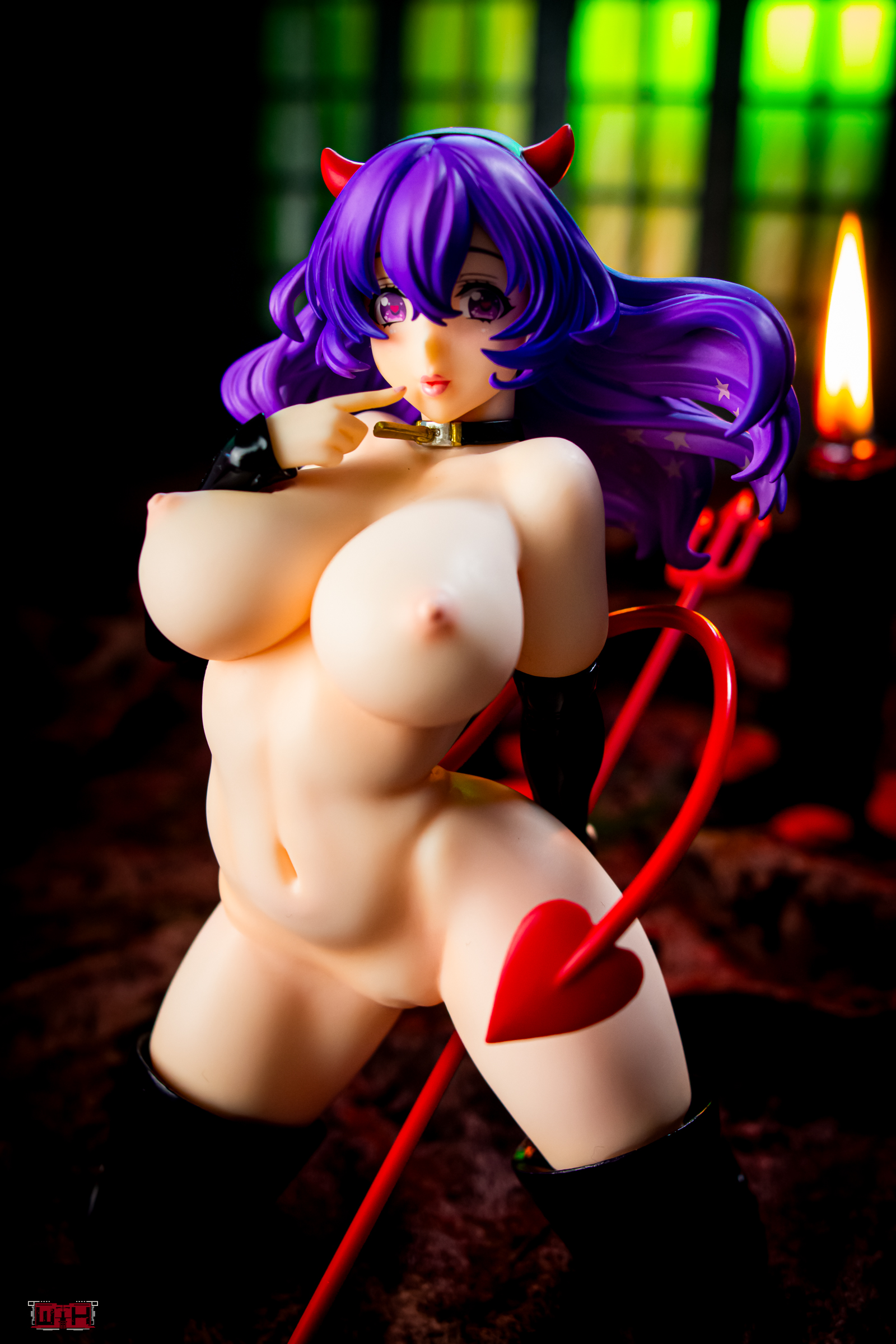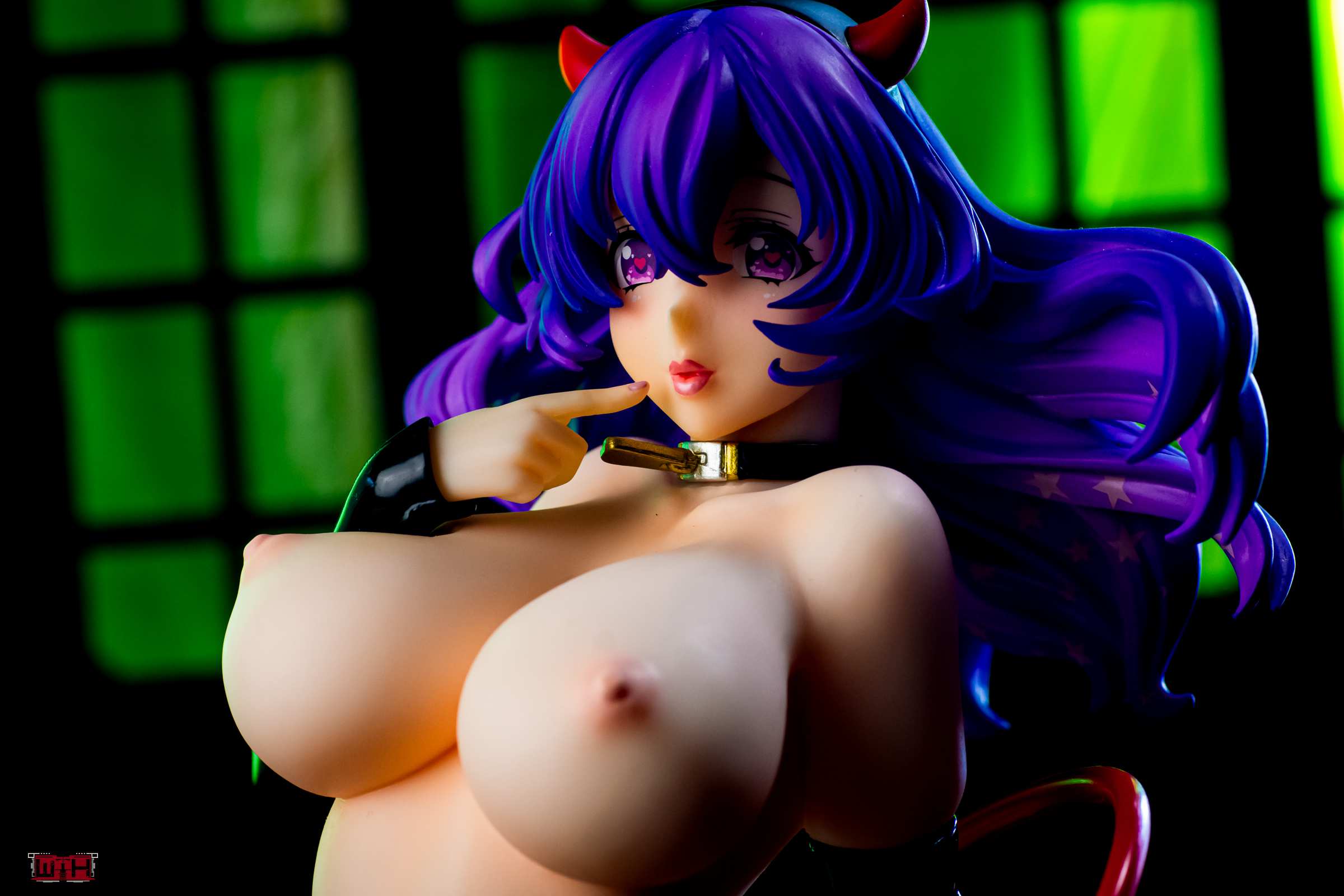 The figure looks nice and appealing with her partially dressed body, but the nude body is just so beautiful, the curves and the nicely distributed body fat make the figure extra seductive and appealing, everything has been sculpted with attention to detail and I would say there is a tasteful sense of nudity. The Succubus lady has a lovely belly and also an attractive backside. Her boobs look a little smaller when they aren't pushed up and compressed by the tight red top.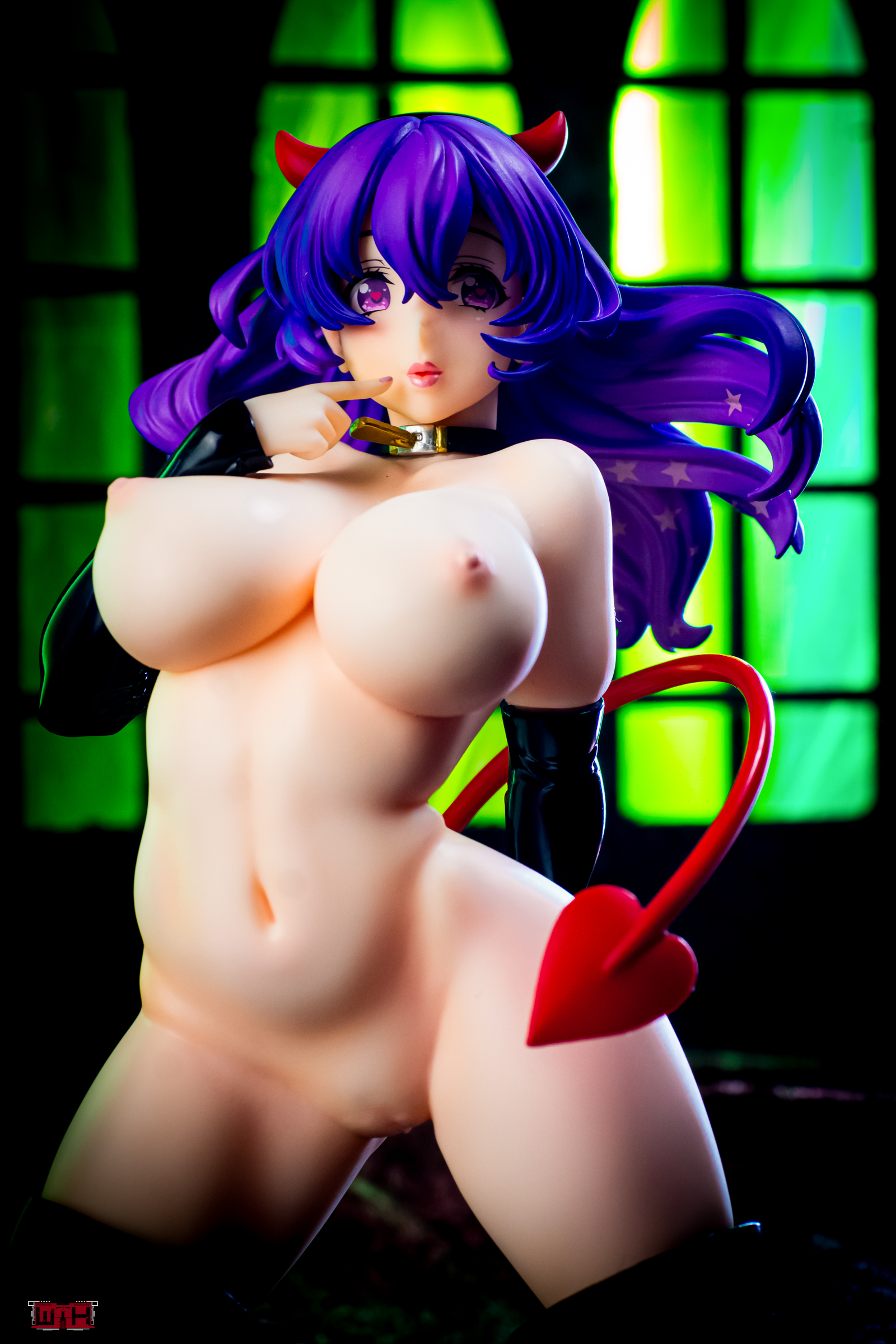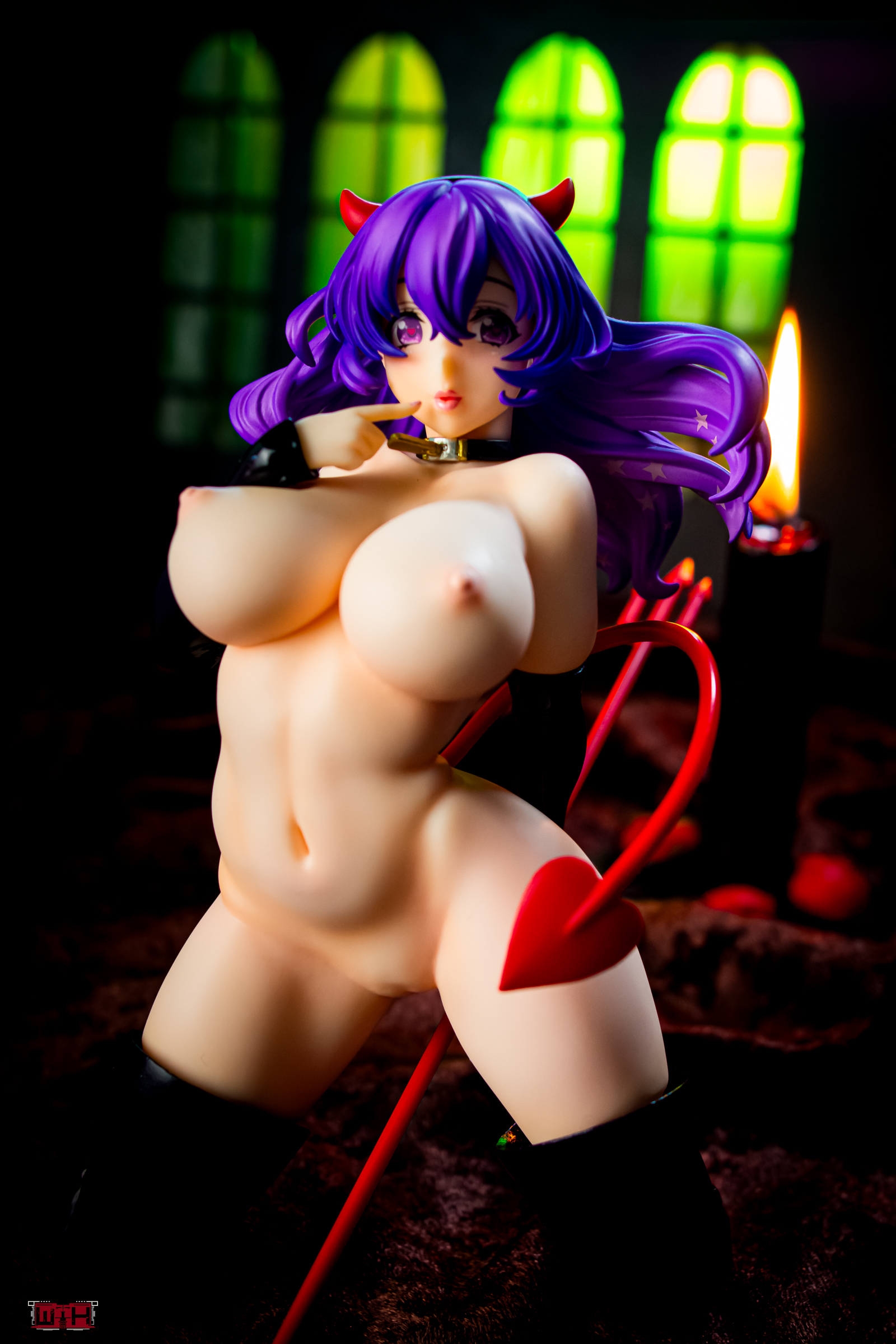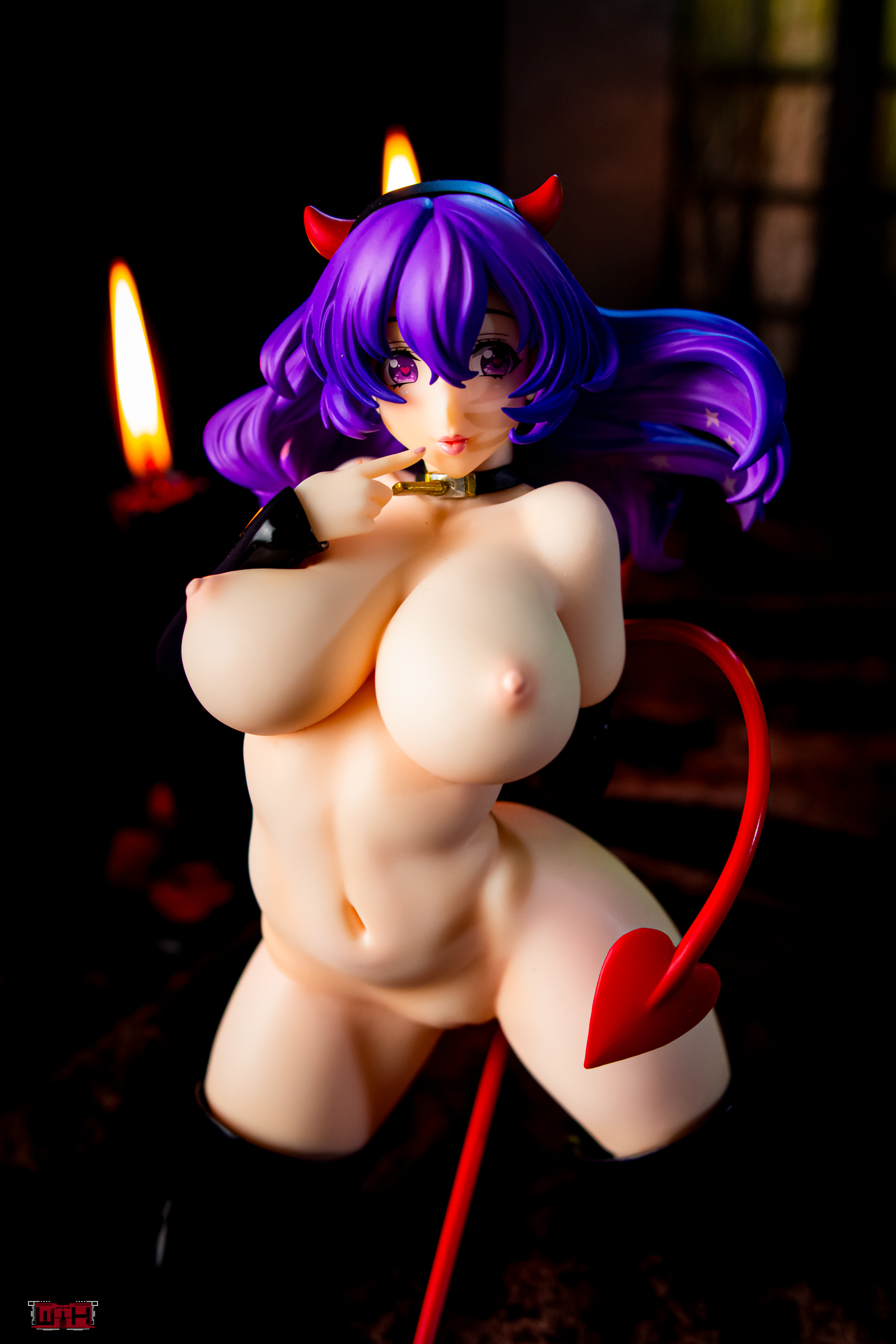 She has beautiful and big ripe peaches with nicely colored nipples. The figure has sculpted genitals with a cute chubby cameltoe and a petite vulva nothing too obtrusive and overall the nudity has been executed aesthetically.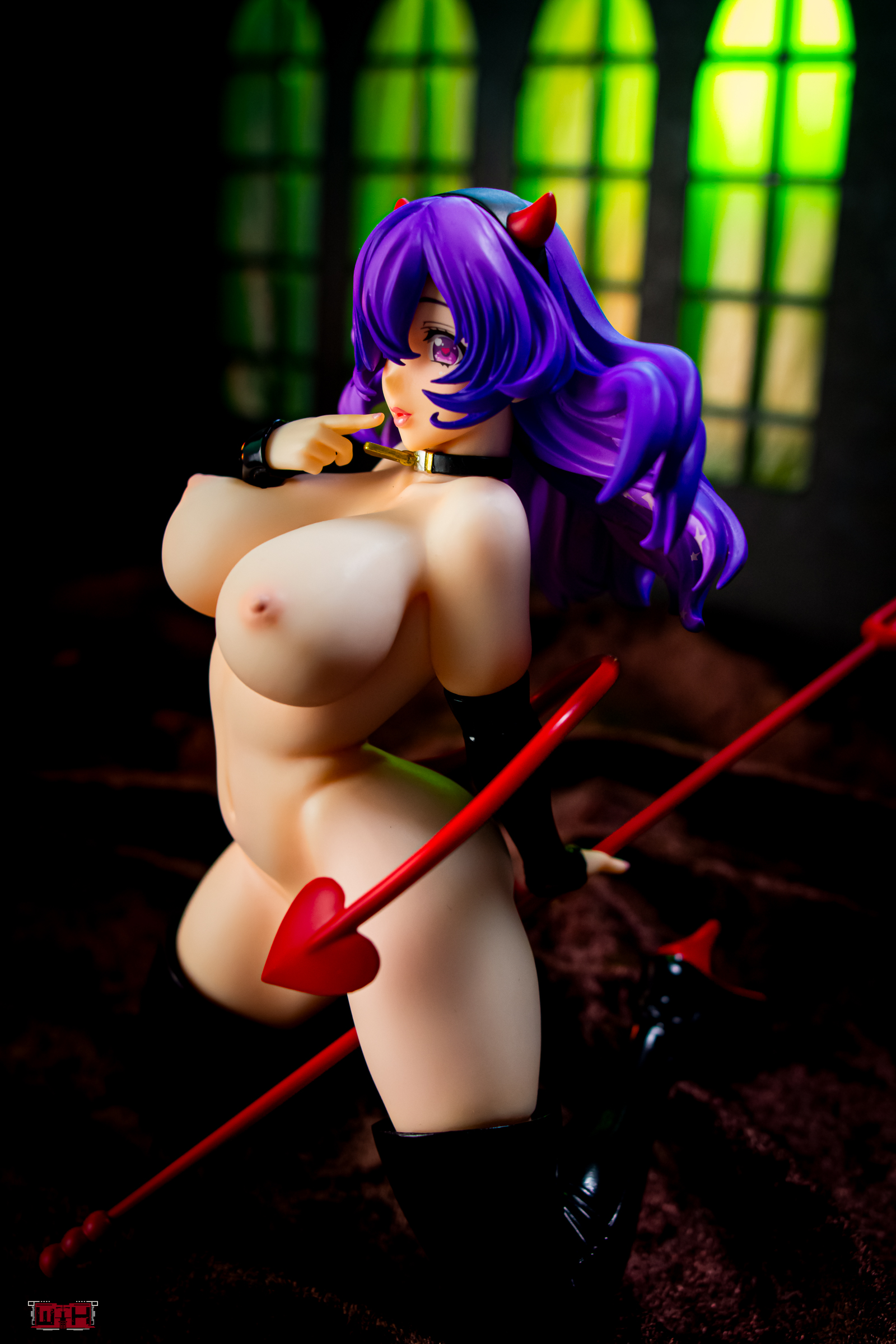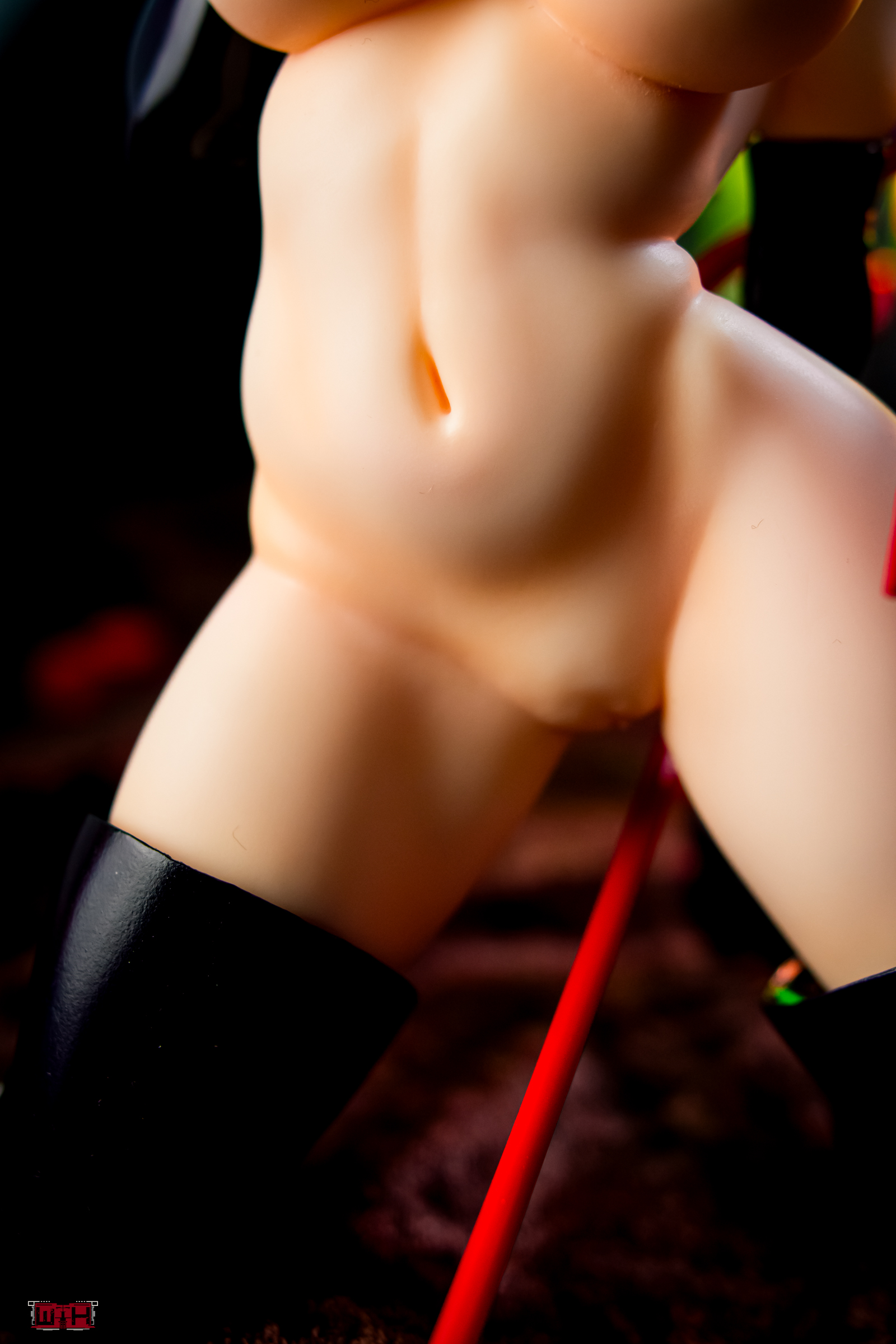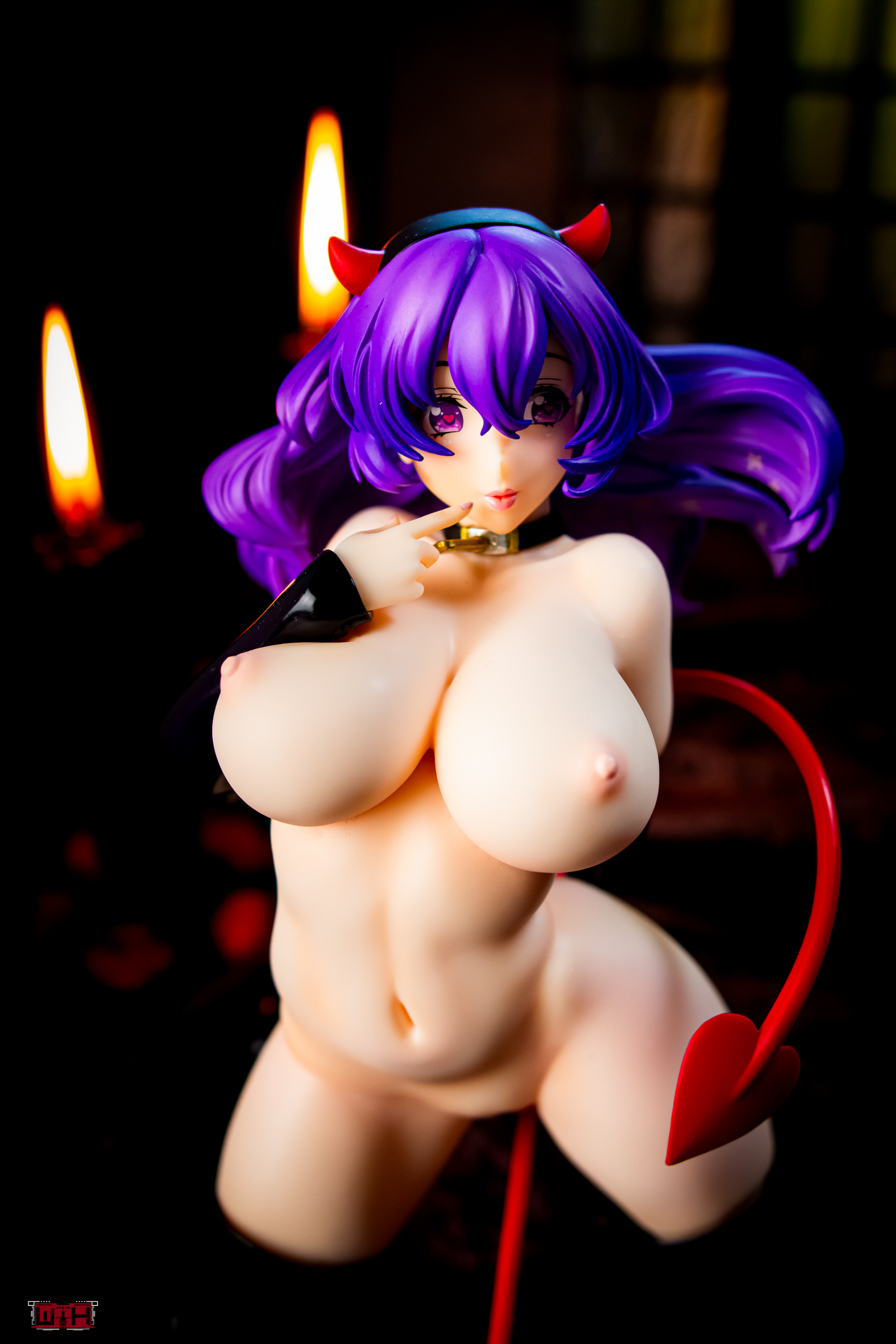 Final Words
Well, isn't she beautiful?
Also my second figure made by Rocket Boy, was a great purchase. Succubus-san turned out truly amazing, not only does she have an extremely beautiful and sweet face, just look at these lovely eyes full of affection ♡ ; she also has a striking outfit with vibrant shades of purple, black and red. Of course, it's also obvious that Succubus – san is a very sexy women with a marvelously curvy body, the sculptor Hokke did a really great job with creating a figure with a nice amount of body fat, her curves look so nice and also her cute belly sticking out is an highlight of her attractive buxom body. While I honestly am no fan of especially chubby characters like Pochaco for example, this figure here portrays the look of a nicely curvy, mature lady very detailed and without fail.
One thing that bothers me somehow is that the figures upper body is tilted backwardly, maybe a bit too much for my taste, for photography that actually is no issue but I shouldn't give her a high place to display. You know, it's actually no major point that influences my very positive impression, the Succubus – san is great in nearly every regard.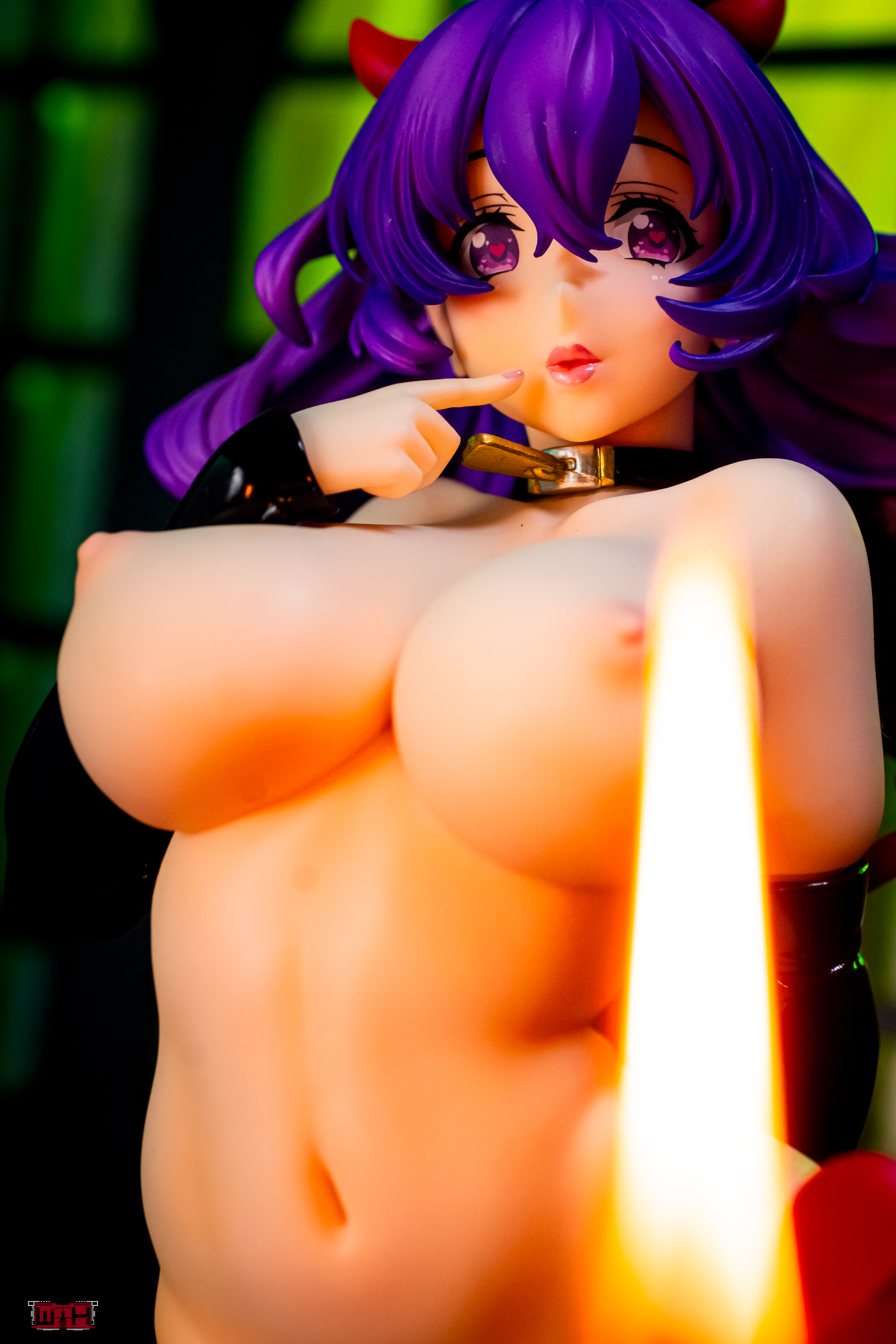 I like that Rocket Boy makes ecchi figures, that still maintain a very sweet appearance, I would nearly say they look romantic. At least I don't have to feel guilty for having them on display. They don't look scared or especially nymphomaniac. These figures portray beautiful girls with a healthy dose of libido.