I know it's been a while, maybe directing my attention to gaming wasn't the right decision, although I had lots of fun. Anyway, I think it is time to write a review. Today, I present you the Asuna – Swimsuit version from Phat Company.
Its Asuna from the always popular Sword Art Online, while it often had some annoying moments, the latest anime adaptation Sword Art Online: Alicization really impressed me recently. I really like the story and with the new character Eugeo, there finally was a buddy that was on equal with Kirito. I can hardly wait for the 2nd season of it.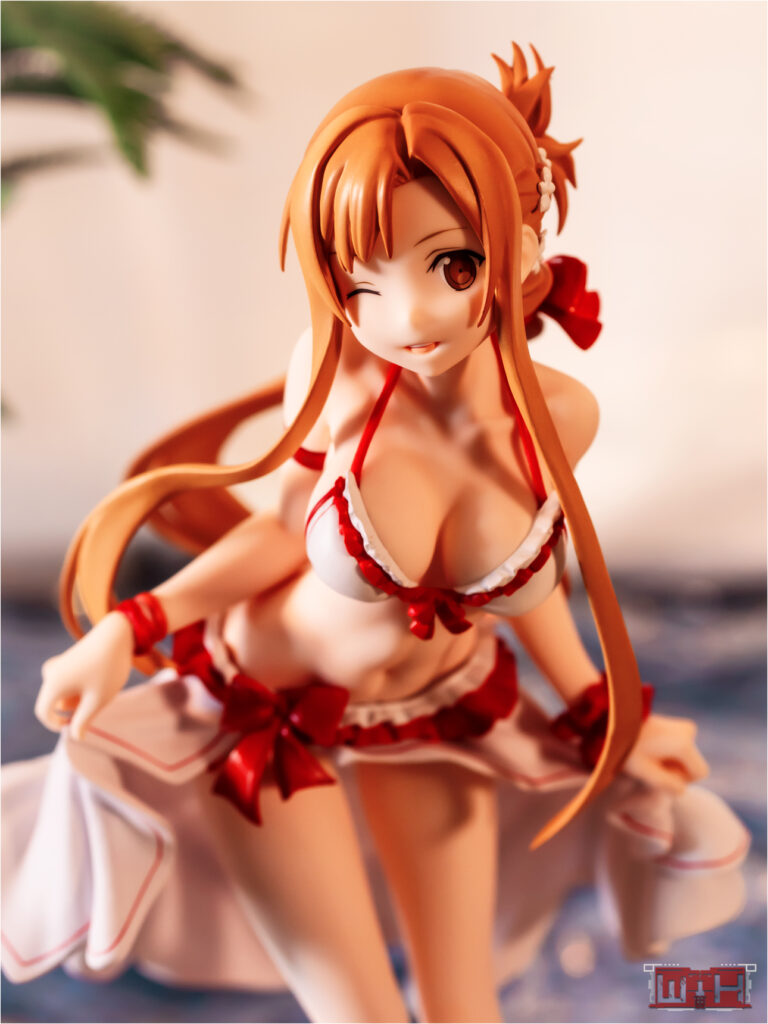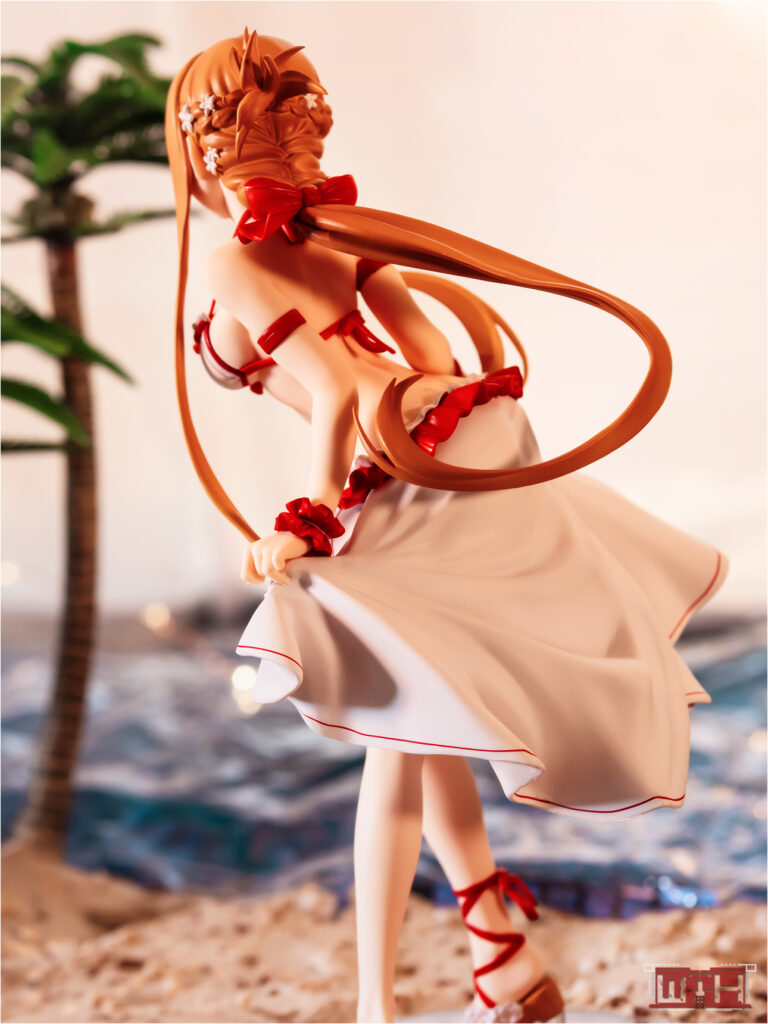 This Asuna was an exlusive release, manufactured by Phat Company, she was released in march 2019.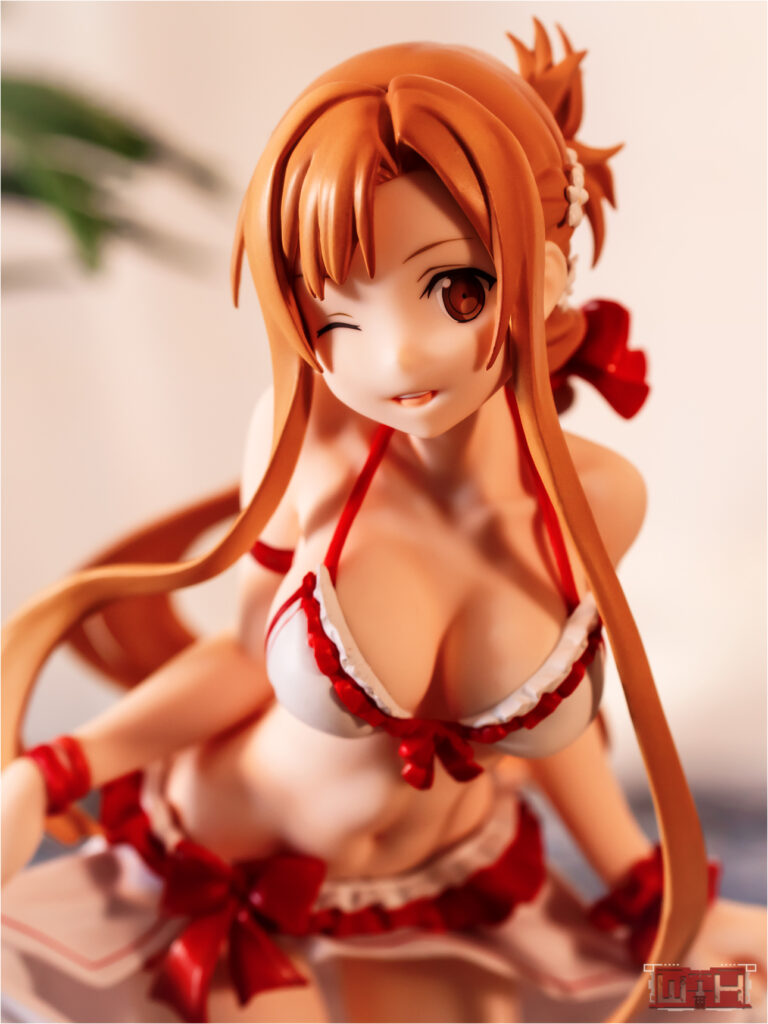 This Asuna swimsuit version is obviously very pretty, based on the style of illustrator abec. I won't say that I'm a big Asuna fan, nevertheless I currently own 3 figures of her, I already have the Titania version from Max Factory and the Undine version from Emontoys. I was instantly drawn to this Asuna figure from Phat Company with her cute look.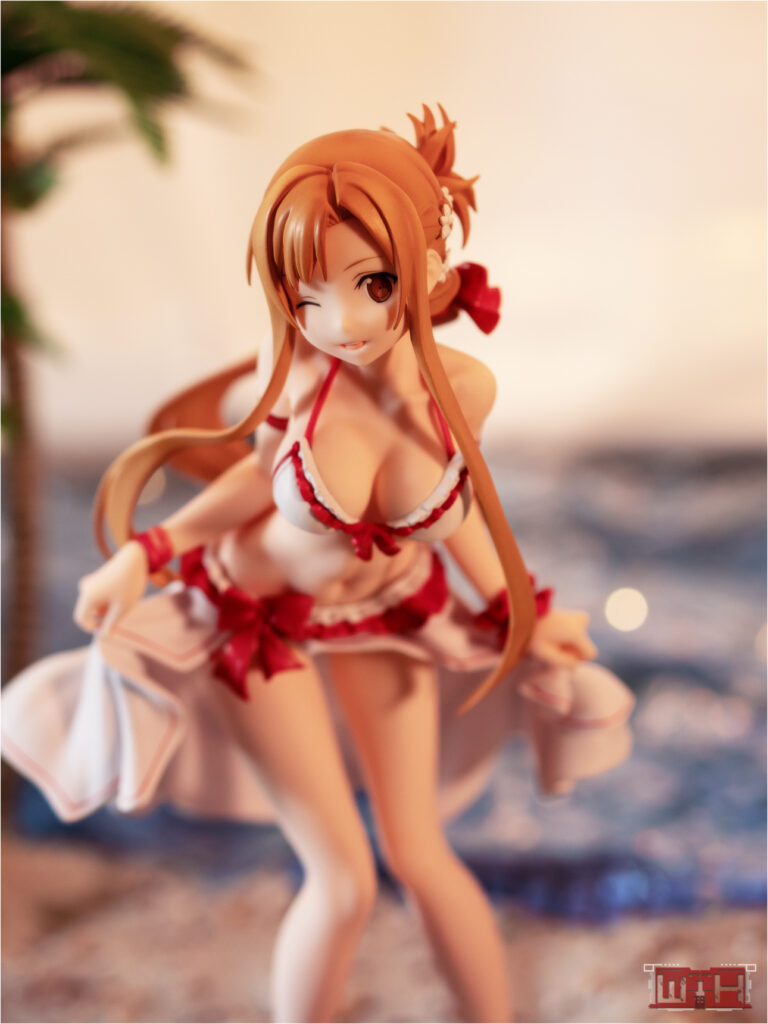 A nice feature of this figure is the beautiful face with it's smooth facial features and the nicely sculpted mouth. Her eye decal is rather big even for anime standards, one eye is closed, her winking eye gives Asuna's expression a playful but also teasing character
This figure of Asuna has a complex hairstyle, a spiced up version of the hairstyle she often has in the anime.
Most obvious are the super long strands at the sides of her forehead, the back hair is braided but ends in a long ponytail, the flowers in her hair and the red ribbon at her ponytail are cute details. The braided part of the hair could have been a bit more crisp, but overall it looks very nice.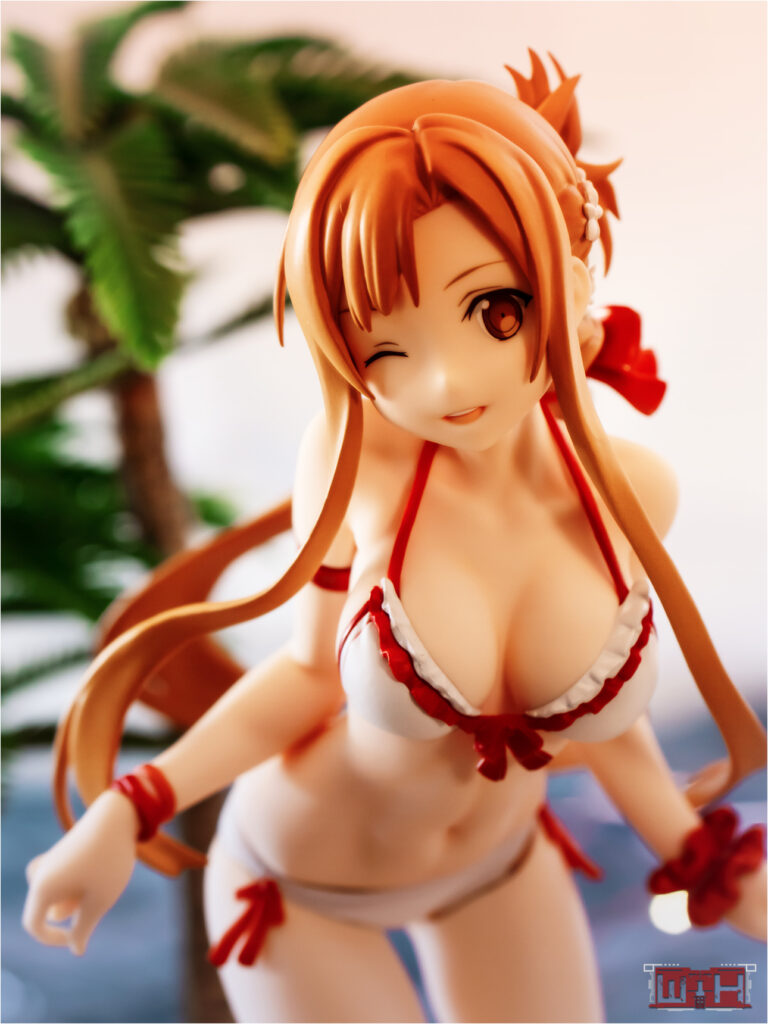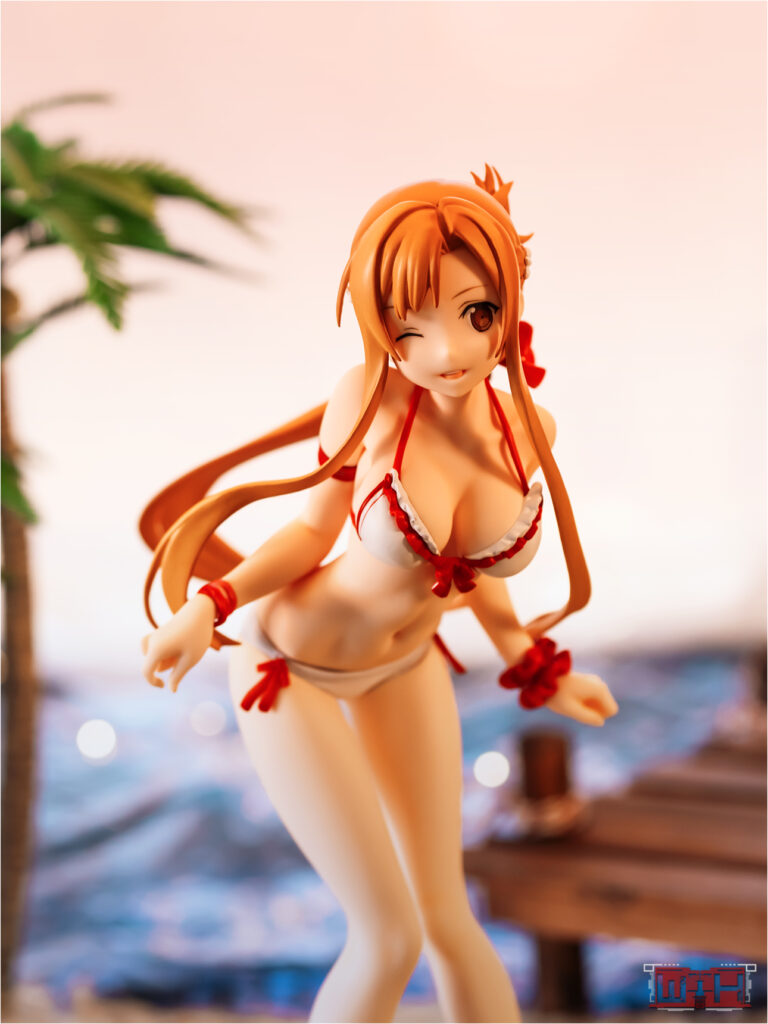 The figures bikini is very cute, it has a simple combination of red and white colors, but that is nothing bad, the design with all the frilly details and ribbons is really adorable and matches the cheerful atmosphere of this Asuna figure. She is scaled 1/7 and measures 23 cm in height.
I really like the parero with its fine red lining and the realistic wrinkles you see. The scrounchy around her wrist so sweet and girly. Optionally her parero can be taken off, although without the parero the figure appears a bit naked, since the bikini bottom looks plain.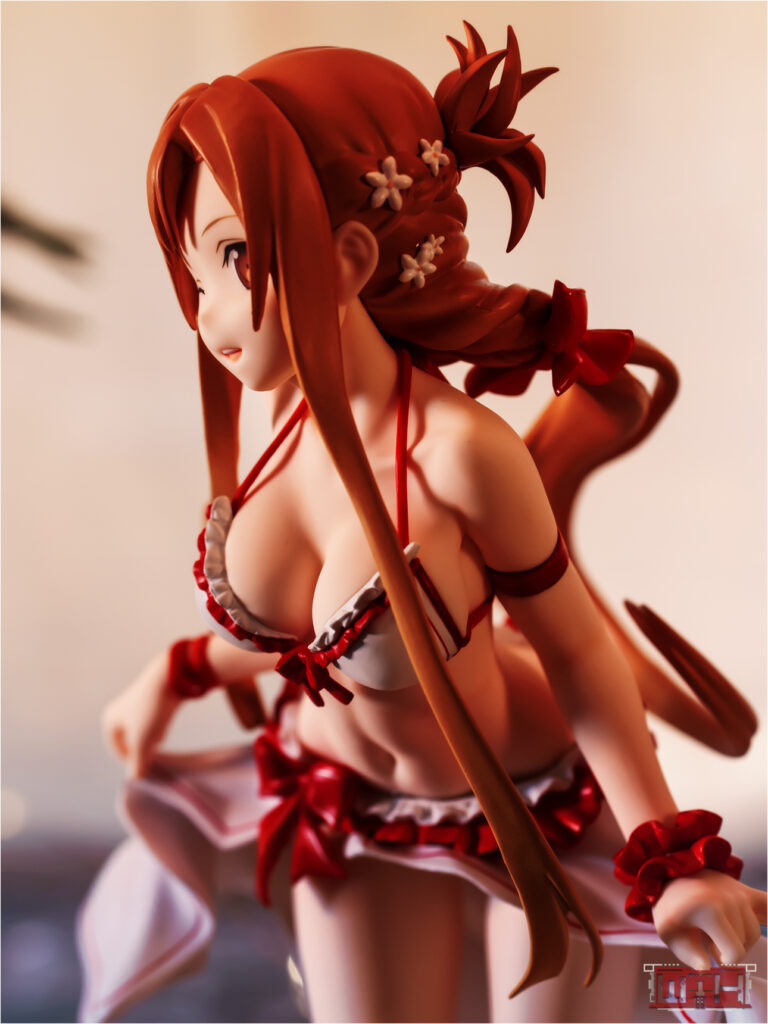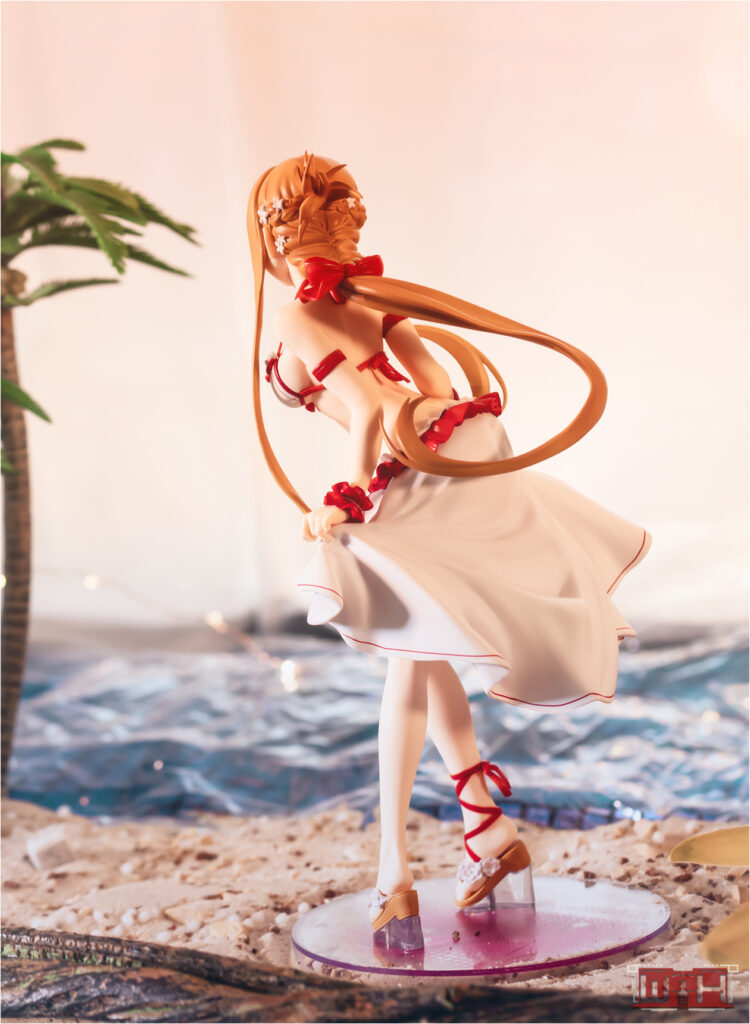 Pose is nicely articulated, it shows very dynamic movement and it really seems like Asuna ishaving a great time at the tropical beach. The body of this figure is beautiful, at least the upper body is great, a friend said that Asuna should actually has a less endowed chest, but I yhink it's still in the zone. The lower body and legs received less attention to detail and appear a bit too skinny when taking the figures pretty belly into account.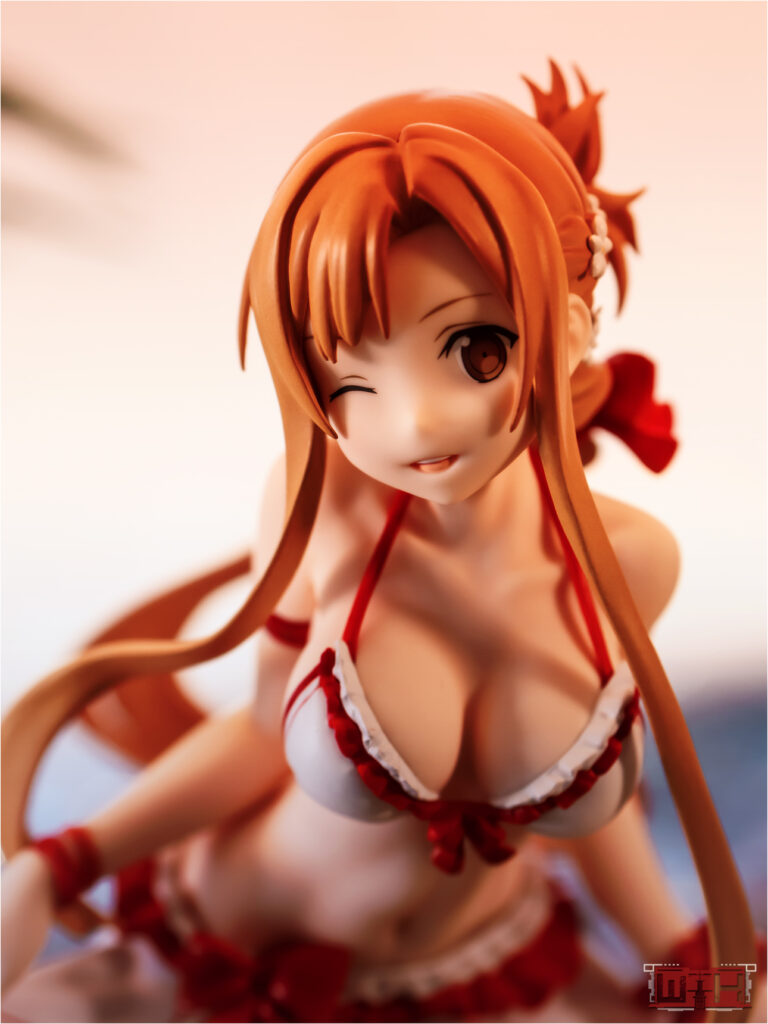 Final Words
Phat Company and sculptor Murakawa Shoushin adapted a lovely Asuna figure by following abec character design of Asuna. Her face turned out very cute and expressive. This is a very sweet figure with a dynamite body, although the dynamite mainly refers to her upper body, but thats ok. That way Asuna is the pure beach princess wearing a very cute bikini with even cuter details.