It's a character from the Elf Mura lineup, an ever growing line up of figures based on Elf characters that are created by different illustrators.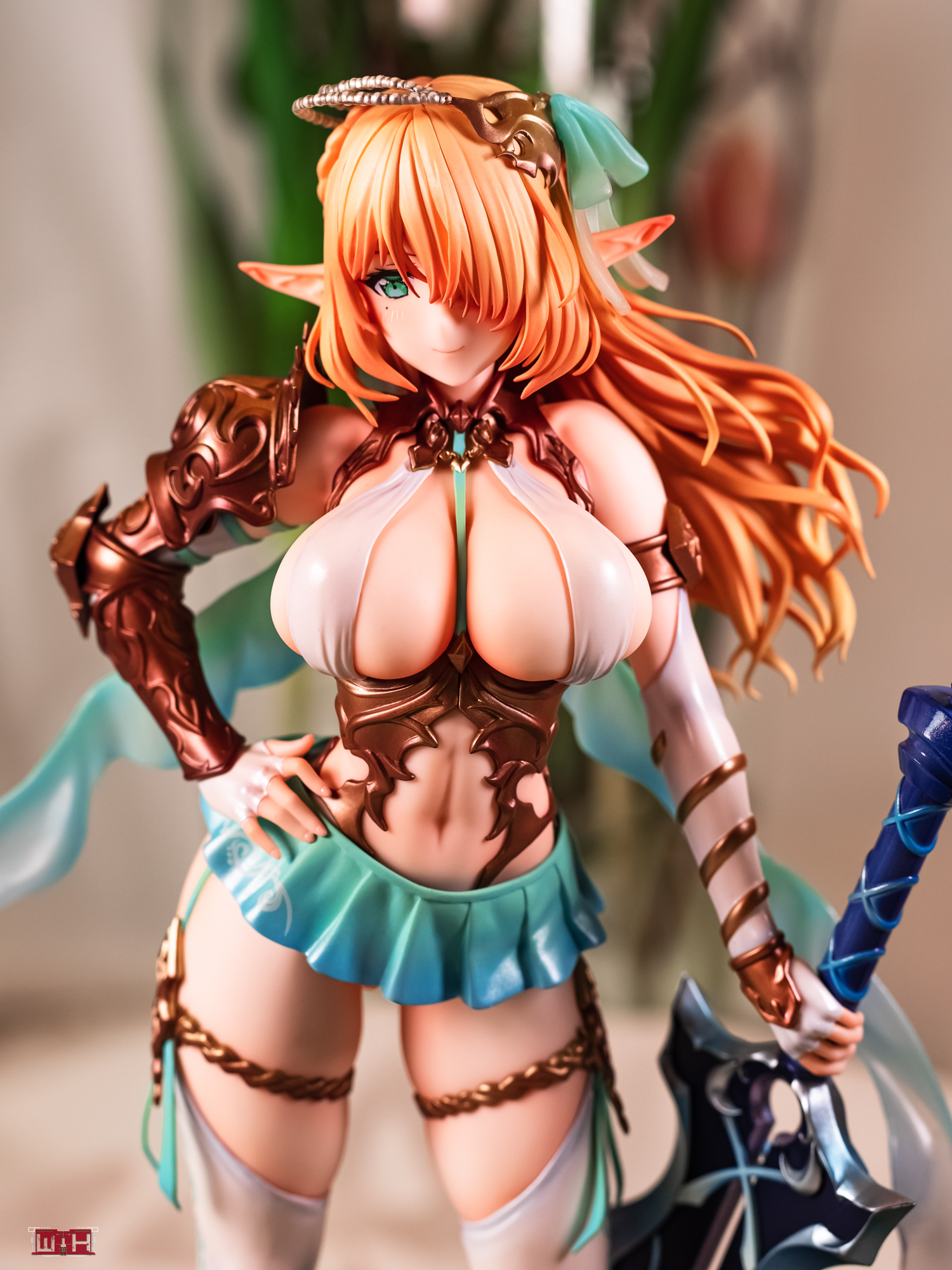 Cecile was released in August 2022, her character was designed by Mataro. The figure was sculpted by Fortunation, a sculptor who started being active since 2019. The pretty Elf is scaled 1/6 and measuring around 25 cm, when adding her into your collection you should take into account that she is a quite tall figure.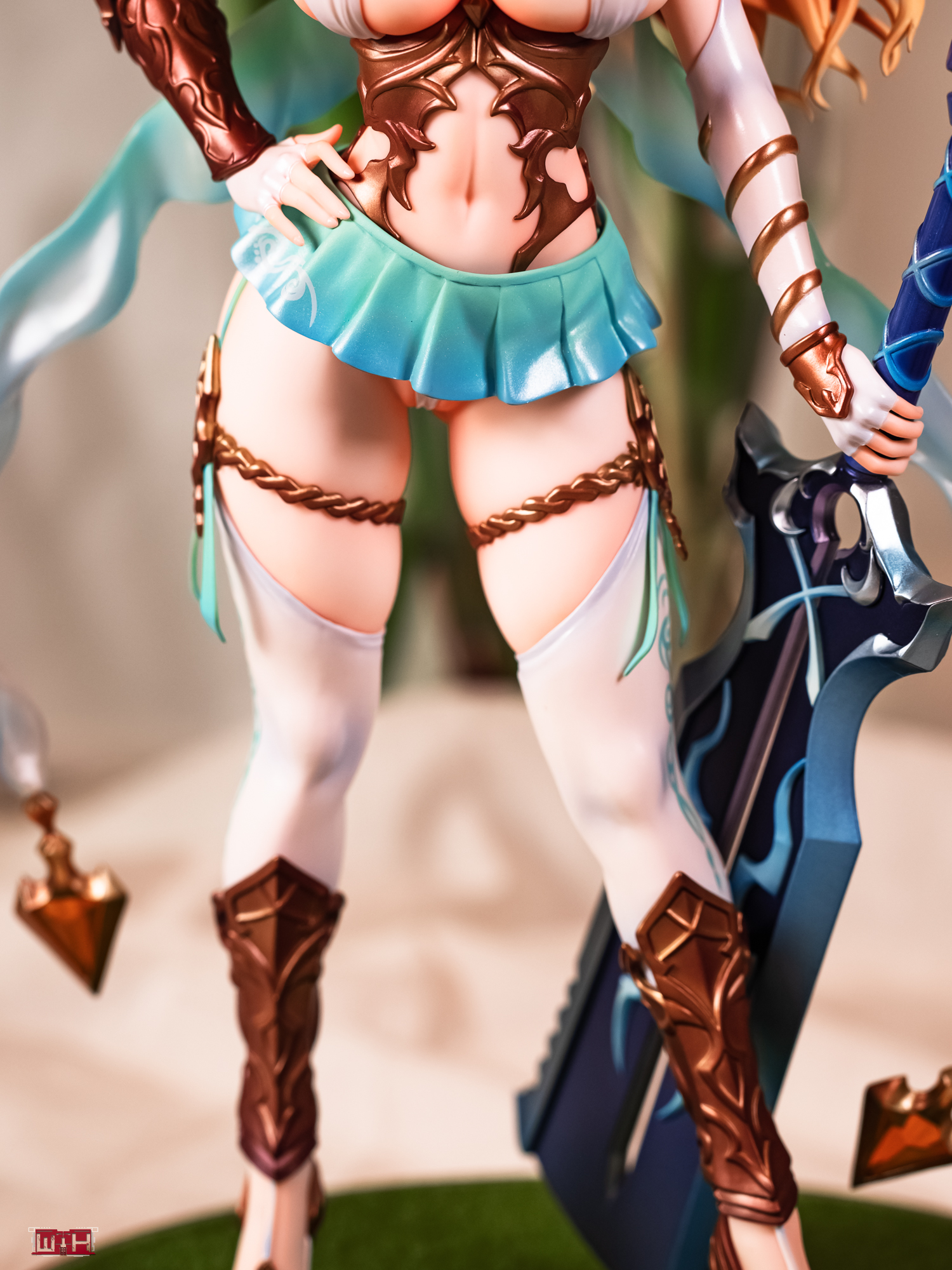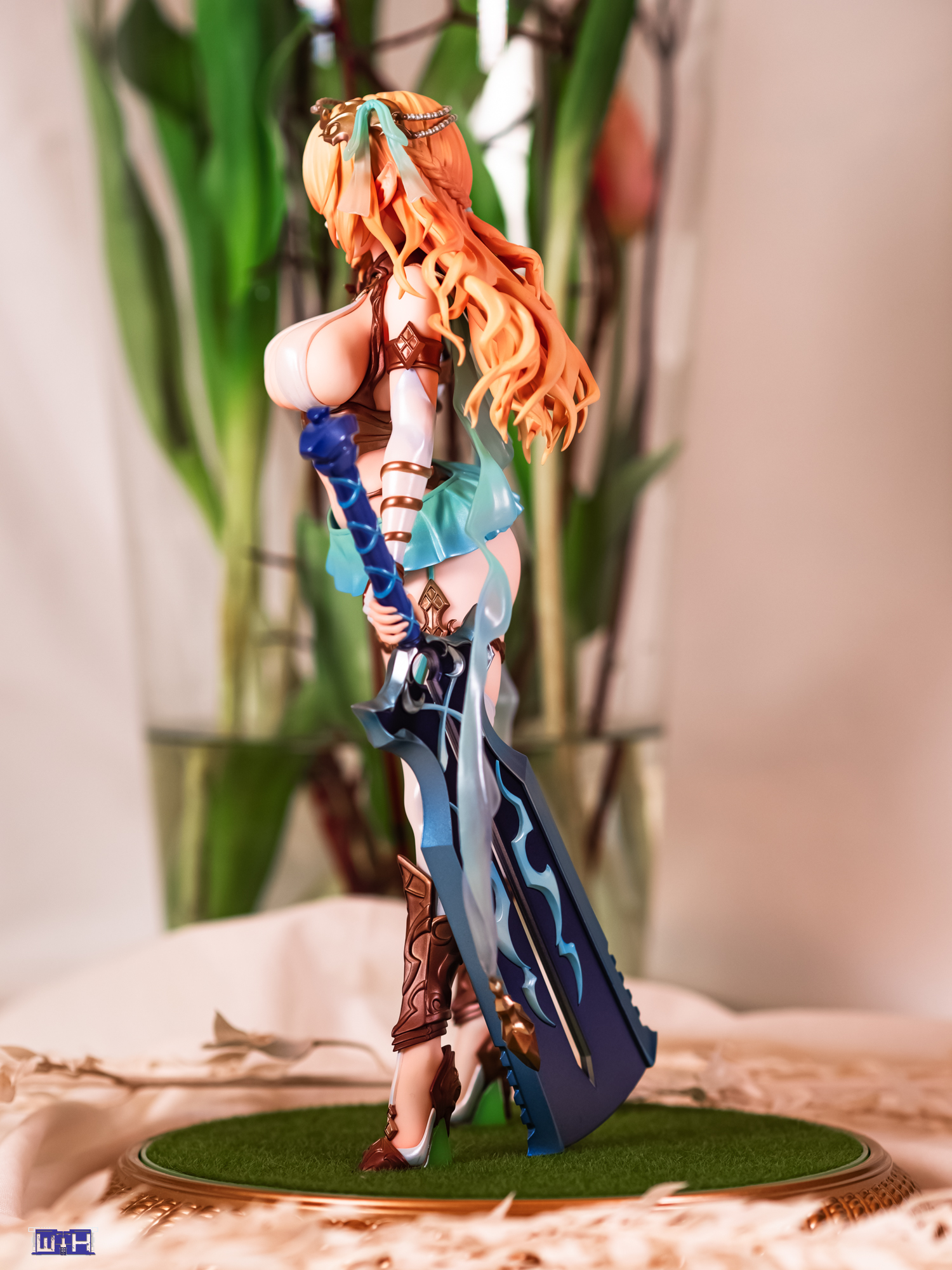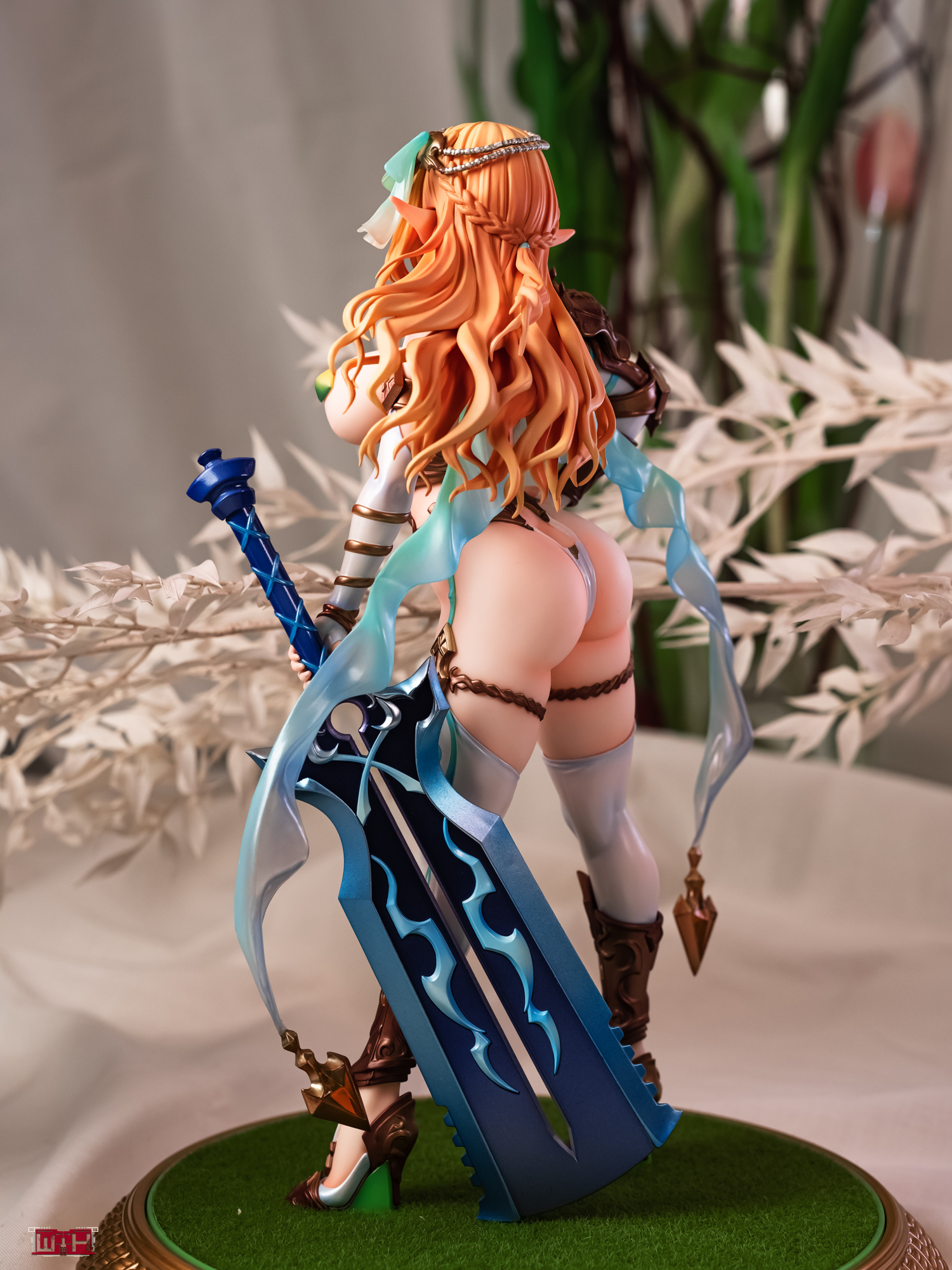 I've bought her as Antenna Shop Limited Edition version, since it offered a more fancy looking base, a wallscroll and an alternative faceplate.
The normal edition has no extras and a simple base. The base of the limited edition is a nicely designed golden circle with fake grass on it. Mataro already designed the cute Elf Kukuru, it's nice how the design os a good match with Cecile, nearly like sisters.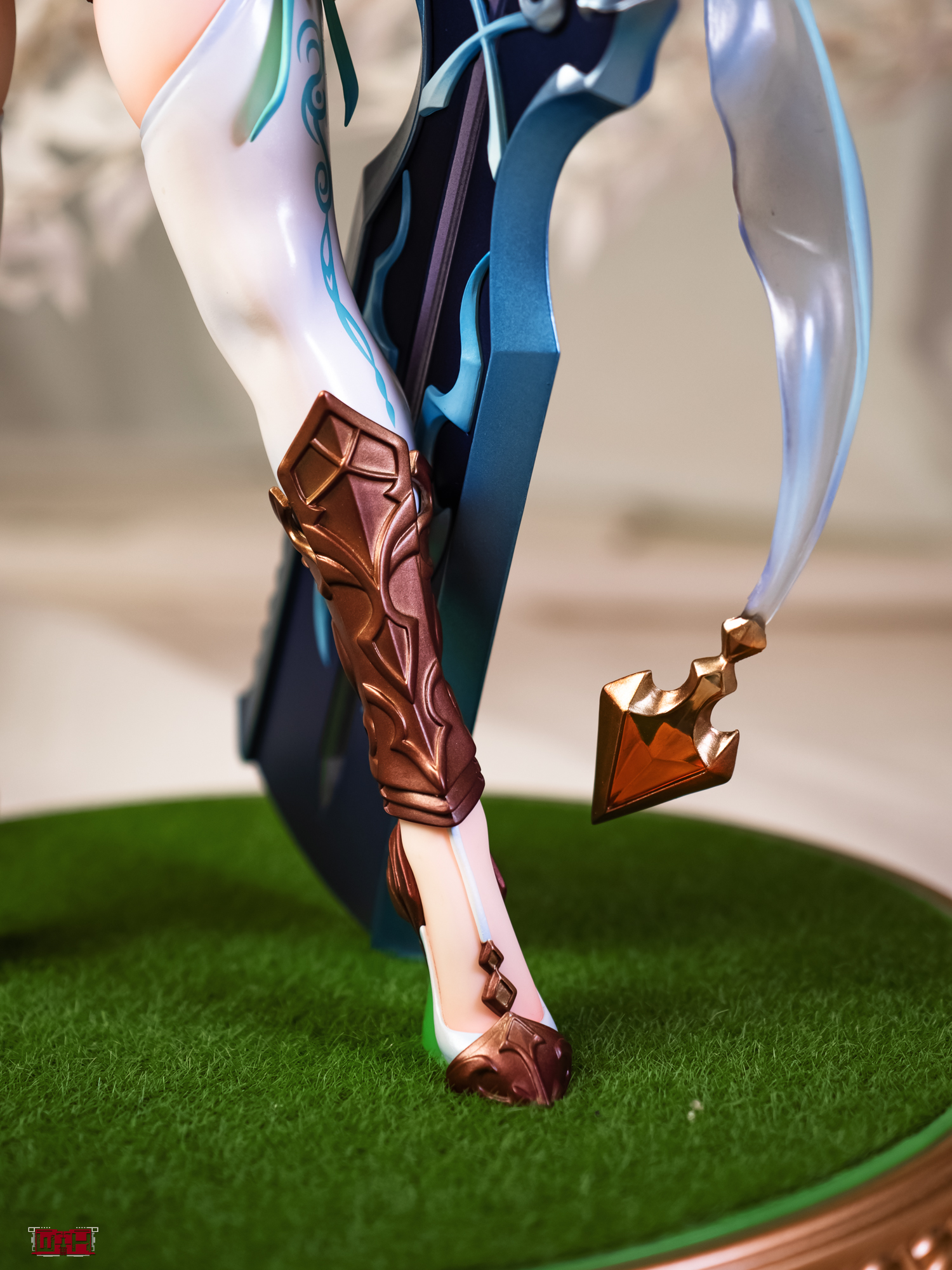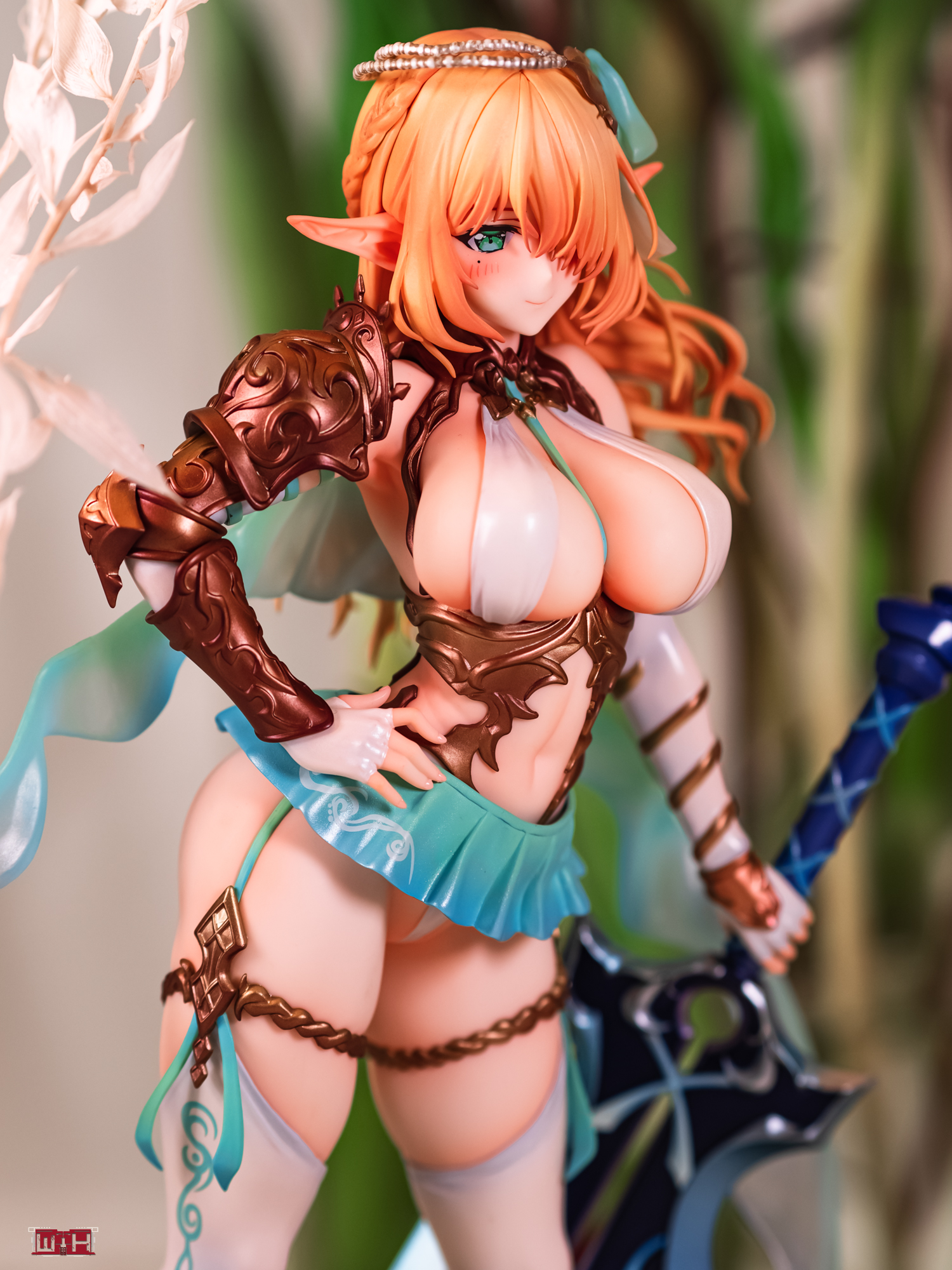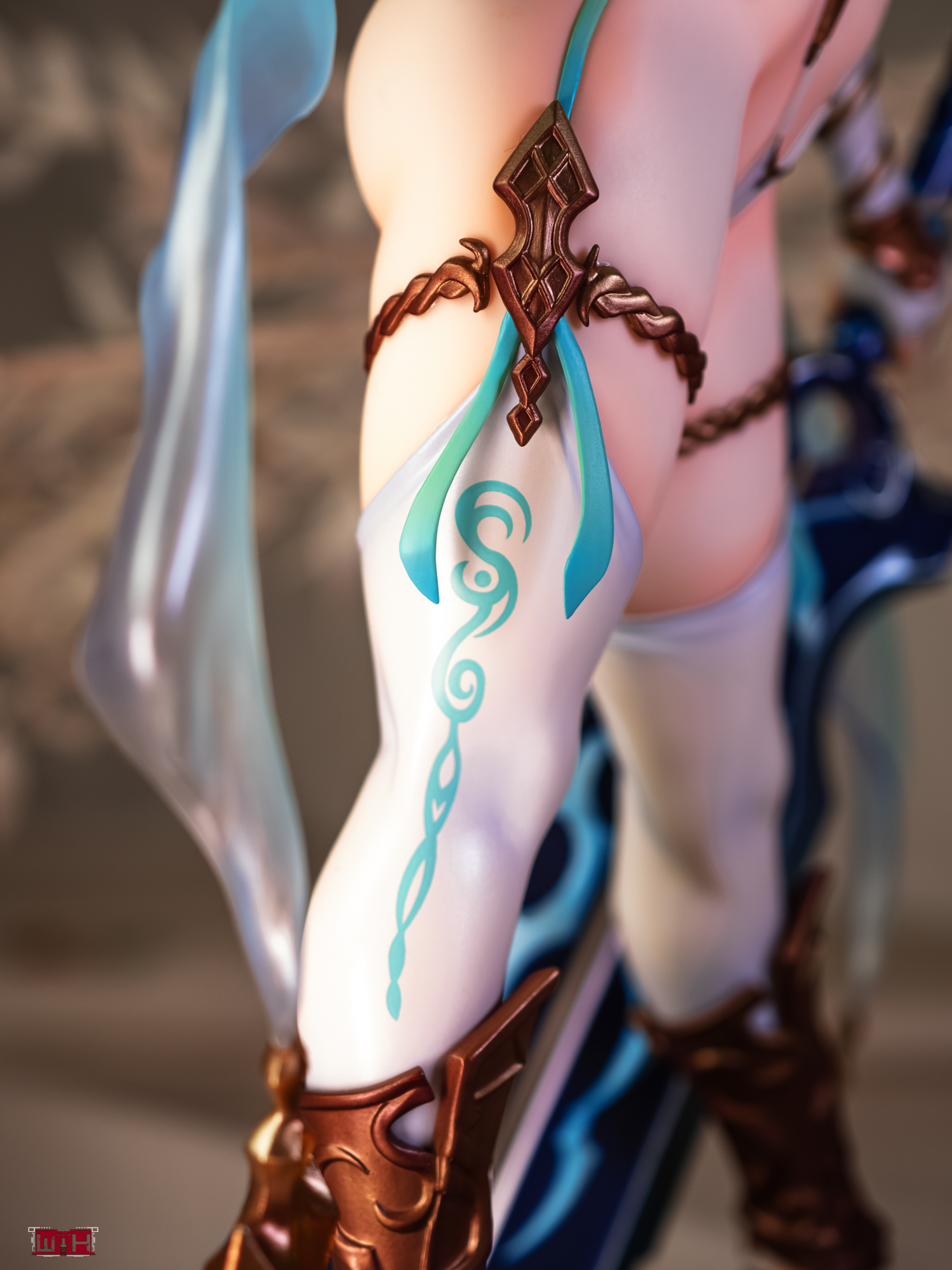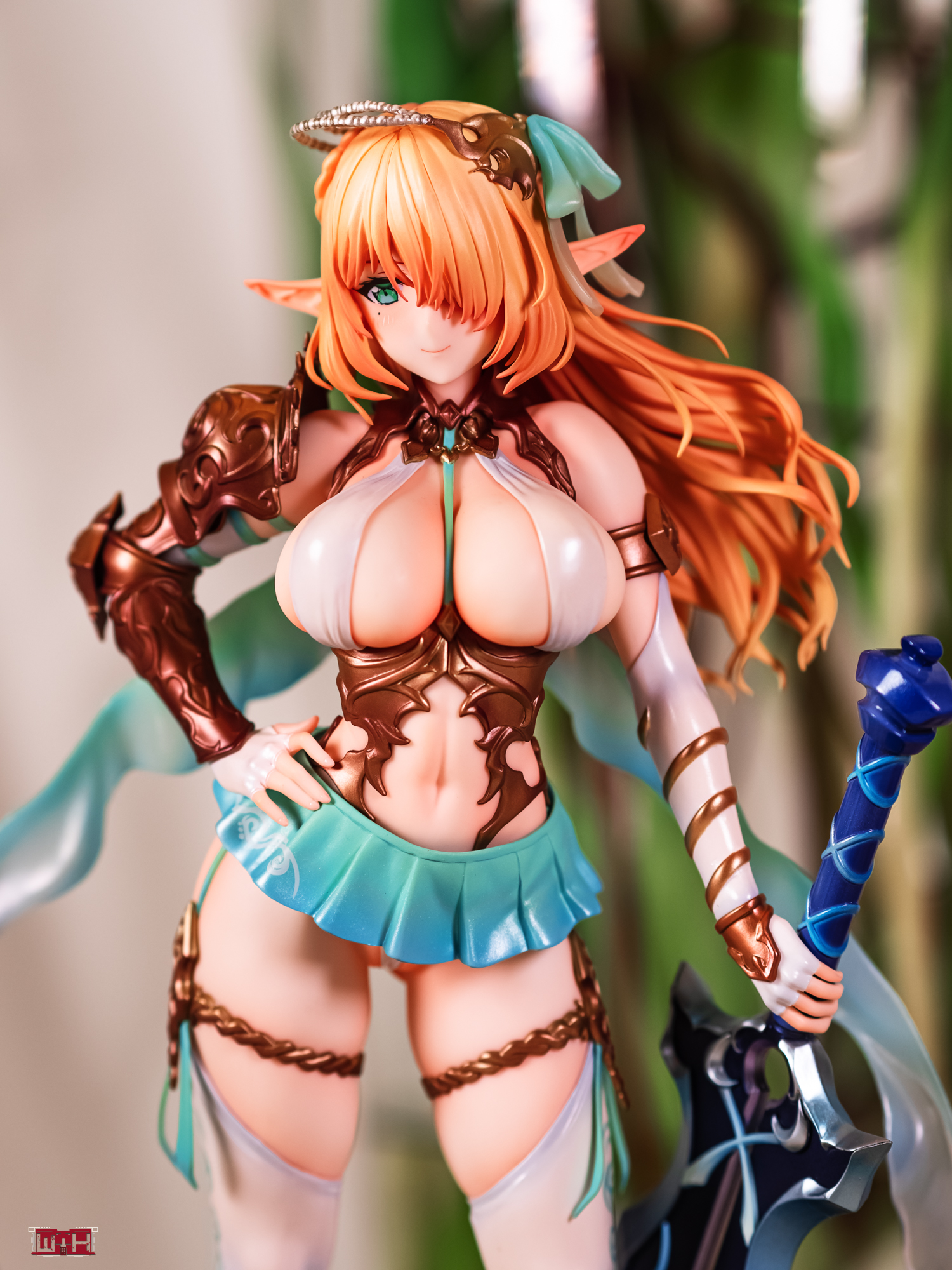 The figure has orange – blonde hair with a gradient effect on it, it's a very nice color tone. Her hairstyle is a modern bob cut at the front, but the Elf actually has long hair at the backside, the long wavy strands are finely sculpted and shows dynamic movement into the left direction.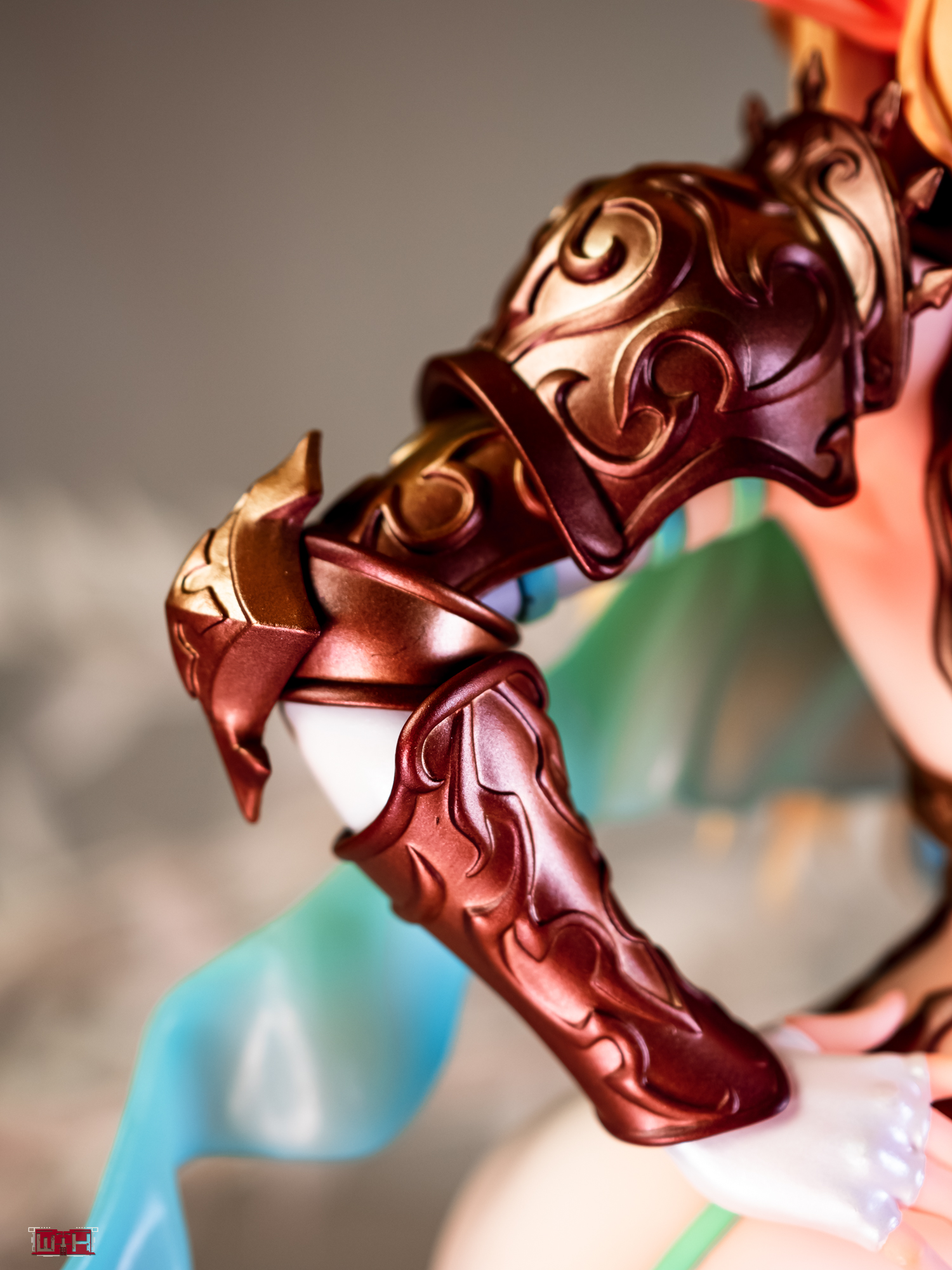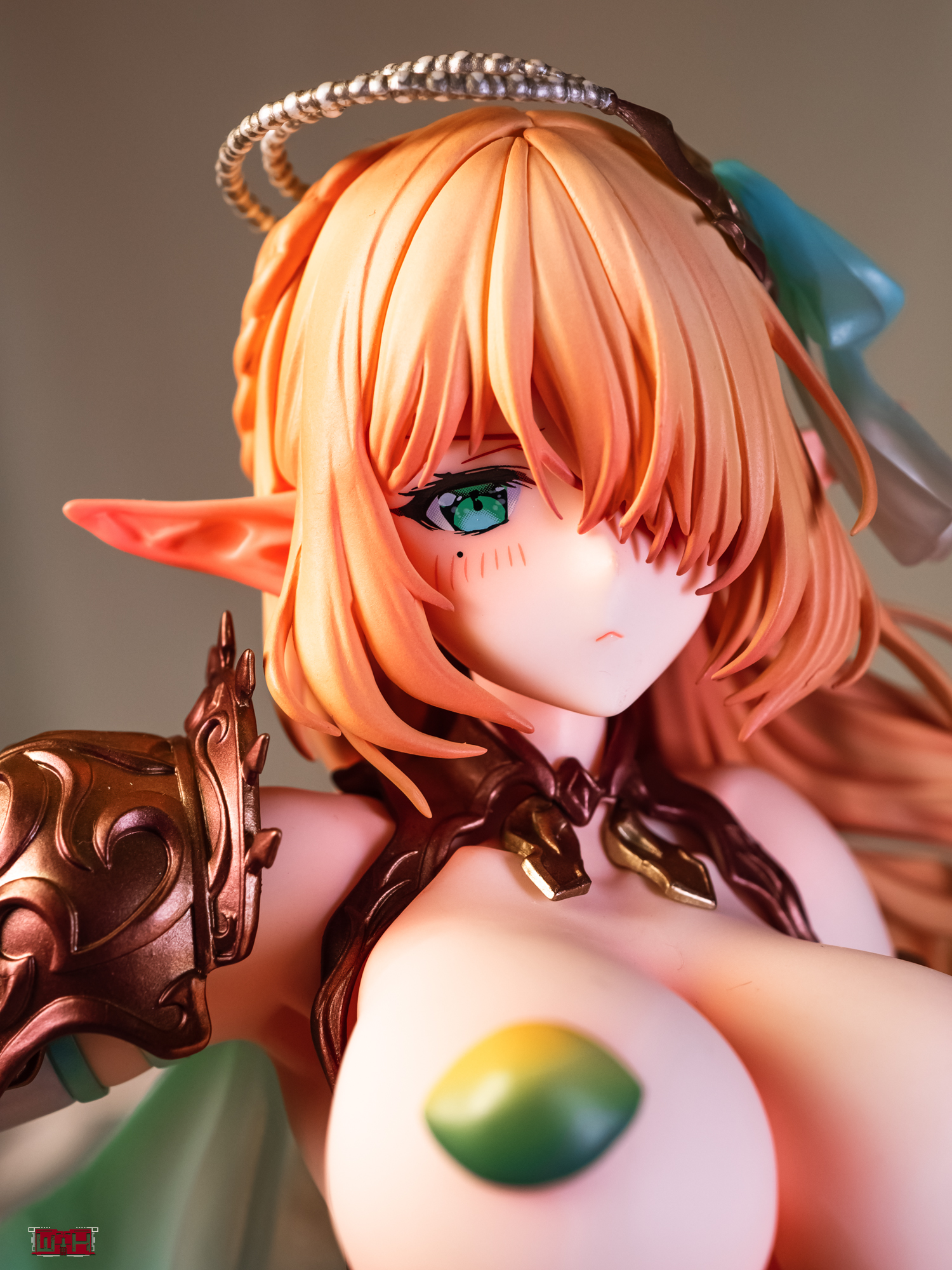 One eye is covered by the hair, I generally like such details, it's making the figure look cute yet also venturous. Her facial features are beautiful, and applied with high precision. The eyes are very detailed and the aquamarine color appears very lively.
Cecile is showing a very kind expression with a fairly good amount of blush. The figures optional faceplate gives the figure a "troubled" expression, as if she is not amused by how revealing her outfit is. Although I did order the special edition because of the additional expression, I prefer the standard one.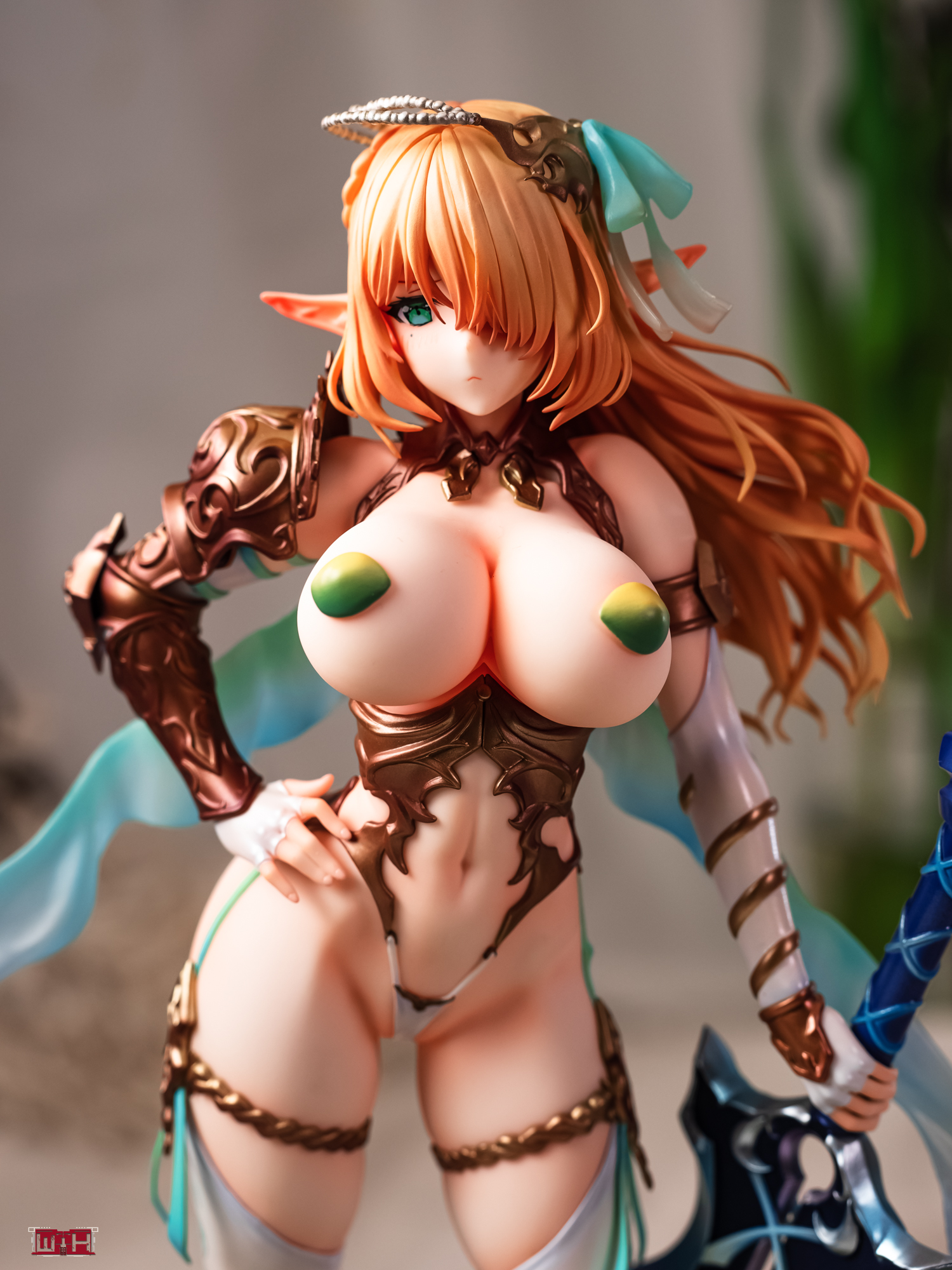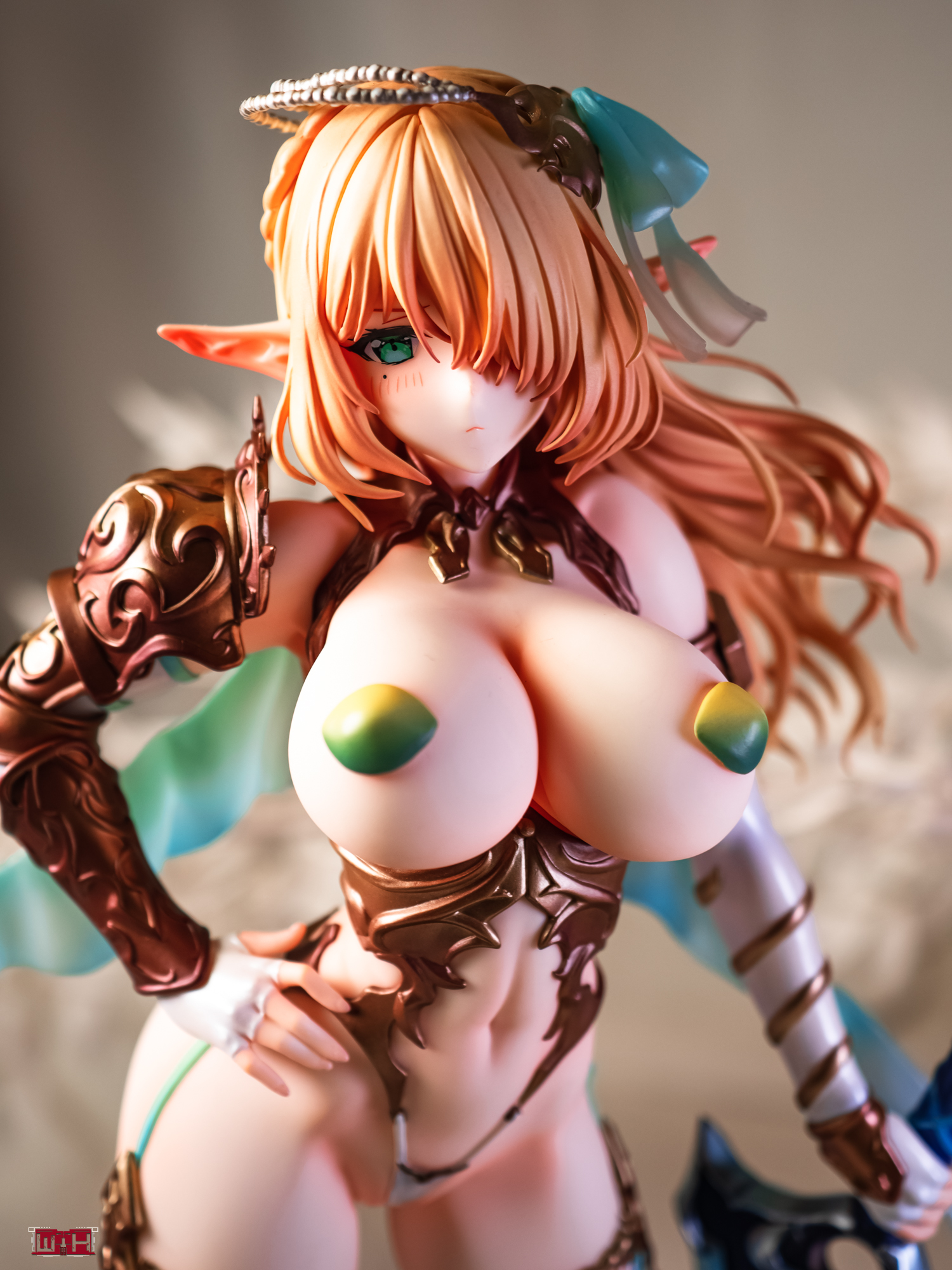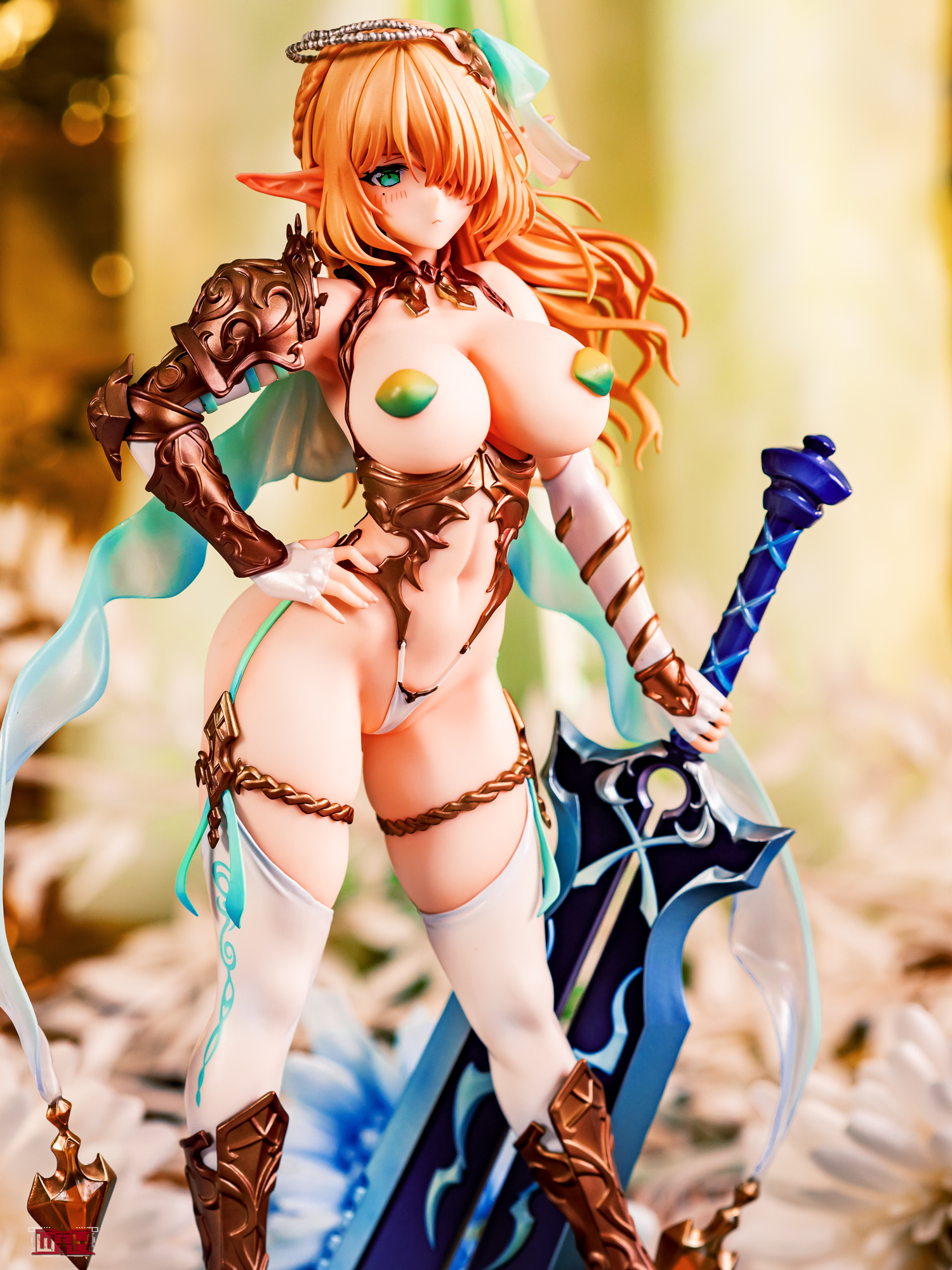 Cecile is a big and sturdy girl with perfectly voluptuous proportions, while still maintaining an athletic body line. The figures butt is really standing out proud, nice and round, accompanied by strong looking legs.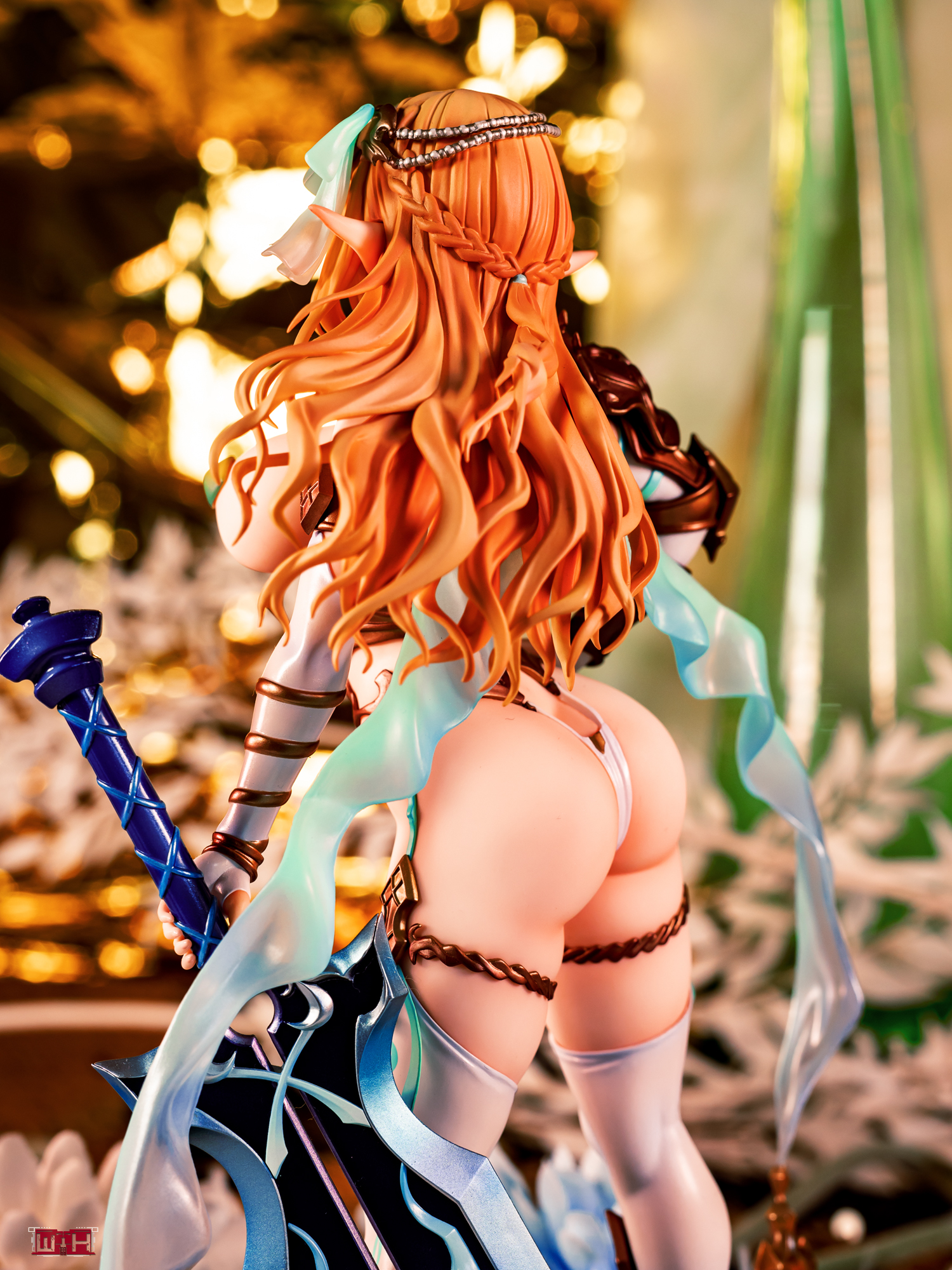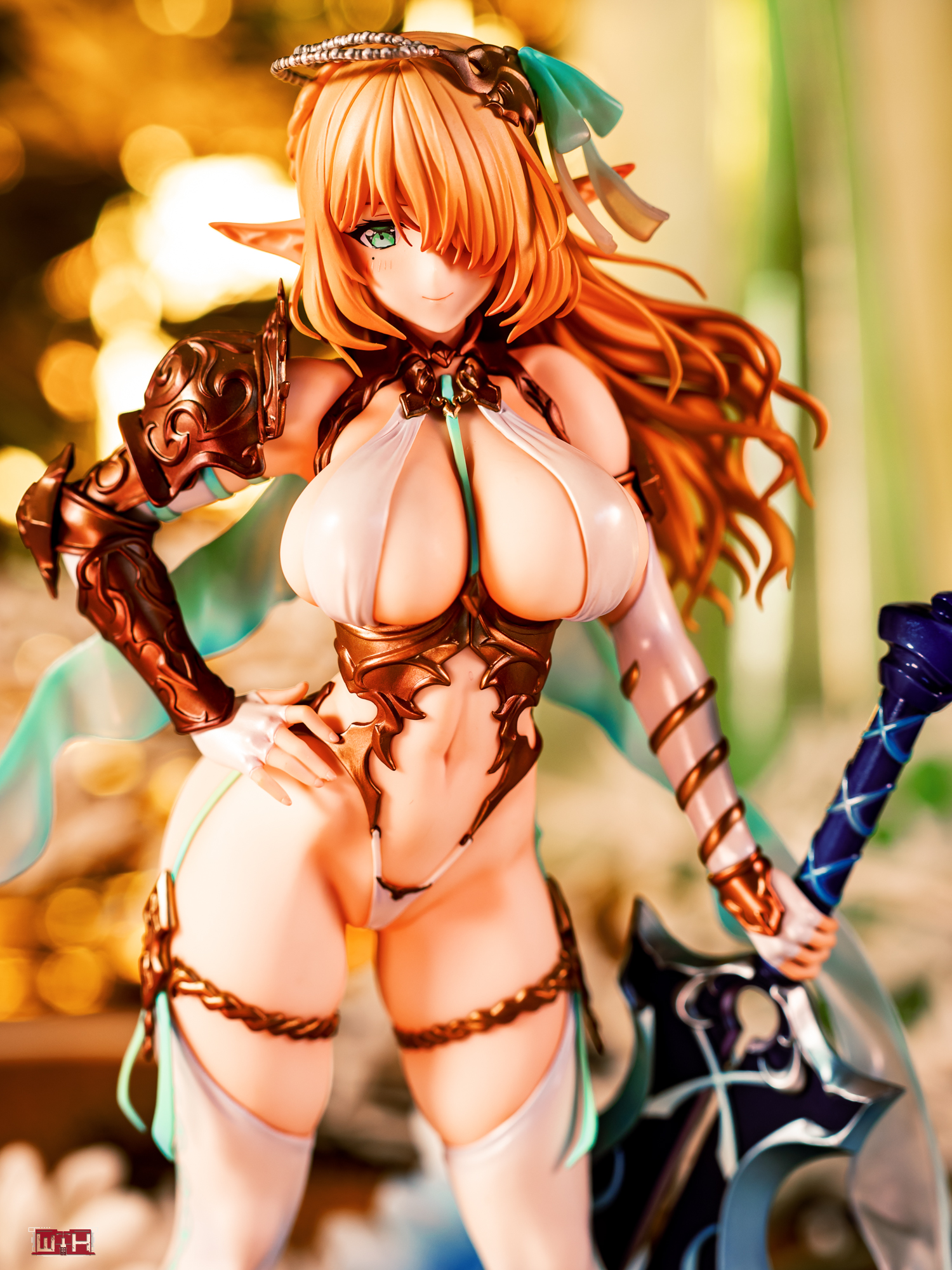 I think it's a nice balance of body volume and muscular appearance, Cecile looks plenty strong and sexy. I like to display the elf with bare hips, together with the smooth looking abs on her abdomen, she simply looks fantastic. The bright pinkish skintone with it's very smooth texture is attractive and the properly applied shading creates a nice depth on the figure.
Her outfit is light and breezy, the dominant colors are aquamarine, gold and white. Beneath to bronze colored armor parts the figure wears fabric resembling shiny white silk, like these fingerless gloves, the stretched stockings or the erotic panties that only cover the most crucial areas. It's actually very lewd how the panties dig in the middle of the cameltoe.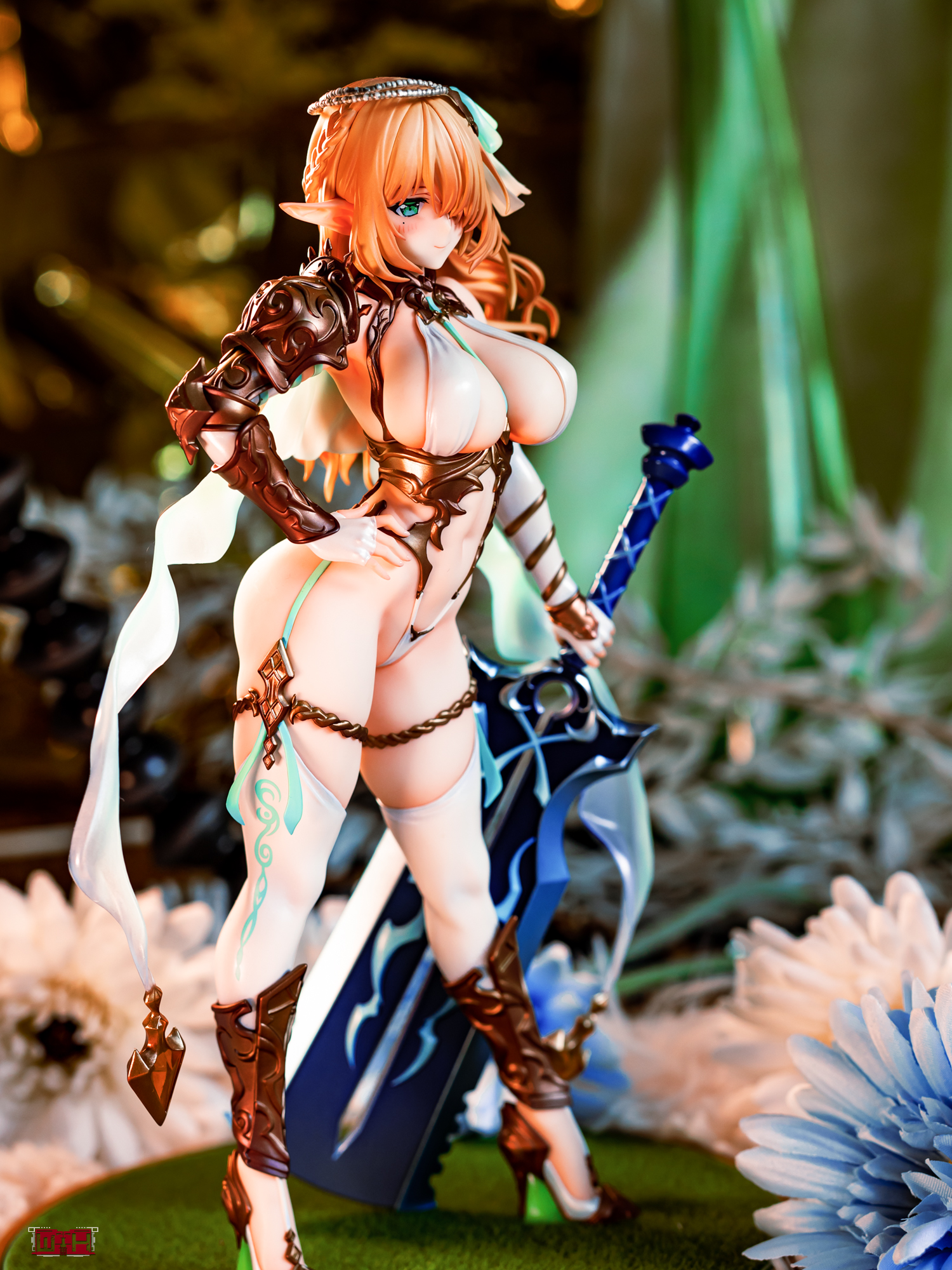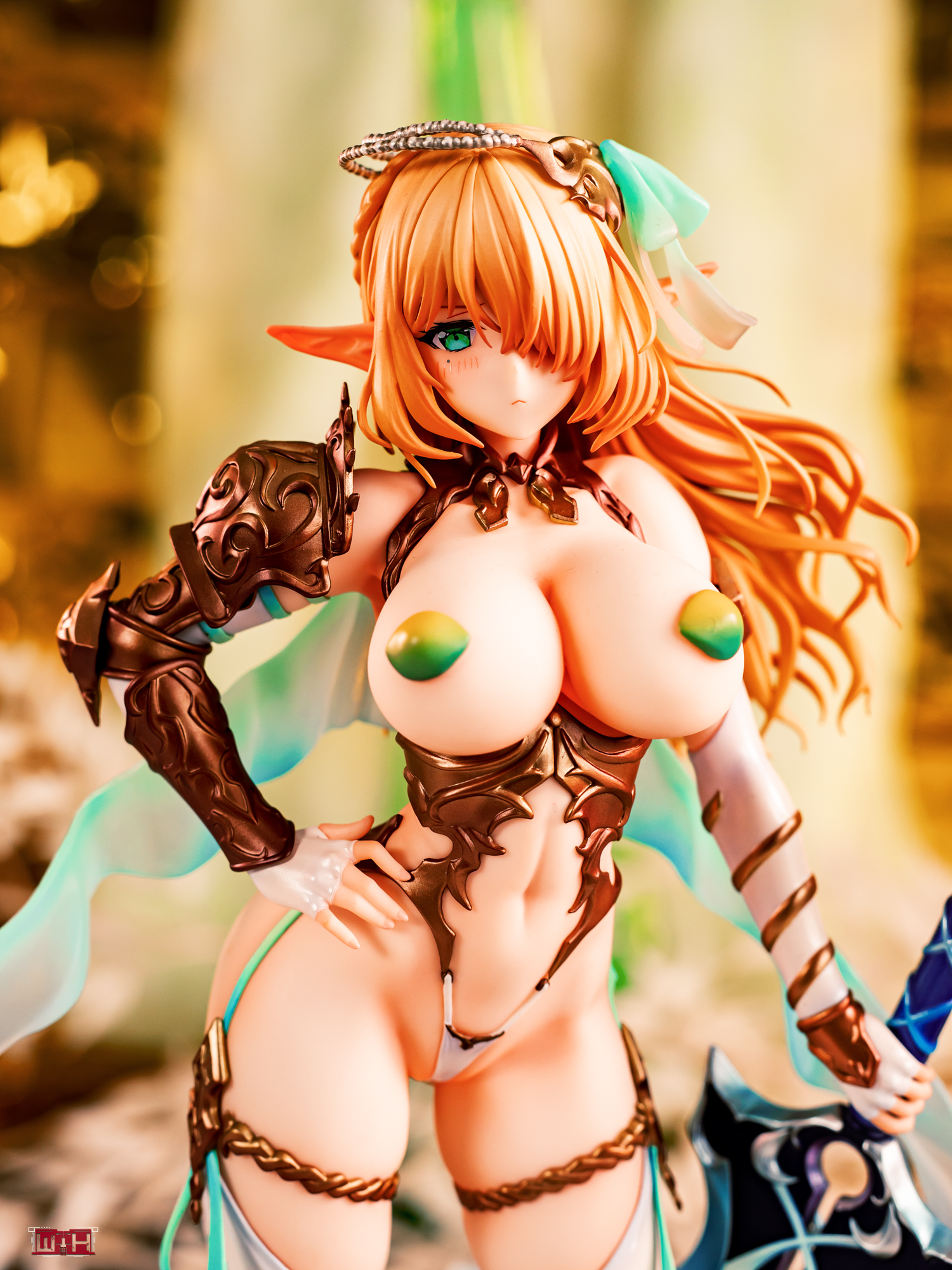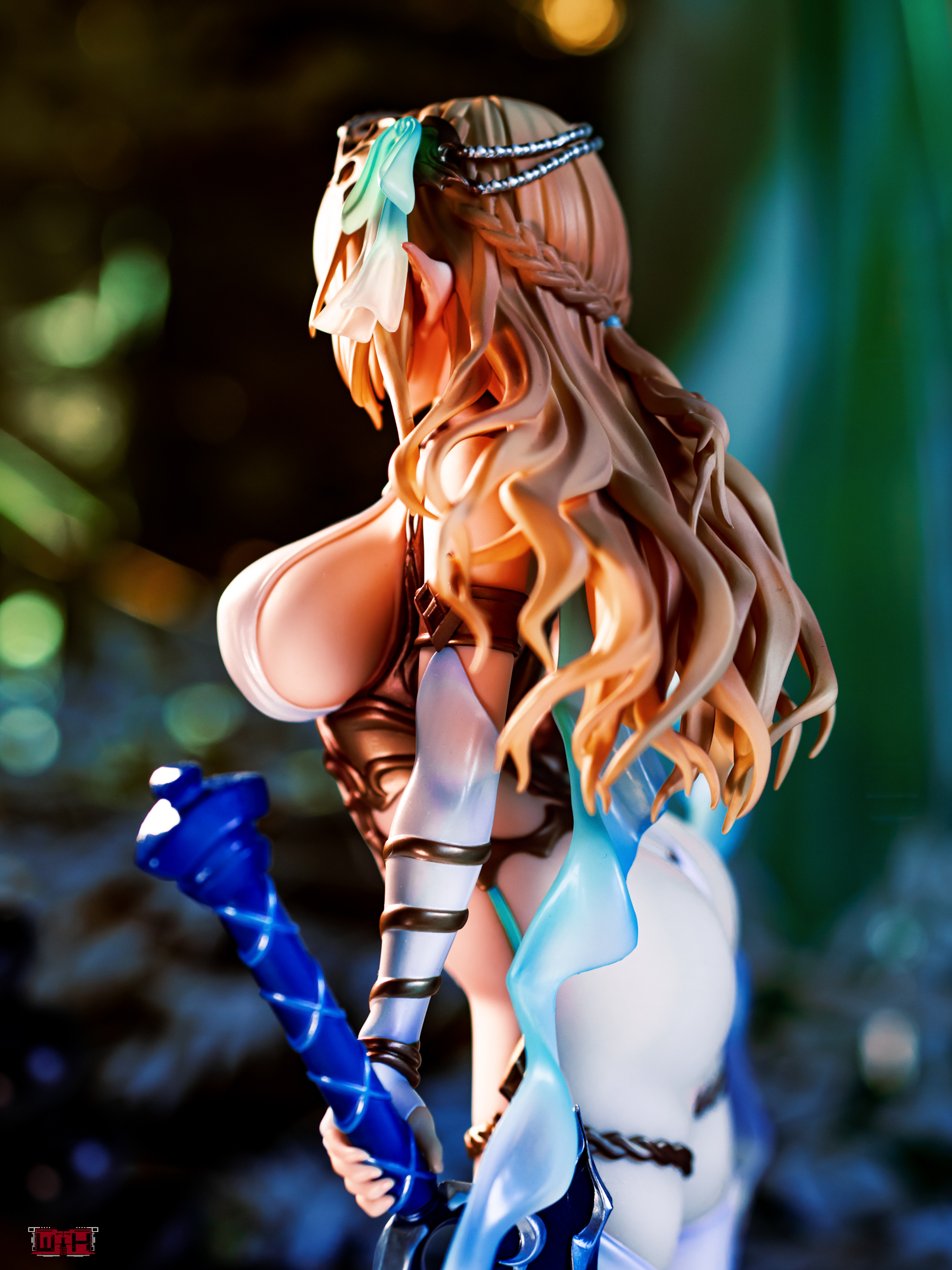 She is equipped with some armor parts at her sides, shins and right arm. The metallic bronze color is nice and the level of detail is very well done. What is also great about her outfit are all those small details of the outfit, there are small ribbons and fantasy styled metallic ornaments placed all over the figure.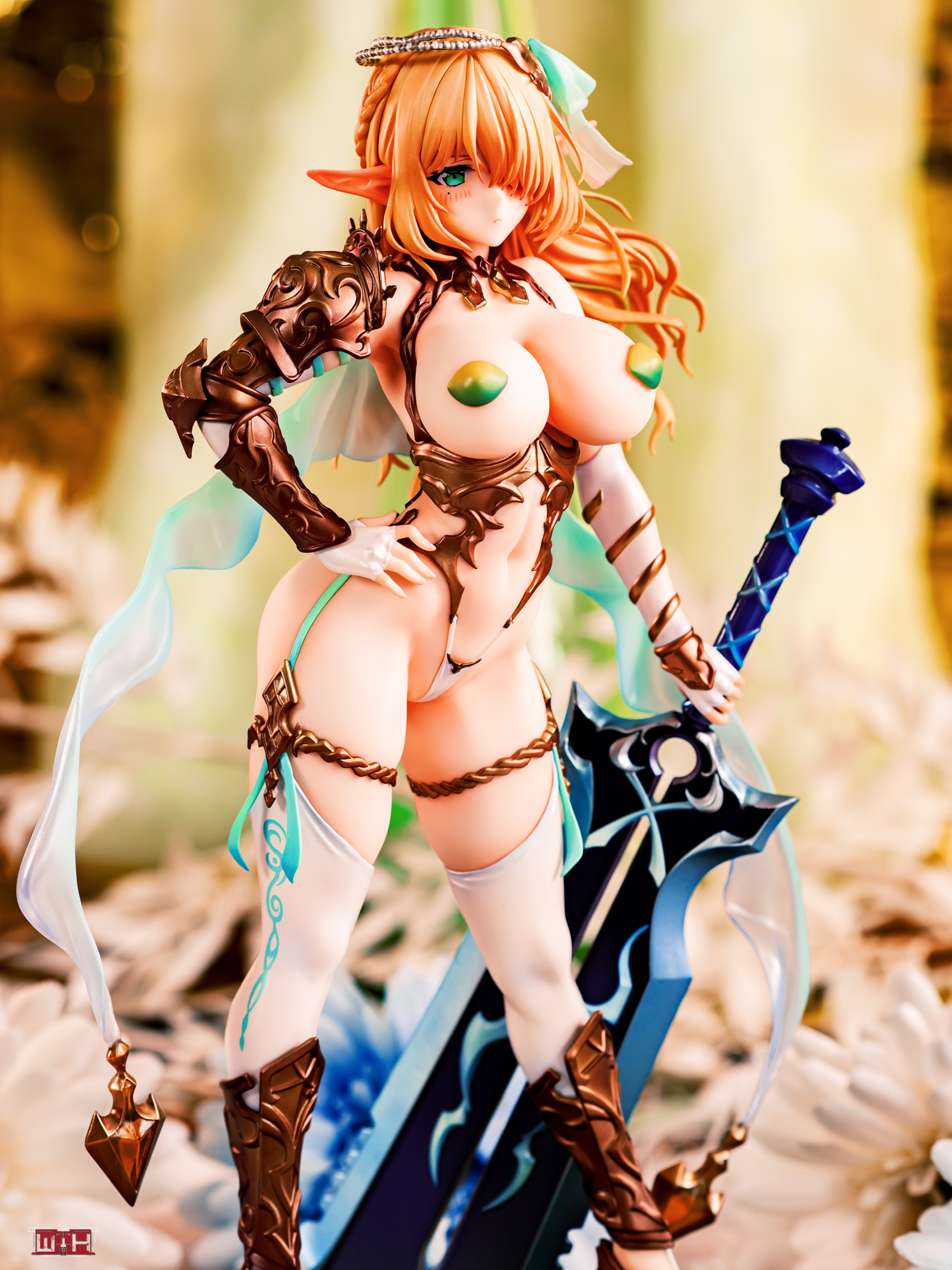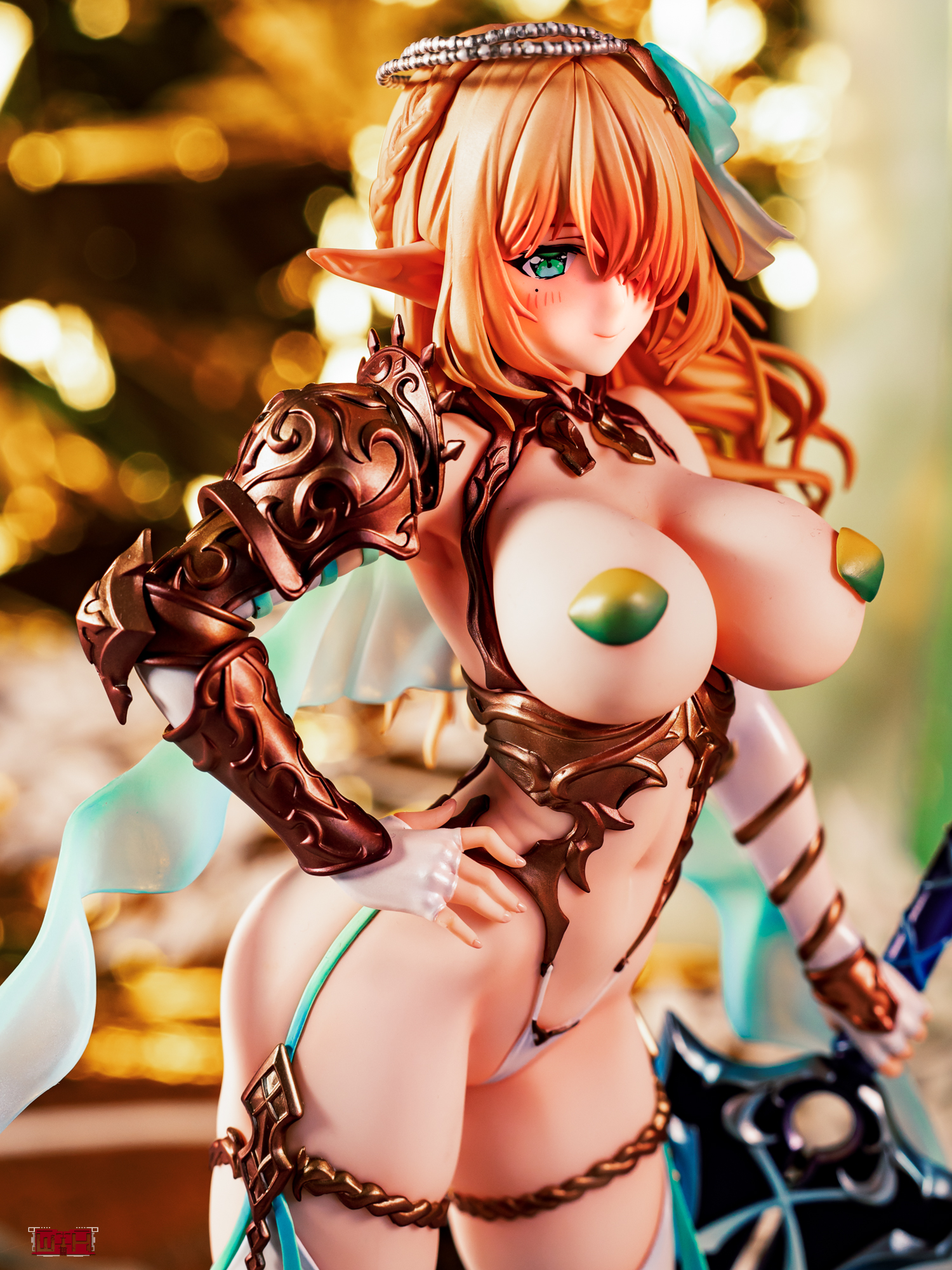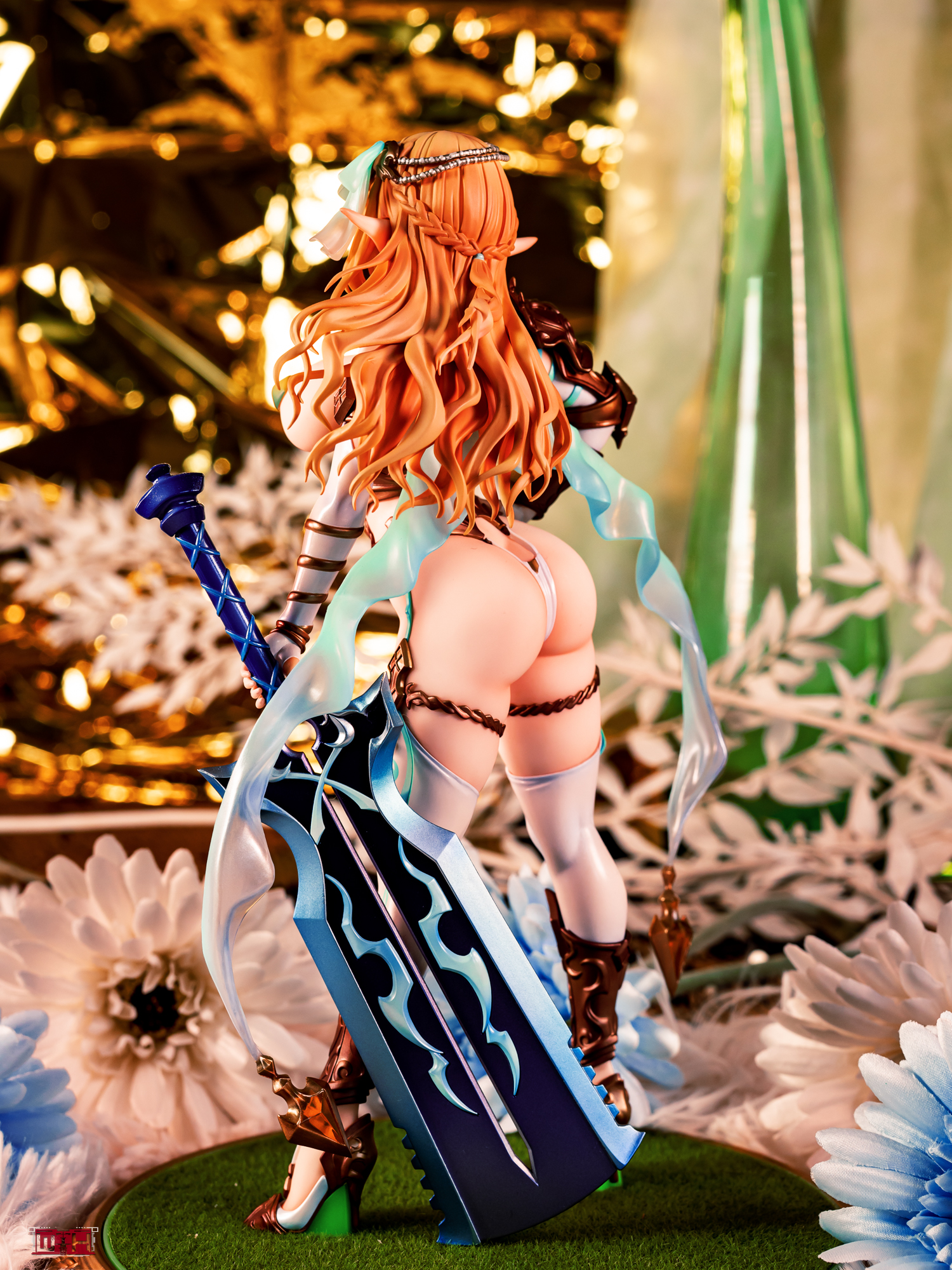 The breasts are covered in the middle and it looks quite nice that way. At her back she is wearing a cape like things that branches off into two divided pieces, color, sculpting and transparency are top notch. A different breast piece is also provided, she has nicely sculpted breasts, they are big, but not so big that they would disturb the figures athletic direction of the design. There are additional nipple covers that you would have to peel of on your own, to have a good view of her nipples.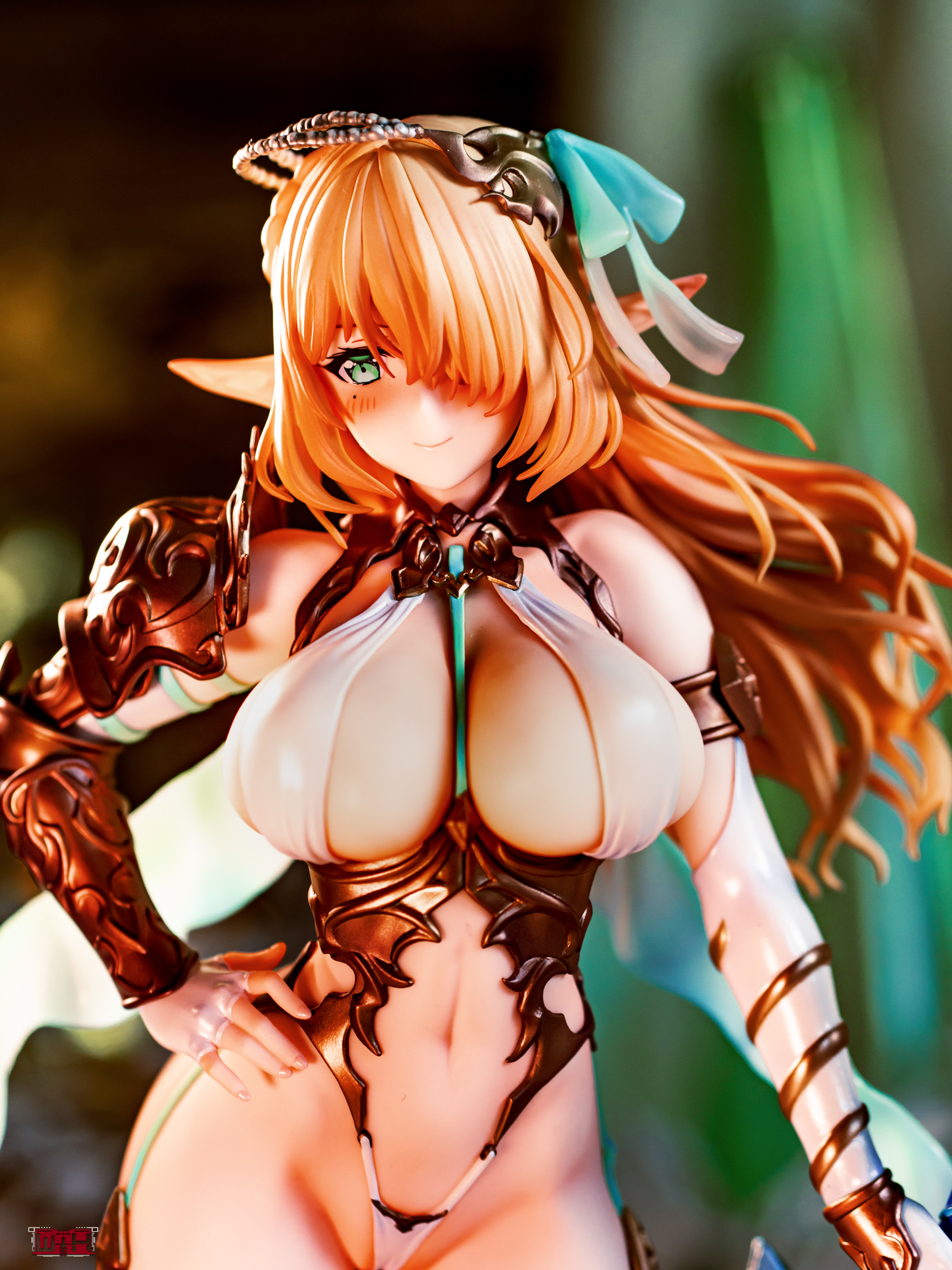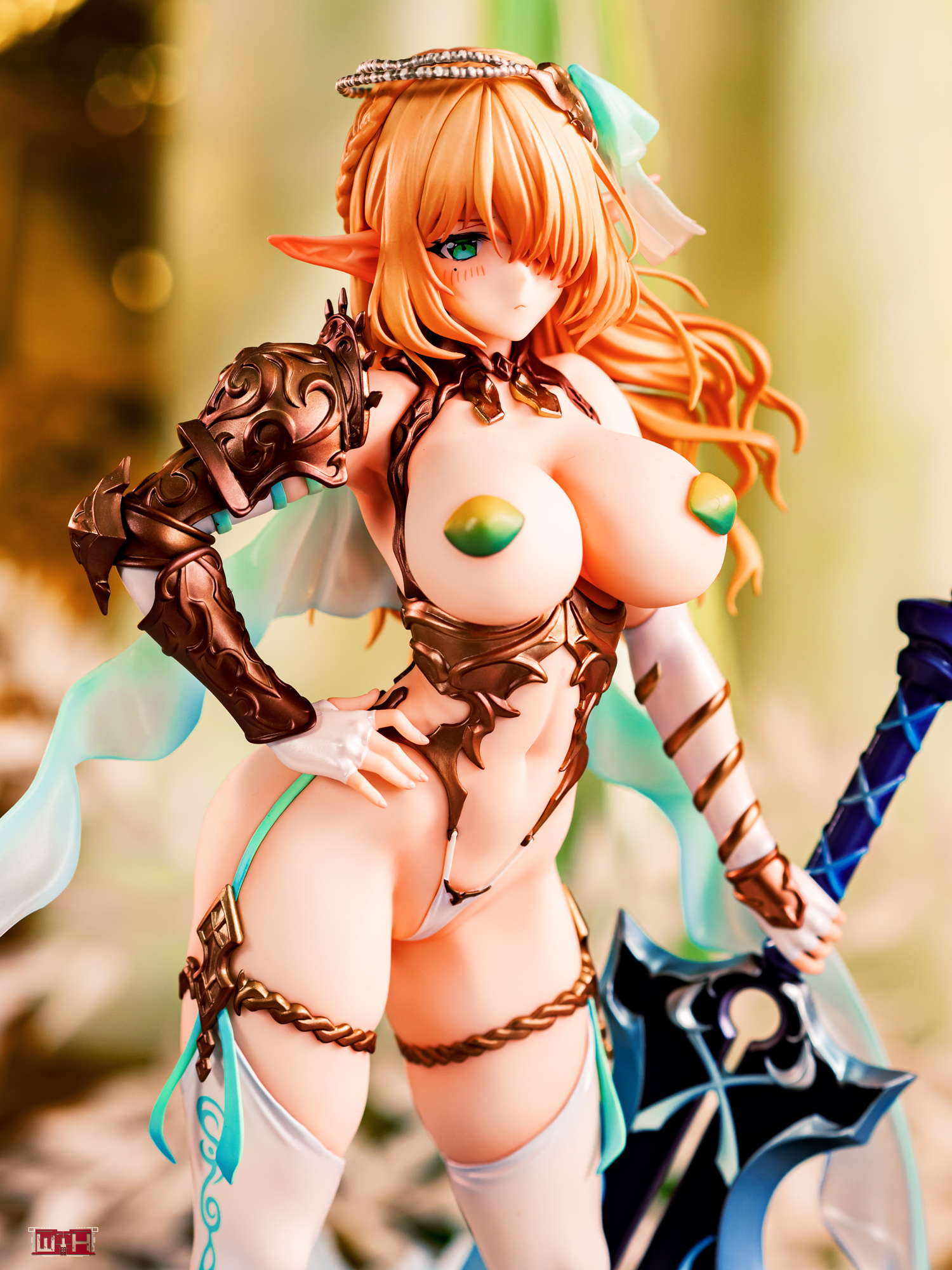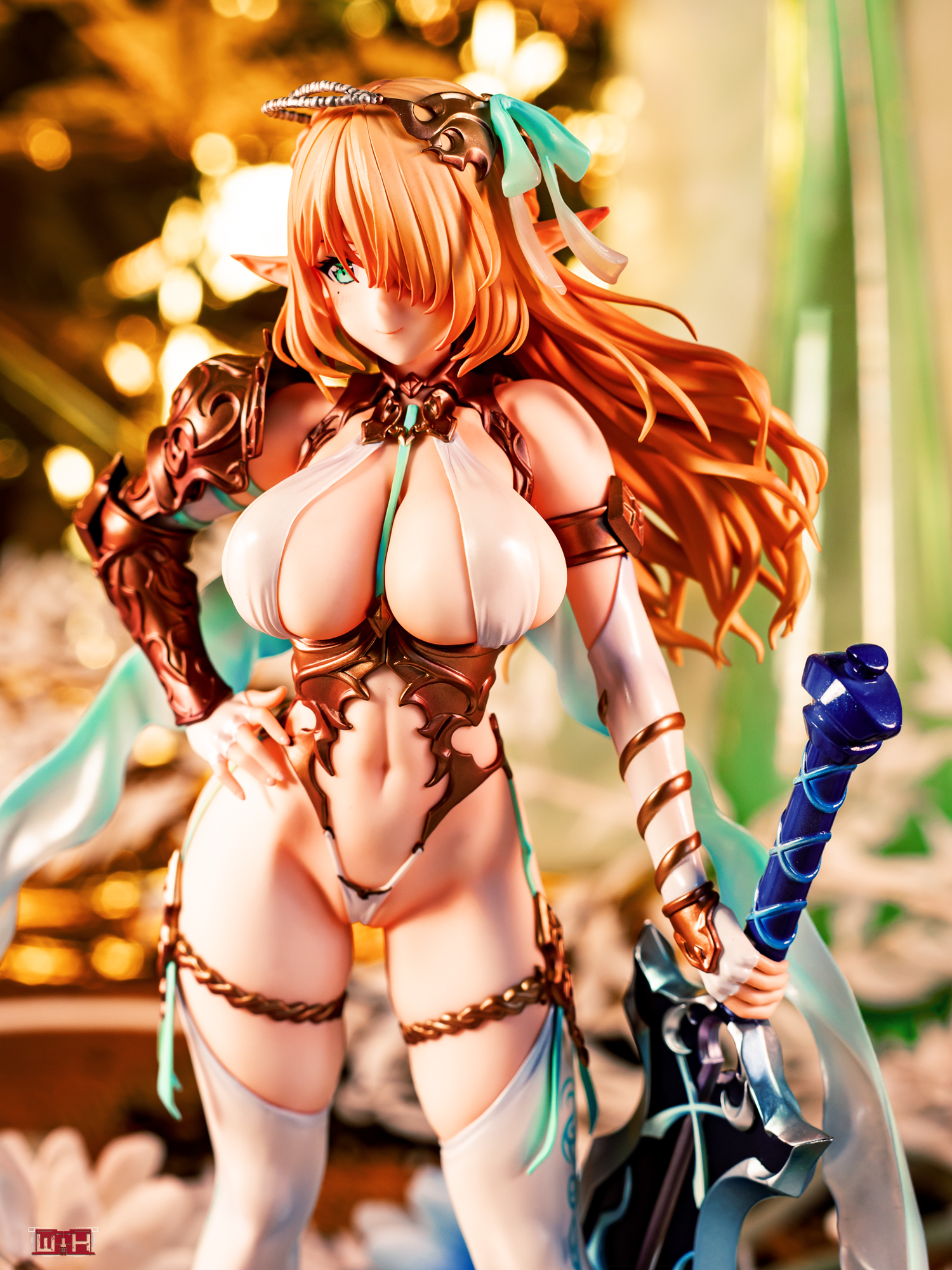 As Elf this figure is using a kind of unusual weapon, a wide double edged sword. It's somehow cool looking with it's shape and additional details, but why do they choose this color, nothing on this figure is dark blue, it seems as Cecile bought herself a limited color variation at the weapon store.
There is also a very short skirt, while I think that it is actually unnecessary, since since it's too short to cover anything at all and the figure is half naked anyway.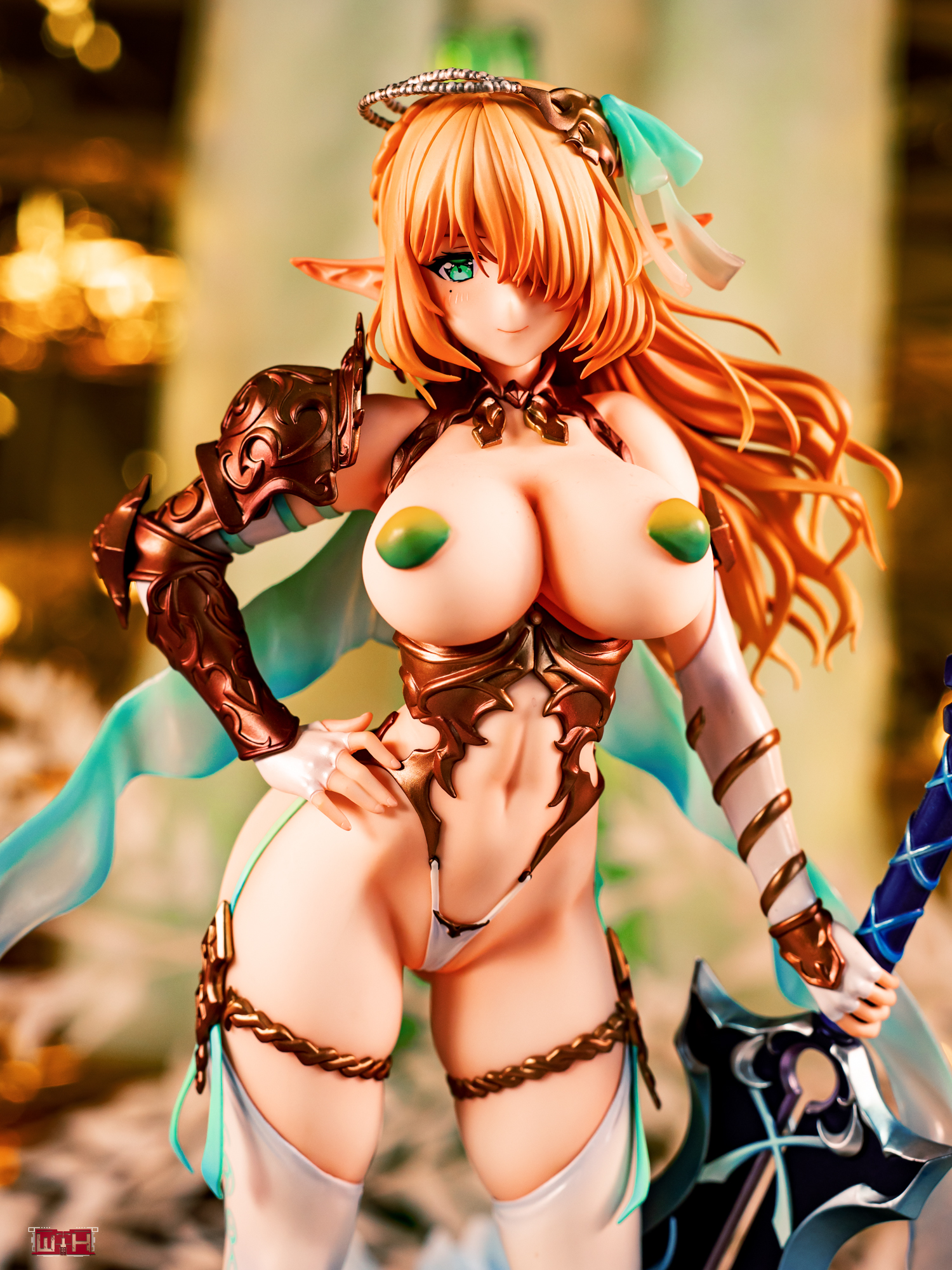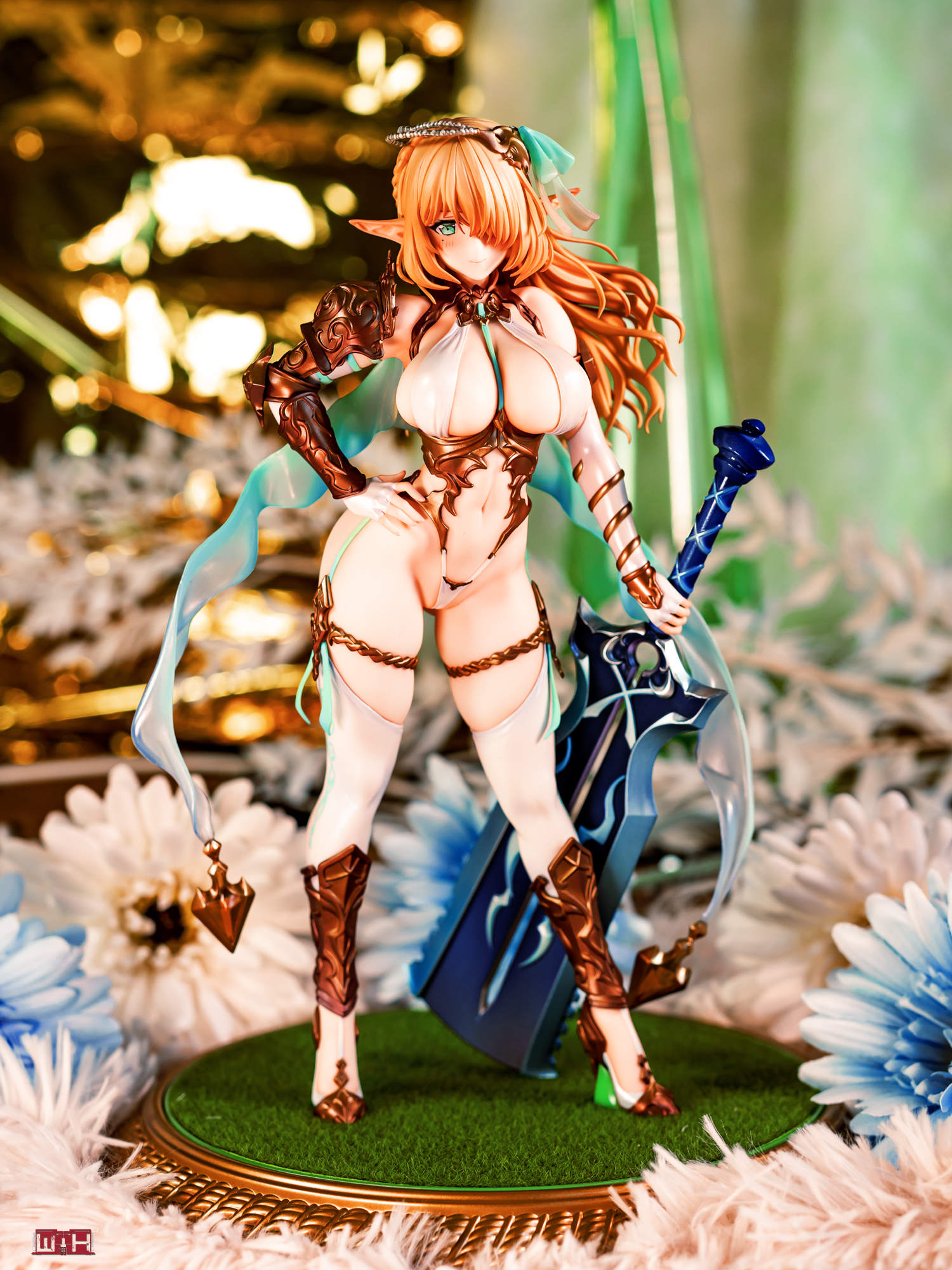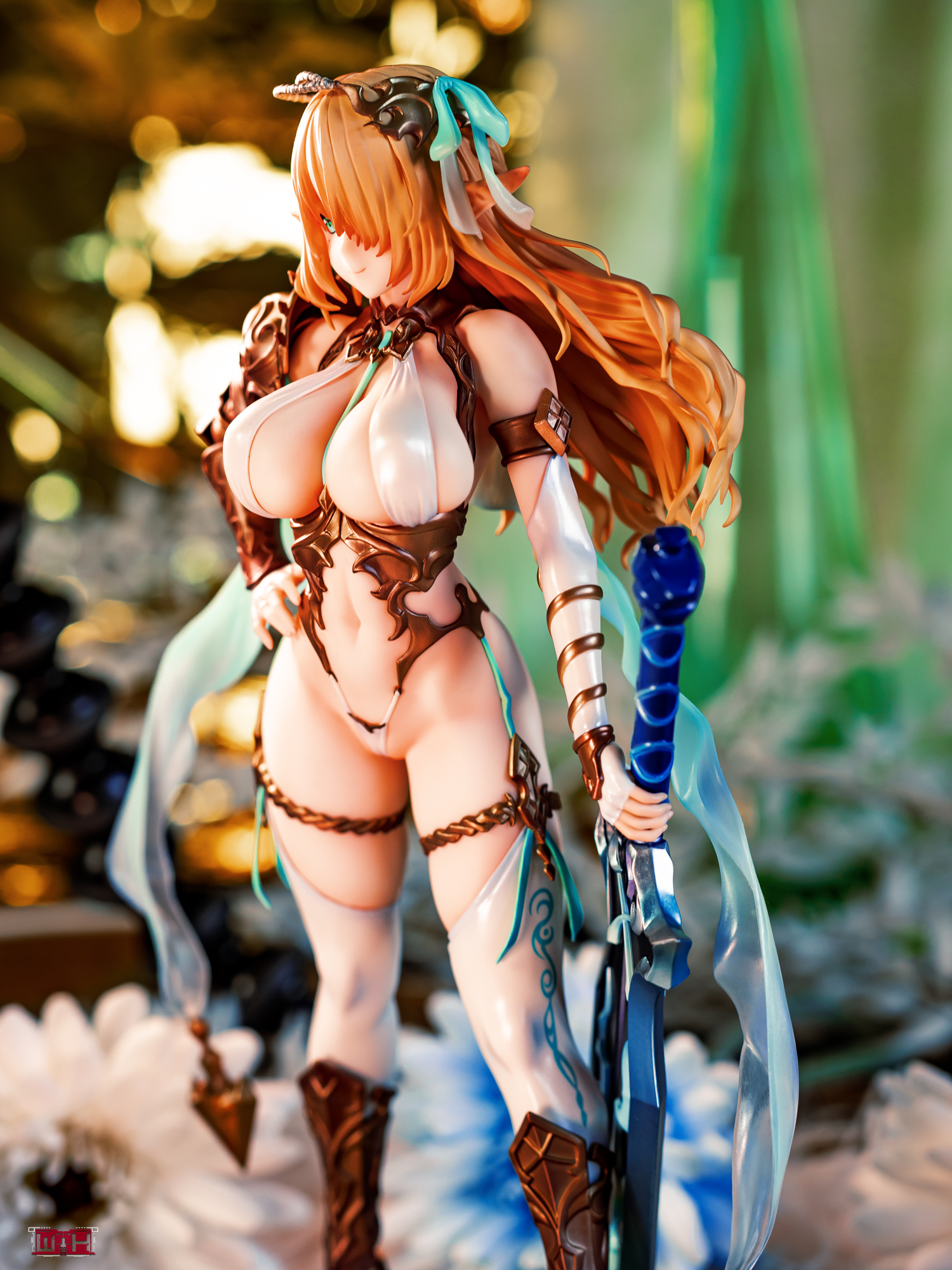 Final Words
I haven't bought a Vertex figure in previous years, but Cecile is one of Vertex very best figures. She is beautiful, cute and without a doubt is Cecile a very attractive figure, that offers a lot of fanservice with her breathtaking proportions and a marvelous bodyline. The figure features everything we love about Elves but adds quite a bit of muscles and meat to it. It is a high quality figure with next to zero imperfections, which is not happening that often in this hobby.