Today I will show you Kurosawa Dia, Blu-ray Jacket version made by With Fans! She was released in September 2019, I have set my eyes on this figure already before the release, bought her a few weeks later in the end.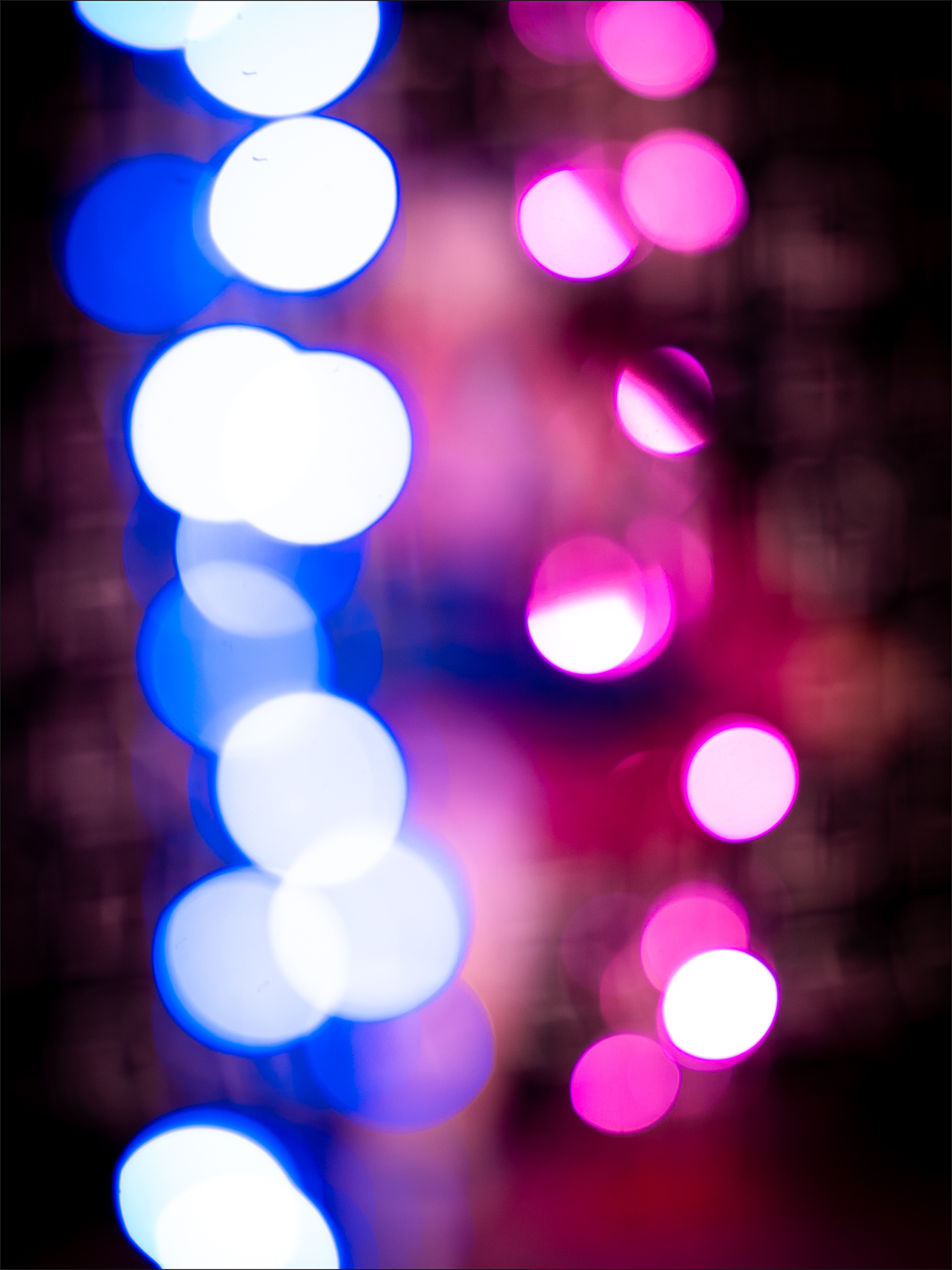 It's obvious that the Love Live!! Sunshine figures get less attention from big figure manufacturers, of course the franchise has a lot of merchandise and many surprisingly nice prize figures are available, but prize figures as nice as they can be, are different from those full price figures. ALTER also made a few figures of the Sunshine crew, but only With Fans! a GSC sub label make figures of everyone based on the covers of the Blu Ray volumes.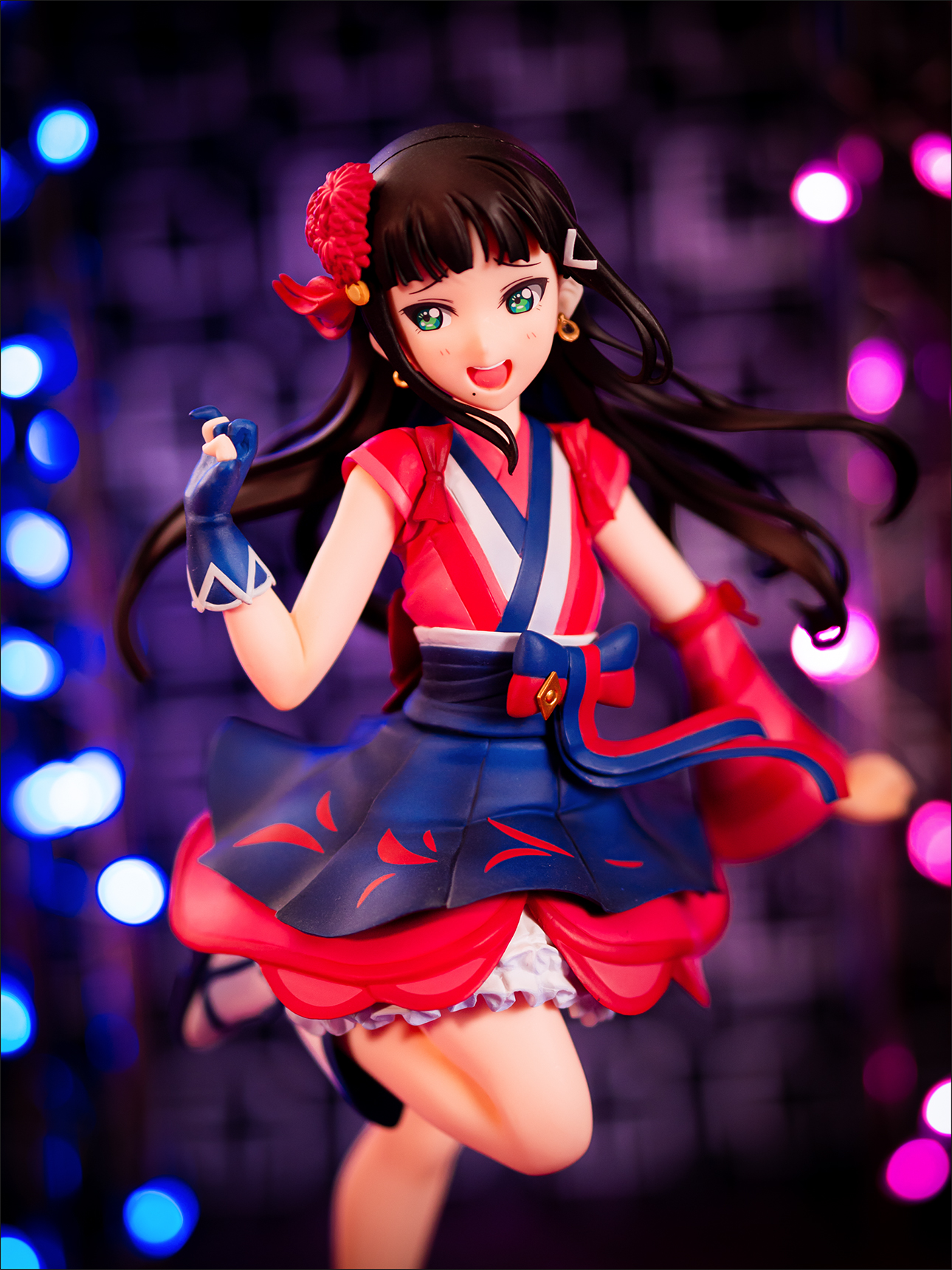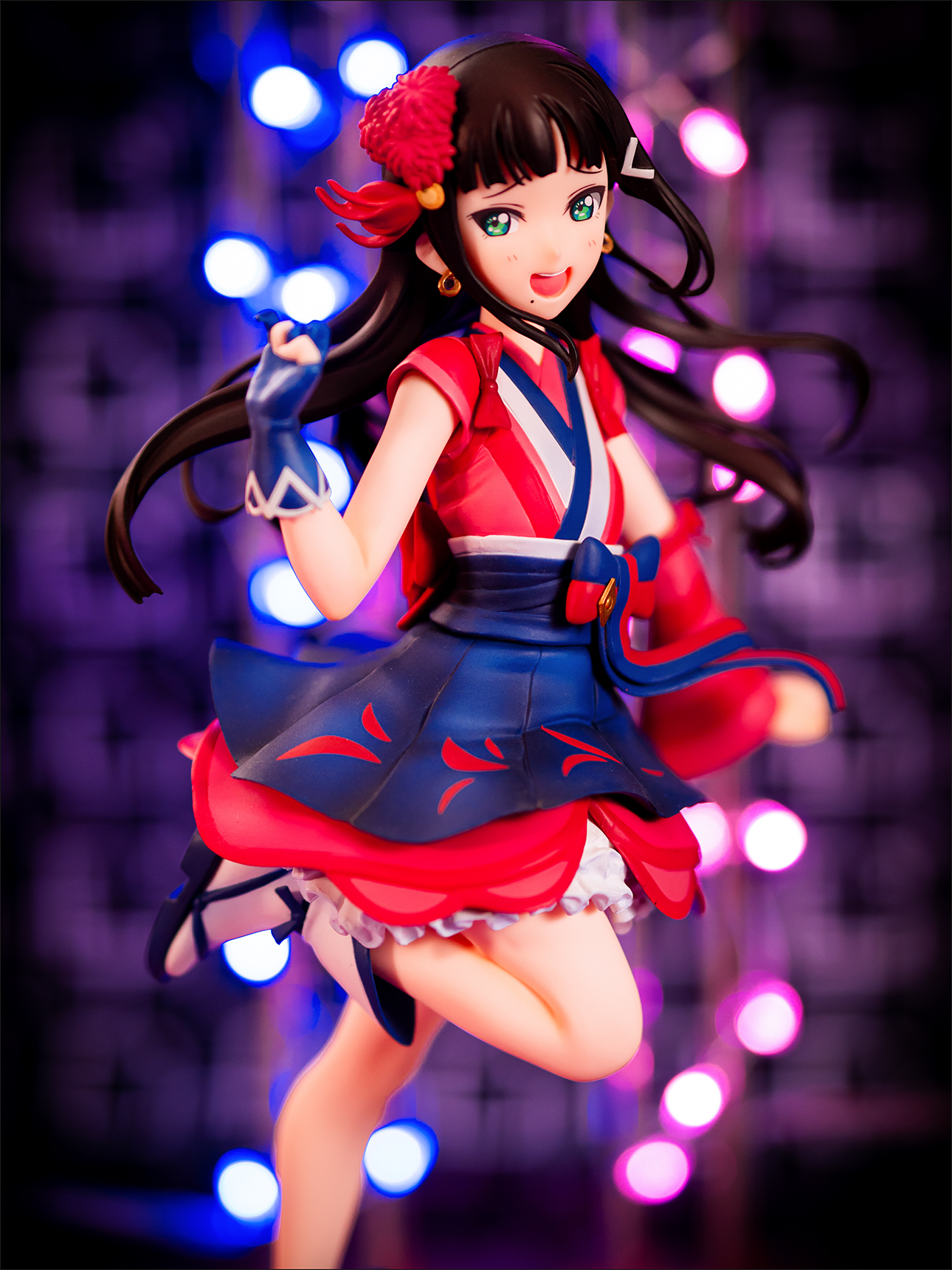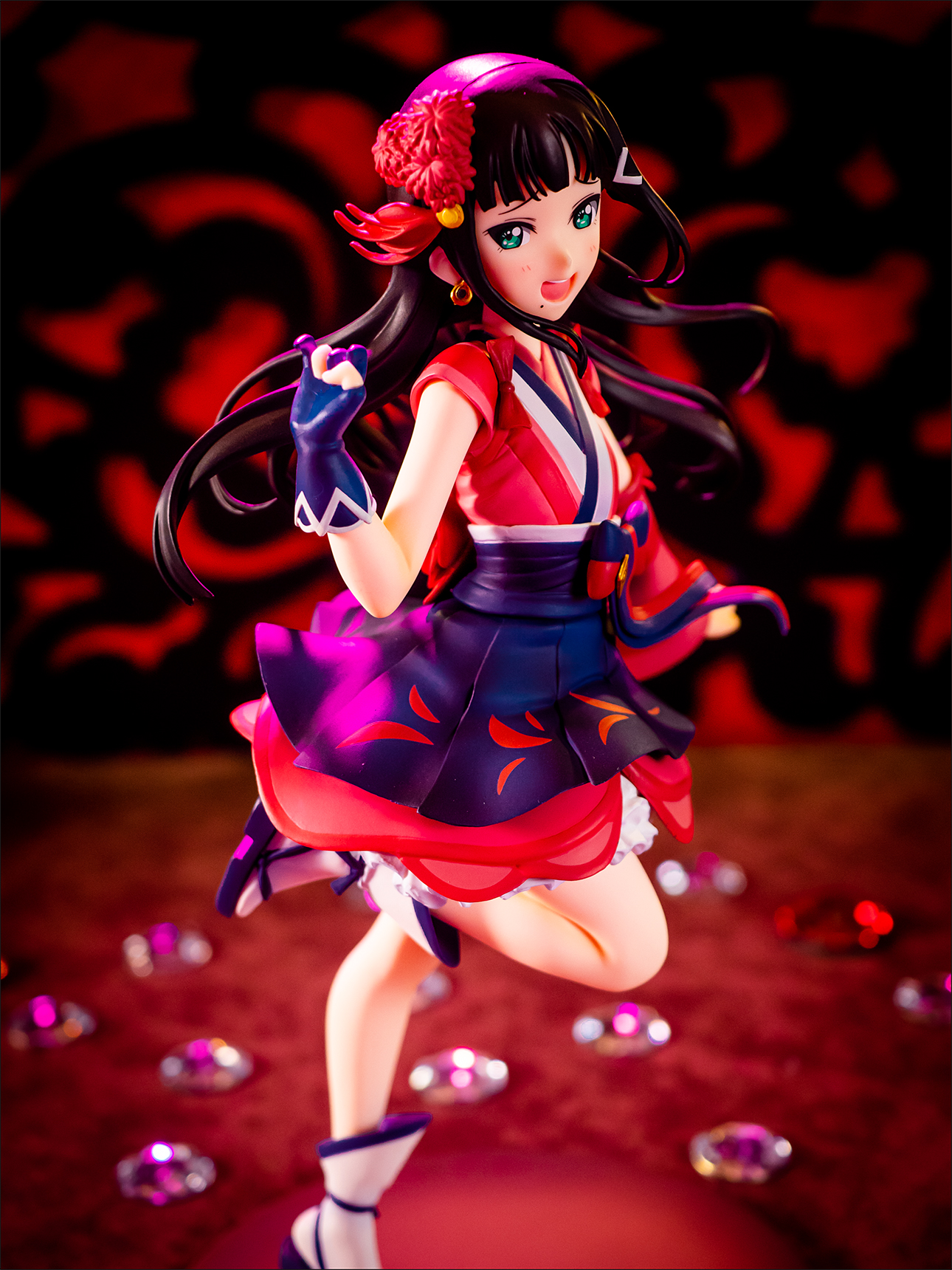 How should I excuse that late review, depressions? …maybe.
The figure of Kurosawa Dia measures 21,5 cm in height and is scaled 1/7. This figure from With Fans! was sculpted by Kawagoe Hiromitsu and Saitou Nobuhiro, both also worked on the figure of Kurosawa Ruby Dia's little sister.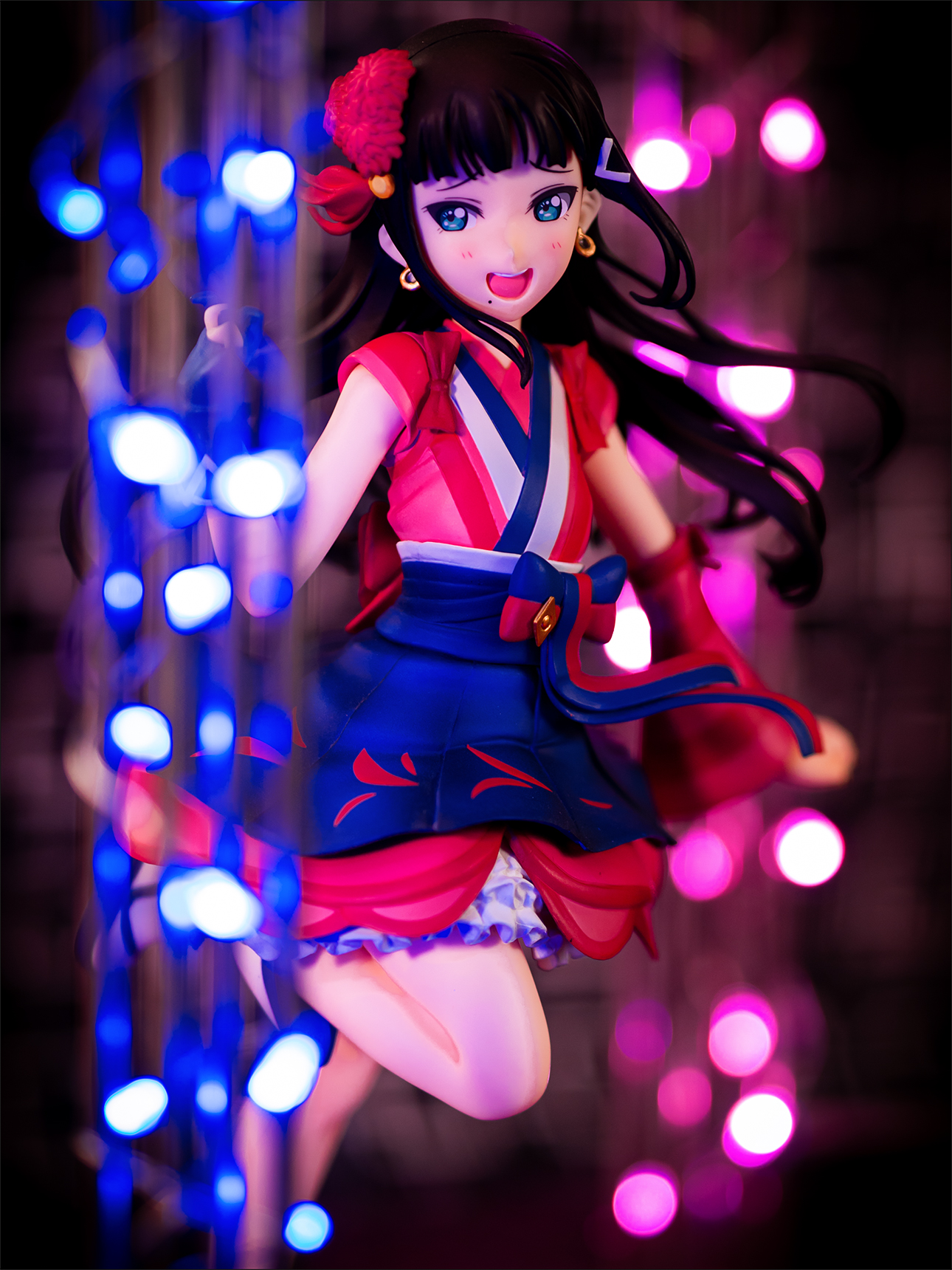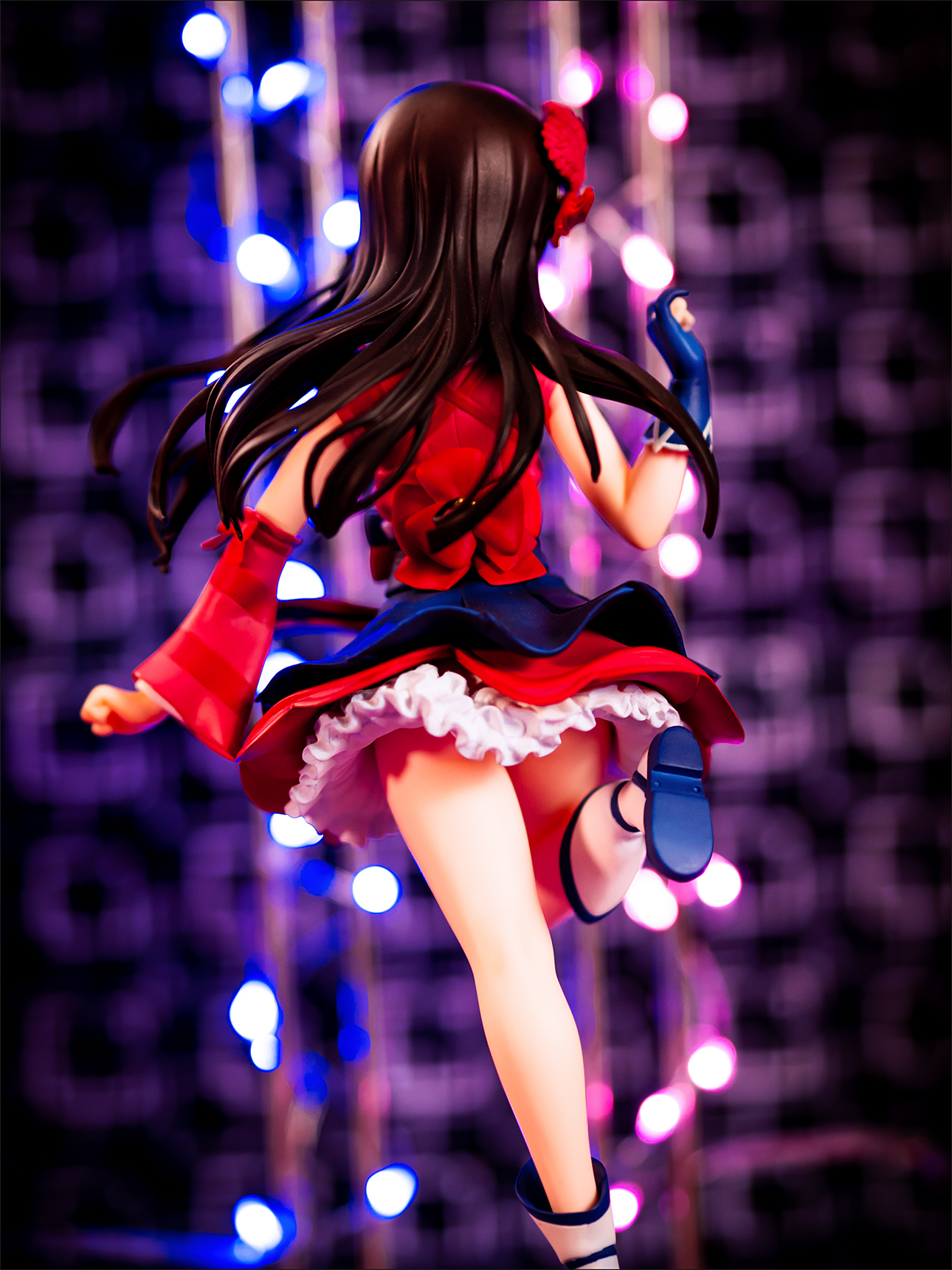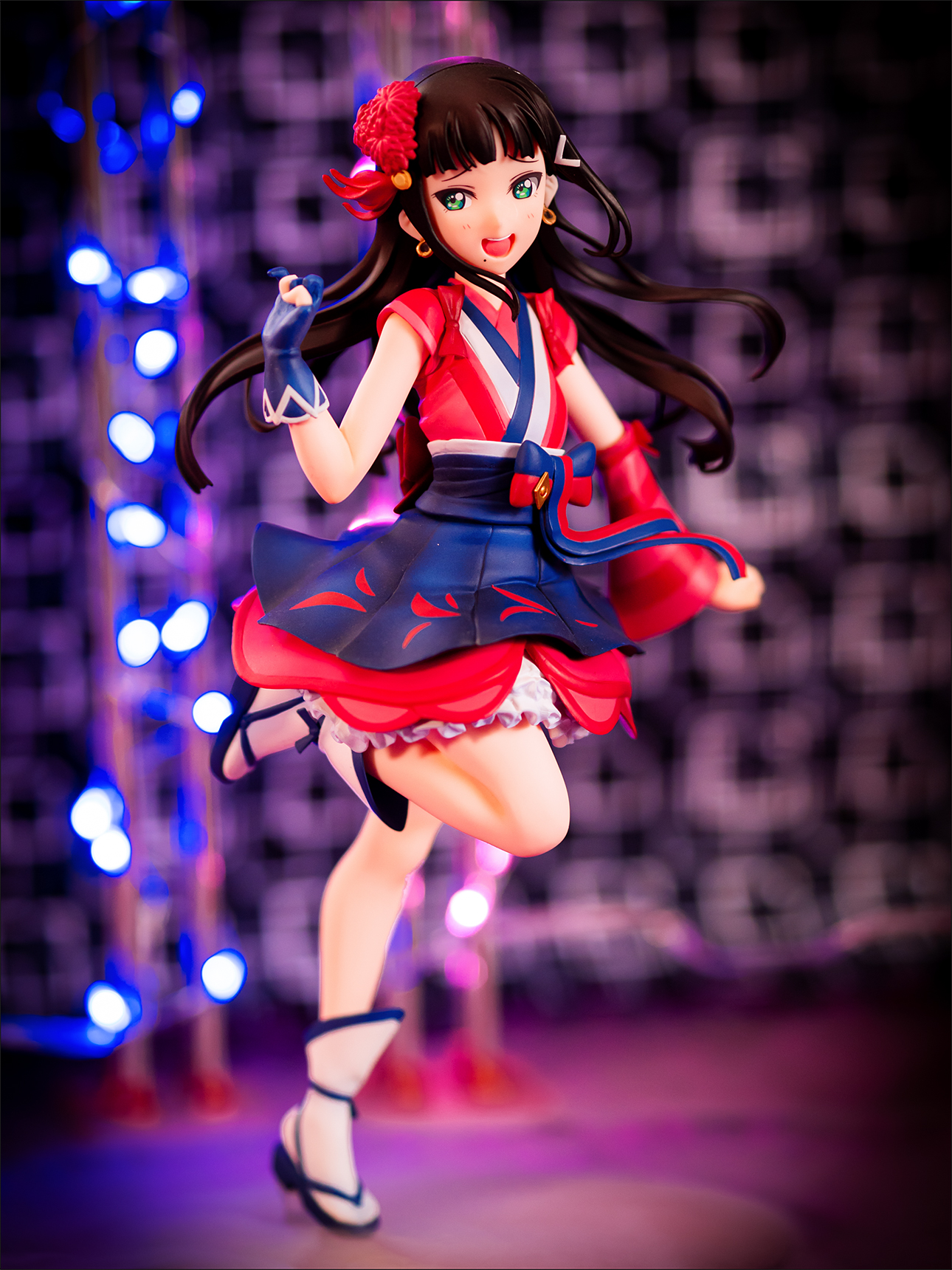 The figure has a pretty head with cute ears and a cute nose. Dia has beautiful green eyes, I'm a big fan of the detailed Love Live! design with all of those sparkling effects and surrounding linings, she is captured with a happy open mouth.
There is the most obvious outer trademark of Dia Kurosawa, her beauty mark at the mouth. The tiny blushing marks are plain adorable. The flying hair looks very good with cleanly manufactured fringe and strands, the dark brown color is elegant. It's decorated with a white triangle bangle on the left and flower ornament on the right.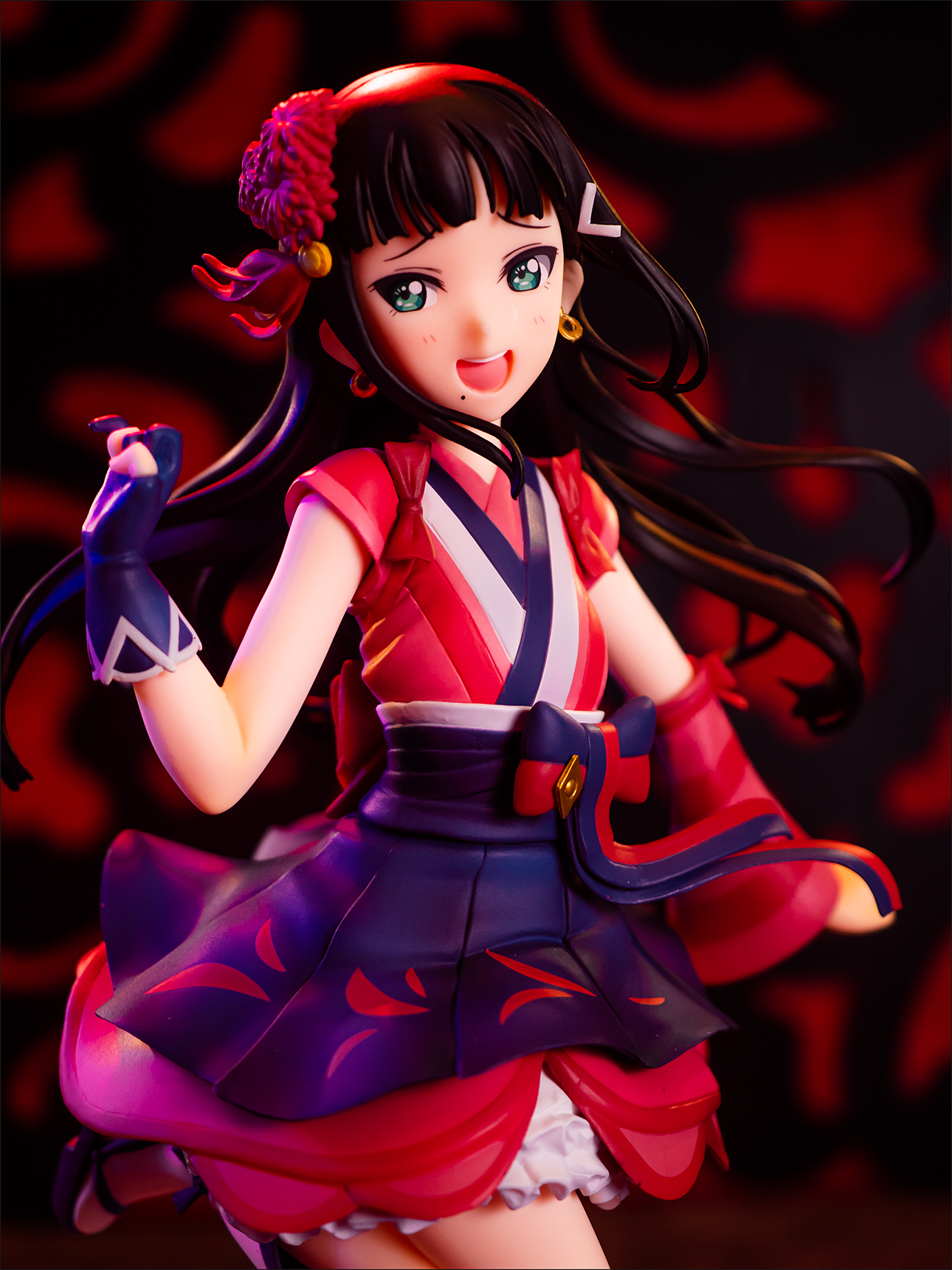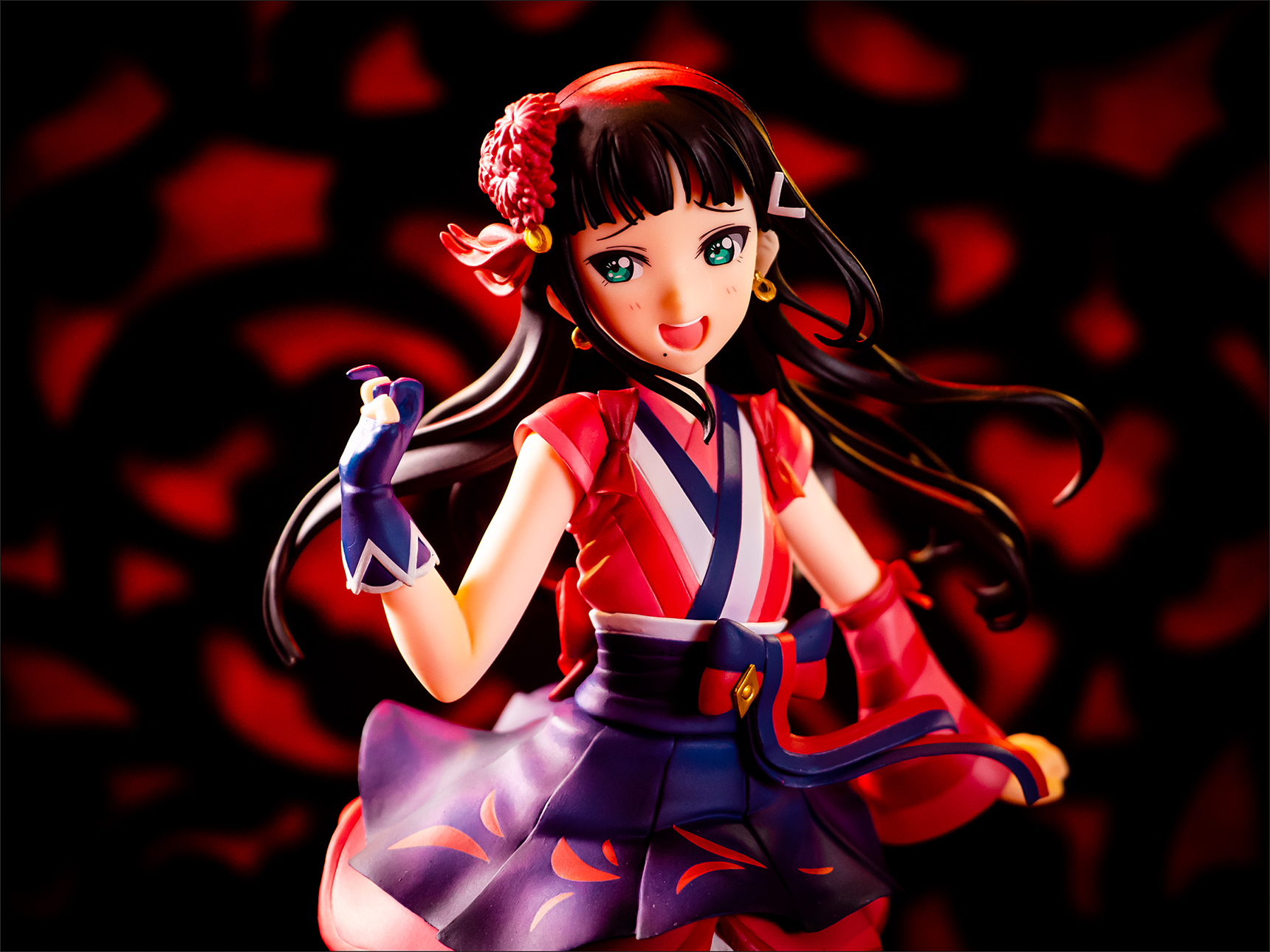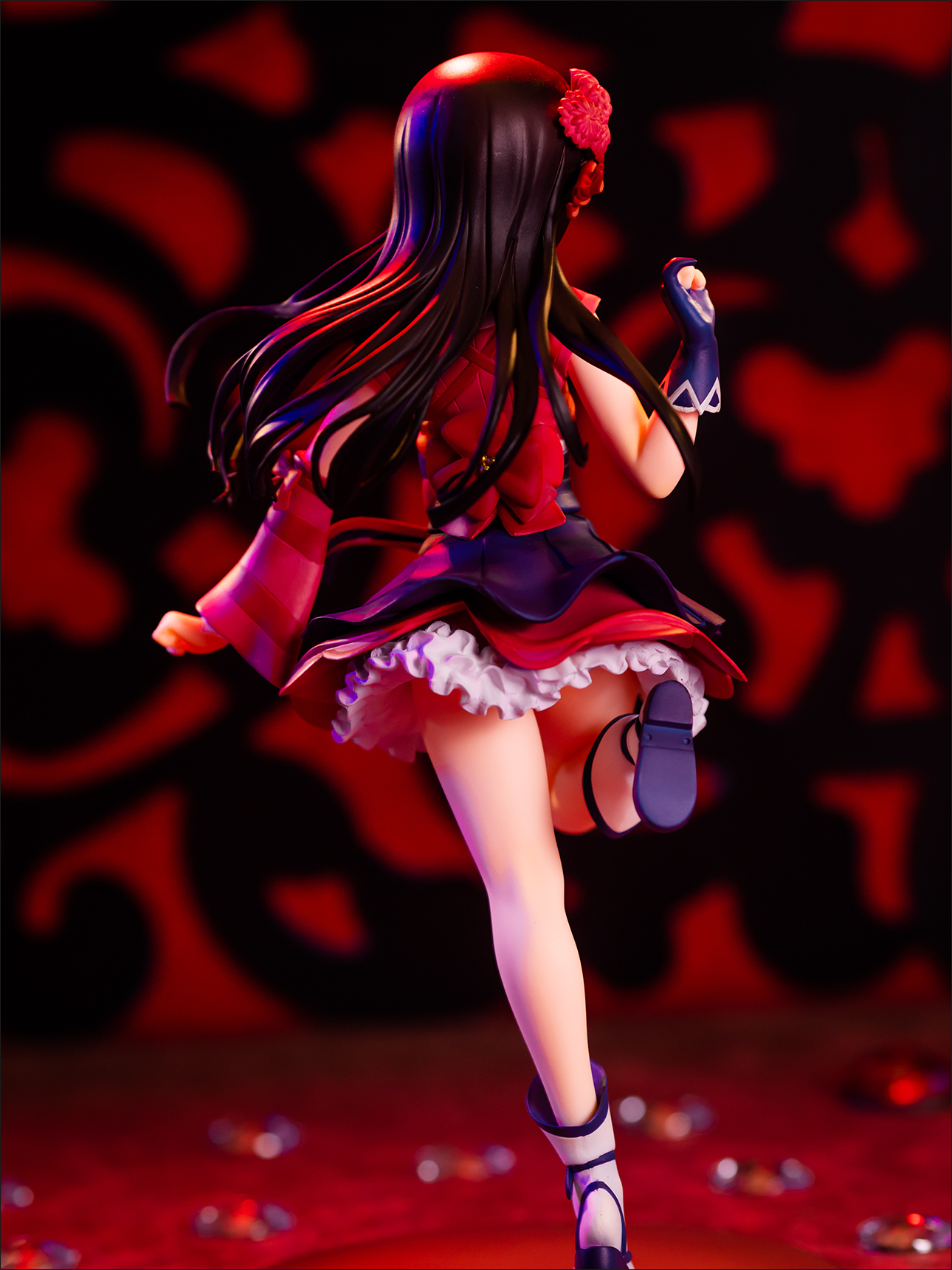 Love Live!! Sunshine!! as anime had it rough, an idol group from some backwater village trying to "imitate" the iconic Muse from Tokio and fail with waving flags. The very first Love Live!! means a lot to me. I liked everyone so much and it was great to be part of the group for 2 seasons and the sweet movie. I was sad about the too early parting of Muse and that it ended already.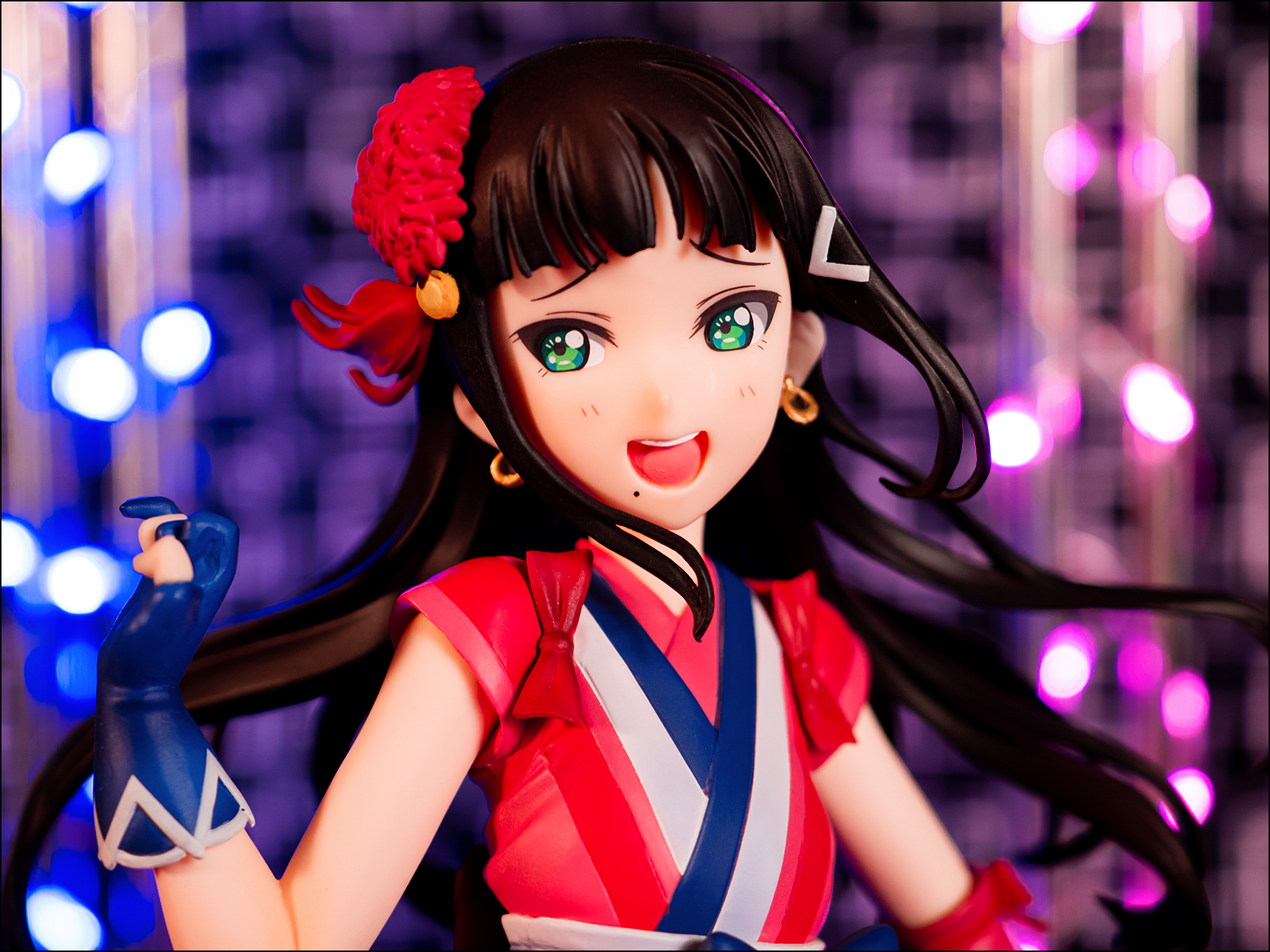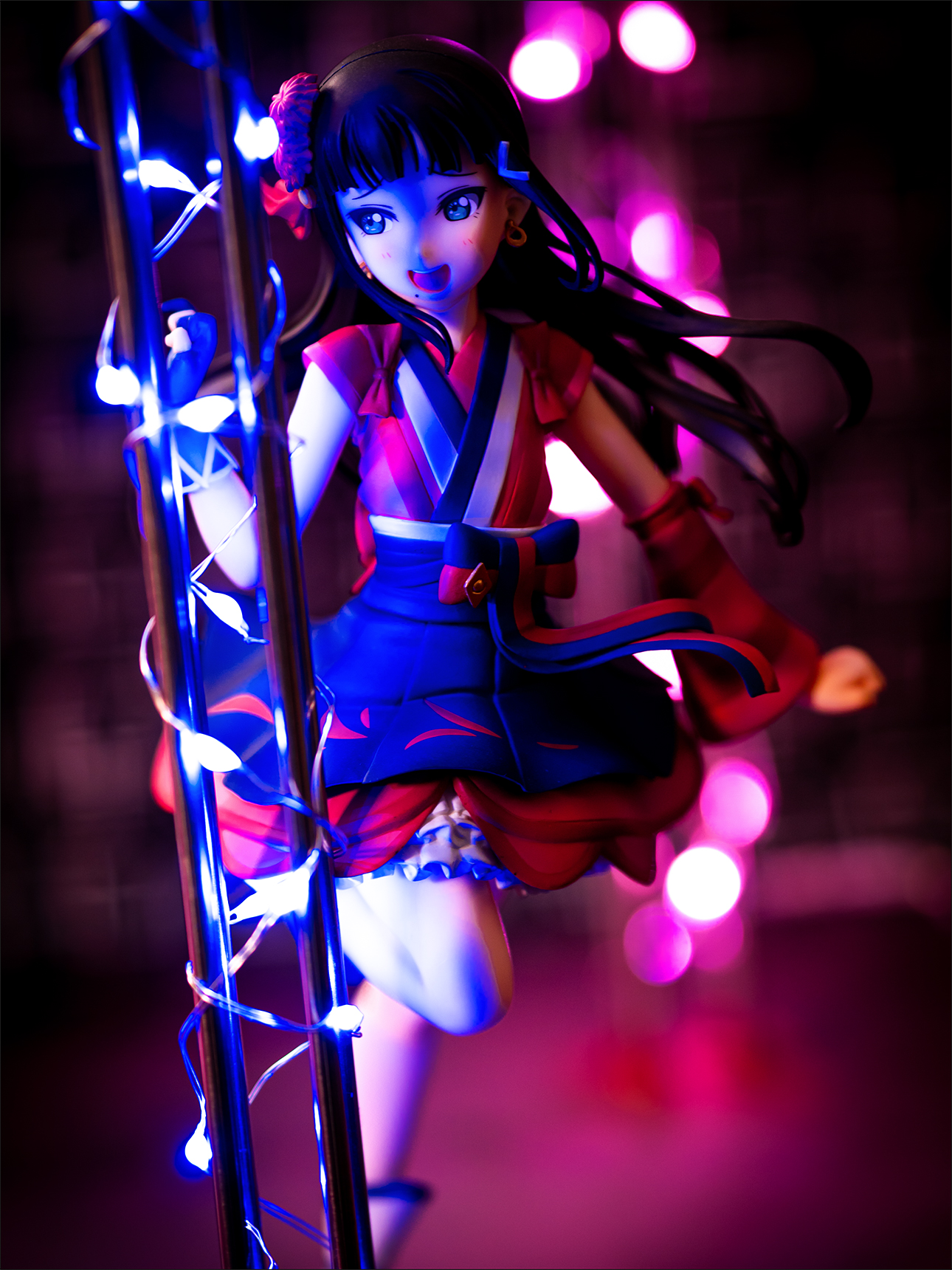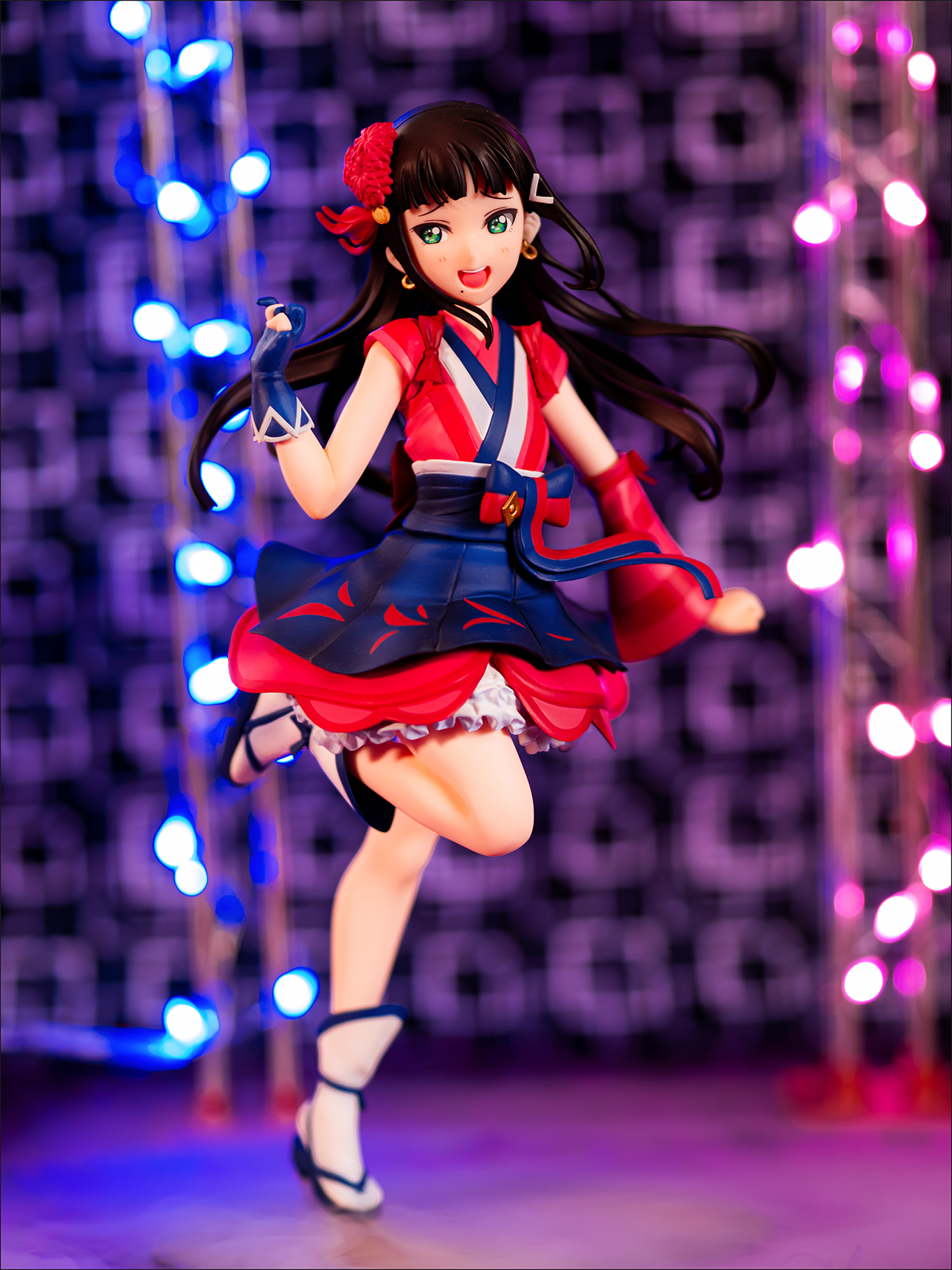 I also liked Love Live!! Sunshine, it had great moments, but they are generally seen as lesser school idols. A few things were similar to the previous Love Live!! plot, but the characters were unique and I loved how crazy Sunshine could be.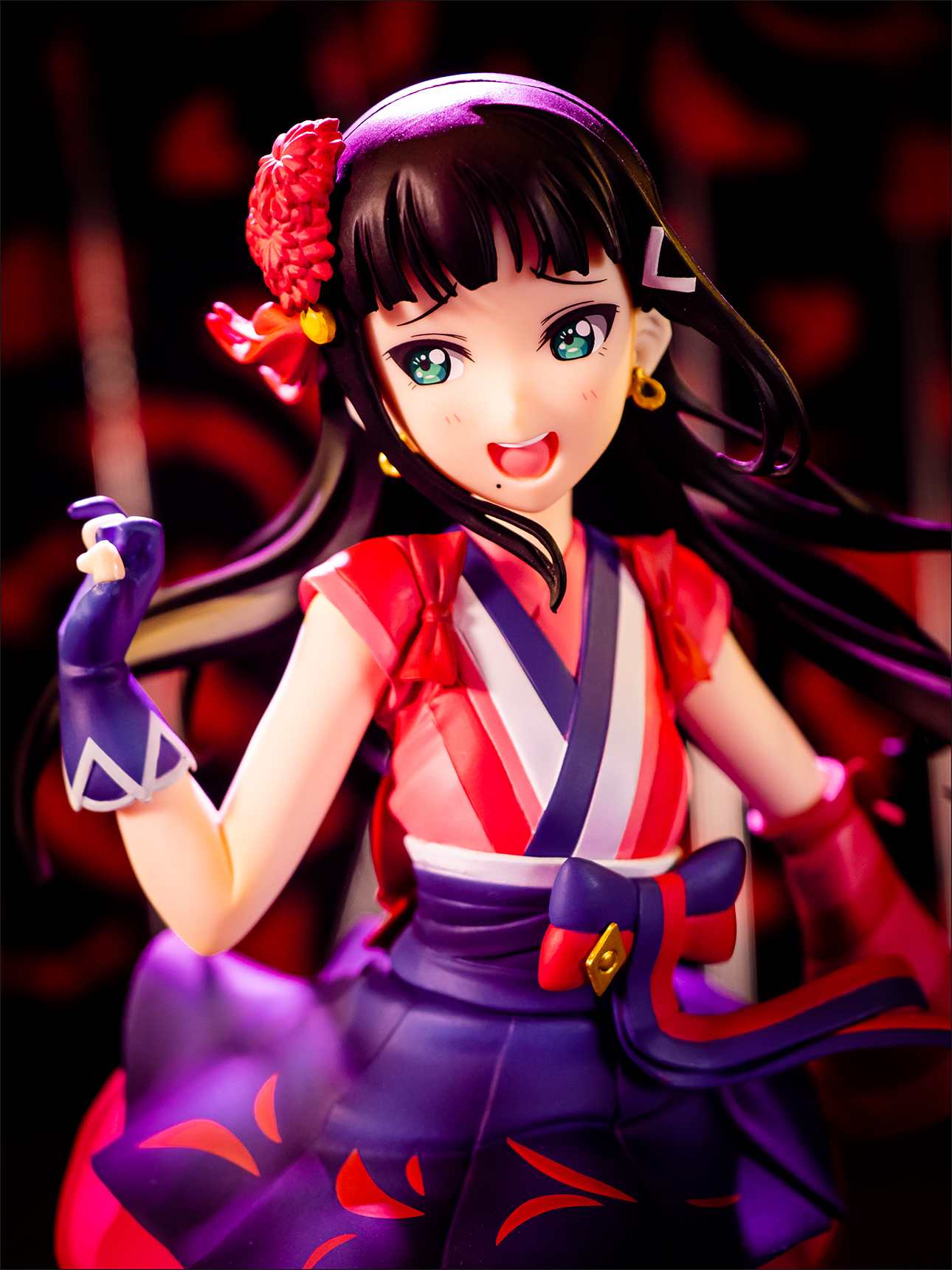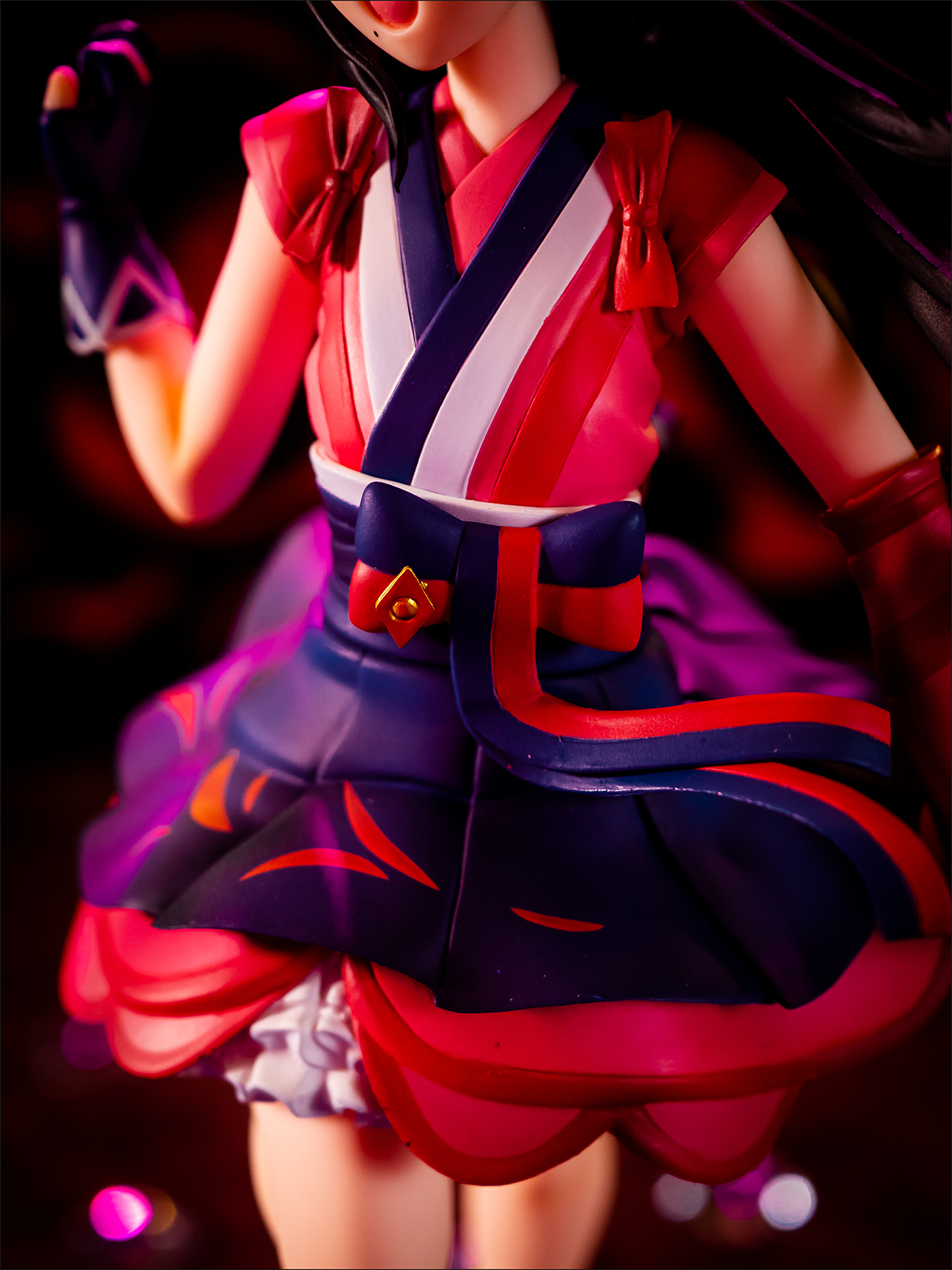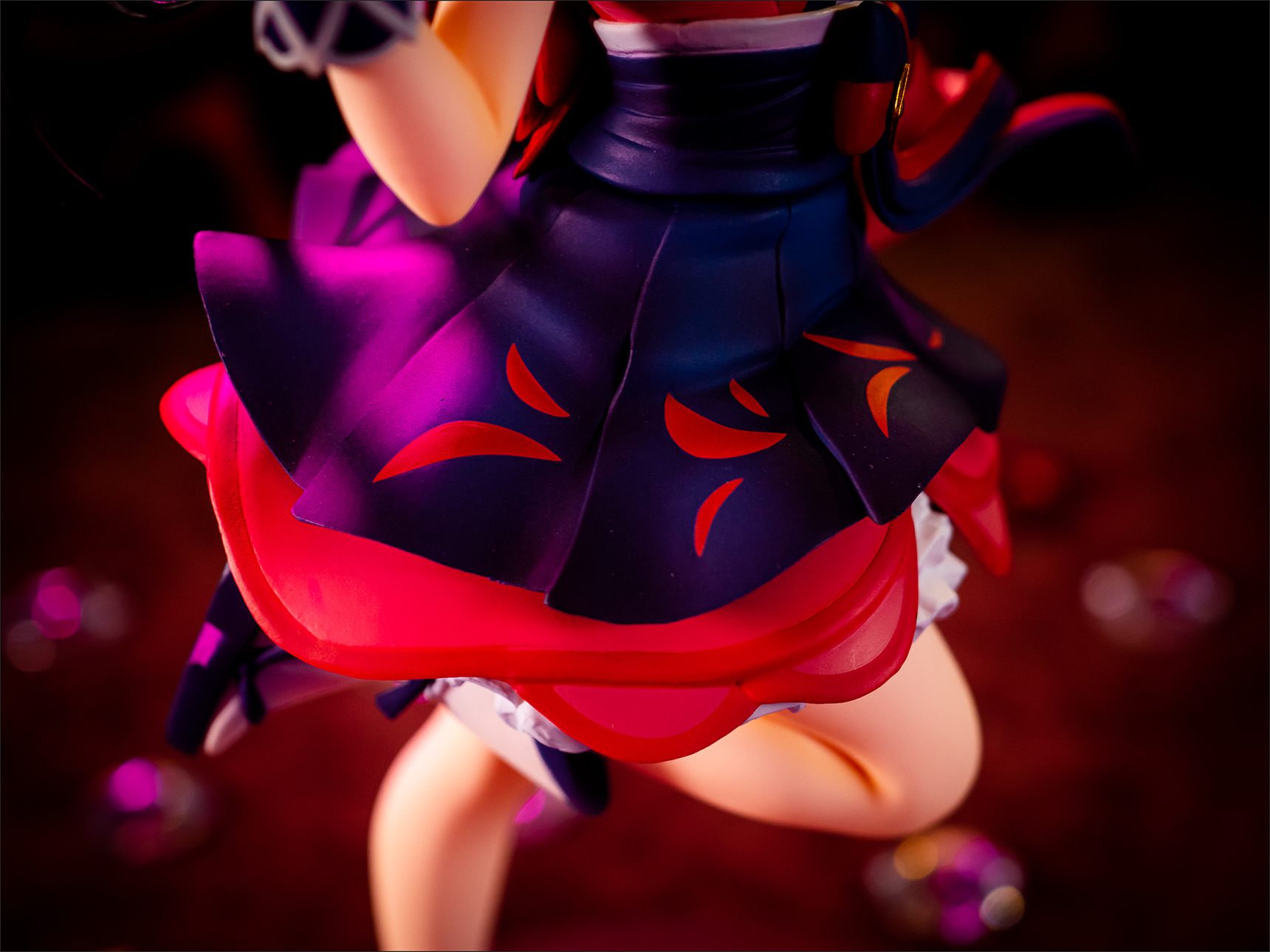 The character of Kurosawa Dia slowly grow on me in season two. As she first appeared in her role as student council president, she acted rather mean and bossy towards the juniors who want to assemble a school idol club. It often was quite amusing what Dia did with her antics or "Desu Wa" or her imitation of a buzzer when someone made a mistake.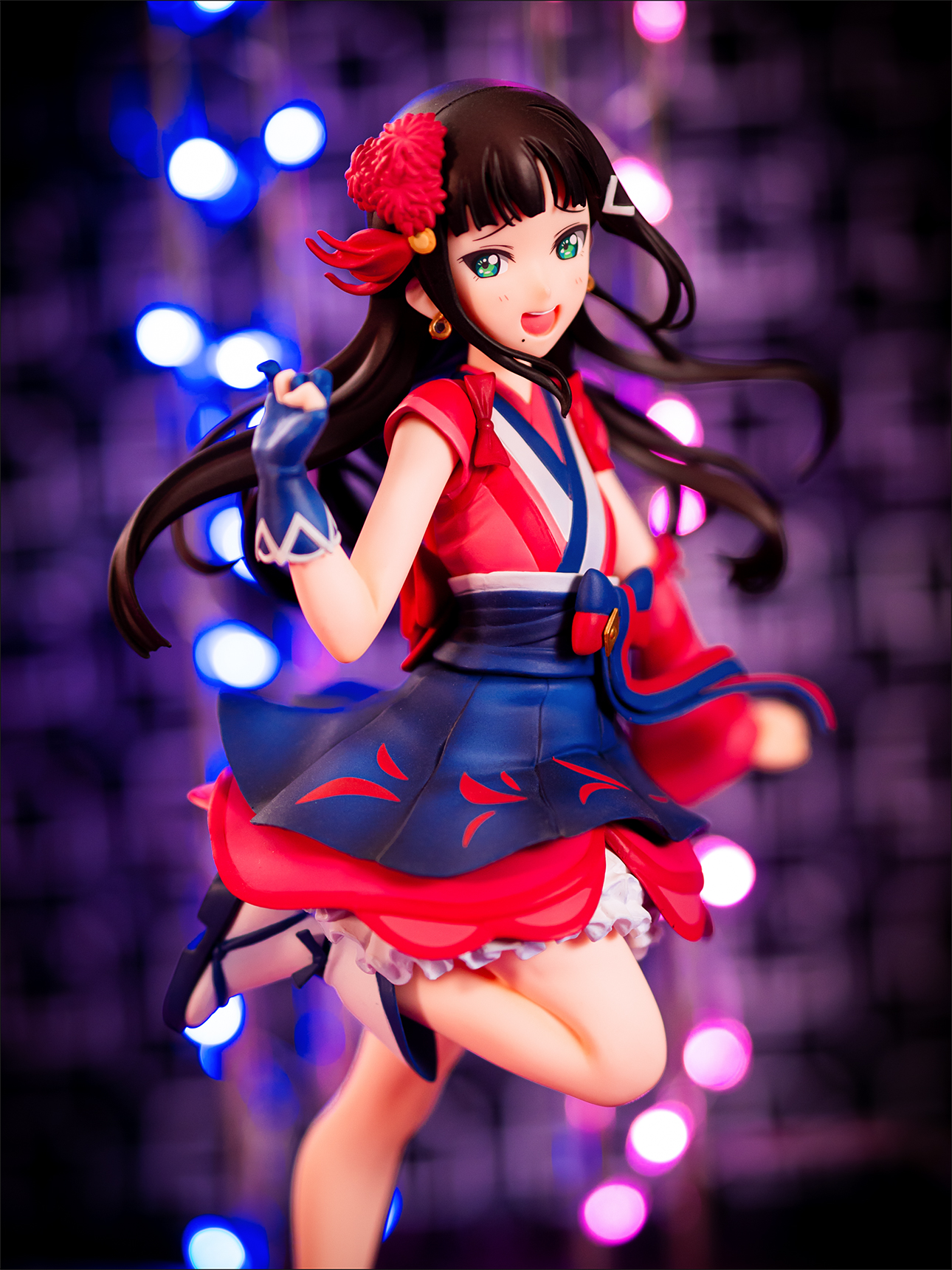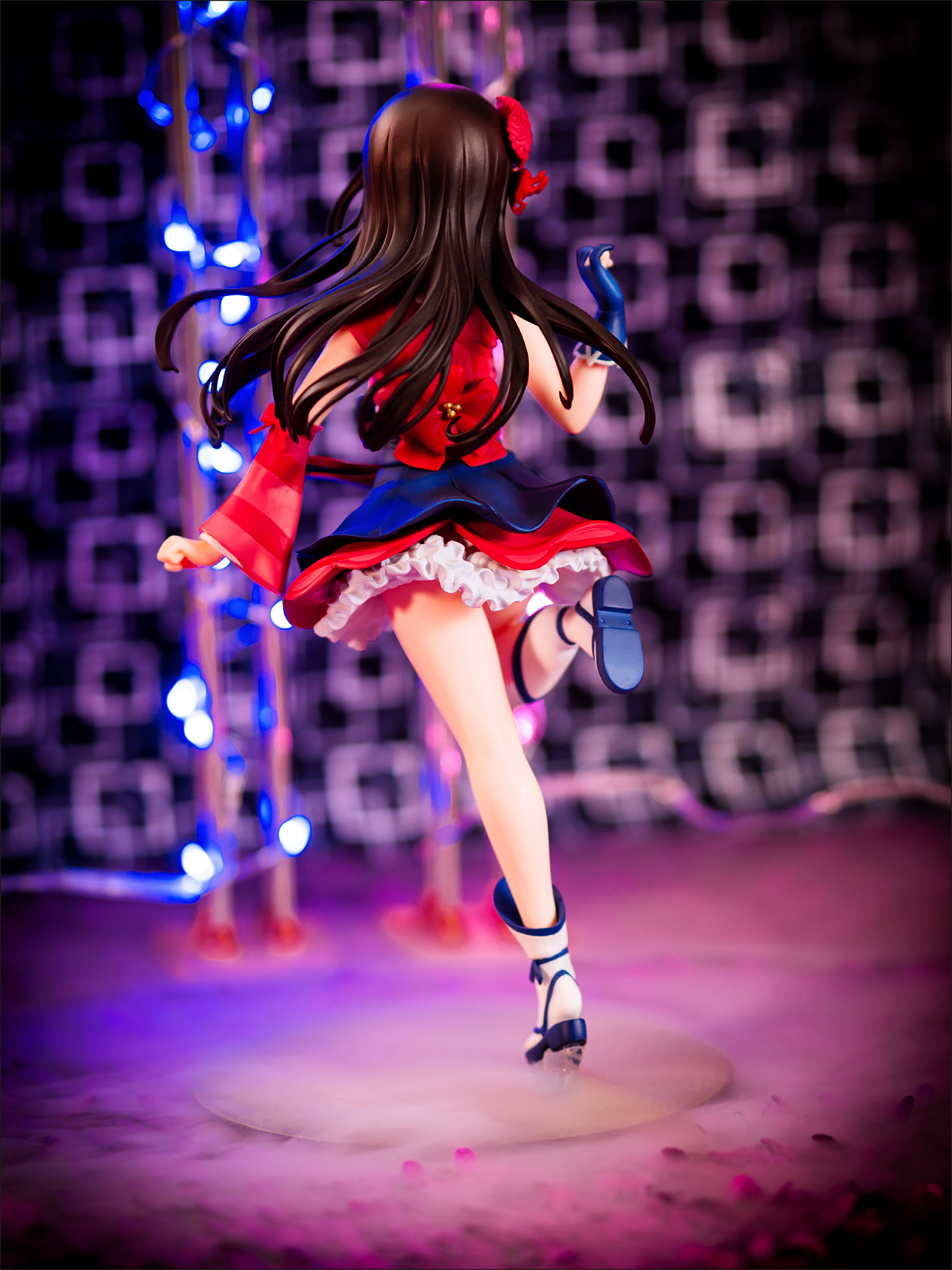 After she joined Aquors Dia became less mean and actually liked and cared about her new friends, not as much as about her sister, which she totally adores, in the end Dia became a reliable member and important asset of Aquors.
Dia wore that outfit during the "Mijuku Dreamer" performance, it's very pretty and the asymmetric design of her sleeves looks quite cool. The two tones of red and strong blue colors give her outfit a strong appearance.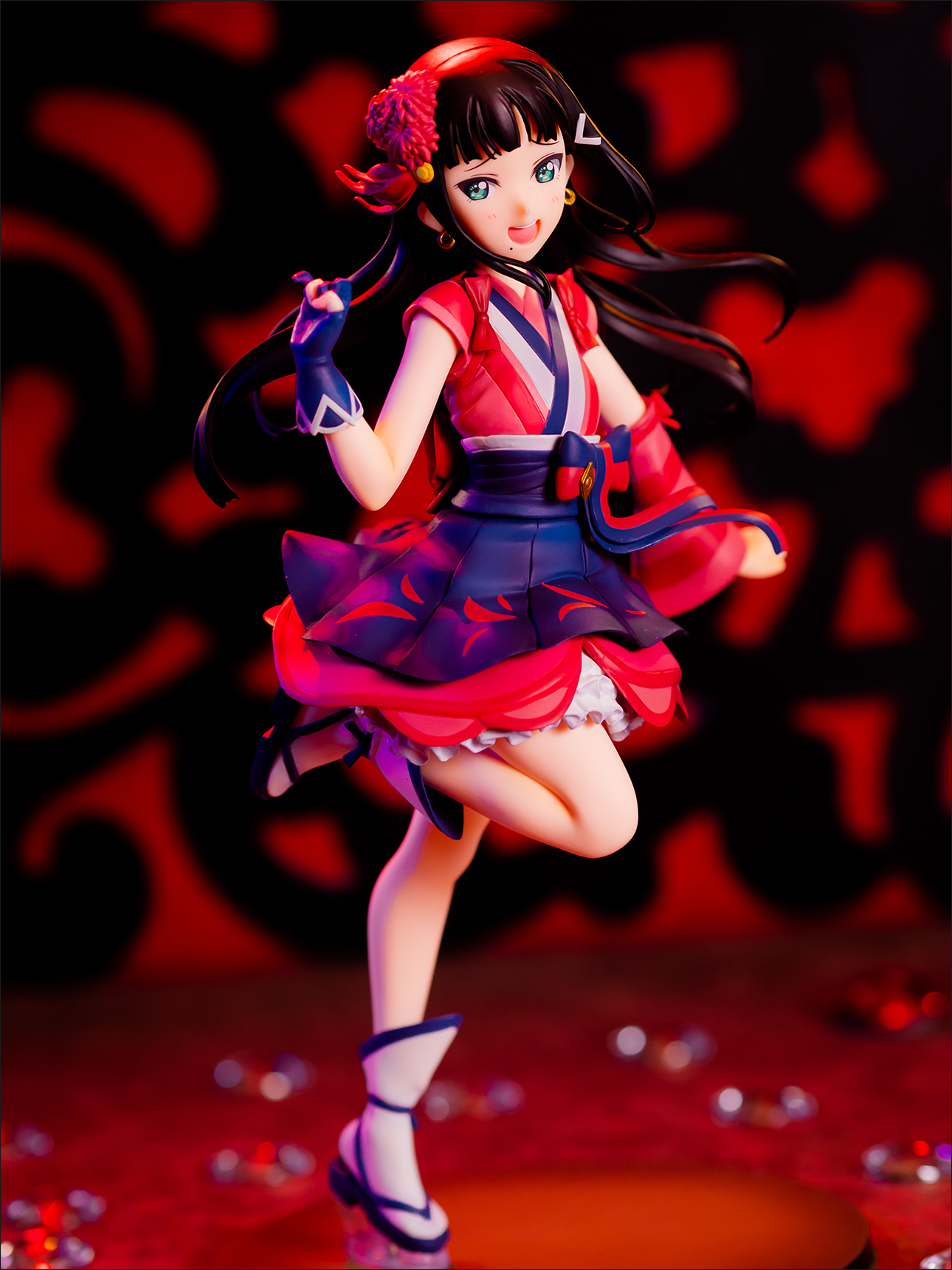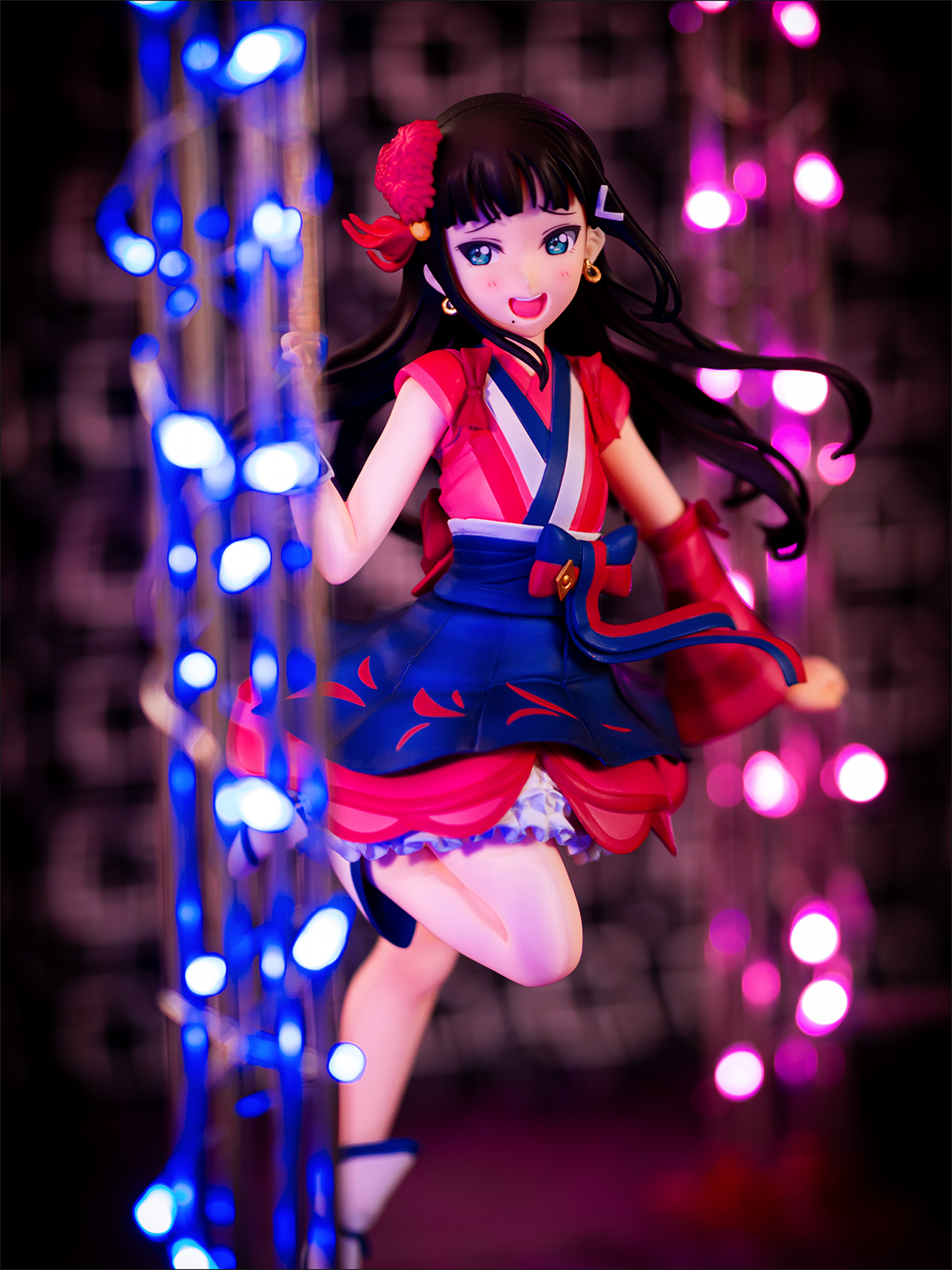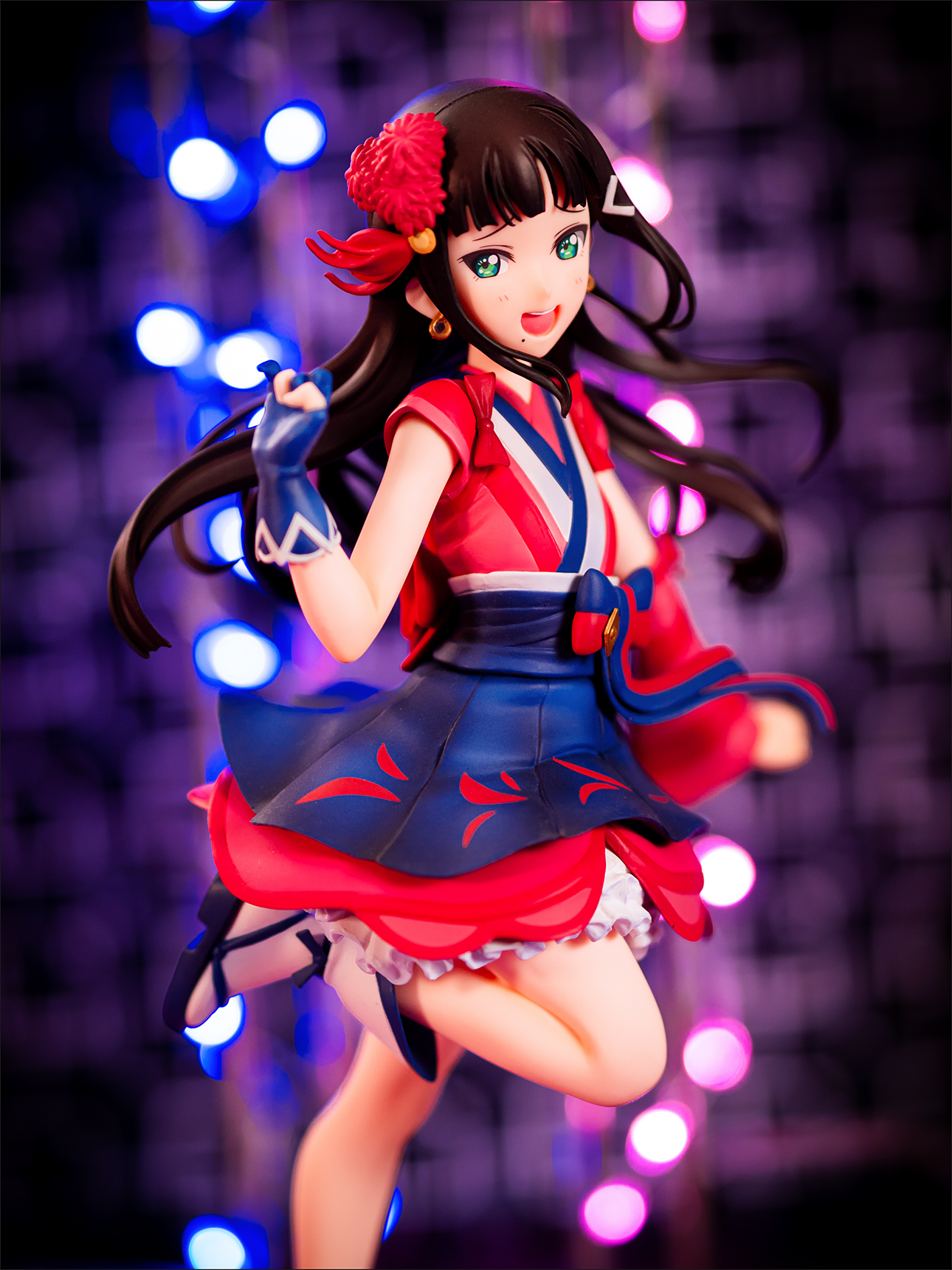 The outfit has a very complex design with lots of layers and there ere are many small details to discover on it,
like the two small rippons at the shoulders or the bigger one at her back. The frilly white under skirt is a good addition. Her interesting footwear is a combination of boots and traditional sandals.
The figure was nicely captured in a dynamic idol dance pose that shows Dia in the middle of a concert with a smiling open mouth.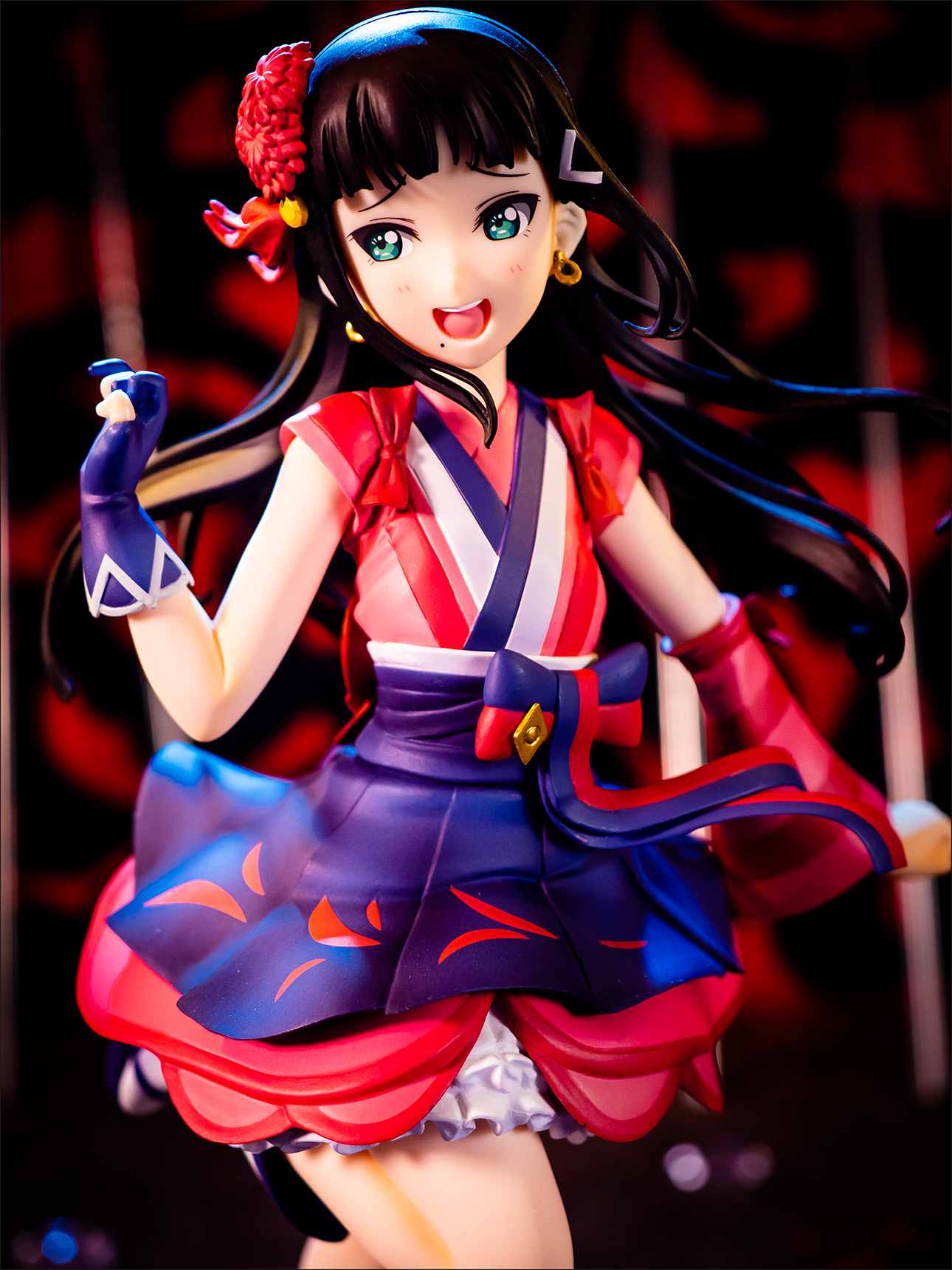 Final Words
I noticed that the figure received some nasty comments on mfc, even by myfigurecollection standards, mainly about the position of her eyebrows. Even though the figure isn't perfect and the color is a bit rough at some edges, she is very pretty overall. I like her pose, outfit and hair a lot. Dia's face turned out especially nice, so I feel quite happy about this purchase.