Let's be honest, the best season of the year is summer 😀 And what is related to summer? Correct, bikini figures are. Those always were a favorite on this blog and I will never get bored of them as it seems. Not only because of the amount of exposed skin. To me these figures are also the embodiment of a happy time in summer. Feeling the warmth from the sun and having the stunning scenery of blue skies with cozy clouds, white beaches and the sparkling ocean.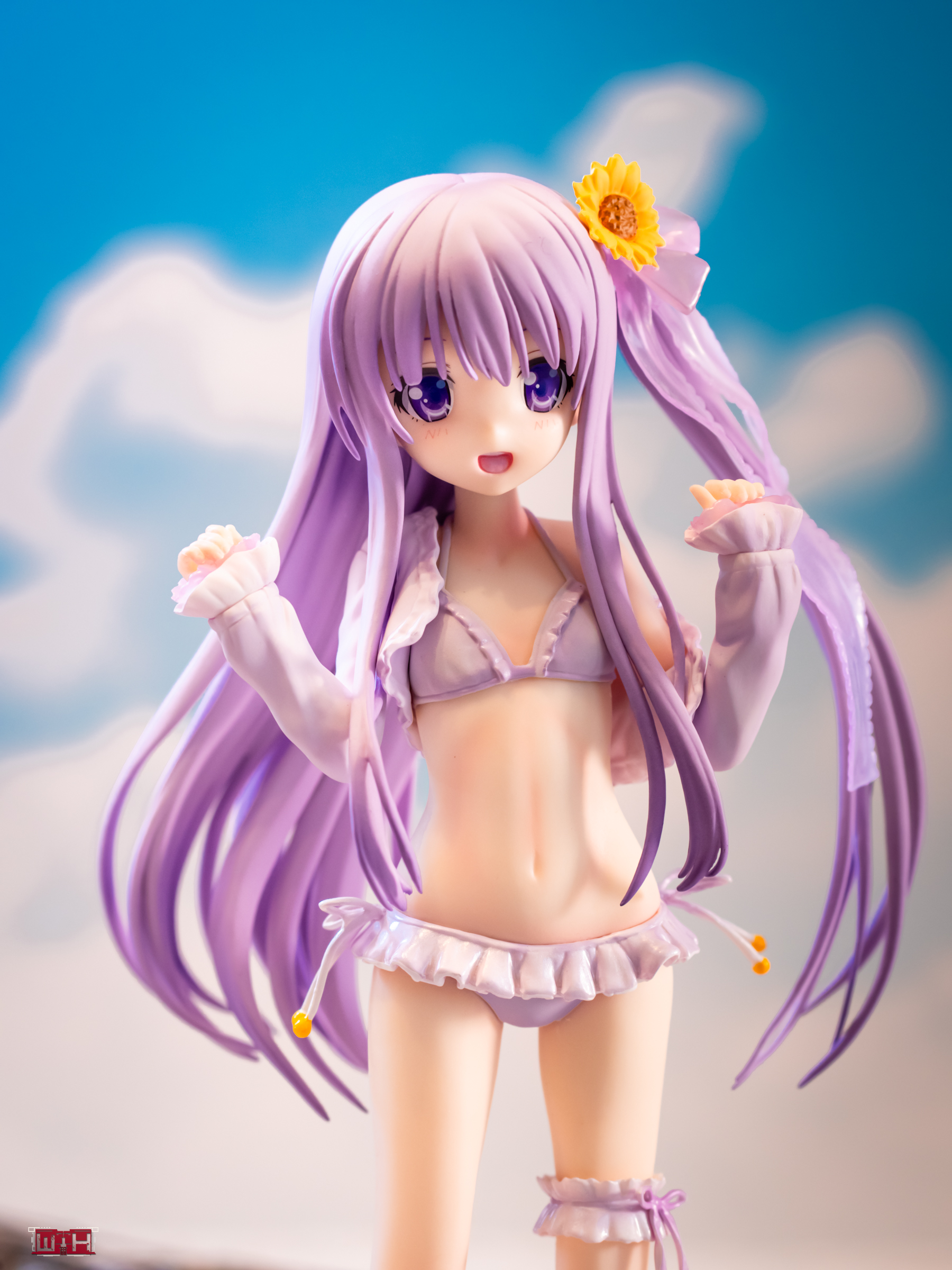 If I would plan a trip to Japan, I would probably chose Okinawa before Tokyo. Bikini figure photoshootings are always a good excuse for me to play with sand XD I really like to prepare those indoor beach settings.
Today's figure of choice is Gotou Jun from the Tenshi no 3P! anime. From what I heard it's quite loliconic, so far I haven't watched it. Maybe I should be glad about it. Anyway I don't have to know the origin of the character, to purchase a figure of my liking. PLUM manufactured this enchanting figure of a young girl, I actually noticed that
PLUM makes all the cute and innocent loli figures on the market. It's cool that they found their niche in that category.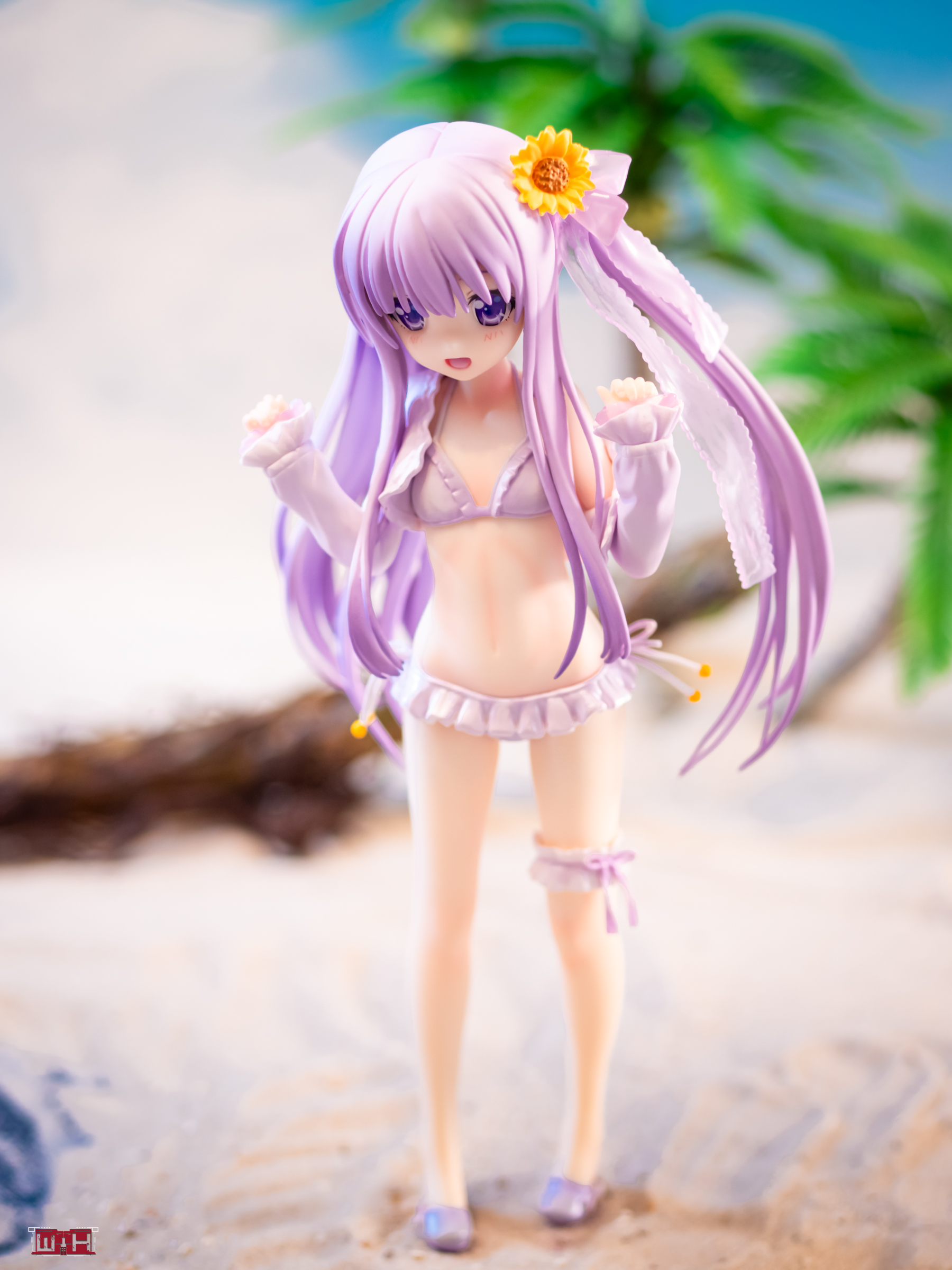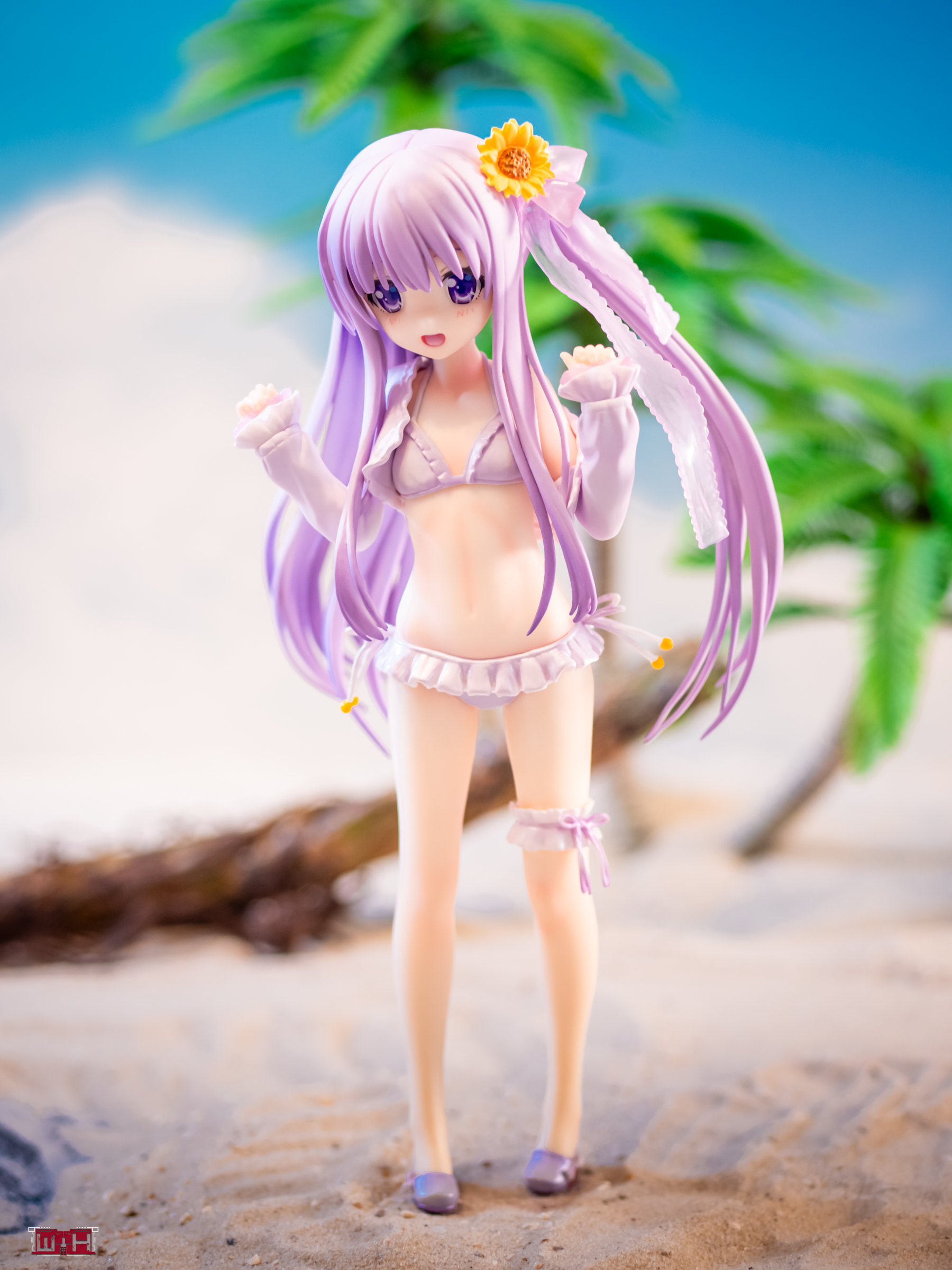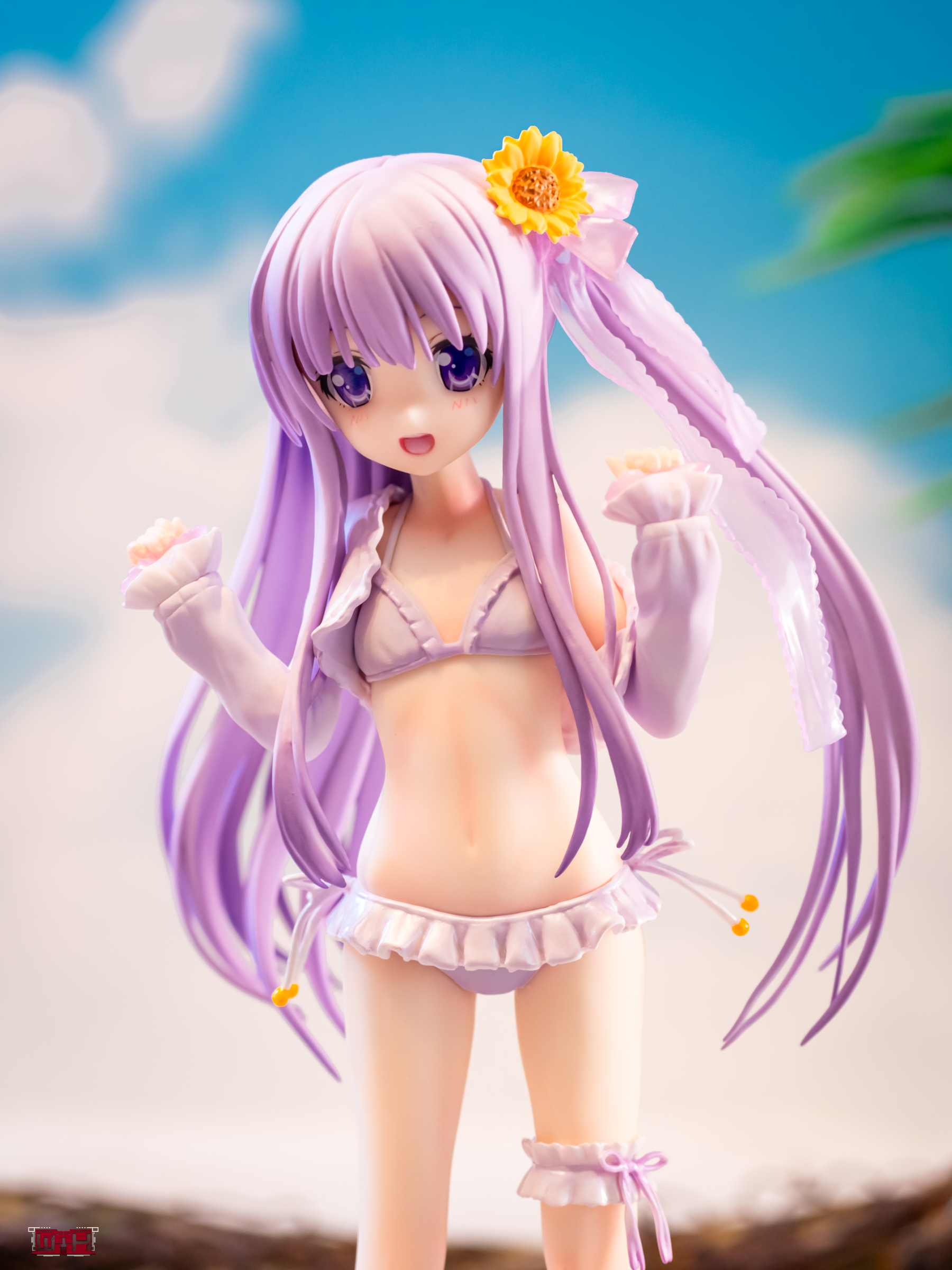 Fortunately my sexual orientation is not pointing in any harmful direction lol. I think it's ok to like loli characters for being cute and adorable like this. In general I prefer ordering figures of attractive Onee sans, but when I saw it, I really had to order this little angel with the sunflower in the hair.
The Gotou Jun – Summer Bikini version was released in March 2018. She is scaled 1/7 and measures 21,5 cm.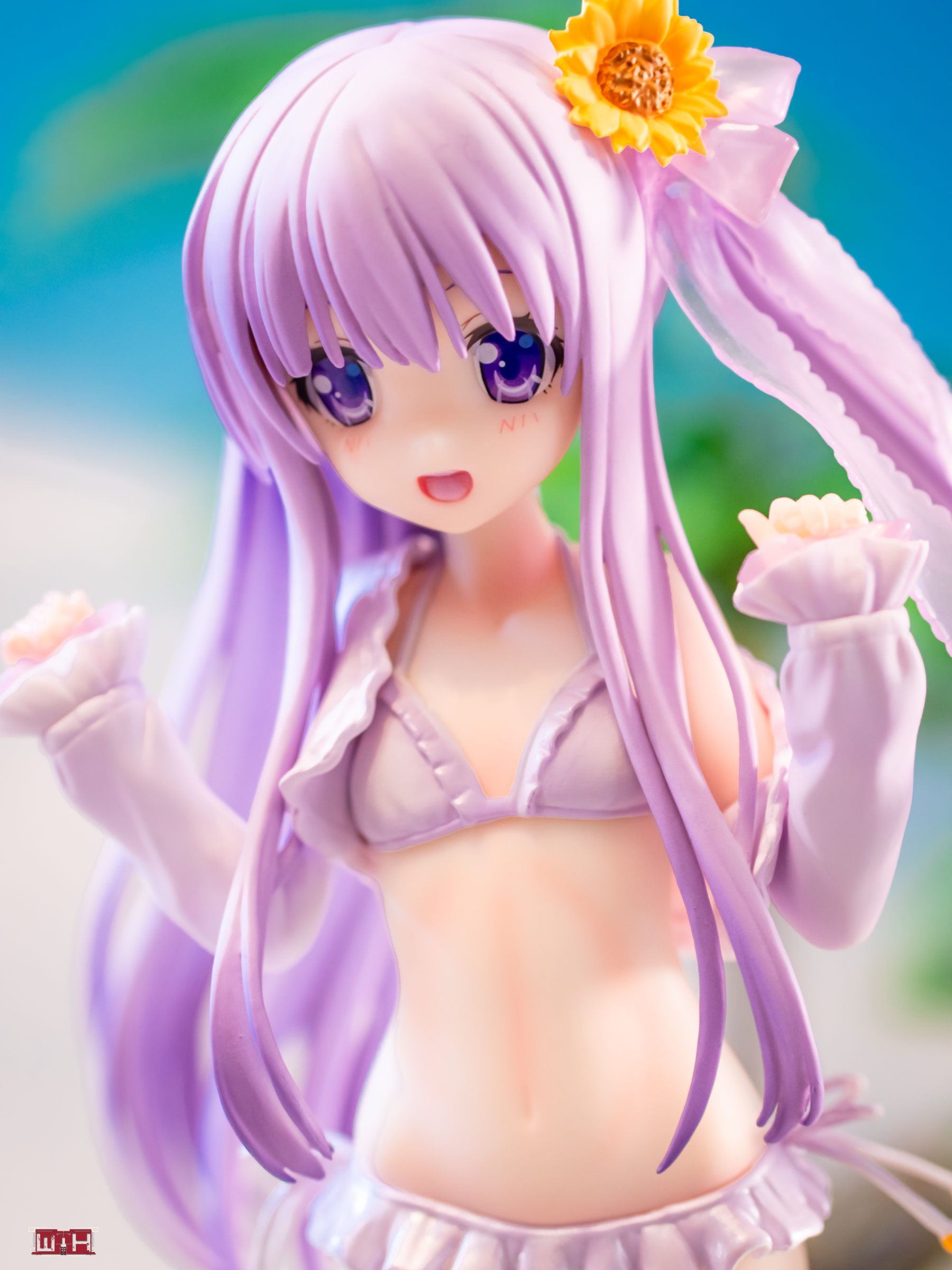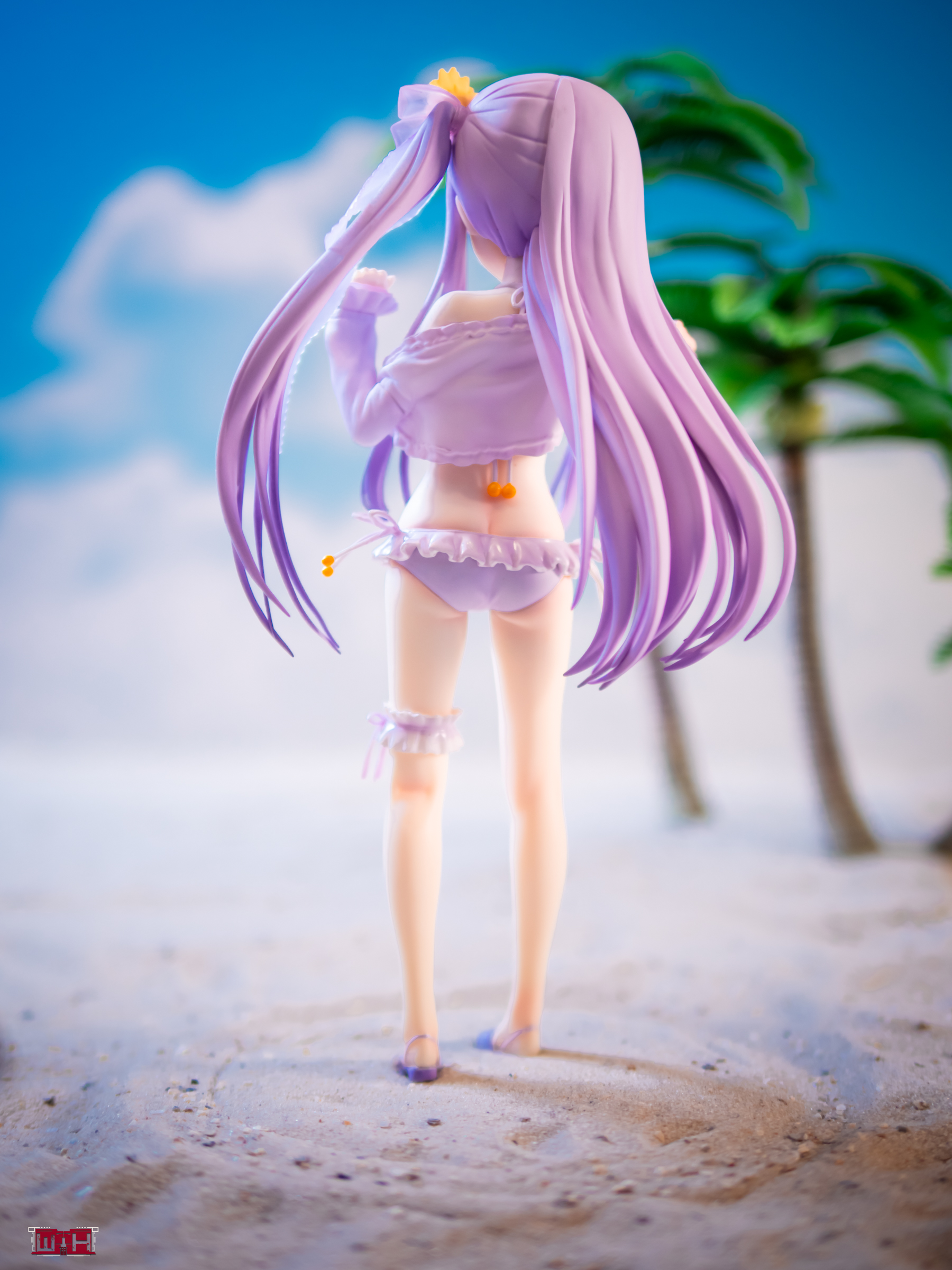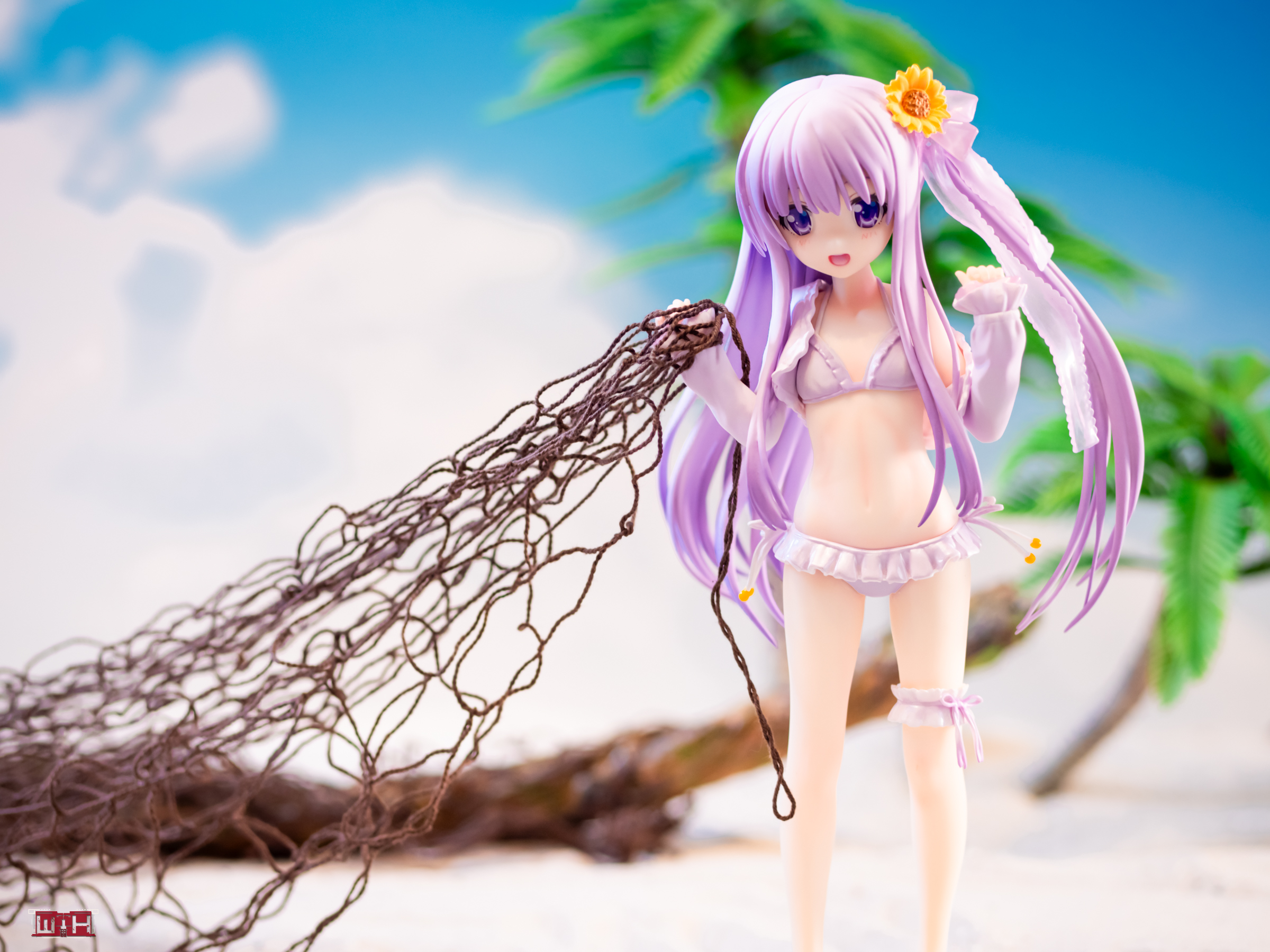 The figure has the typical appearance and proportions of a young anime character, a big head placed on a petite frame body. Gotou looks especially nice with the pastel tones of purple and the bare skin. She also has really pretty hair, too. A deep hanging fringe and cute long separate strands all around from the back you will notice how asymmetrical and unique her hairstyle actually is. The hair shows nicely decorations as well, like the semi transparent ribbon with jagged edges, it shows a nice dynamic movement, the added color in the element of the sunflower is also a quite nice detail.
Gotou portrays the image of a cheerful girl very well, her big purple eyes are very lively and the strong blush is a welcome feature, she also has this perfectly sculpted mouth with upper front teeth, to complete her adorable look.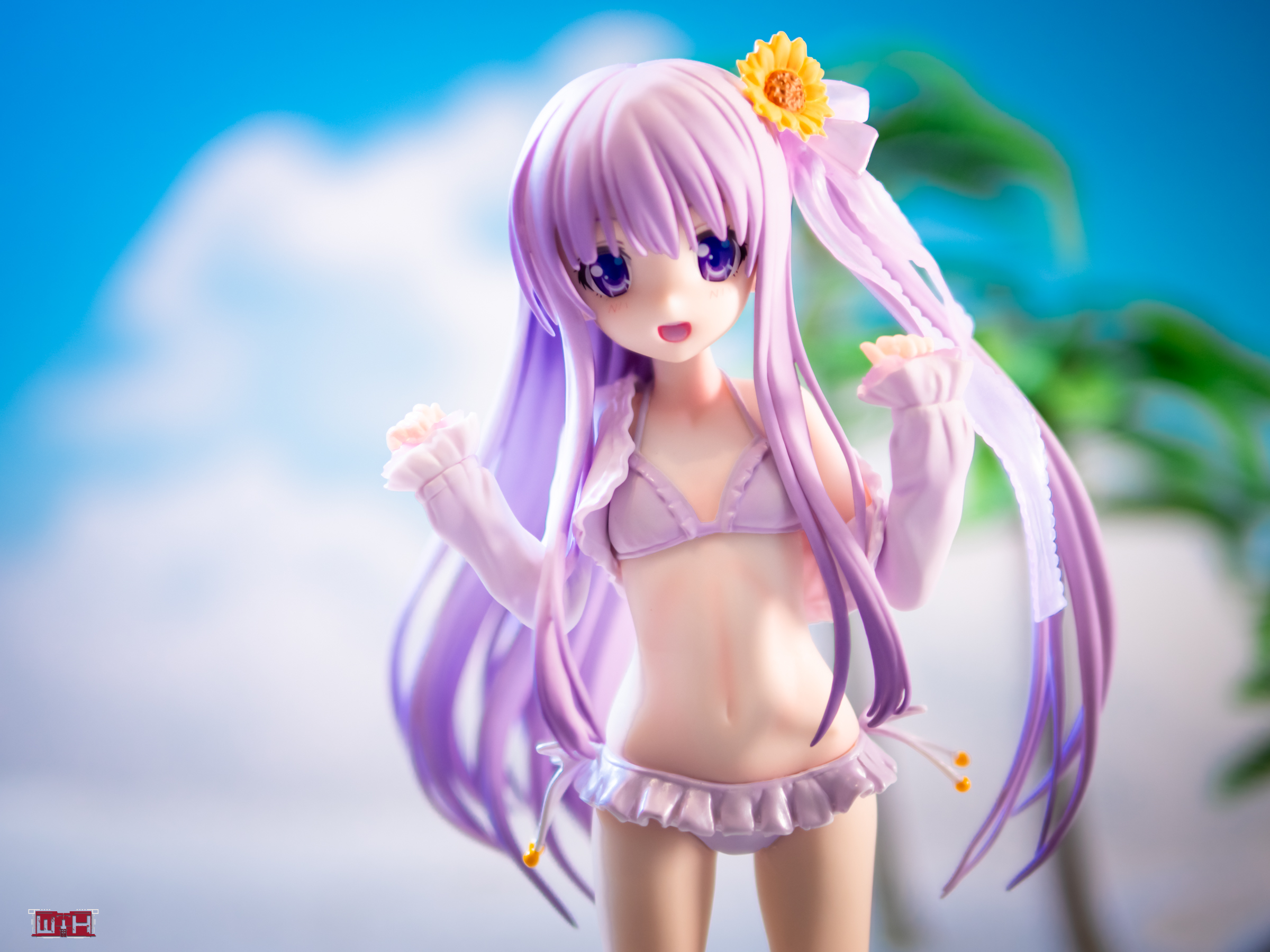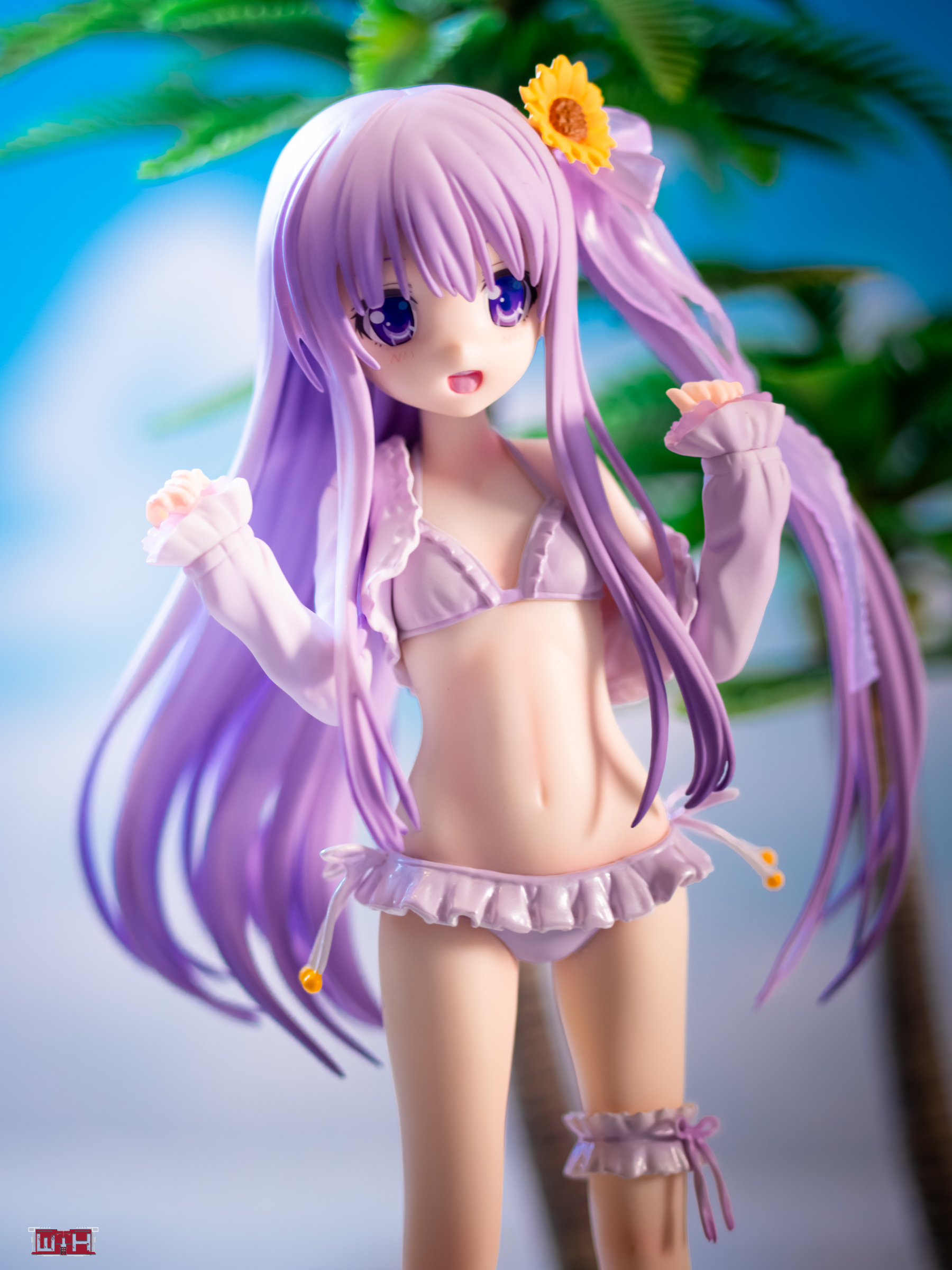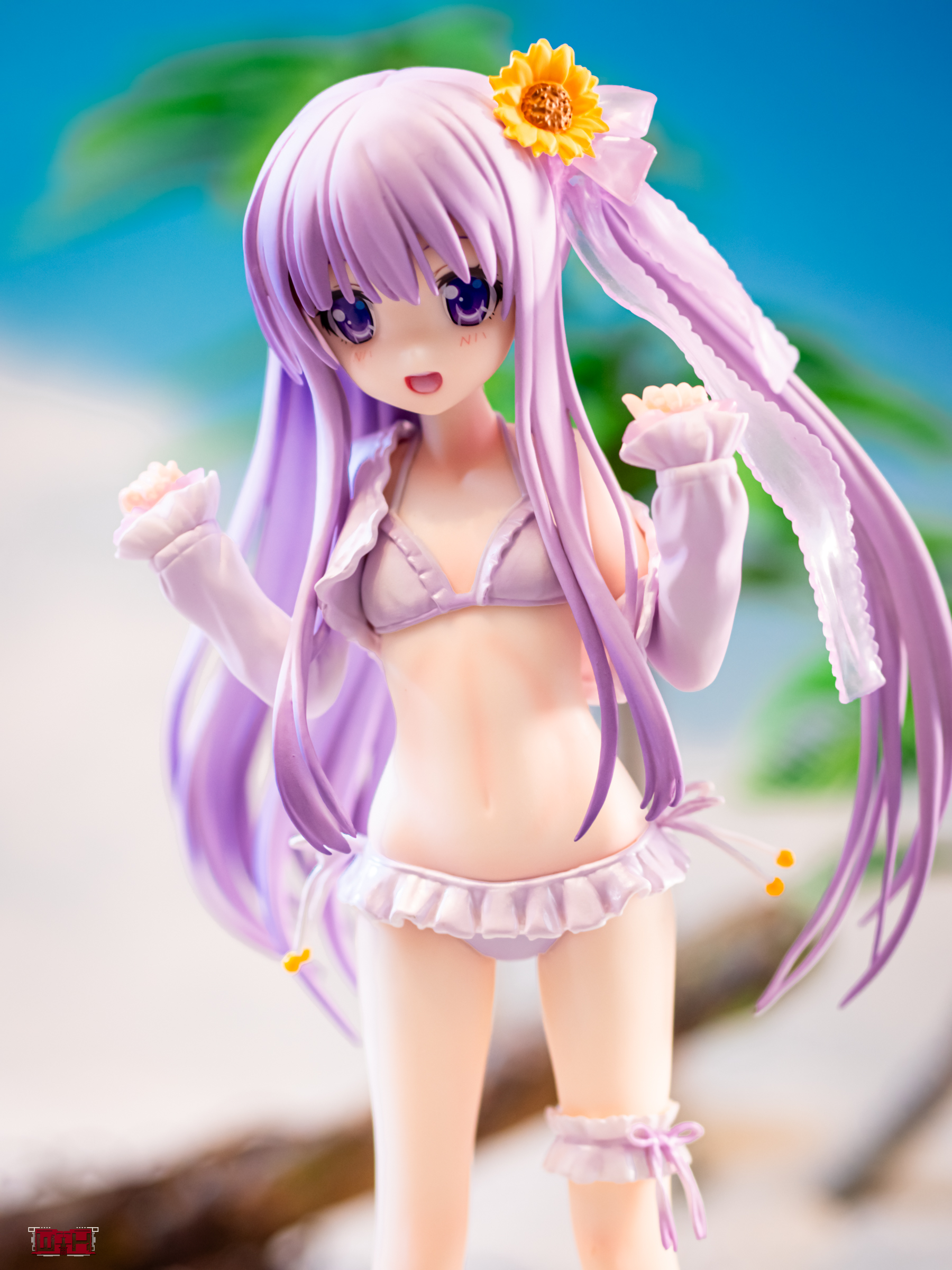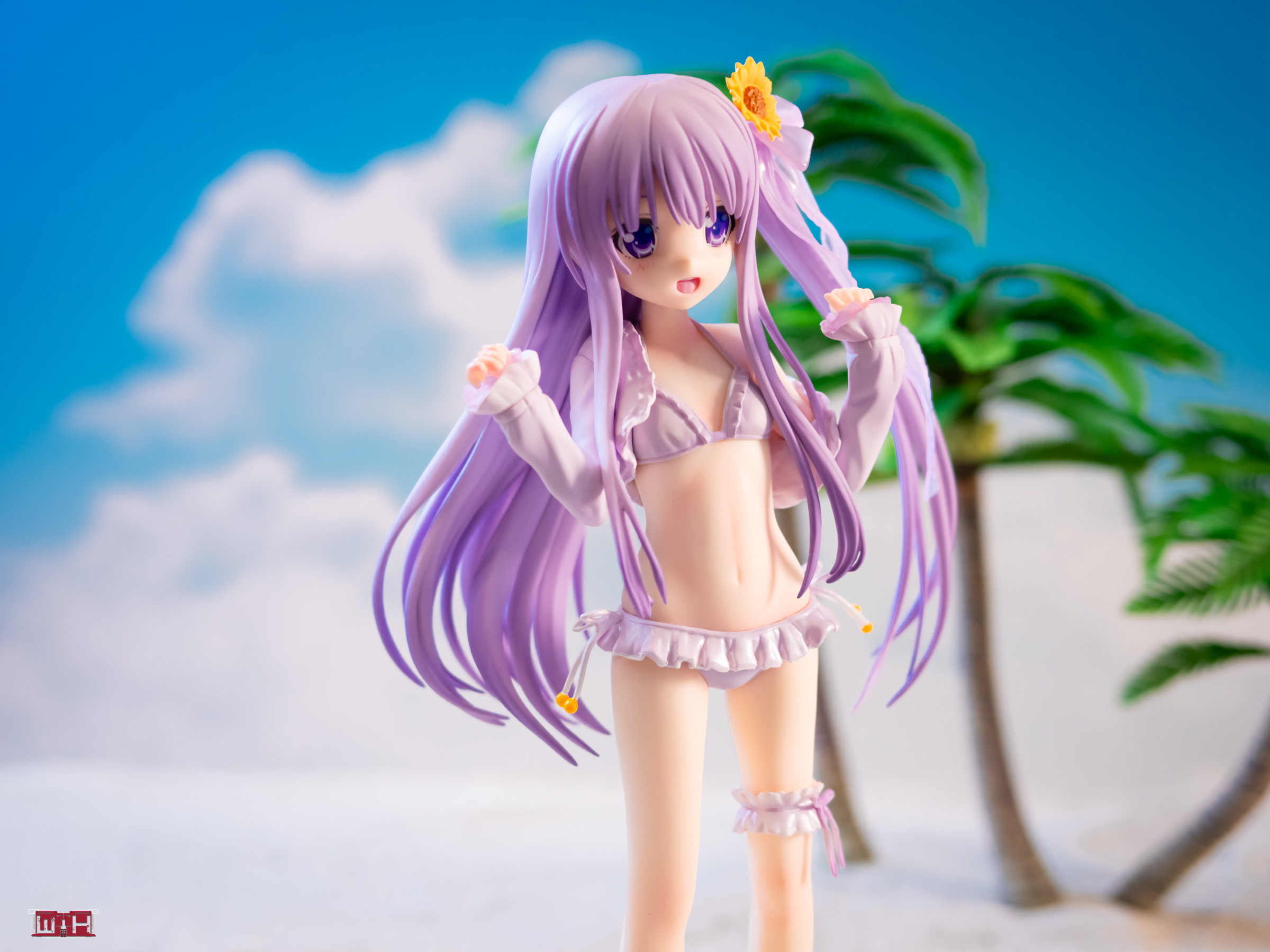 The figure wears a short bolero jacket over her bikini, it's frilly sleeves cover her wrists in a very cute way. It's a cute bikini design, a bit skimpy, but not naughty at all, the frills here and there underline the figures cute direction. Around her left leg she wears a matching garter with a sweetly looking ribbon. The tiny feet are equipped with shoes for the beach, PLUM could have just made her go bare foot, but I'm glad that it was decided to give Gotou these shoes.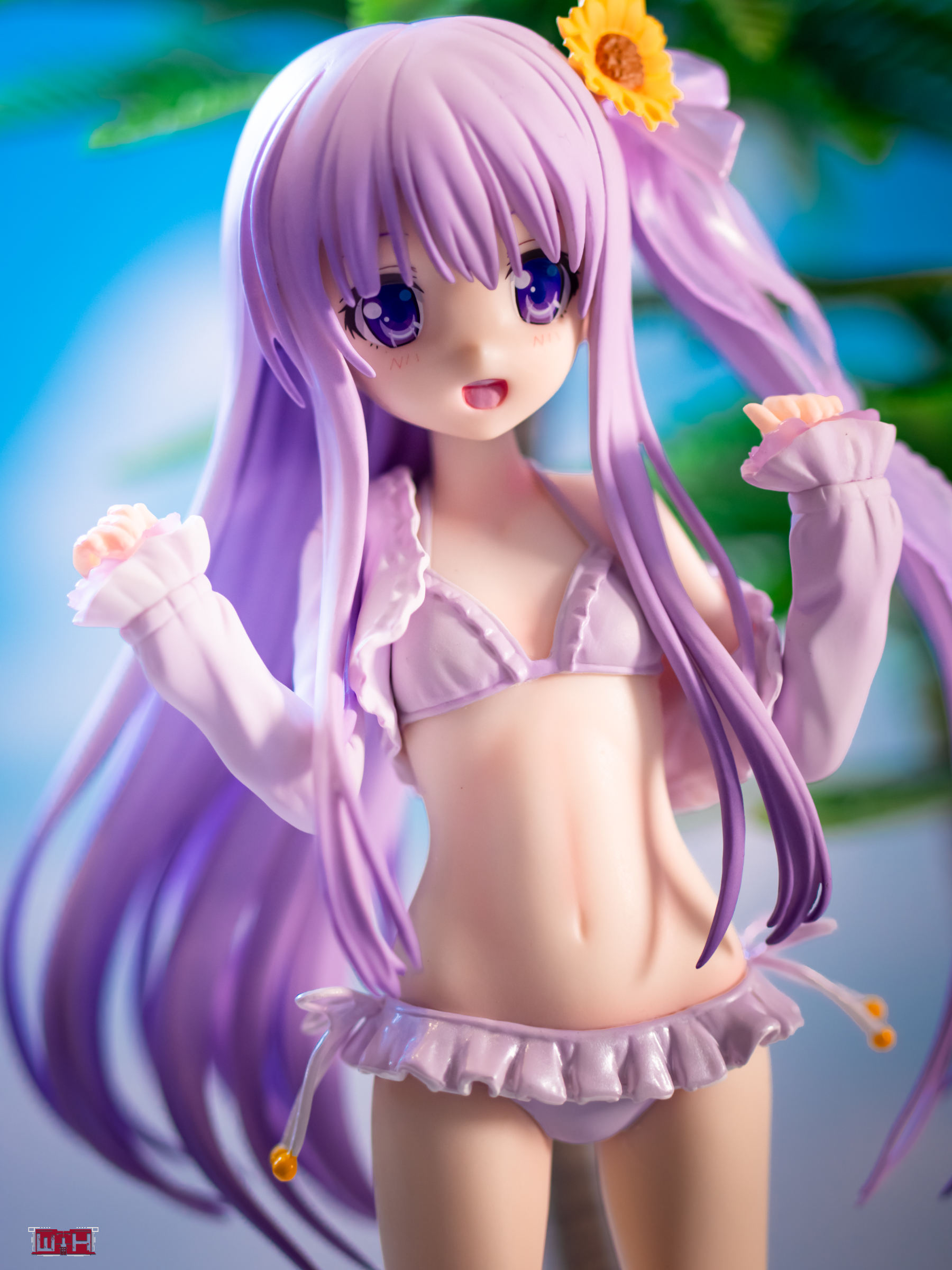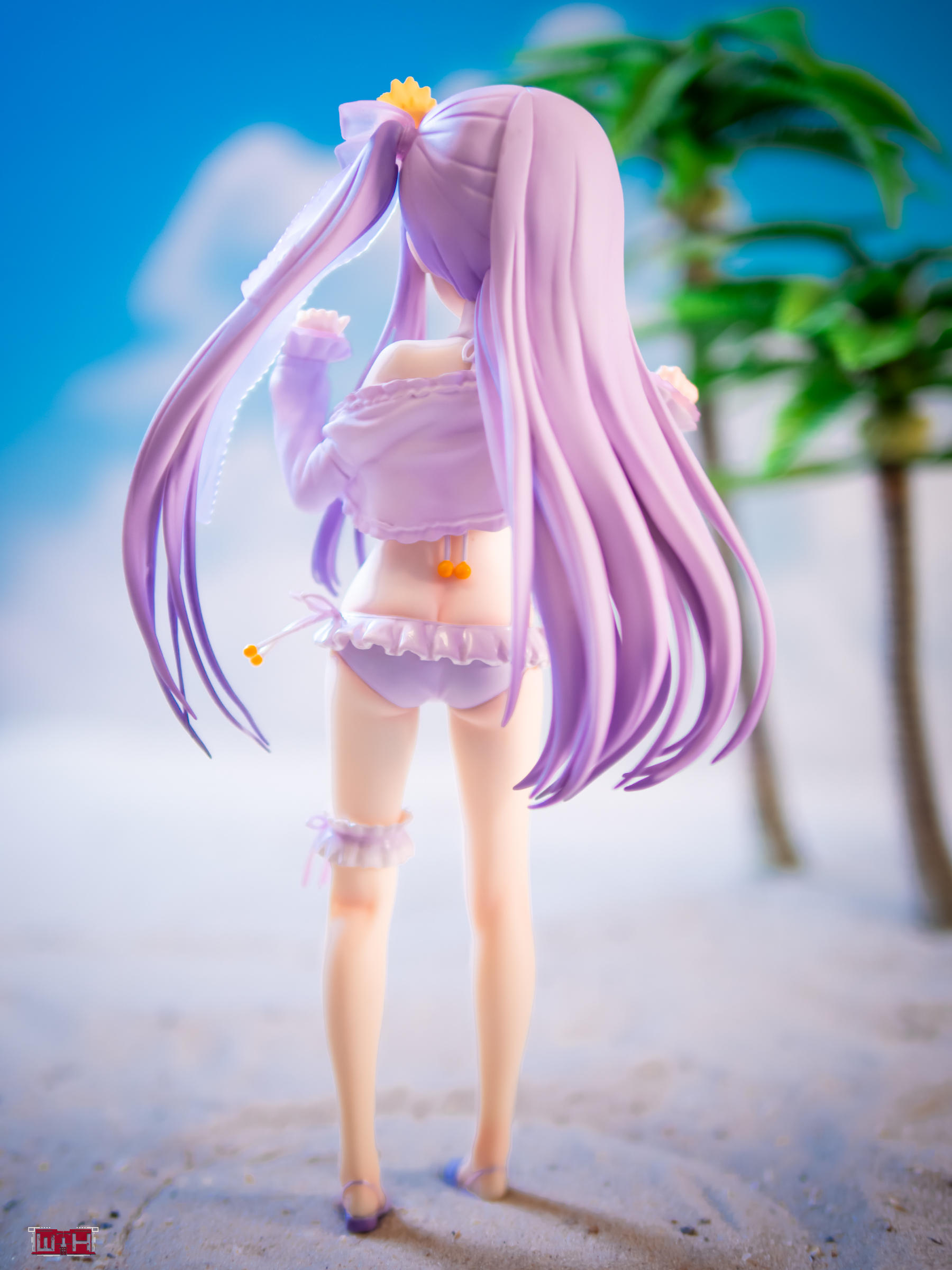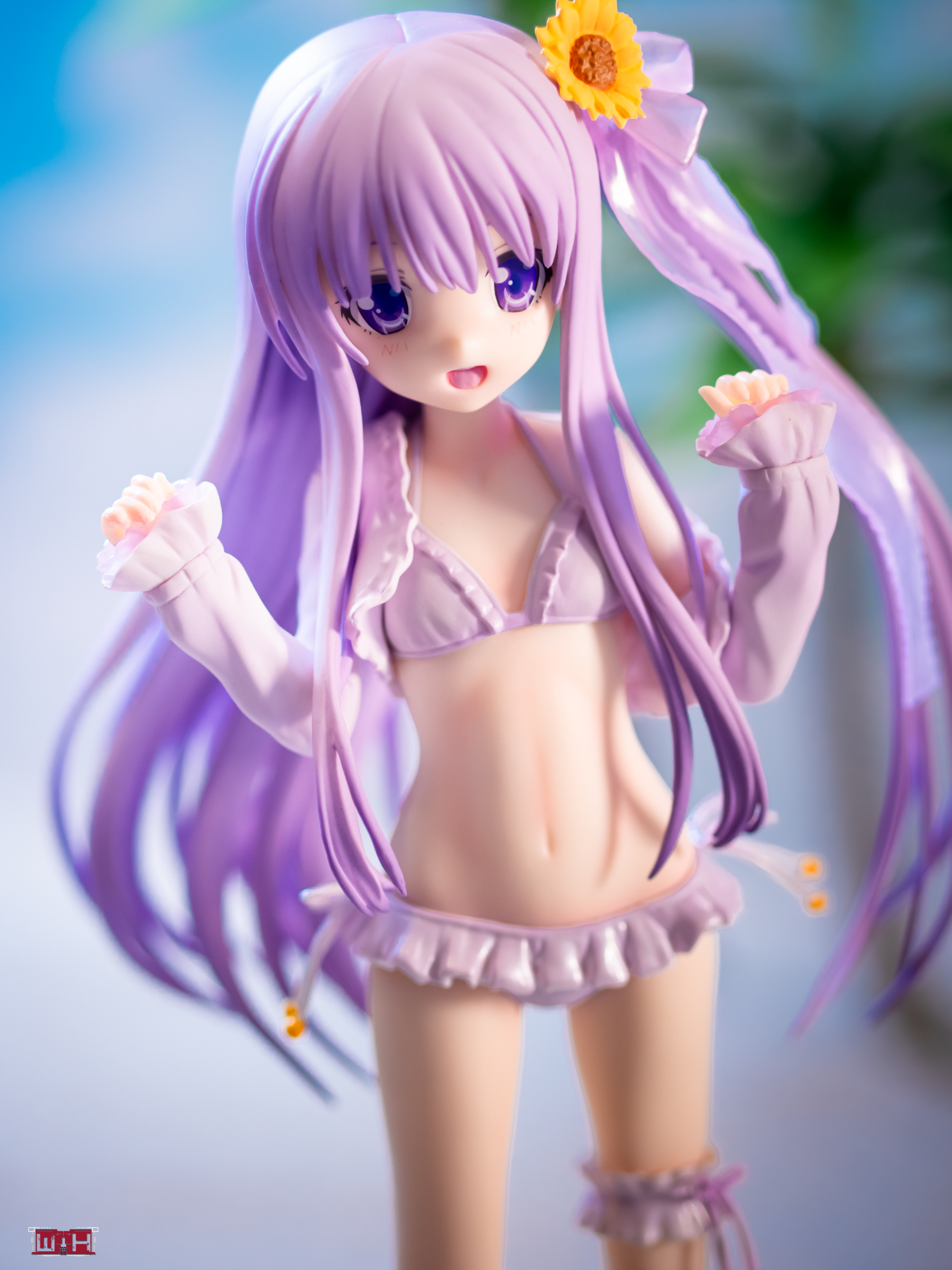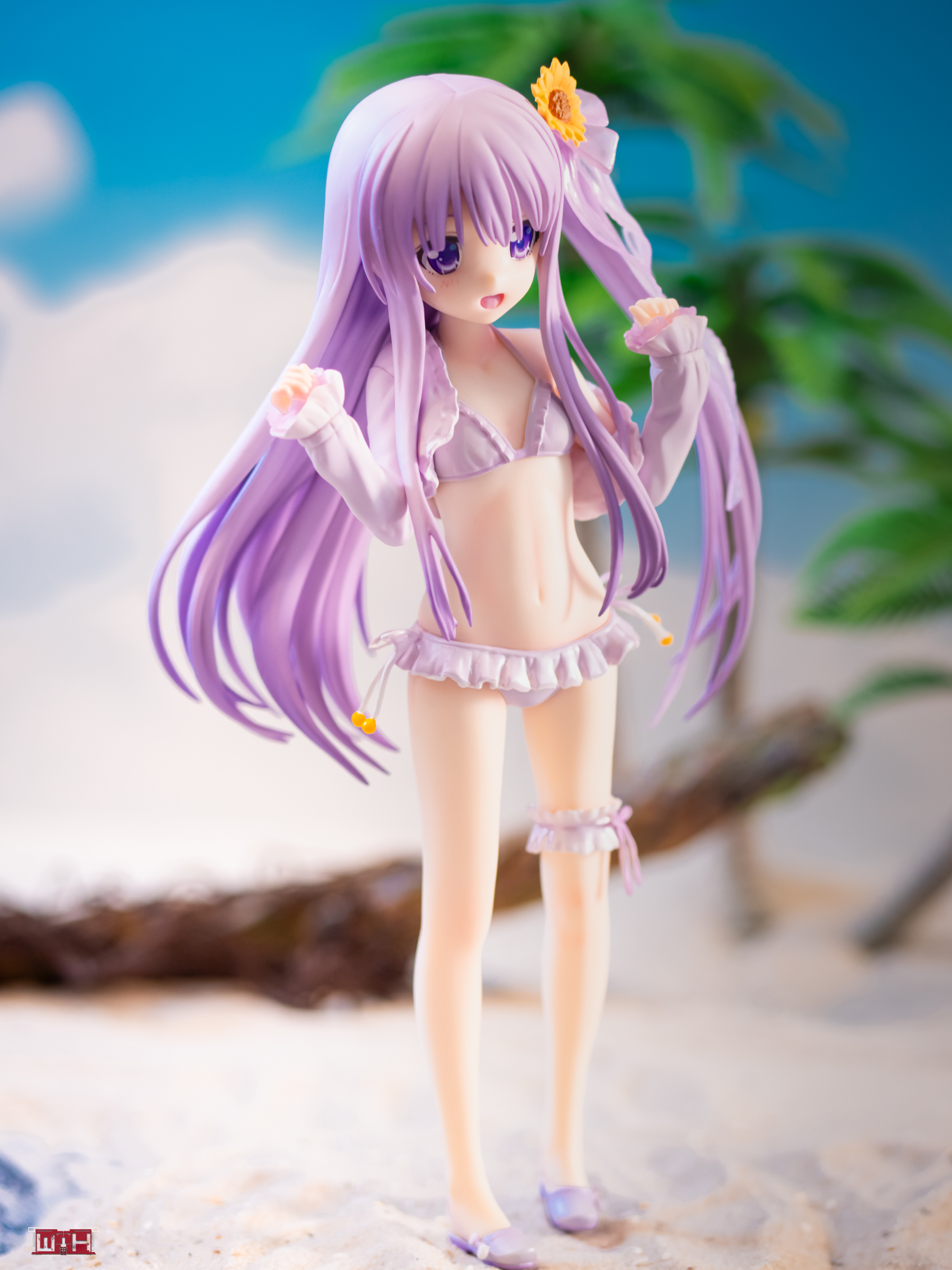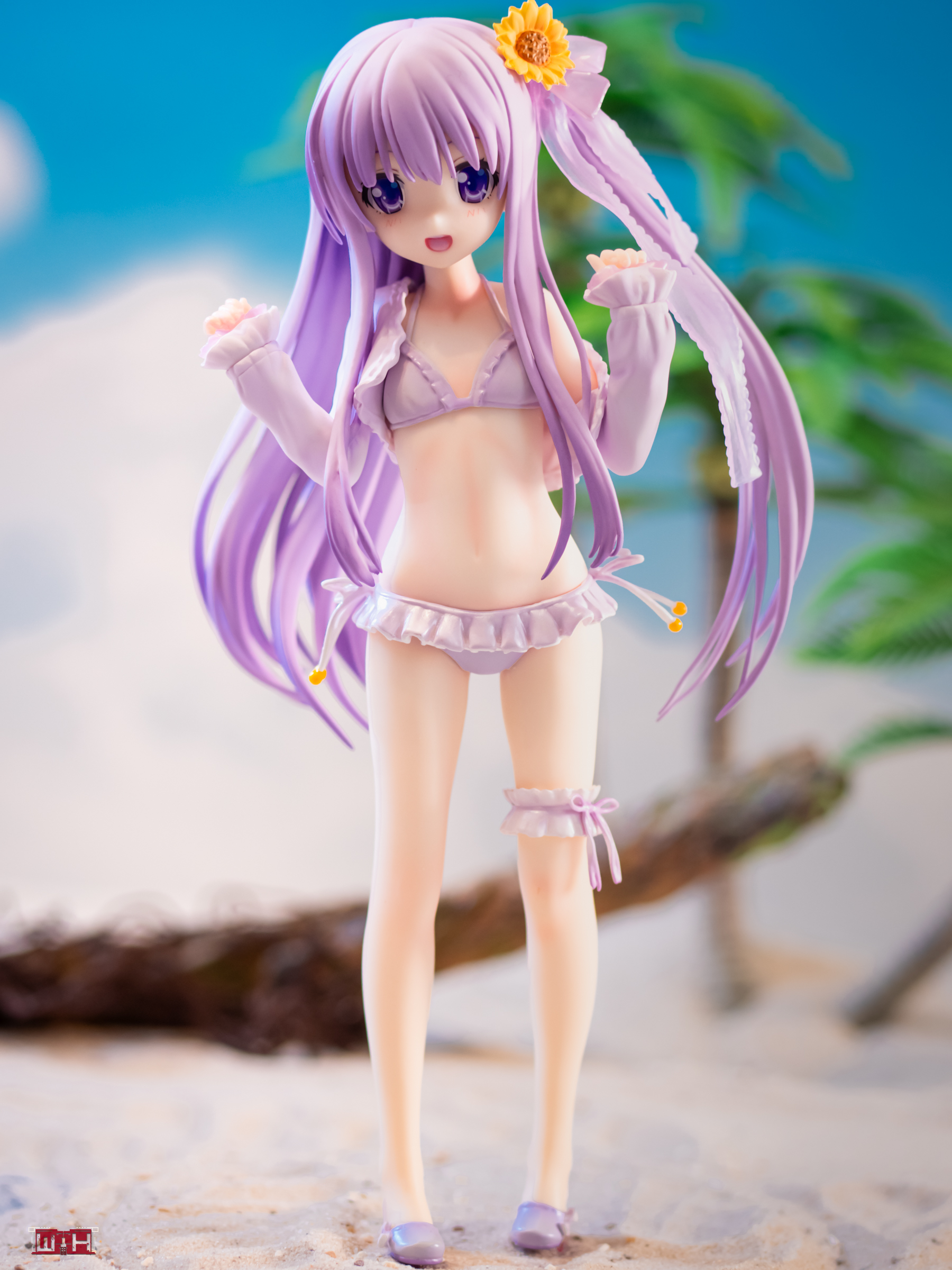 The figure has a rather simple standing pose although the upper body involves more movement. The sculpting of her body looks very good, most of the focus has been set to her upper body and cute belly, the thin legs aren't very interesting on their own, but together with the shading color that highlights certain areas, the figure is very appealing and pretty. It's also really enchanting how she is standing there with the angled arms and fists tilted backwards.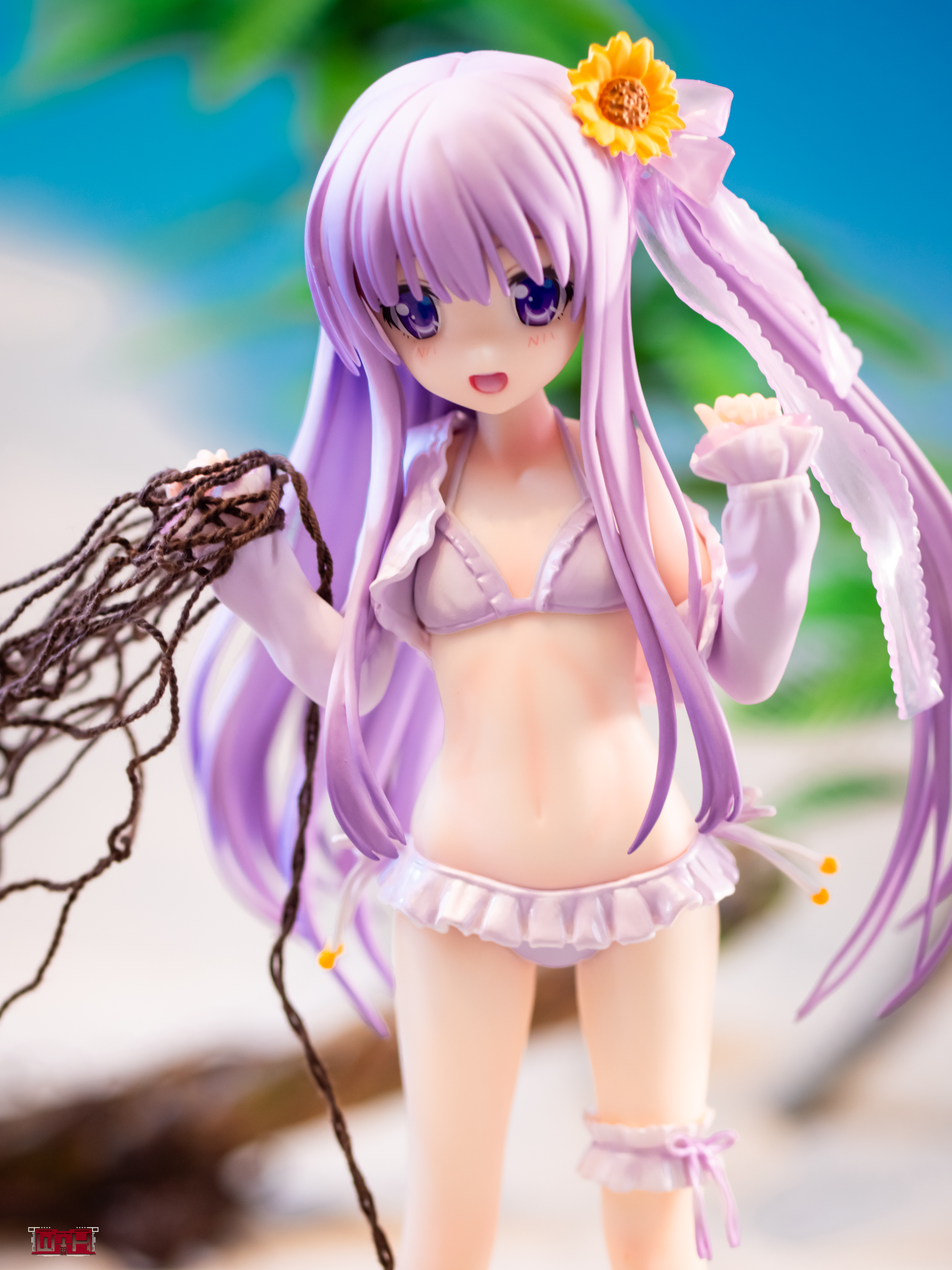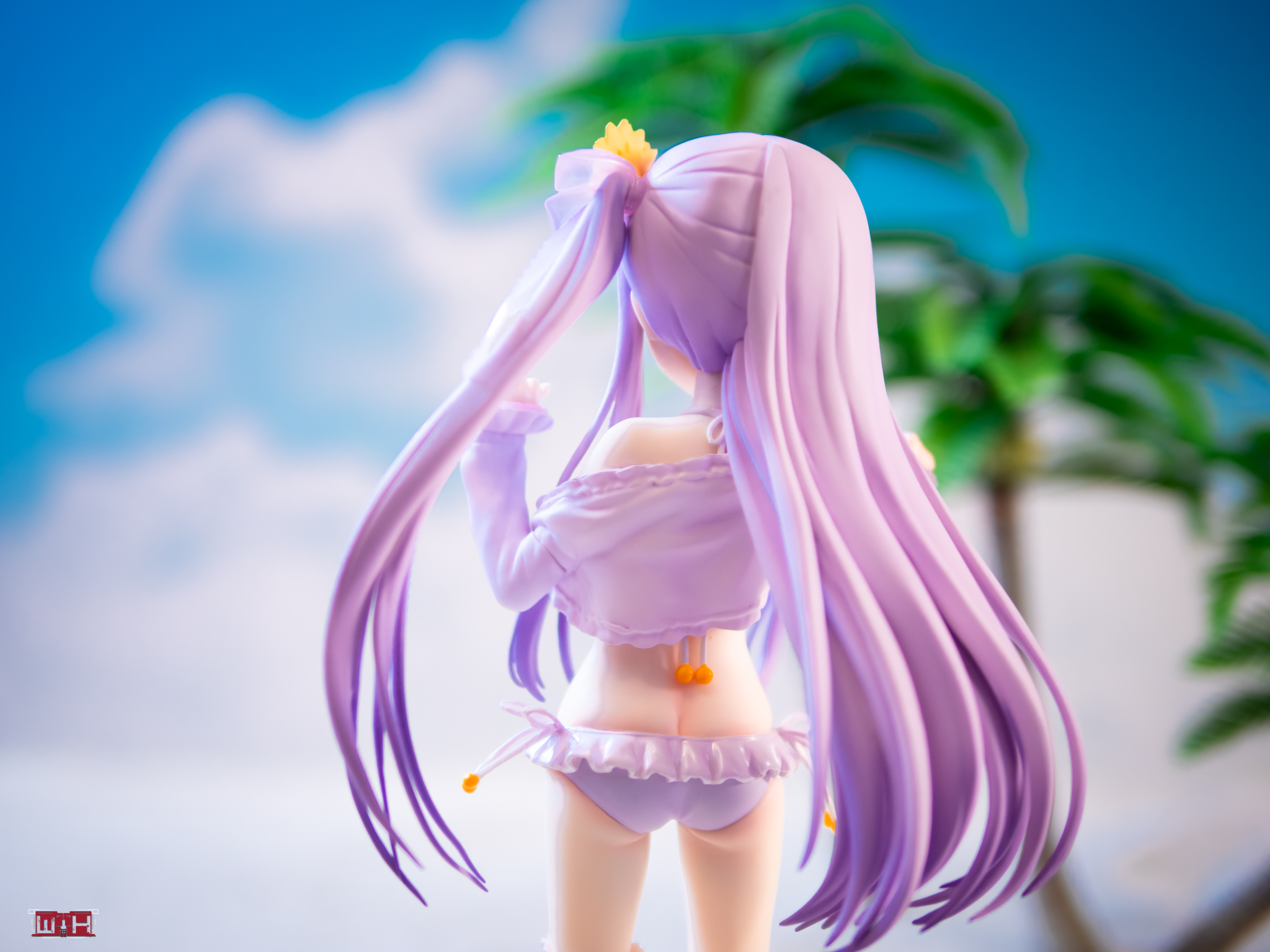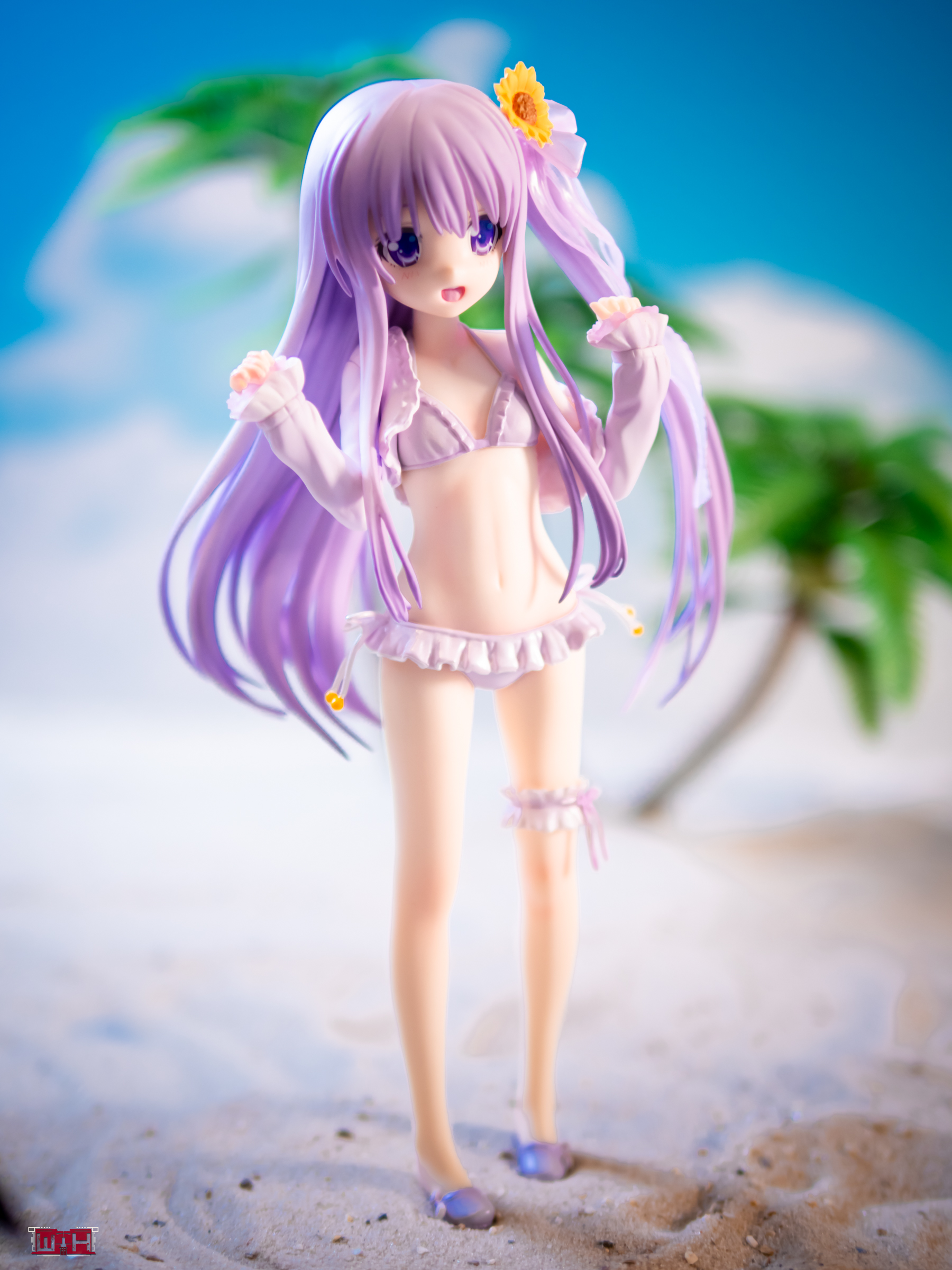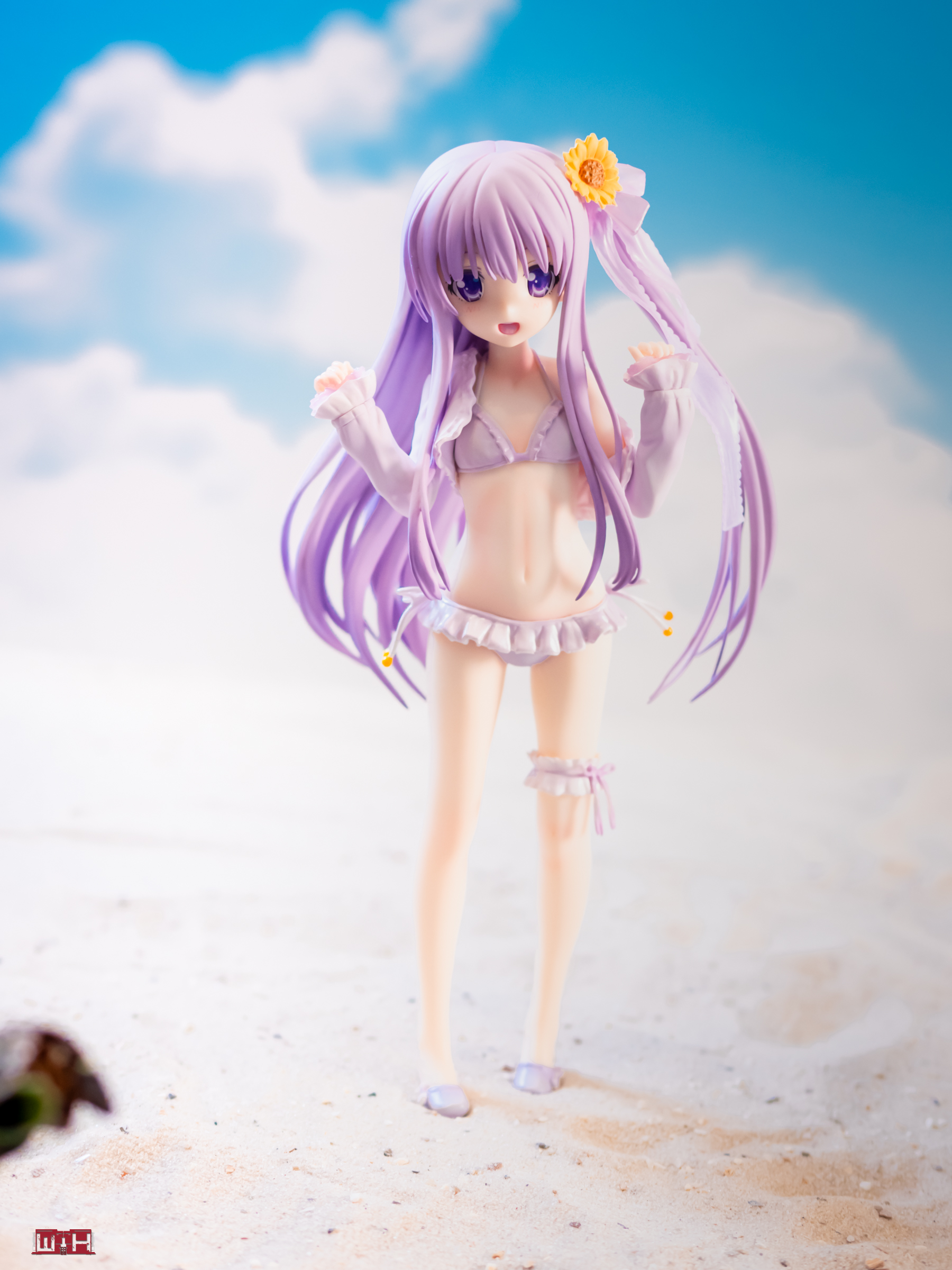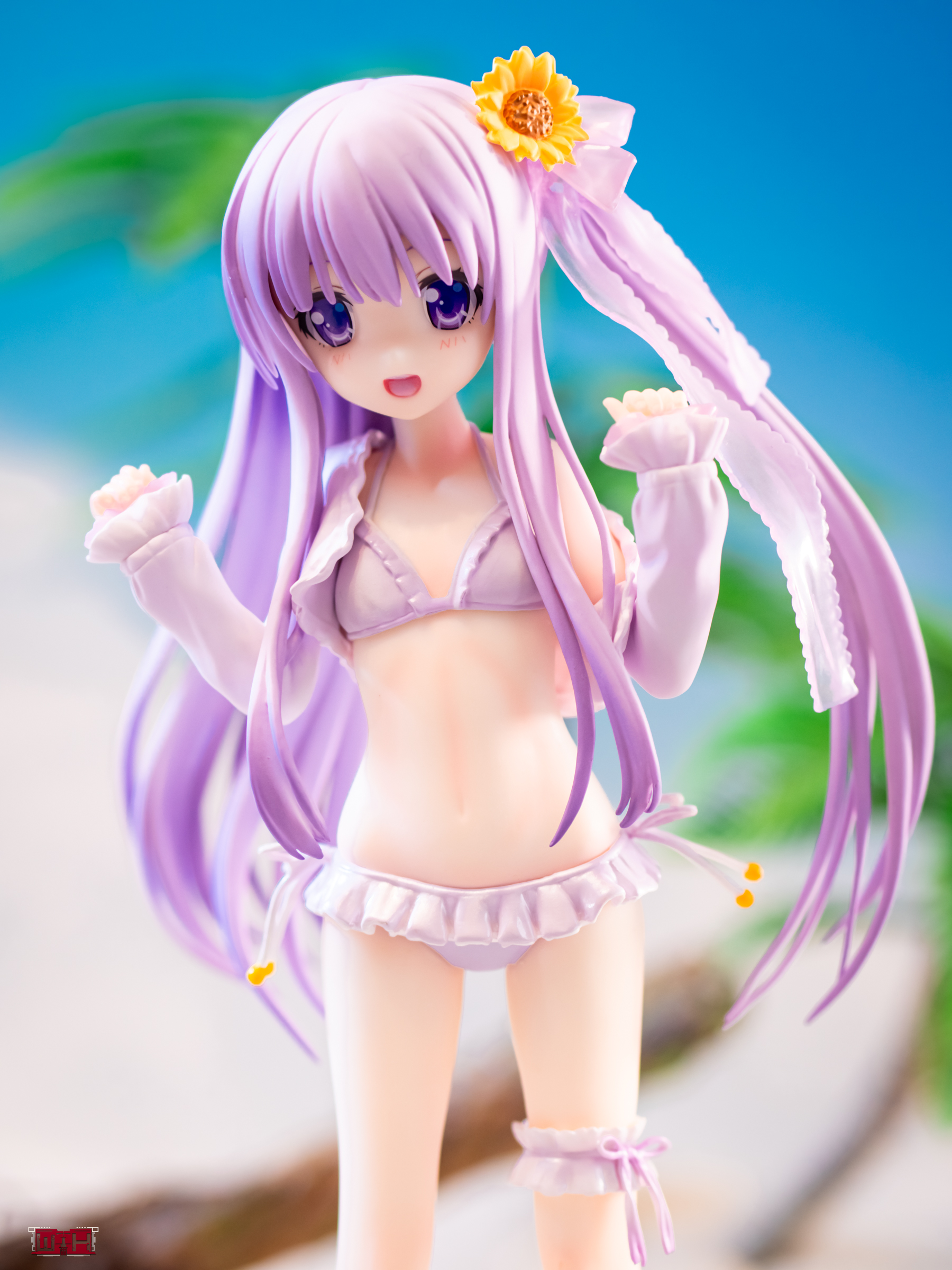 Final Words
Alltogether I'm really happy about this purchase, I received a very cute bikini figure. She has a lovely face and her outfit with the bolero jacket looks great. PLUM manufactured the figure of Gotou Jun as enchanting and nice as the prototype already implied. Her probably shameless origin aside this little angel with her adorable pose puts a smile on my face.