Today I will write my very first figure review, about my latest purchased figure, Hattori Hanzo.
This figure was manufactured by ALTER and  is scaled 1/8 with a height of 22 cm. The release date was in April 2010. Back then I bought her for around 8800 Yen at Hobby Link Japan.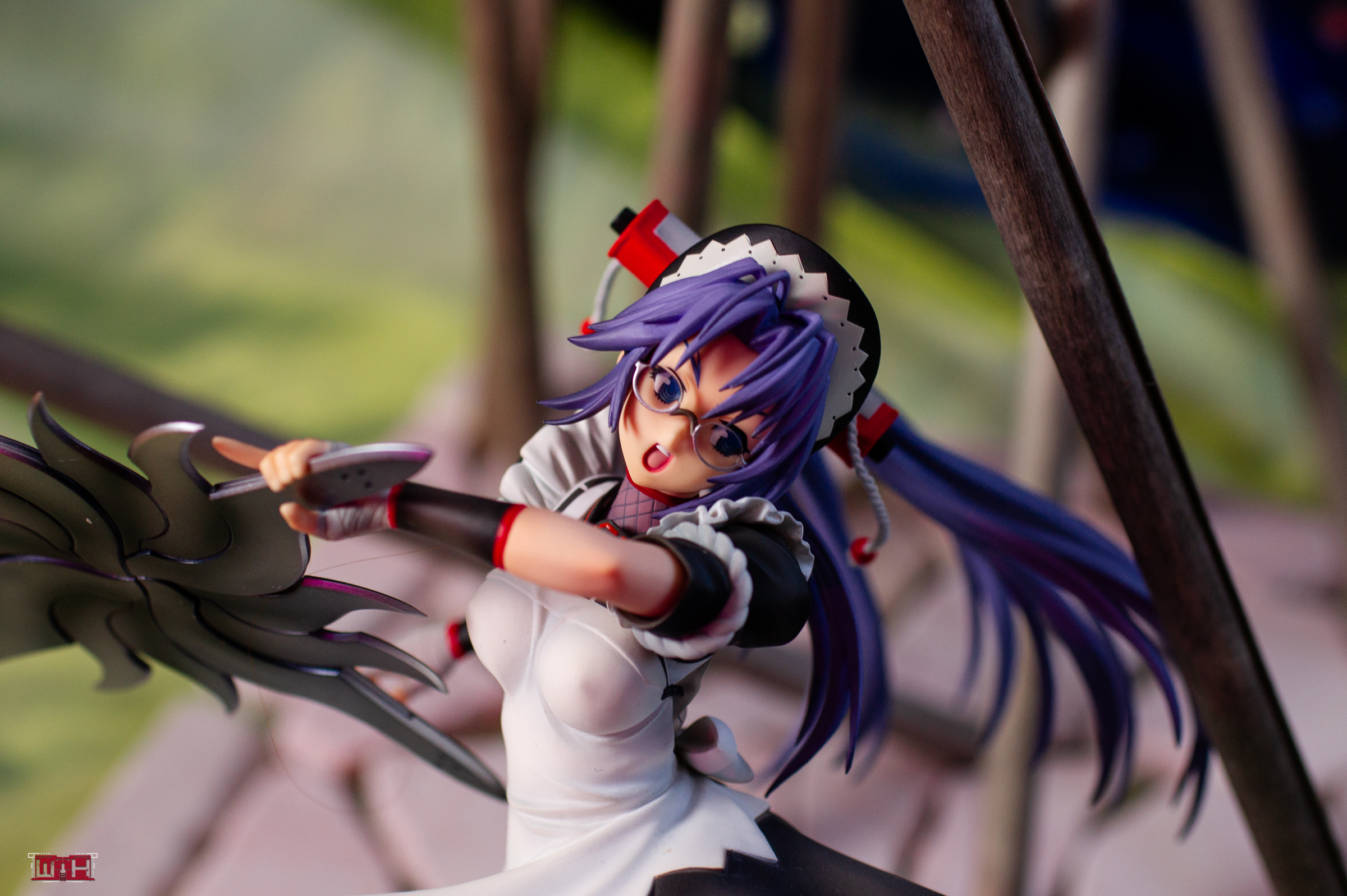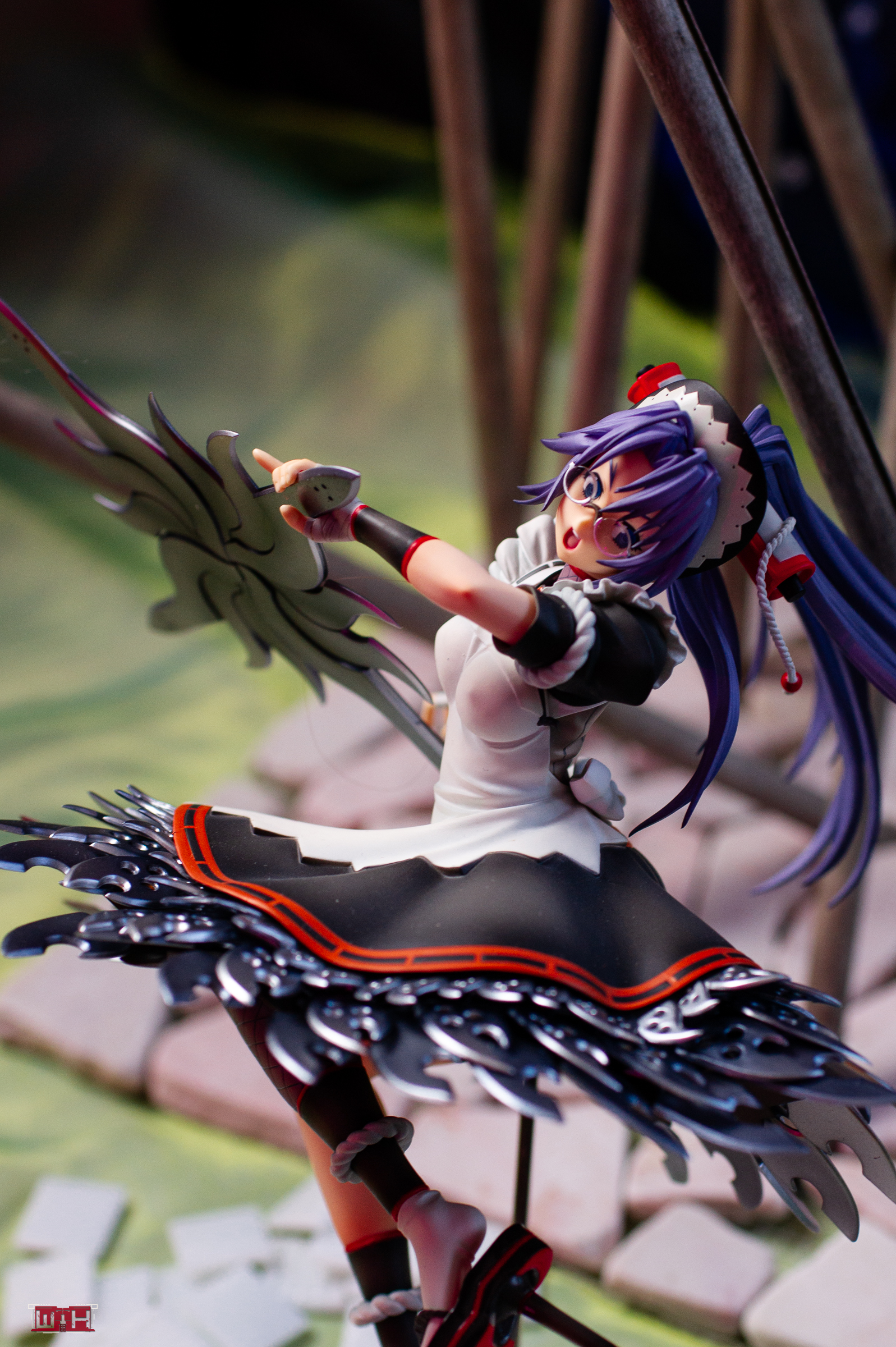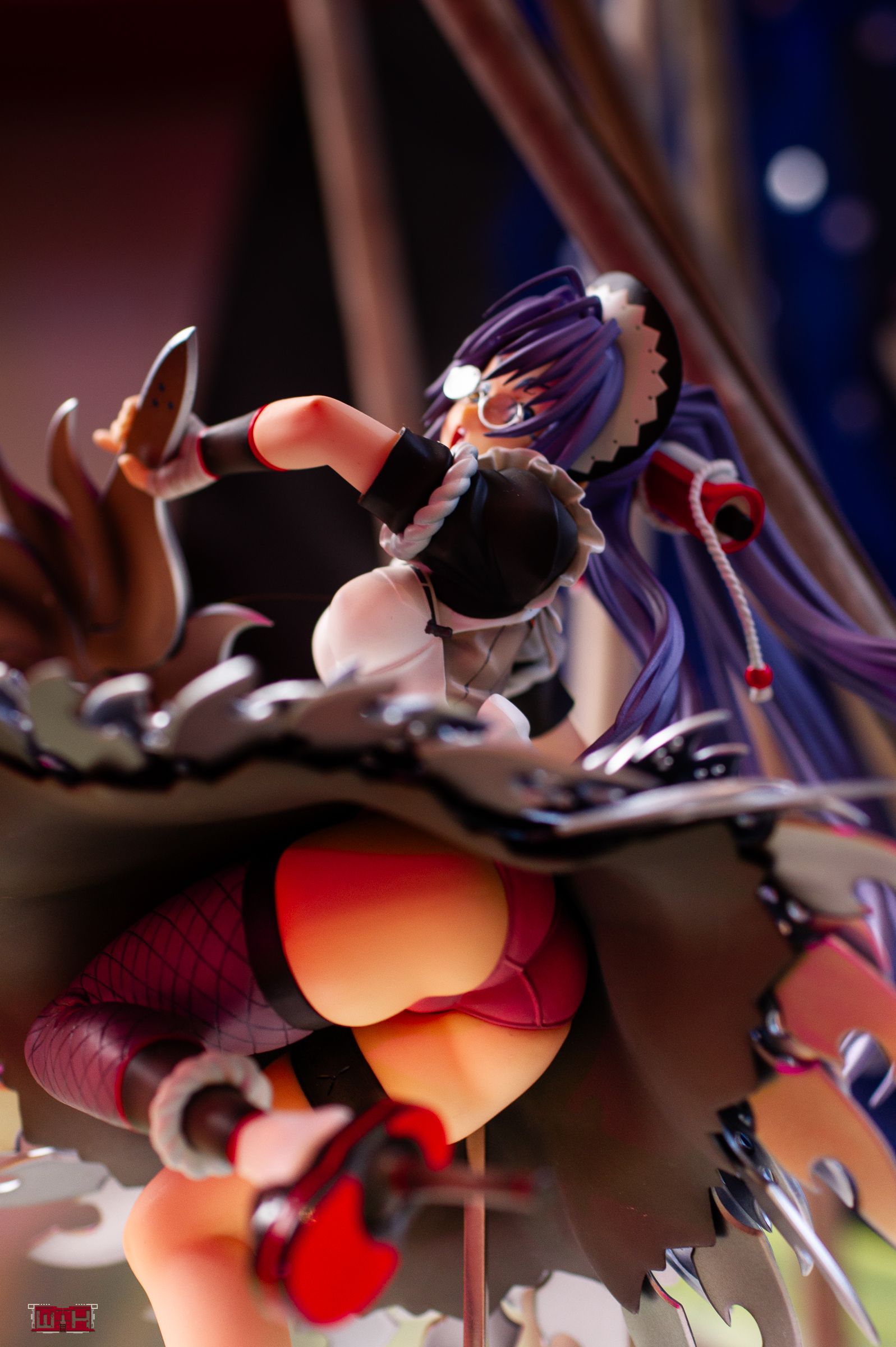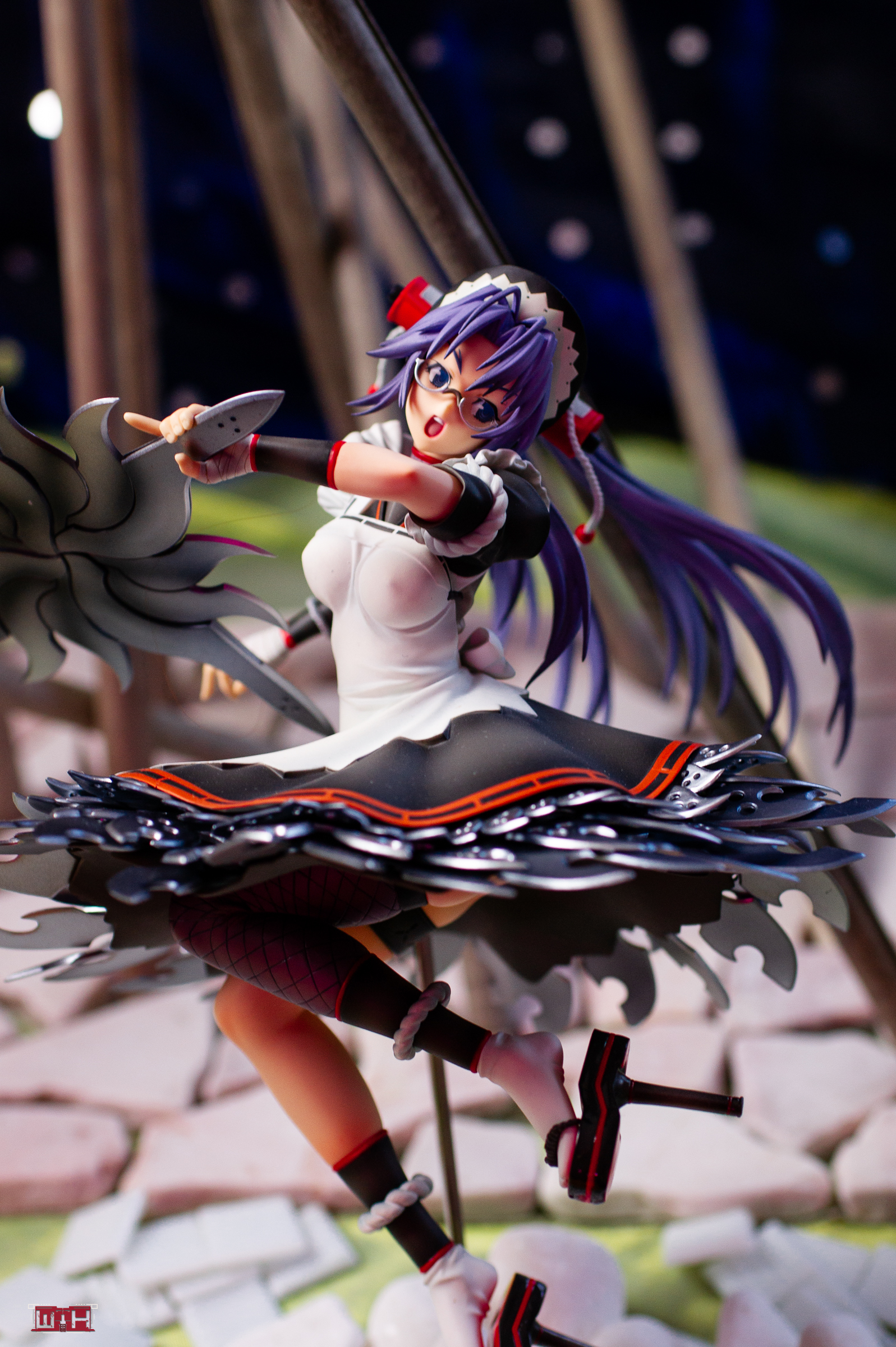 Her origin is the anime adaption Hyakka Ryouran which started airing in September 2010.
ALTER actually has more figures from this show in line Yagyu Jubei, Yagyu Jubei-Swimsuit Version, Senhime, Sanada Yukimura, Gotou Matabei , Naoe Kanetsugu and a second Naoe figure as exclusive swimsuit version. A figure of Yagyuu Gisen was already announced as well.
Aside from ALTER also other figure manufacturers made Hyakka Ryoran figures, AMIAMi zero also planned some nice and promising ones, which are more of the sexy category.

"The story of Hyakka Ryouran takes place in Japan in the early 21st century, in an alternate reality where the Tokugawa Shogunate has remained in power. Here student councils are tasked with oppressing schools. Yagyuu Muneakira is a high school student who rebels against his student council with the help of girls who've had the names of famous samurai here.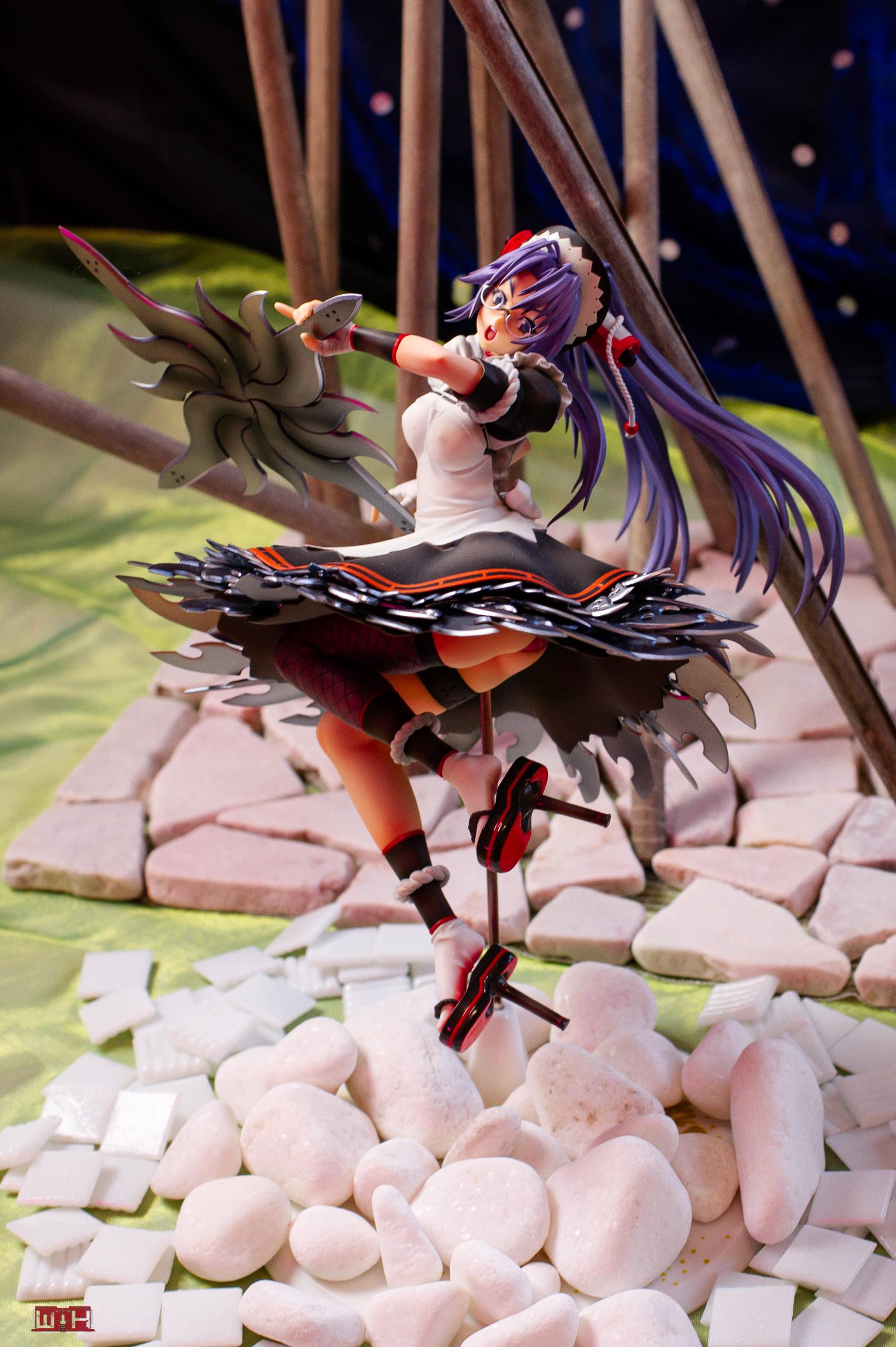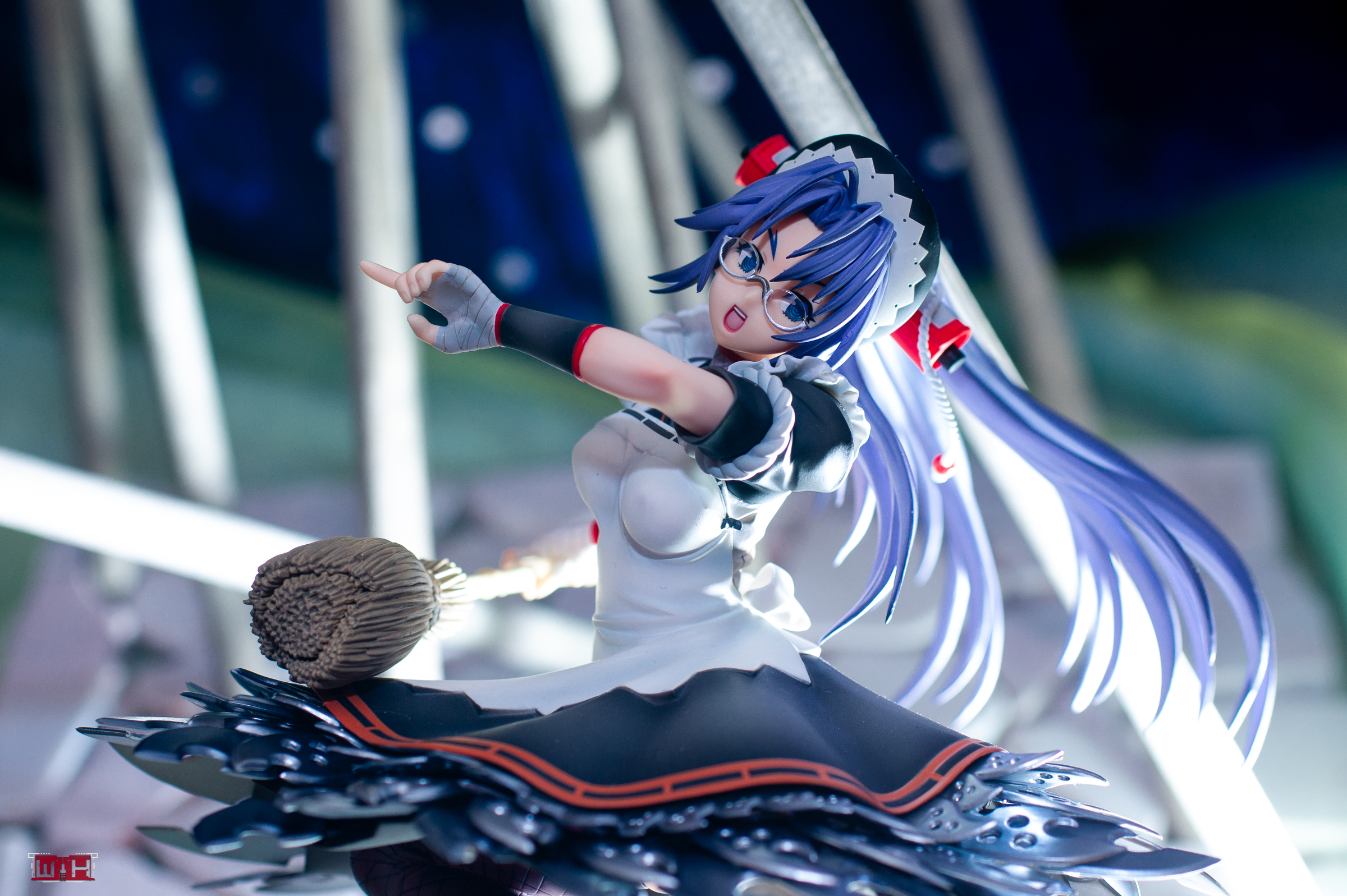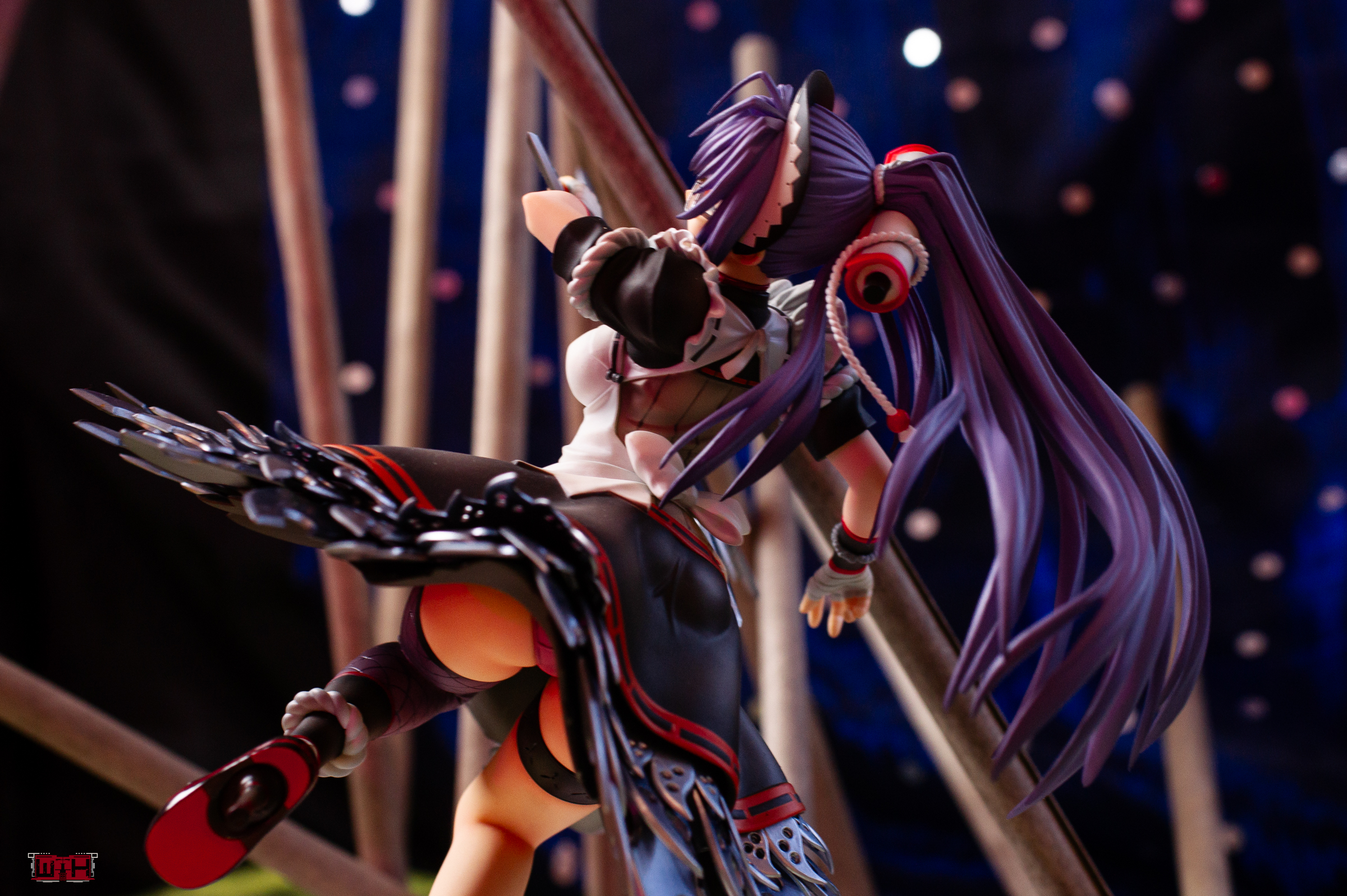 Hattori Hanzo has a pretty unique design, I really like how they mixed a maid outfit with the straditional japanese details. The style of traditional japanese samurai themed elements and anime fashion is a very cool feature of these Hyakka Ryoran characters and figure adaptions.
One odd story about Hyakka Ryoran the figures is that they were made and released before the anime aired. Even though I don't care much about the origins of the figures I purchase, but I was quite surprised when Hattori Hanzo turned out as the masochistic servant of princess Senhime.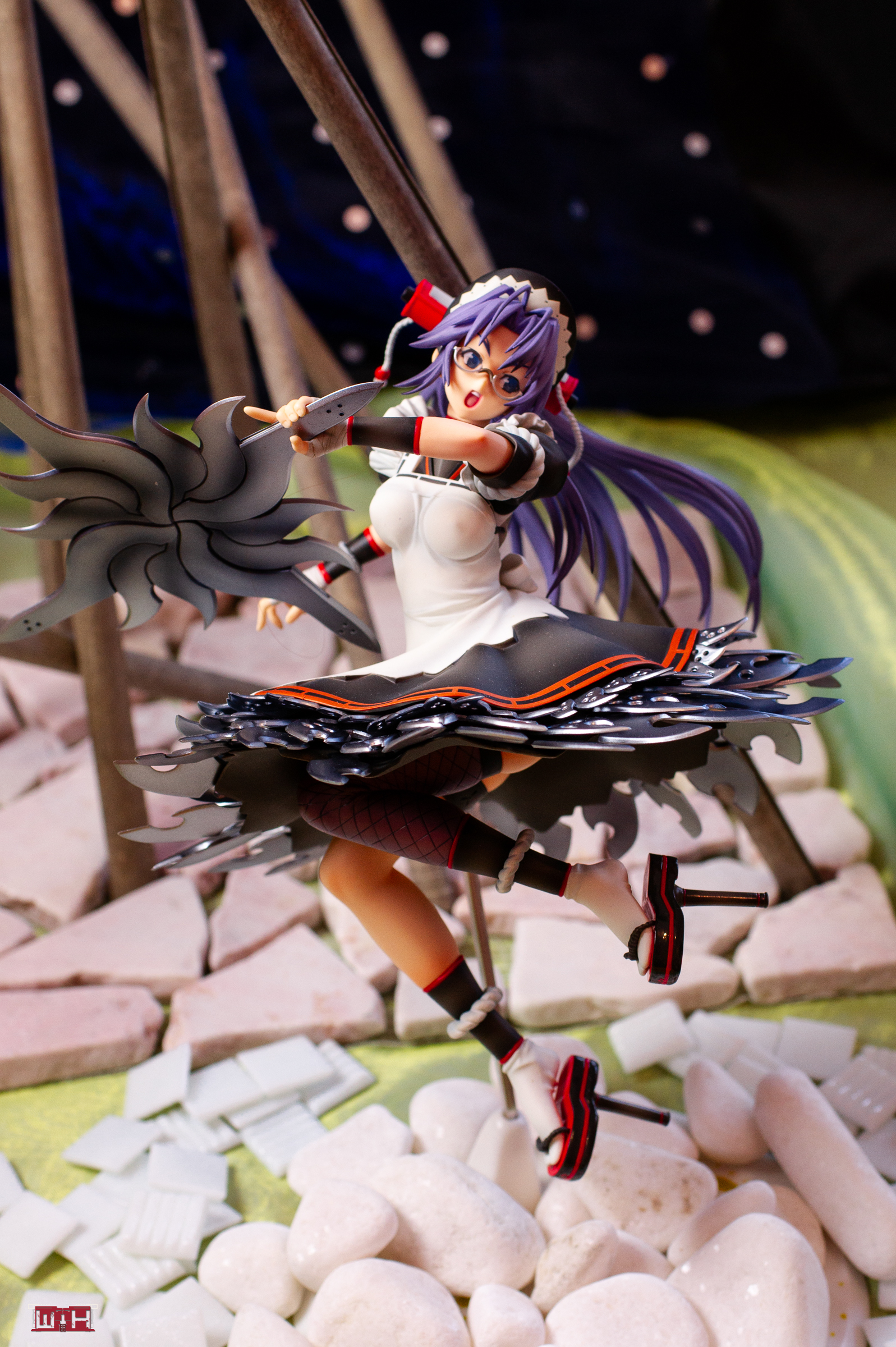 Hair & Face
Hattori has beautiful long purple hair, which is sculpted in a dynamic flying way. It has many detailed strands and shows light dark shading at some areas, her fringe looks especially nice.
On her head she has a maid cap that features these traditional Japanese design elements.
Her face looks also very good she got beautiful blue eyes and purple eyebrows. The face shows an angry expression or at least a tense fighting expression with an open mouth that features a nice upper front teeth line. The glasses has a silver frame and clear parts which are adding a nice touch to her, the glasses can't be taken off, but fans of girls with glass would enjoy her like this.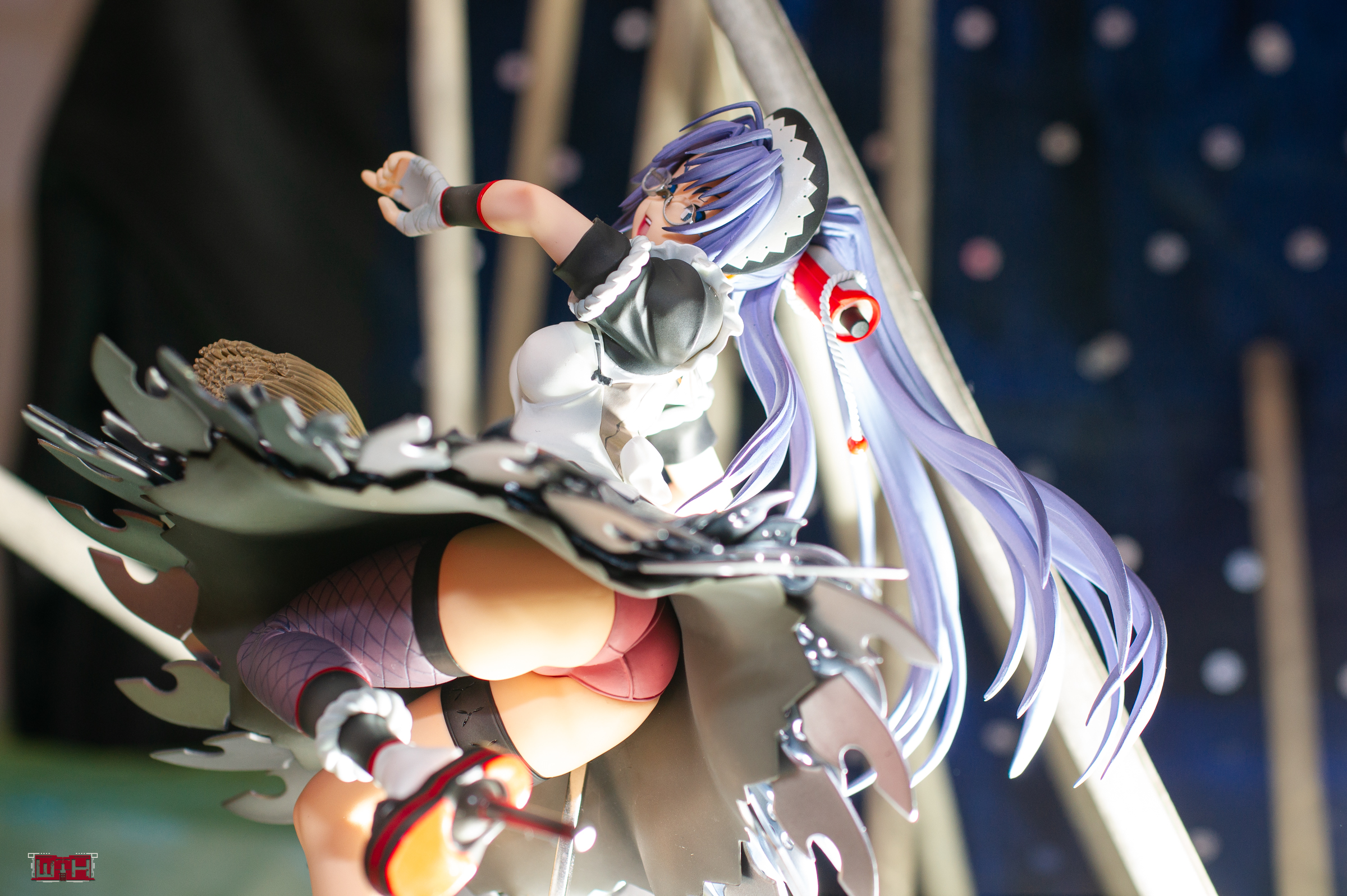 Outfit & Body
Hattori Hanzo comes in a nearly normal maid attire with a long shirt and a apron at the front. At her hands the figure has bandage like gloves, she is also wearing white ropes all her limbs. The skirt which is full of sharp and shiny blades, first I thought these blades were made of PVC, but they are made of hard and spiky plastic. These narrow layers of different sized blades create a very impressive look. Under her maid you can see a small part of the purple rhombus patterned mesh shirt also one of her stockings has this pattern. Hattori is wearing a wine red panties which is quite nice and attractive. Her outfit looks cool and the different colors are chosen very well.
At her feet she is wearing Tabi socks and a extreme version of traditionsl tengu geta shoes, you have to be a real masochist to be able to walk in these shoes.What I like about Hattori is her a buxom girl appearance she looks more voluptuous than the other Hyakka Ryoran girls. She has meaty and attractive thighs and a very nice round butt =D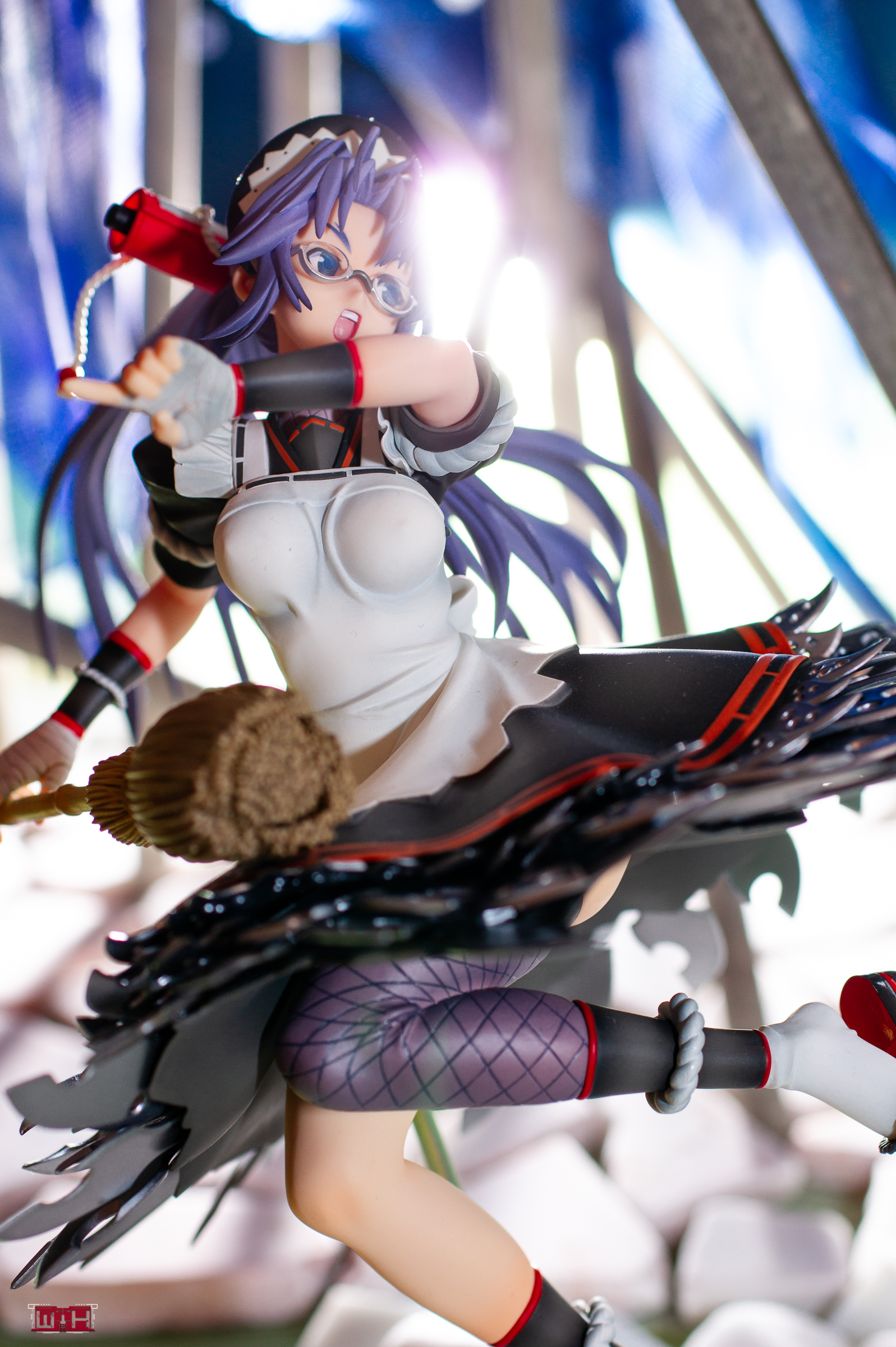 As weapon Hattori comes with a giant Shuriken weapon, she is able to hold it in both hands, you can also put other things in her hands, as you can see I gave her a broom "Maid Business".
She is fixed to the base with one bended metal bar when you put it all together for the first time, it's a bit difficult to connect the metal bar and the figure together, but it works. Her pose is very expressive and due to her Pose its inevitable to look a bit under her skirt. There is one minor detail that bothers me a bit, when putting her on a high shelf it is be difficult to see her face. There is a little makeshift to display in a more face revealing position you cen use the metal bar in two directions, so you have the possibility to pose her in a different angle where she looks down.
Final words
Hattori Hanzo is a very pretty and cool looking figure from the Hyakka Ryoran lineup. With her maid attire and the blade equipped skirt she look s very martial at first, but I think she is beautiful in her own way. She has nice glasses and a very detailed hairstyle. Her sculpting looks good and clean and offers a lot of details to explore, her paintjob is great as well and the different colors are a interesting combination. Aside from the limitating posing option Alter did a very good job.