Ahoi Poi! …ahem… GSC recently shipped Yuudachi from the shipyard, after a few delays she safely arrived.
Yuudachi is based on Kantai Collection ~Kan Colle~ the once extremely popular browser game, it's been a while since I've played, I honestly miss seeing and hearing all my cute shipgirls, but the game concept is so frustrating, starting from the login and going to the endless task of leveling up and always these long repair times after another failed map.
GSC created a wonderful figure of Yuudachi in her Kai Ni version, she was sculpted by Urakawa Akinori following an illustration of Kujou Ichiso. Yuudachi Kai Ni is scaled 1/8 and measures 22cm, I've purchased her for 12,980.00 JPY.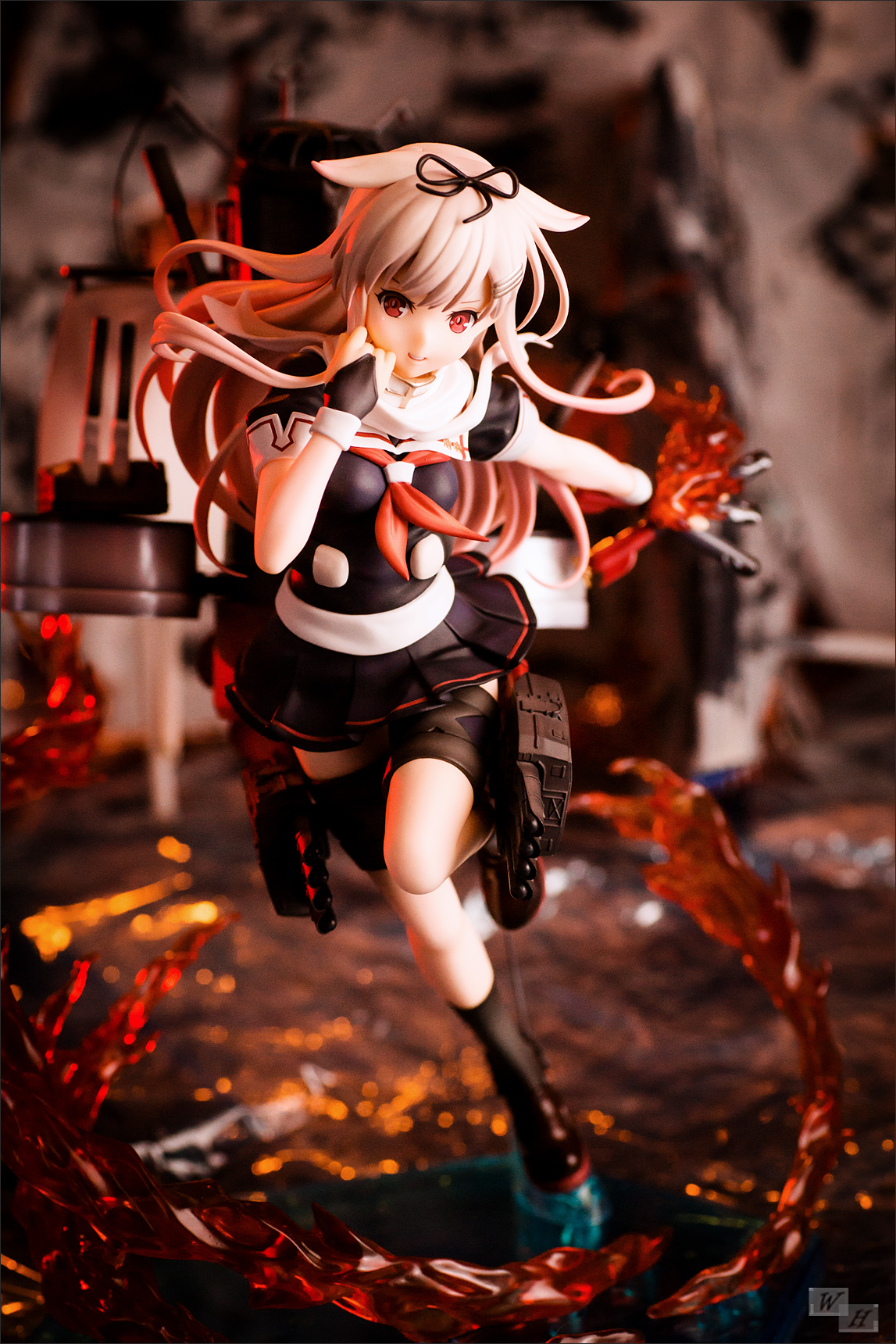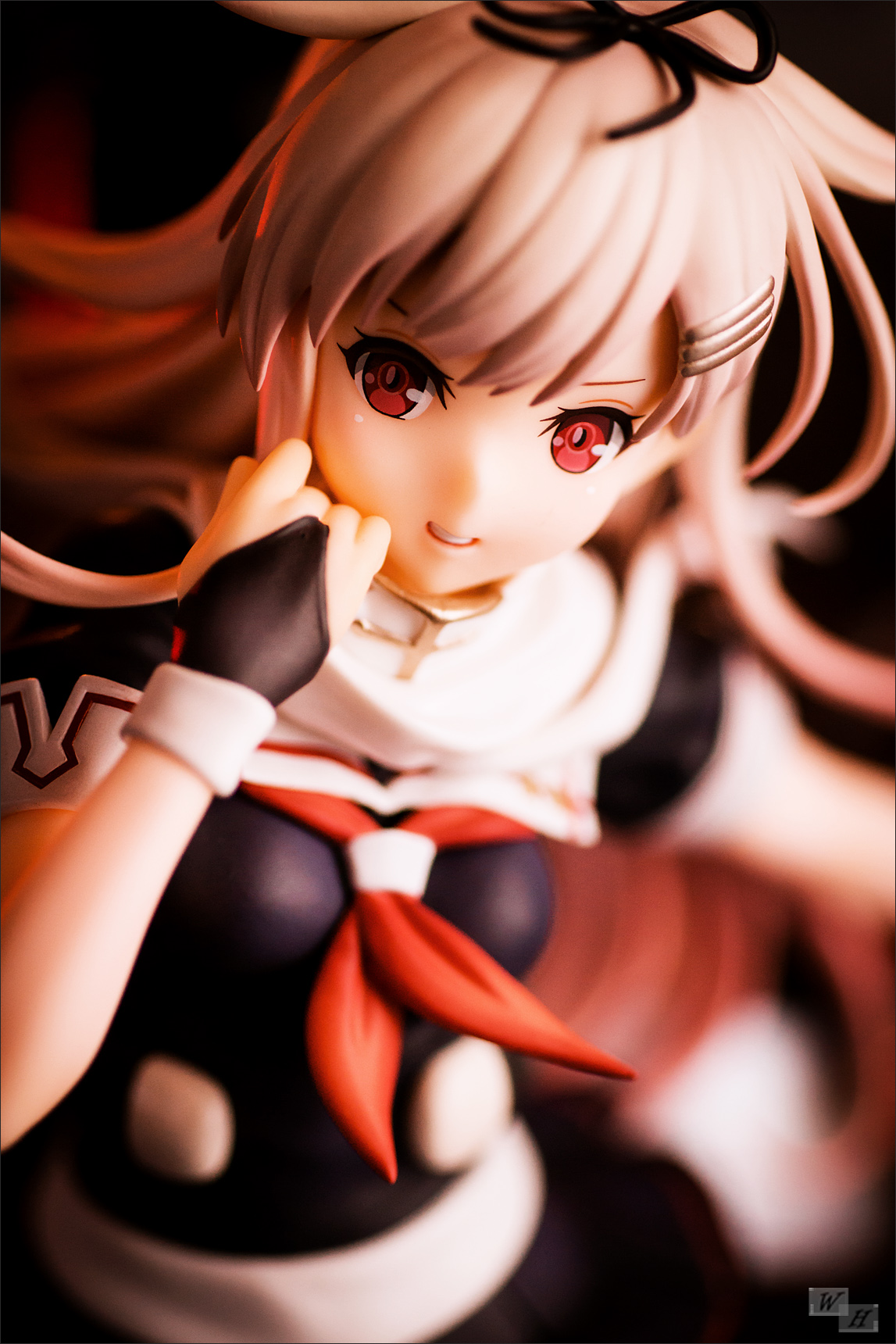 Yuudachi has a very cute face with detailed red eyes and a confident smirk. Overall she a a great and attractive expression. She has faint blonde hair, at the sides of her hair are flaps and wildly flowing strands placed further below with an orange gradient effect at the tips. On top of her head she wears a cute, small, black ribbon.
Yuudachi is actually just a Destroyer ship, the smallest type within a fleet, nevertheless her figure is combined with a big amount of parts. She has a really huge backpack that consist of one funnel with the decorative sail and red propeller, the backpack also carries her gun installations. The detailed guns can be rotated and elevated. At her legs the figure wears her torpedo launchers, on a closer look you see that the torpedoes Yuudachi is holding have funny faces.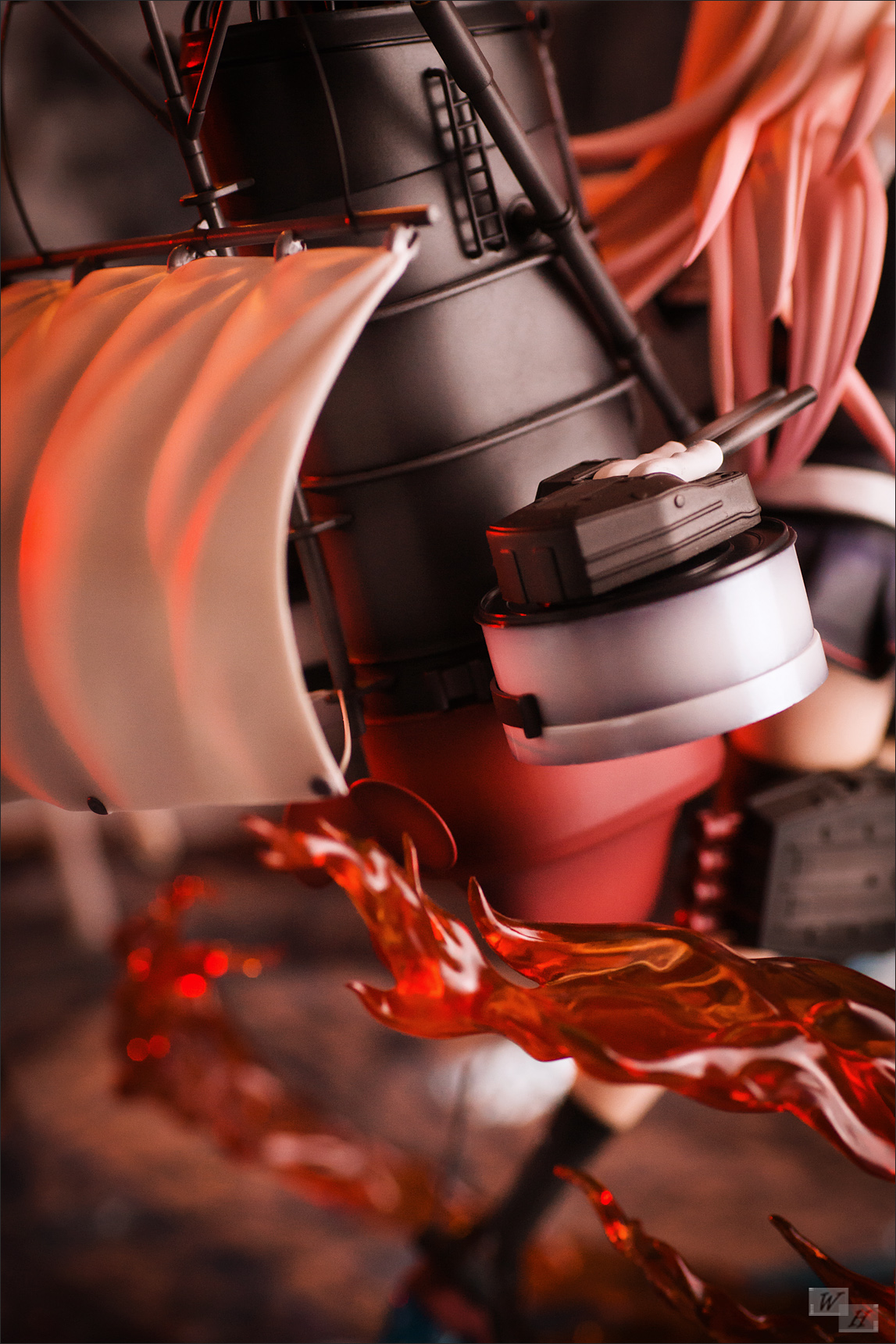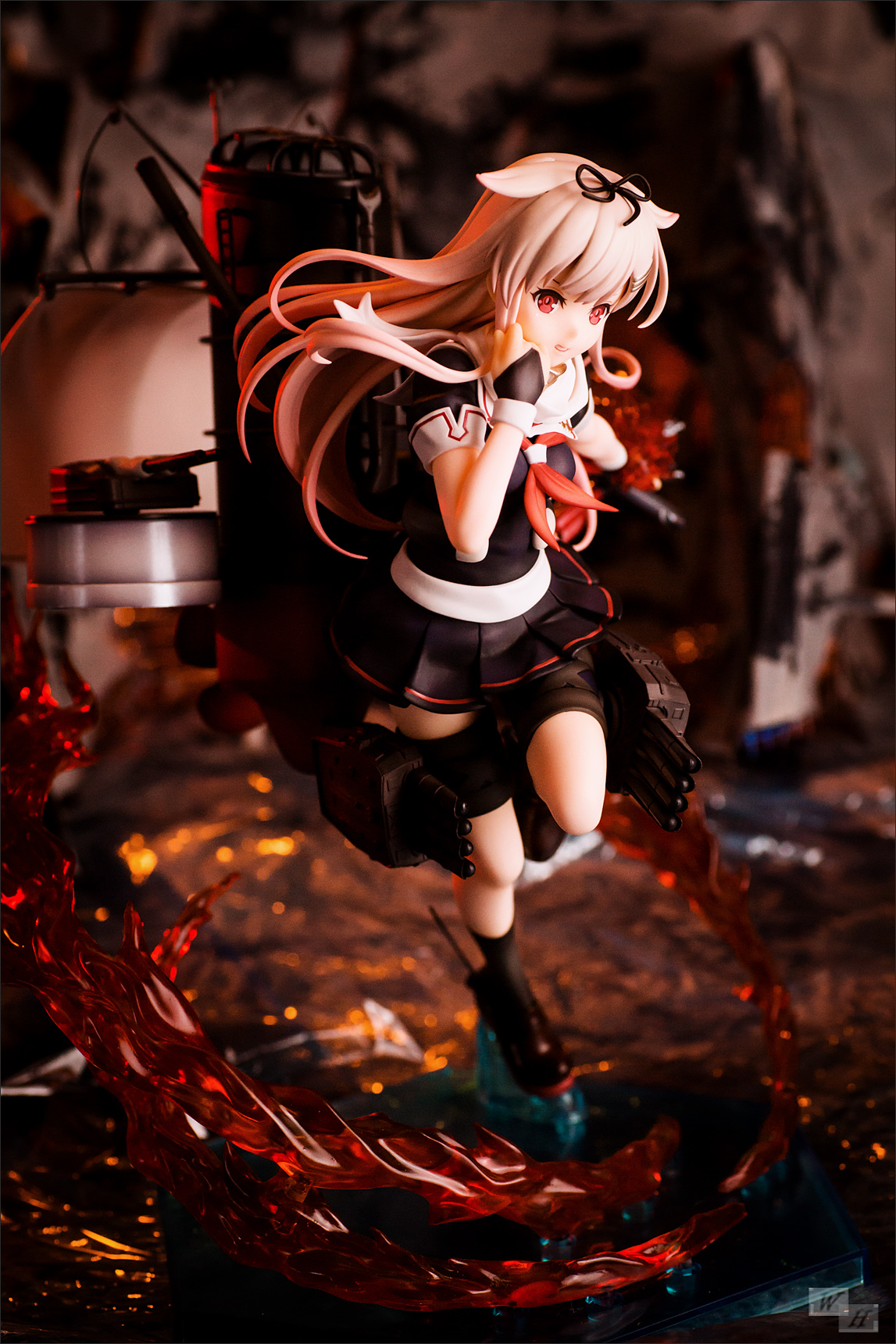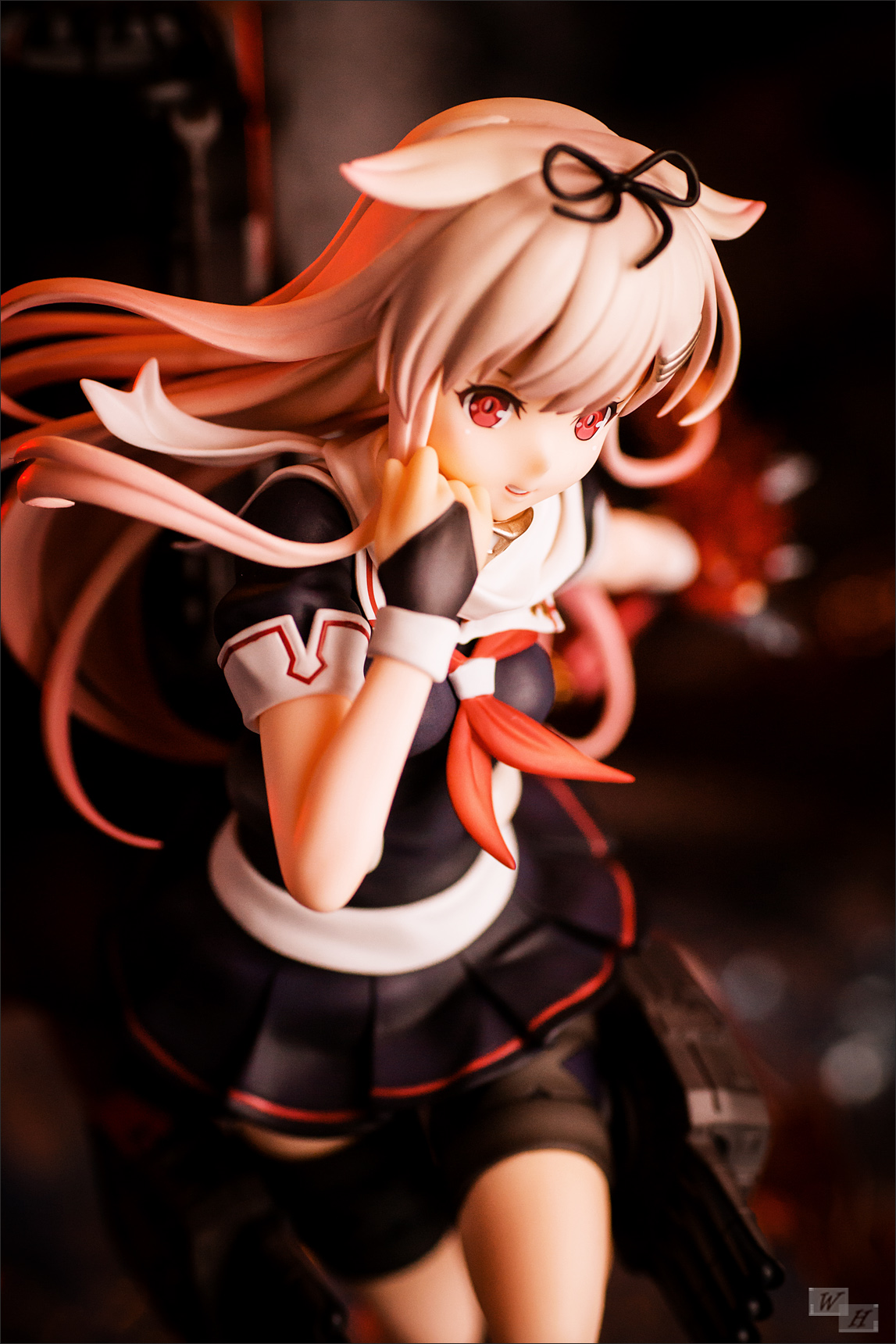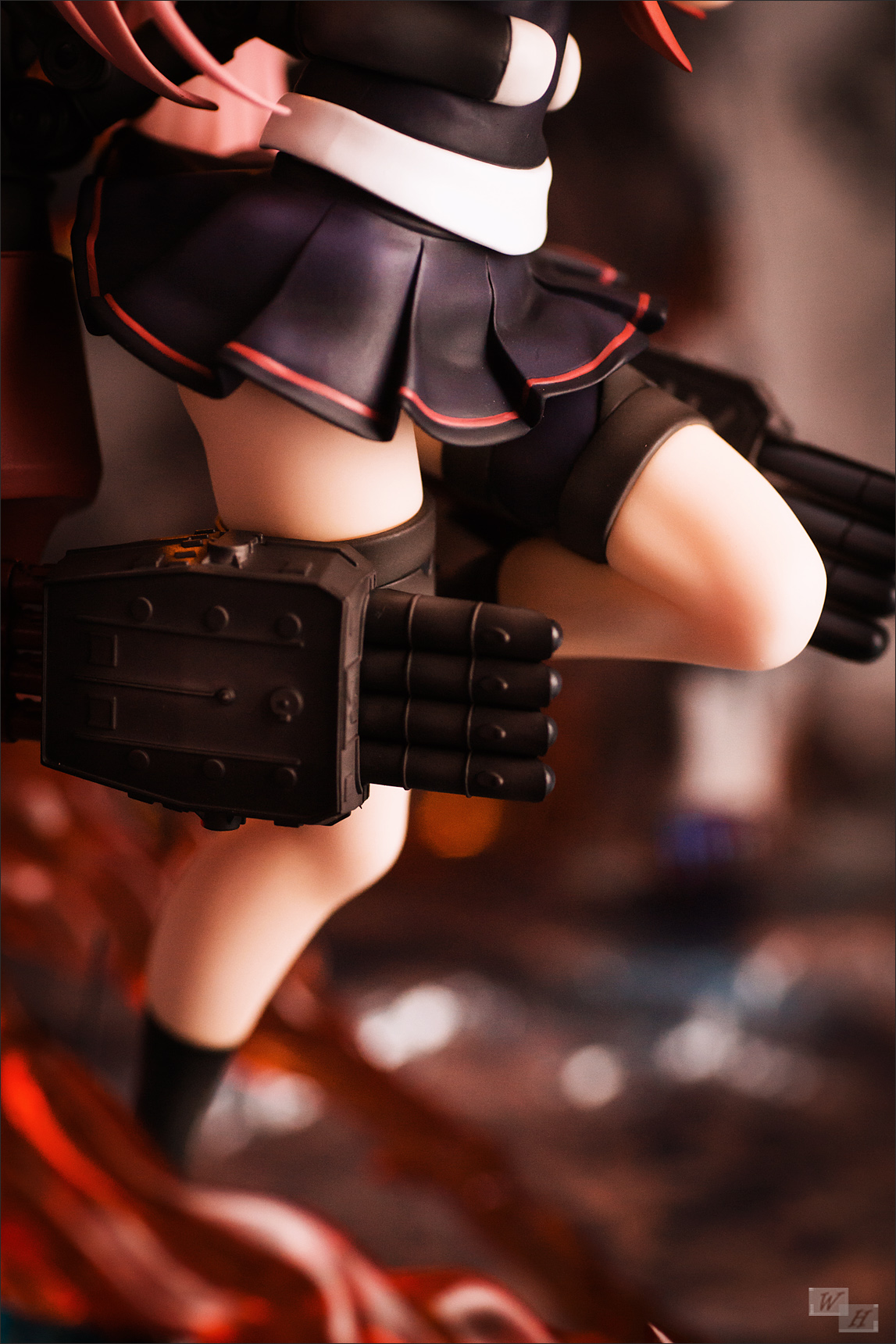 The figure of Yuudachi is truly amazing, she is one of the more dynamic Kancolle figures, her pose indicatetes speed and agility and the girl really looks like she is having fun, the nicely made flame parts make her base look more attractive and underline the figures powerful pose. I guess Yuudachi is my favorite from all the Kancolle figures so far.
In the anime Yuudachi started as random Destroyer girl, cheerful and cute, but a rather bad student. After noticing how hard Fubuki tried to improve, she also wanted to get stronger, in the end she showed even more talent than the girl she admired all the time and became Yuudachi Kai Ni.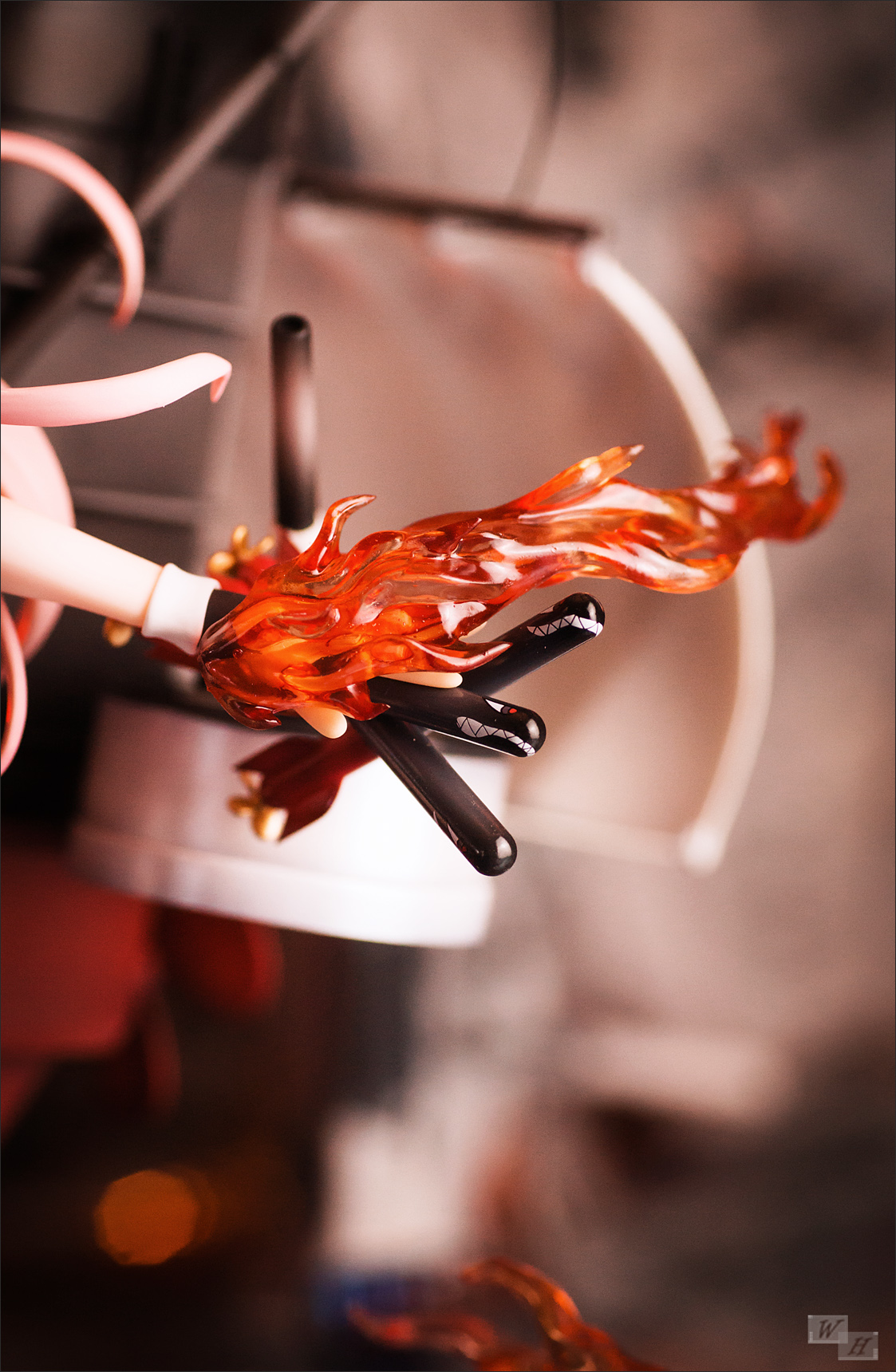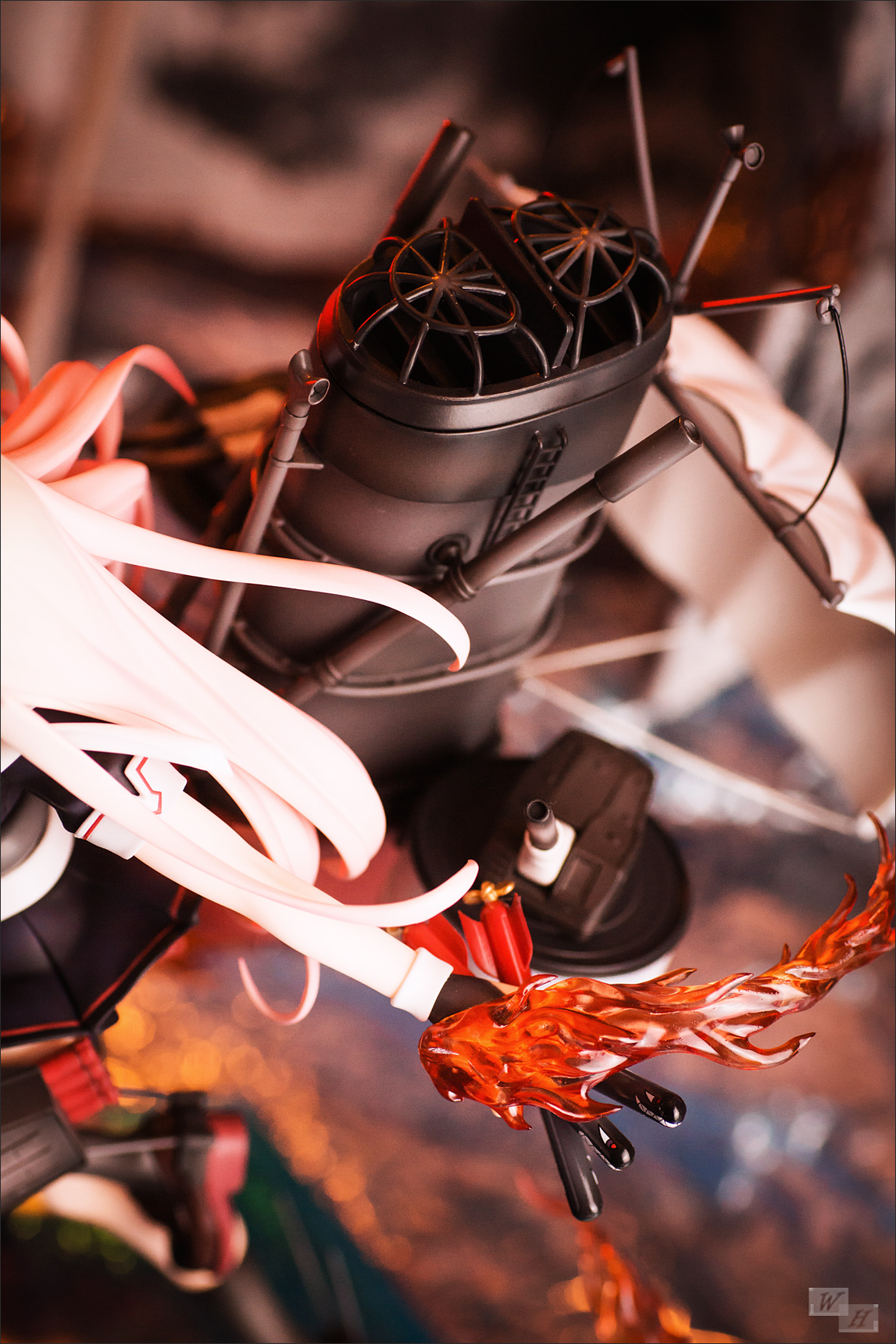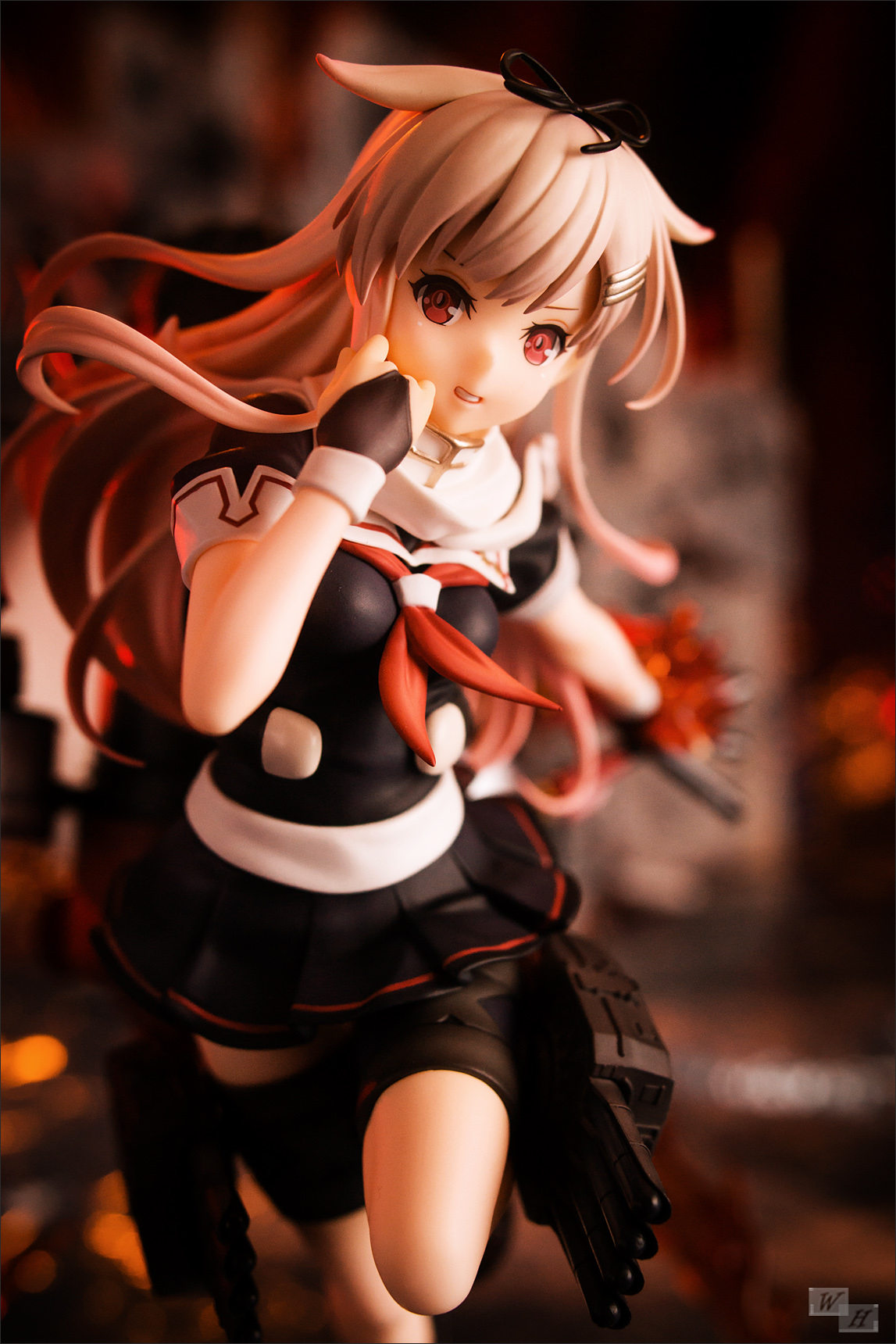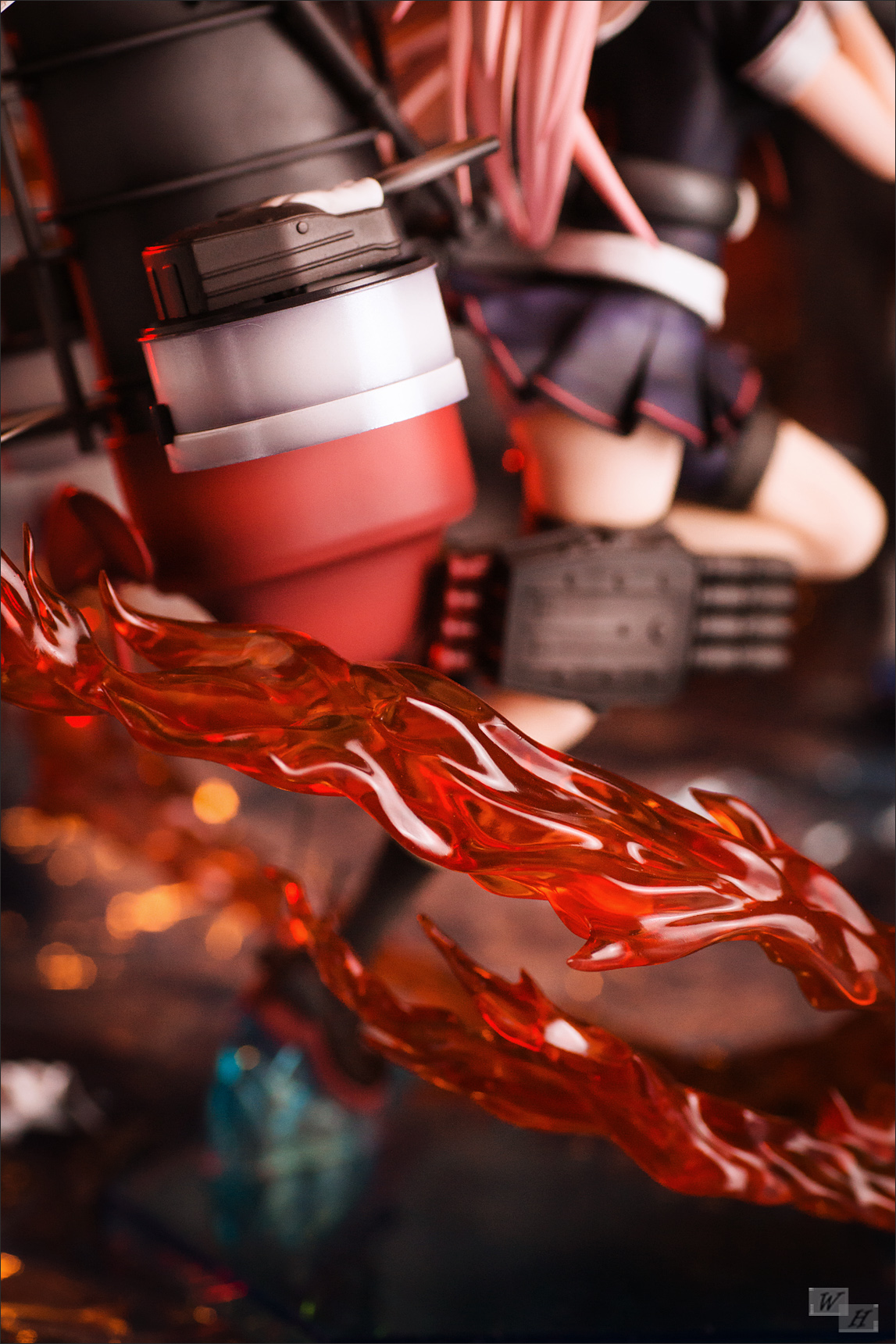 "I'll show you the nightmare of Solomon" So lets have a short history lesson, but remember war is always a bad thing. Yuudachi is also referred to as Salomon no Akuma because of her historical counterpart.
In November 13th 1942 a group of the IJN fleet headed out to retake Guadalcanal, because of bad sight the IJN fleet and US fleet were on collision course and started engaging each other in close combat. Close quarter battles especially in he middle of the night are very dangerous for any ships, even with all the armaments, warships are actually very vulnerable under fire. Yuudachi was the first in the IJN fleets formation to break the enemy lines.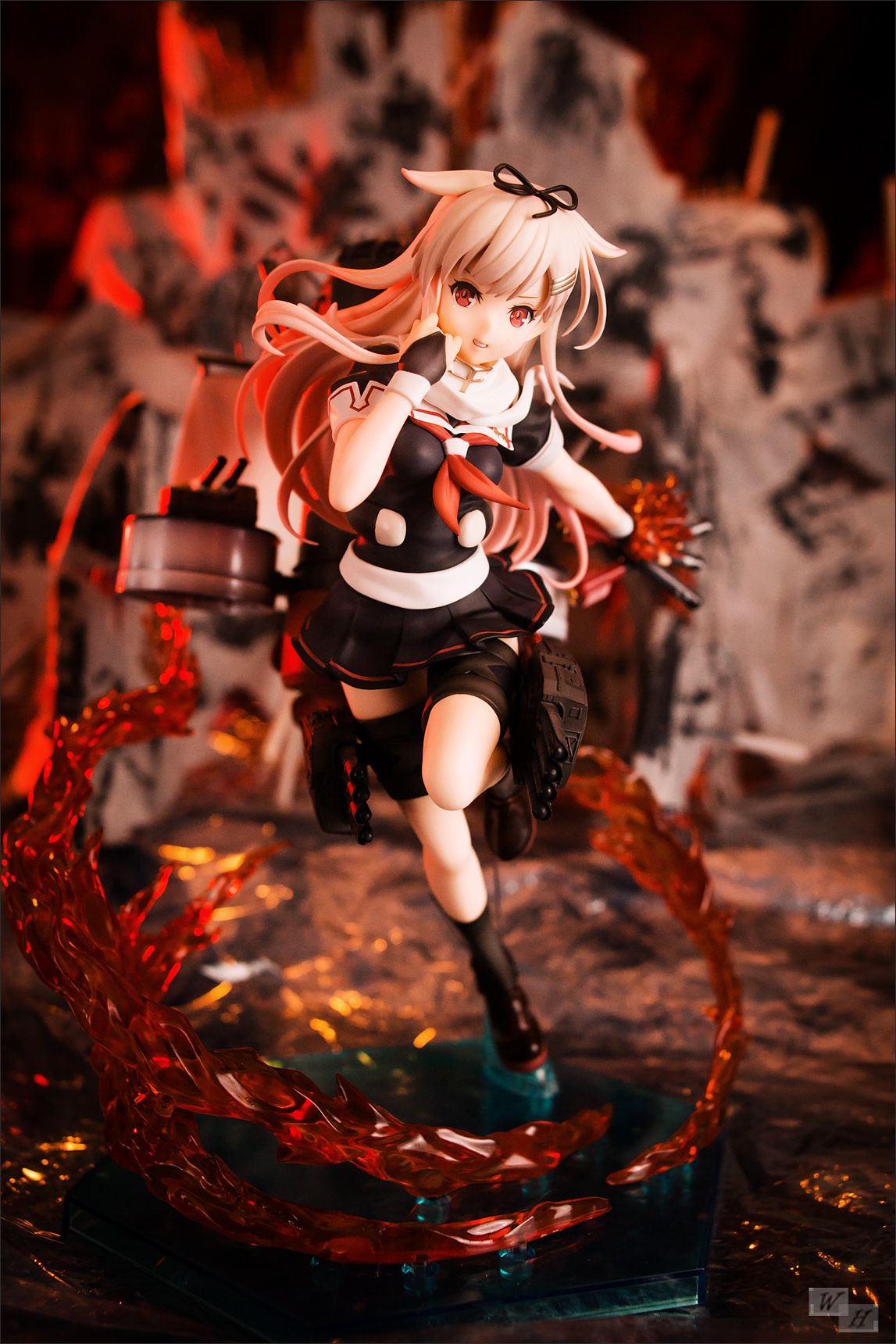 in between the US group Yuudachi fired everything at her disposal, creating confusion and damage on all the ships around her. With her fleets assistance Yuudachi actively sunk three ships, at the end of the battle she was damaged and unable to move, but really, most of the crew could be rescued by Samidare. Yuudachi's actions prevented the IJN fleet from a disaster at least on that day. After the 40 minute long battle ended, the US group have been reduced to 2 remaining fully operateable ships, the chaotic close quarter combat proved that the ships of the IJN were actually really well made, but wasted in a war that never could have been won. Individual achievements, such as Yuudachi's are quite rare in naval warfare. The other ships portrayed in Kancolle can't really compete with Yuudachi's war story.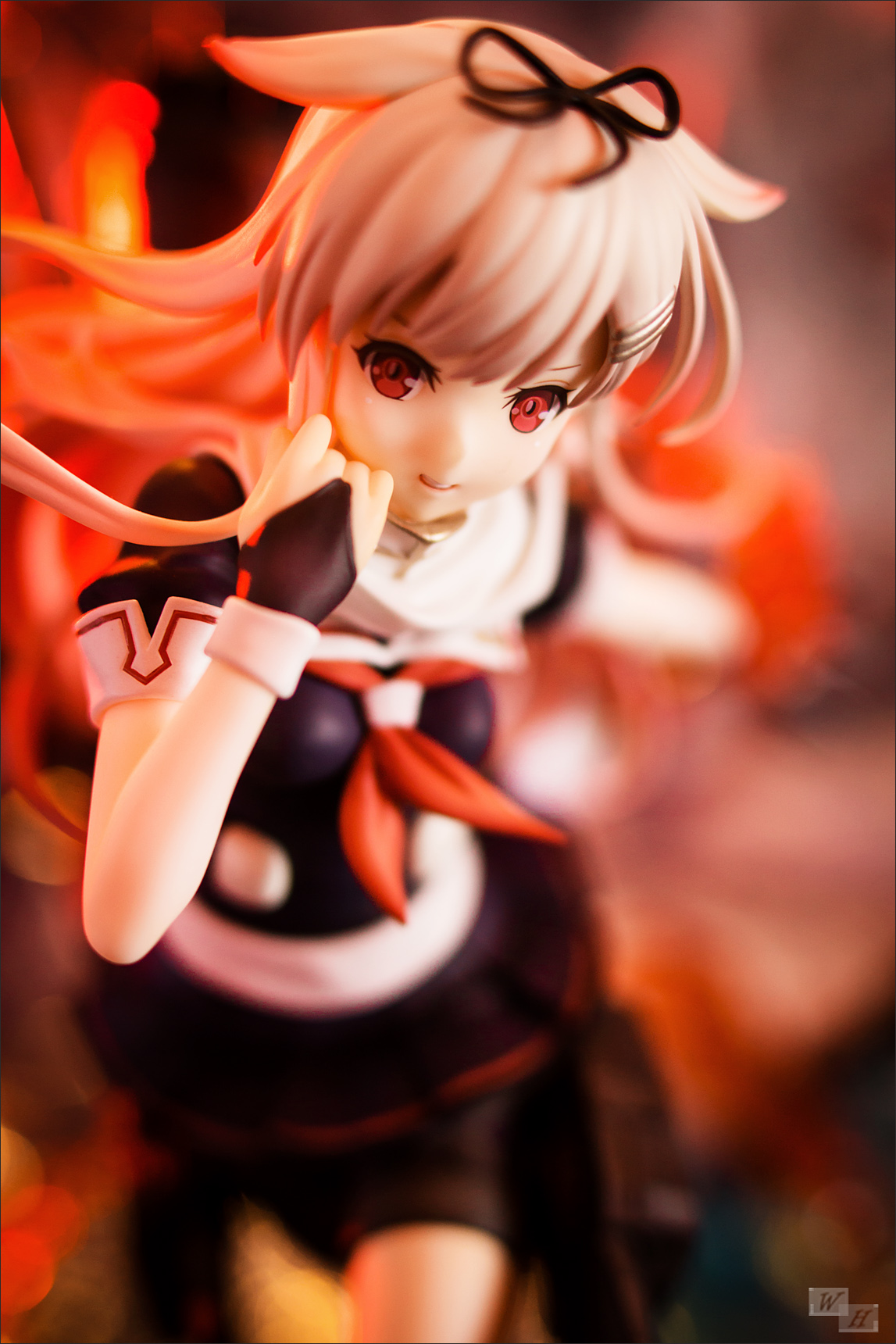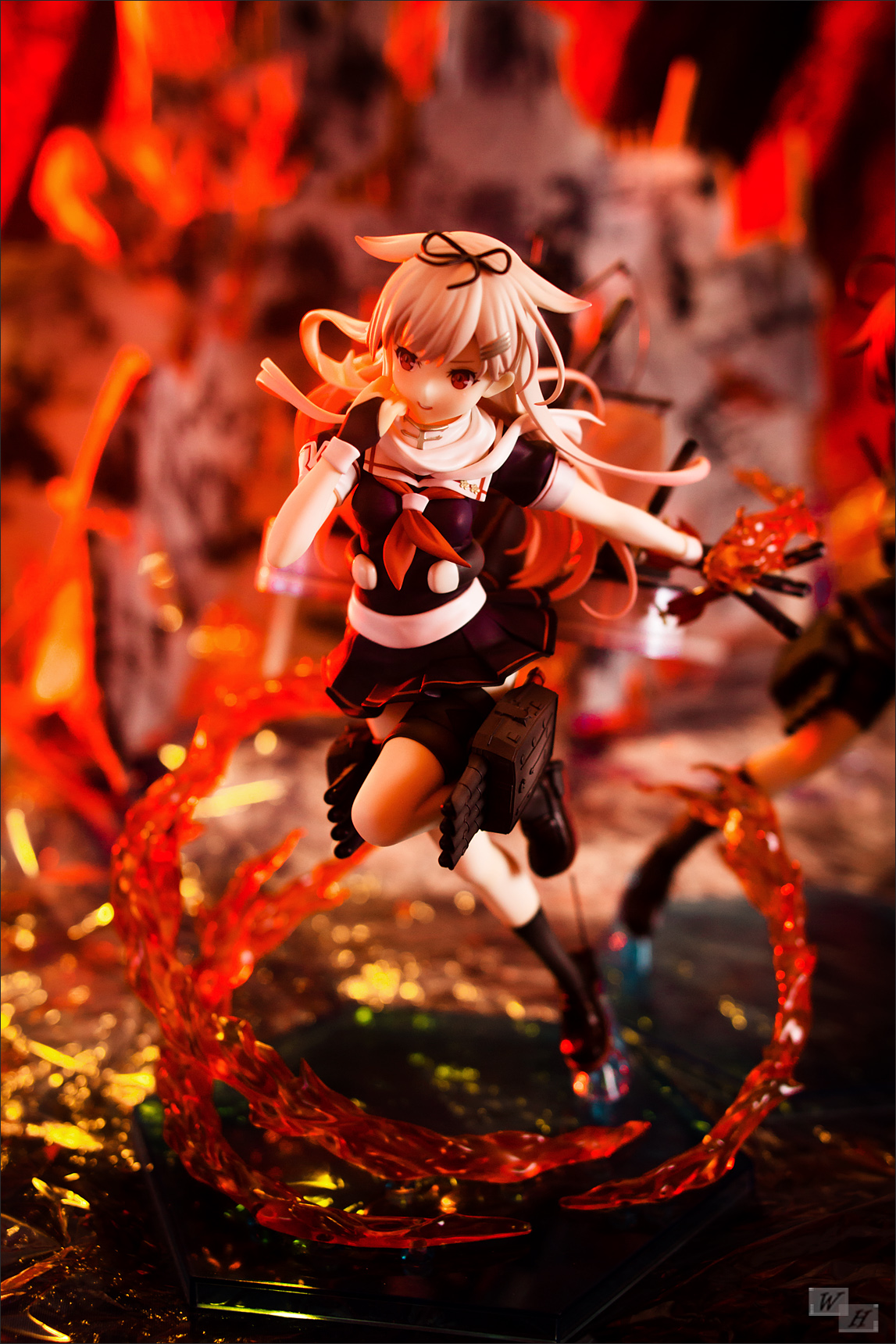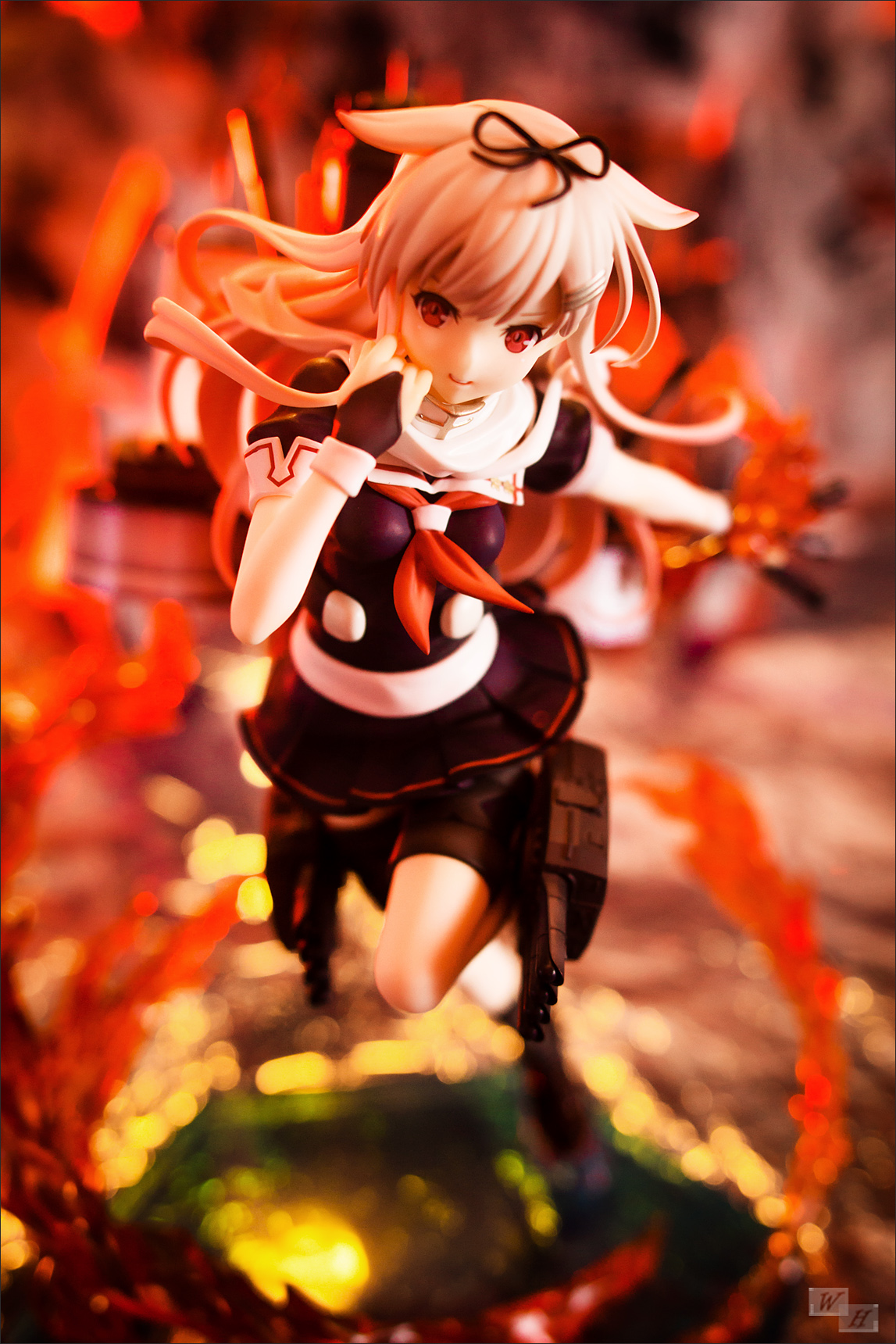 It's funny though that her "poi" which means something like "maybe" is related to rumors that other ships maybe should receive the credit partially. Anyway I actually don't care about that, in the end or better said in her Kantai Collection fiction Yuudachi is a friendly and cheerful ship and it made this especially great looking figure possible.
Yuudachi is the second figure adaption of a Kancolle Shiratsuyu-class ship, the first one was Shigure, she also is a very nice figure, but compared to this exciting Yuudachi figure she is kind of plain, do you know how difficult it is to combine two figures in a picture, these two really gave me a hard time, their bases made it nearly impossible.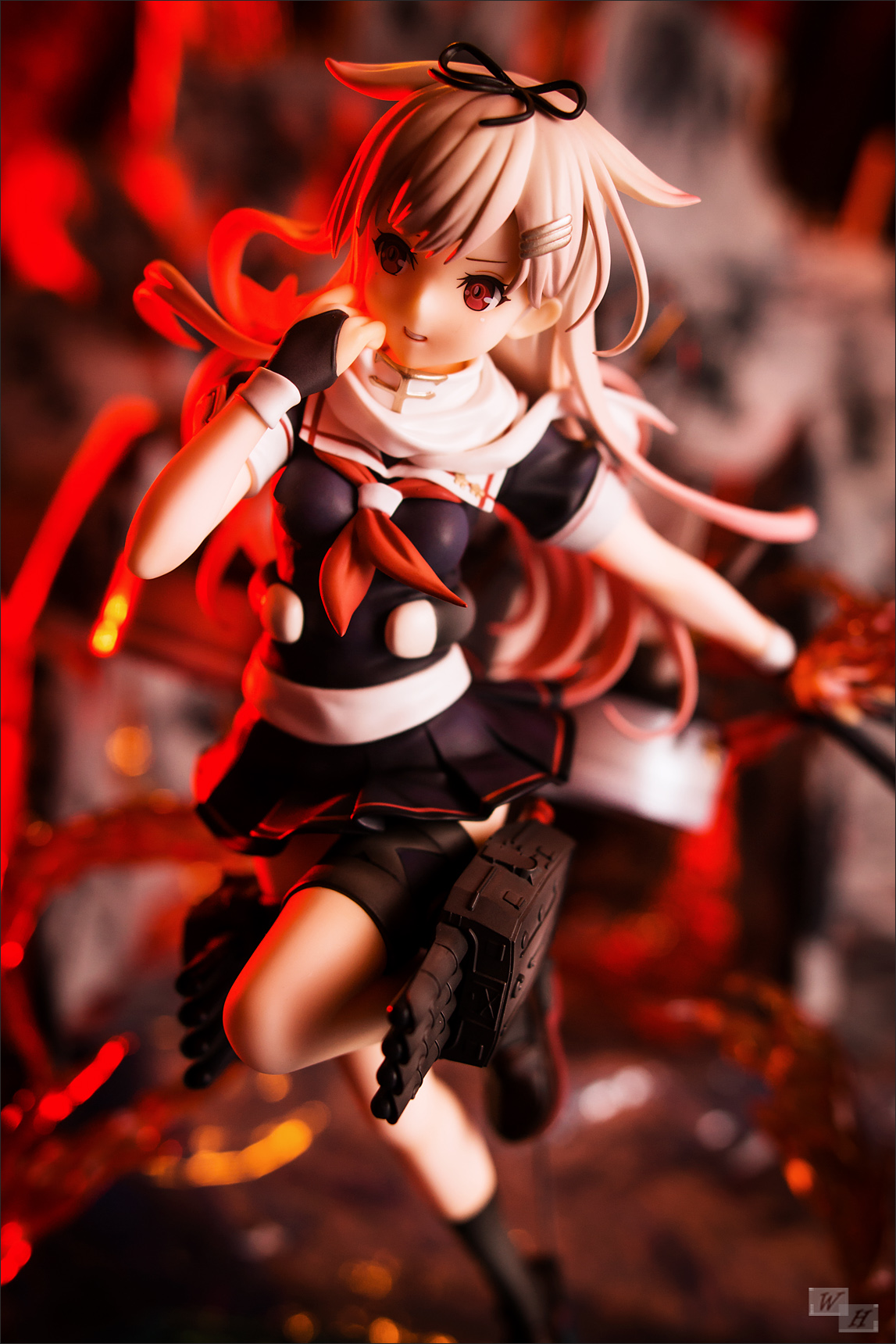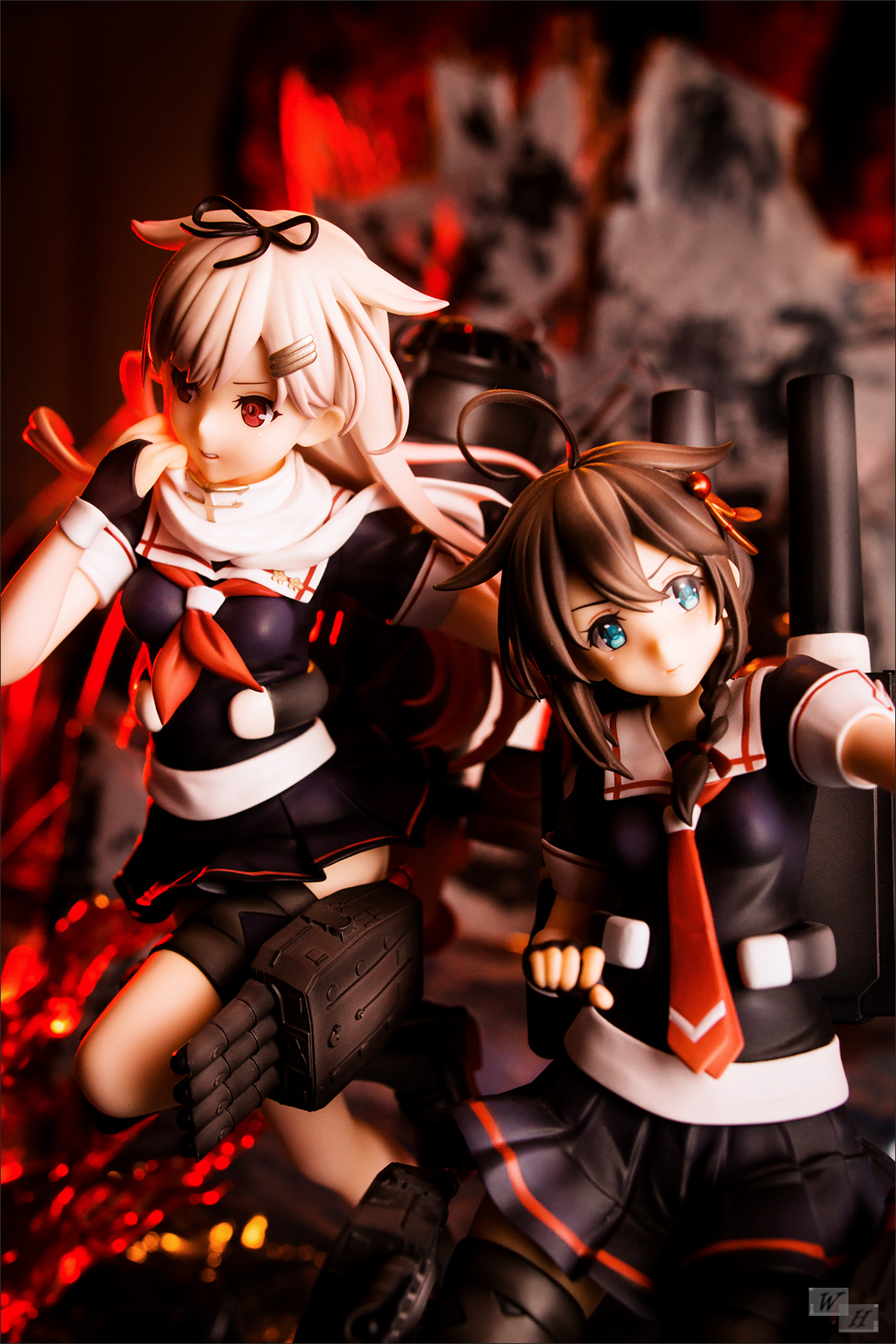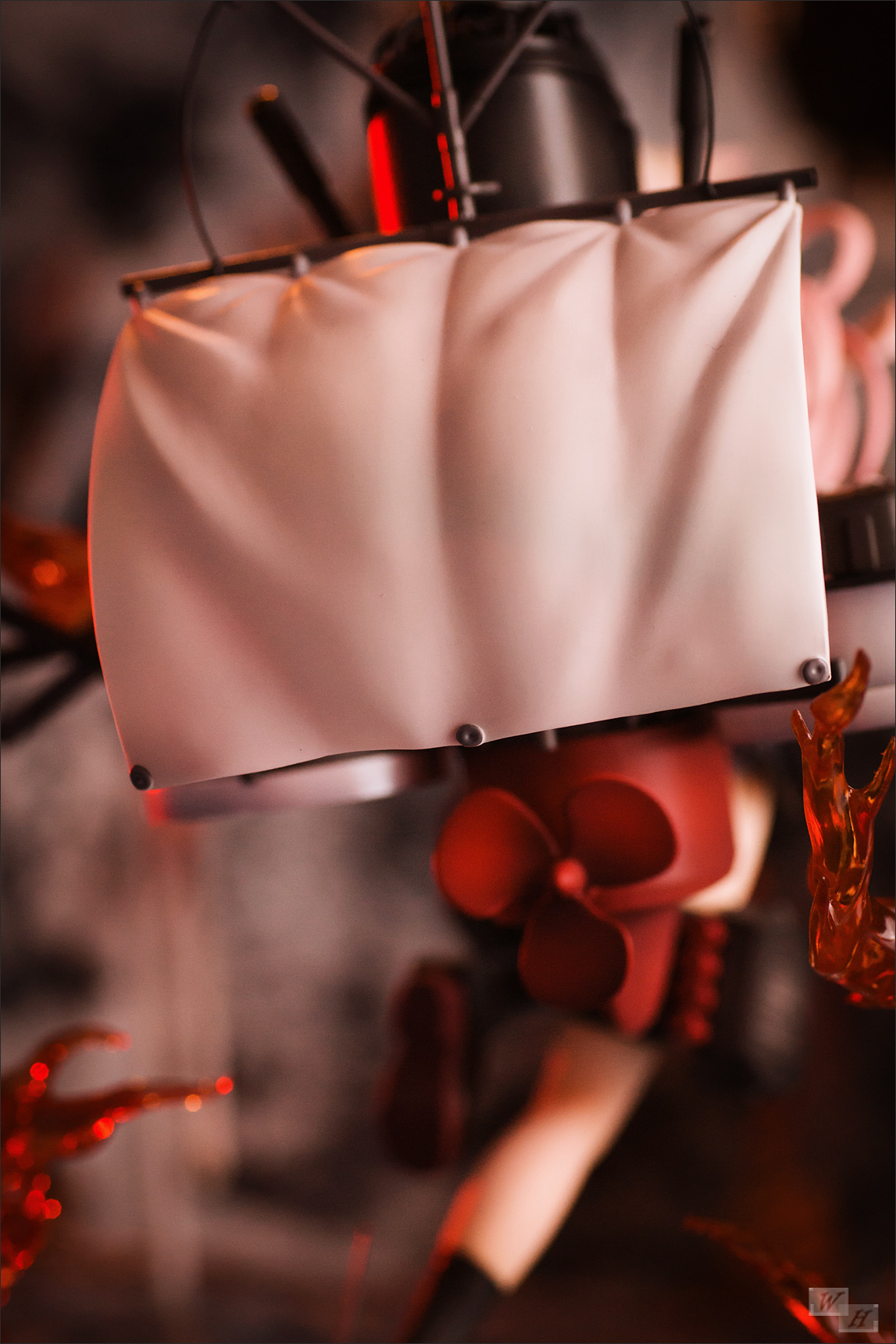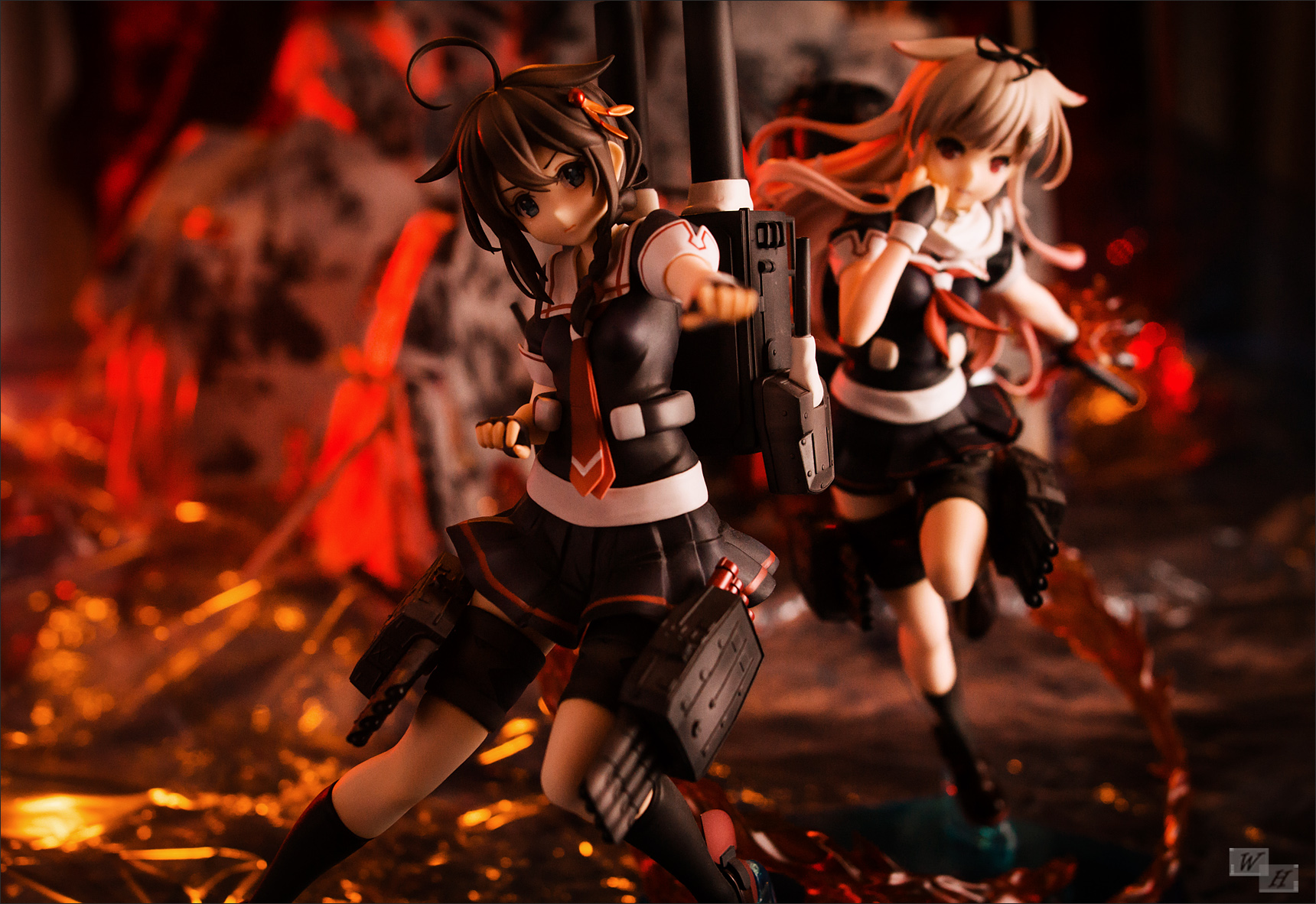 Final words
Yuudachi turned out very nice with her cute appearance and pretty black uniform, she is one of the prettiest Kancolle ship girl figures and unchallenged in terms of dynamic appearance, her standing one one leg and pushing forward in a bold manner pose looks cool and is articulated very well. The big mechanical backpack and surrounding flames the whole figure has an impressive, powerful look. Her figure is elaborately sculpted and extremely detailed, because of that some parts are really thin and the figure should be handled with care. Since the figure demands a bit of assembly work, I was a bit worried to break something, but everything fits neatly together.
…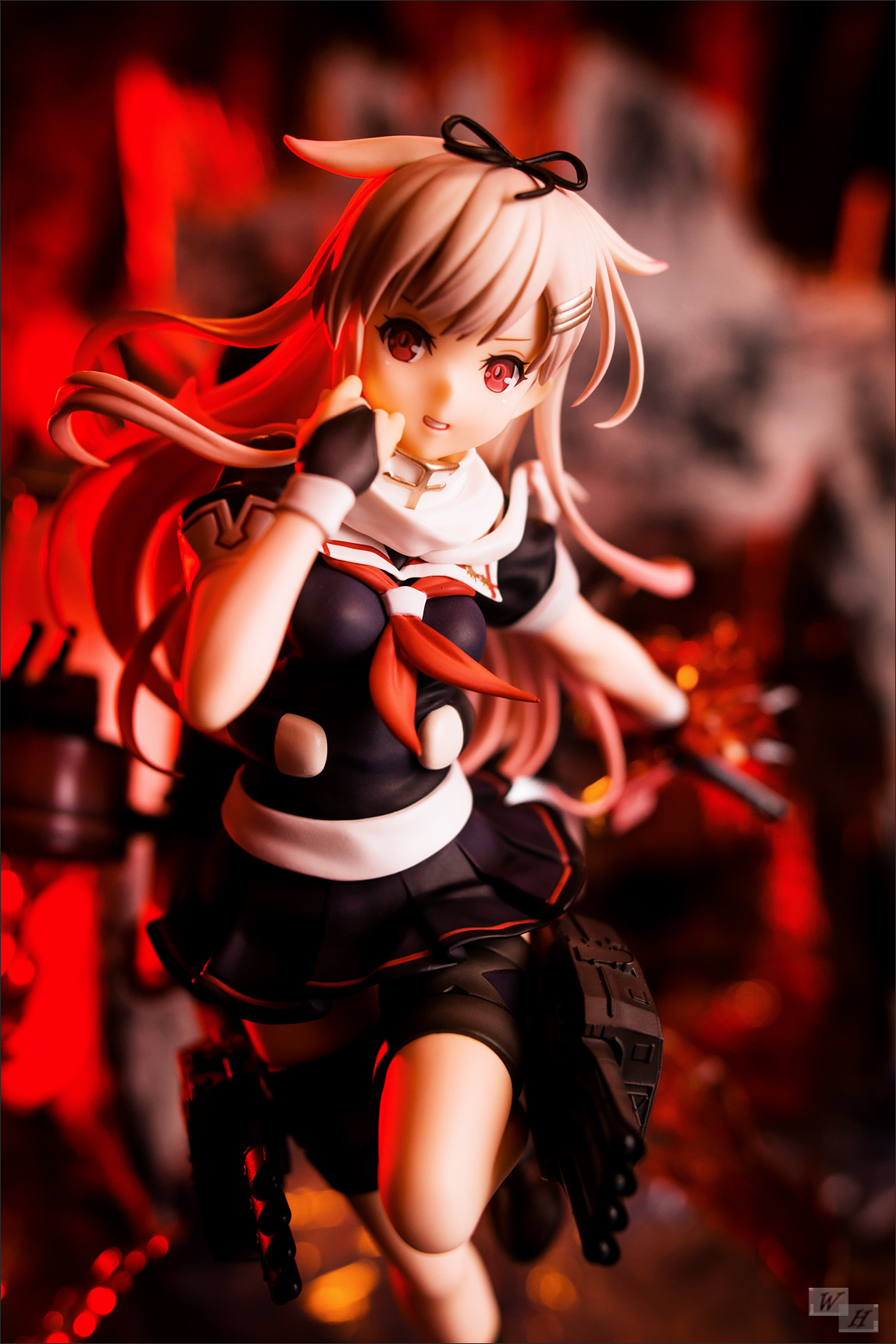 related Posts
Shigure Kai Ni – Good Smile Company
I – 168 – chuuha version – Max Factory
Kongo – chuuha version – Max Factory
Yamato – mizugi mode – Banpresto