Hi everyone, today I have a new figure review for you. This beautiful angel is named Kuramoto Erika. After a few delays, she was finally released in early November 2018, I was quite excited to receive her this month.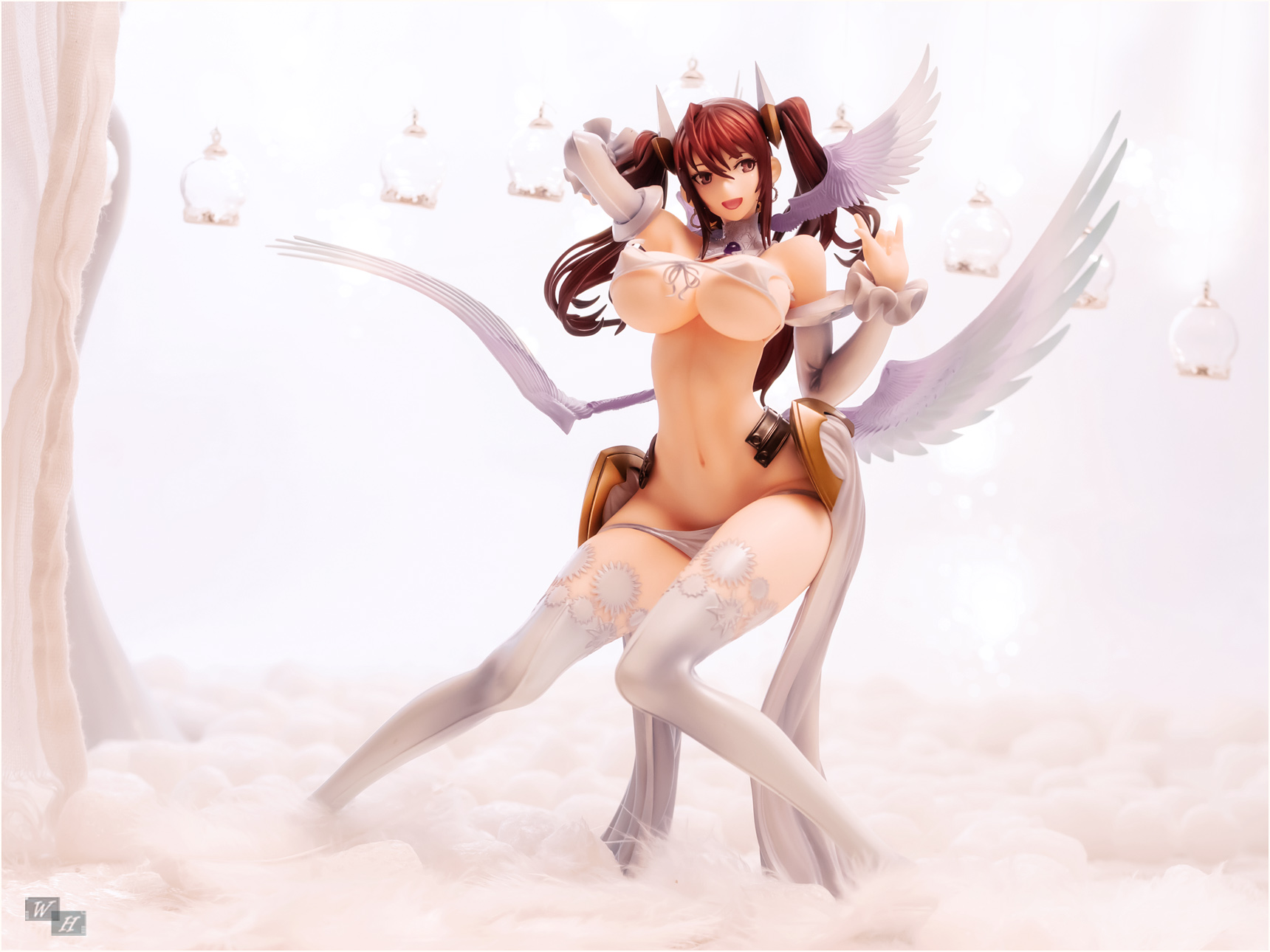 Her character is based on an hentai doujin manga named "Zettai Junpaku Mahou Shoujo" illustrated and written by the well known illustrator Raita Honjou. The doujin manga even was turned into a 6 minutes long teaser OVA.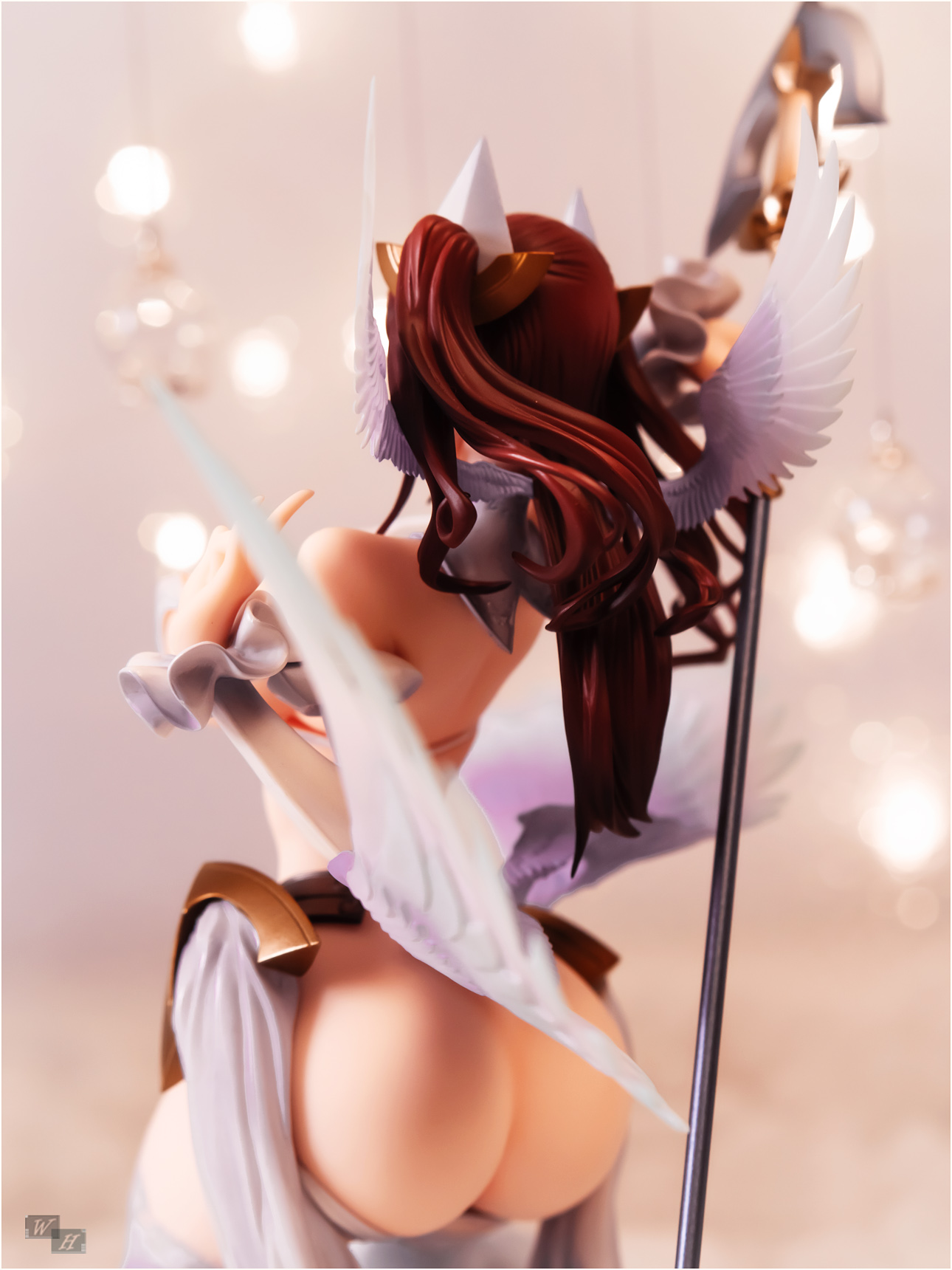 The story with the pretty angels enjoys a great popularity with Suzuhara Misae as fan and manufacturers favorite.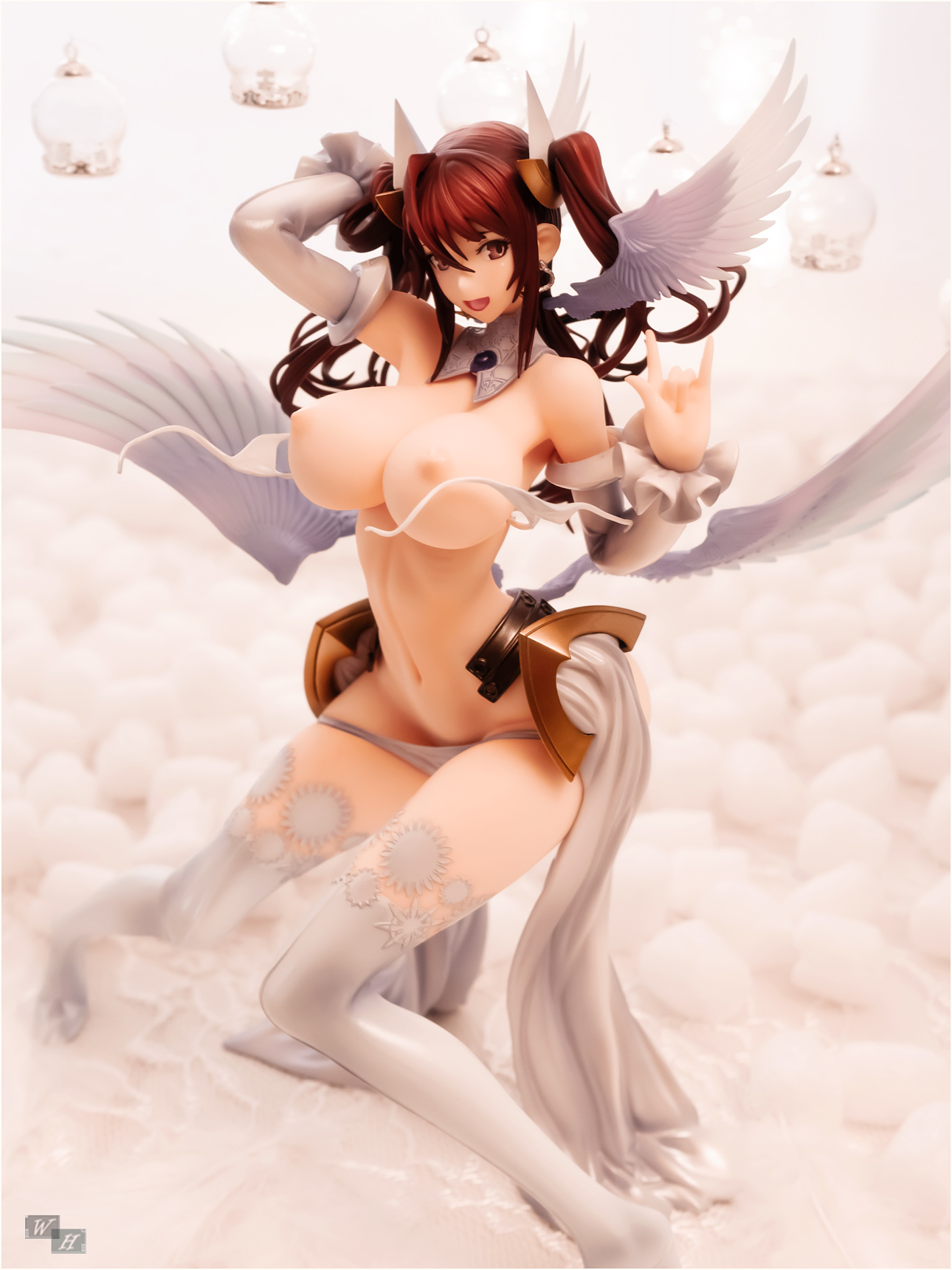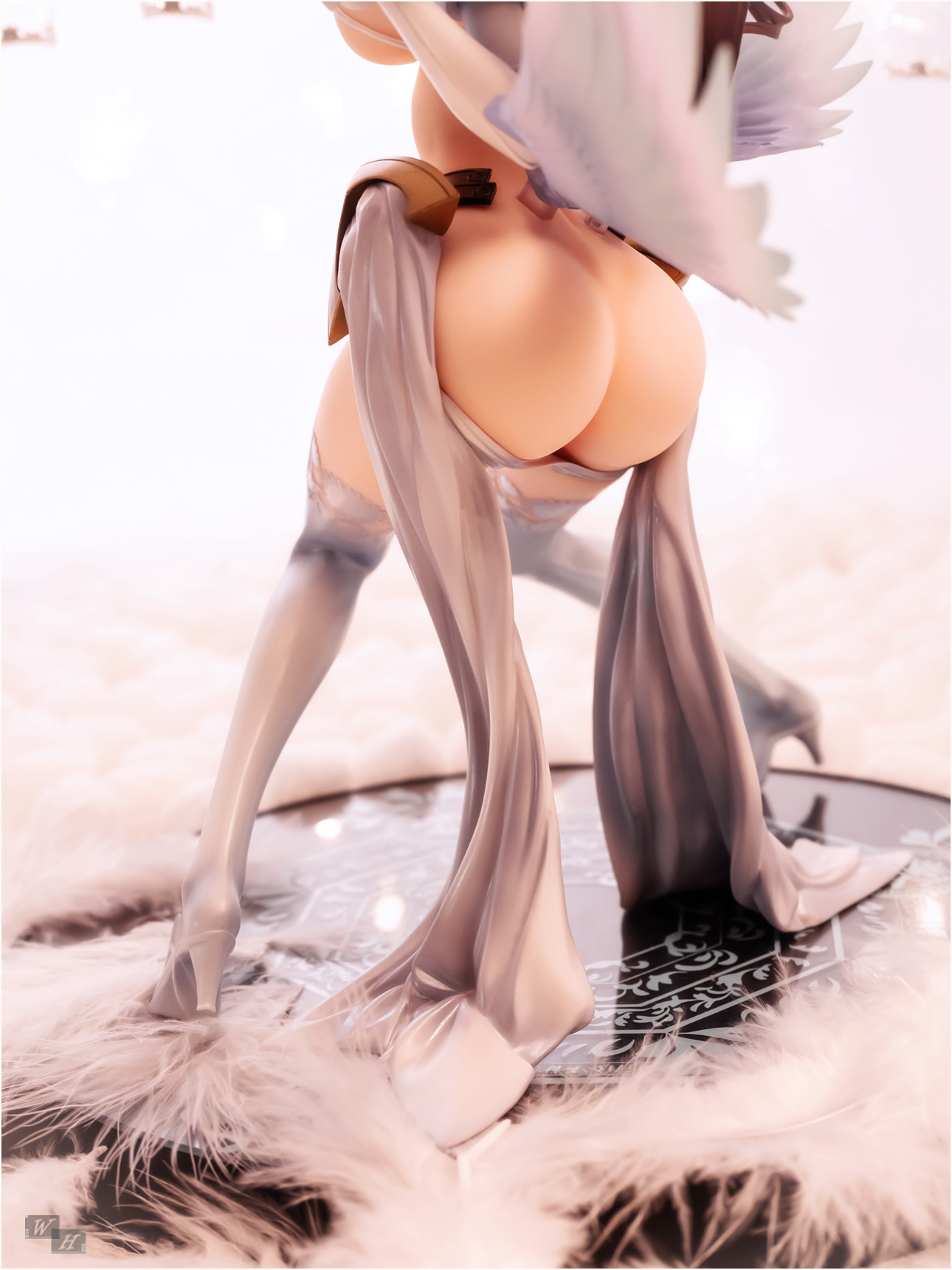 Native started making figures of Zettai Junpaku Mahou Shoujo in December 2012 starting with Suzuhara Misae. Unfortunately, in 2012 I still thought that she was a figure too scandalous for me to have, how times can change. After Misae followed Sasaki Kotone in 2013, Nitta Yui in 2016 and the last one is Kuramoto Erika you'll see today.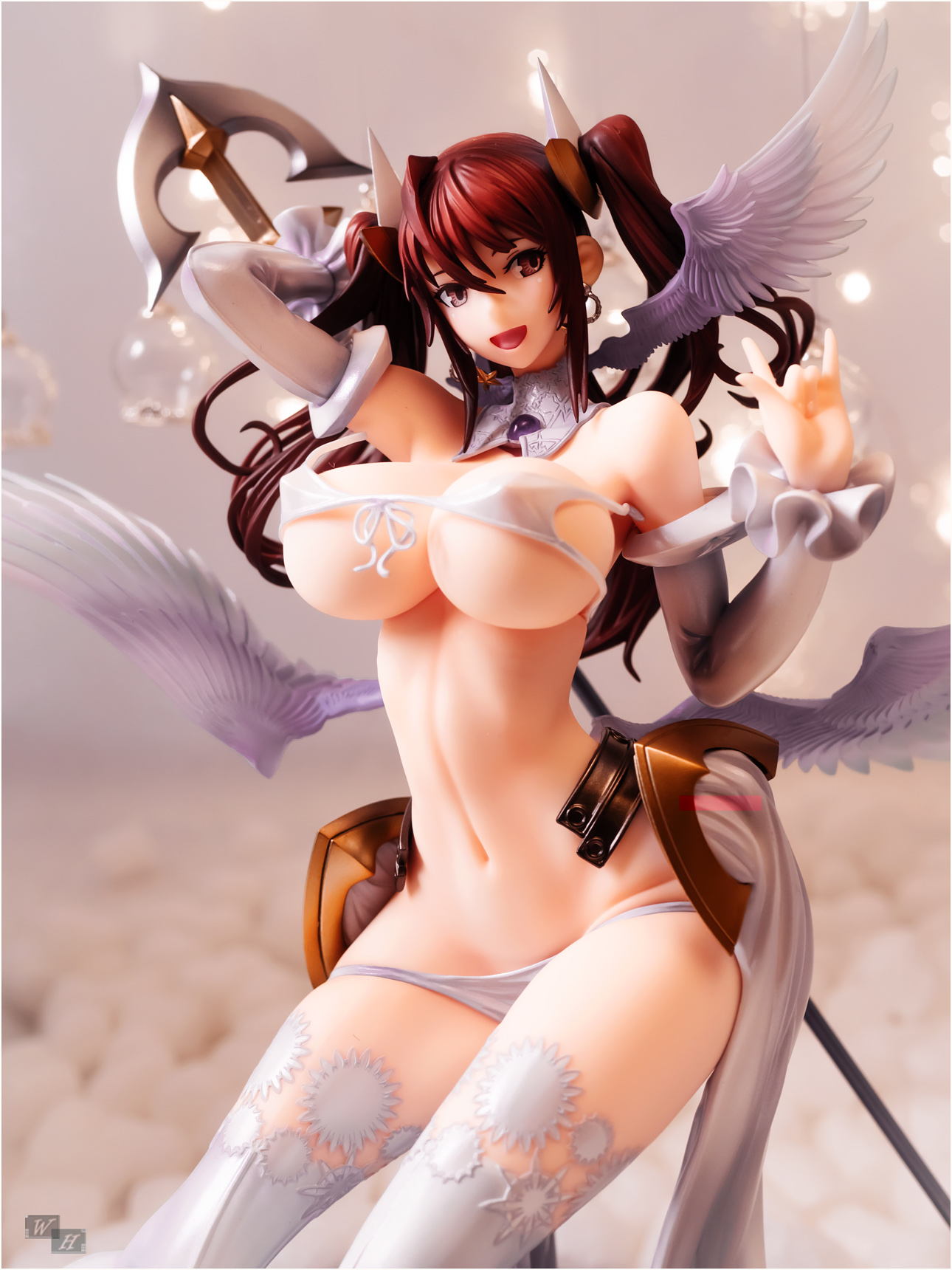 Erika is a figure from the Creator's Collection of Native, the figure is scaled 1/6 and proudly measures 24 cm. She was sculpted by Kawagoe Hiromitsu, check out his figures, he started sculpting in 2006. It was a good decision to hire a sculptor with a lot of experience since the illustration this figure is based on was probably not easy to adapt into 3D. This Kuramoto Erika figure surpasses her illustrations appeal, the boobs are smaller and her face has more depth.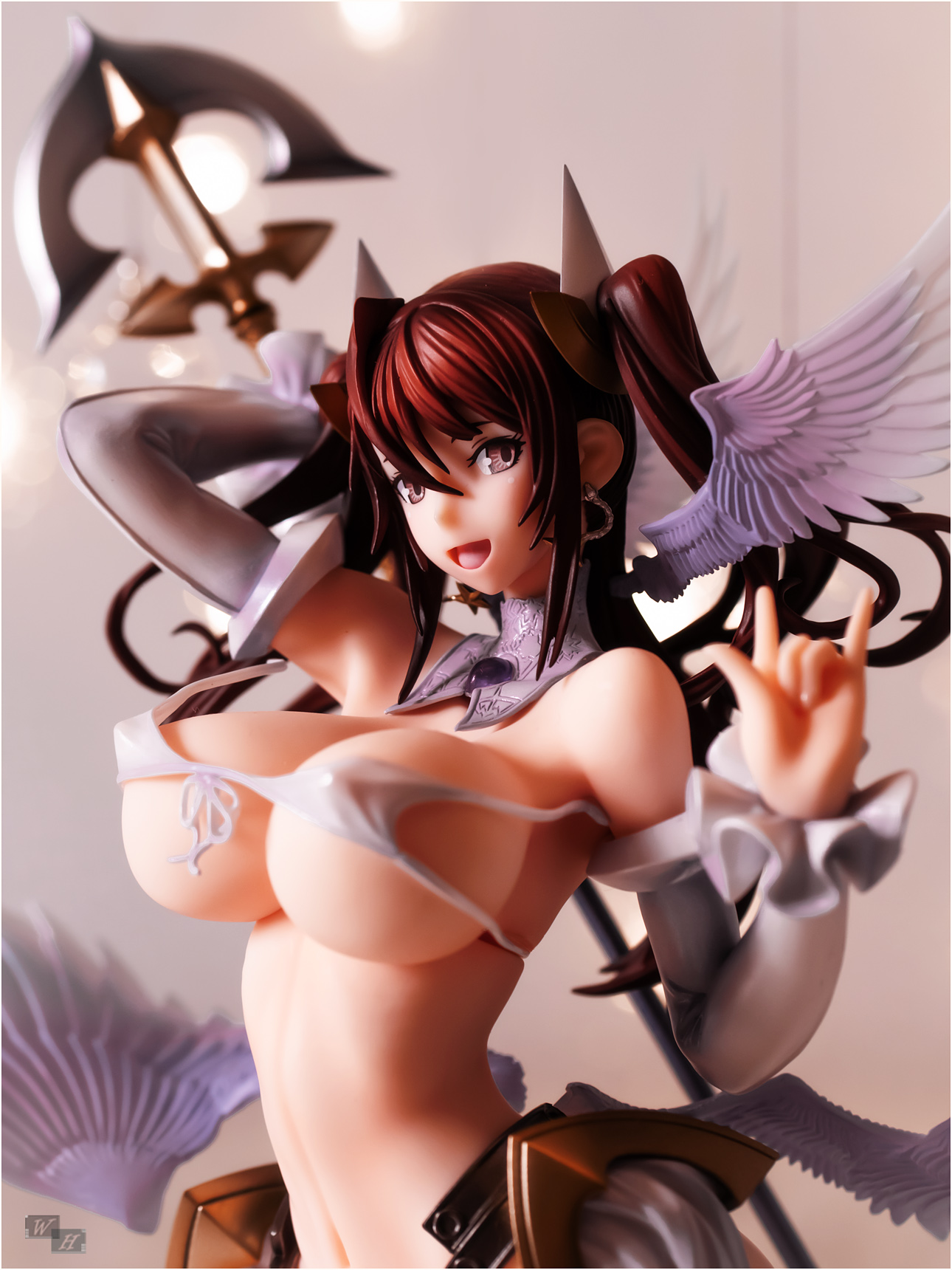 This figure obviously features the famous Raita proportions for curvy girls (two of the angels are less curvy). The characters have a long upper body, huge boobs a super narrow waist and extra wide hips. I'm more used to figures with less stylish body sculpting, personally I would have made the torso 1/4 shorter, but Erika is still looking great.
What I like more about this figure than her "out of this world" proportions is her lovely and expressive face. Erika is presented as cheerful girl, with a friendly open mouth smile and beautiful brown eyes. The very detailed eyes are directed to the left, which adds a flirty look to her. The surprisingly detailed ears are decorated with fancy earrings.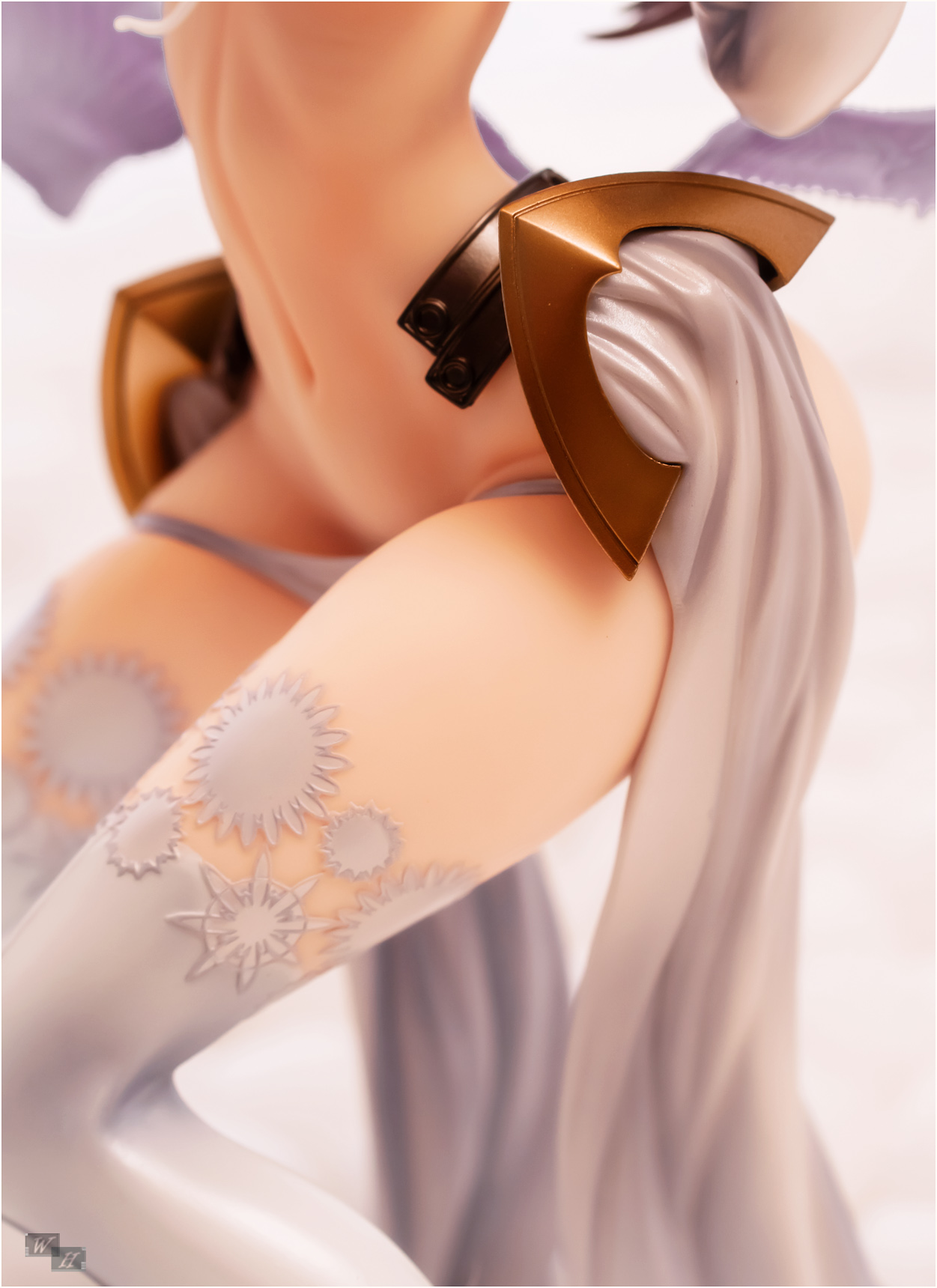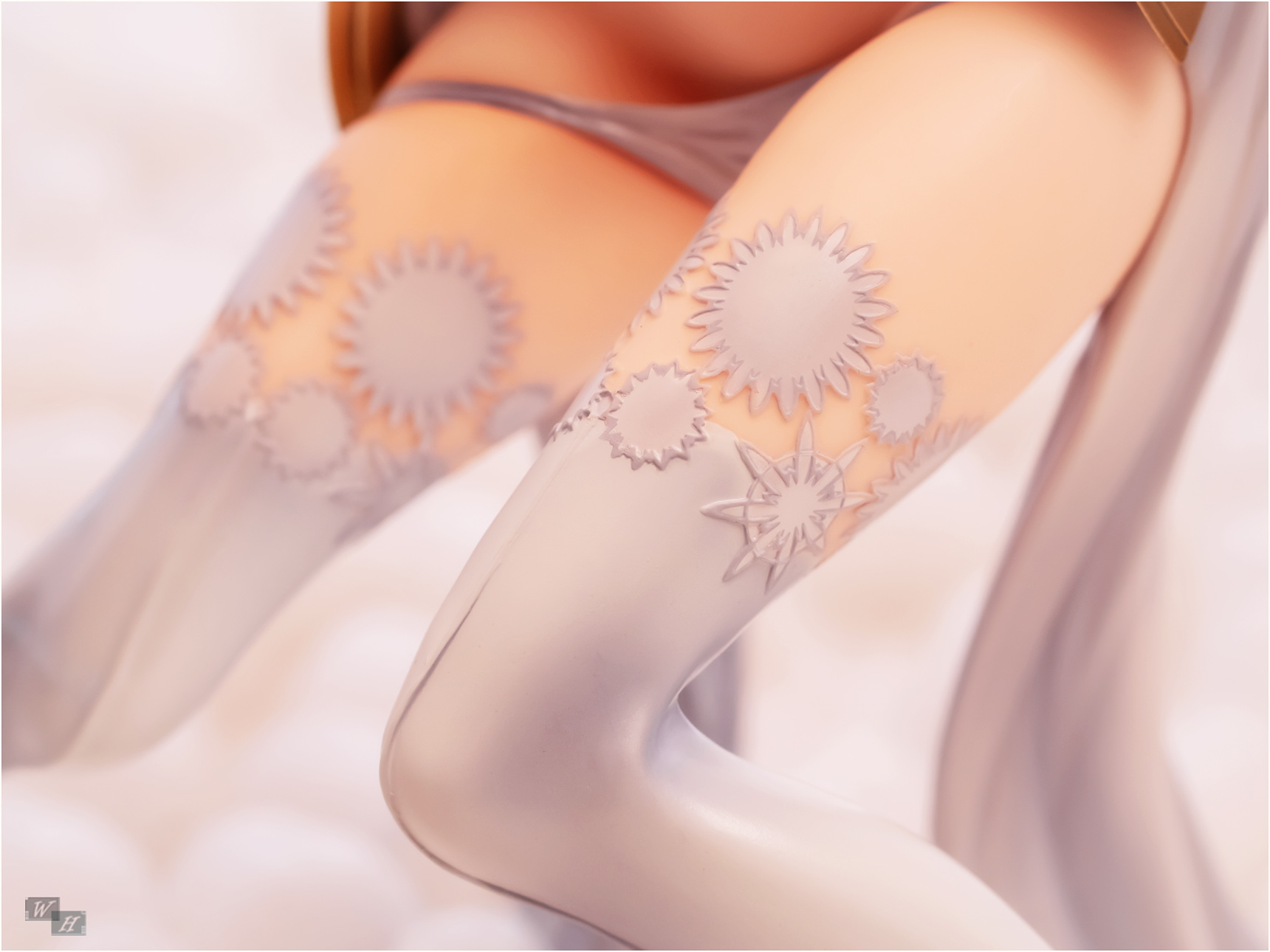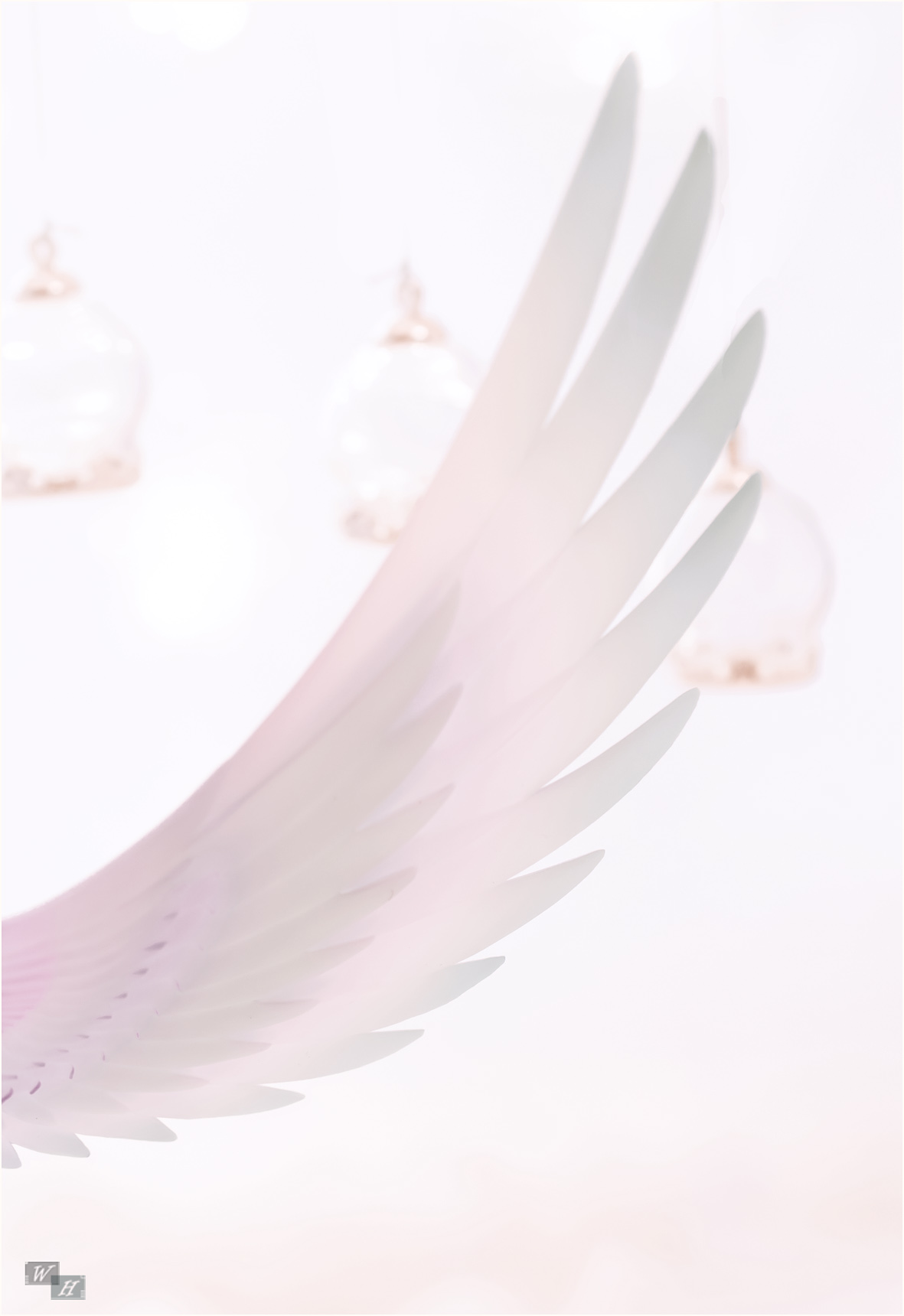 Hahaha you also get a different faceplate that shows Erika with an emotion of both shock and embarrassment, it's ought to be used in combination with her bursting bikini top part. It's actually looks more hilarious than erotic.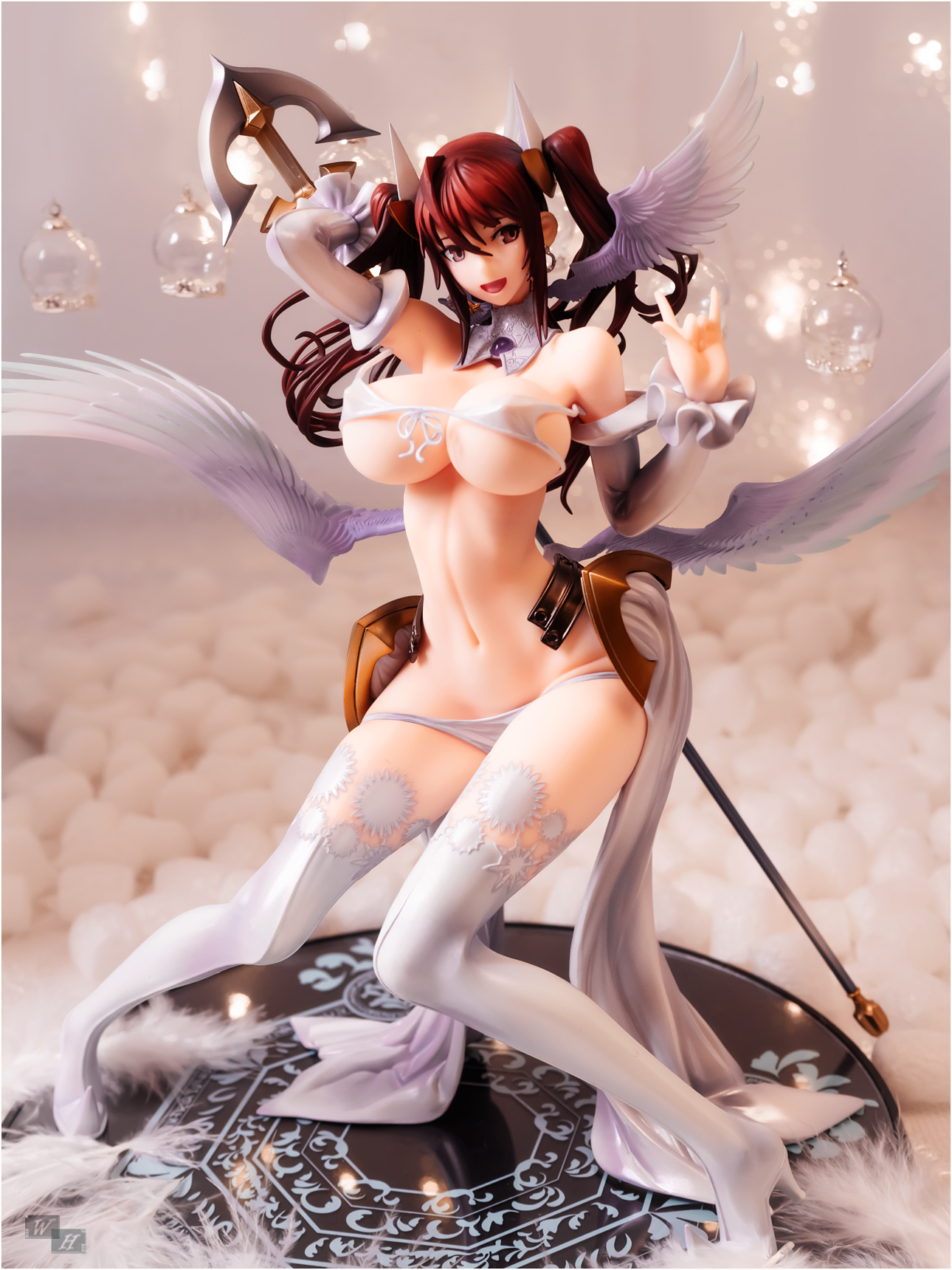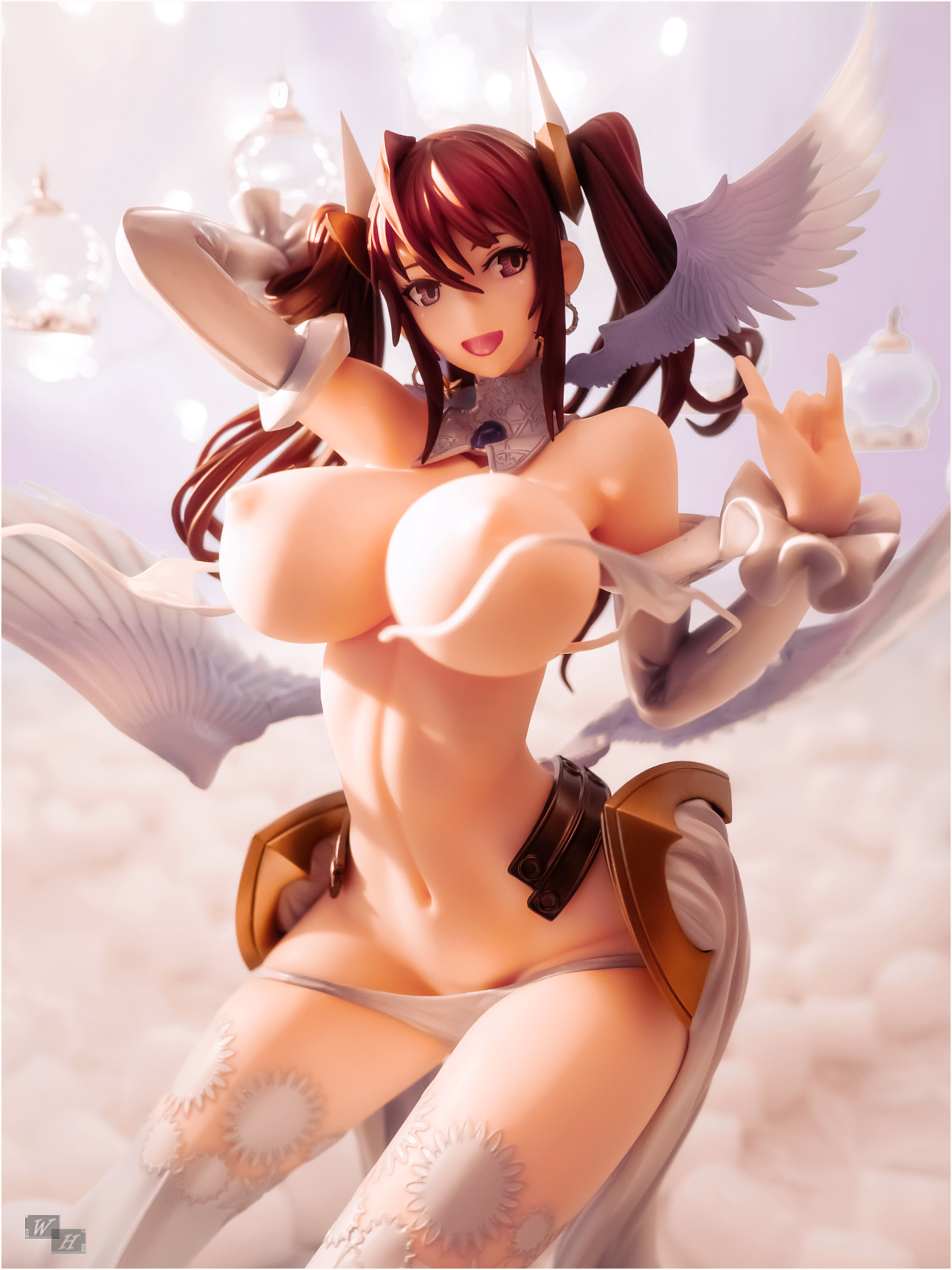 Erika has super pretty hair painted in dark brown with a tint of red. Erika has a twintails hairstyle, each side splits up into a number of wildly flowing strands of hair. There is a high level of detail, on close view you will notice all these tiny lines on her hair, it's really super detailed.The twintails are decorated with fancy clasps, they consist of half circles painted in metallic gold and pointy triangles painted in light grey.
Erika's outfit exposes the most amount of skin from all of Native's Zettai Junpaku Mahou Shoujo girls, she mainly wears a skimpy white bikini. Around her neck is a nicely sculpted collar with a pretty pattern and a purple crystal in the middle I also like her short sleeves with the cute ruffles at the wrists. The hip armor has a pretty design, the metallic colors look great in combination with the silky textured clothes. The fancy thigh high boots are very pretty as well.
The figures clothes aren't just white they show complex variations of dark shading to match the style of Raita's work.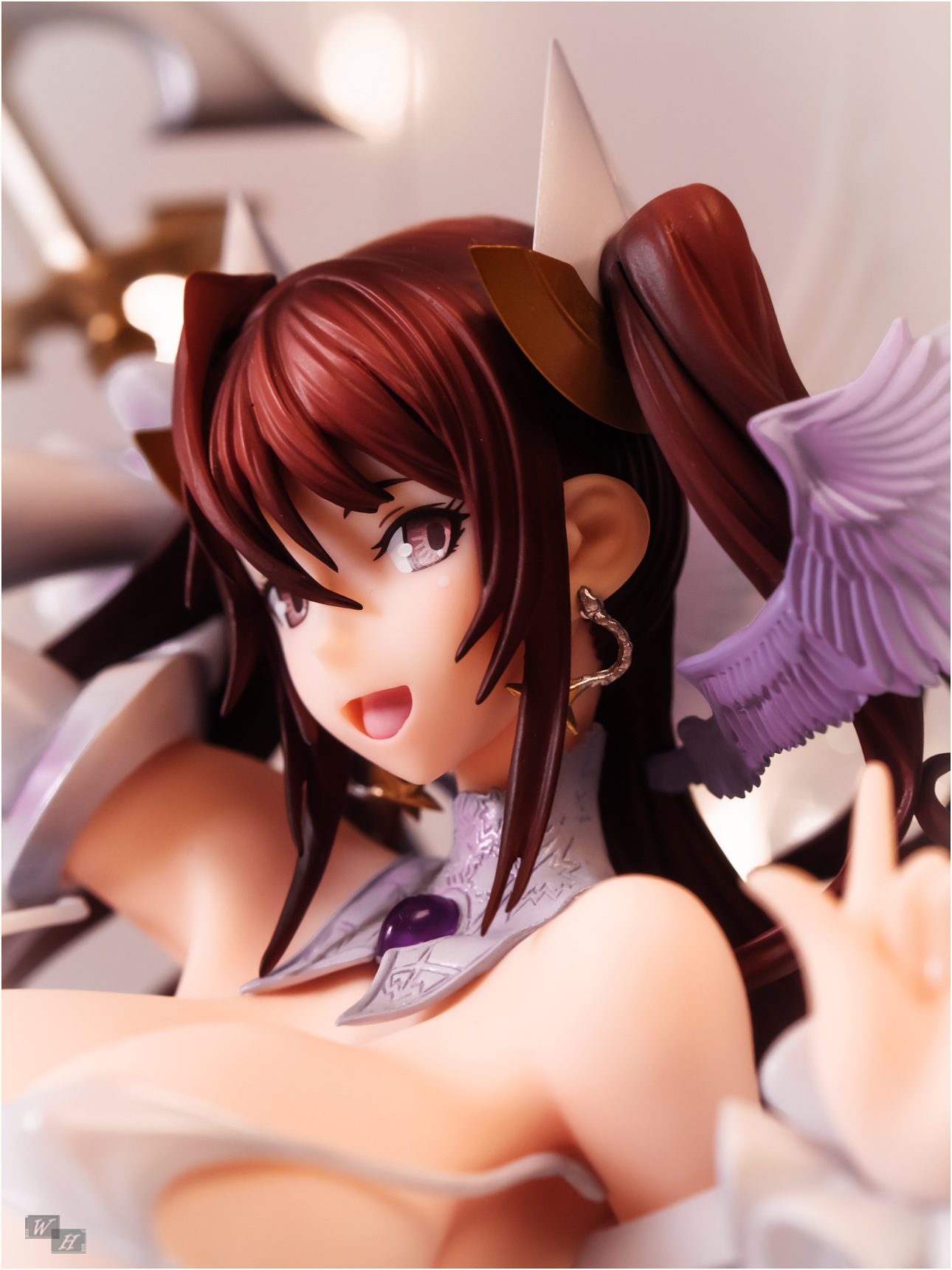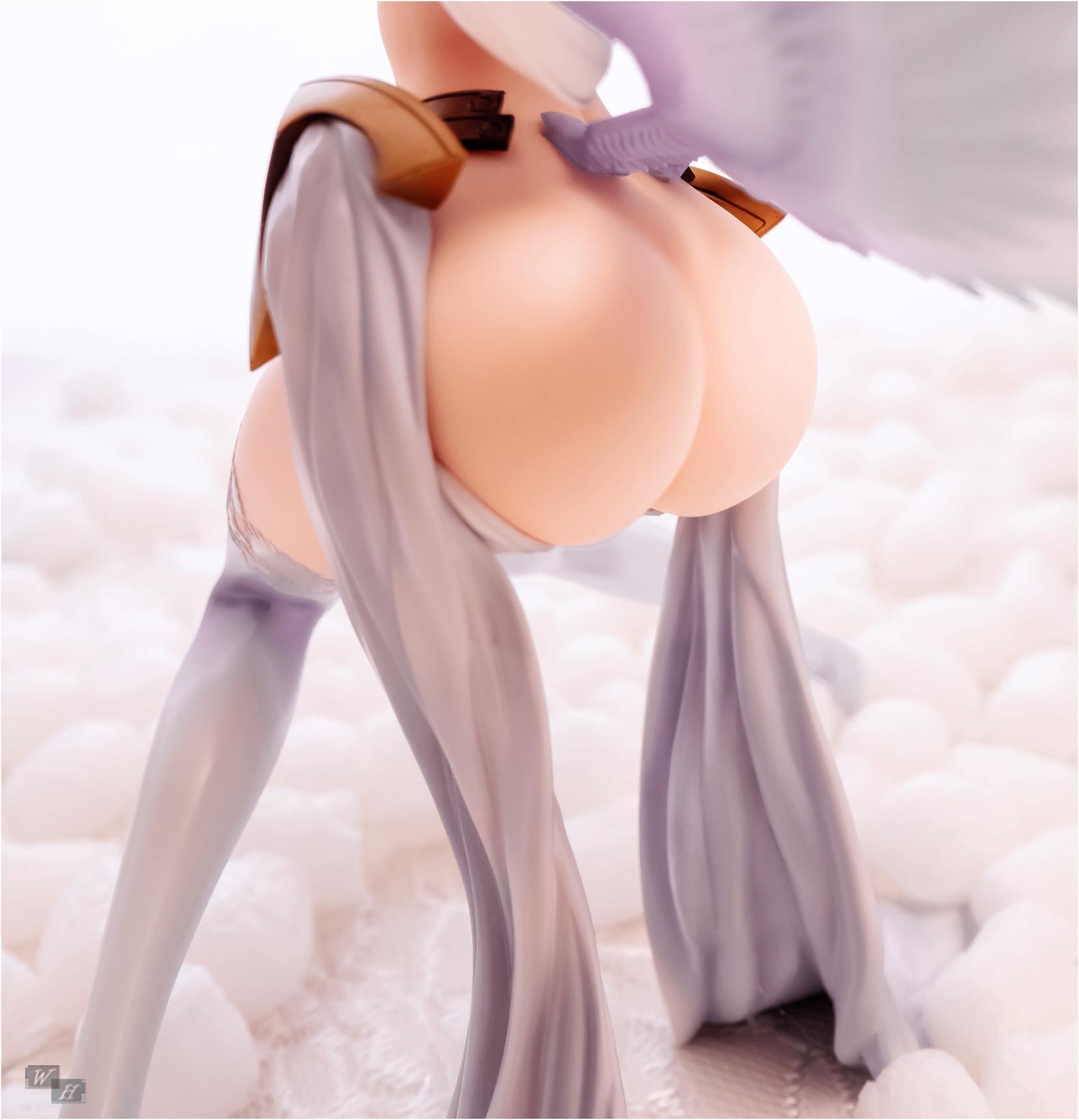 Erika has a fantastic looking body and a fantastic looking butt, nice, very round and juicy with her bikini bottom pulled down, her buttocks are highlighted perfectly. From below you can admire her nicely sculpted private parts if desired.
I'm not really interested in having these details, but I don't mind either when it's not done in a too bold way.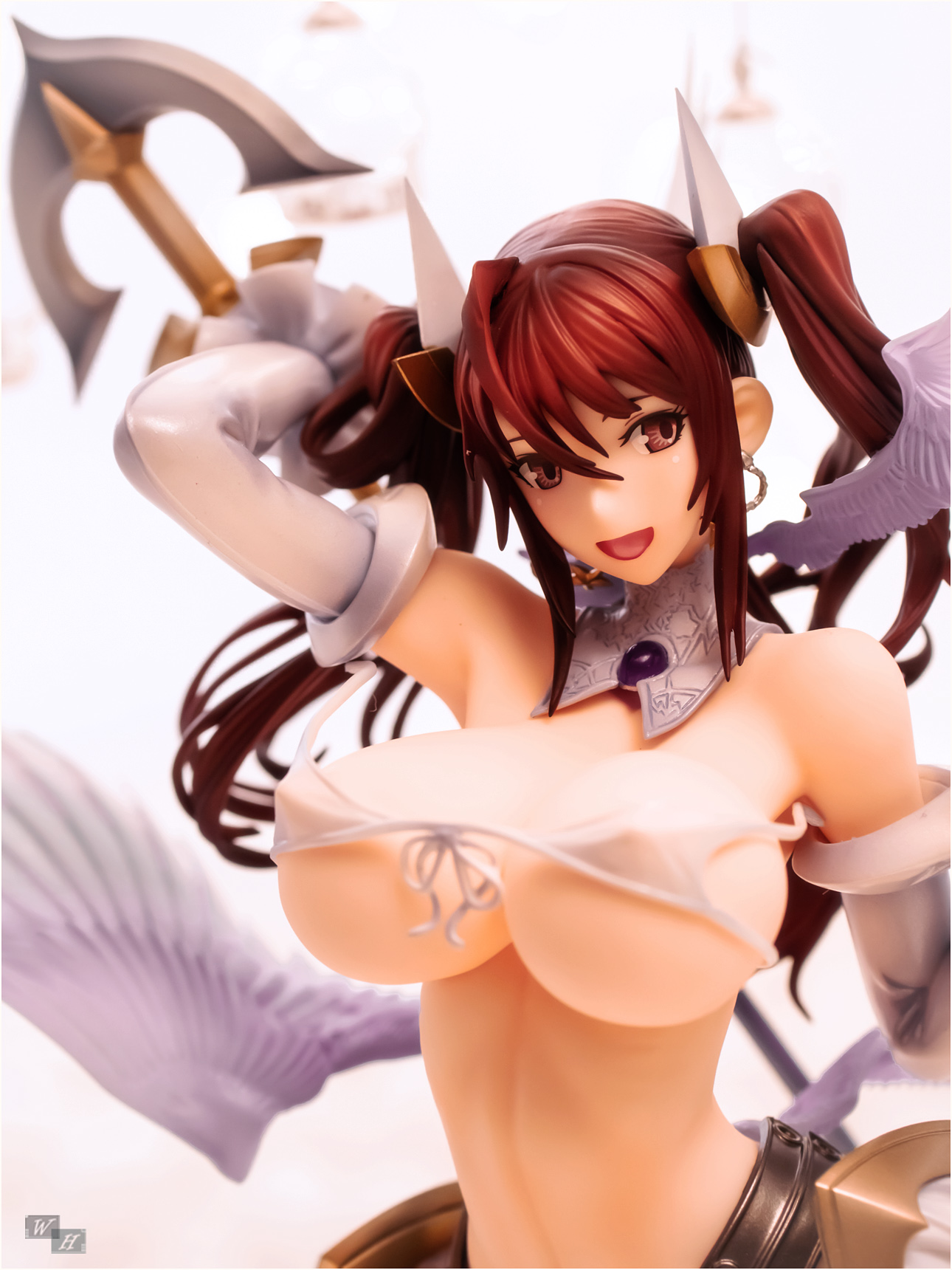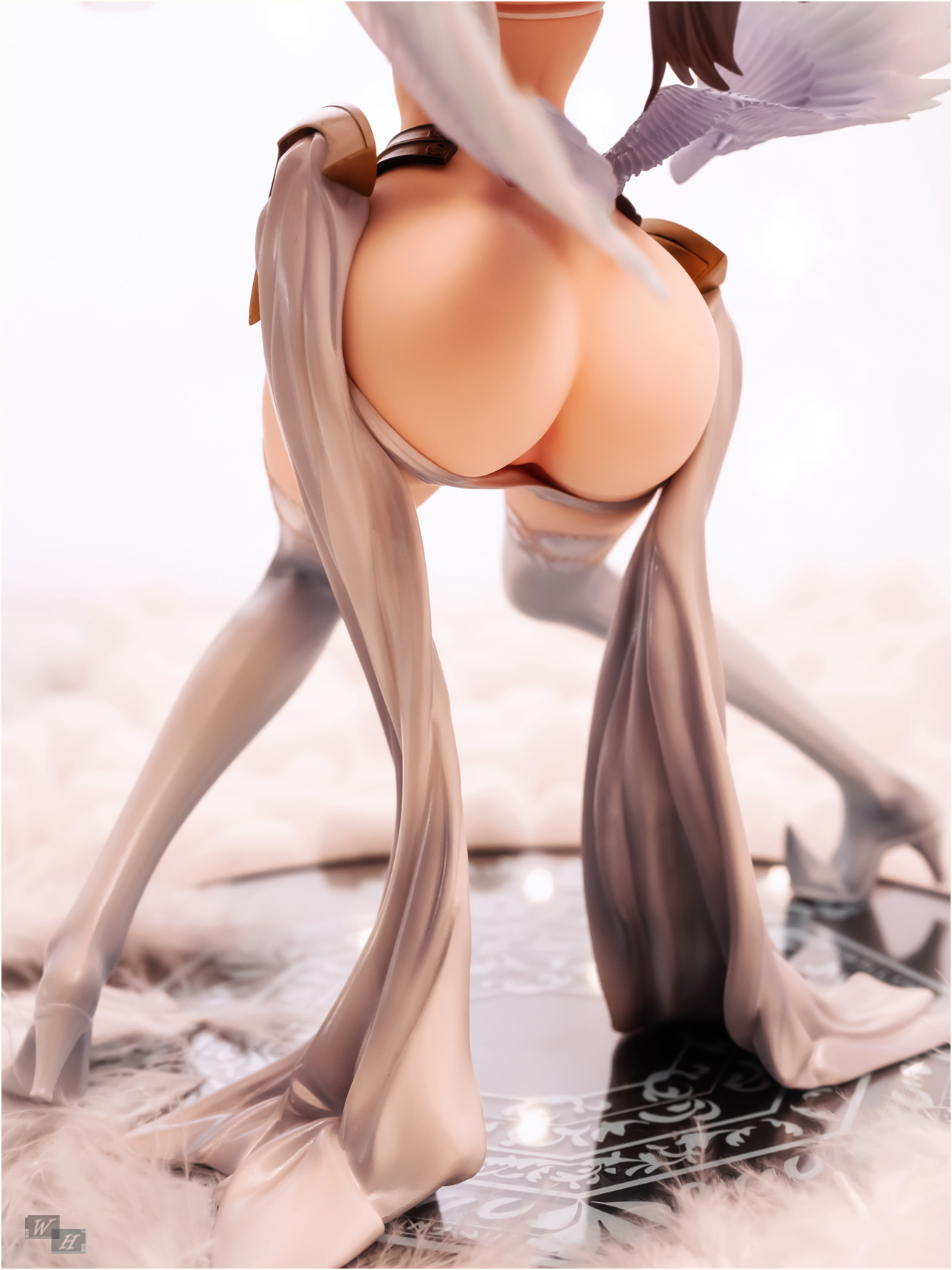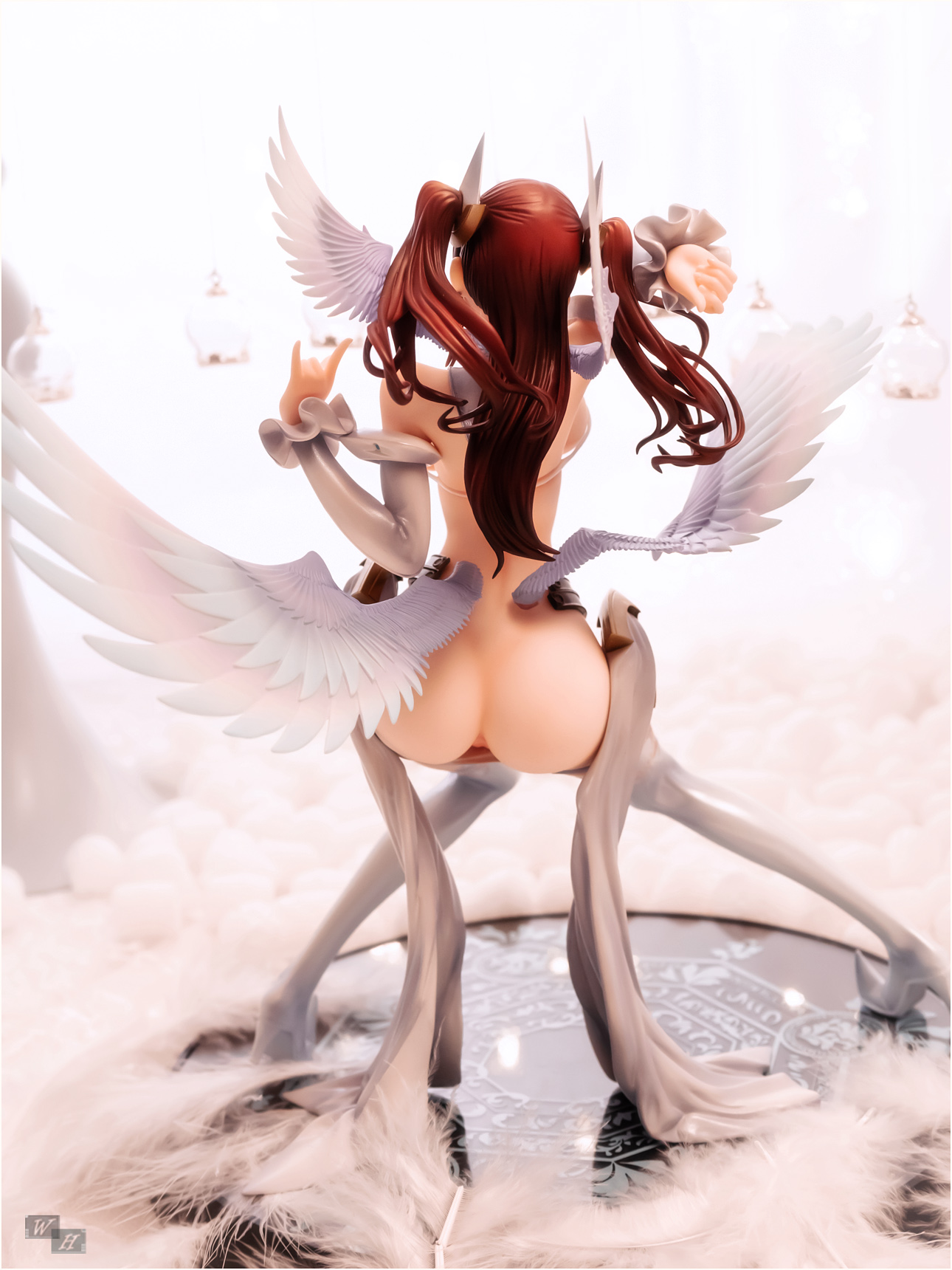 The wings are quite impressive, the figure is equipped with 2 pairs of them, the smaller ones are coming out of her neck and the big ones from her lower back. These wings are sculpted in an organic way, the thin parts might look a bit scary, but the tips are really beautiful, also their nice shades of purple, pink and turquoise create an appealing view.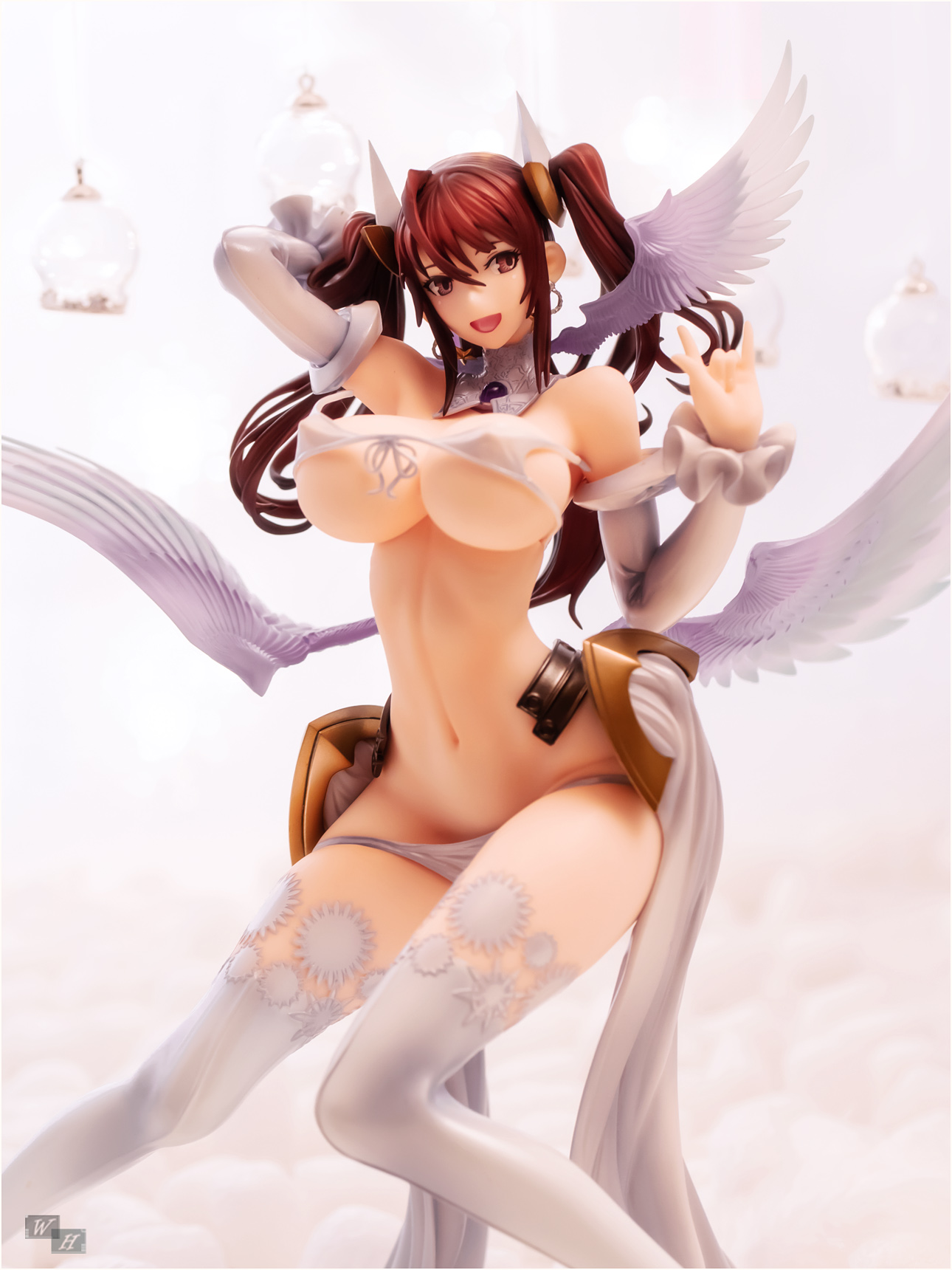 The figure has a pretty black base, the top is transparent and reflective with magic circles printed on it.
What is interesting in this regard, is that the "pillars" of cloth that are going downwards from the hip armor make it possible for Erika to stand without base. The risk of the figure toppling over is not present and you don't have to worry about broken pegs, like it's the case with so many other figures from time to time.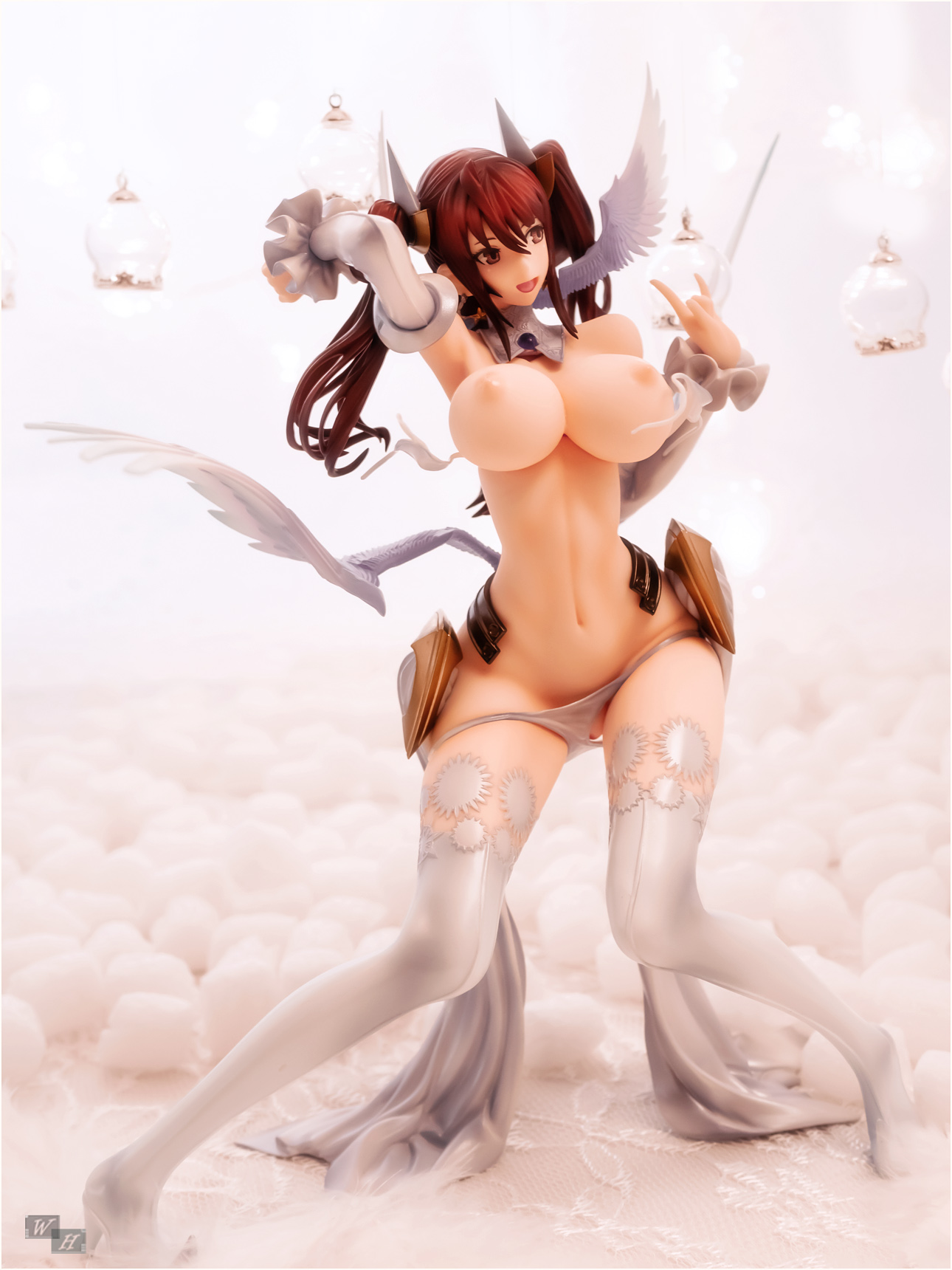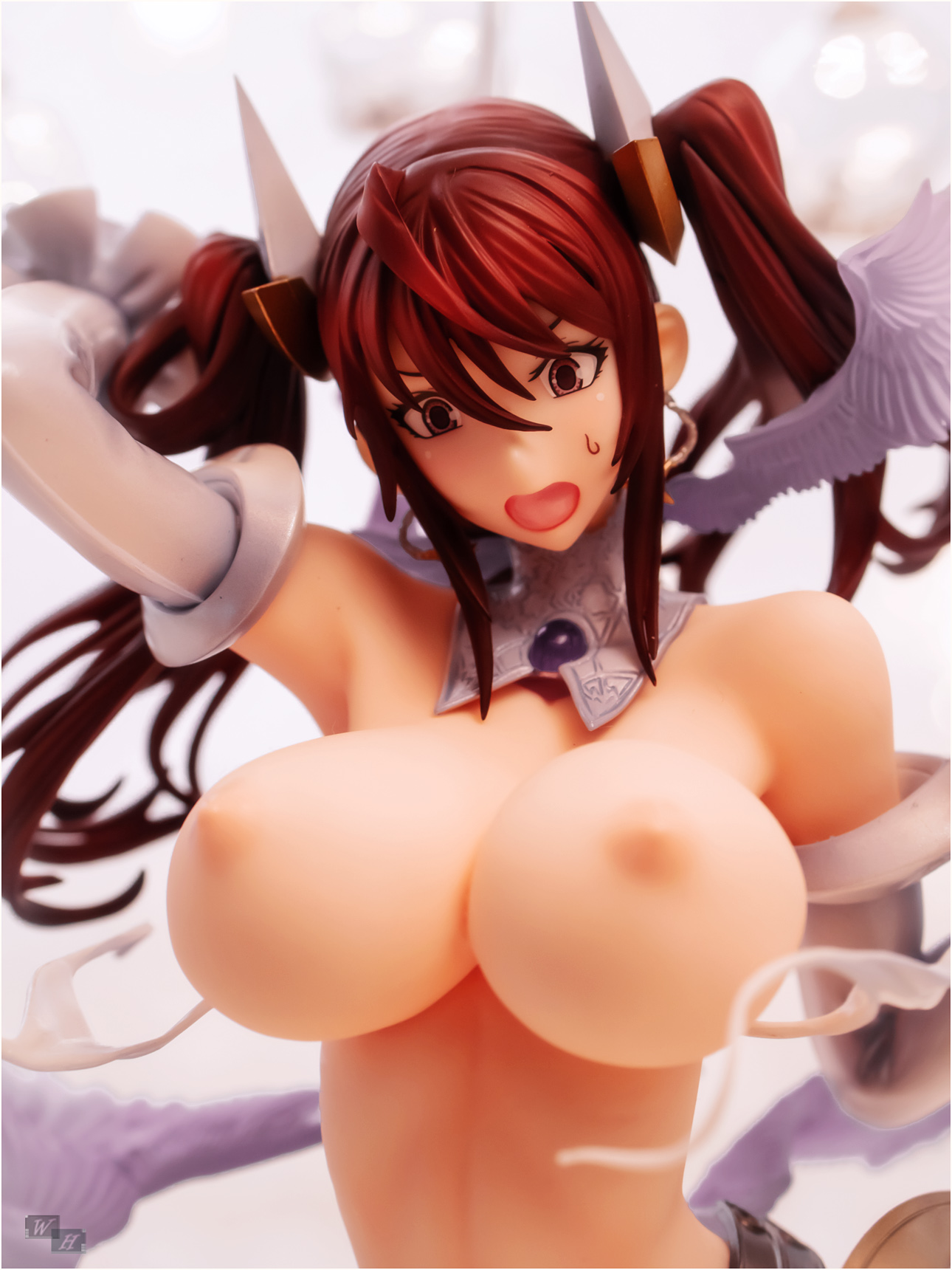 Her weapon is a nicely designed, long spear, which she is holding behind her back. Erika has an interesting pose that shows complex articulation, I really like the lively and cheerful appearance of her. It seems to be a kind of victory pose and she makes a devils sign with her fingers, it's very funny that an angel shows the devils sign, but an angel also should not wear such an outfit. I think the position of her legs is a bit awkward although it just follows the illustration.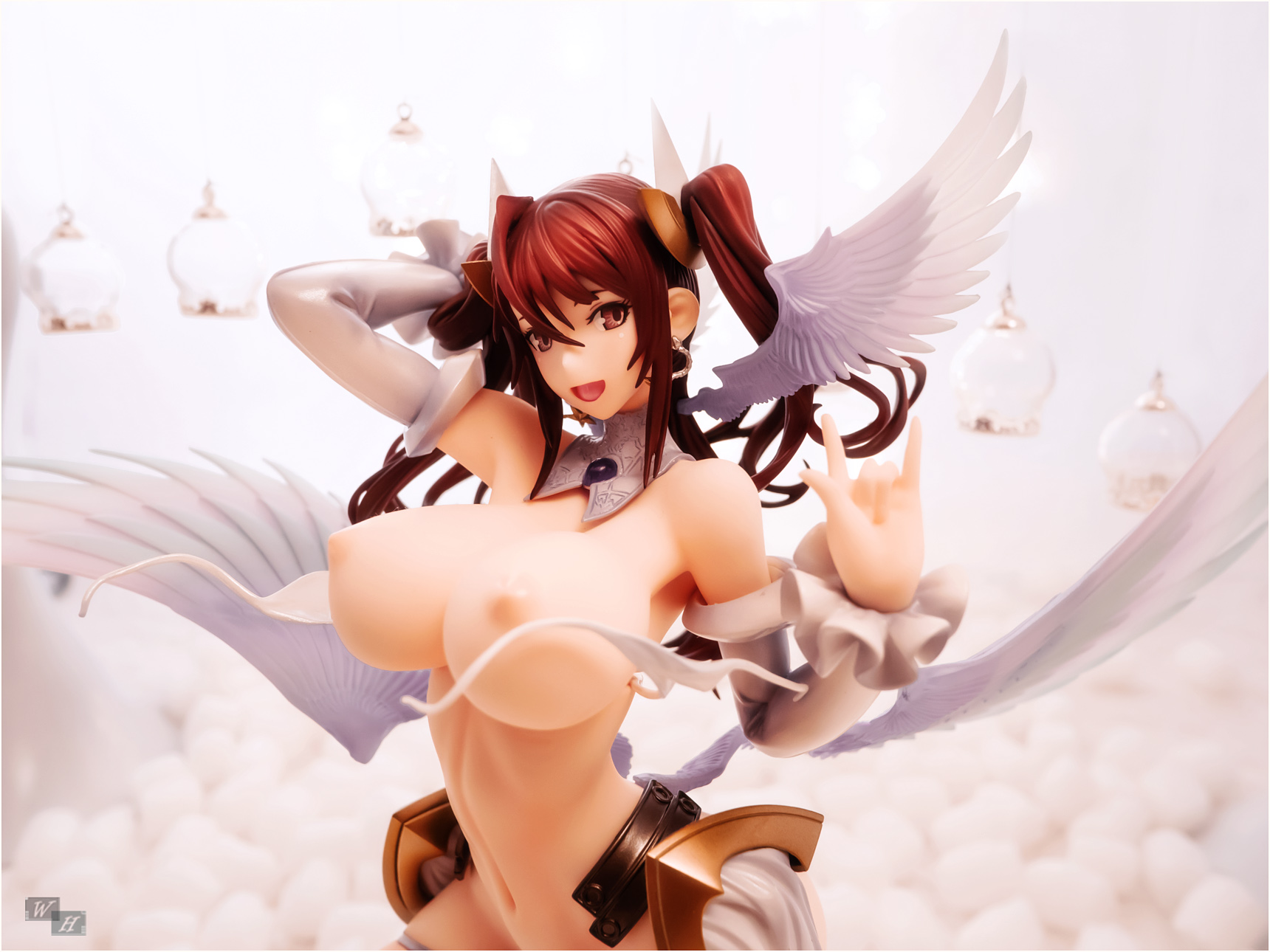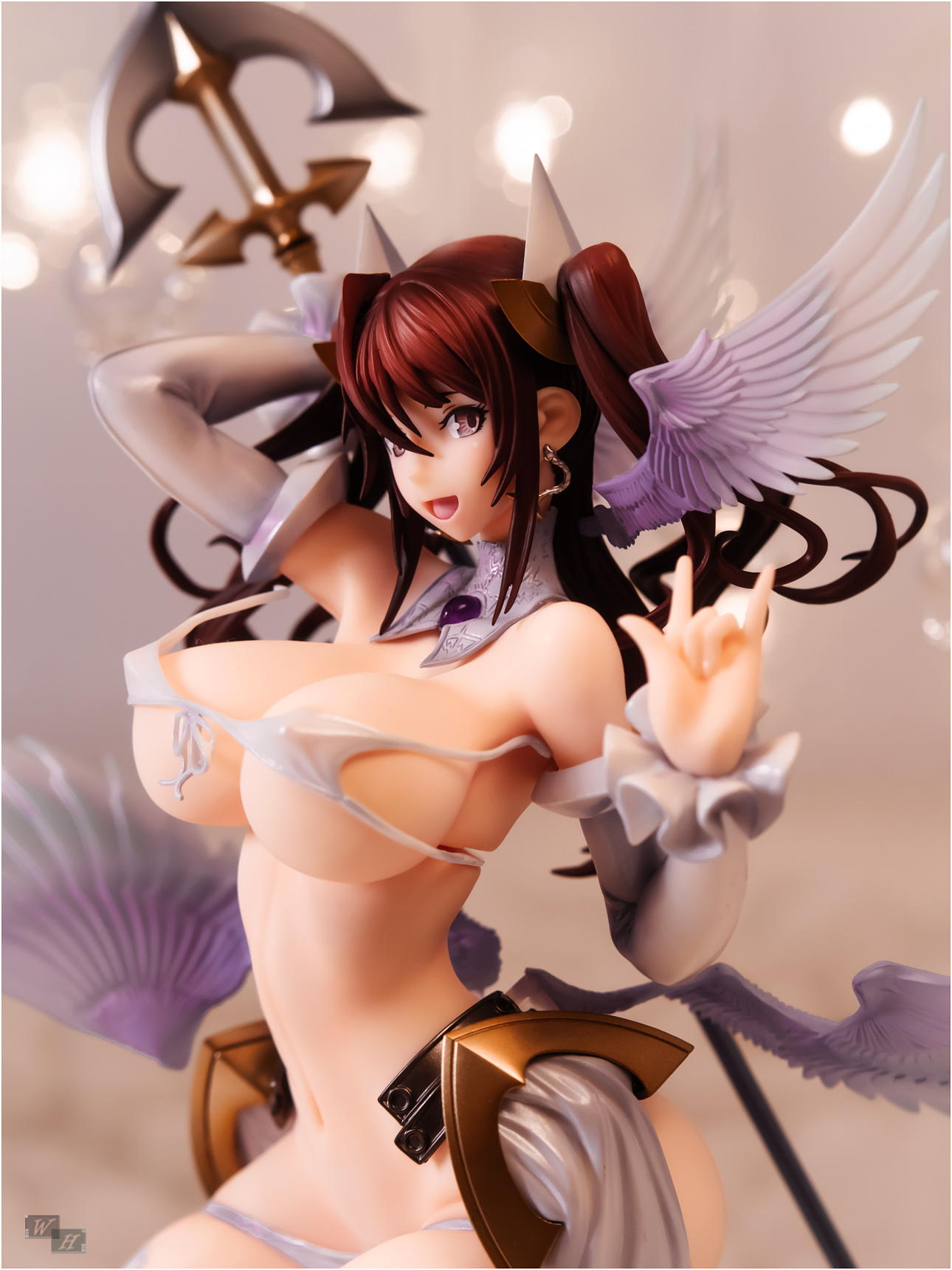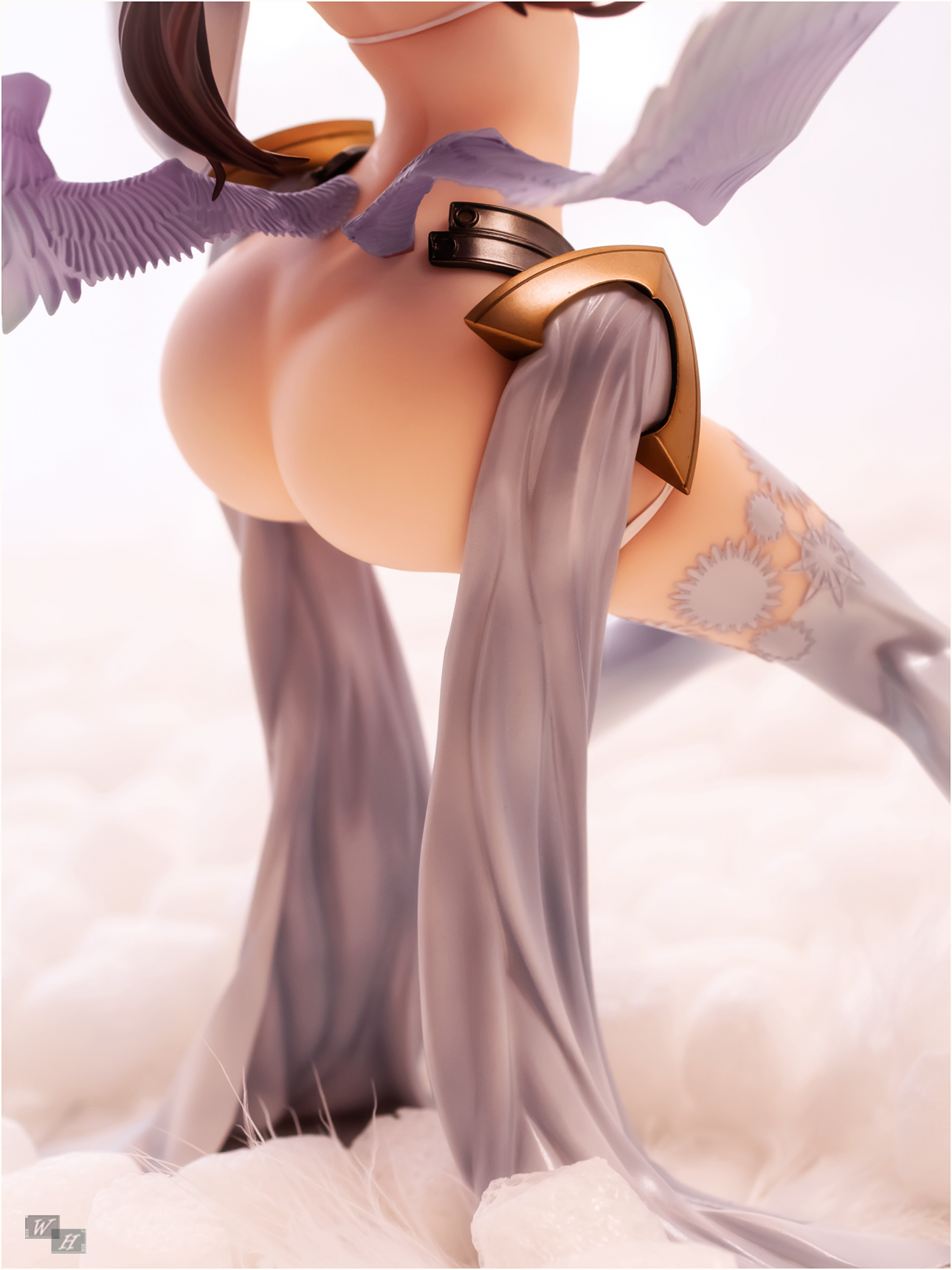 Final Words
Well, yes the Kuramoto Erika figure from Native turned out amazingly nice, her whole appearance even though her being half naked is simply beautiful. My favorite is Erika's pretty head with her enchantingly cheerful smile and also the elaborately styled hair. I feel a bit of regret about not getting the first figure of Mahou Shoujo from Native in the past, I don't care about the skinny angels but Misae is so pretty. Anyway, I'm glad that I at least ordered the second prettiest character, Kuramoto Erika. Raita designs are quite polarizing and I don't really like the extremely stylish proportions of Mahou Shoujo, the Valkyria Chronicles character designs while also being drawn by Raita, are more pleasing to the eye. Of course I like Erika a lot and she has been referred to as beautiful by my friends and family.