It's summer in Germany and that is a good opportunity to review a beautiful bikini girl figure named Riela Marcellis.Riela is one of the main characters in Valkyria Chronicles 3. I'm not familiar with anything related to Senjou no Valkyria games, but I always was a fan of the intriguing character design based on the general style of illustrator Raita (らいた).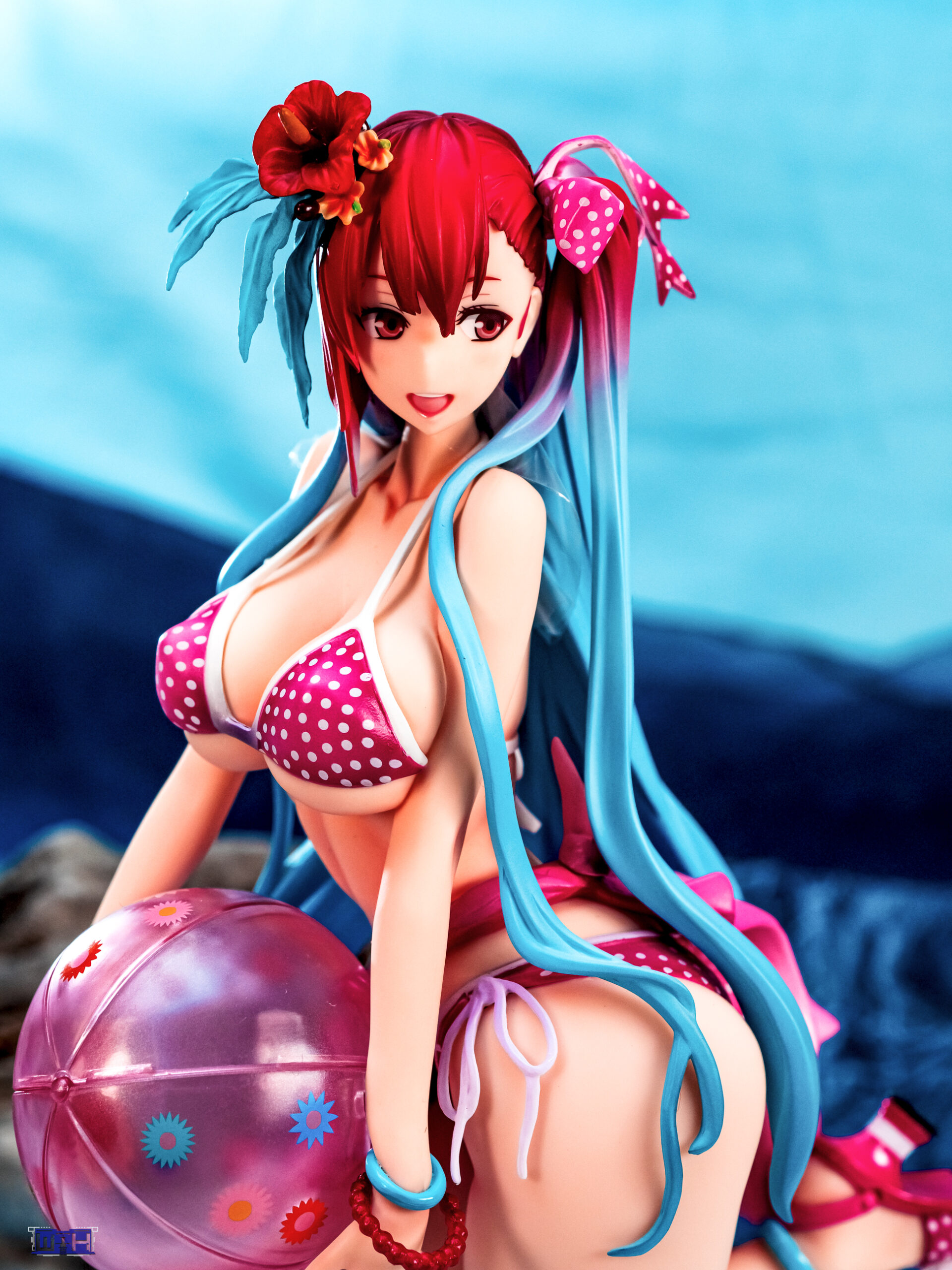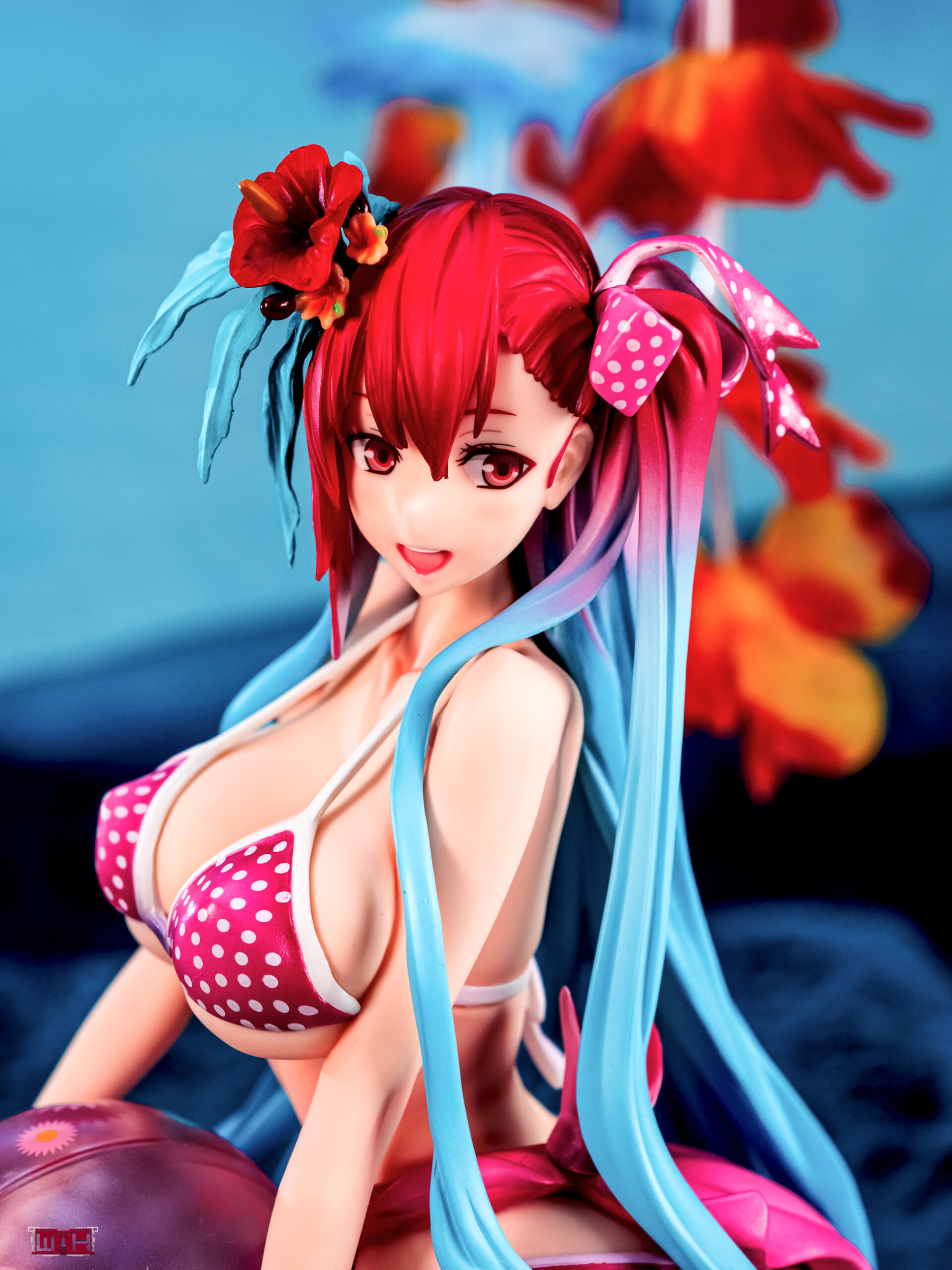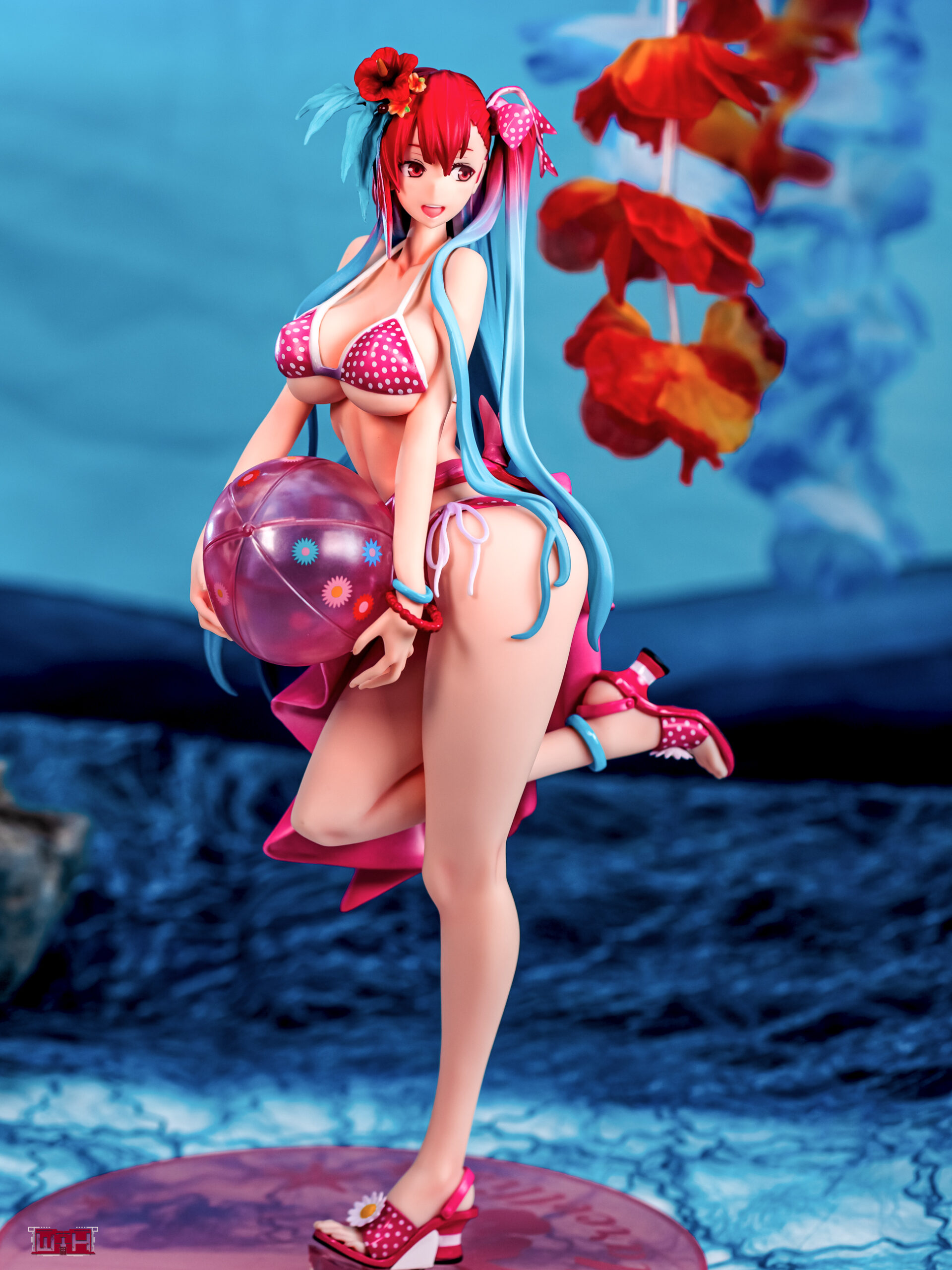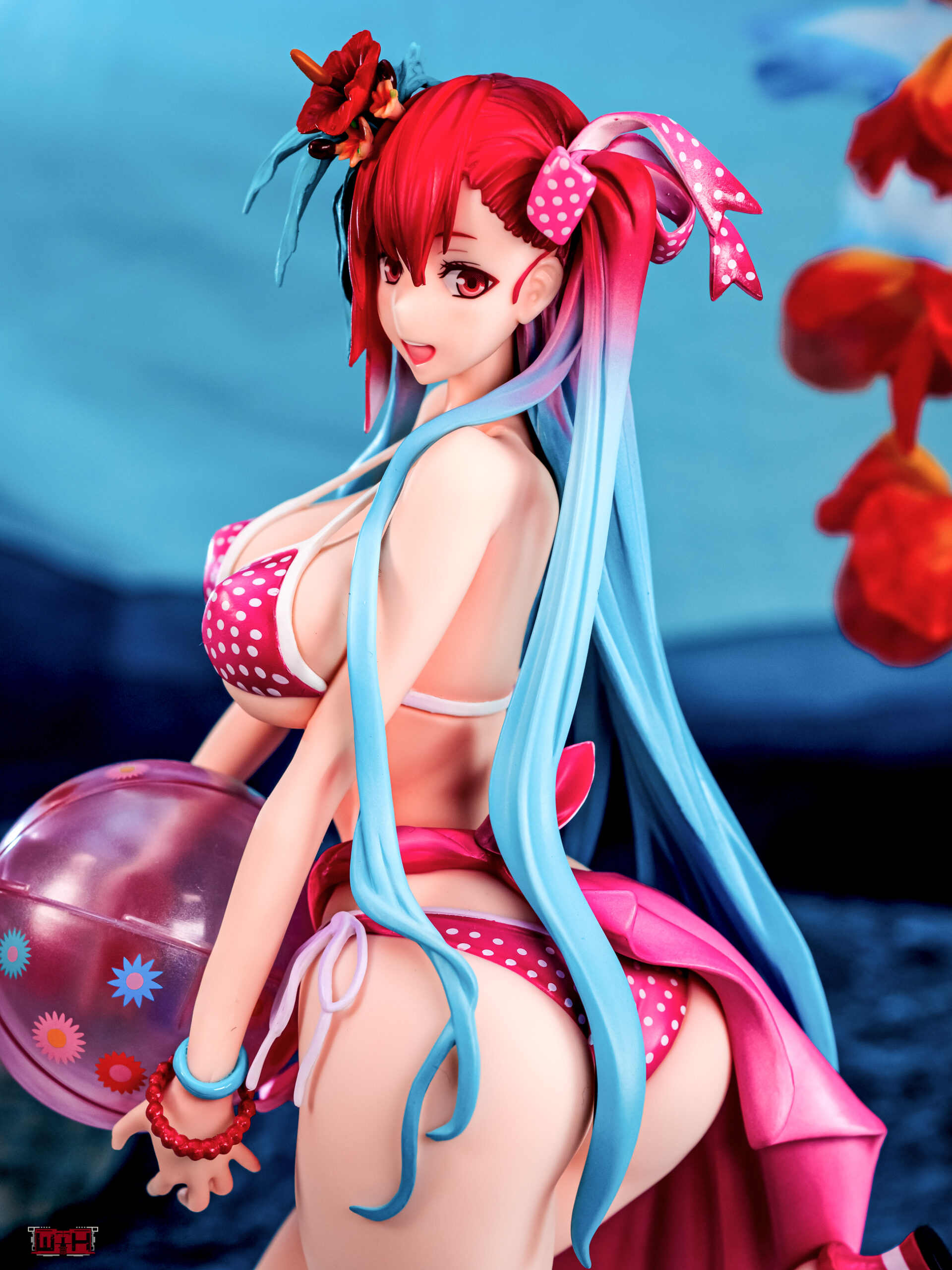 Phat Company decided to make figures of Juliana Eberhardt and Riela Marcellis, based on these illustrations. Riela was released in December 2022, she was sculpted by Yadokari, who already worked on many stunningly beautiful and promising figures, it's worth to take a look at his past and future works.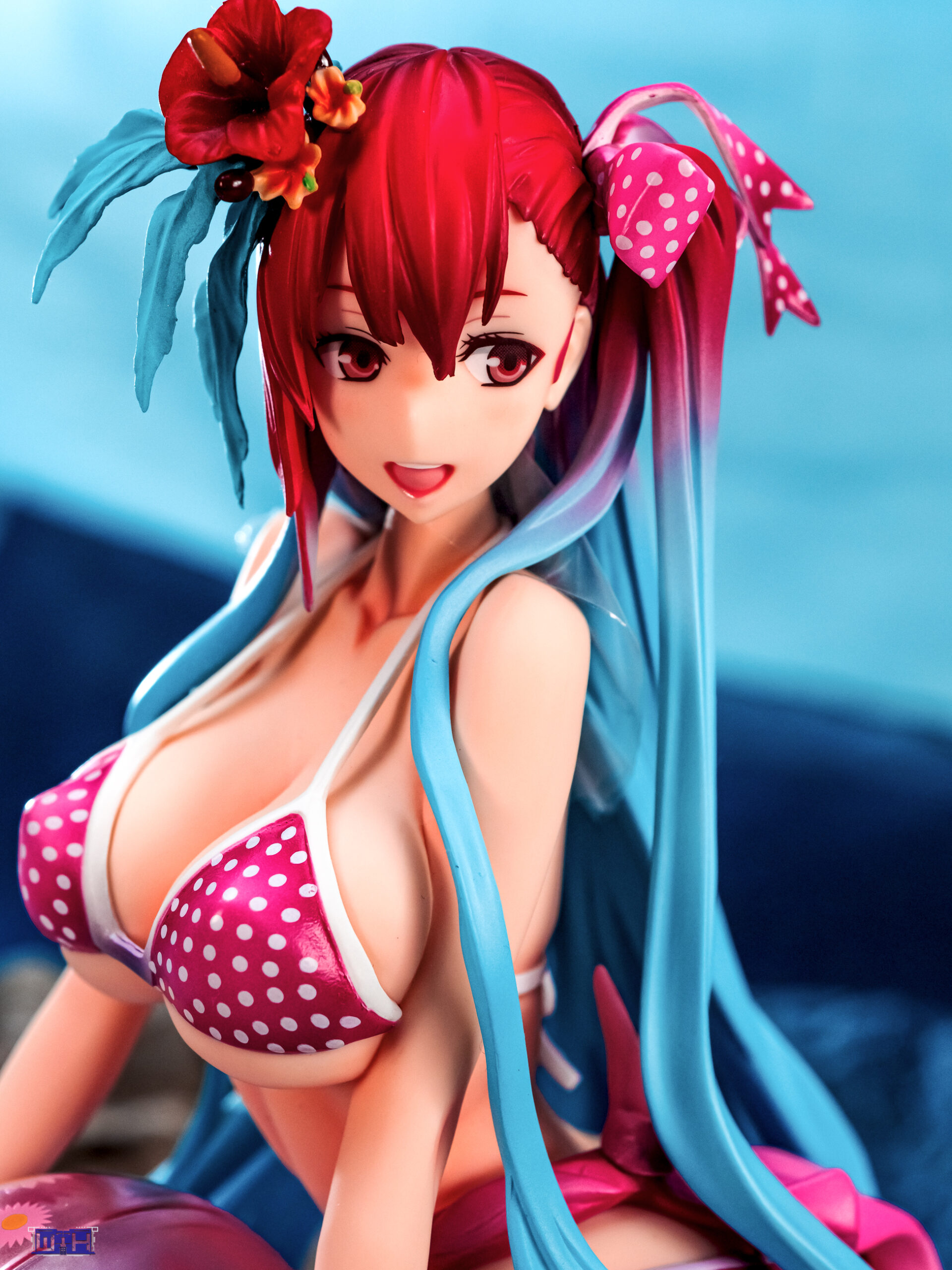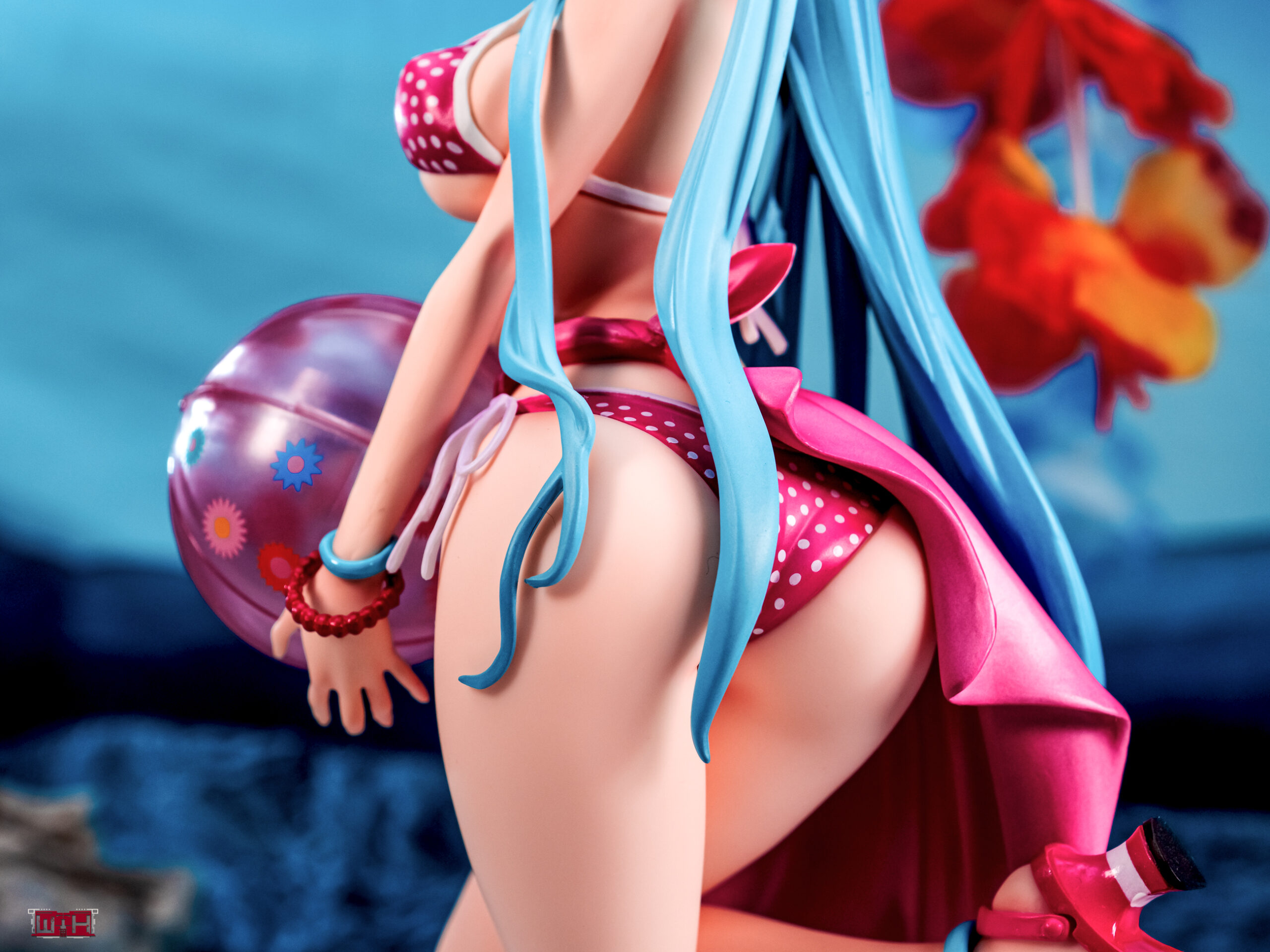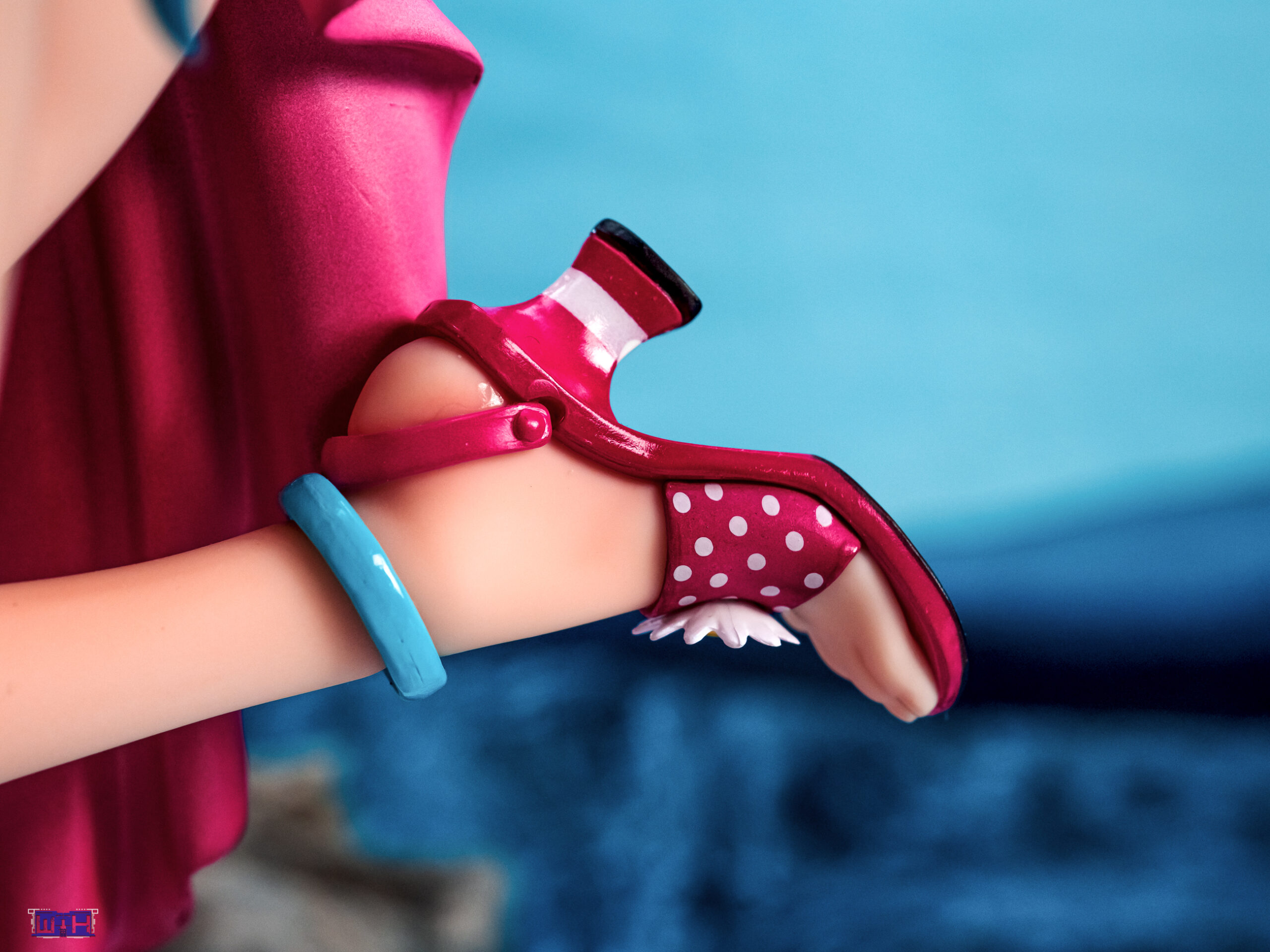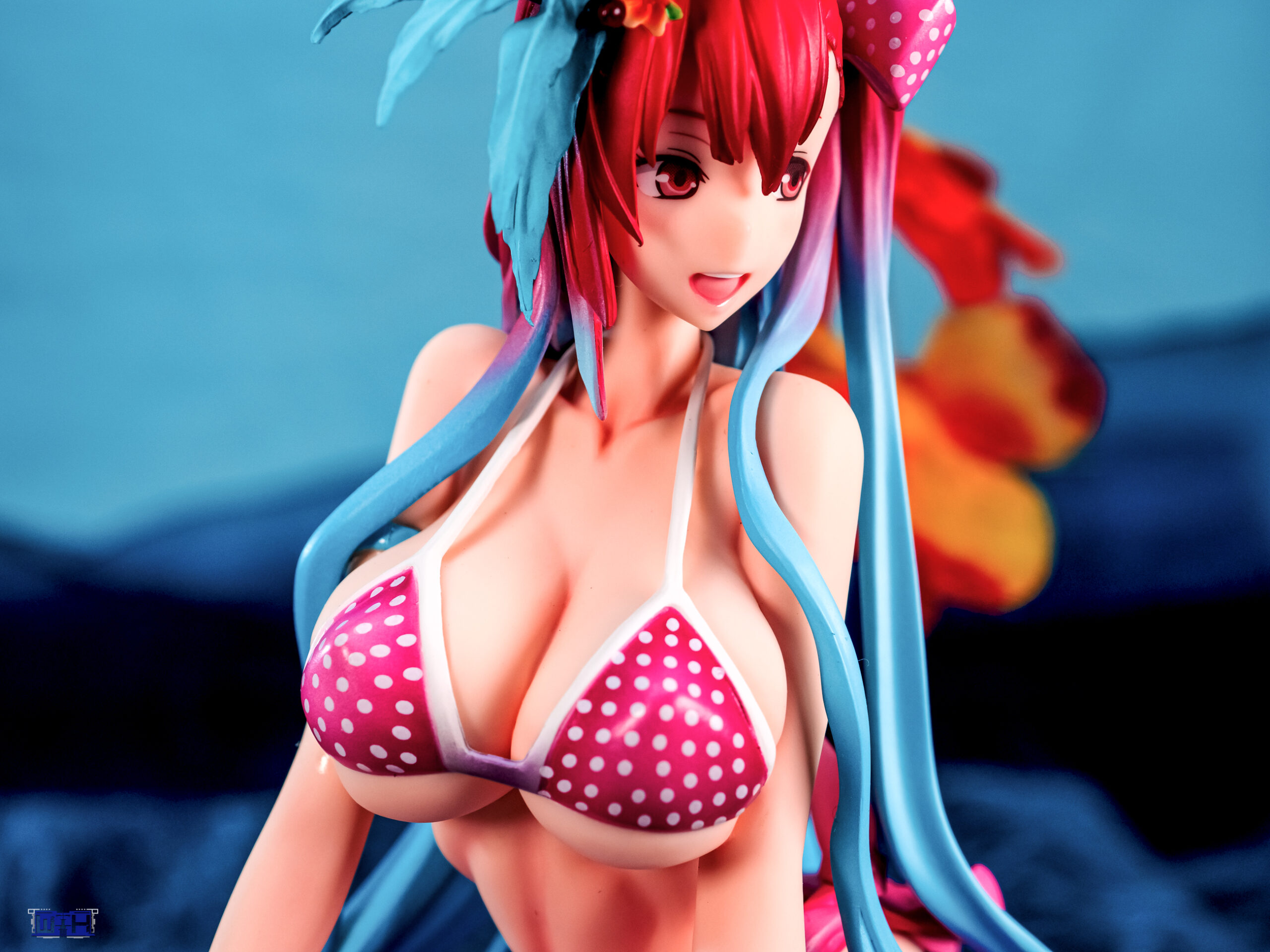 Riela is the typical happy girl at the beach, even playing with a ball. The figure has very long hair, generally I would say it's red, but there also is this crazy gradient from red to light blue.
There is a side ponytail on the left side of her head, it's slightly shorter and the strands just end slightly under her hips. Her hairstyle also features cute bangs hanging down between her eyes.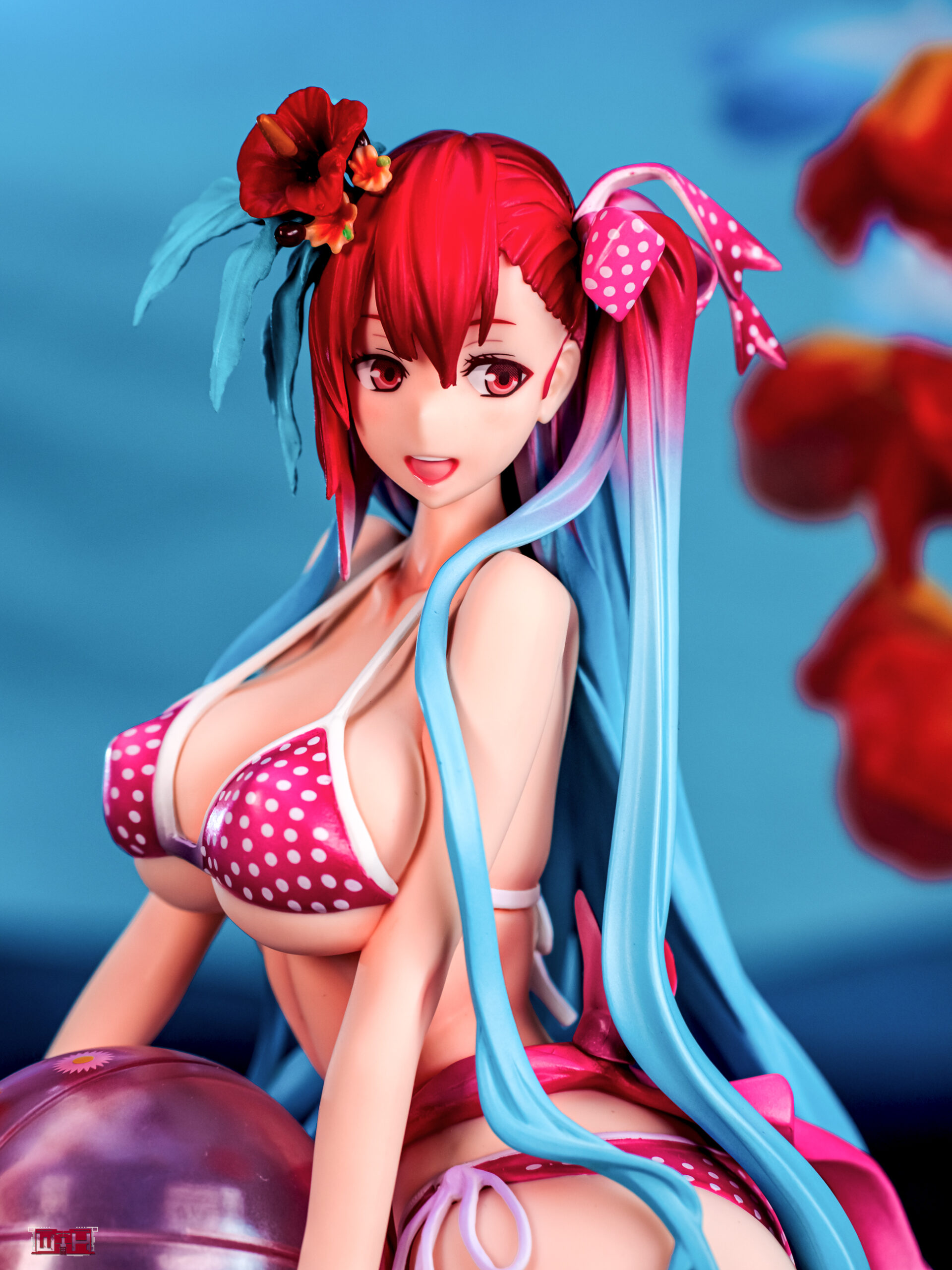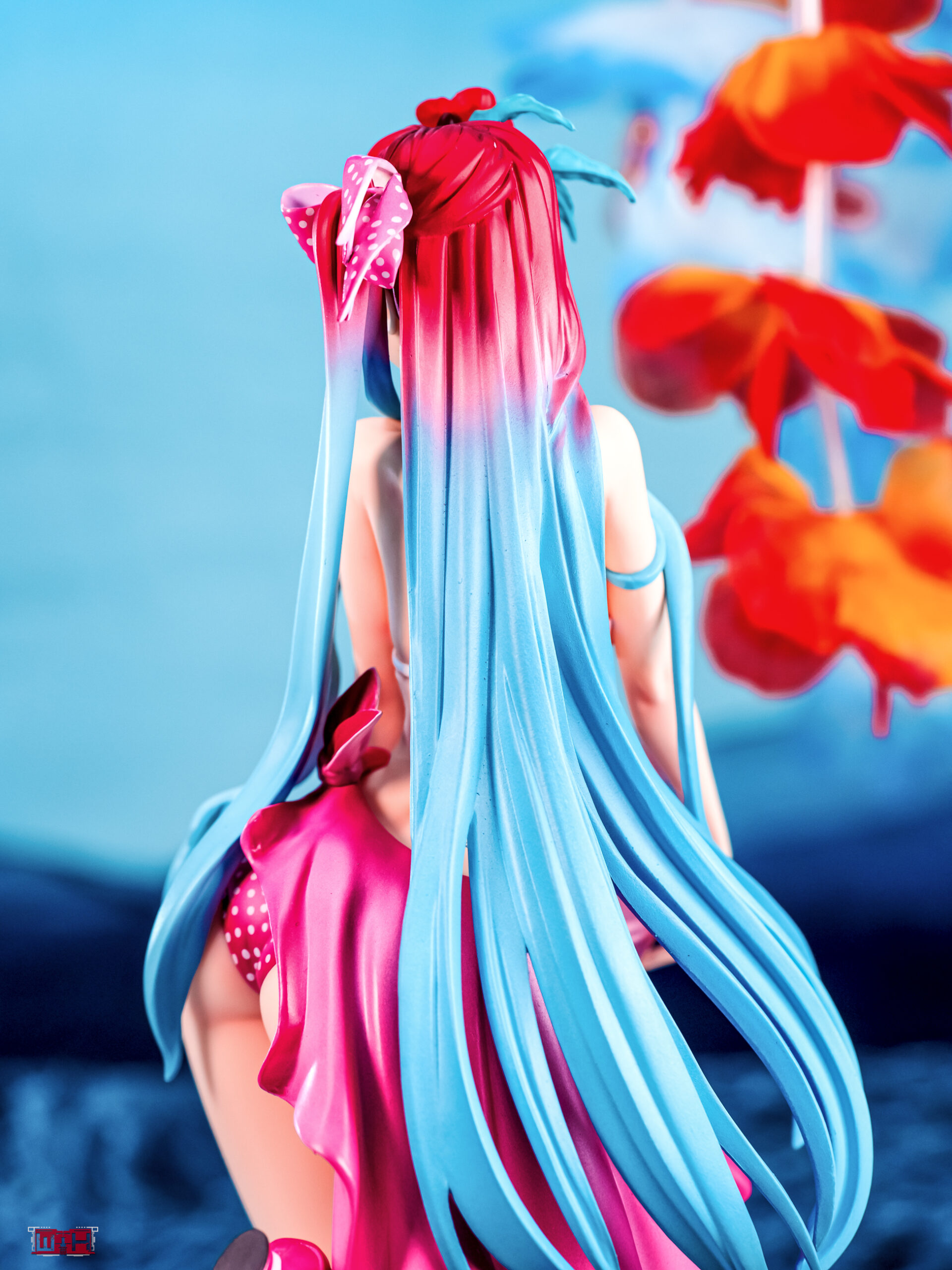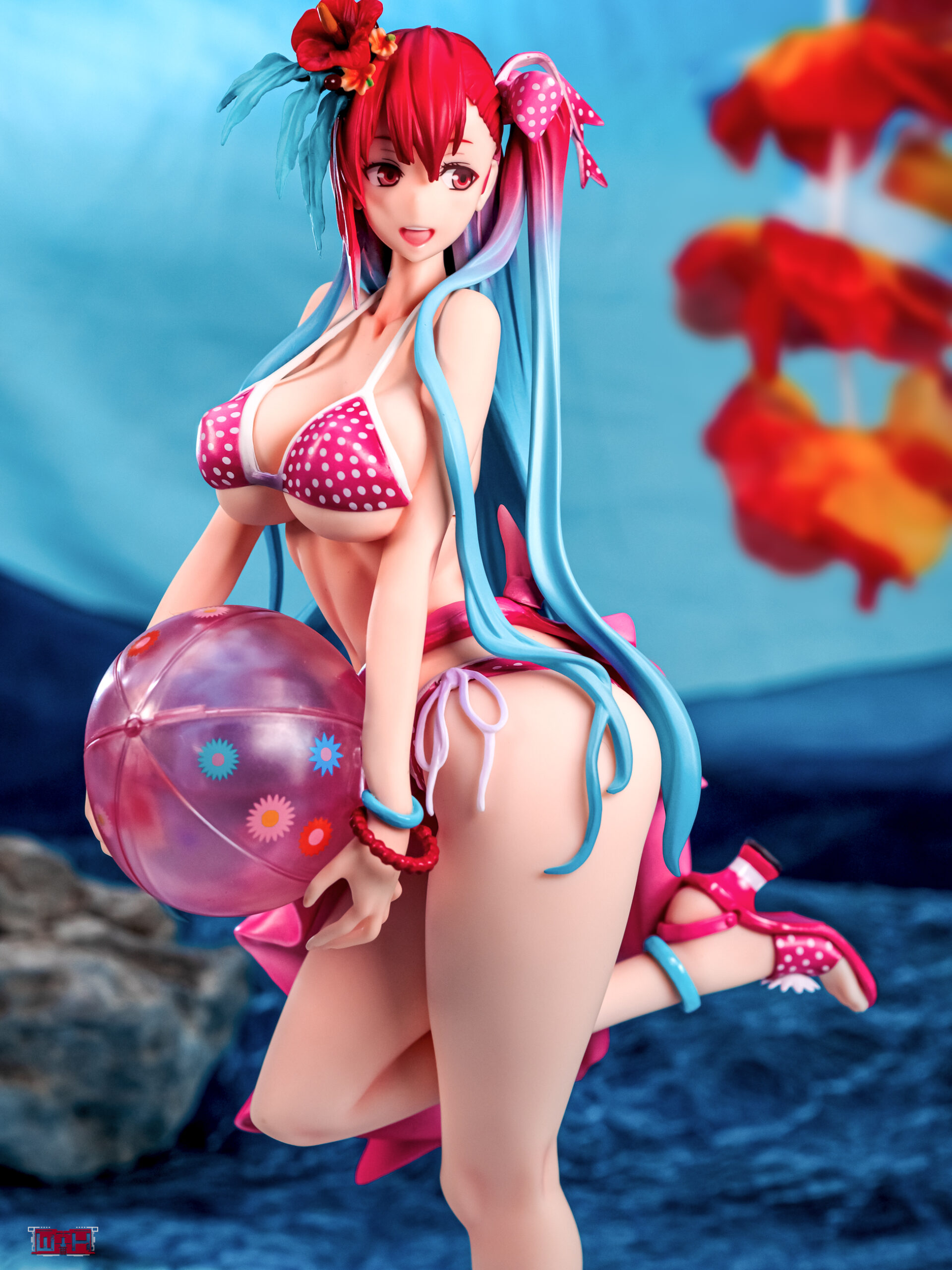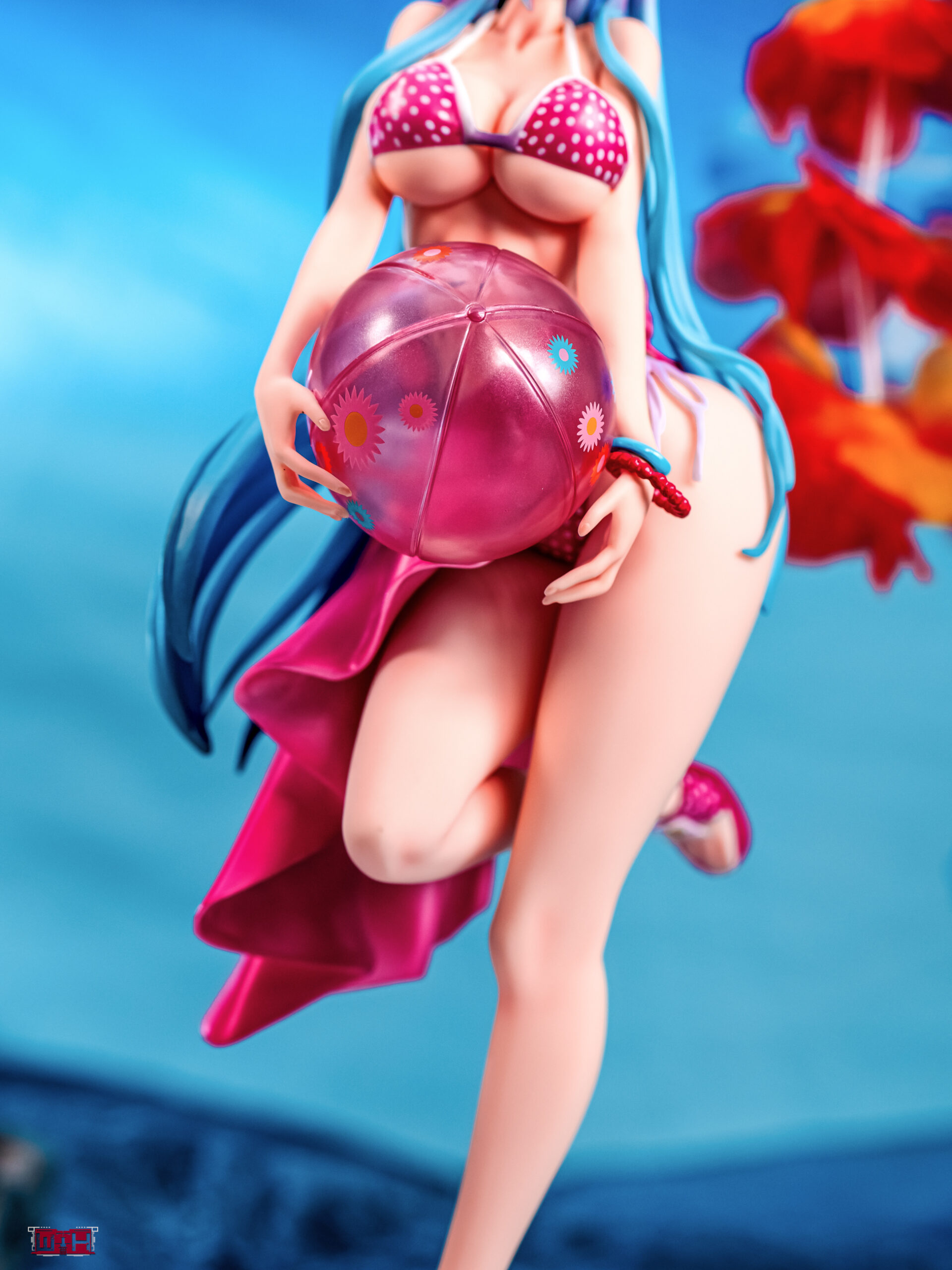 Riela is real cutie with big round, red eyes, it's good that they point to the left as it gives her a stronger expression and a very lively appearance. Her face has a cute looking nose and also a pretty open mouth sculpt; the front teeth line is showing and lipstick has been applied to her lover lip. The general make up coordinate is beautiful and the subtle blush makes this figure quite adorable.
The beautiful bodyline features big boobs with a sense of natural droopiness in the sculpt. More attention grabbing are the very wide hips, the big butt and the thick thighs of hers. All Raita girls have long legs and also this character is no exception in that regard either. The beach ball blocks a lot of her sexy body, the belly is covered by the ball and the butt is covered by crazy colored hair strands. aybe I should have tried taking it off.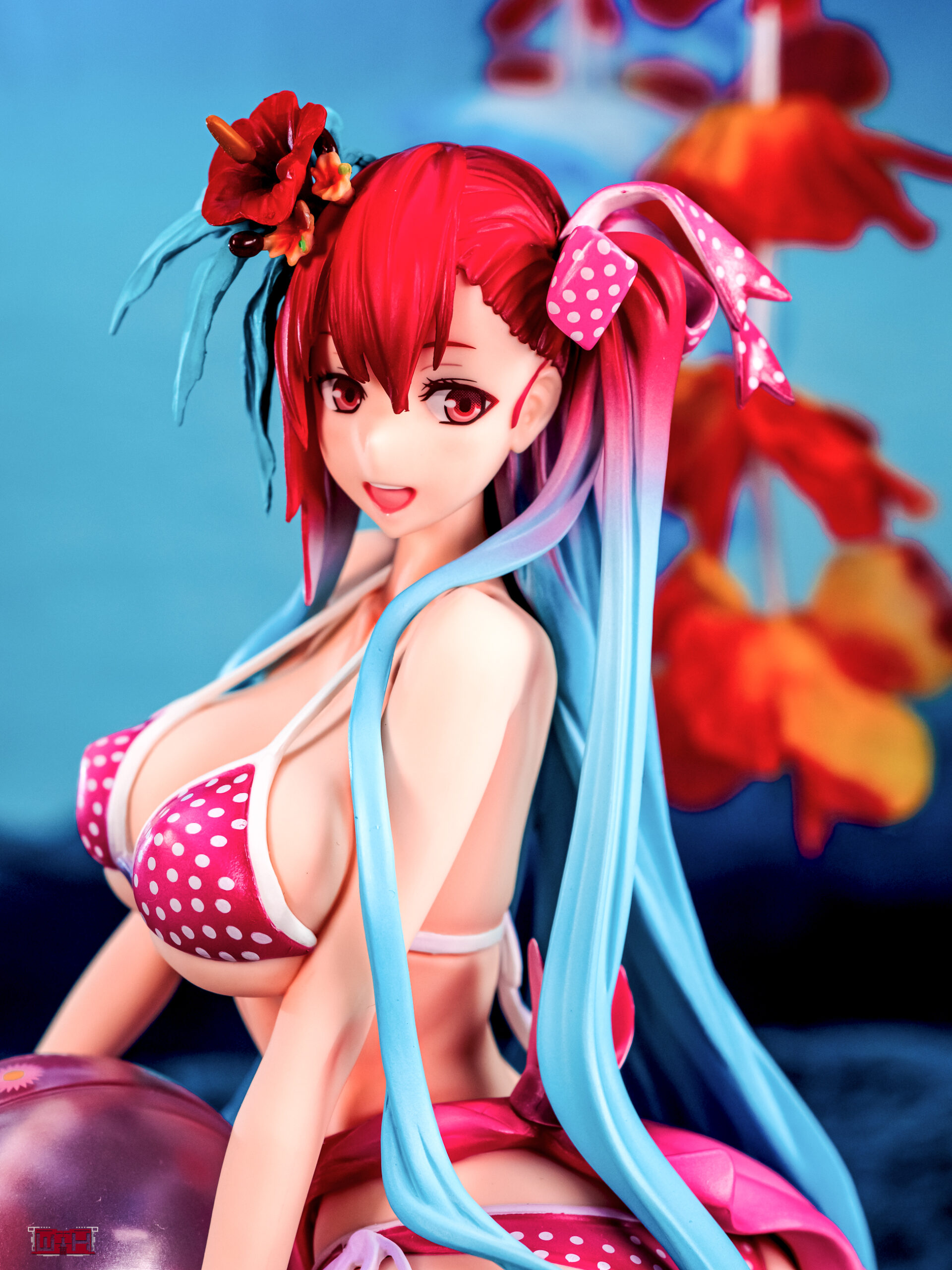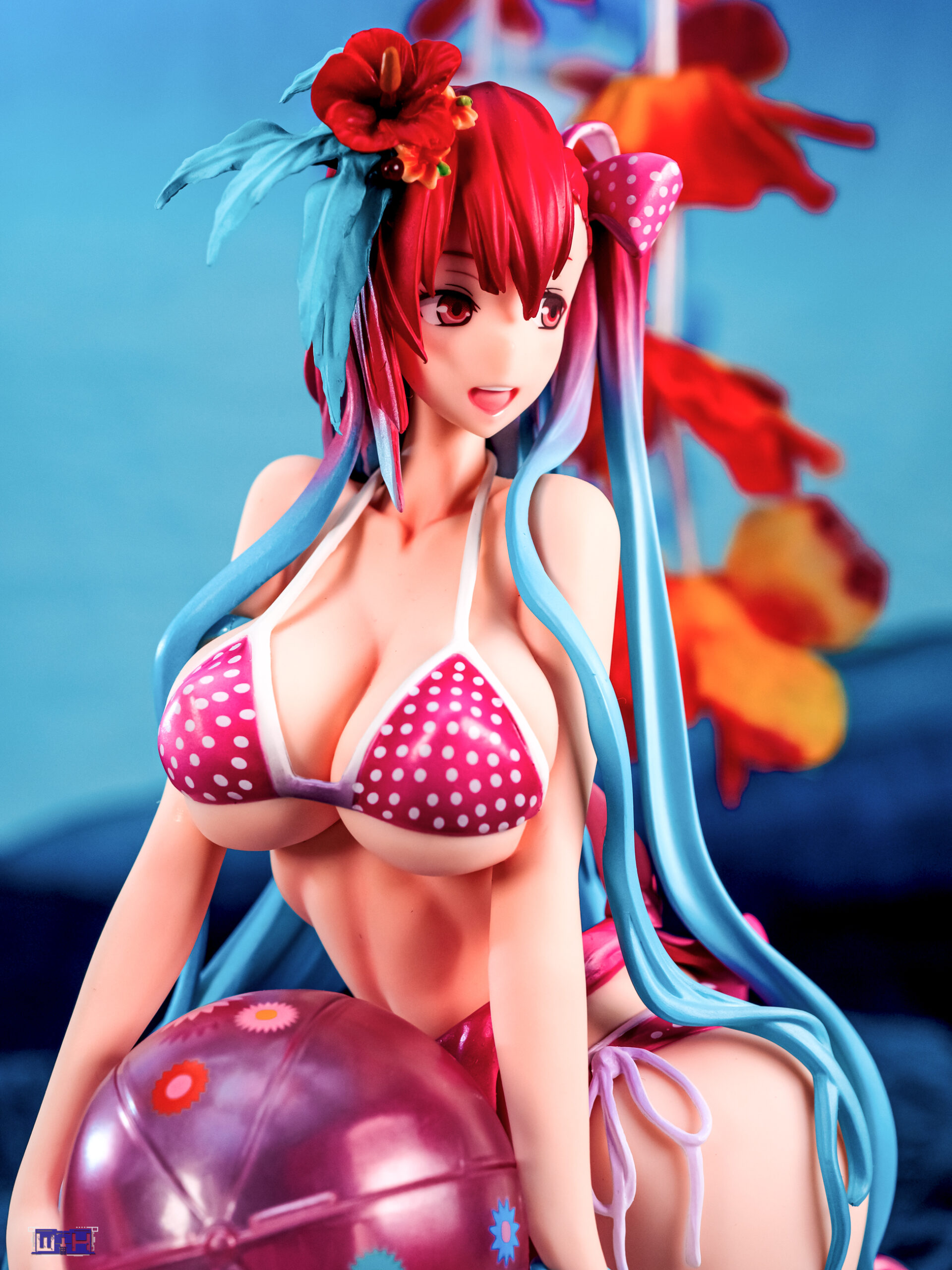 The figure is wearing a pink bikini set that has a polka dotted pattern printed on it with a pink pareo wrapped around her hips.
It is a little unfortunate that the material of the bikini top appears thicker than it would have been necessary and it generally a bit roughly made. That problem actually only appears to be present at the bikini top, though.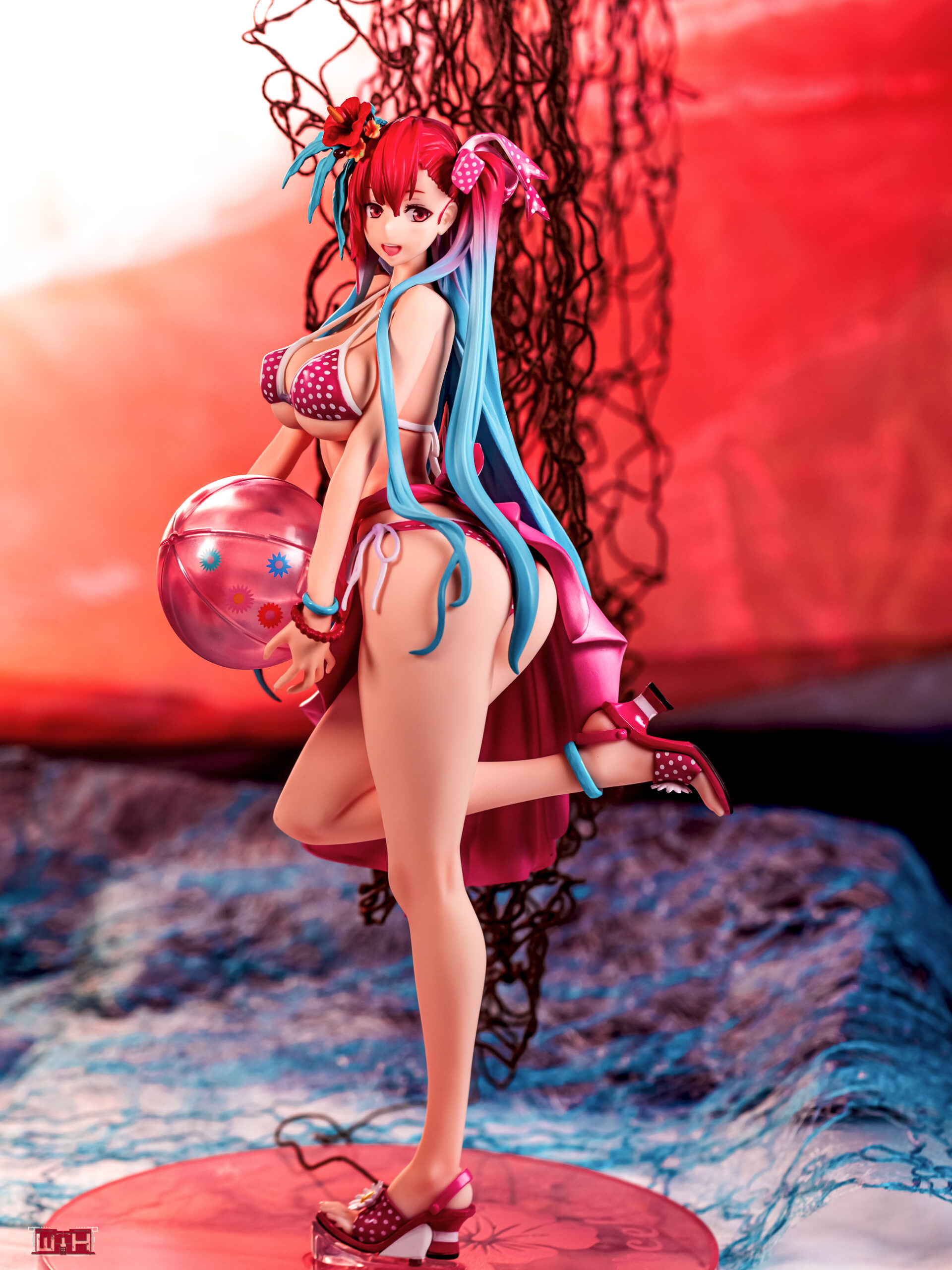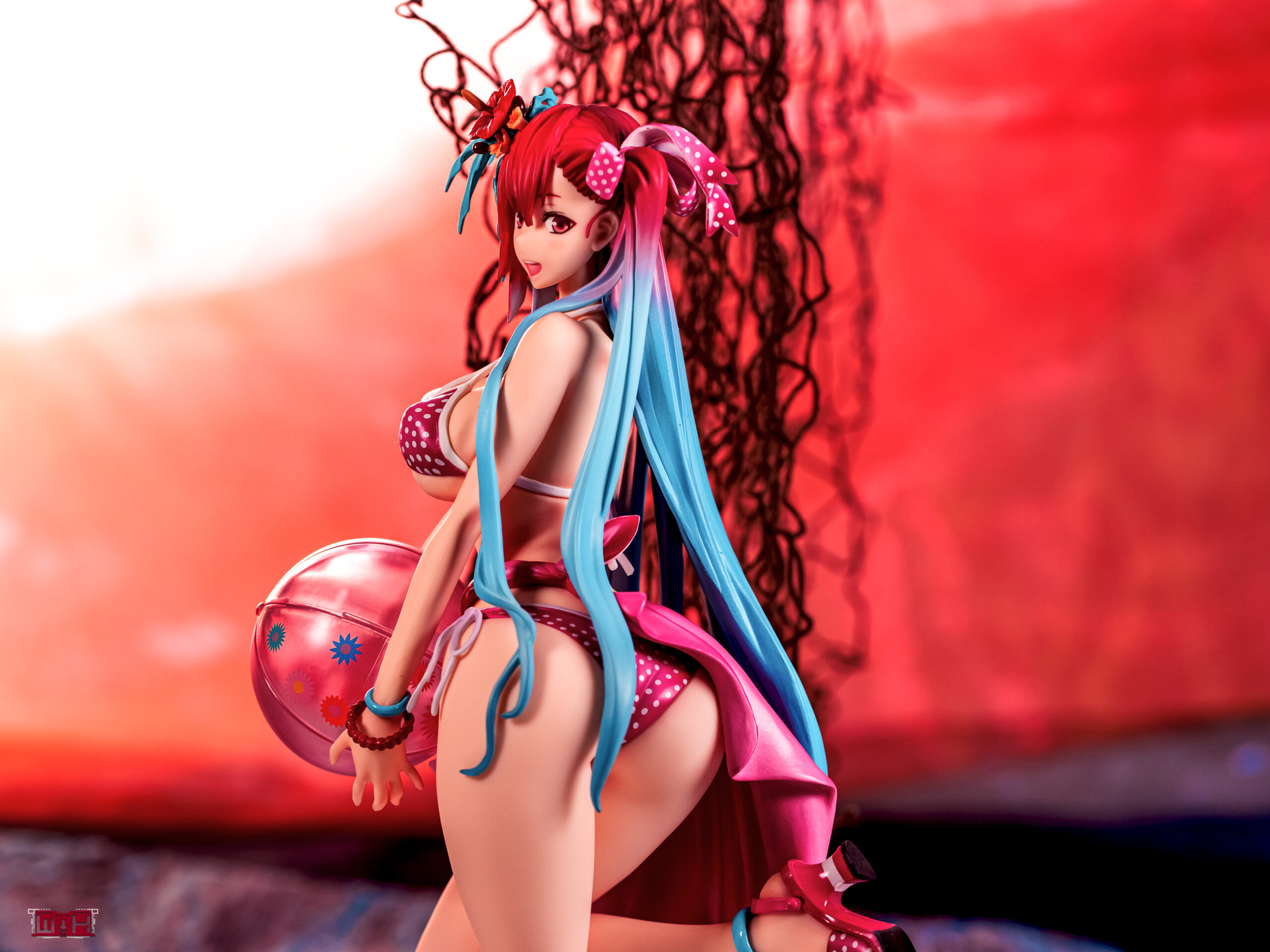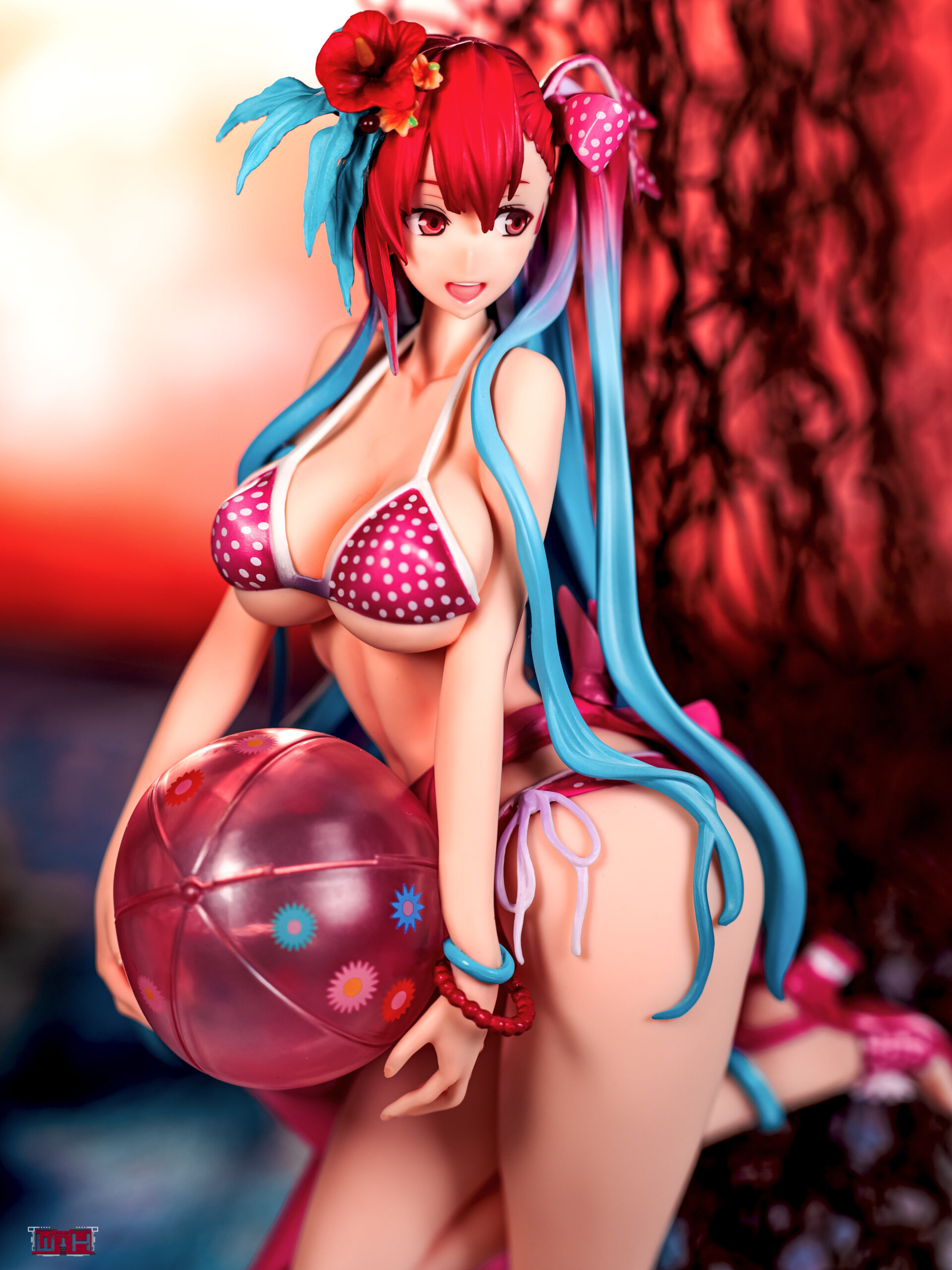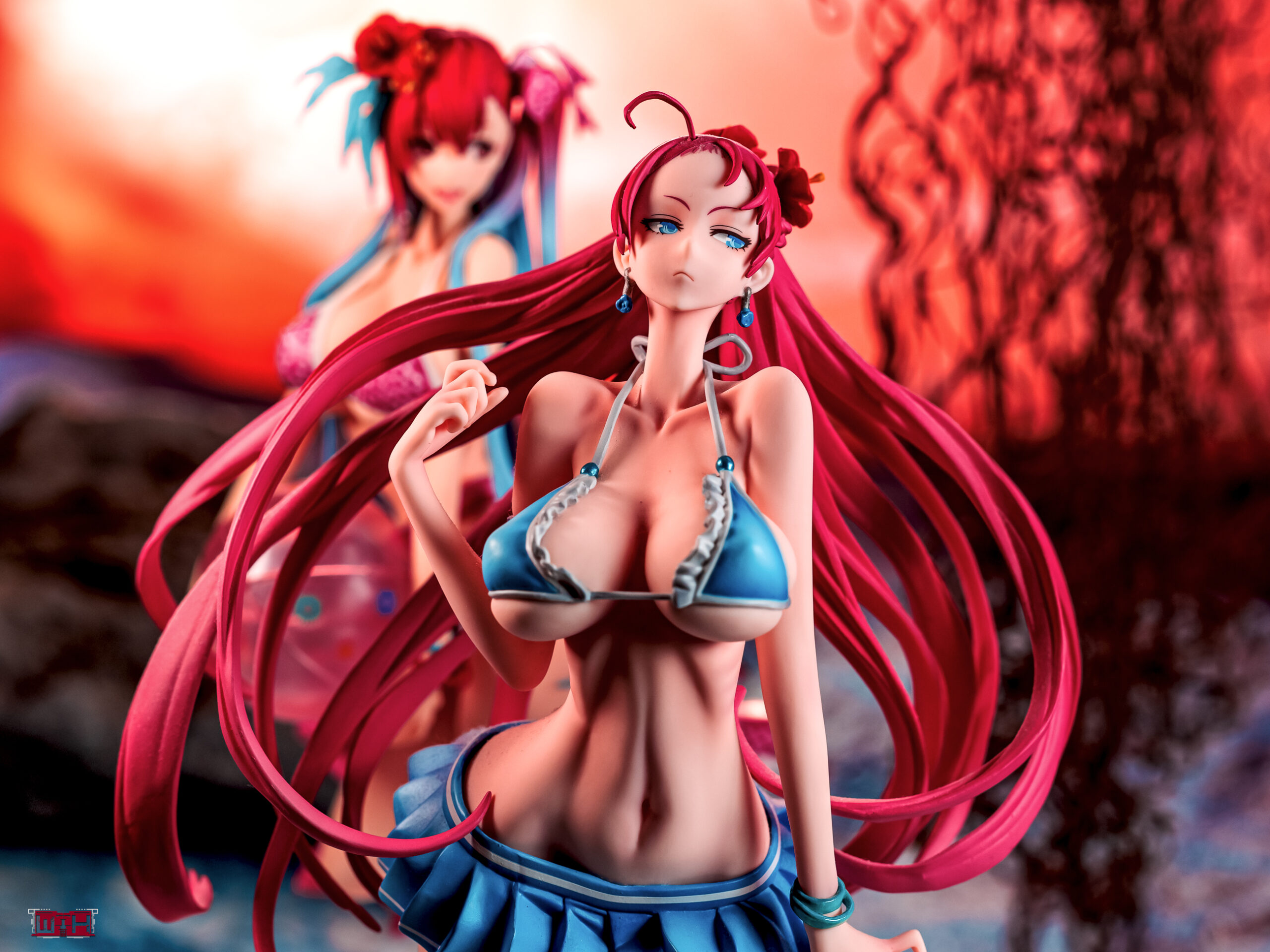 At her feet she is wearing stylish sandals. smaller details like the rings around her right ankle and around the left wrist add a more lively appearance to the whole figure. The outfit is accompanied by a pattern matching ribbon and flowers in her hair, you can't be on holiday without the typical hibiscus blossom in your hair.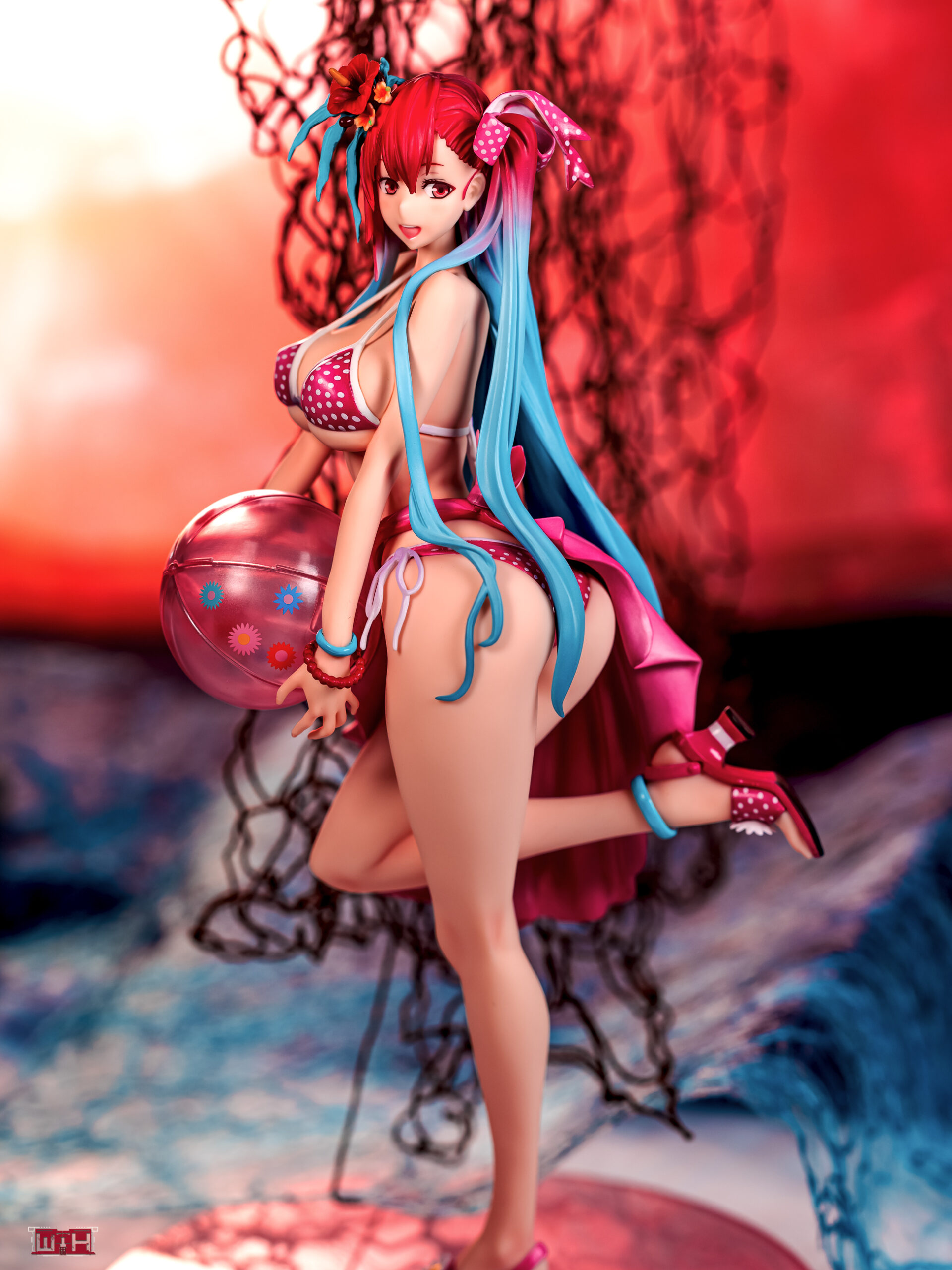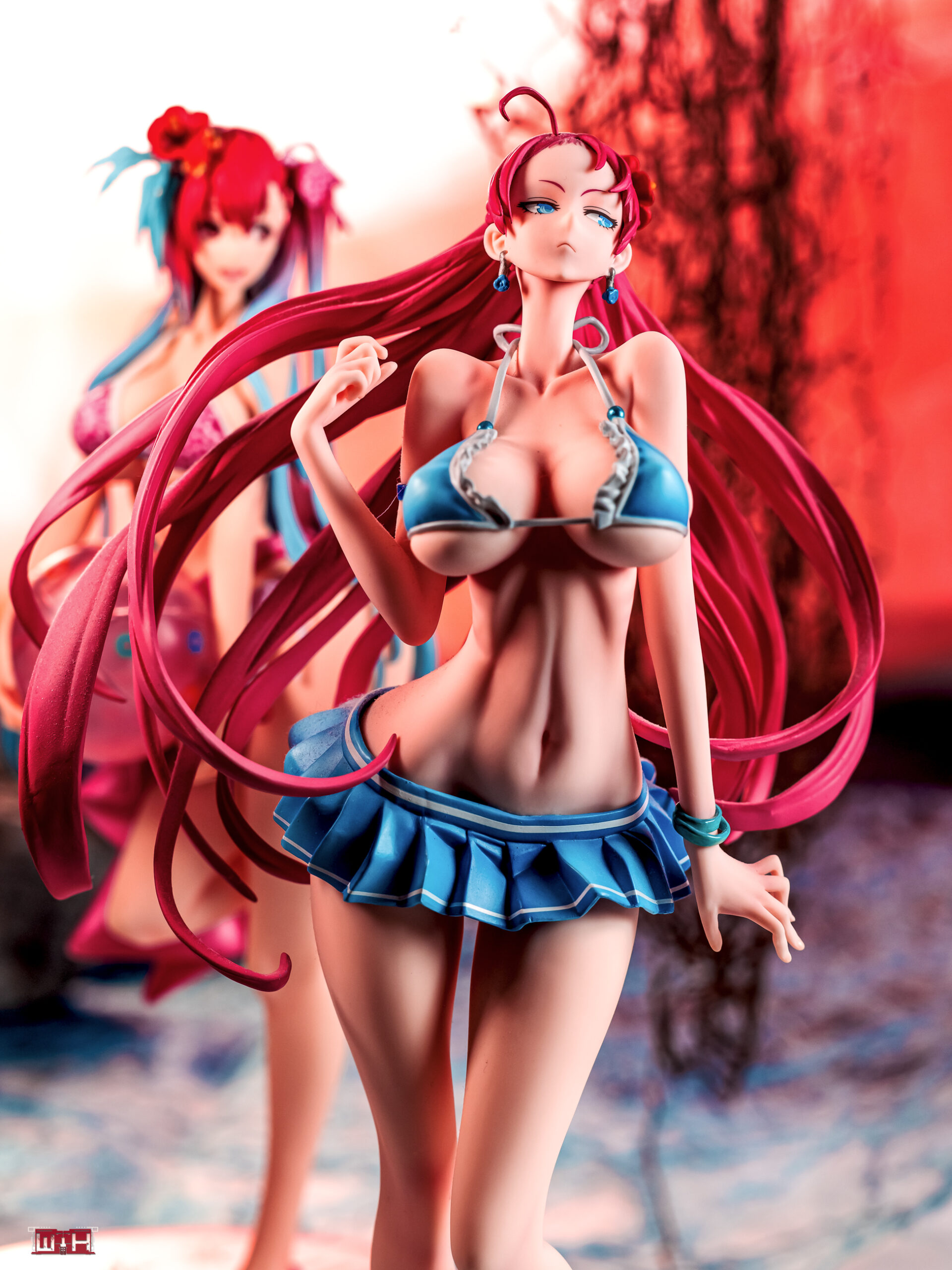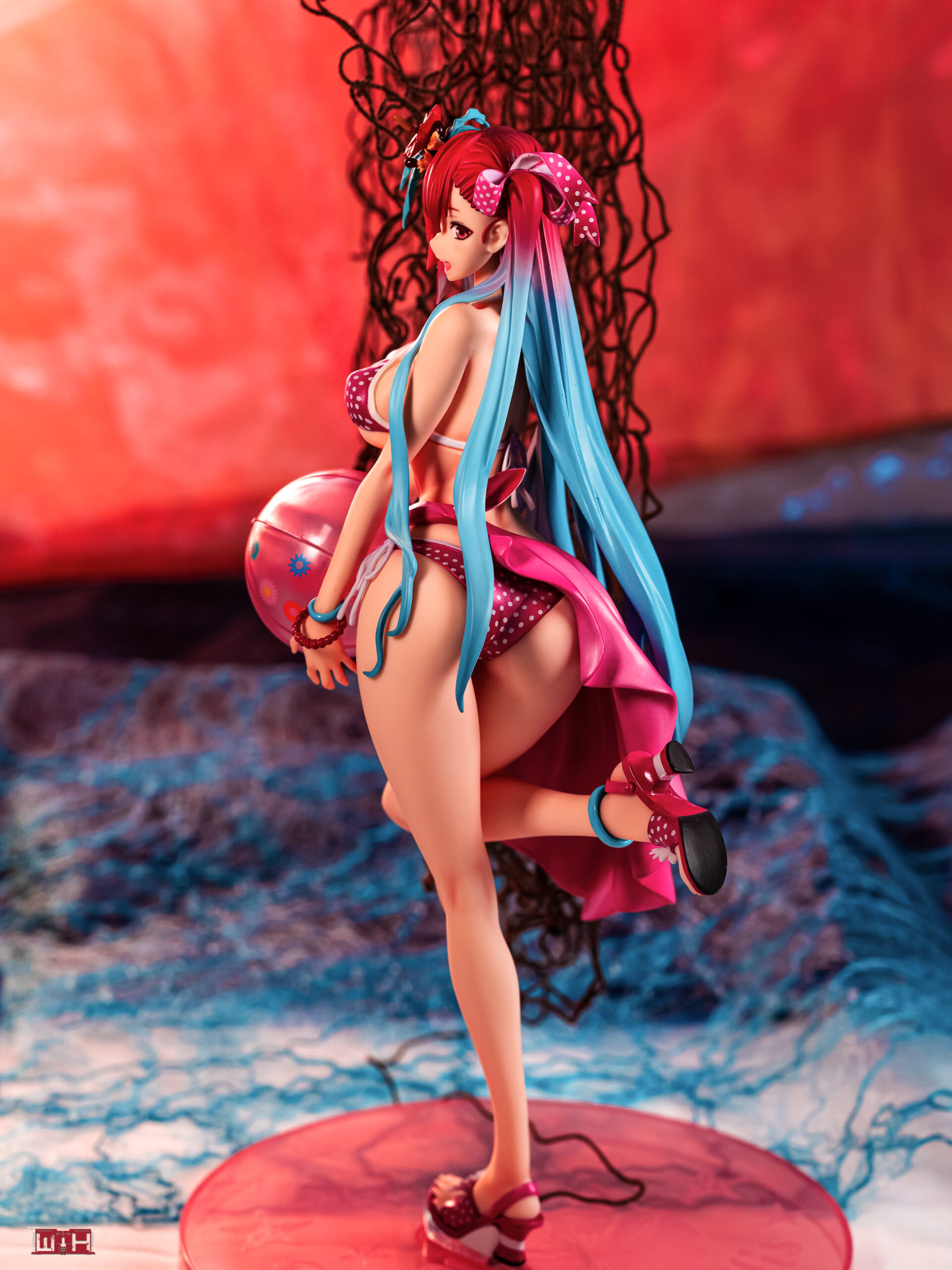 We have a happy beach girl figure of Riela Marcellis, on the good side she is indeed very cute and shows very good body sculpting with a sexy bodyline. The sculpt is cleverly blocking any scandalous angles of Riela with strands of hair and a beachball, like the illustration already indicated. The quite nice figure suffers a little by the generally thick appearance of the clothing, this is holding down the figures potential a bit, since she is not a castoff-able figure there is no need to make these parts extra sturdy.
Finer sculpting of the outfit parts would have elevated the figure a lot more, otherwise this figure is big, pretty and cute that I like to have in my collection.