It's time for a new figure review, I will show you the Shigure – casual version from Good Smile Company today. As you may know Shigure is a character from Kantai Collection an apparently inexhaustible source for figures.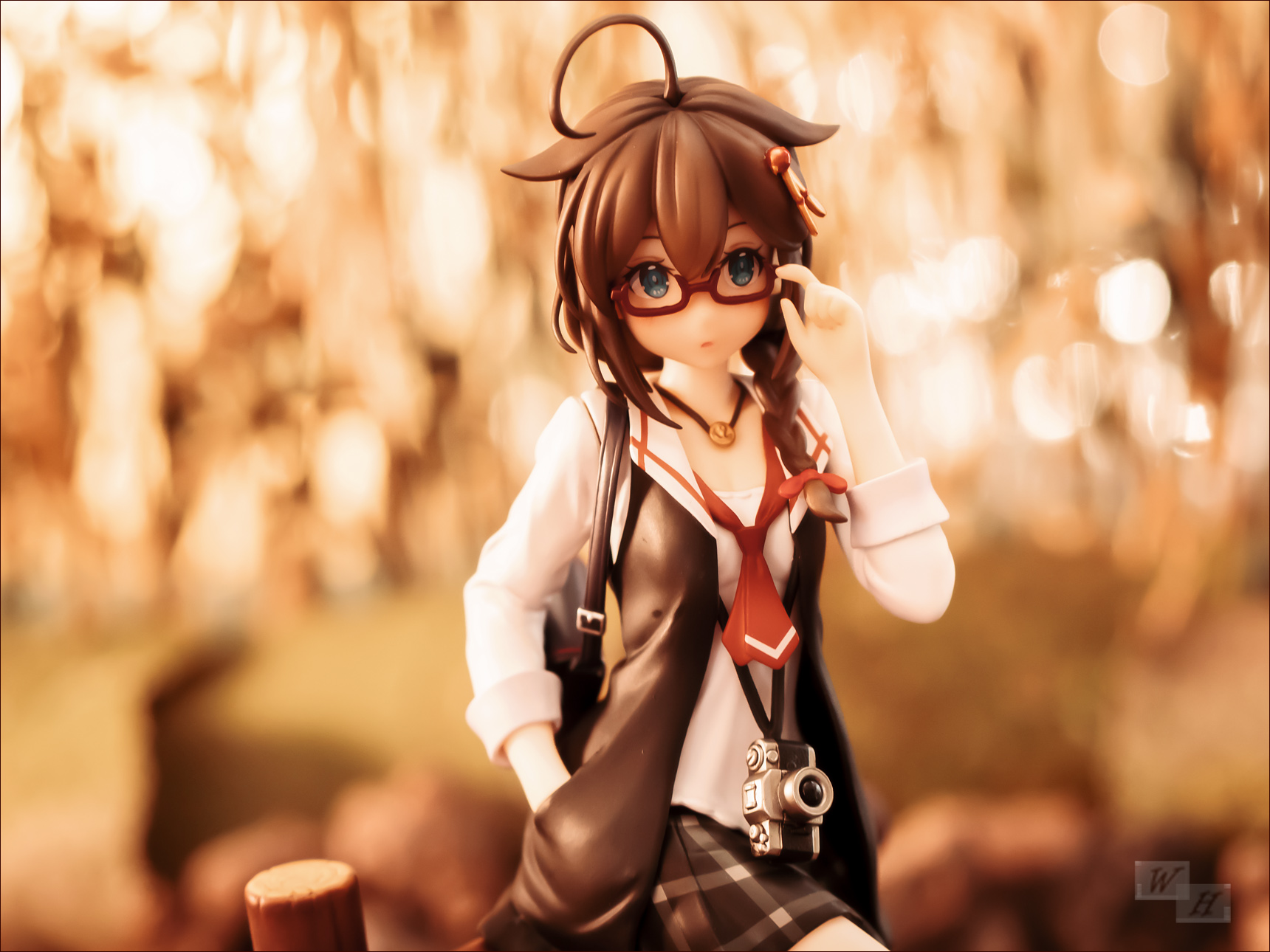 In February 2016, I've reviewed the Shigure Kai Ni version, that focused on the character as warrior. Kancolle figures are generally bristling with guns and equipment for naval warfare, but this Shigure has none of such things.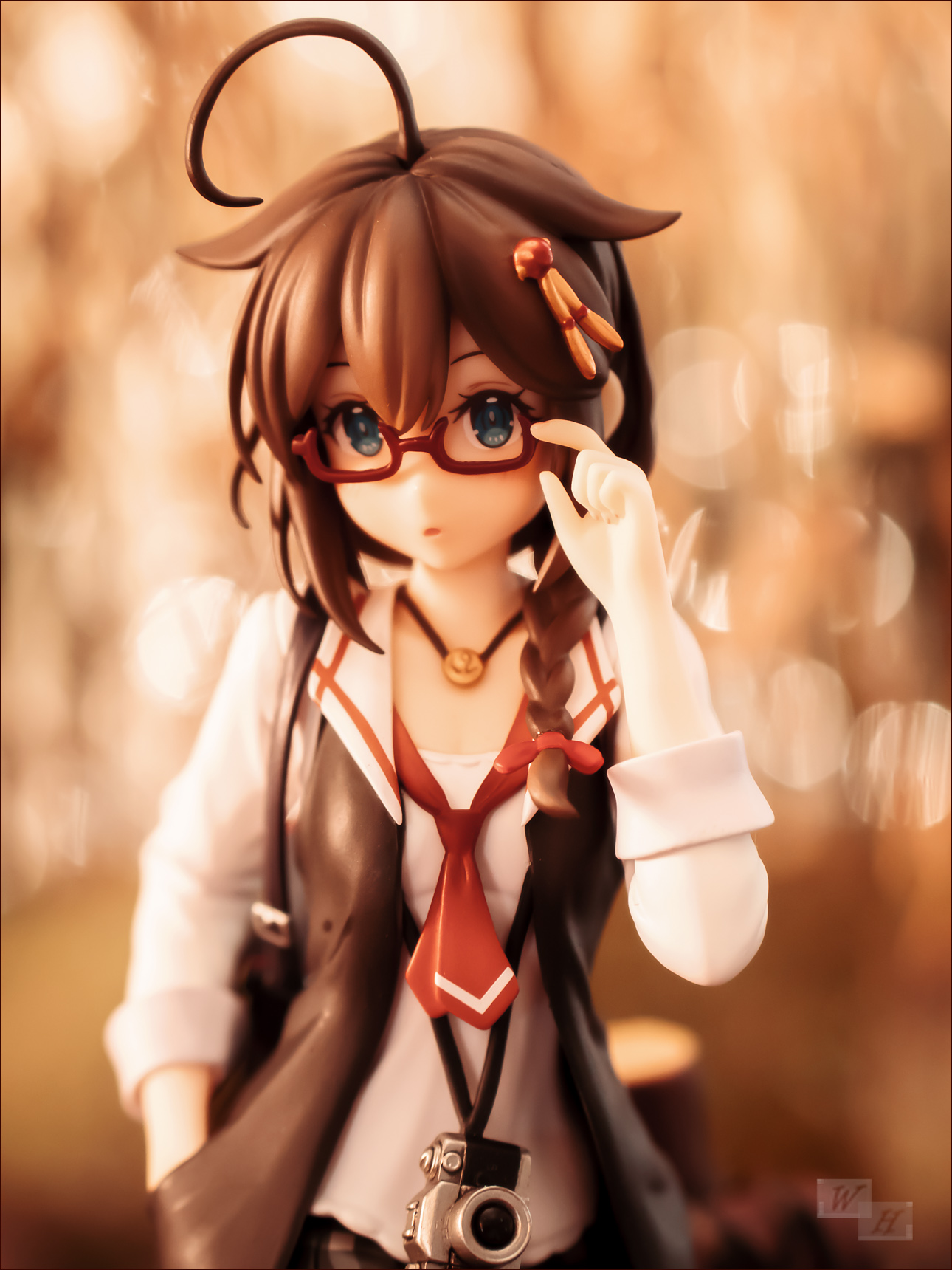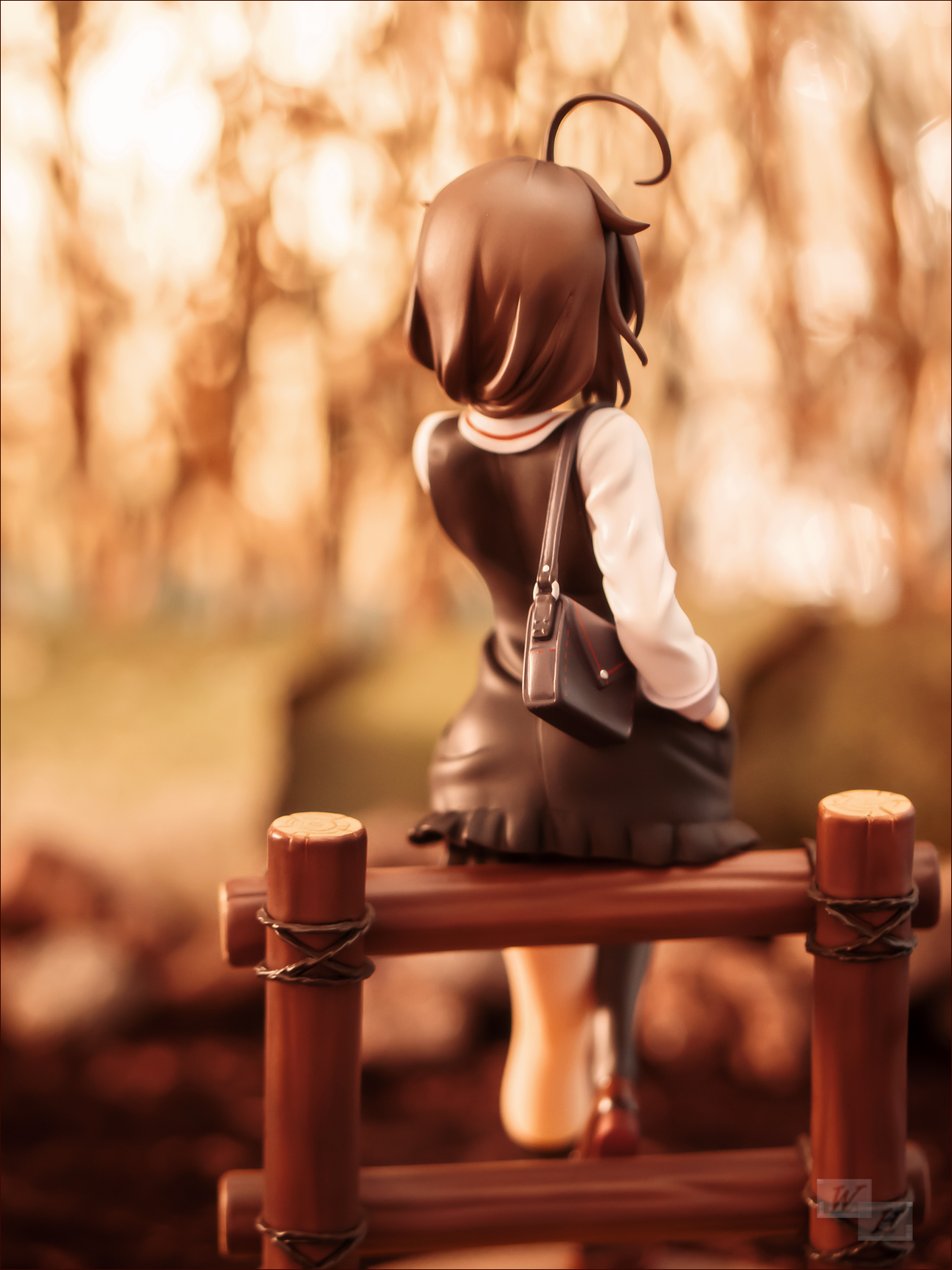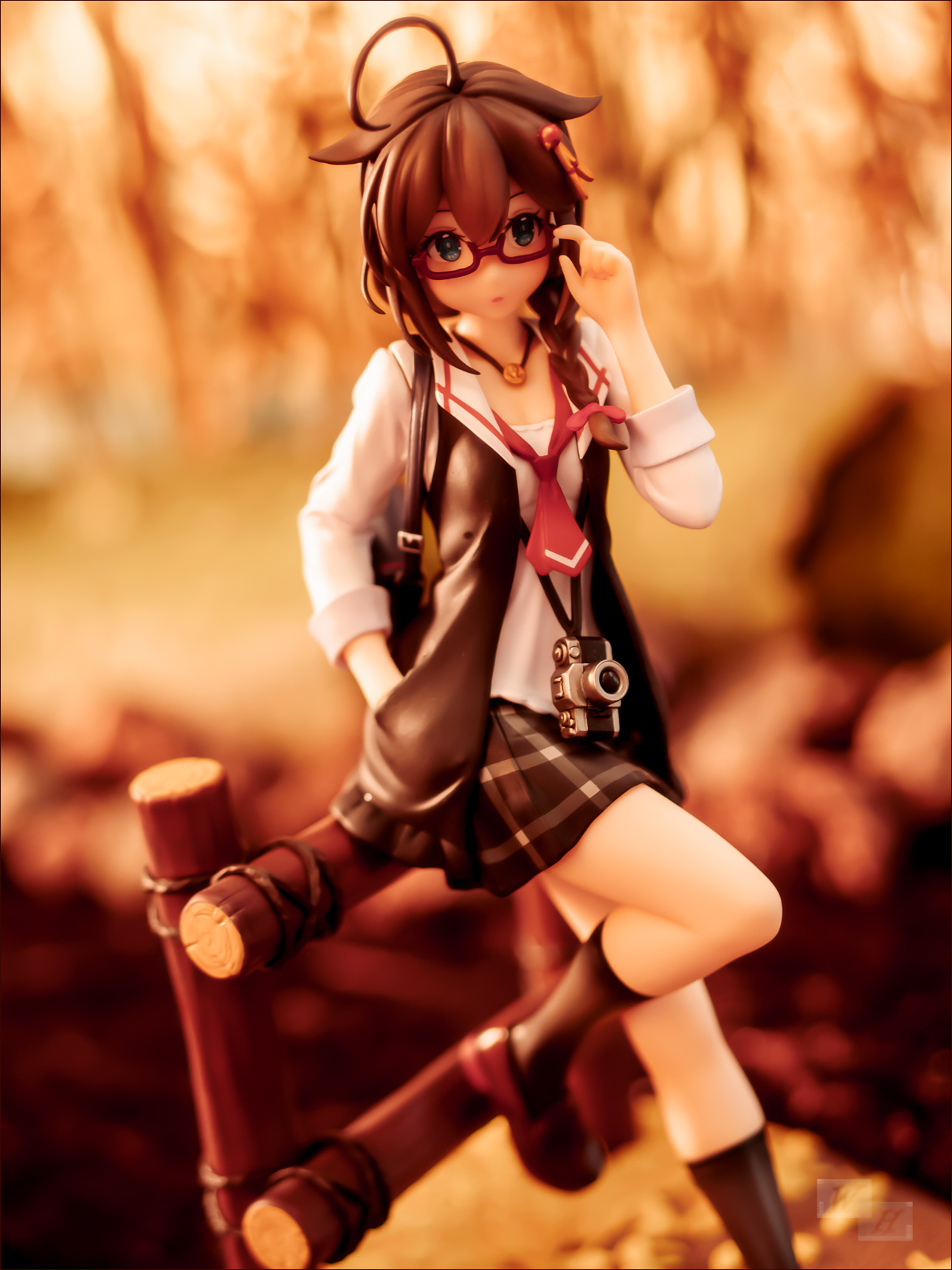 Like the name implies, the Shigure – casual version is portrayed on her day off, she is wearing her winter school uniform with a jacket over it to match the autumn theme. The Shigure – casual version was released in August 2018 and manufactured by GSC. The figure is scaled 1/8 and more or less based on an illustration that was in the Nyantype magazine from November 2016, sculptor Yuukoon had a bit of artistic freedom and turned it into a very nice figure.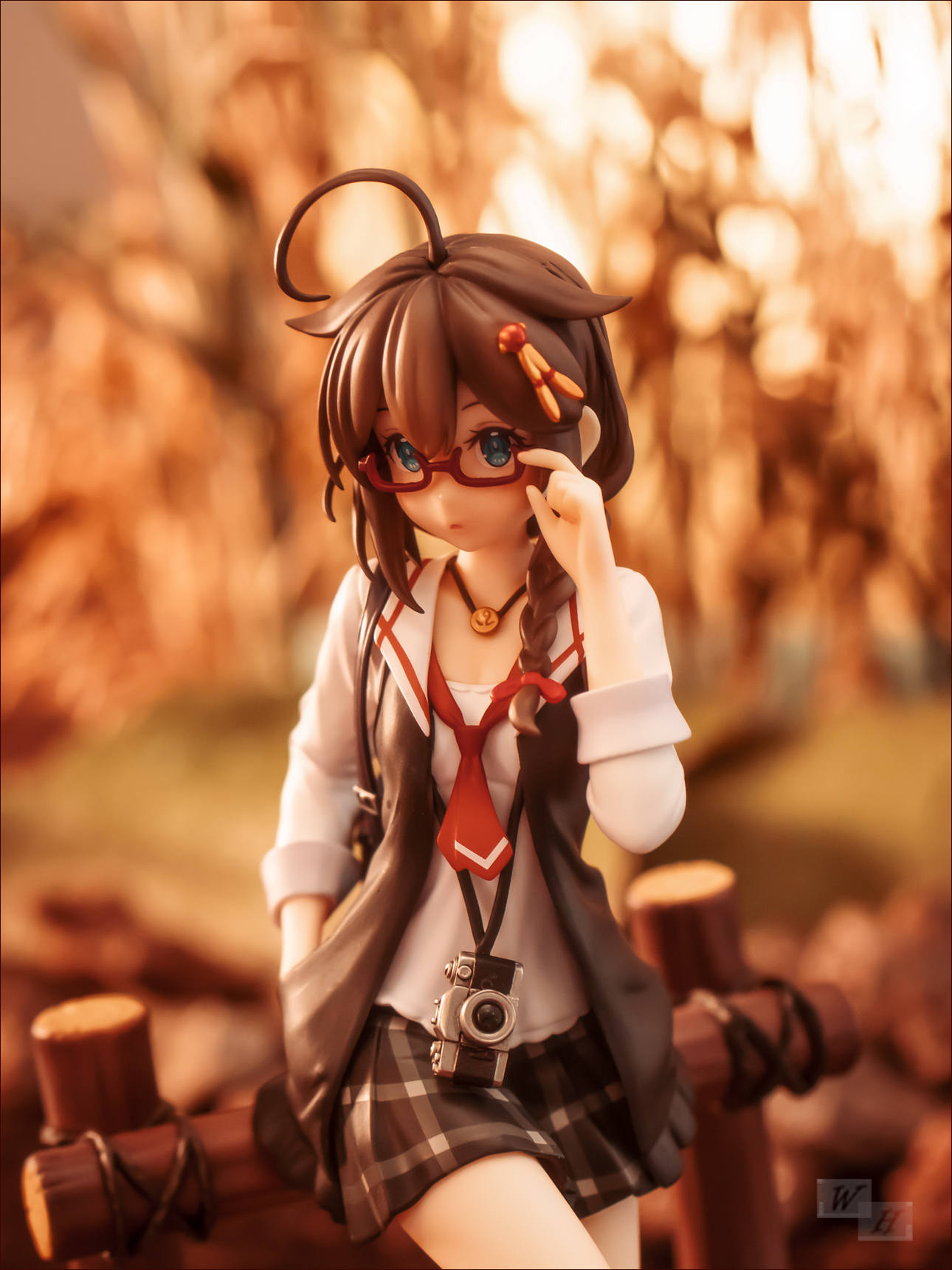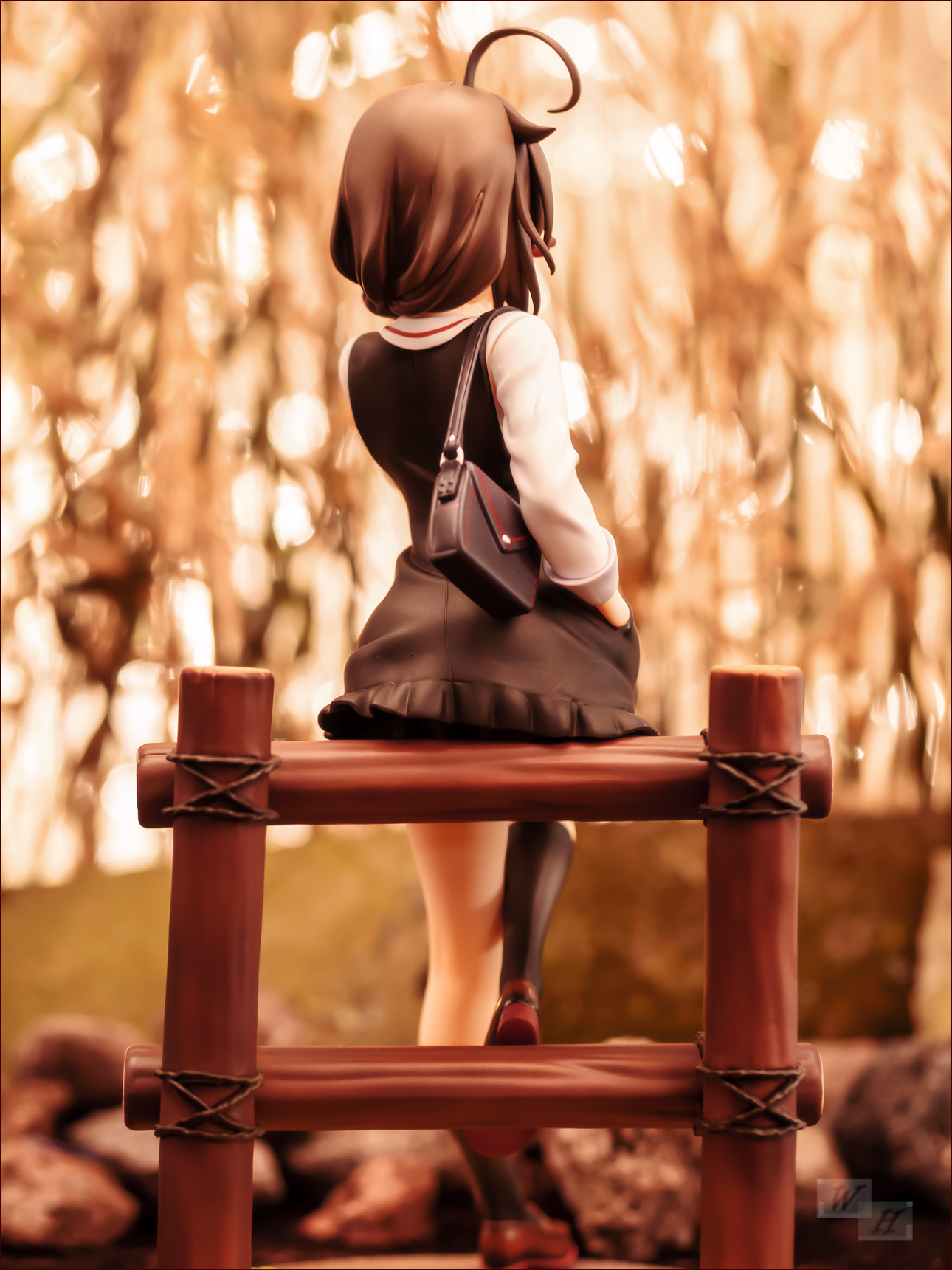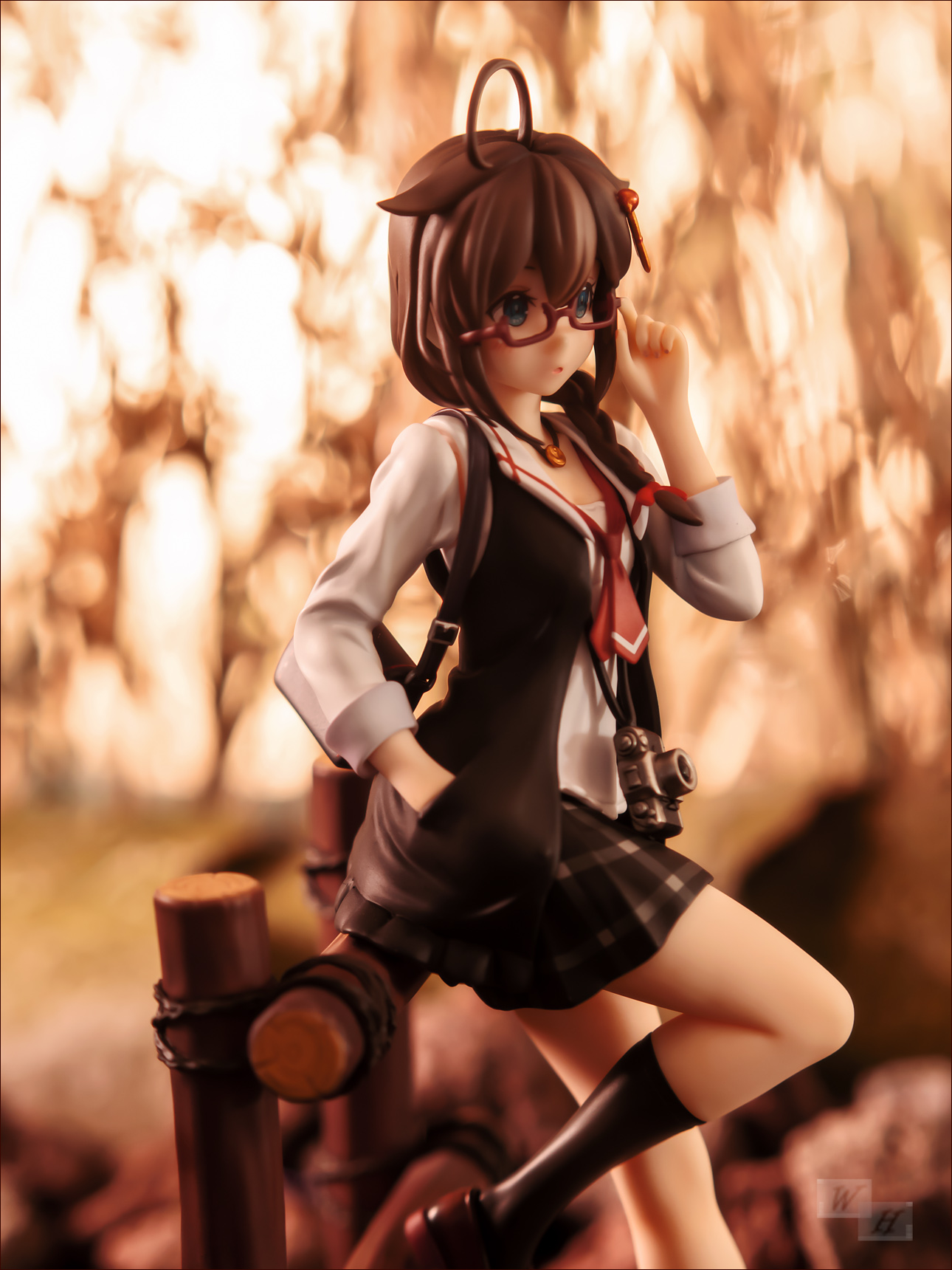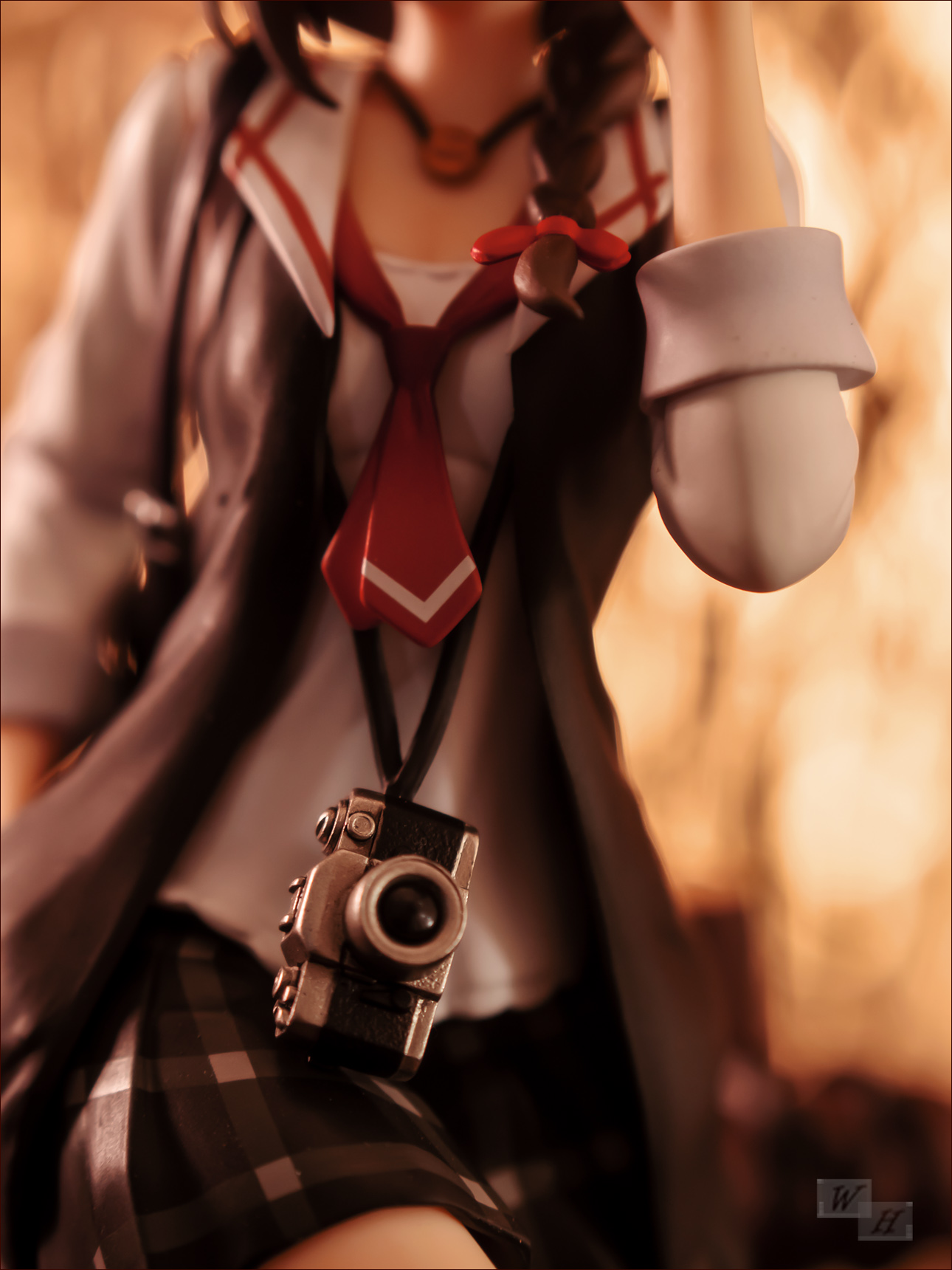 Although the figure measures only 21 cm her portrayal and appearance are very expressive and nearly iconic. Shigure is very photogenic, she looks like right out of an outdoor shooting from a fashion magazine. Shigure is leaning on a fence, one you would see in a nature related park. She and the fence are attached on a round brown base, it has an appealing stone like texture, half of the base is covered by a cluster of as well as separate ginkgo tree leaves.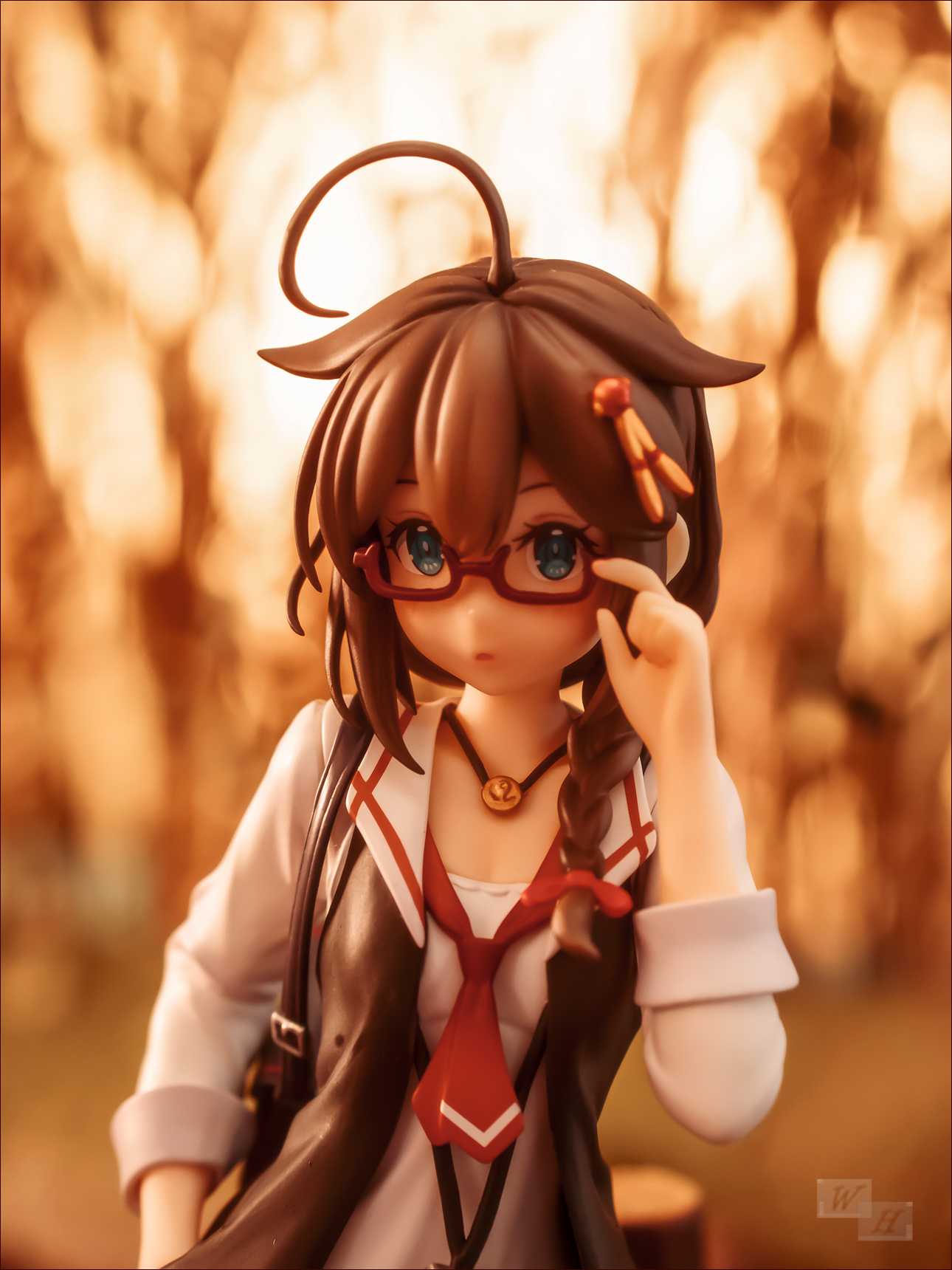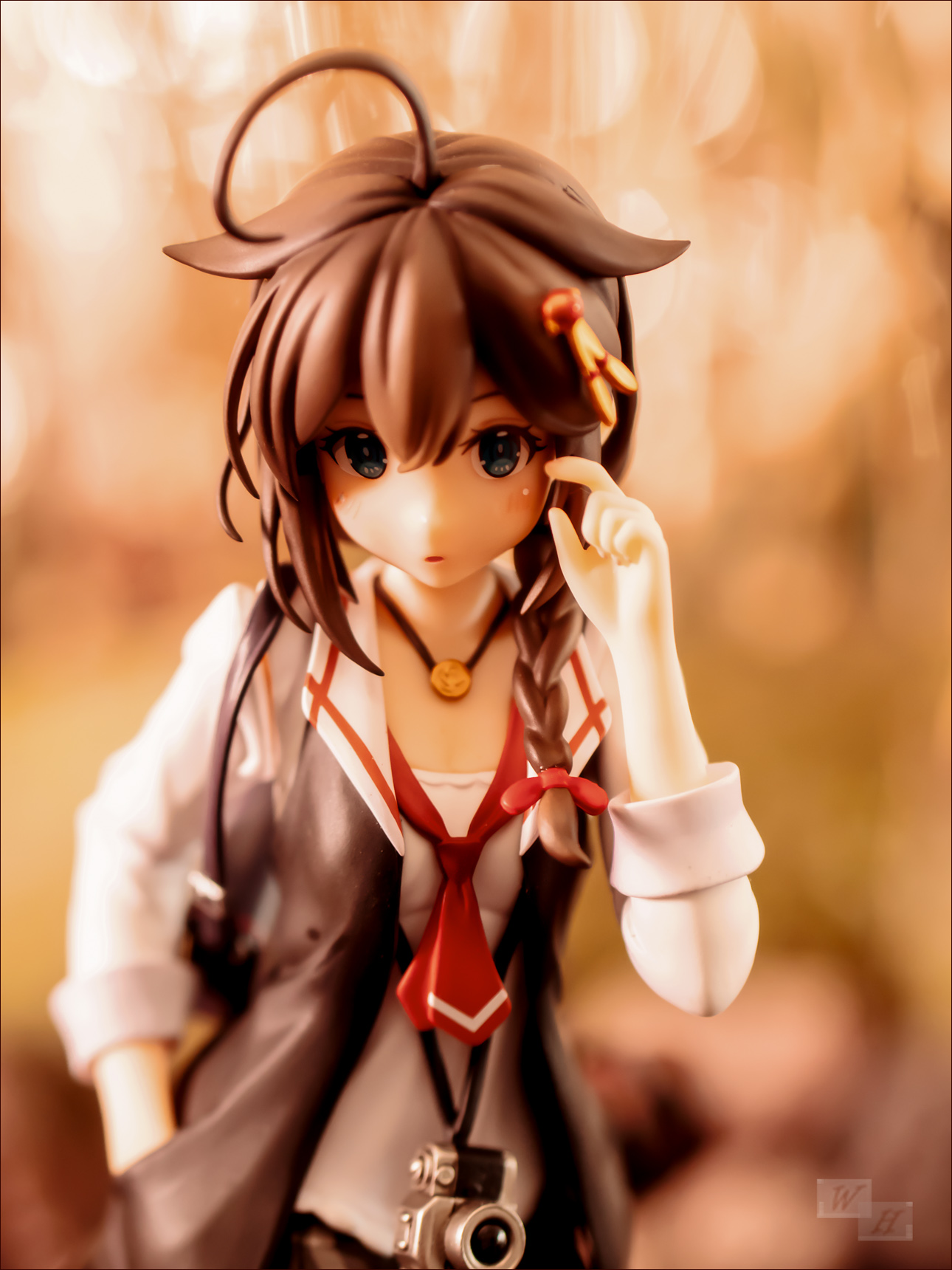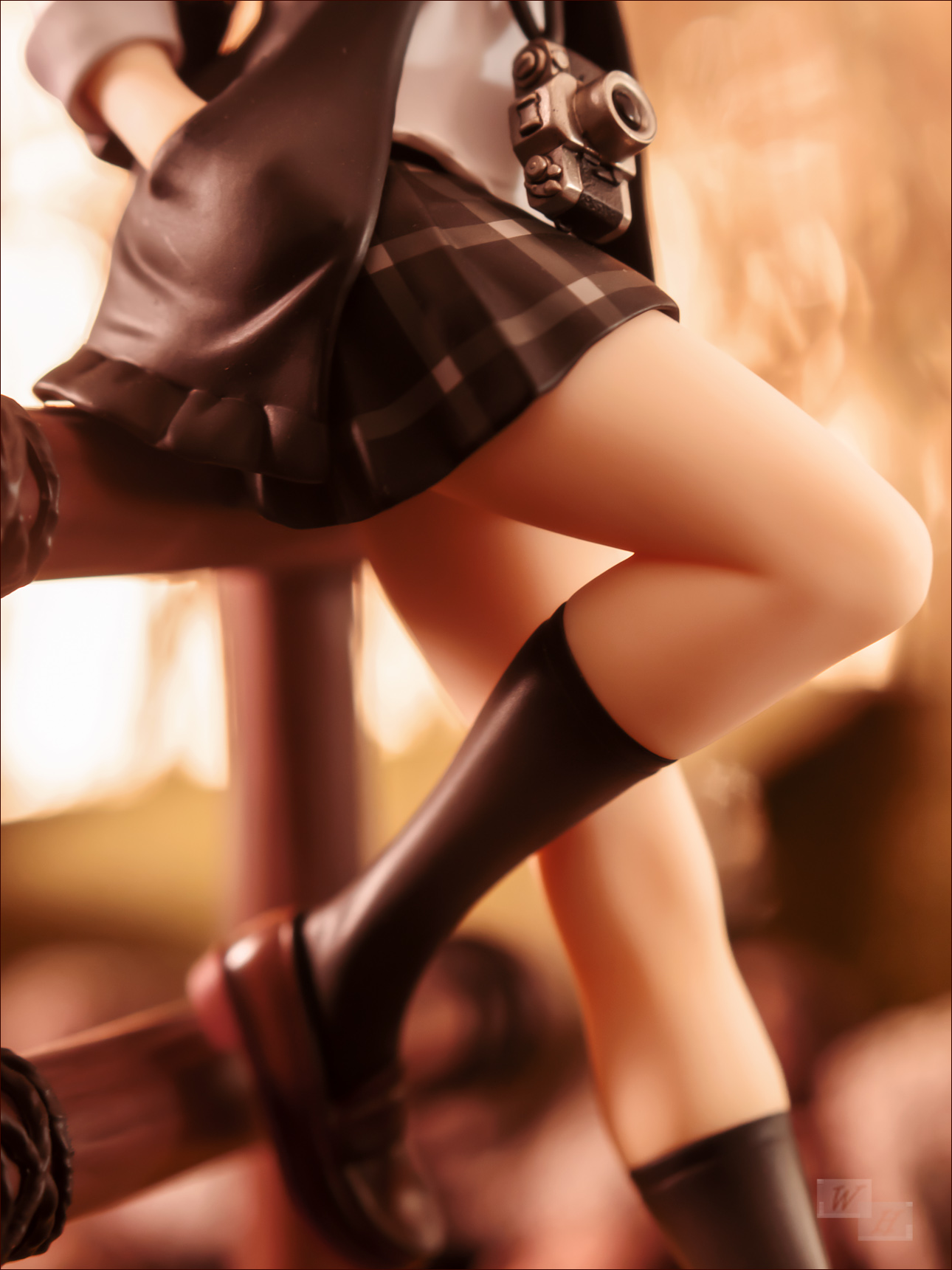 Shigure's hair looks beautiful, it accurately follows her official character design with huge ahoge and the "dog ears", it shows sharp contours and has a fluffy look at the same time. On the left side of her head is a nice hair ornament.
At 1/8 scale she apparently has a small head, but the figure has a very detailed face nevertheless. Shigure has beautiful blue eyes, the optional red framed glasses give Shigure a mature and also smart appearance, without them her face looks a bit "naked". Her cheeks show some subtle blush and the slightly open mouth is cute.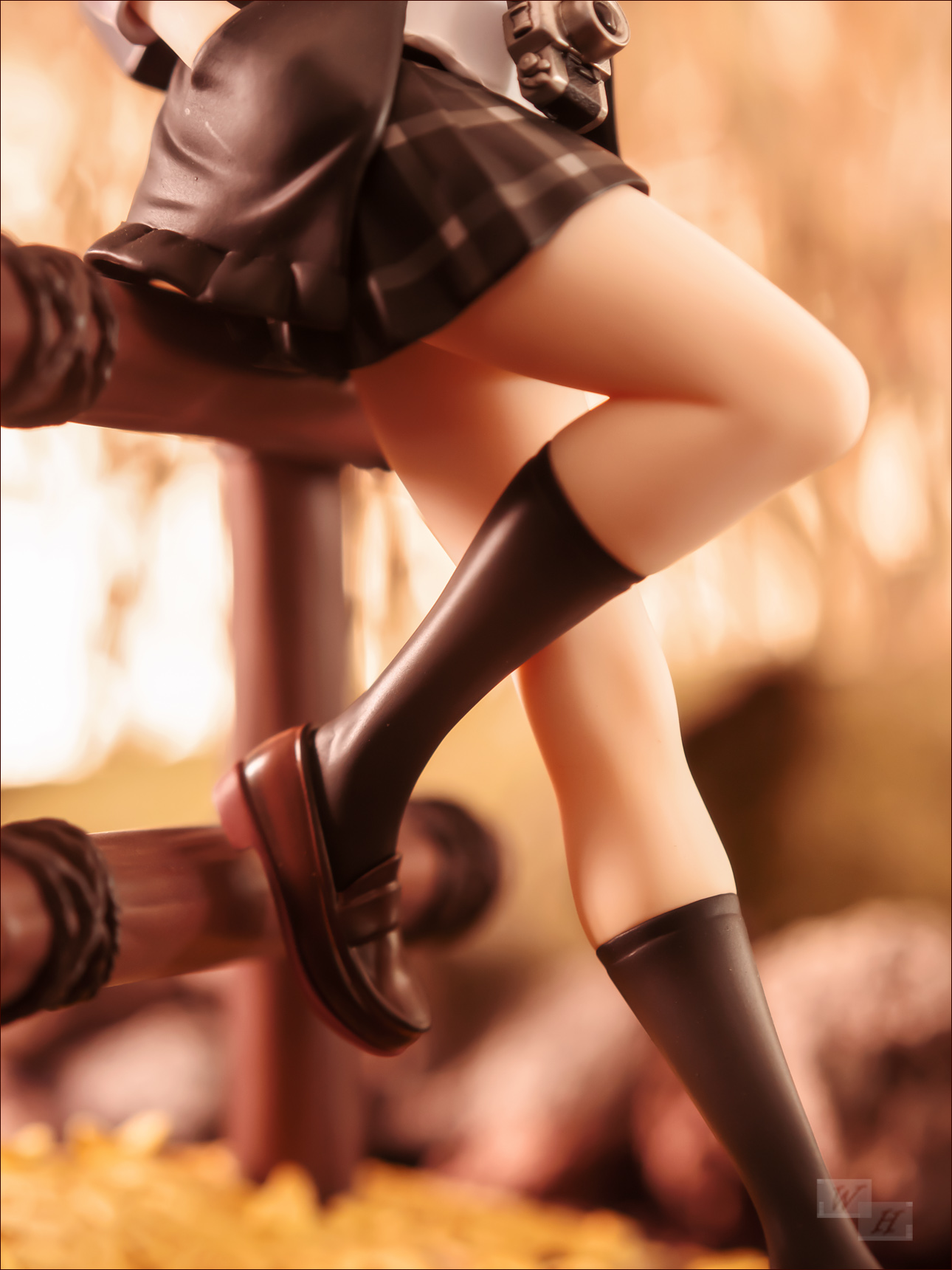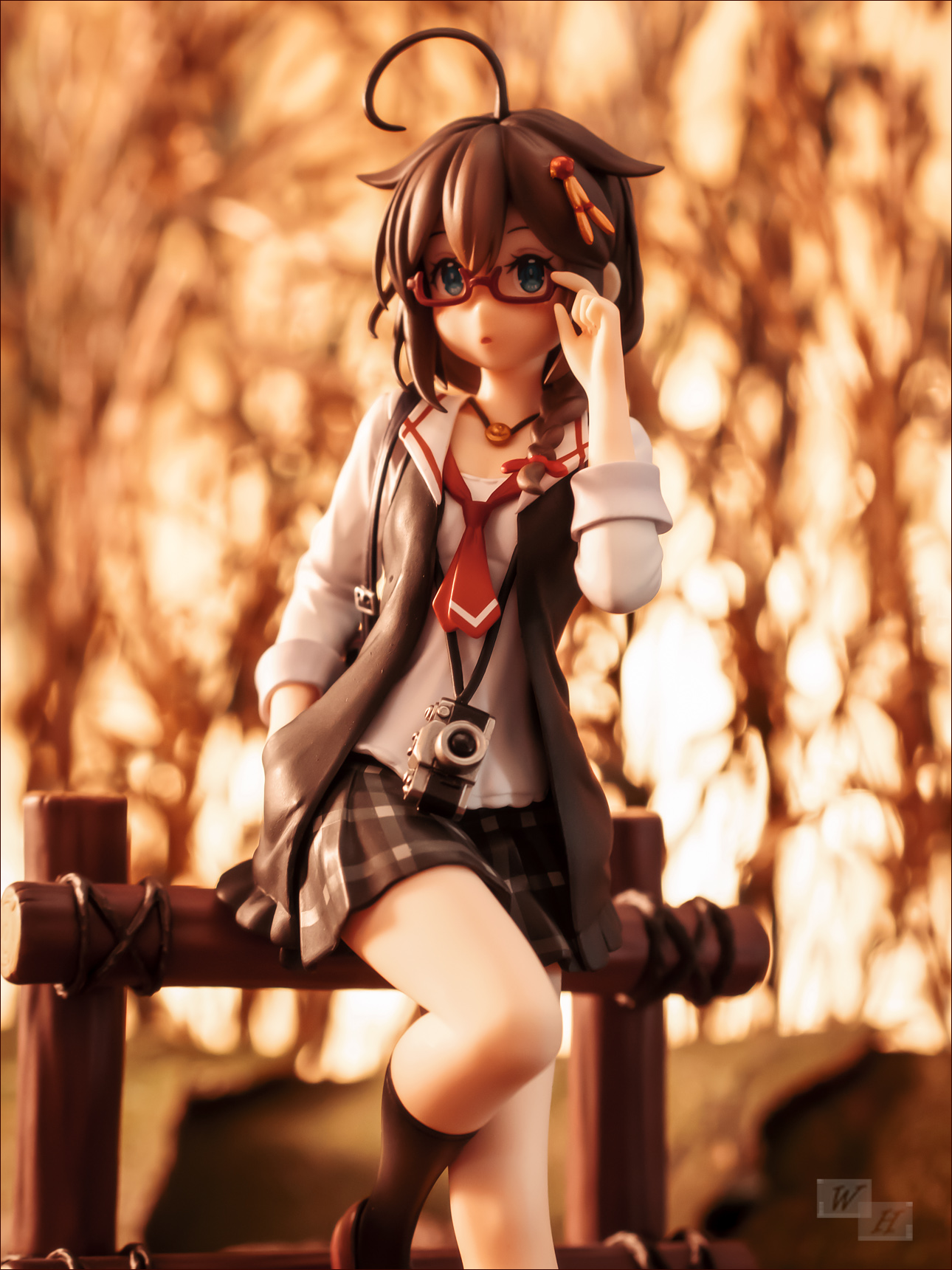 The clothes of this Shigure are what you would consider casual, still many elements of a school uniform are present, although a casual look has been created. The jacket is quite nice, it looks cool how Shigure has one hand in the side pocket. Her red loosened up necktie is nice to look at. The very pretty square patterned skirt might be piece that isn't looking like part of a school uniform. Overall the clothes look great and are nicely sculpted I like how the clothes follow the bodylines tightly and how the slender but attractive body is accentuated.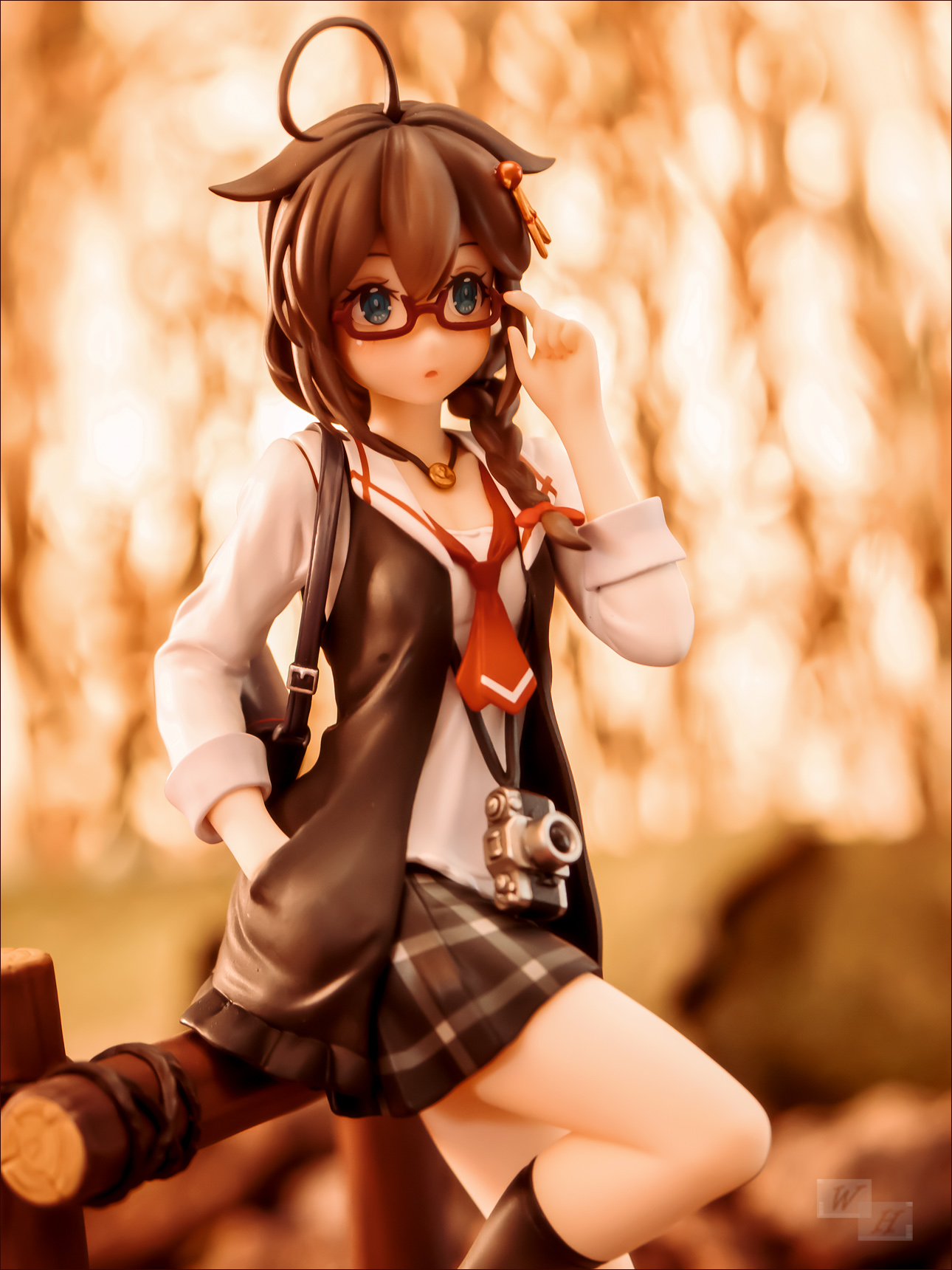 The figure is designed in a way that you could display her without skirt, wearing her black panties, but I thought it would be rather weird to only wear panties in the park. Her legwear consists of black kneesocks and brown loafers.
With the added items like bag and a retro camera around her neck, she could pass as a student of photography.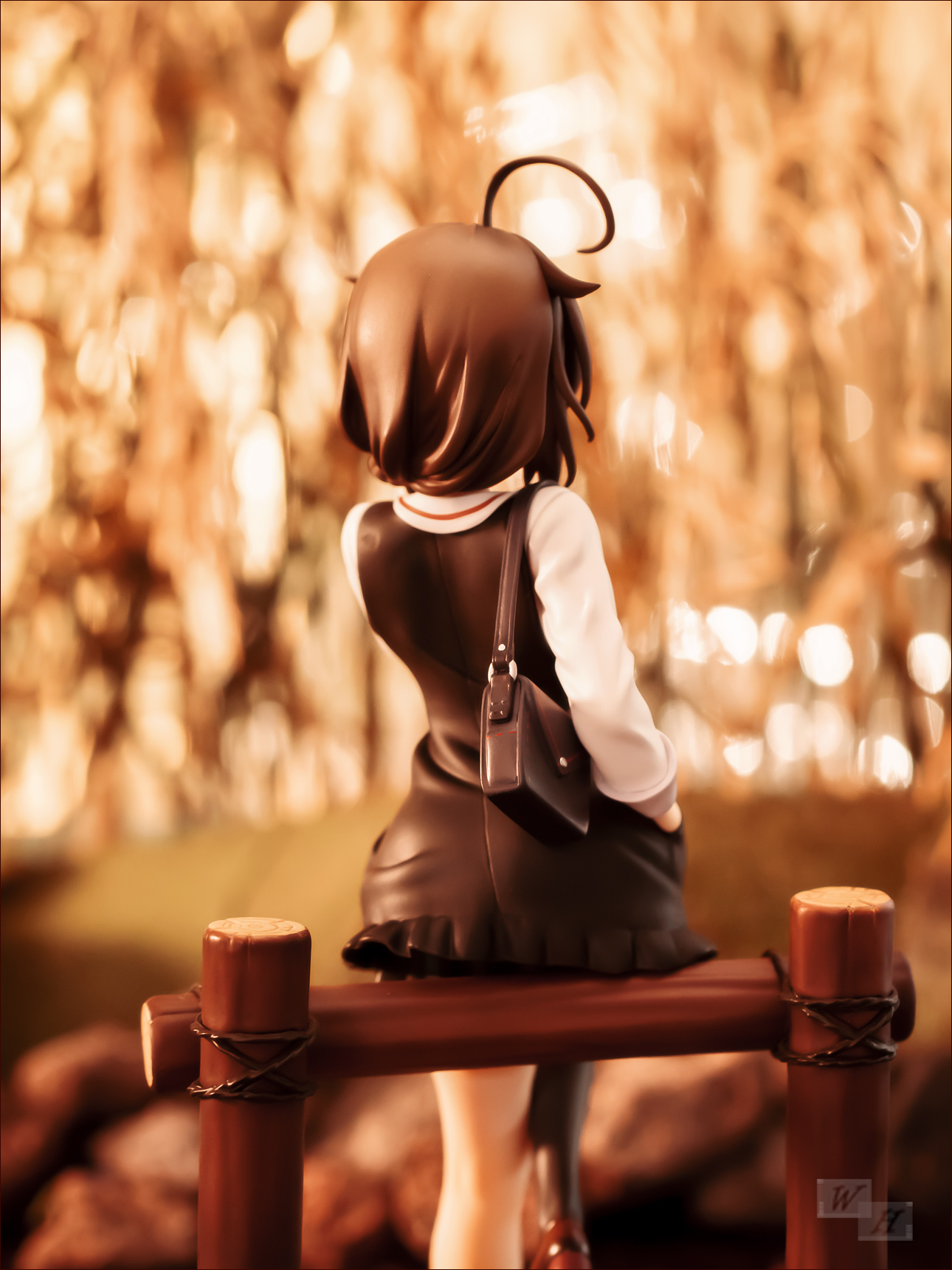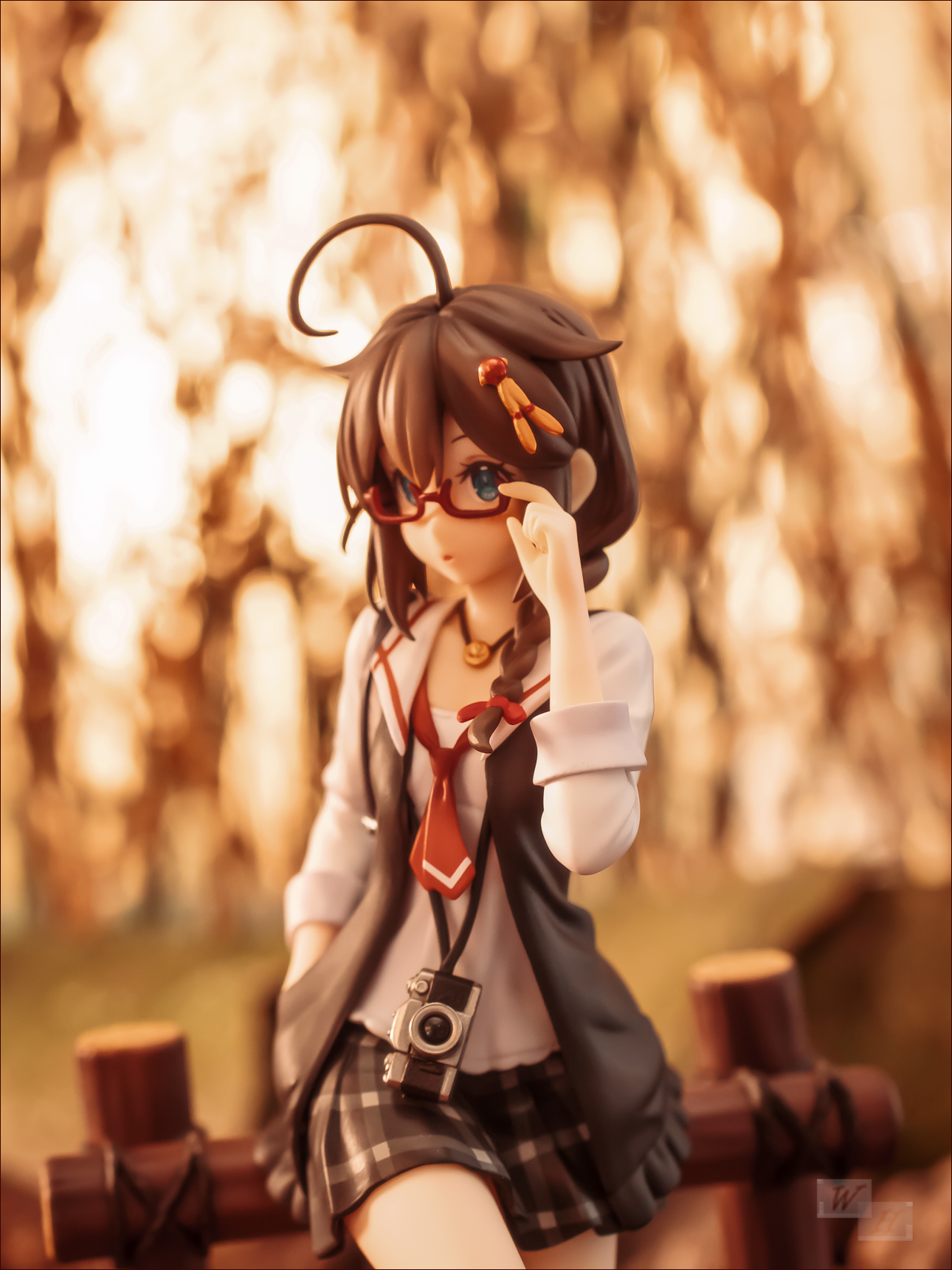 Because of her size Shigure might appear like a simple figure, but she isn't. The pose were Shigure is leaning on the fence in an expressive way shows great articulation. I really like how her left hand touches the glasses frame with her hand, that said fingers and frame doesn't align that well, there is 1-2 mm distance, maybe I was too dumb to get it in the correct position.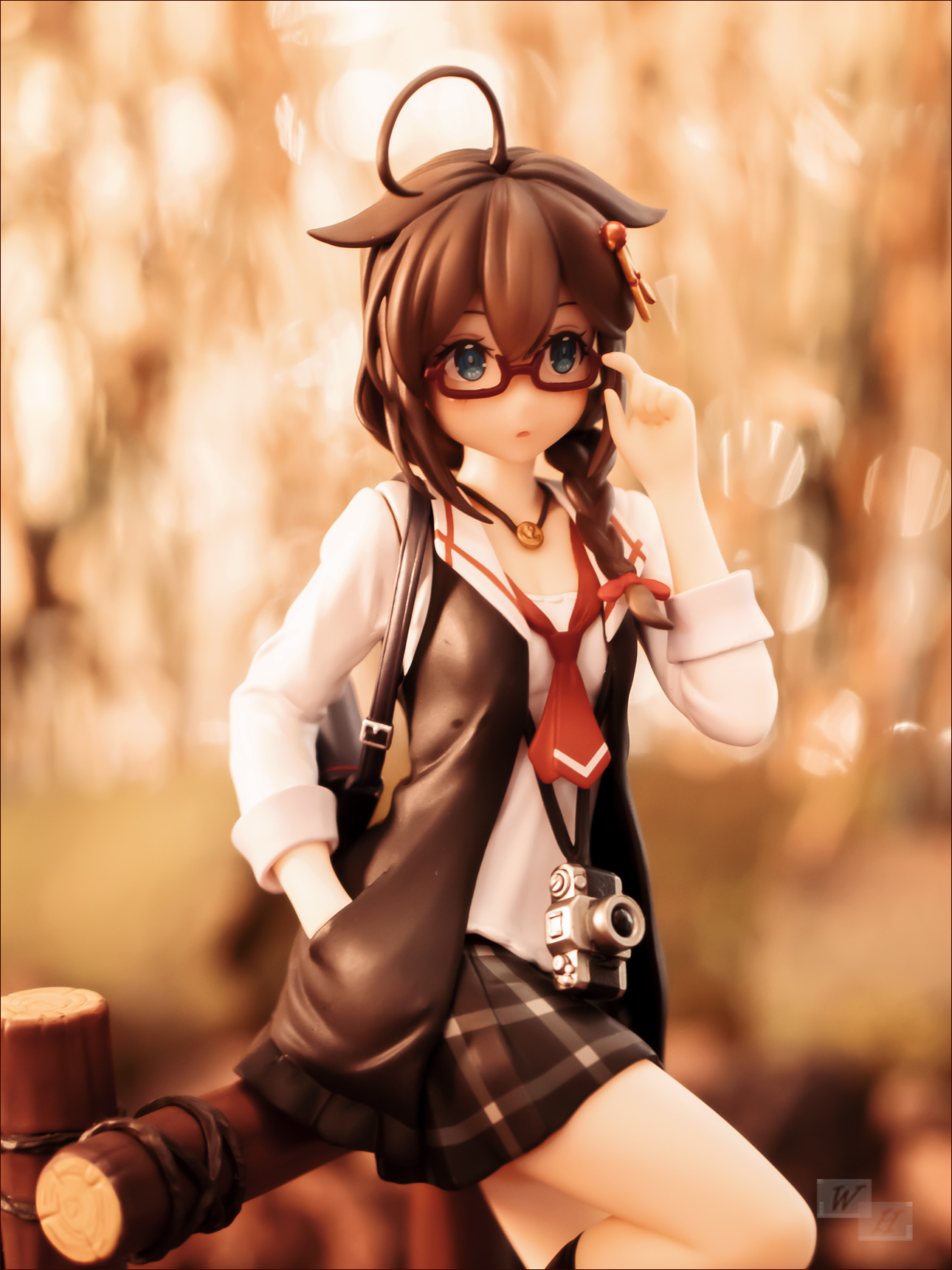 Final Words
This was my th review of a Kantai Collection figure, I really like my Shigure – casual version figure, that shows a different approach on the origin she is based on. It's very nice to see one of the Kantai Collection characters in a different context than with weapons and machine parts, after all the character designs from the game are enchanting.
The appearance of this figure is rather mature. In this adaption Shigure is not brimming with a smile, of course her character is actually not the upbeat type. Here she wears a serious and yes, a somewhat blank expression. I think it fits the overall style of the figure. The figure has a cool pose a pretty looking outfit and an appealing base.
Good Smile Company planned a few more figures of Kantai Collection characters with a casual look, tagged as "Shopping Mode". These figures are based on Kaga, Haruna and Kashima.
Are you interested in some more casually dressed Kantai Collection characters?
Check out my other Kantai Collection figure reviews
Kashima – Amakuni/
Takao – light armament ver. – Max Factory
Yuudachi Kai Ni – Good Smile Company
Shigure Kai Ni – Good Smile Company
I – 168 – chuuha version – Max Factory
Kongo – chuuha version – Max Factory
Yamato – mizugi mode – Banpresto