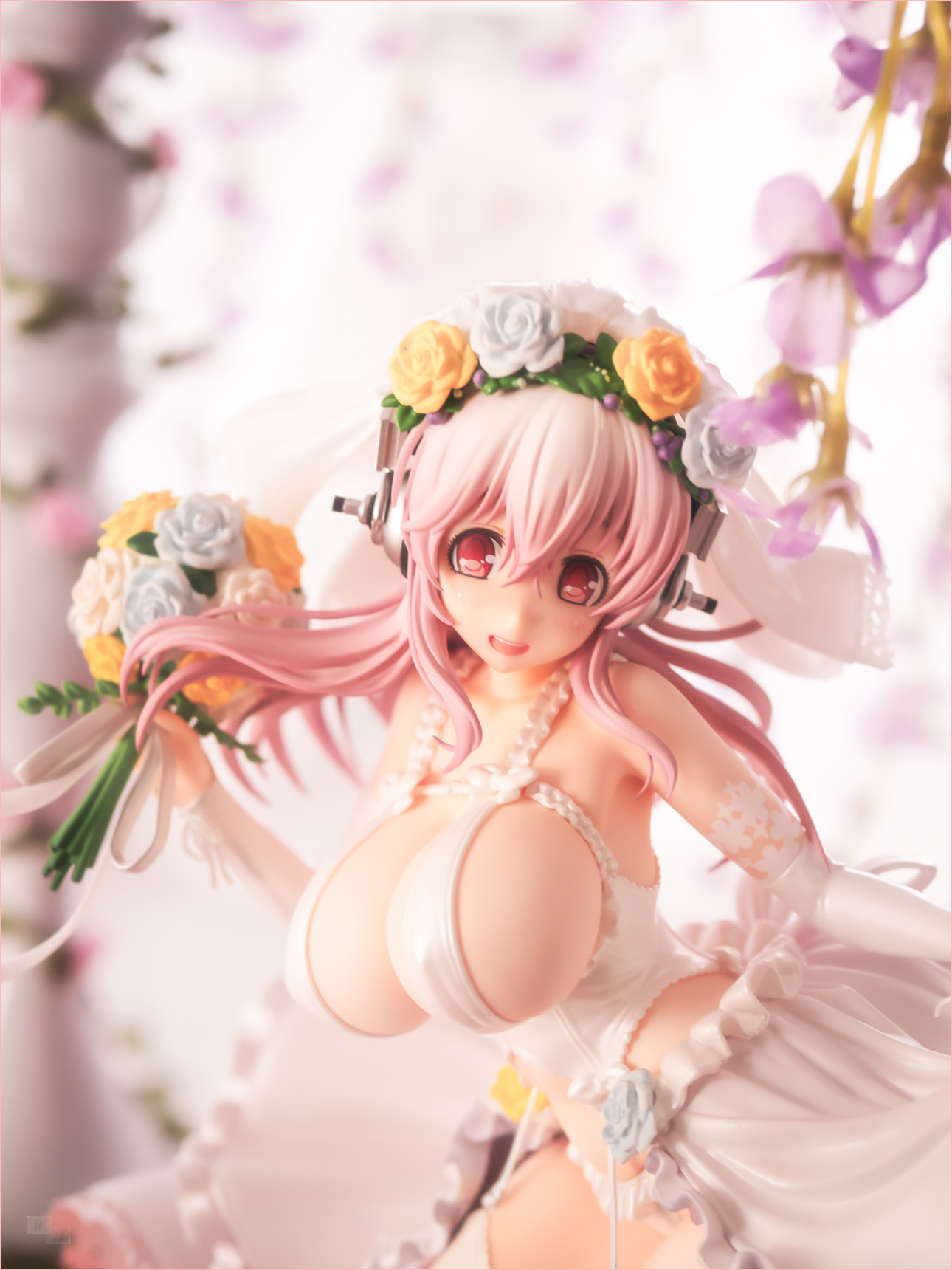 Sonico has been a favorite of mine, since I started with this blog. My first figure of her was the Sonico – Bondage version from Orchid Seed in 2011 and within the past 7 years I bought around a dozen more. Of course I parted with a few, but I always stayed a fan. Today I will show you my latest Sonico figure dress in a bridal outfit.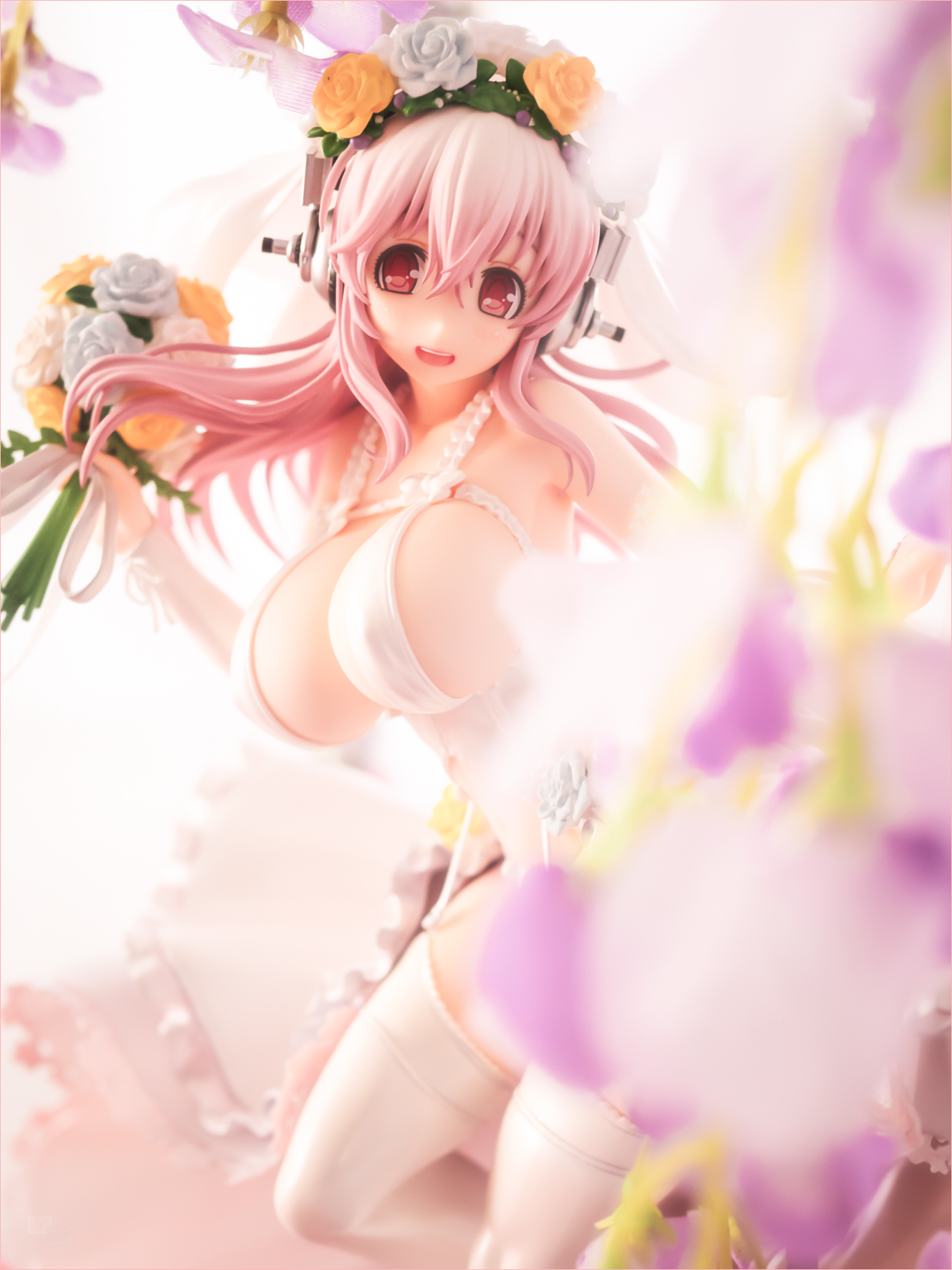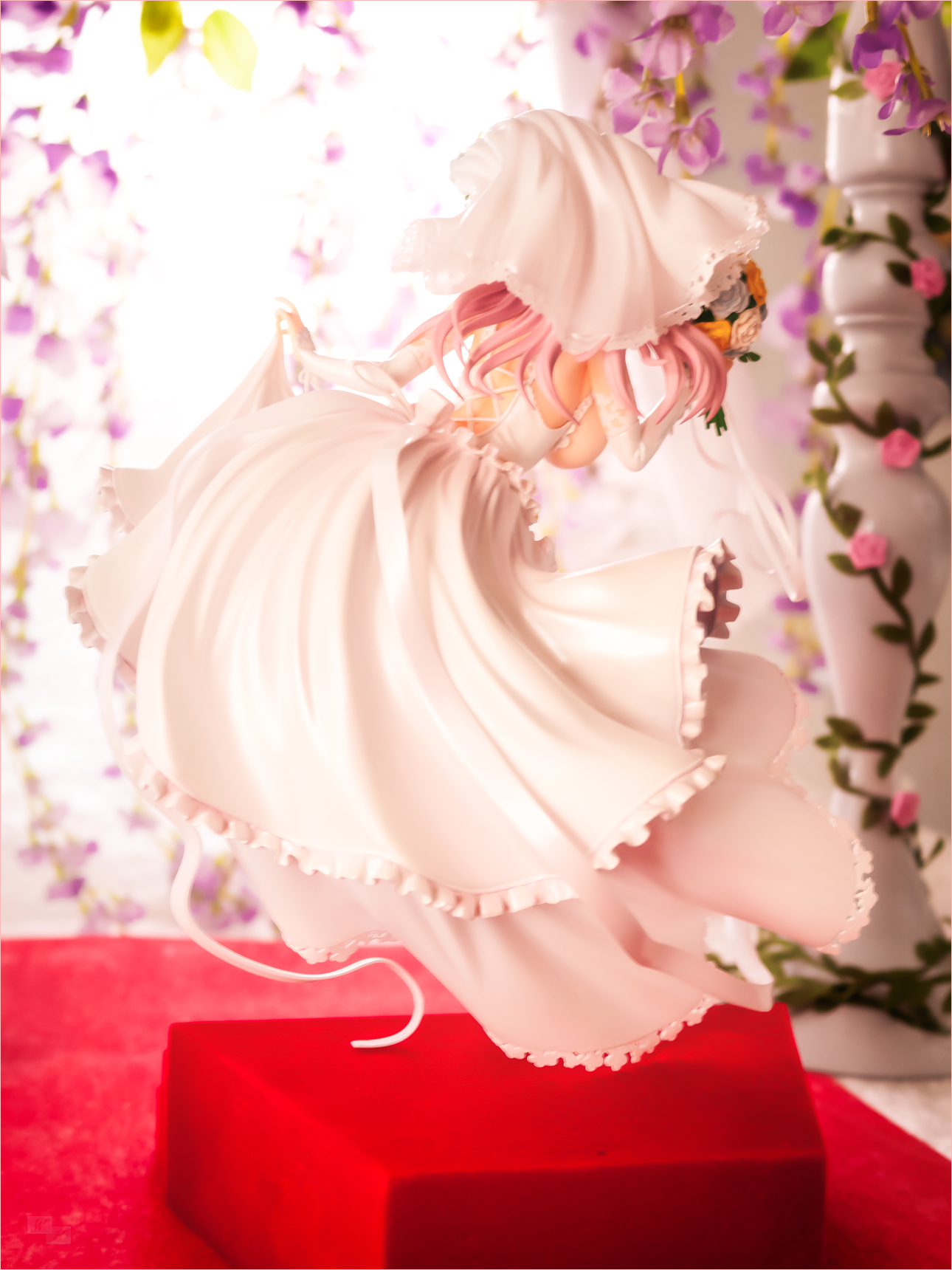 Recently the perfect figure for Sonico fans around the globe has been released, the Sonico – 10th Anniversary Wedding version from Good Smile Company. She was available in three version, a standard version, you'll see in this review, as Marriage Box -SILVER- with two silver rings or as Marriage Box -GOLD- with two gold rings.
And here she is as cheerful bride, balancing on one foot. It was a fight to get her on the base, you would not believe it.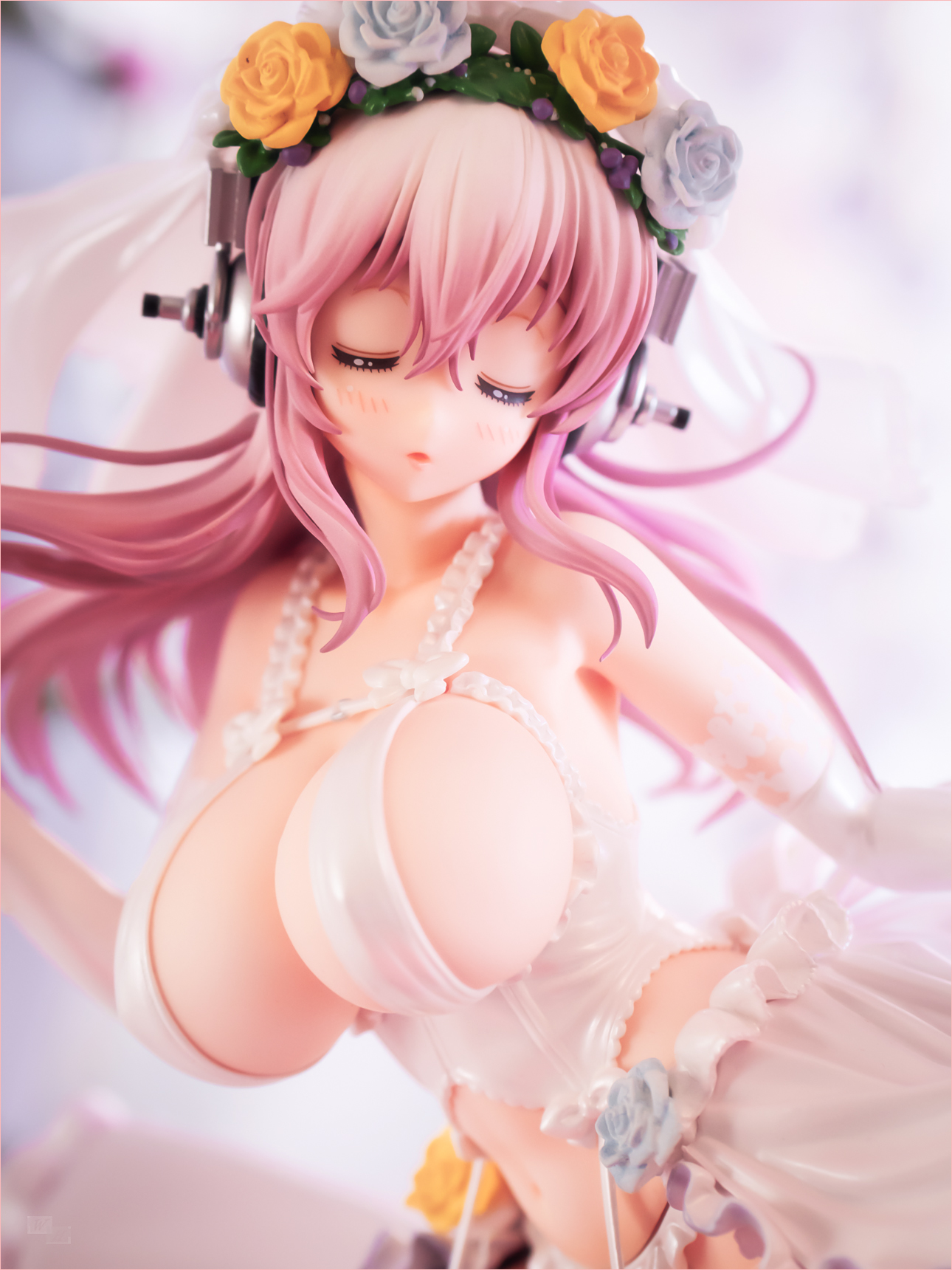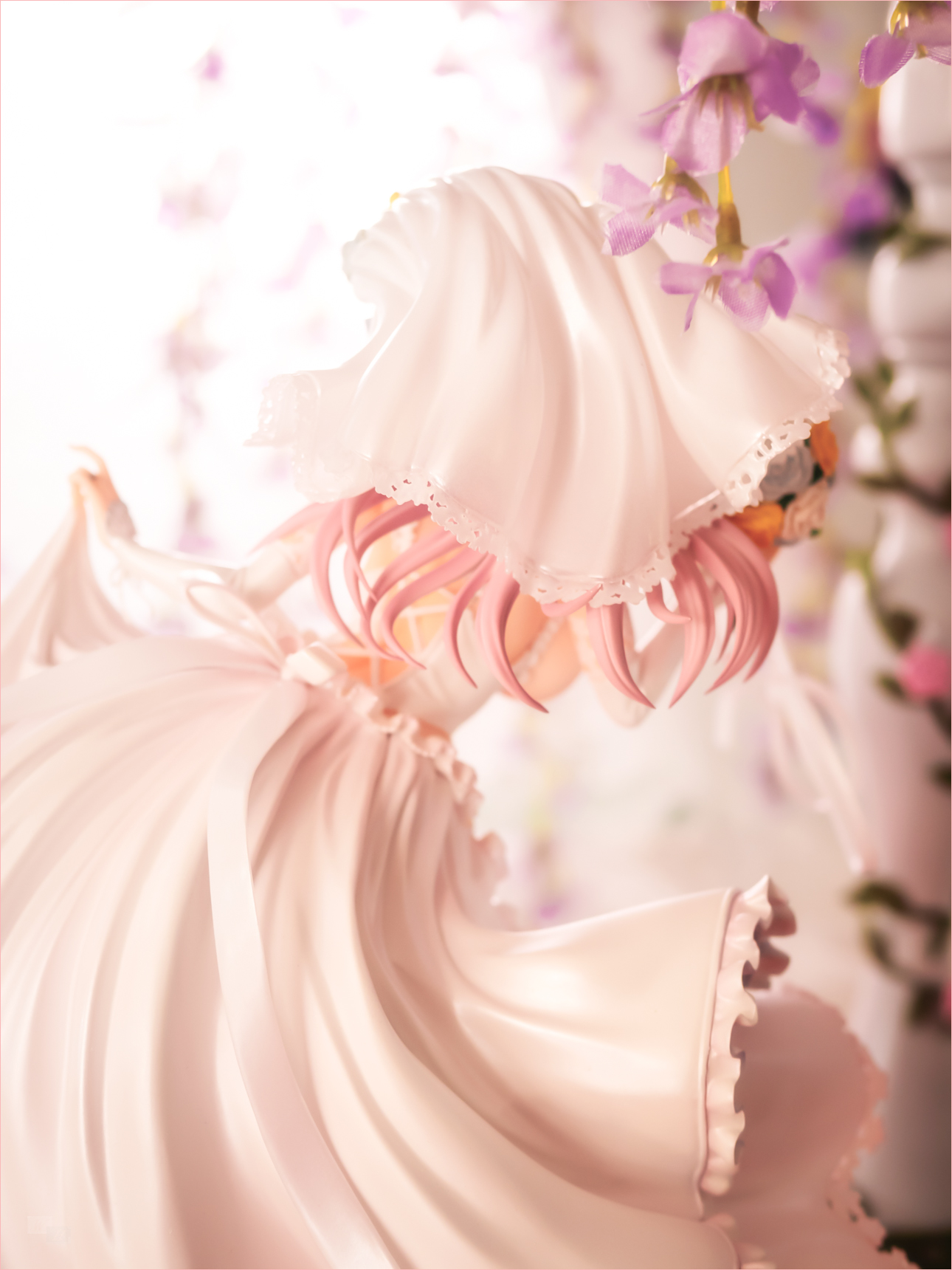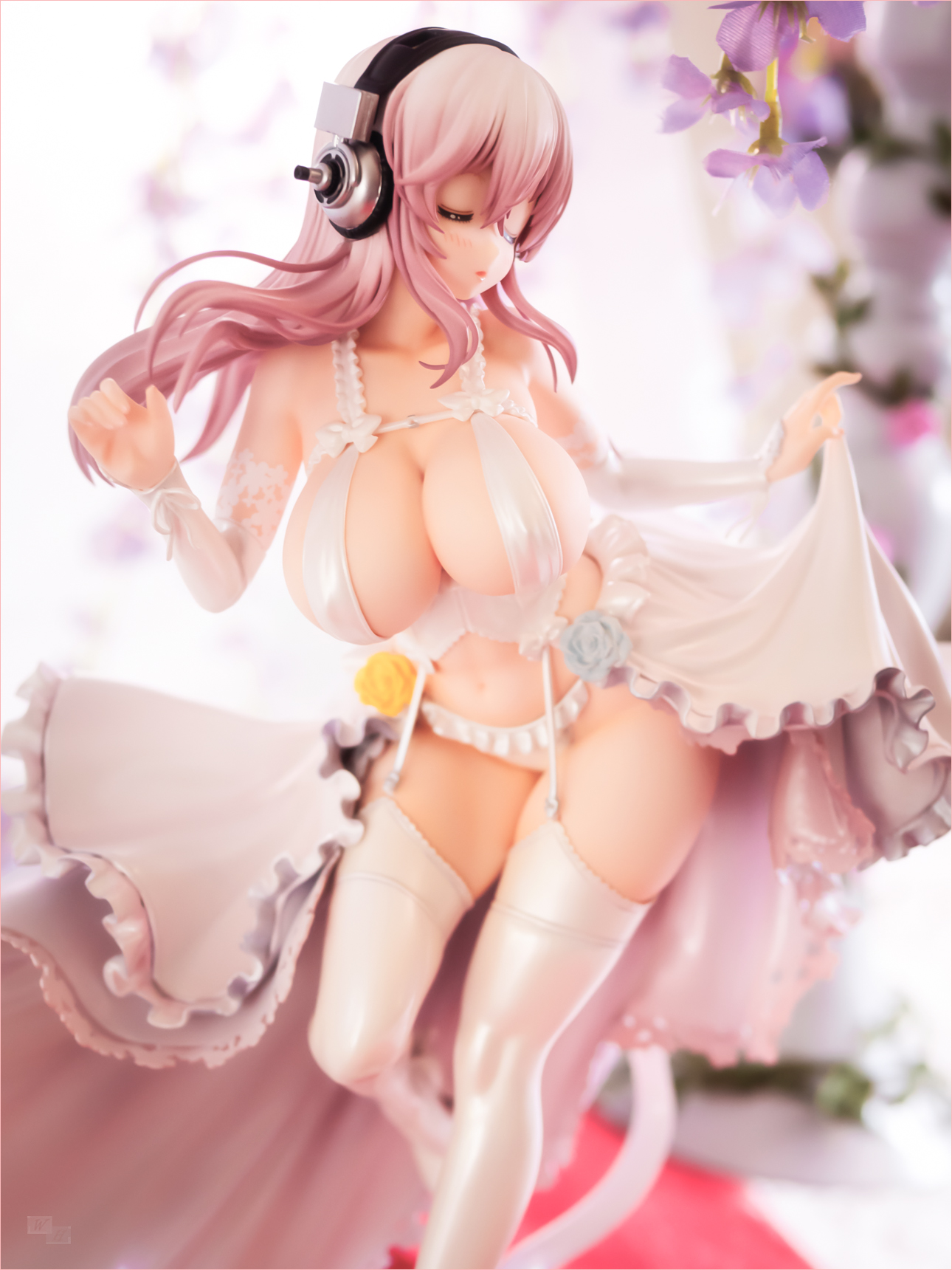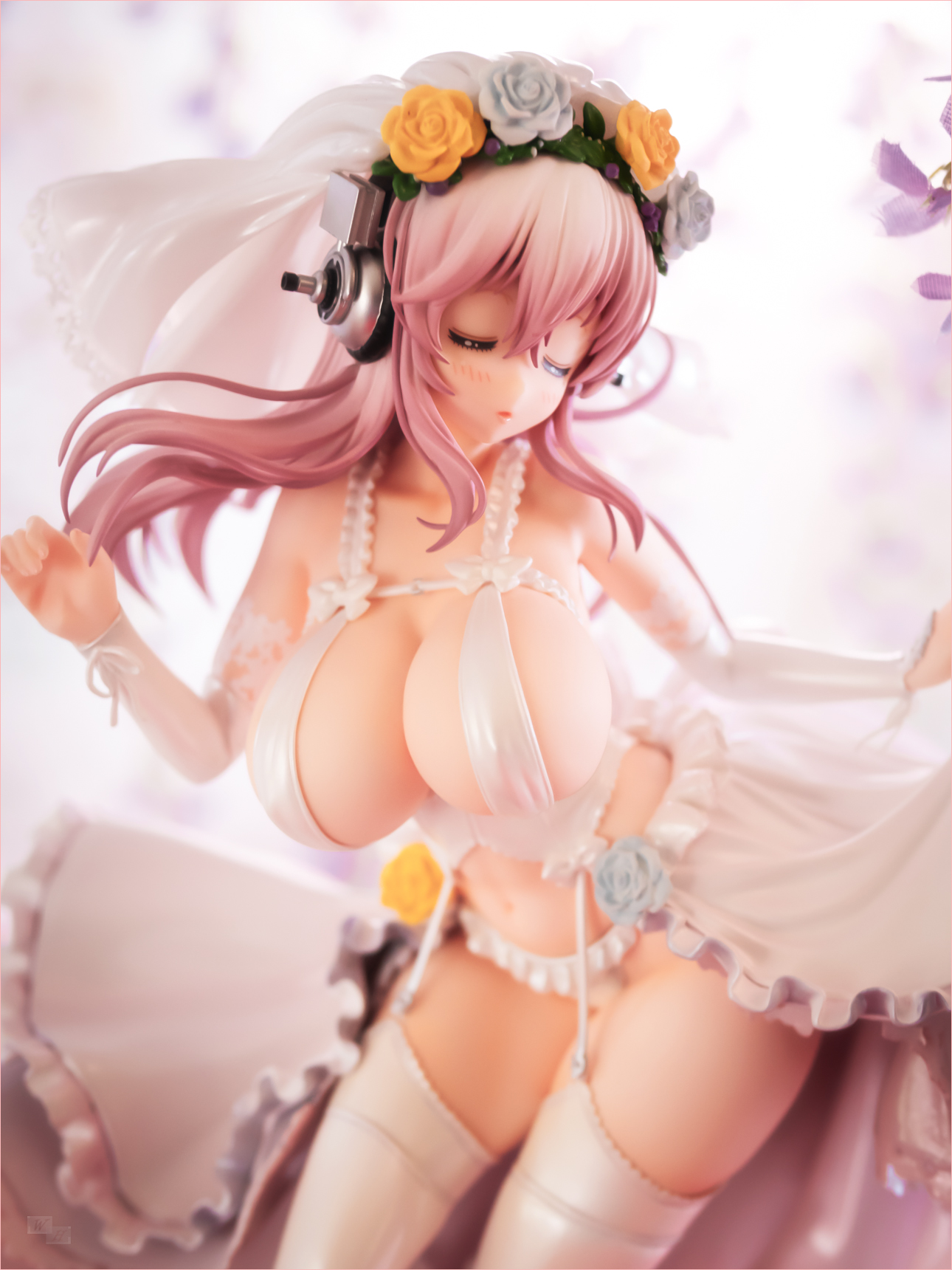 The wedding rings and marriage documents aside, the standard version is not different in any way, the figure is quite nice on it's own, she has a cute additional "before kiss" faceplate and overall a beautiful design. I really like Sonico, but I passed on these wedding ring sets, also because of the price *cough*.
The design was provided by Tsuji Santa, who is behind the design for most Sonico figures, it's truly amazing that his creations receive so much love and awareness. The illustration was adapted into a figure is the aspiring sculptor Chiaki.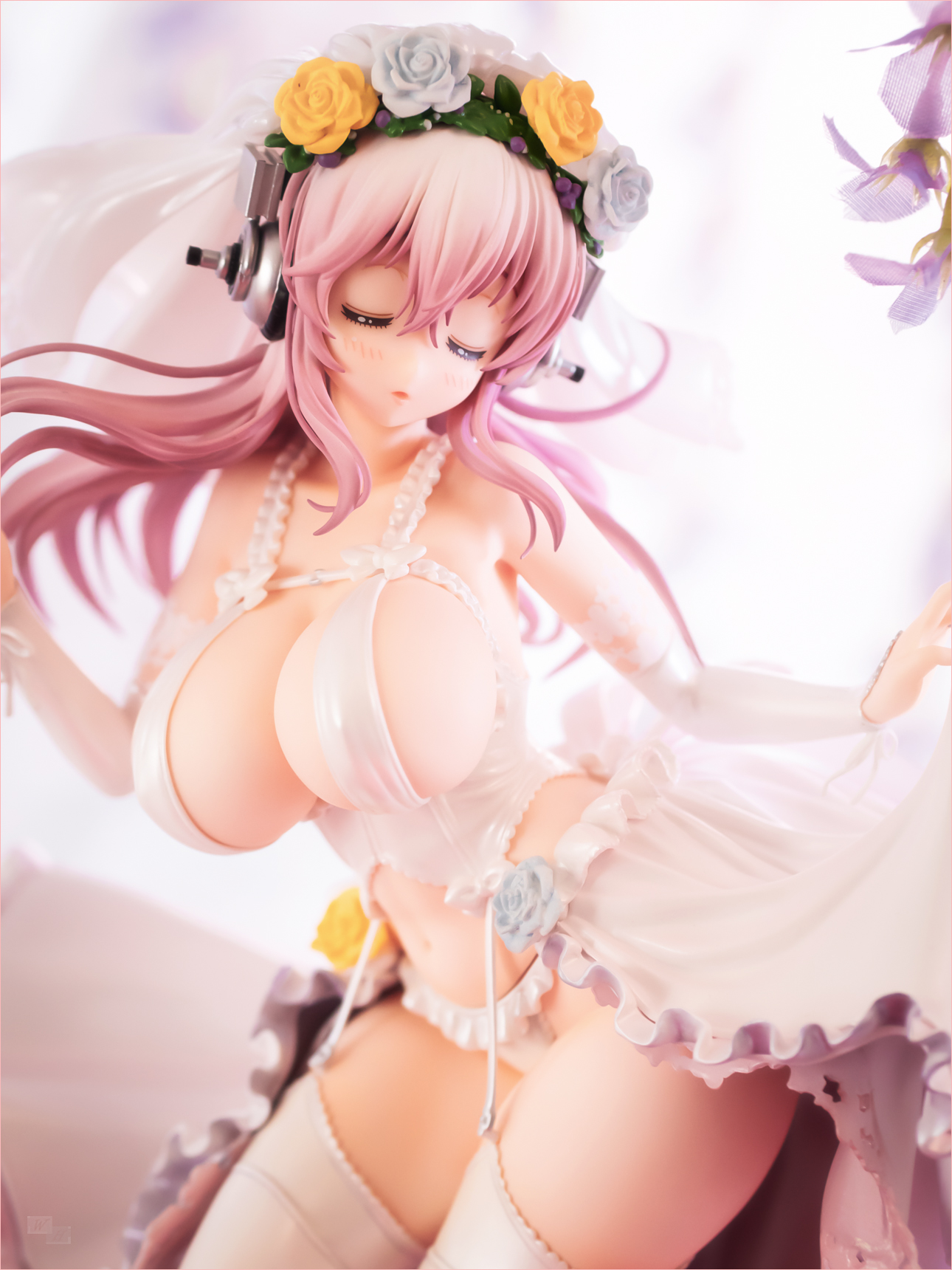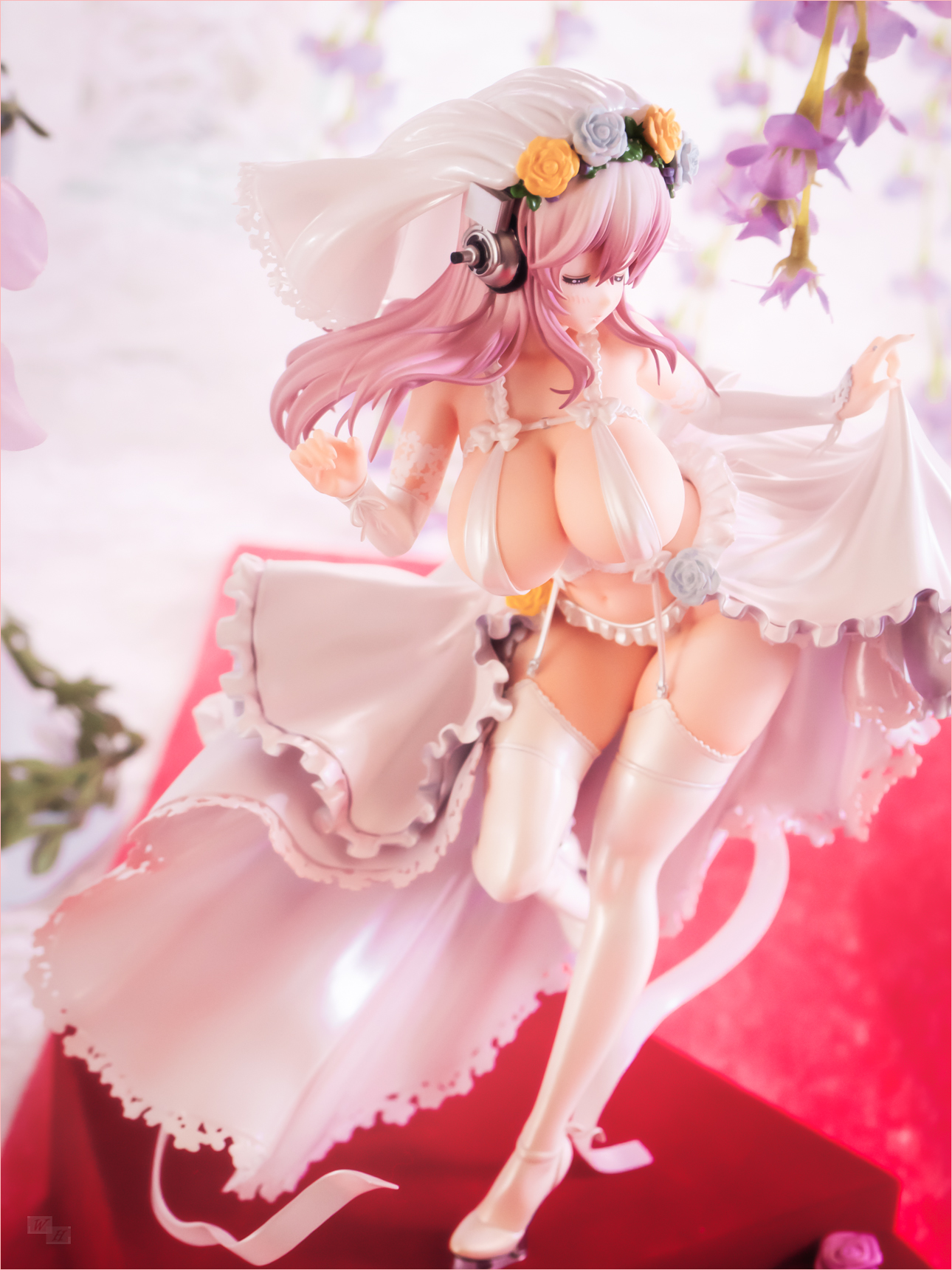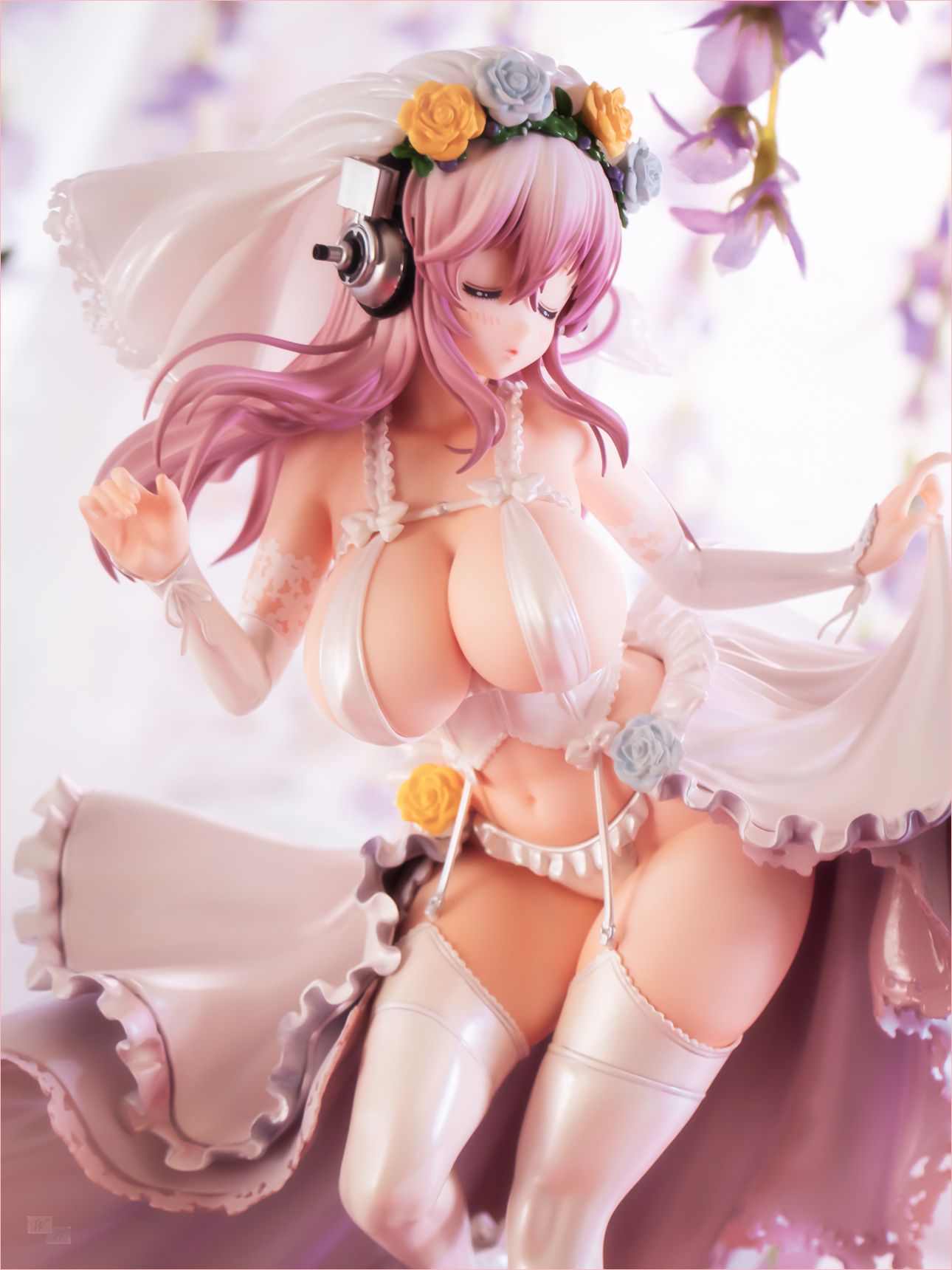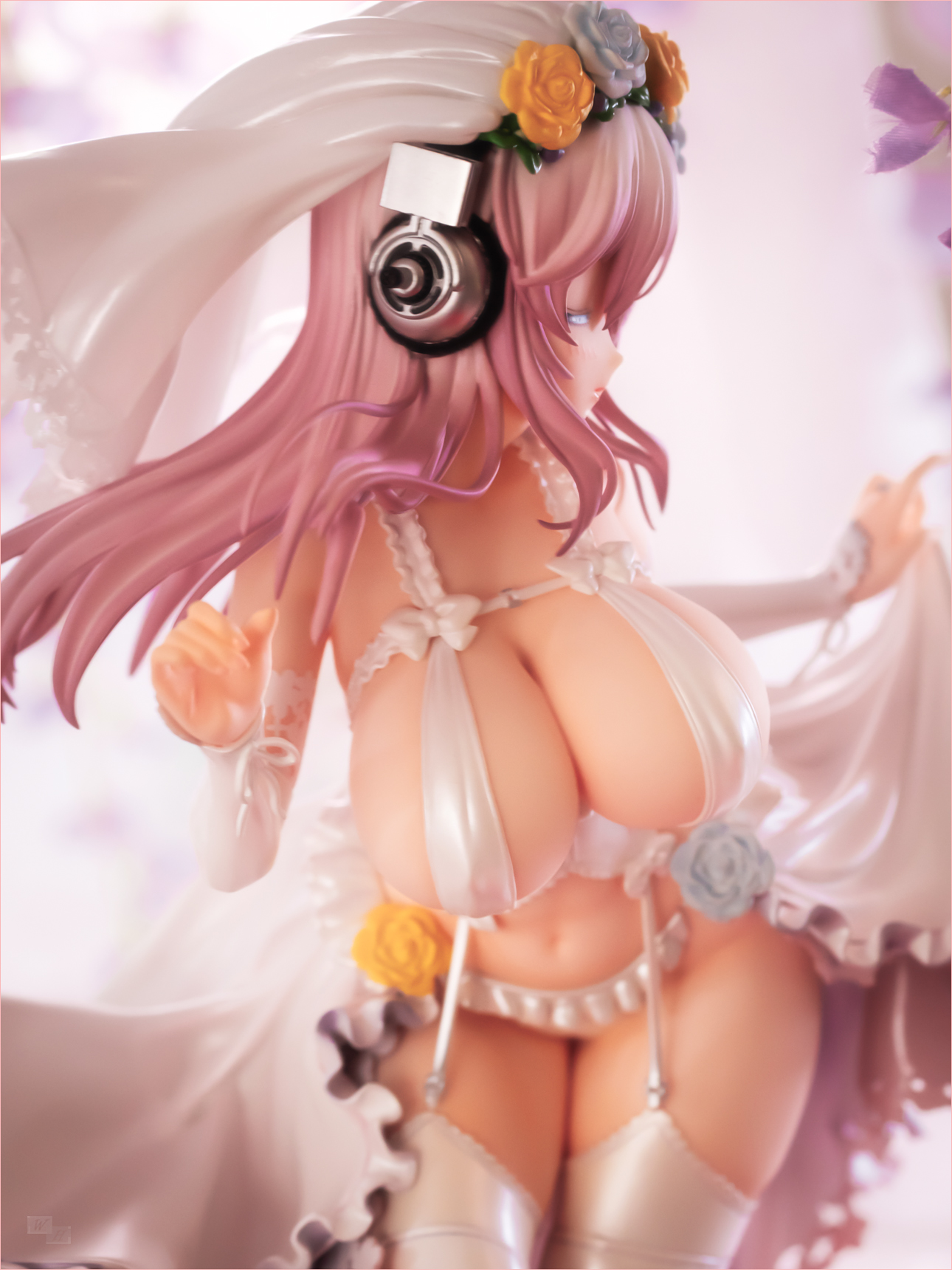 The figure was released on June 25th, 2018. She is scaled 1/6 and measures 35 cm ! her base measures around 10 cm alone already *argh* she doesn't fit in the shelf that way, 2 steps on the stair podest would have been enough.
The Sonico wedding version has fantastic hair with a wonderful sense of movement. I can't remember a Sonico figure that had better looking hair, It's super detailed with her usual soft, pastel pink color with a darker shade at the edge.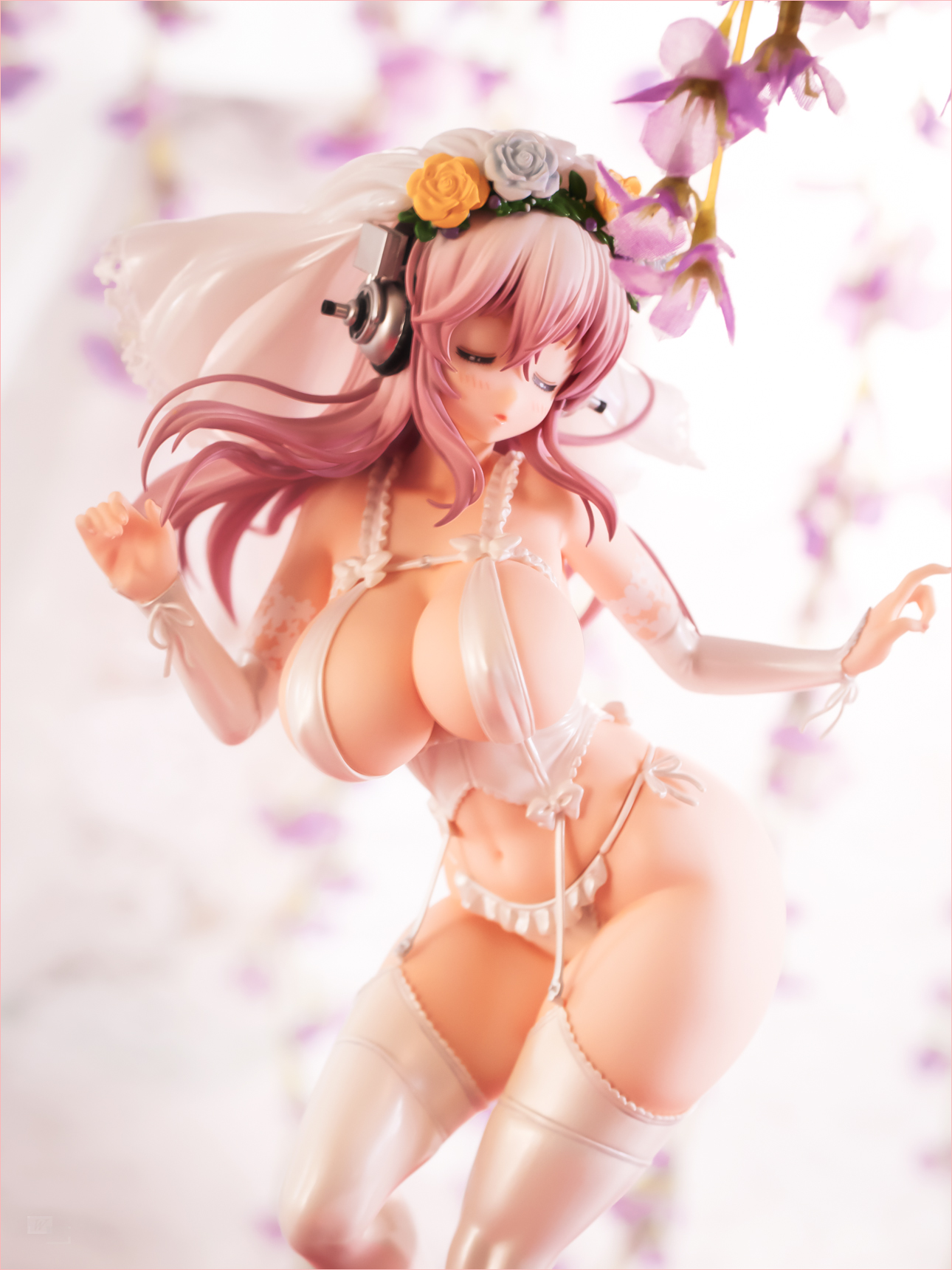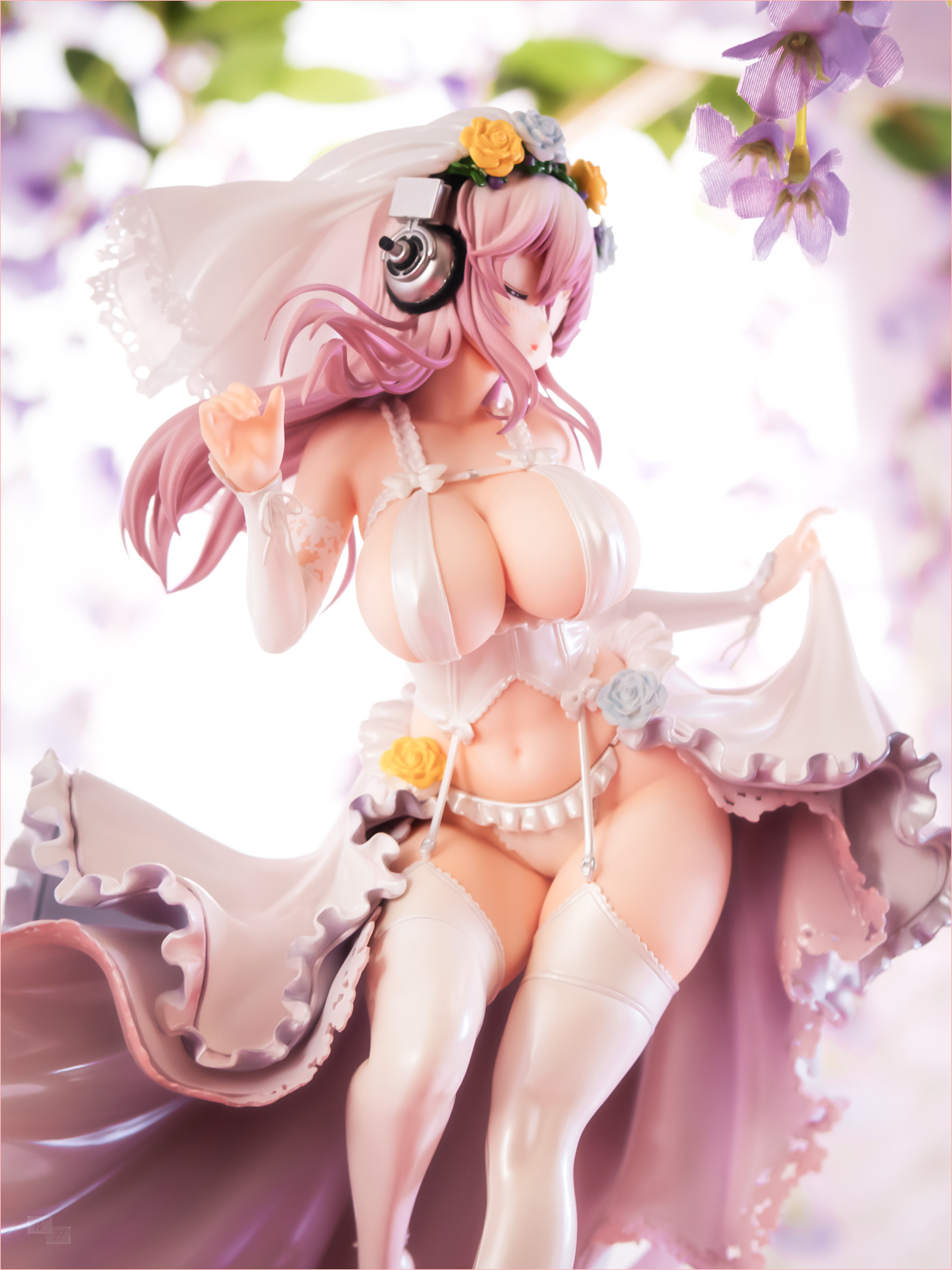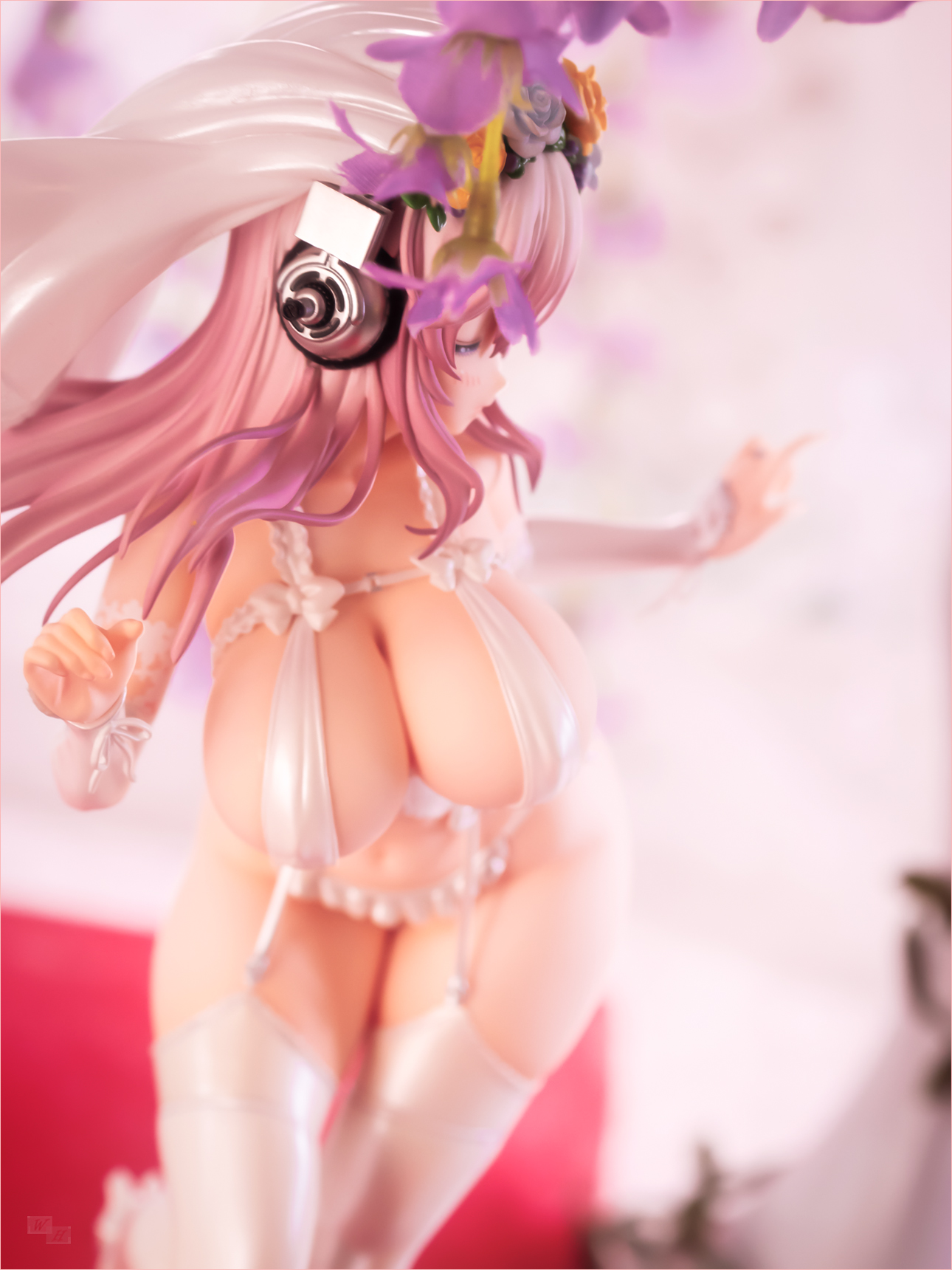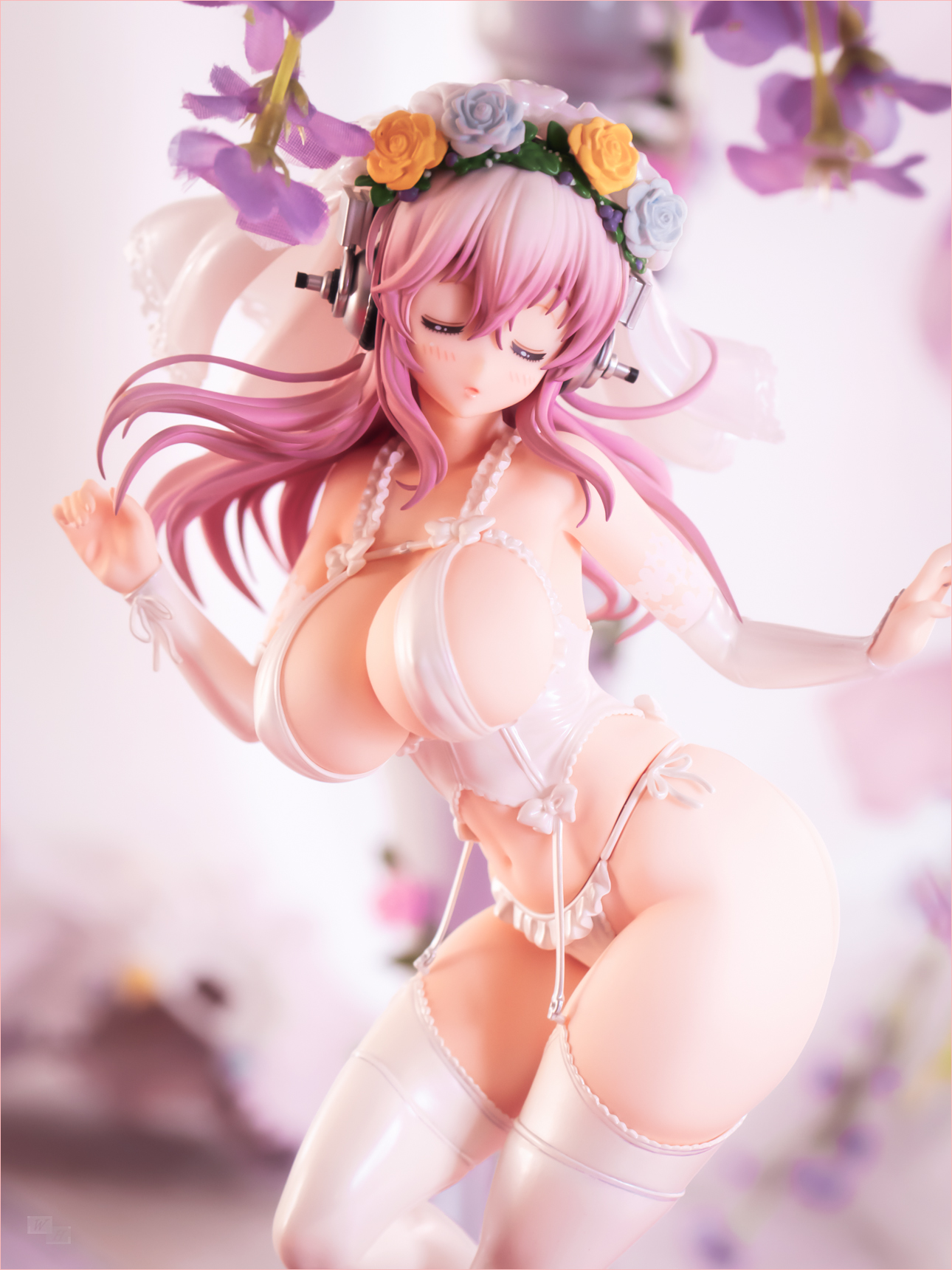 The face showcases Tsuji Santa's current style of his long time Sonico project. The cute face has big eyes with a lively and nicely detailed iris. The bride shows a gentle, open mouth smile with wide front teeth line. The additional face isn't any less appealing, the "before kiss" face creates a special atmosphere. With the lightly closed eyes and detailed eyelashes, her face looks so cute. There is also her pretty mouth with her soft shiny lips waiting to be kissed.
On first glimpse the sweet bride Sonico makes a strong impression, while towering on her stairs clad in velvet like material. The complex outfit with the huge skirt and all the cute details looks just impressive. the outfits pearl white color creates a beautiful harmony with the girls pale pinkish skin and honestly her design shows a lot of skin, it's nice.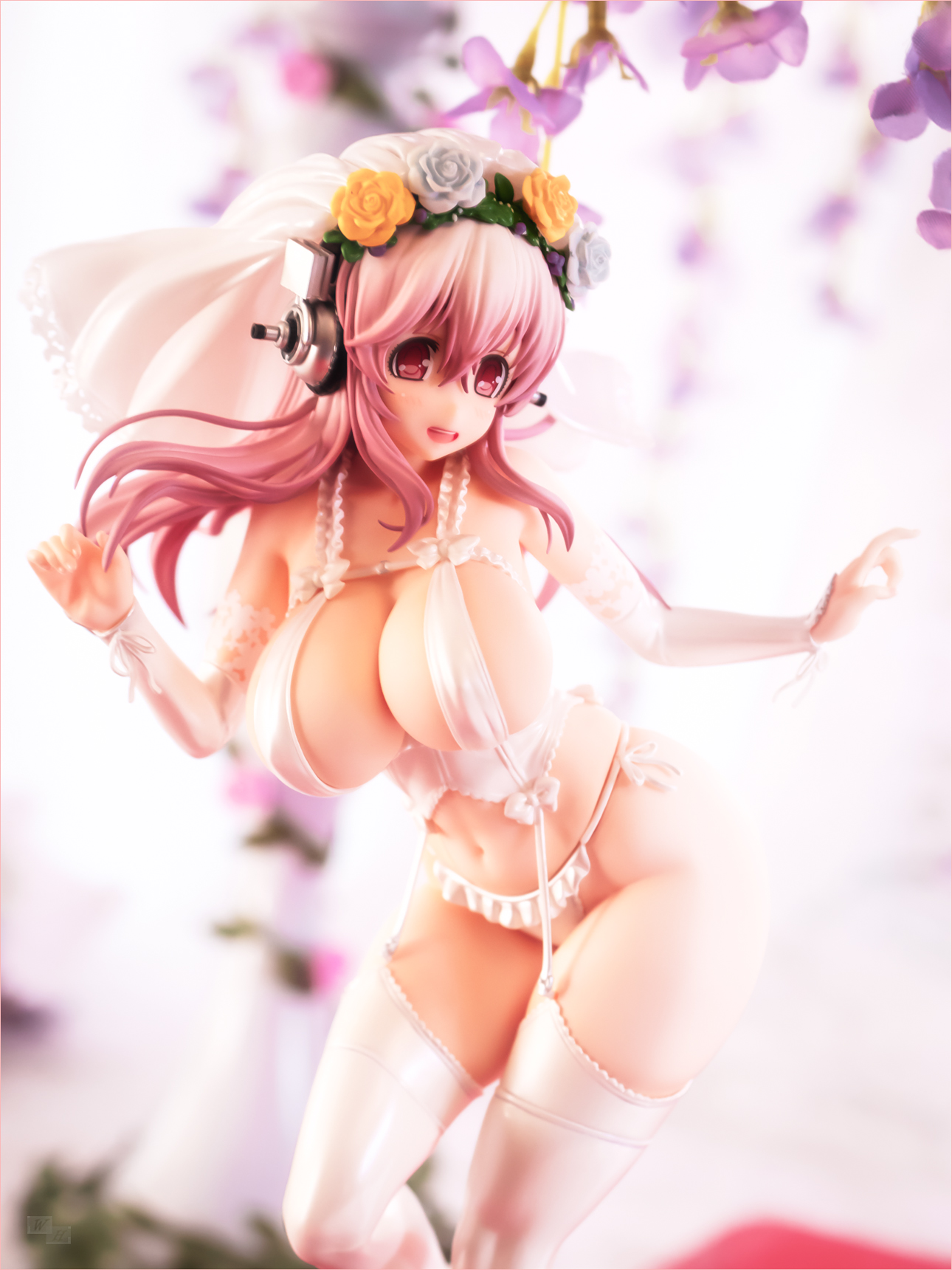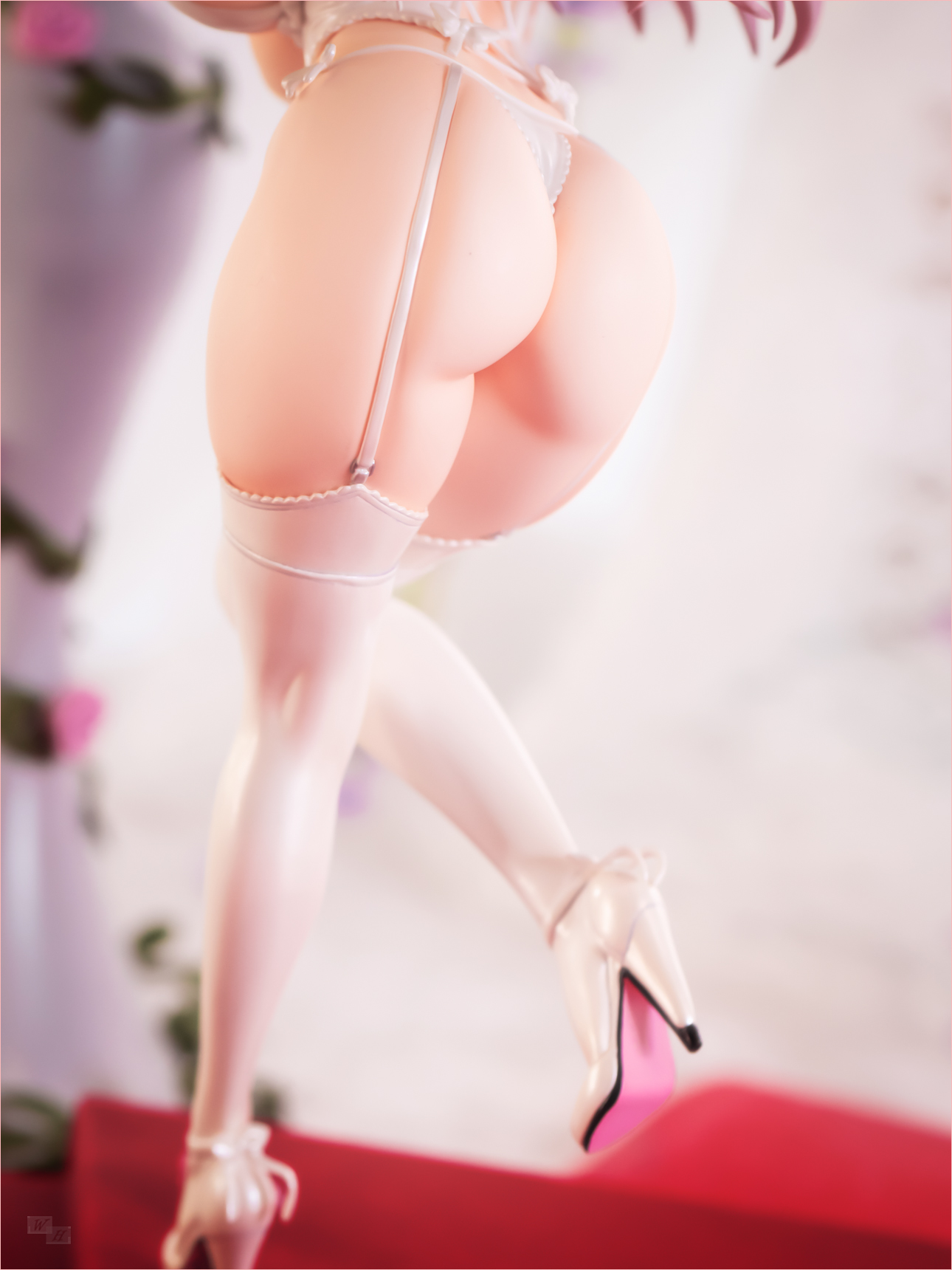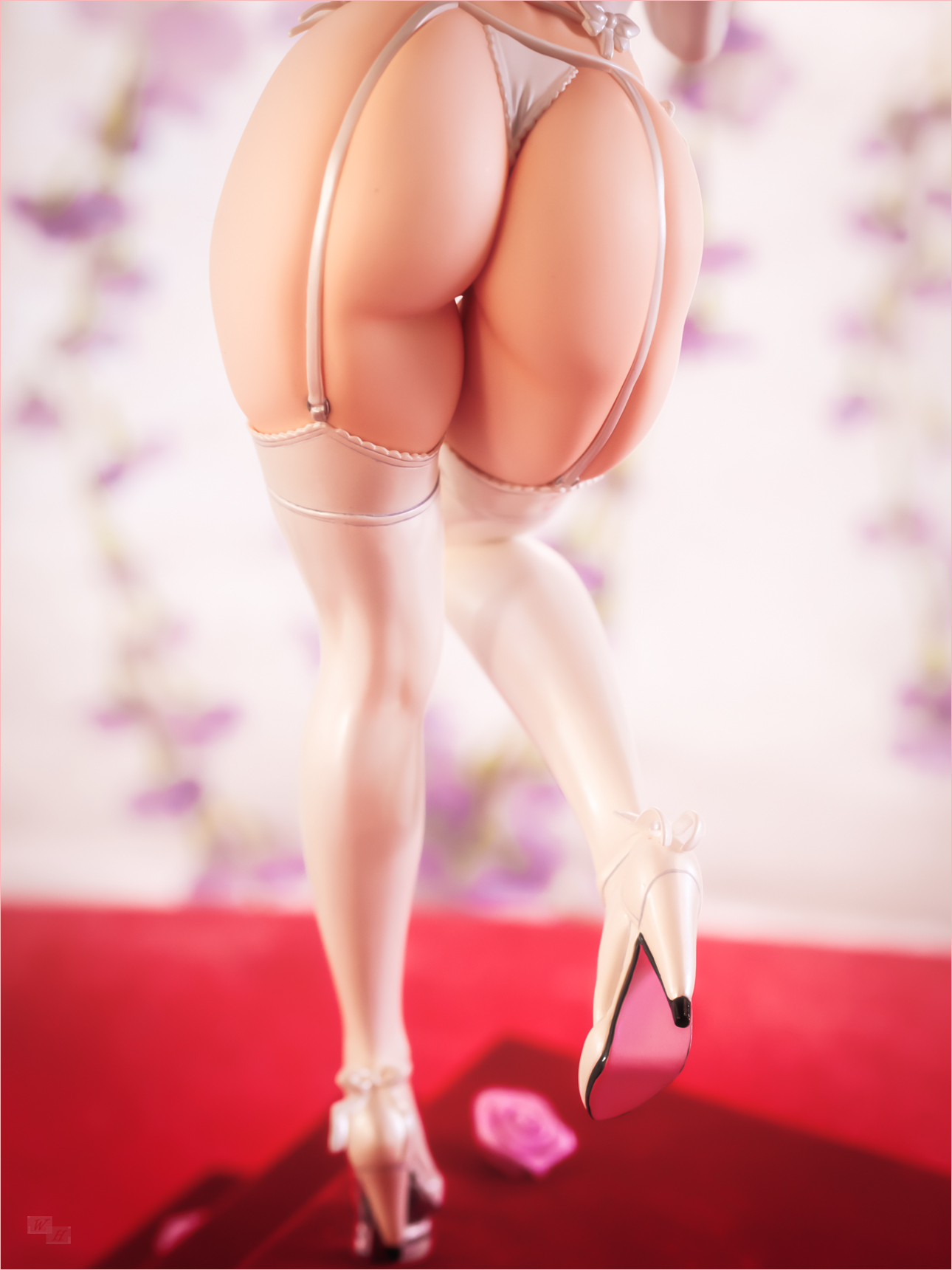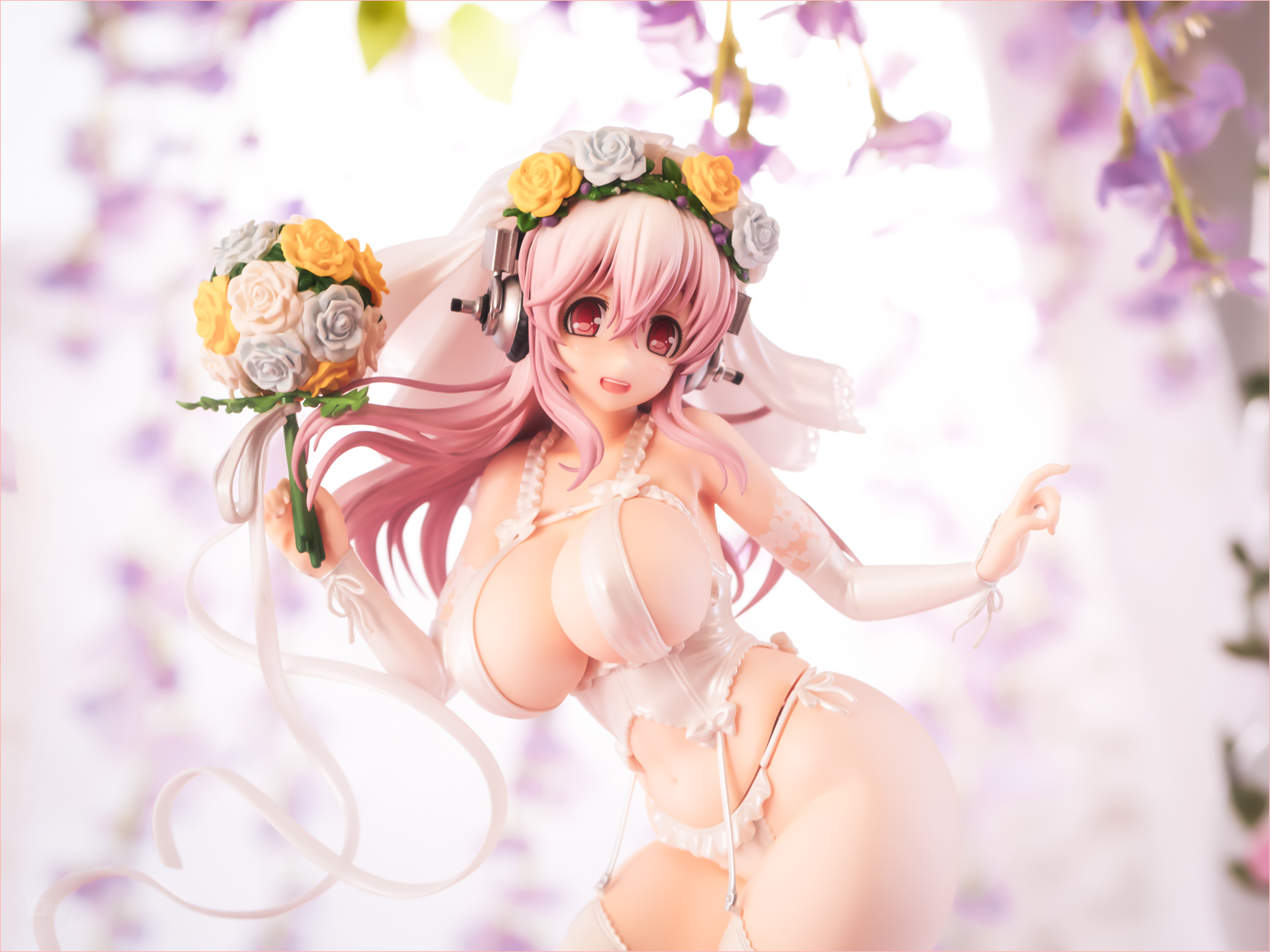 Sonico is presented in an as bold as beautiful dream in pearl white, I bet Sonico would be highly embarrassed to wear that during the official ceremony. It could have been a bit less skin revealing, the top looks a bit funny.
Her boobs are covered and supported by two thin straps with leads to this high amount of sideboobs, I'm not fully convinced by that part, it should have rather been a standard shoulderfree design with a tasteful cleavage. Of course her center cleavage looks beautiful, but I don't know if a wedding dress needs to show side boobs. I partially really love her dress, although the wedding dress rather turned out to be an outfit for the wedding night.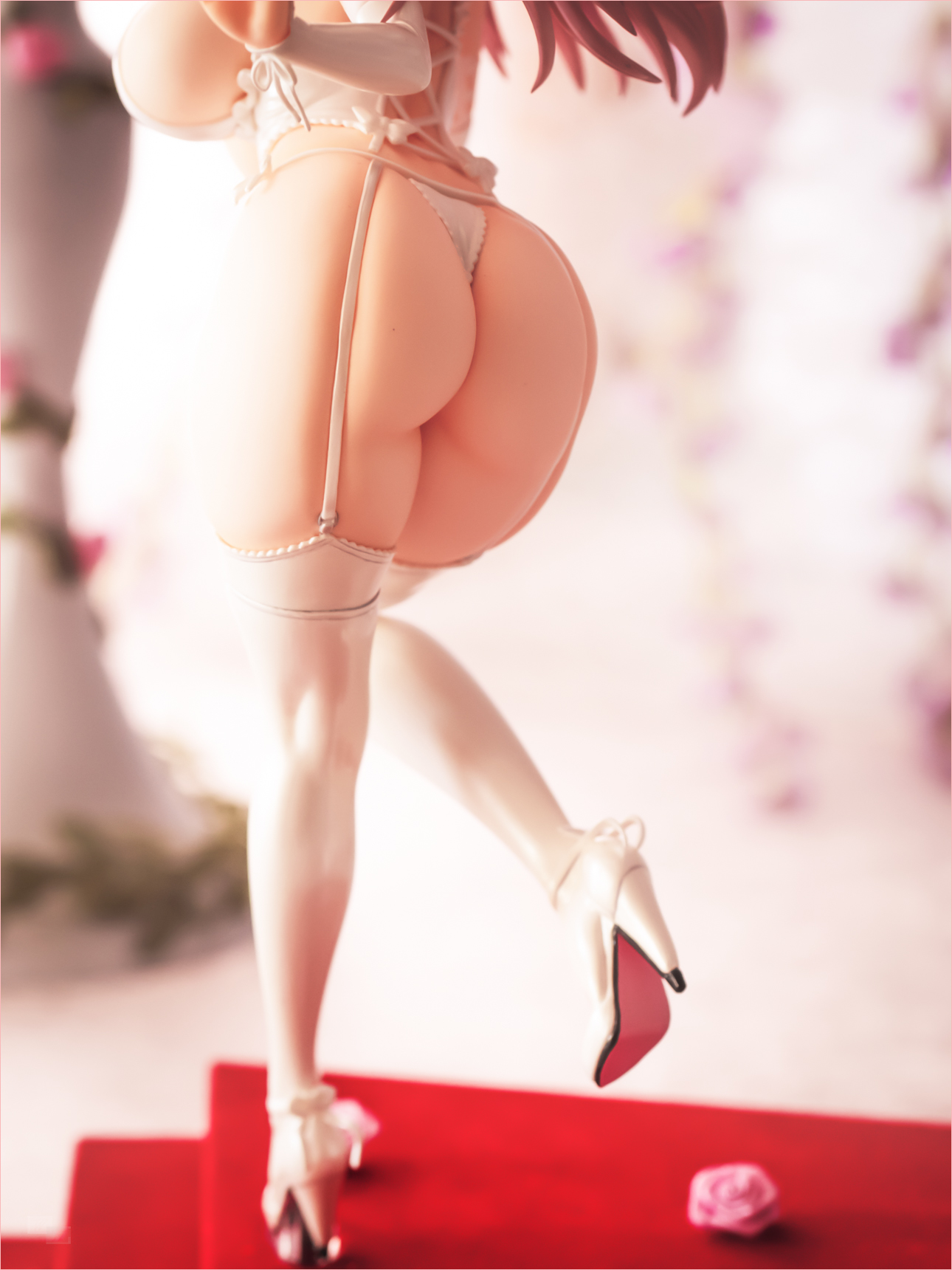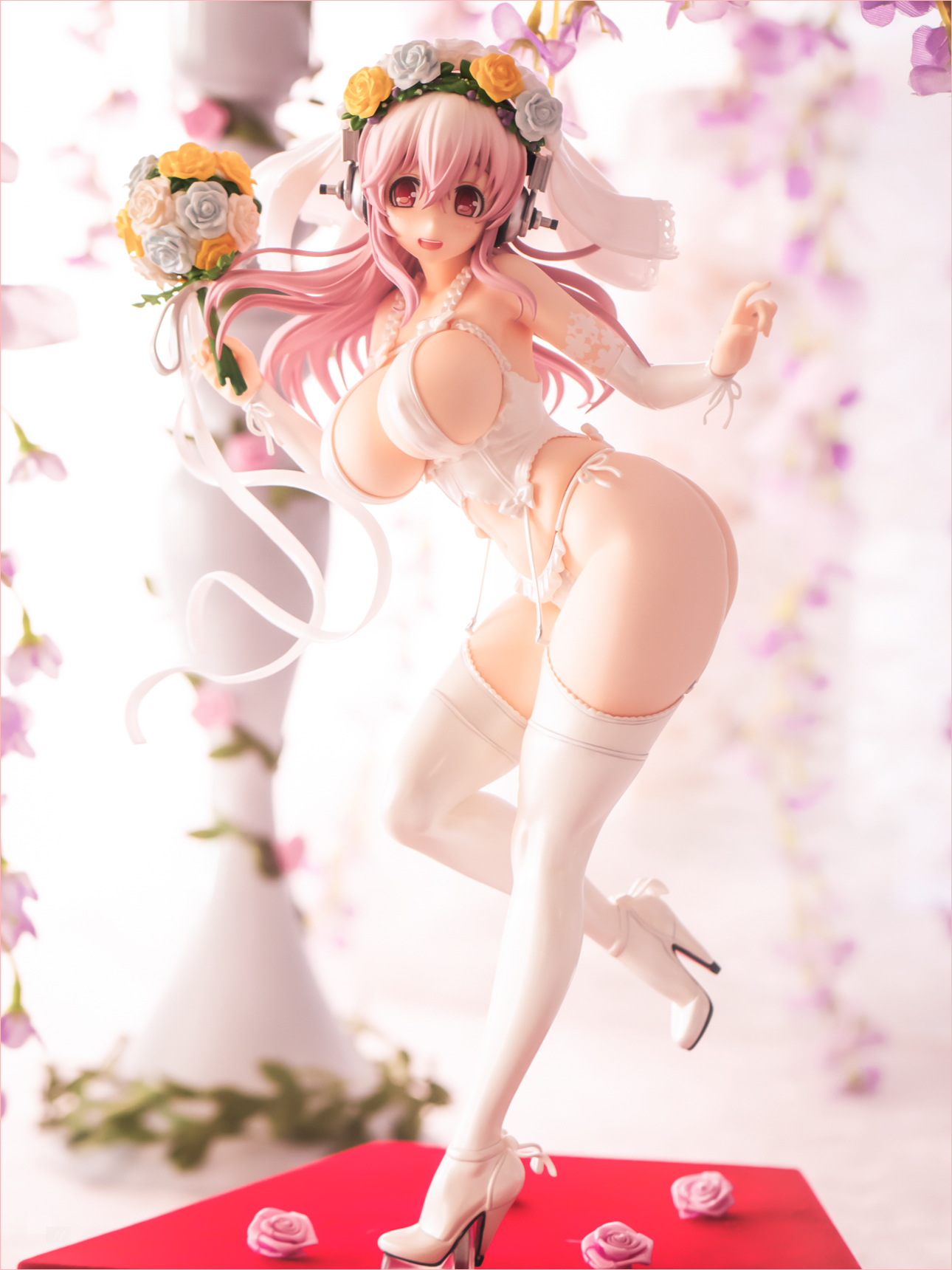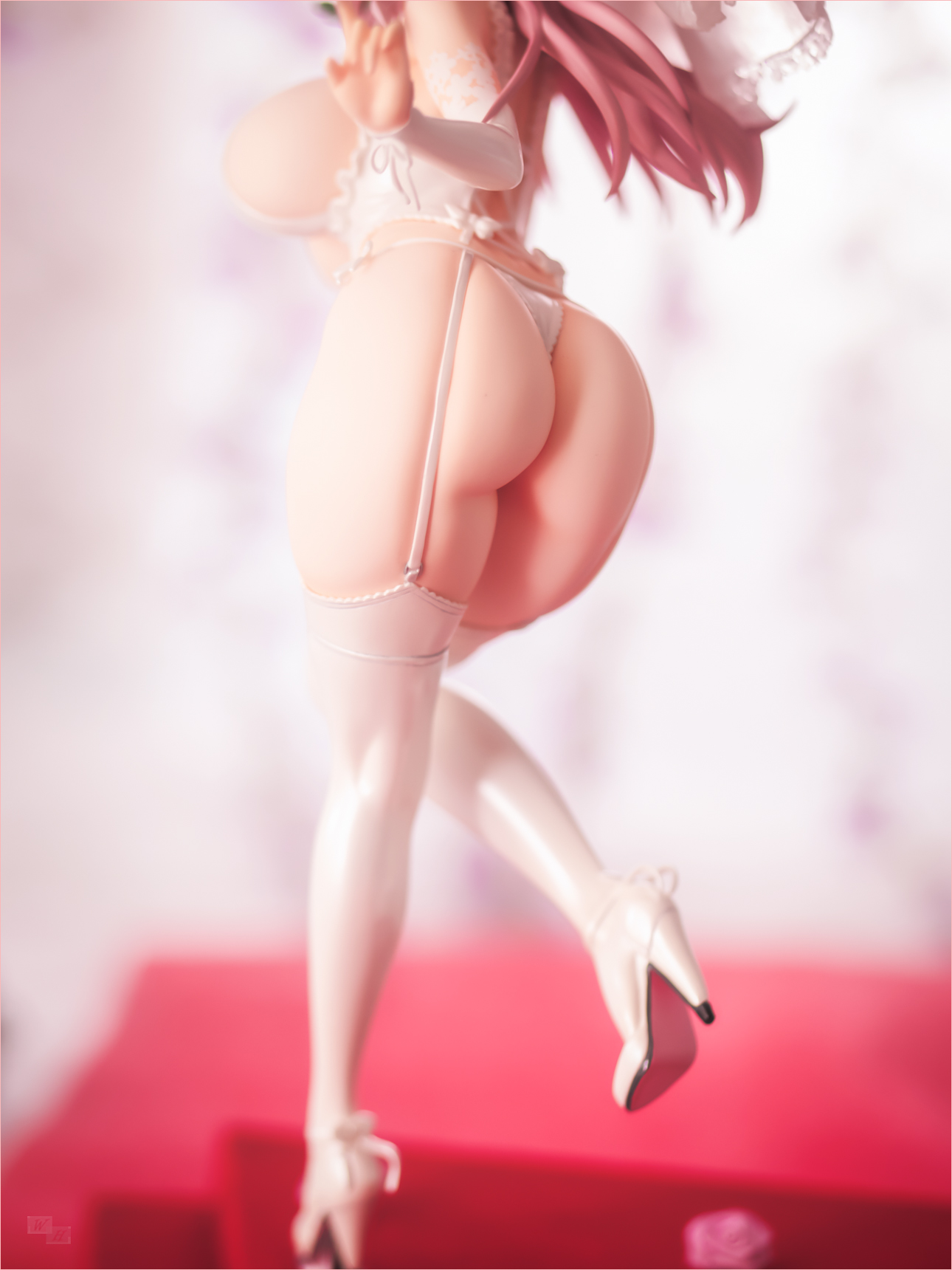 Nevertheless the outfit has so many beautiful aspects, like the veil with the pastel blue and red roses and it's other small details. Also the wonderful skirt with it's fine details and soft folds. Around her waist, Sonico wears a fancy corsage with garterbelt that leads to her pretty stockings, the stretching effect has been adapted quite convincing. The high rising panties fortunately doesn't cover much of her butt. The arm long gloves are very pretty, in her right hand Sonico can hold a beautifully arranged floral bouquet, the ribbons are sculpted in a playful and dynamic manner.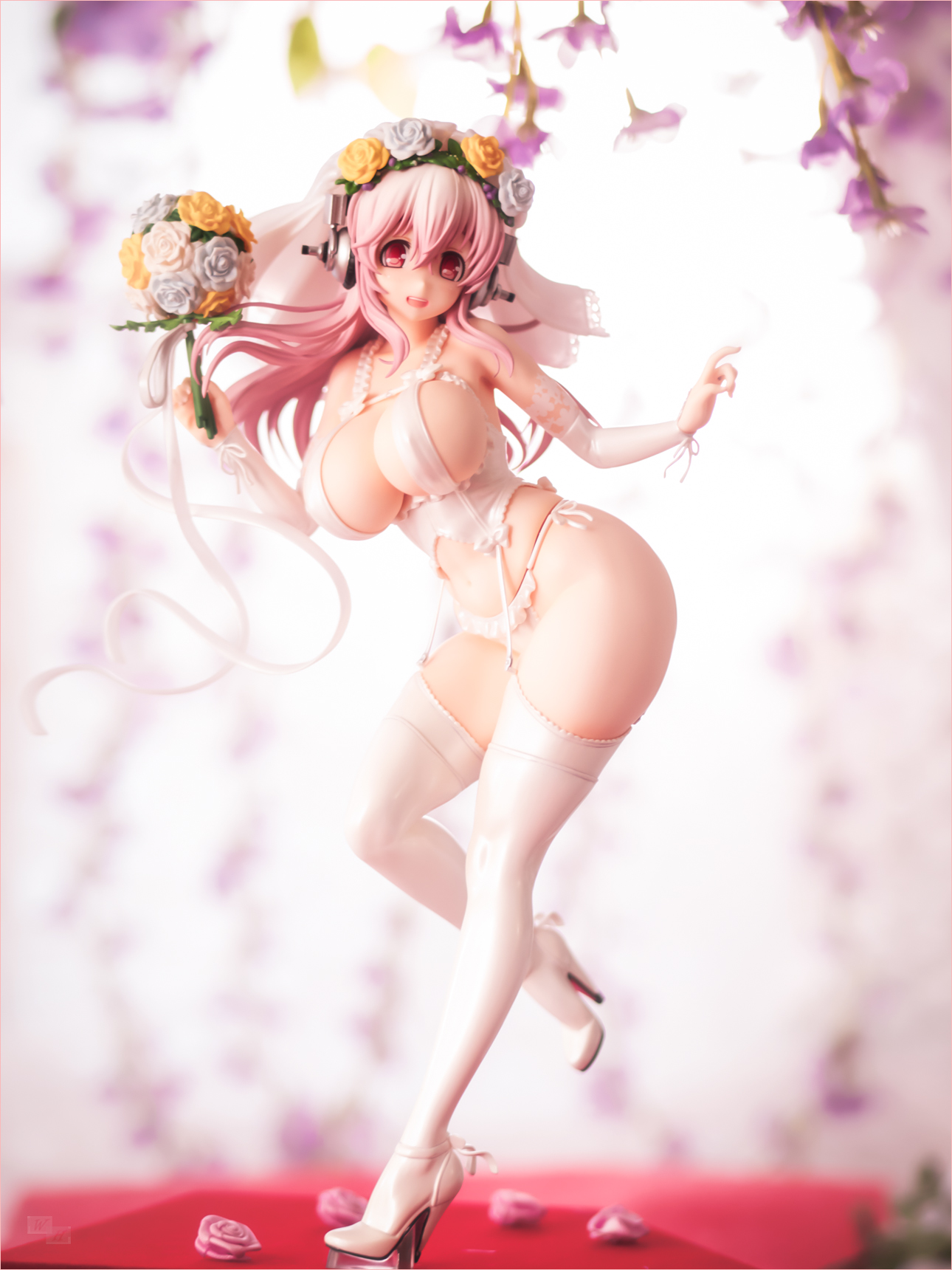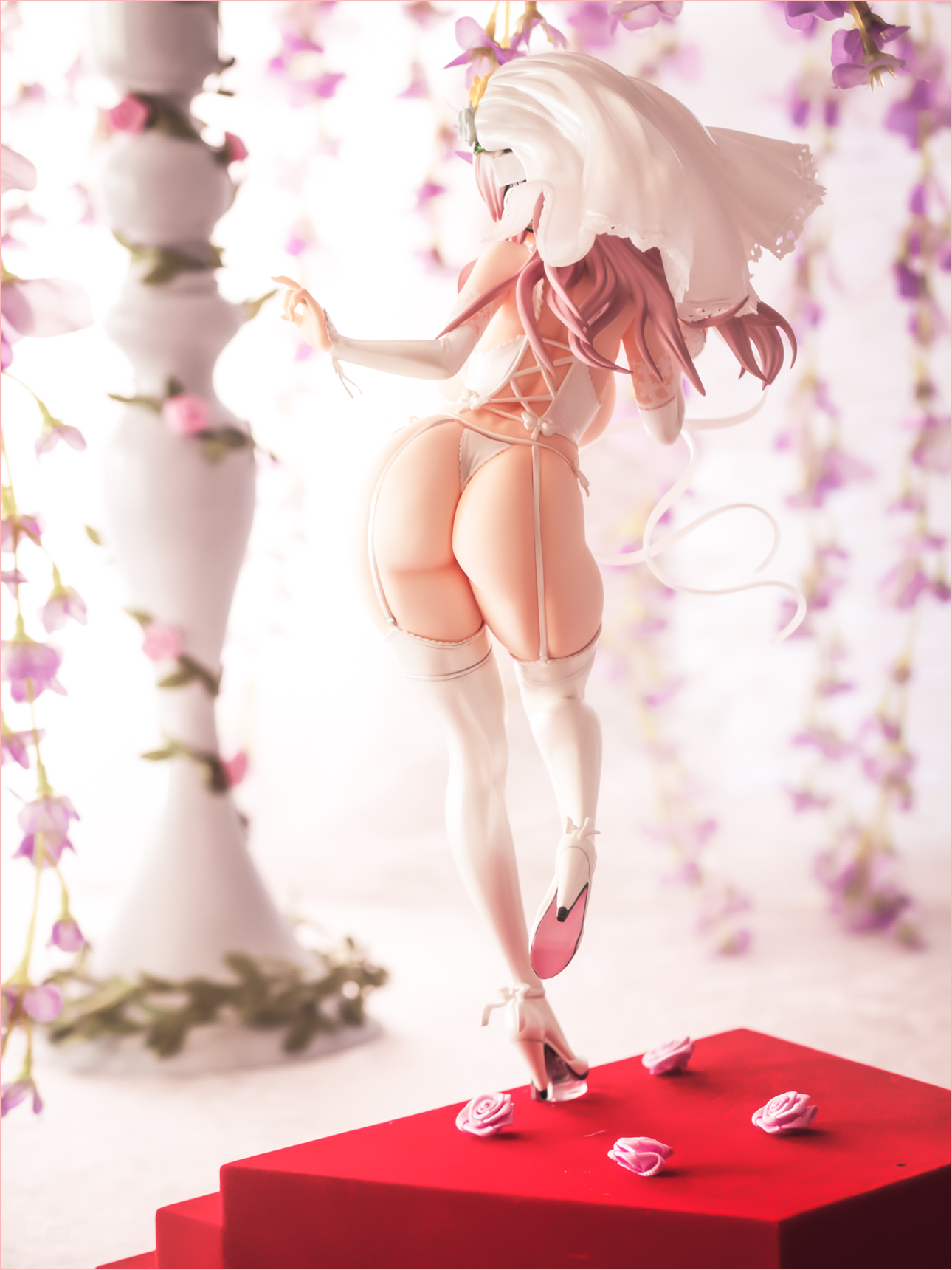 The design team has been quite generous about the wedding versions curves ♡♡♡.
Sonico has a stunning buxom body in this figure adaption, her boobs are quite voluptuous here, personally I would not mind less, her cleavage is really beautiful nevertheless. She also has such a big and prominent butt, it's one of the appeal points of this figure. I really adore those wide hips and her juicy thighs. In between of this big ends hourglass Sonico keeps her envy provoking narrow waist, although she has a cute slight stomach. Her lower half is just so great and curvy, I love it. Her overall appearance makes her a desirable woman, who wouldn't want to be her groom.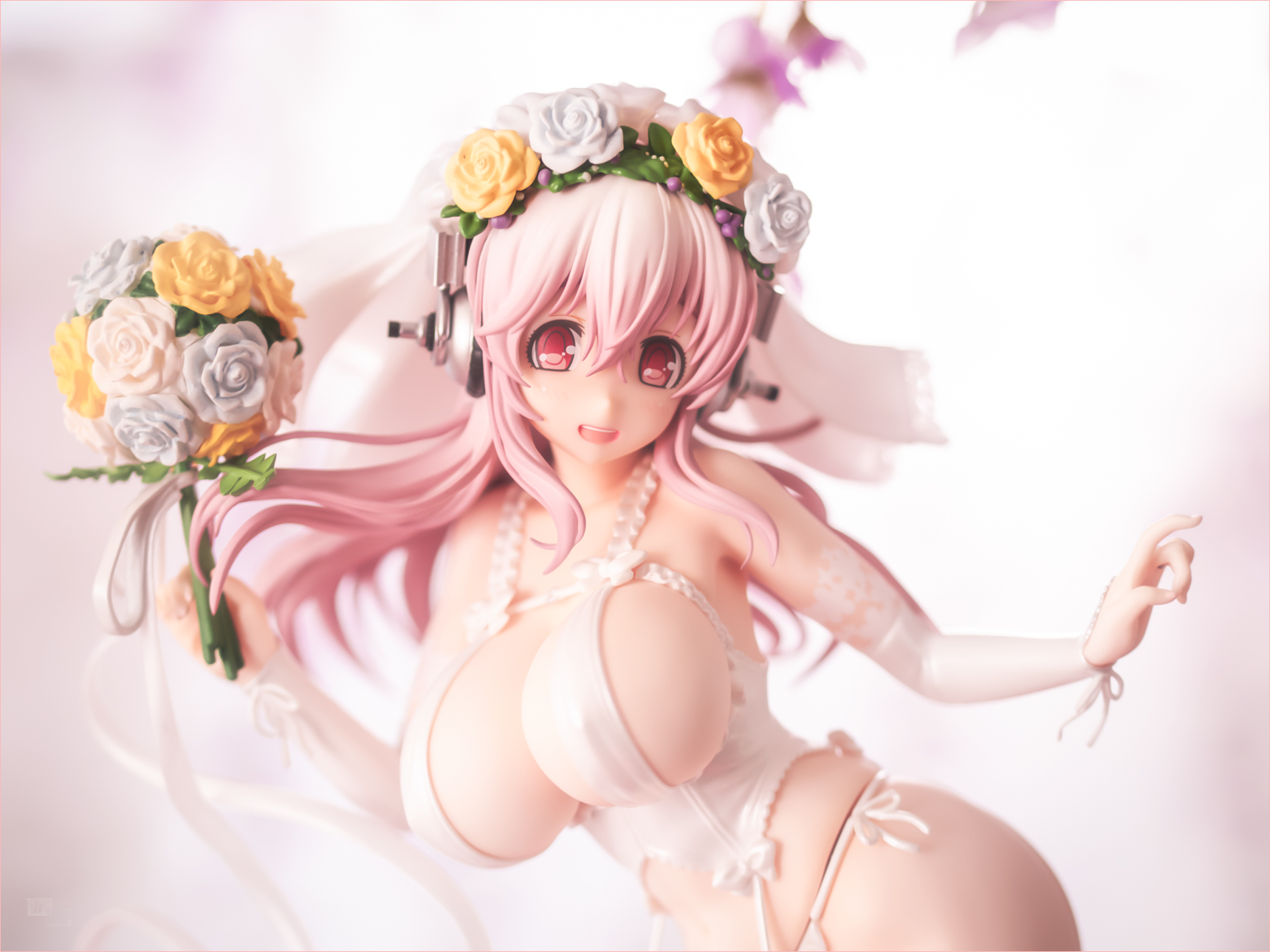 Final Words
The Sonico – 10th Anniversary Wedding version is a stunning Sonico figure. She has a beautiful appearance with a dress and face, that radiates a cheerful mood. The different face is a lovely extra, since it adds so much more to the figures concept. At 1/6 scale this figure is big, more than big enough to admire her amazingly curvy body, hips and butt are so sexy. There is the option to display her without skirt to have a better view on these areas. All Together it makes her a great addition for any Sonico fan and supporter. If I would address an issue about the final figure, it would be the smaller gaps at the panties and midsection of the figure. Aside from that everything looks nice and clean.

.