A good day, my dear boys and girls, some weeks ago I've received this shameful and still cute figure called Maid Ami. The nsfw figure was released In early June 2017, she was manufacturerd by Progress and distributed by Native. The figure is an adadaption of an illustration from the artist Hisasi a postcard with the illustration is included.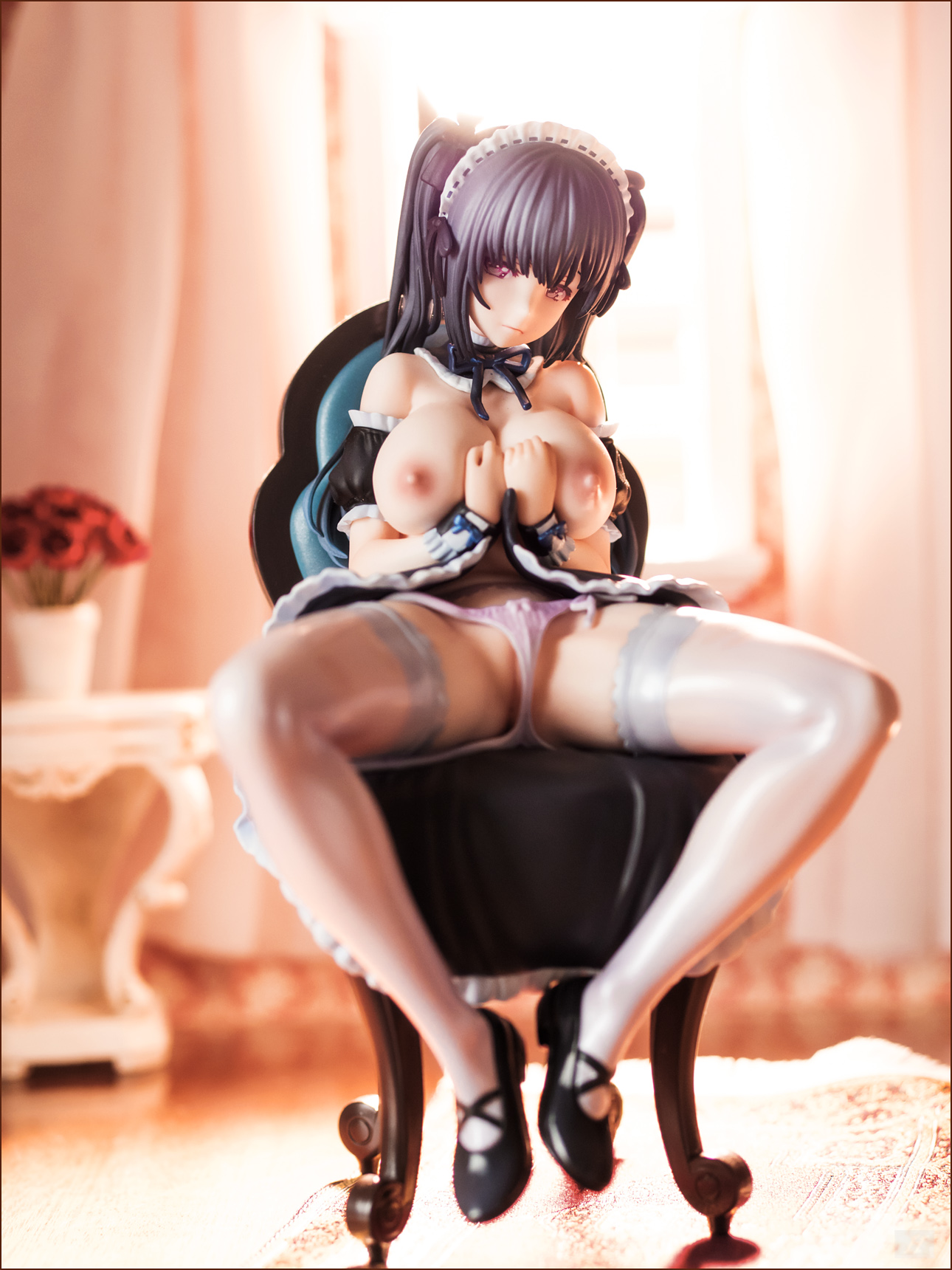 As she was announced I was instantly drawn to the figures design, I especially liked her detailed and attractive facial expression with the beautiful eyes. Furthermore she was sculpted by Deira, who already did a very good job on the WHS Sorceress design. Maid Ami is part of the Peach Maid Figure Series, in her small box she has a nice looking chair and as alternative sit on device, a soft pillow also is included. As duteous maid Ami has removeable skirt and panties.
I was really looking forward to receive this figure, to my surprise Maid Ami turned out as 1/8 scaled fîgure, in general "Native figures" are scaled 1/7 at least. To sum it up, I was very surprised about the small figure with the big boobs.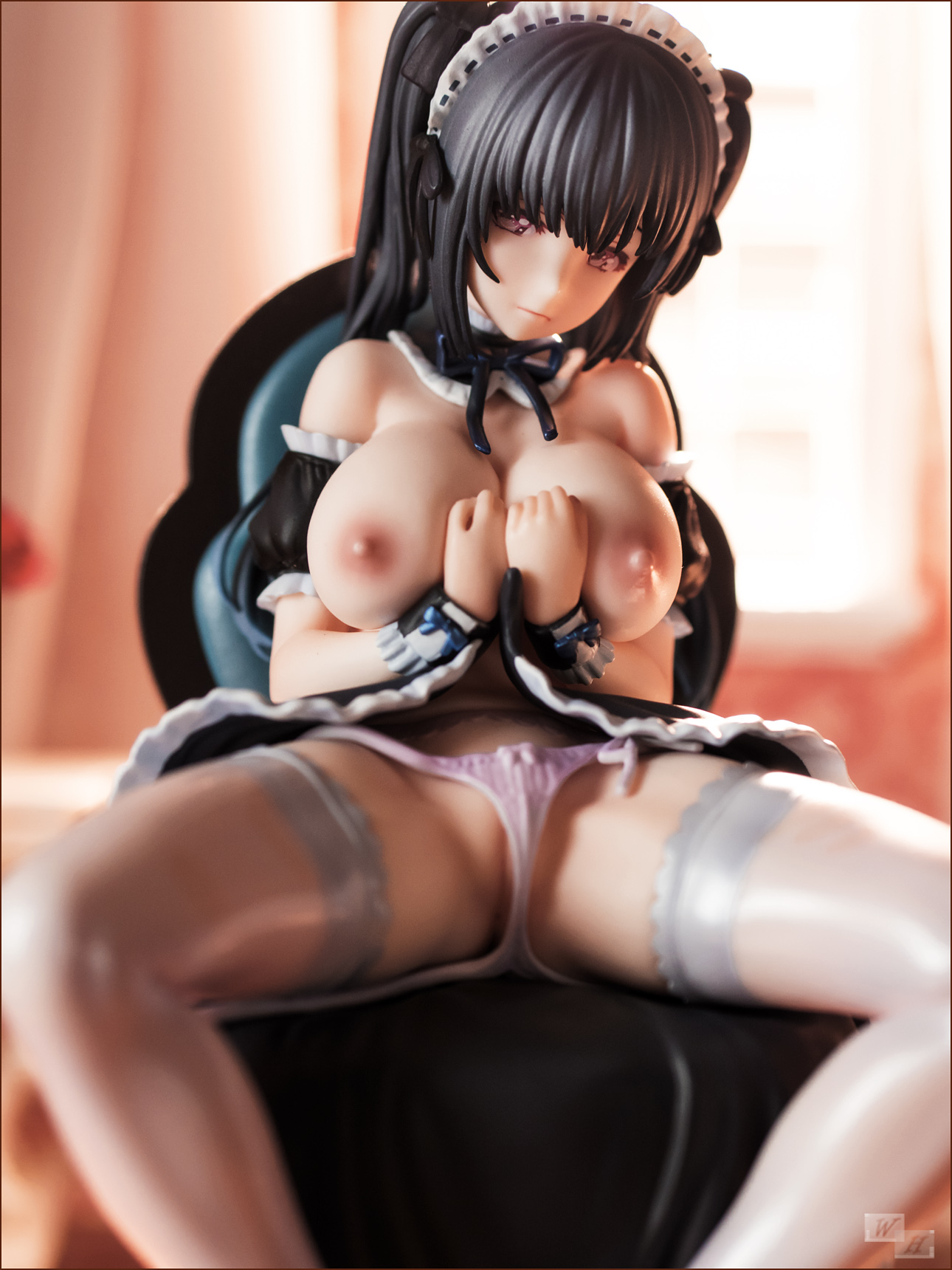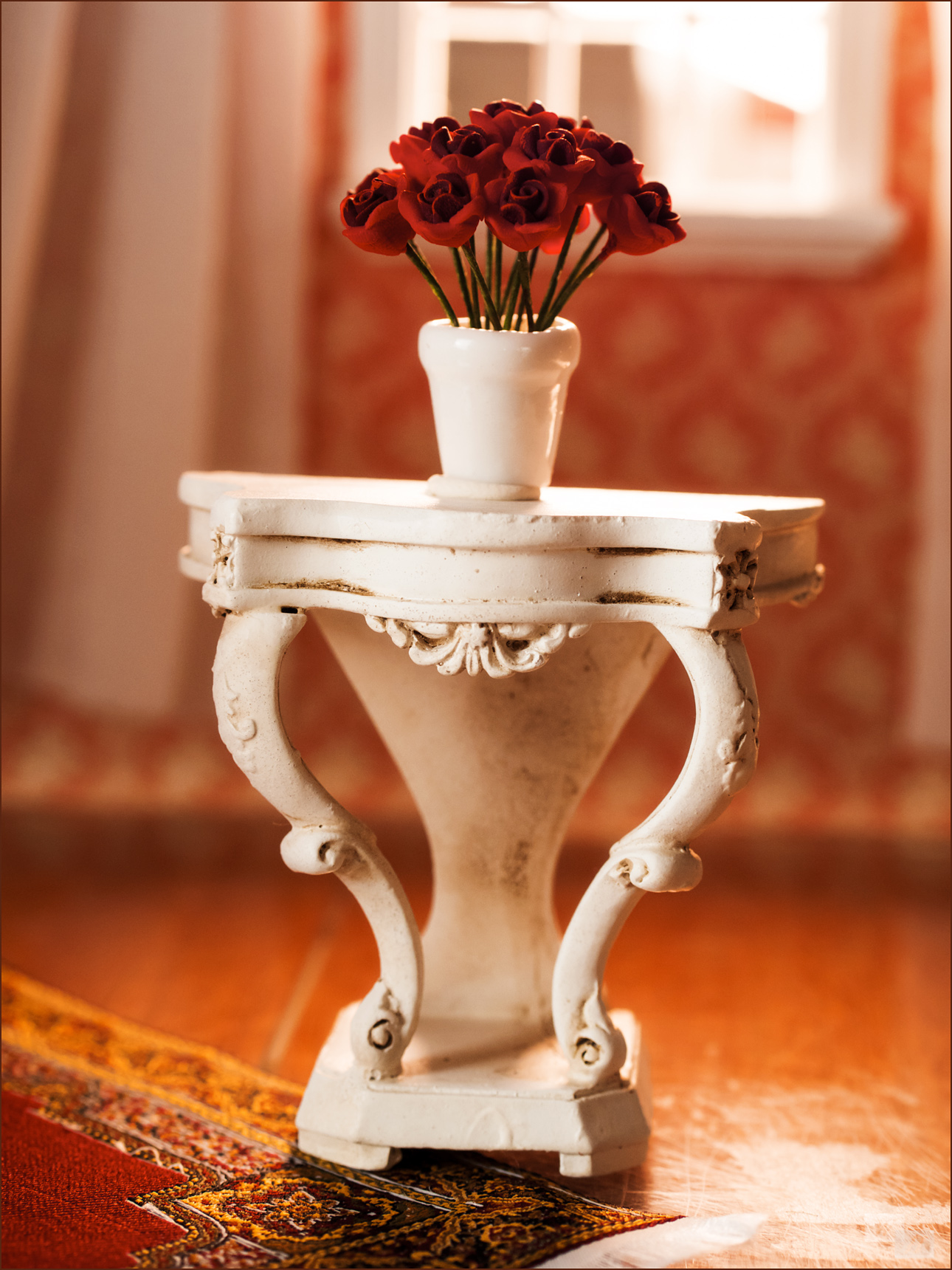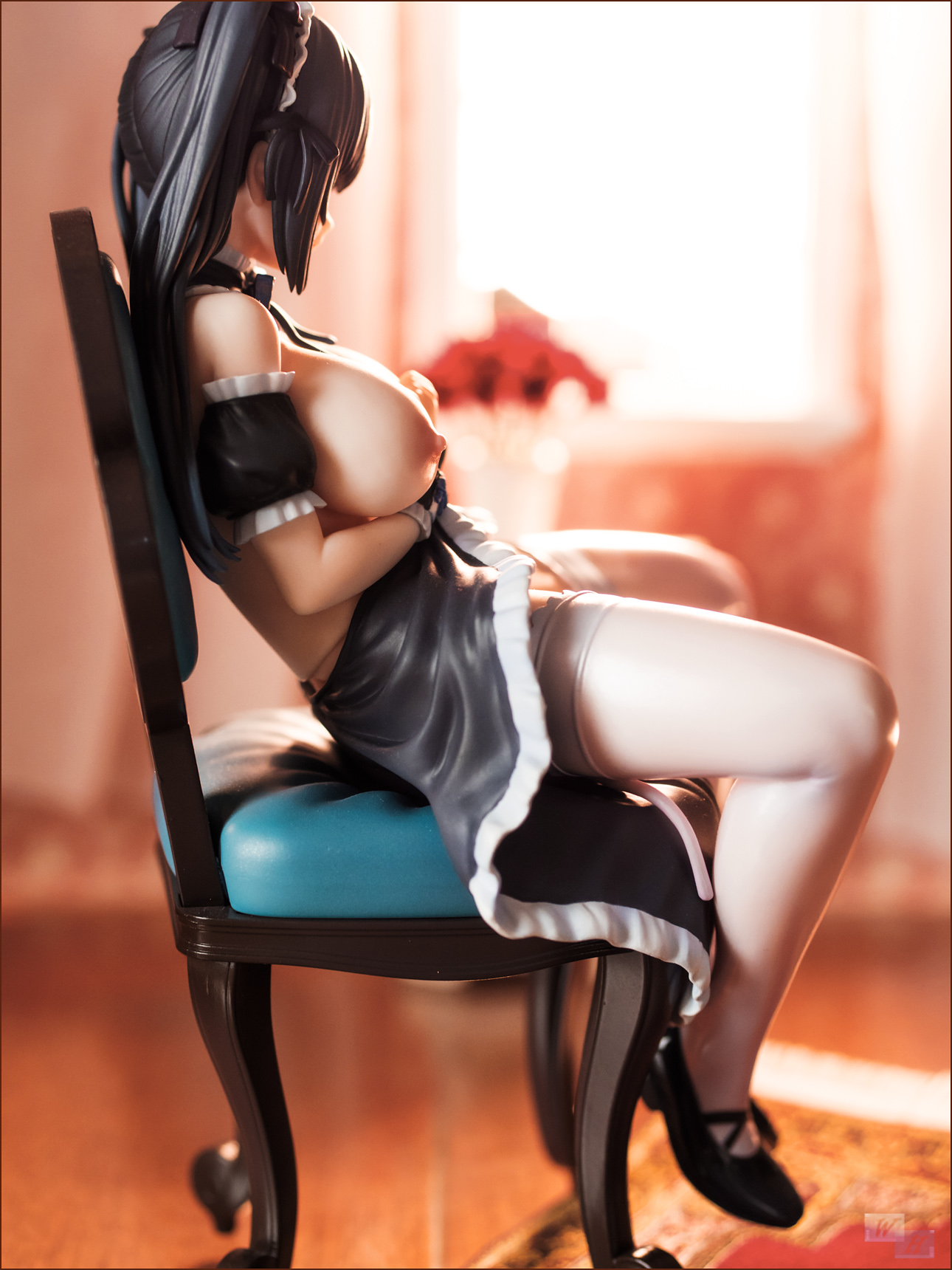 Nevertheless after I accepted reality and the figures size, I came to the idea to use doll house sized items for her photosession, I became quite crafty to build a nice room for Maid Ami with wallpaper, curtains, a window and a carpet.
Let's take a closer look at Maid Ami from the Peach Maid Figure Series, she has dark hair styled into a twintail hairstyle with a cute ribbon decorated frilly maid cap on it. The deep hanging fringe gives Ami's expression something erotic and also mysterious. Furthermore the expression portrays the character in a sullen mood although she doesn't seem to be disinclined by playing the ecchi maid. The figure is not just lewd she also has a partially cute appearance actually.
Ami has a very pretty face and very nice purple eyedecals with attractive reflection points.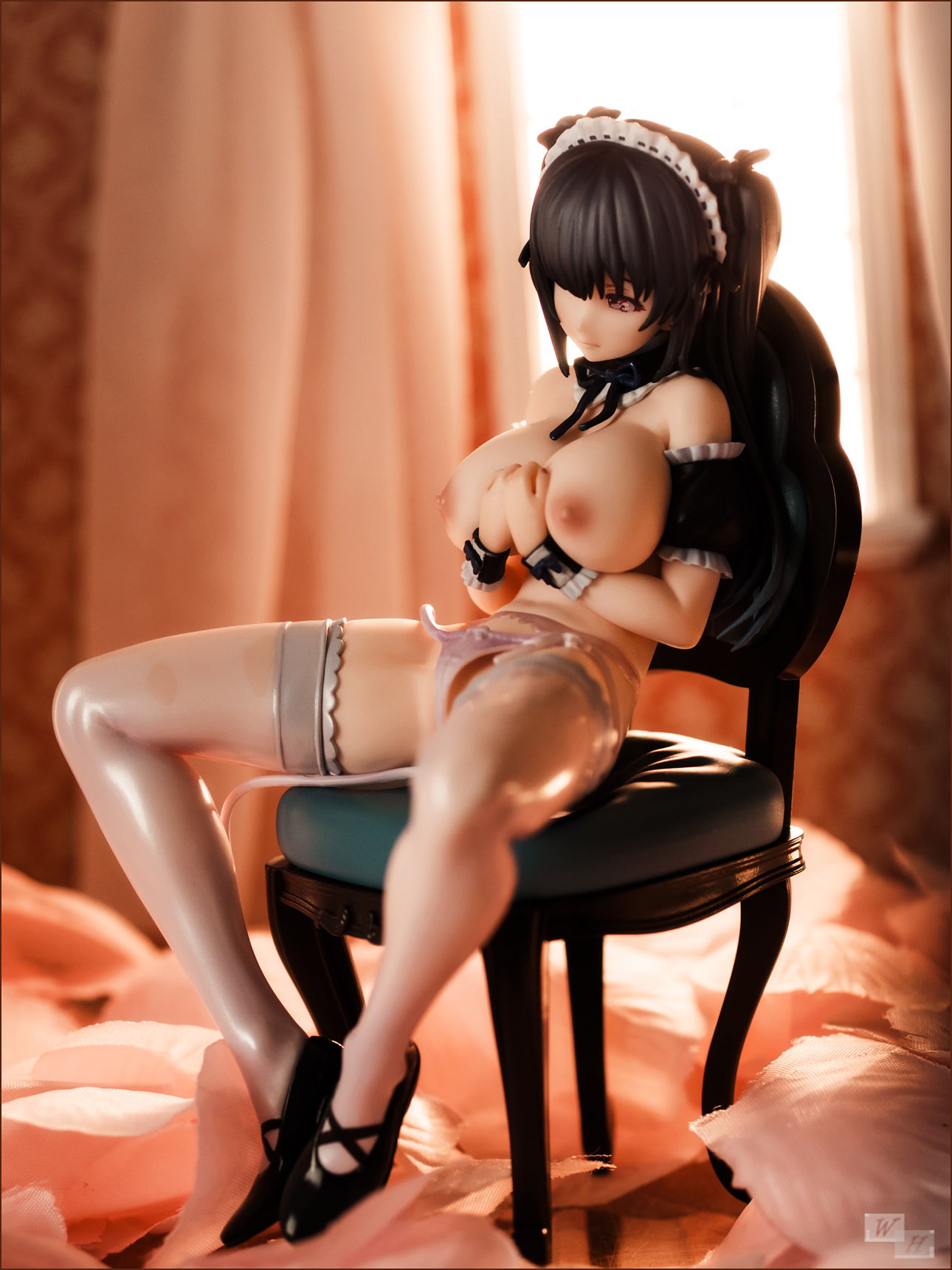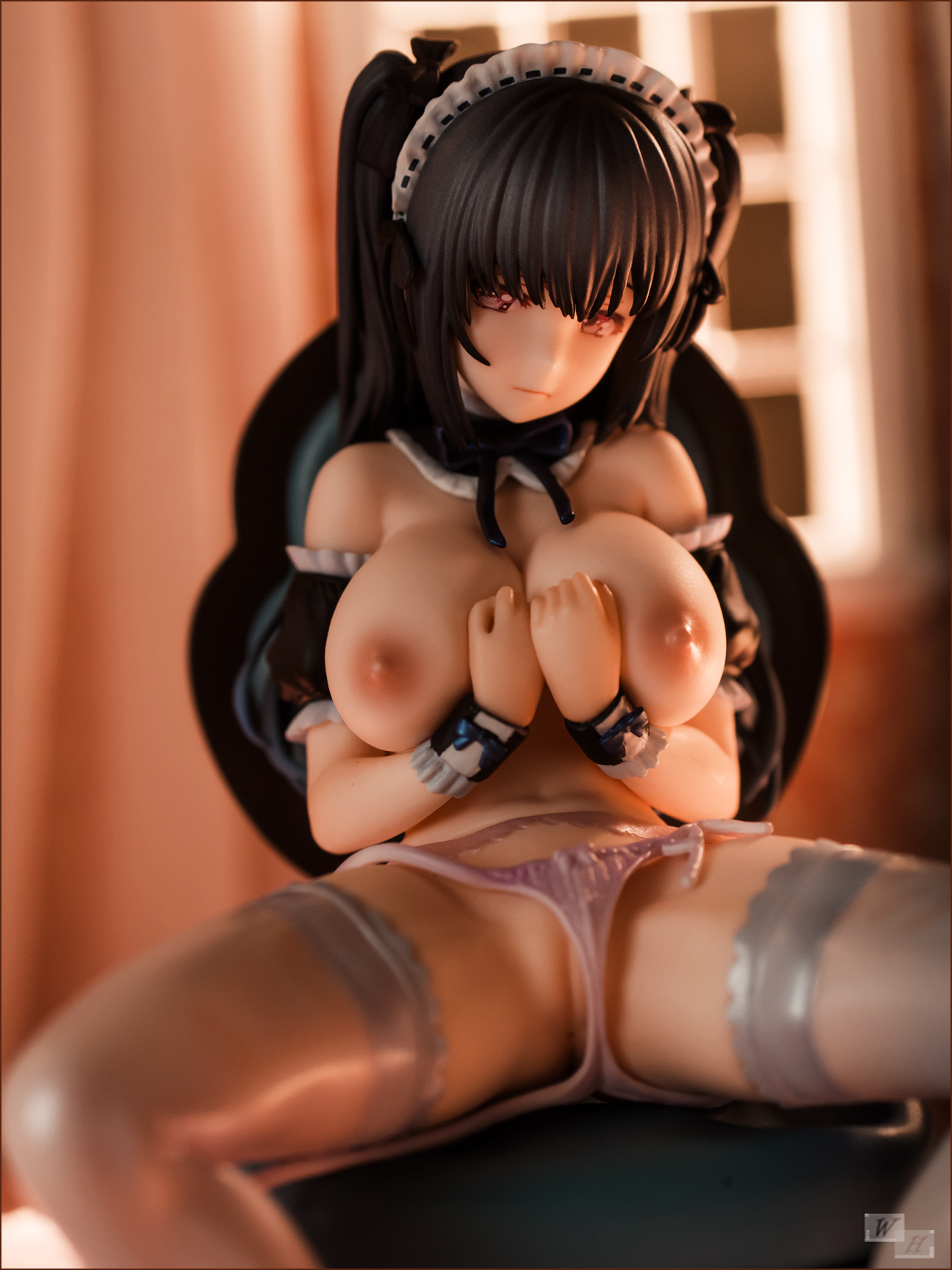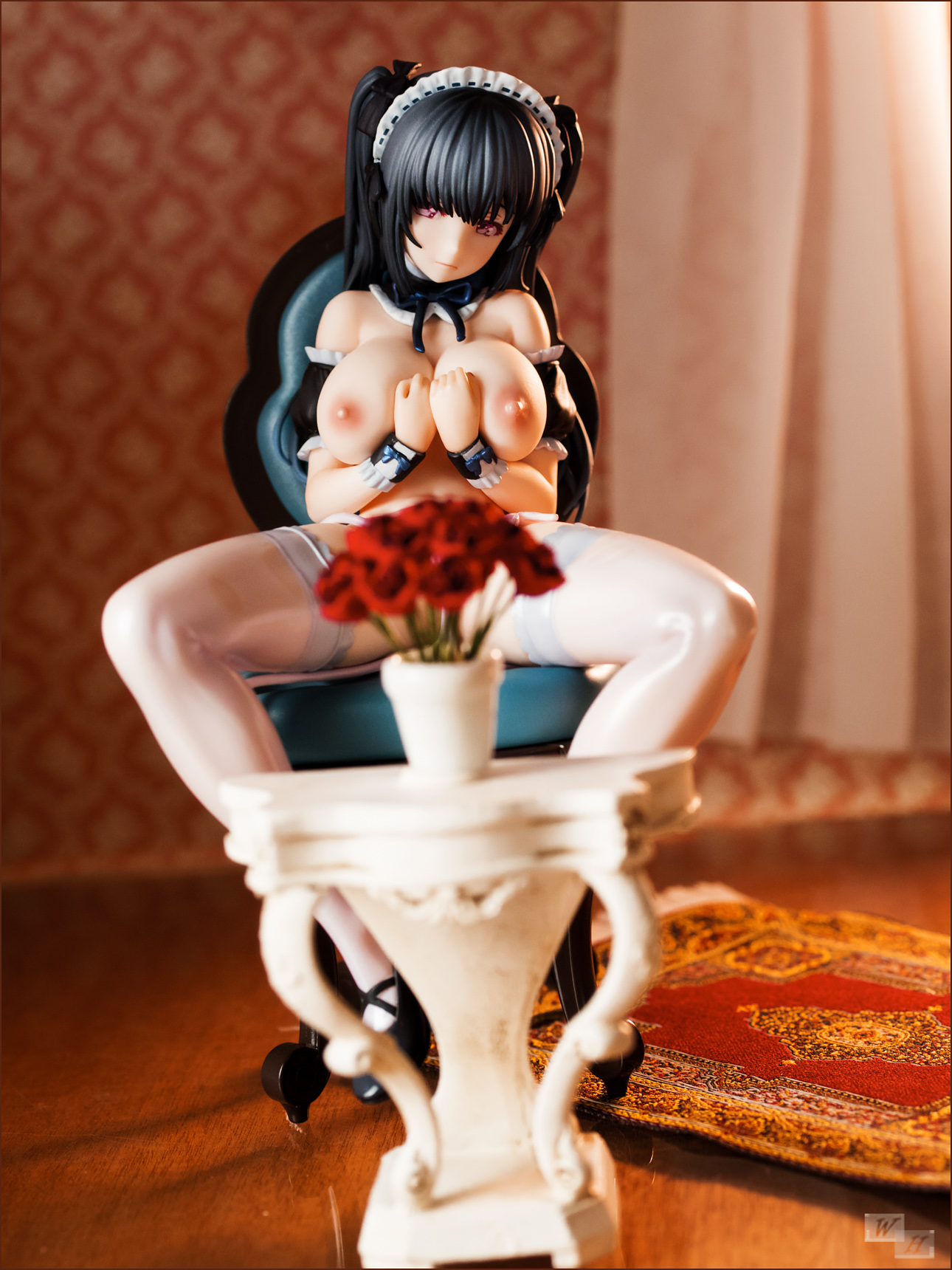 Considering the figures small size, the mouth looks great and adds a lot to the figures distinctive expression.
Ami is a pretty young maid with an attractive and seductive body, she has nice legs, but most prominent are her luxuriant sized breast with nicely shiny and pointy nipples, which Ami give a gently push upwards. The figure has without a doubt a provocative pose, sitting on the front edge of the seat and her back leaned at the back rest. The pelvis is tilted forward and the legs are spread in an inviting manner.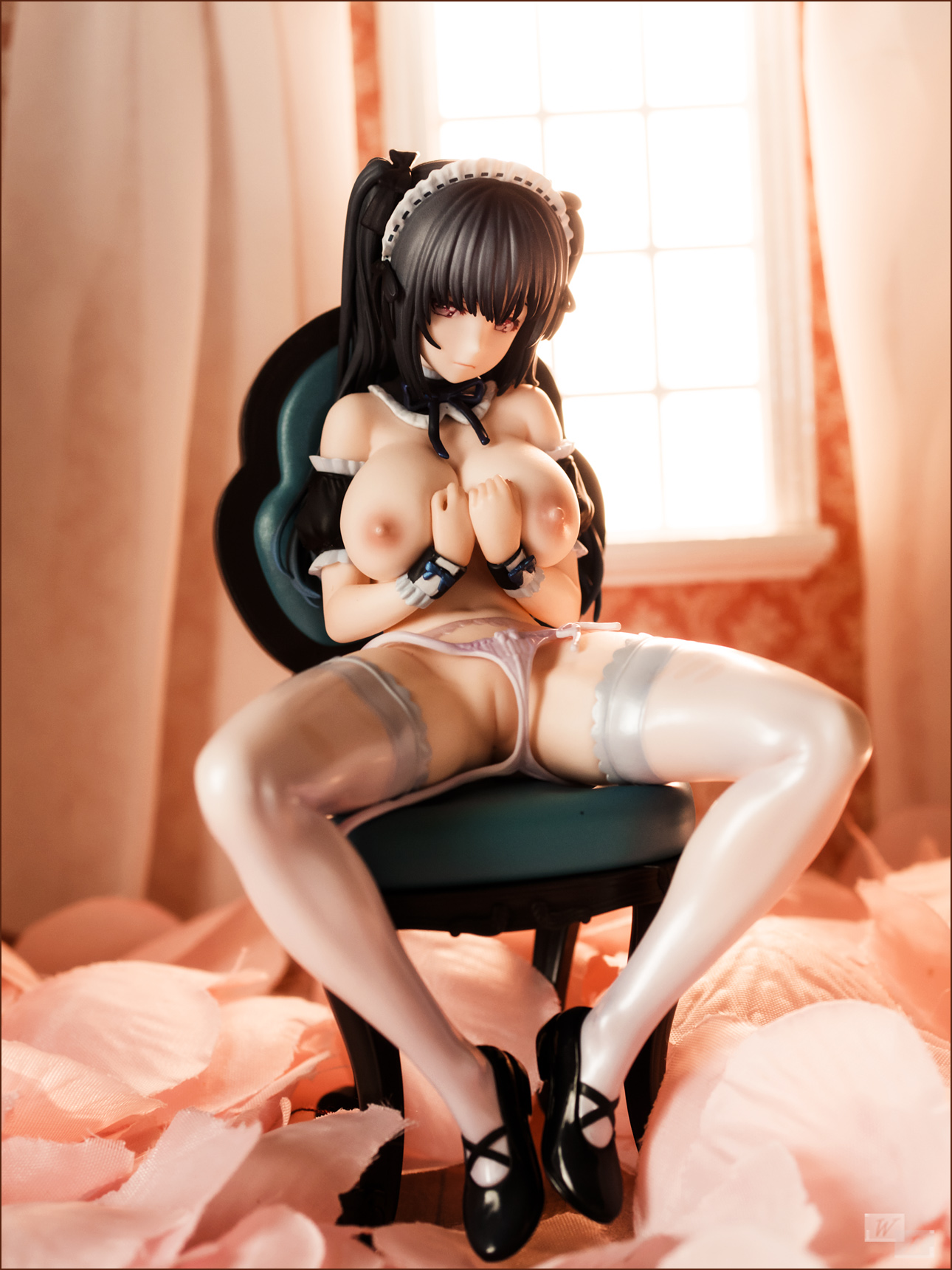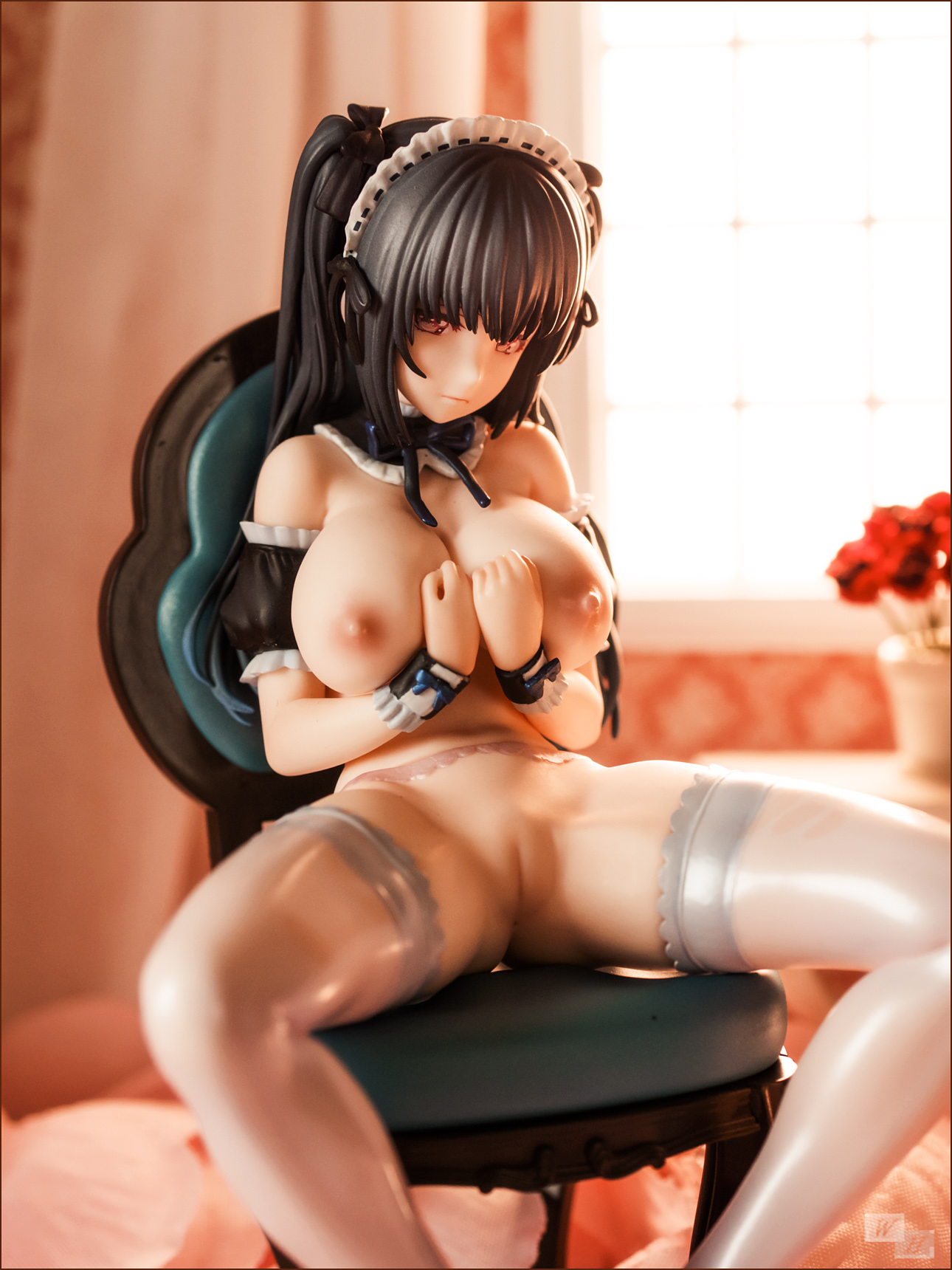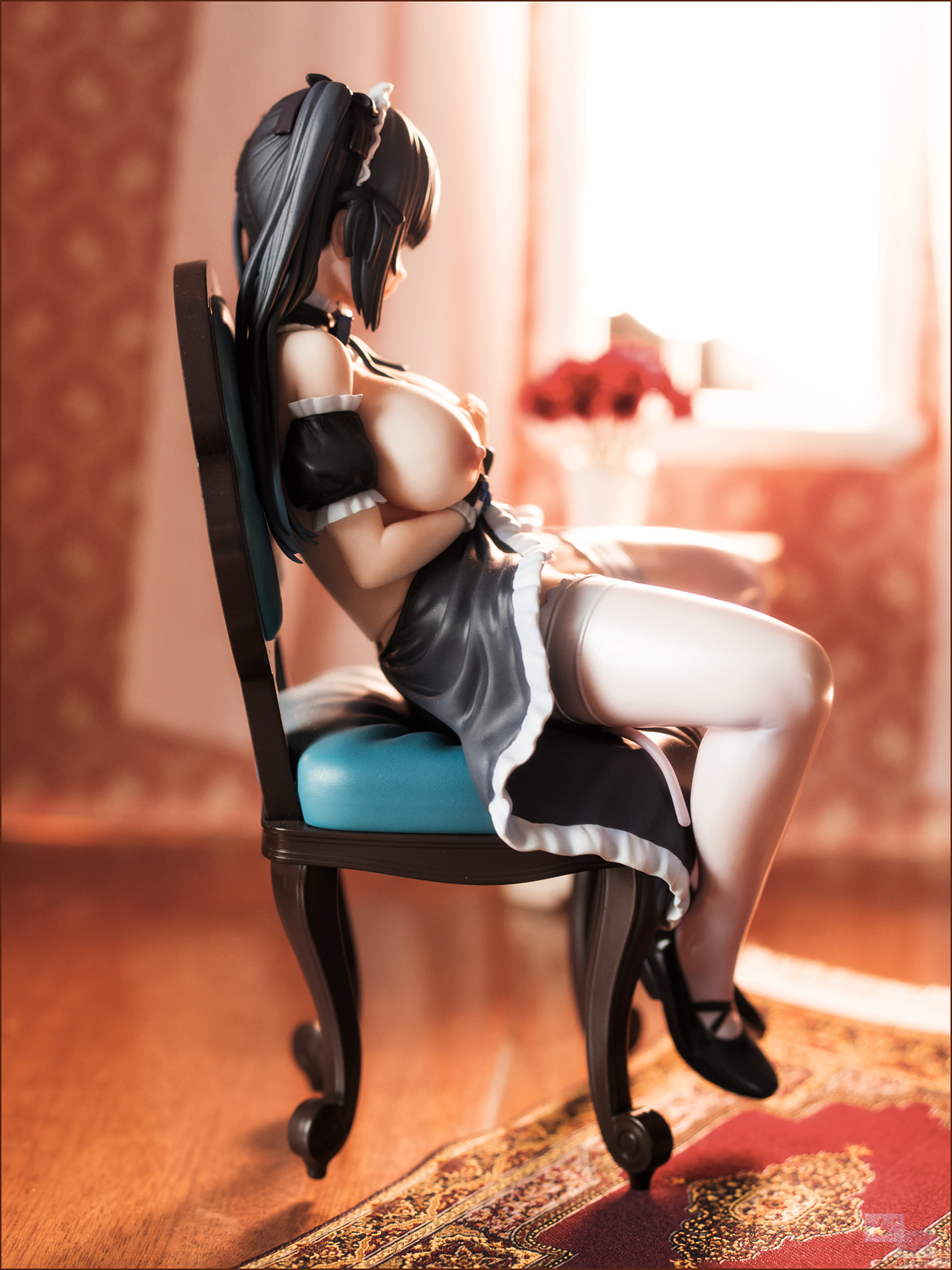 The figure has sculpted genitals, the puffyness covers and prevents a too explicit appearance, I like it that way. It's cute and I don't have to feel too shameful about it.
By default Ami is a half nude figure, but the parts of her maid uniform are nice nevertheless. She wears a maid cap, a choker, arm and handcuffs, the top was probably lost somewhere in the action, it's not part of figure at least.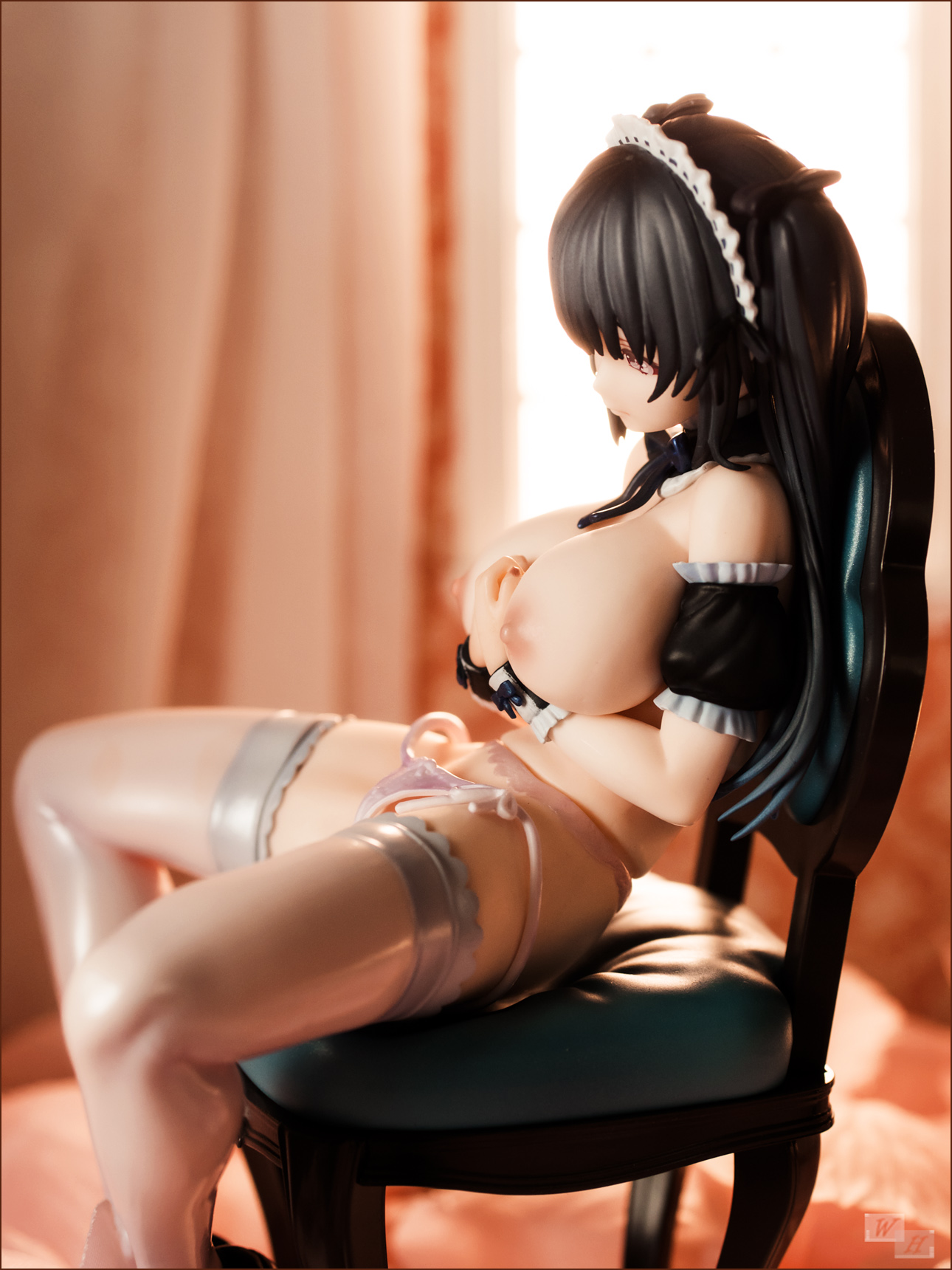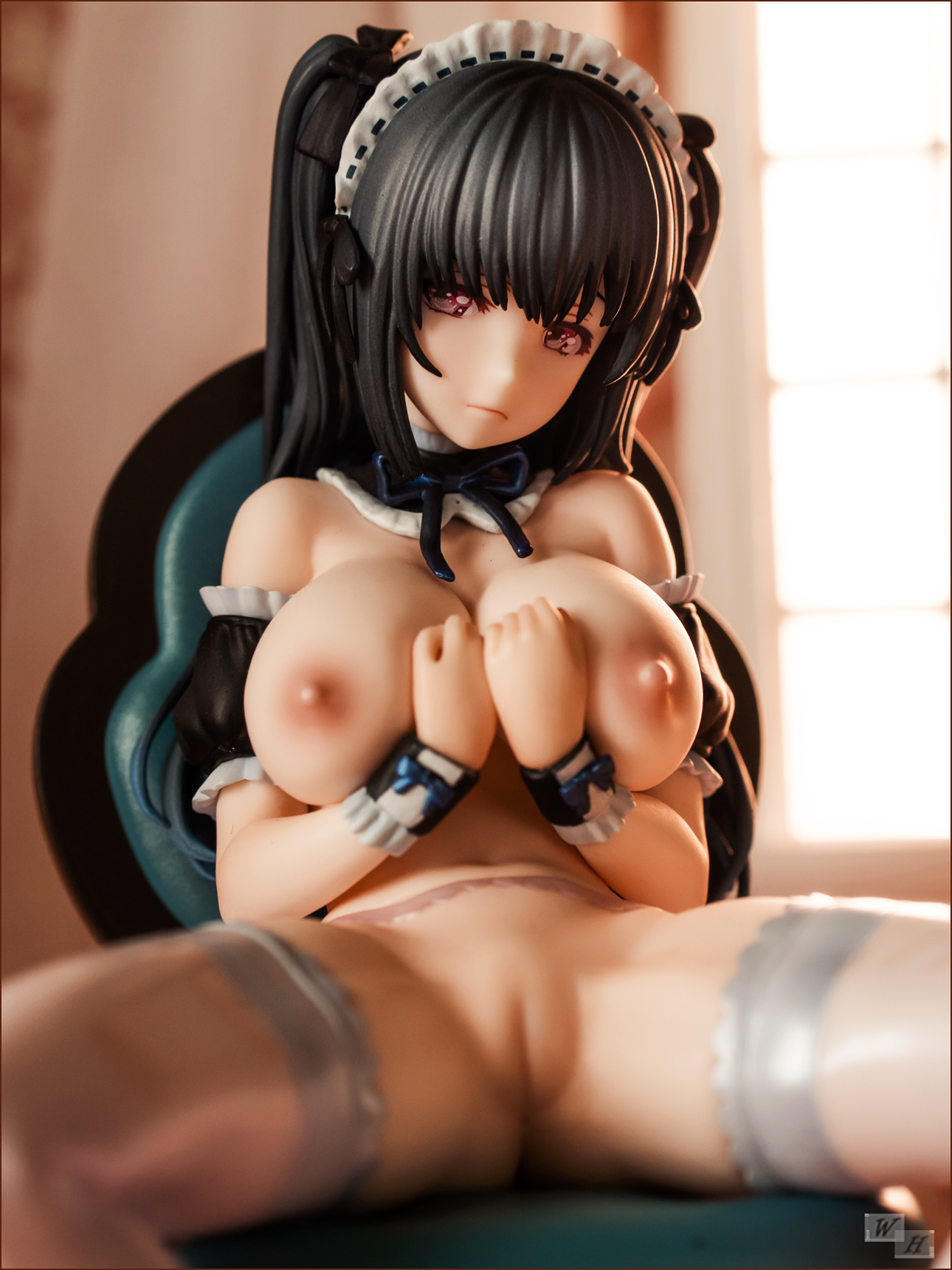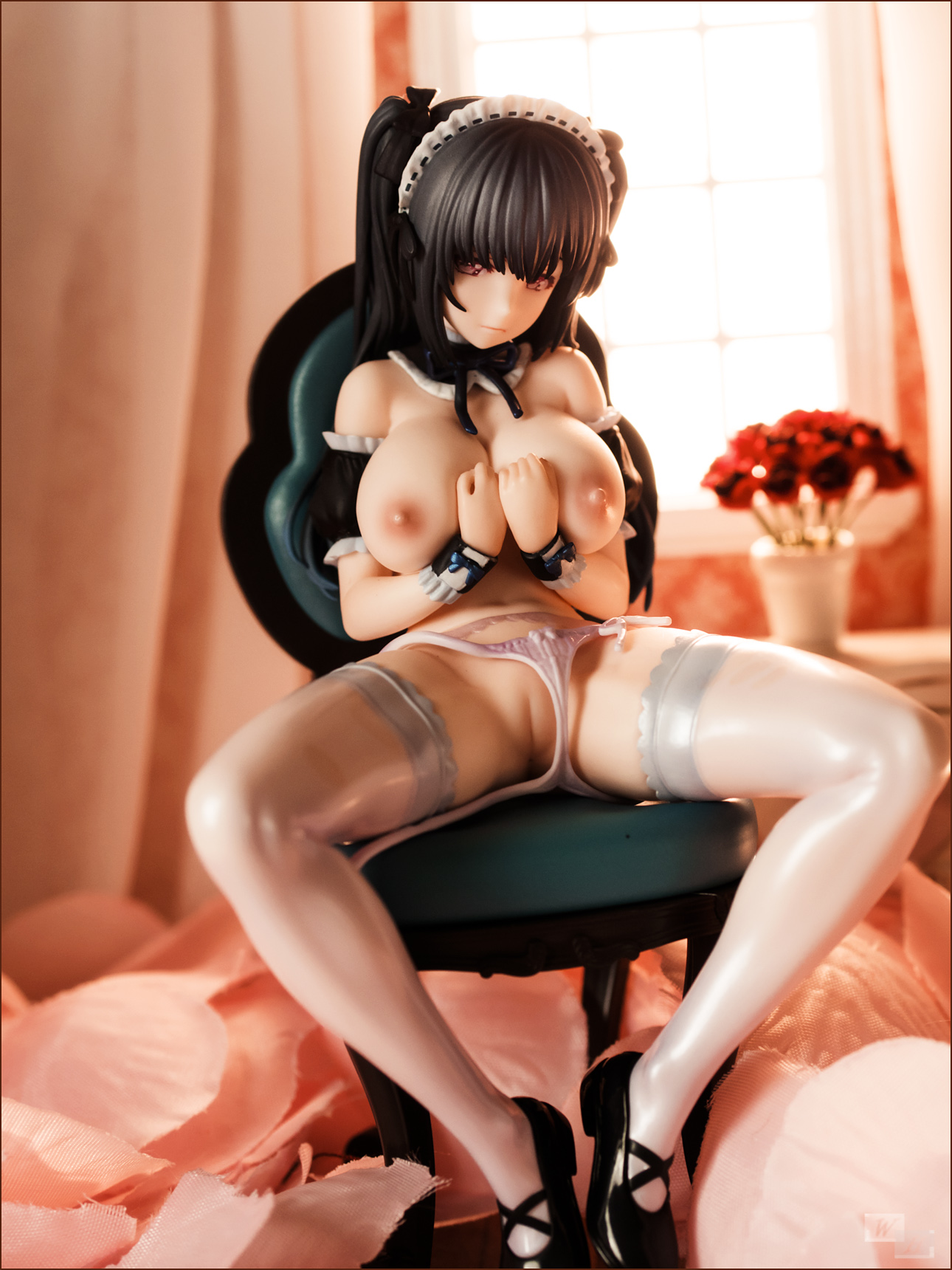 The skirt is pulled up and is hanging over the chairs seat. She optionally wears pink panties, compared to the prototype the panties always look a little disarranged on the final version, but that is all right. A funny detail, that one might overlook on first sight are the holes and scratches in her stockings, a bit kinky, but it adds more detail to the figure.
Final Words
On summary Maid Ami by Progress looks really pretty and lewd lol. As expected from the sculptor Deira, the figure is very detailed and has an distinctive facial expression. It was my main reason for ordering that figure and I really love the scowl combined with the lively eyes. The figure has a nicely articulated pose, it is quite expressive and together with the nicely shaped body a beautiful and attractive figure was manufacturered. Well about the size, the 1/8 is just a bit lackluster, while sitting on her chair she merely measures 16 cm. Sexy figures should at least be scaled 1/7 to unfold their appeal and details. Ami actually is a very detailed figure, her body, the clothes and also the chair look really nice. Unfortunately the pretty figure is just so tiny in my eyes, it's my fault for not checking the scale properly in advance.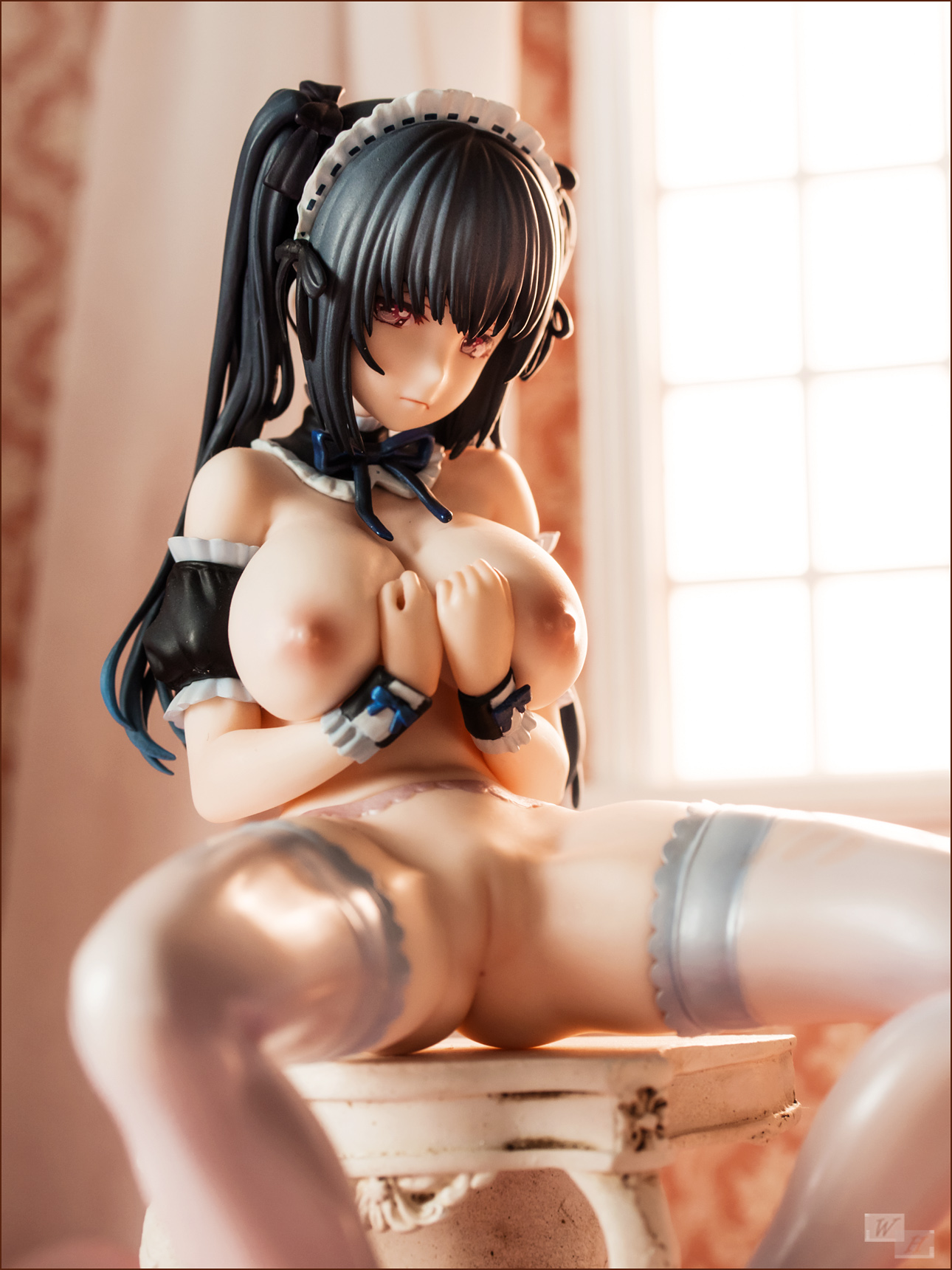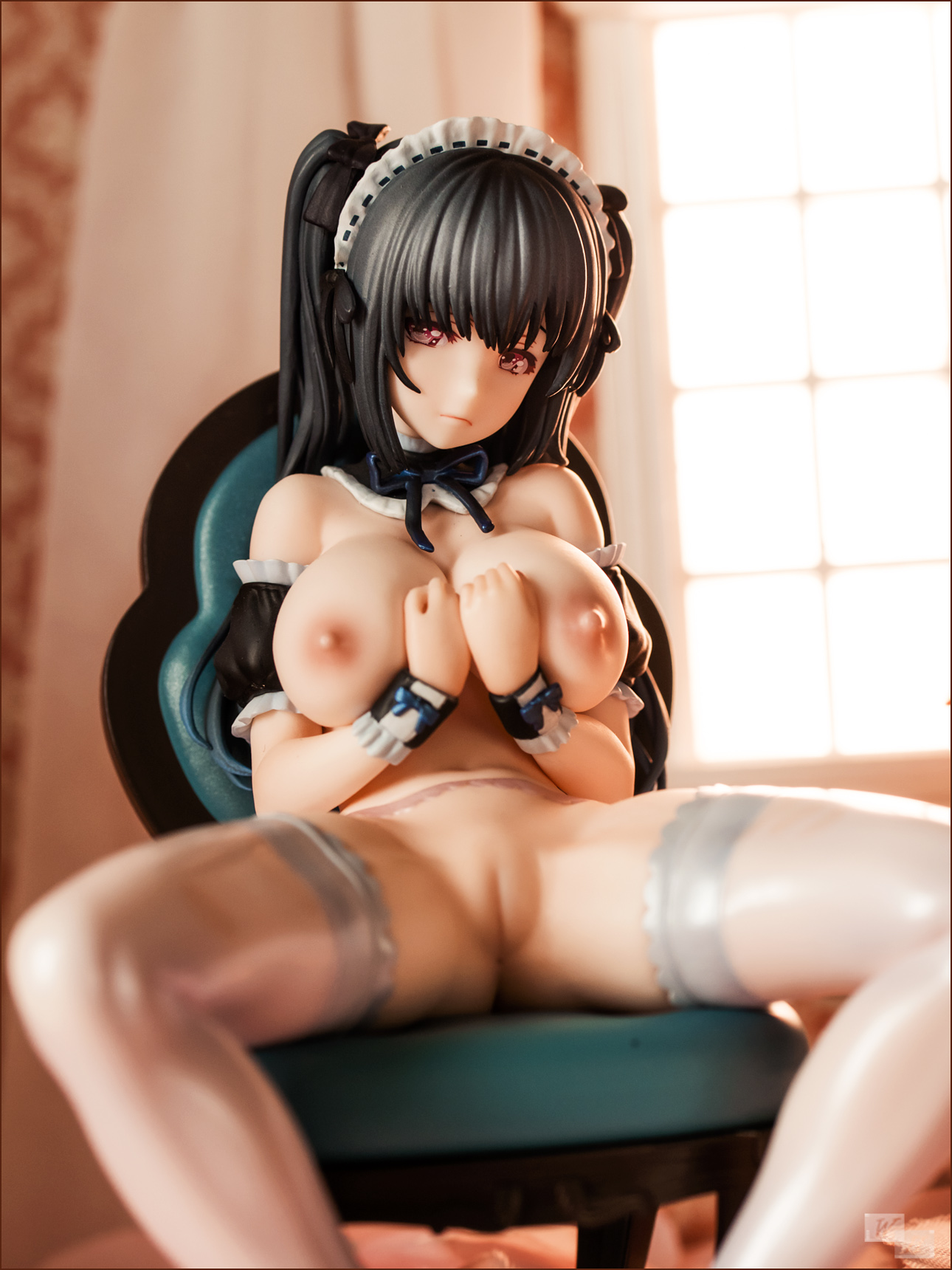 On another note, unrelated to the appeal of Maid Ami, I think that this figure is a bit too raunchy for me, of course as straight male I enjoy pretty girls in ecchi poses, but I feel a bit shameful to display her in my house. I like all my topless figures and I also think that Ami has cute genitals, but alltogether this ero figure is just a bit too ero for me.