Today we go fully nude with the Shiina Chieri – Extremely Limited Distribution Edition figure manufactured by Q-six.
Exposed boobs are nothing unknown to this blog, but I rarely gotten completely castoffable figures.
Shiina Chieri is the main heroine from Baka Dakedo Chinchin Shaburu no Dake wa Jouzu na Chii-chan, which means something like "It's stupid but just sucking cock is good" Yes, now I`m rather shocked myself, don't get lead astray by the crude title, it`s after all, a vanilla hentai with a sweet story.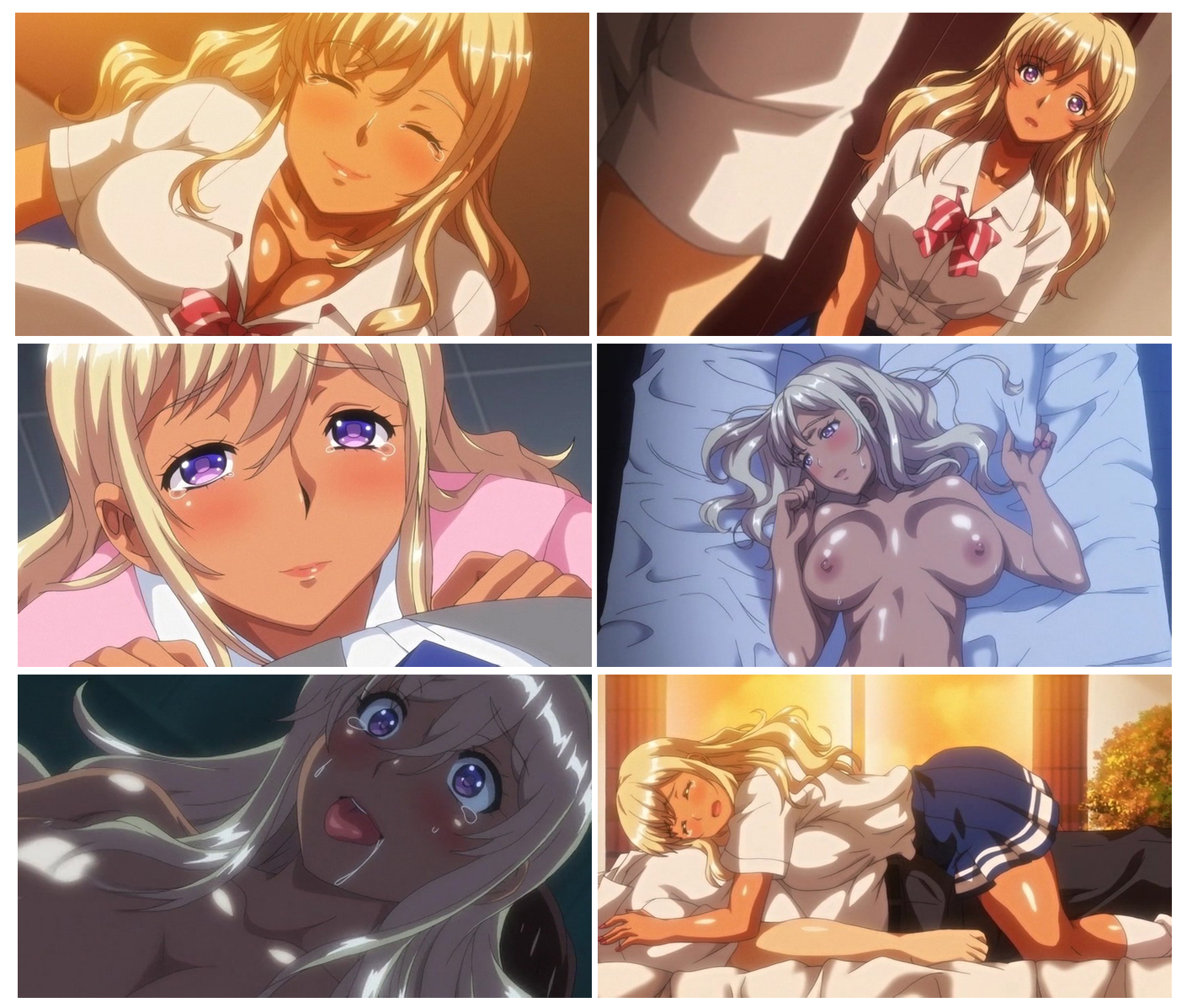 Shiina Chieri is gyaru character, in anime culture gyaru characters are most likely portrayed as good girls with a big heart. She is a sweet girl only a bit bad in school. I liked her cute personality and beautiful character design.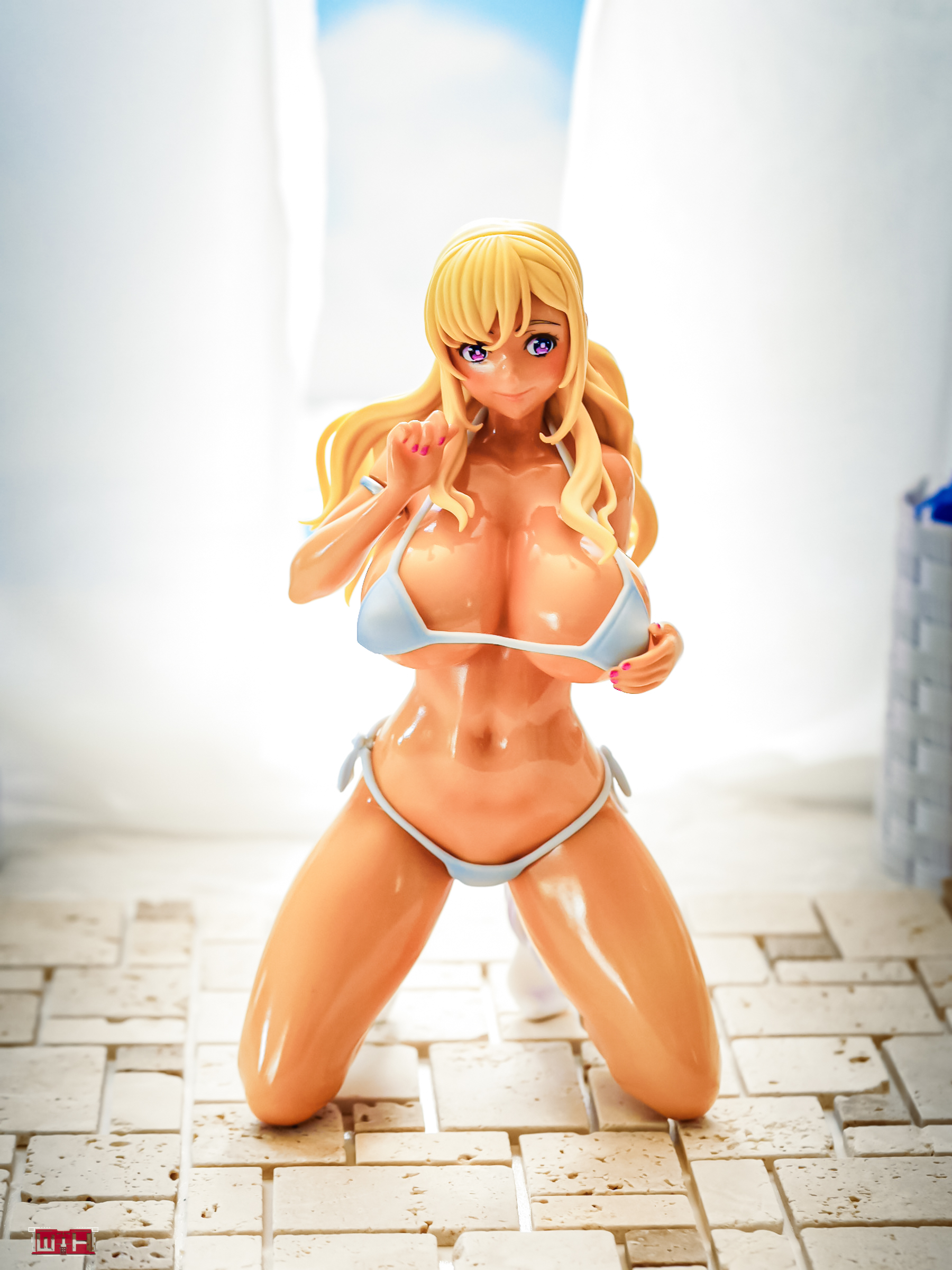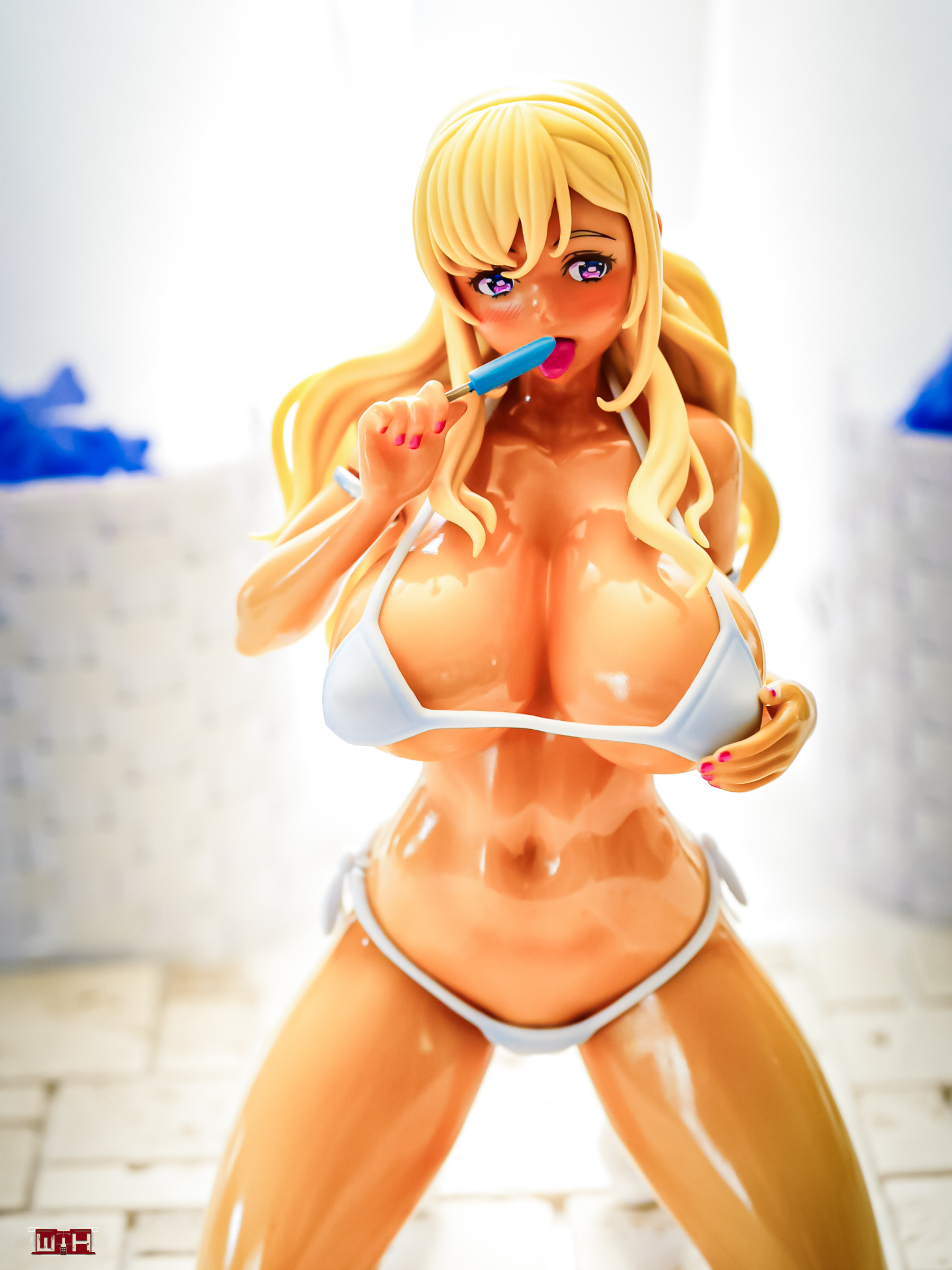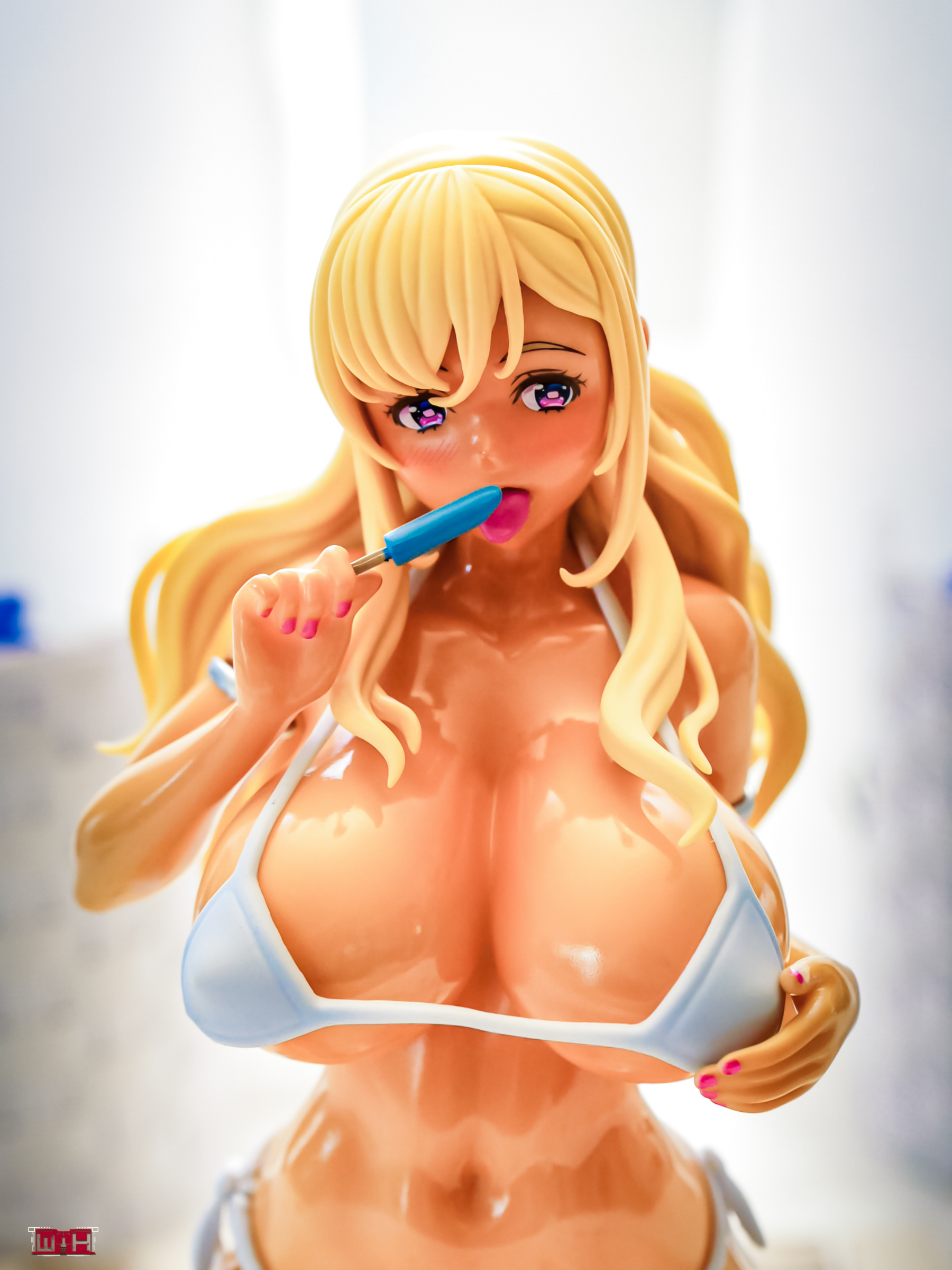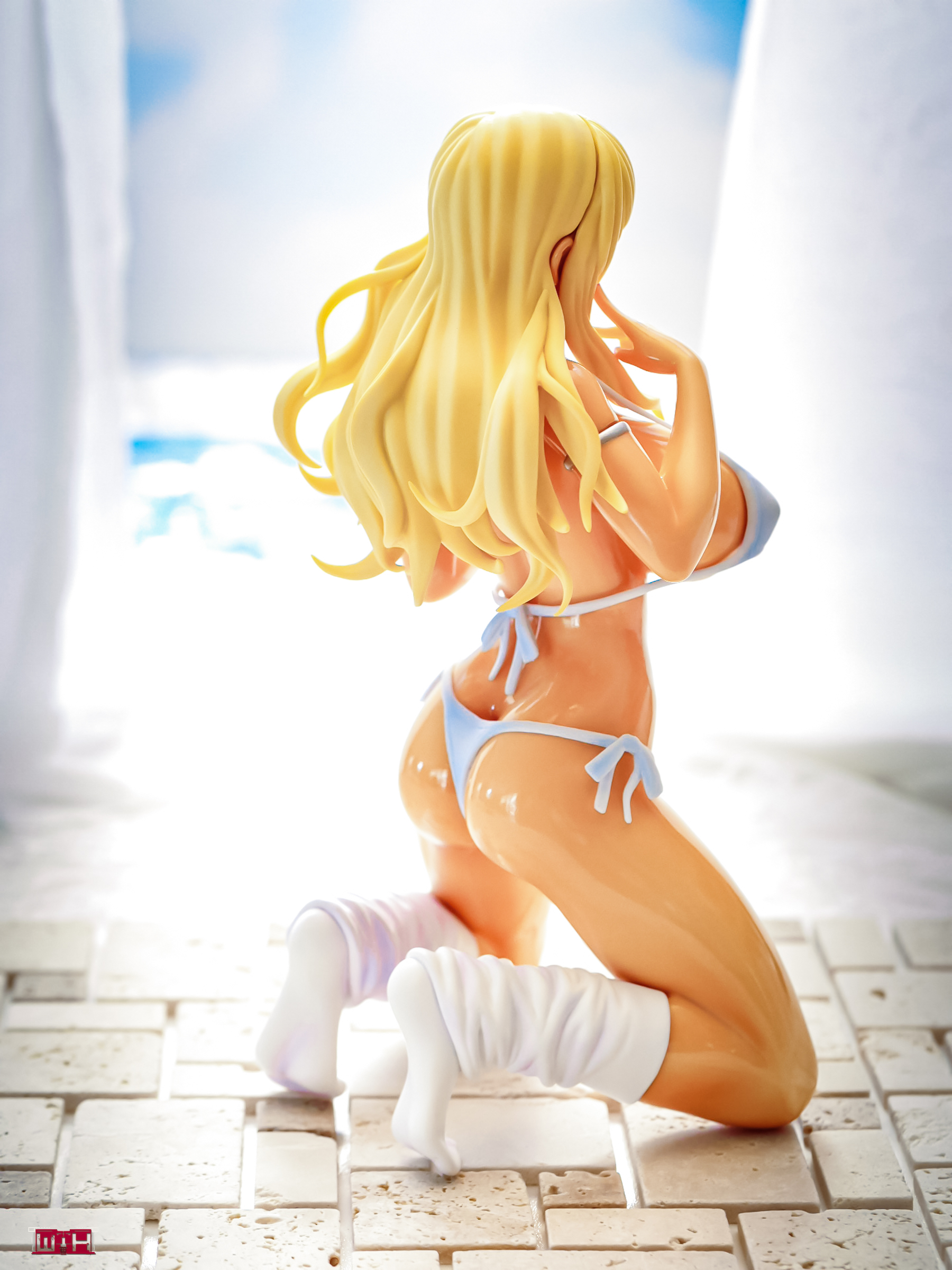 The purchase was love at first sight, she is a wonderful figure with a dynamite body and a beautiful smile. The only question was which version I wanted in the end, the Sky Blue version with a flustered face, the regular version with leopard pattern bikini or the glossy Extremely Limited Distribution Edition. On the past Wonfes even a non tanned version was offered. I decided for the Extremely Limited Distribution Edition, but what is so extremely limited about the Shiina Chieri figure? In short the figure has a glossy top coat, which looks really great and attractive.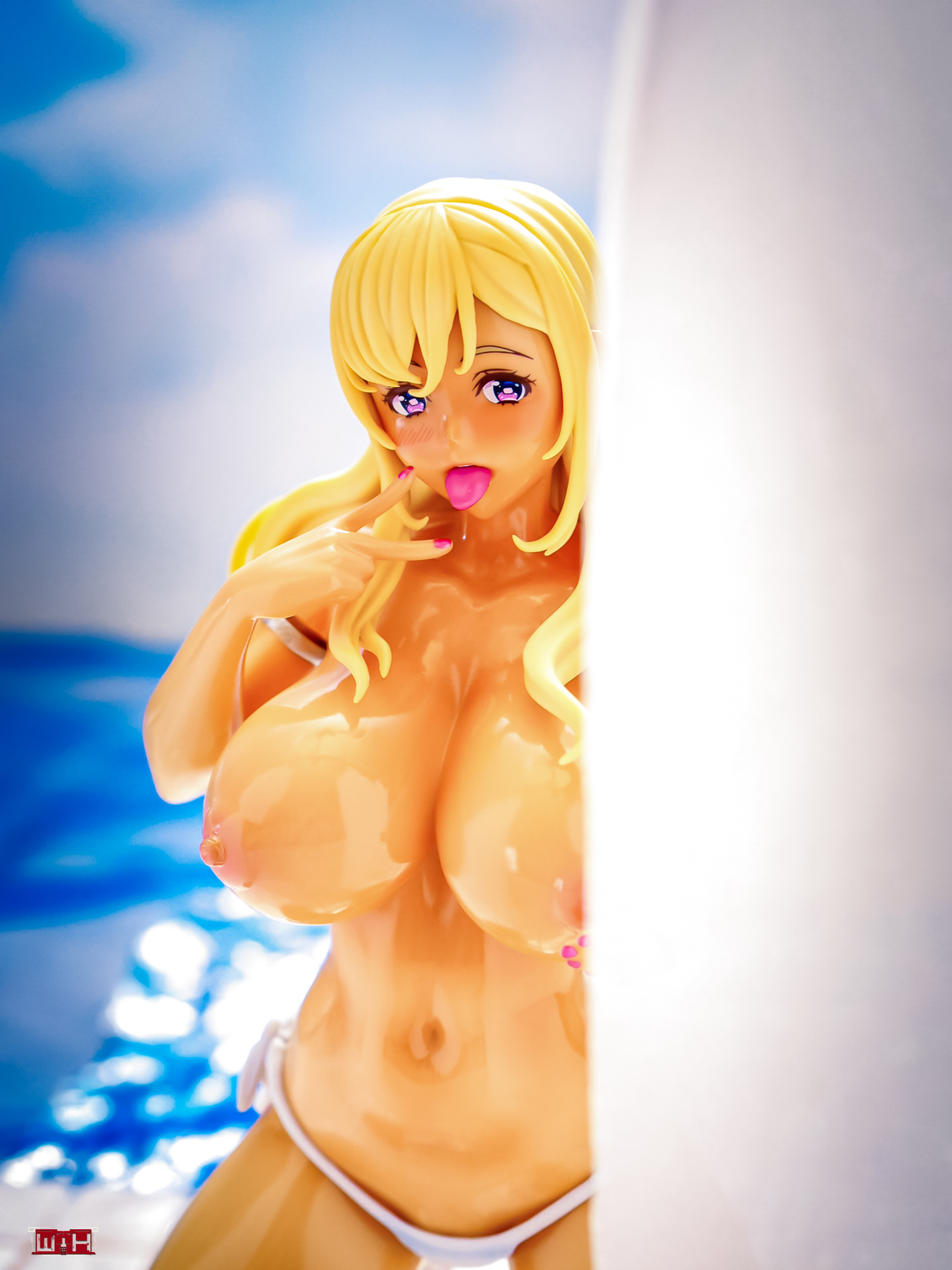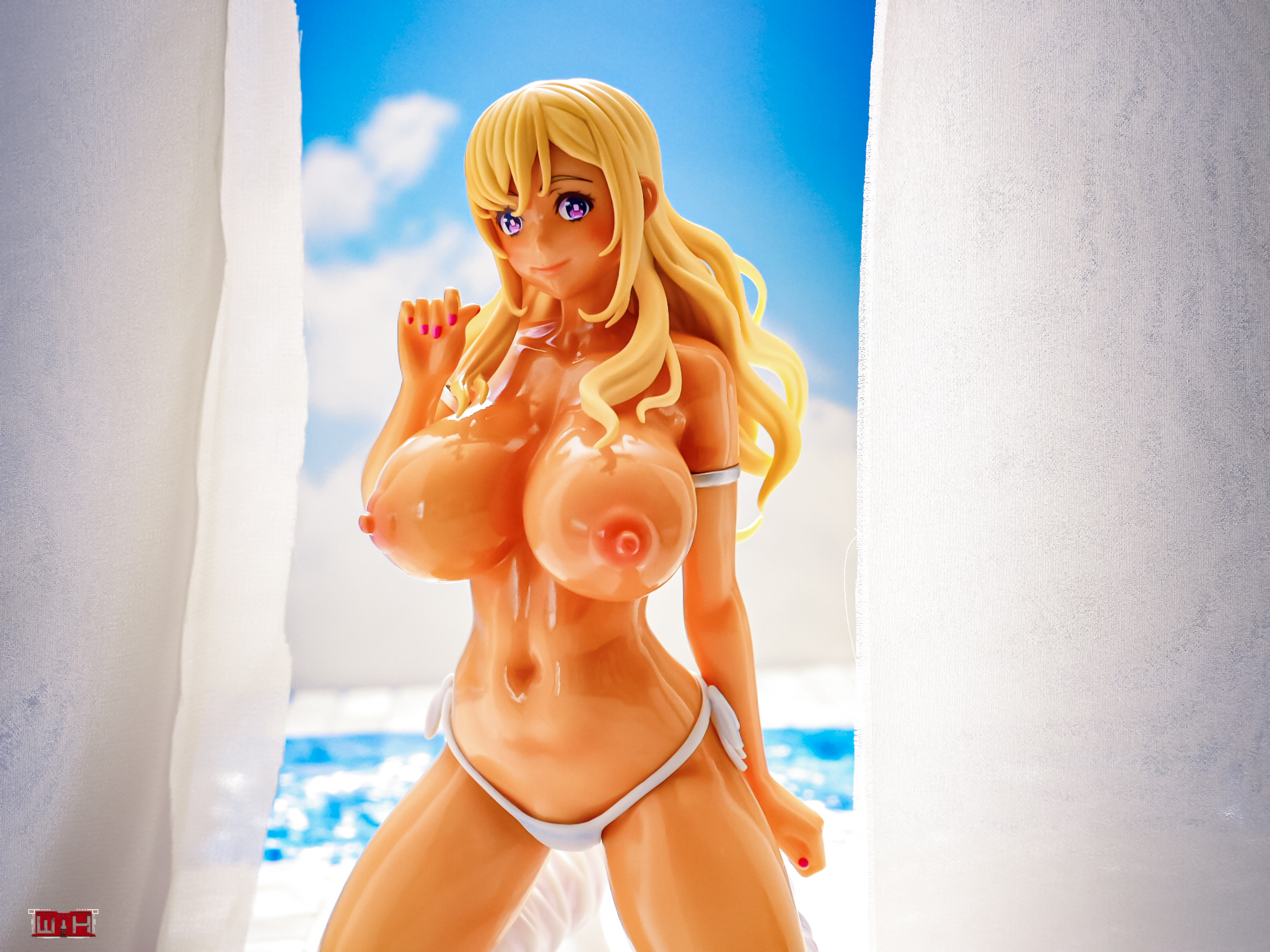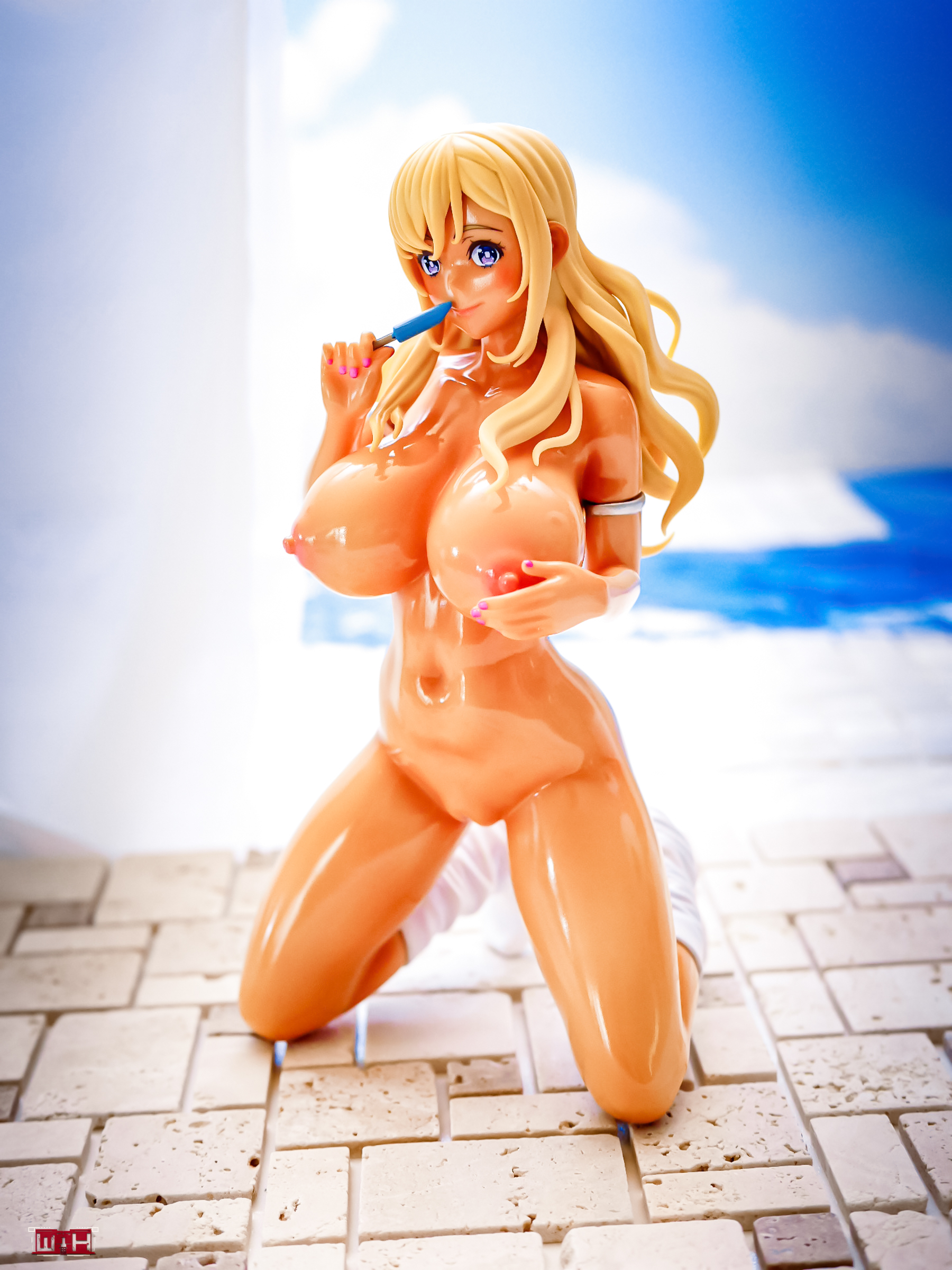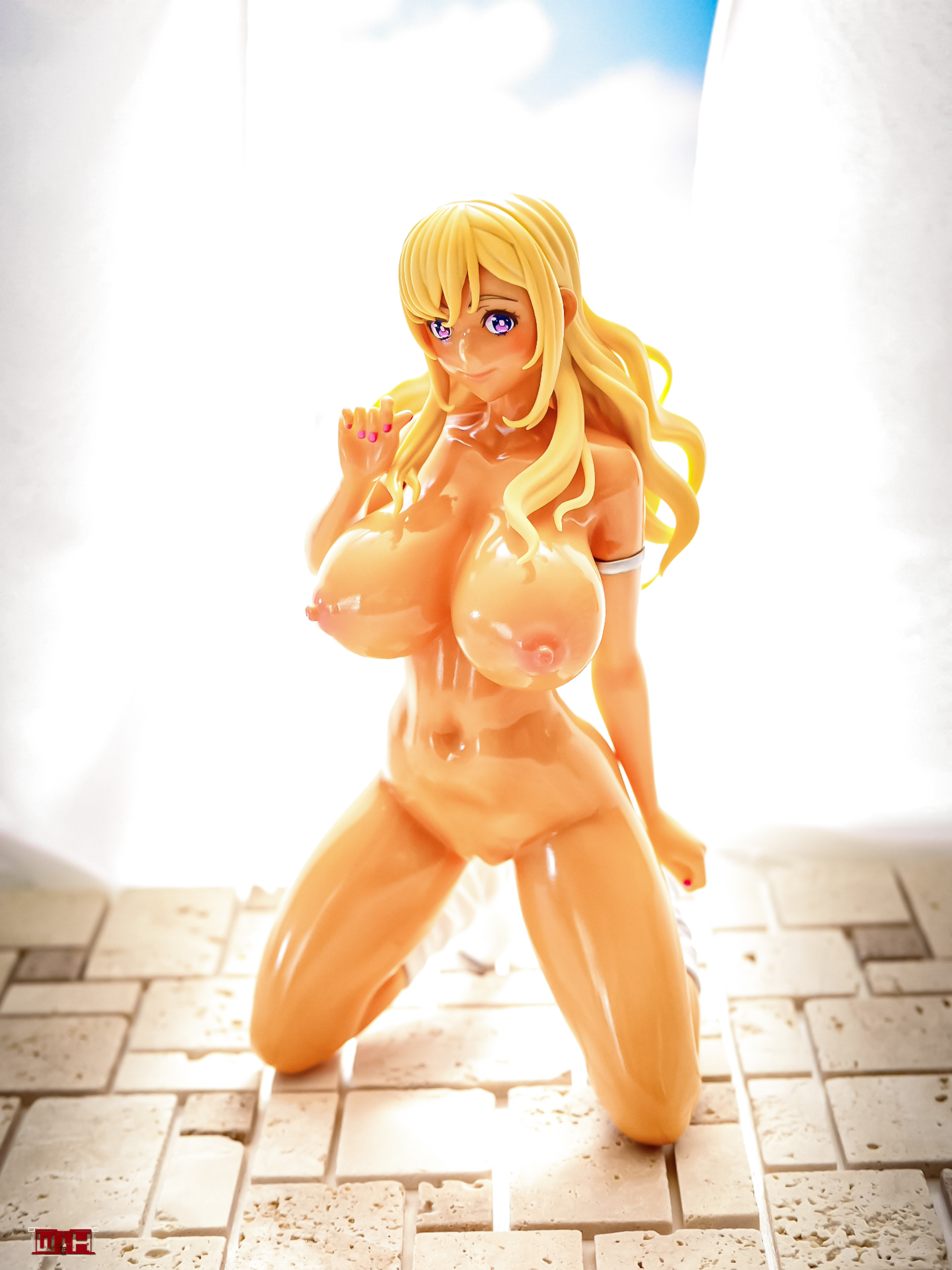 Q-six is mainly a manufacturer of ecchi figures, they mainly adapt characters from h manga or hentai anime.
Shiina Chieri was sculpted by Nollgreco and is scaled 1/6 (18cm). The figure has been released in June 2018.The figures box includes 2 faceplates, one with tongue out, which is very good and funny, she also offers exchangeable arms for each sides, there also is a popsicle that Chieri can hold in one of her hand. The bikini is castoff able. There are many different display options. A set pubic hair decals in blonde and black color of different sizes is also included.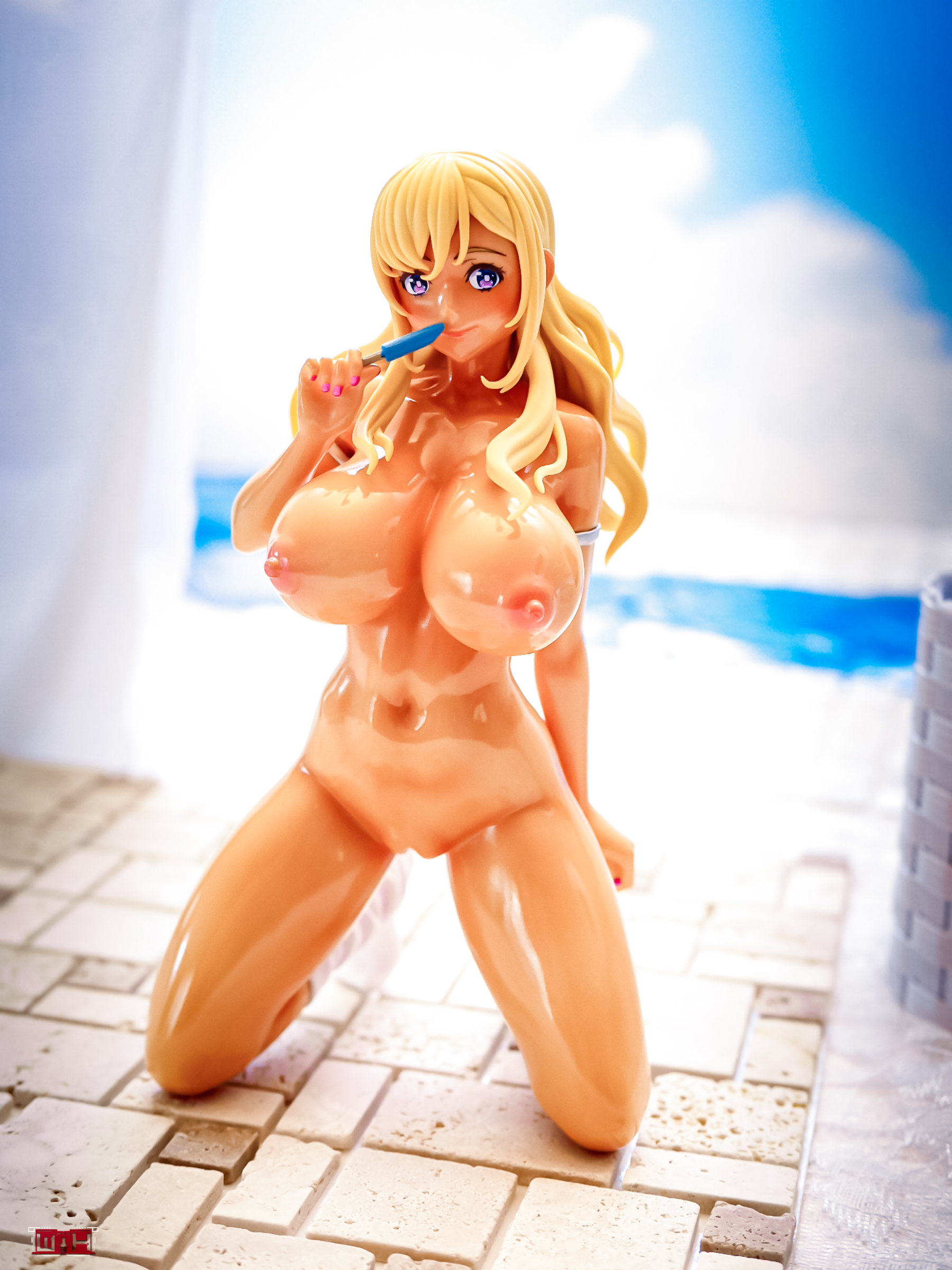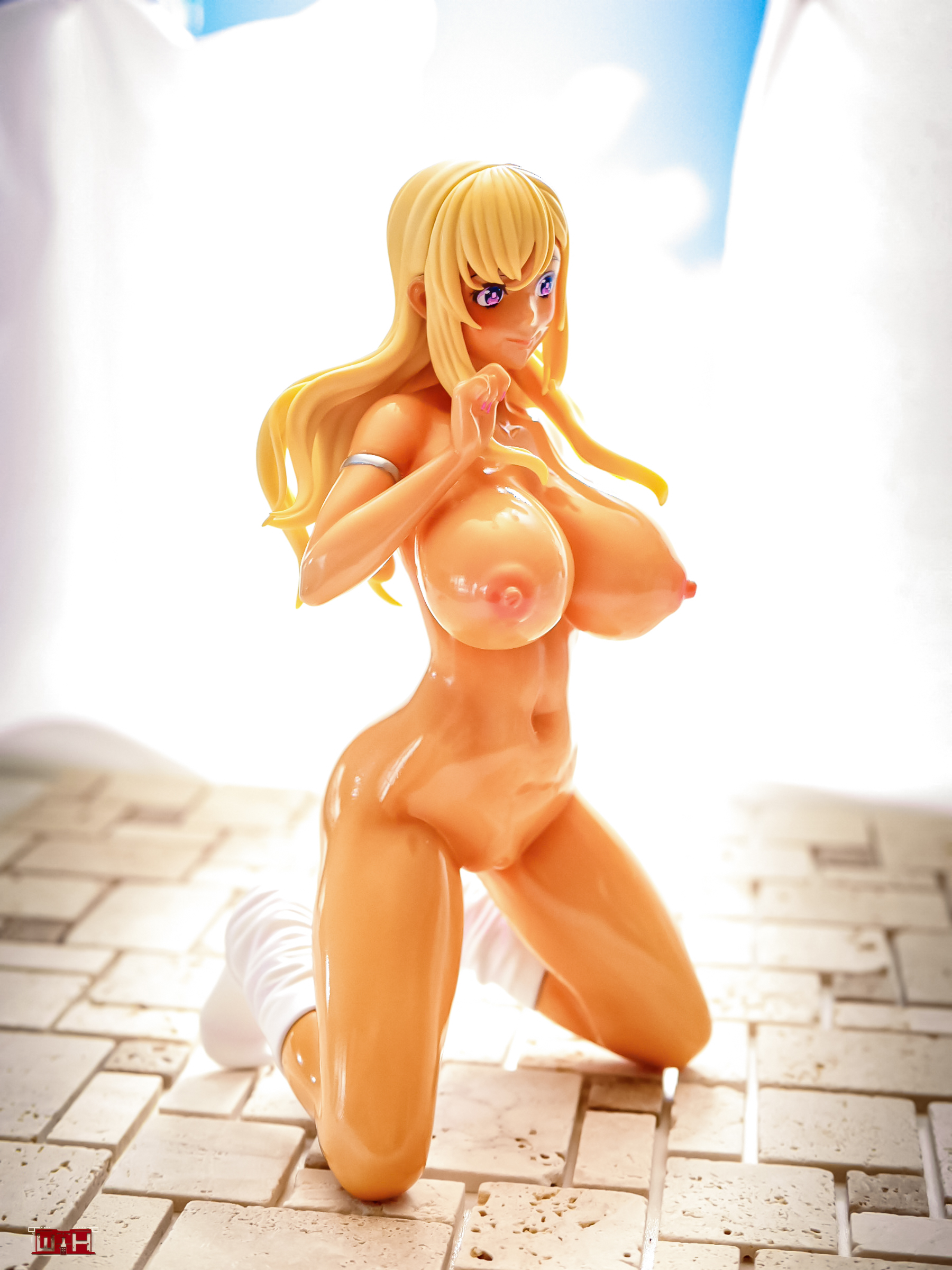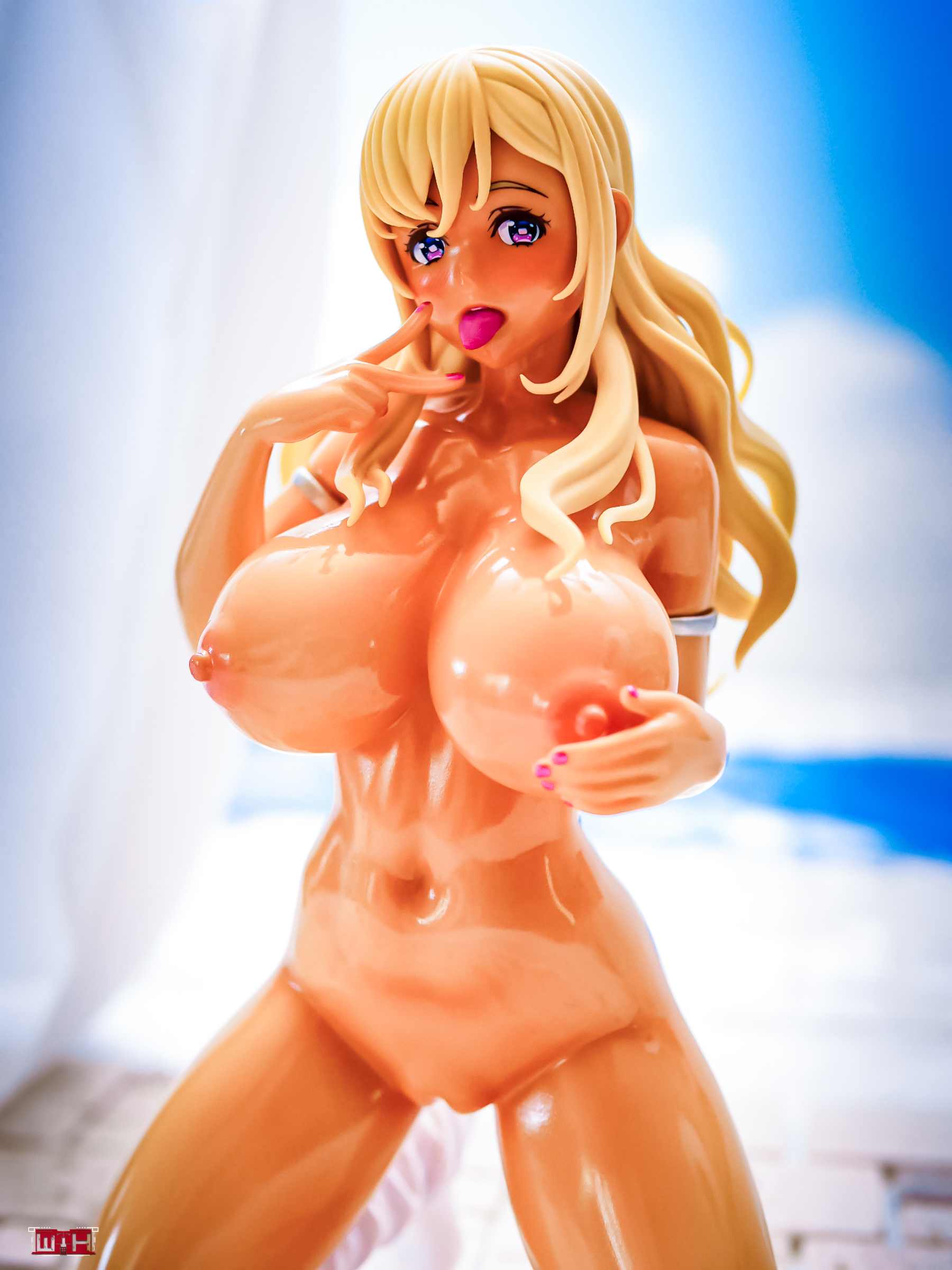 In advance of receiving this figure I had no idea how the glossy tan would look in person. The tanned skin tone alone already turned out quite pretty and interesting, between all my mostly pale figures, the orange brown color stands out and is a real eyecatcher. The glossy finish adds a wet look to the figures body and highlights her great curves.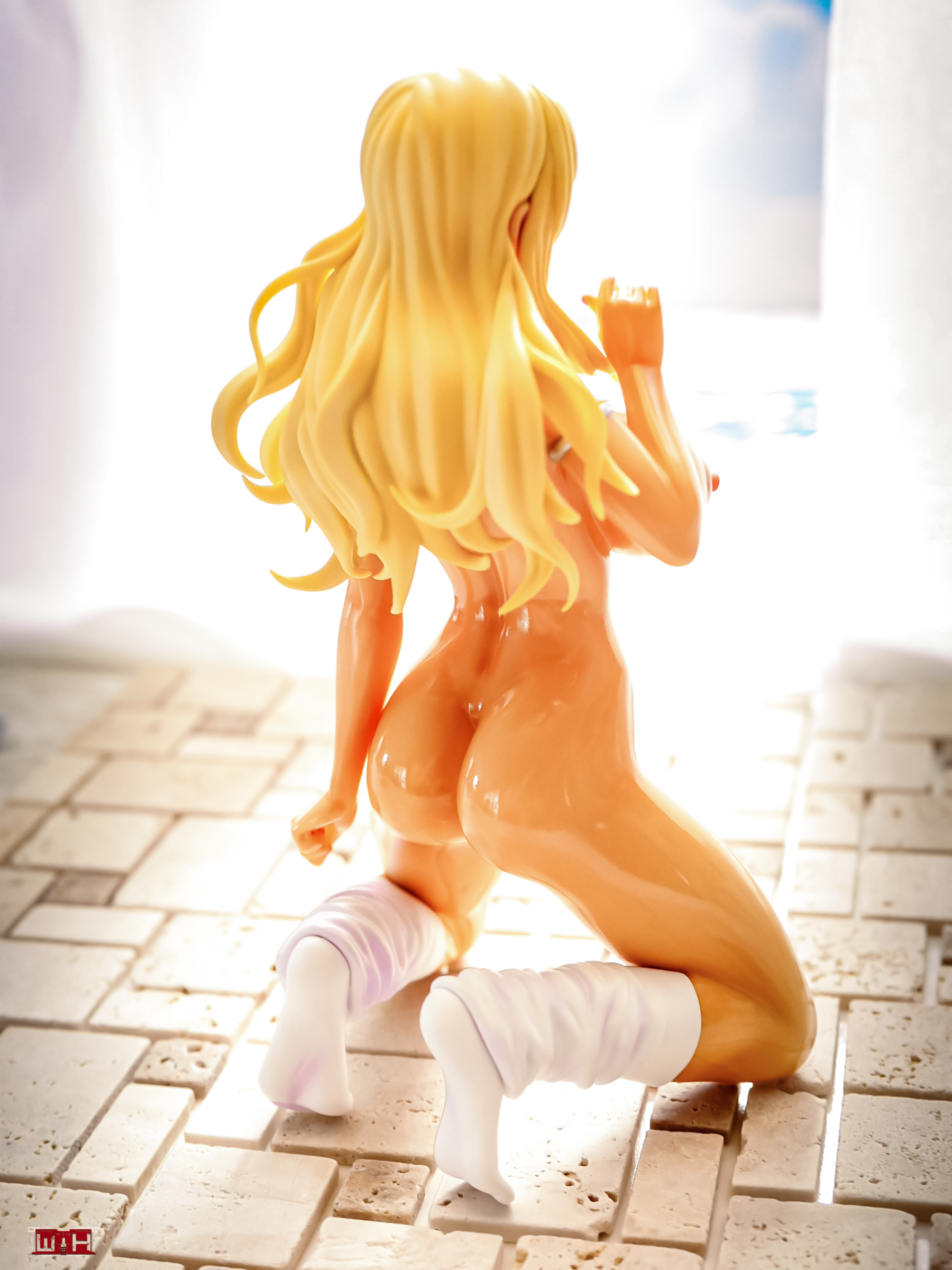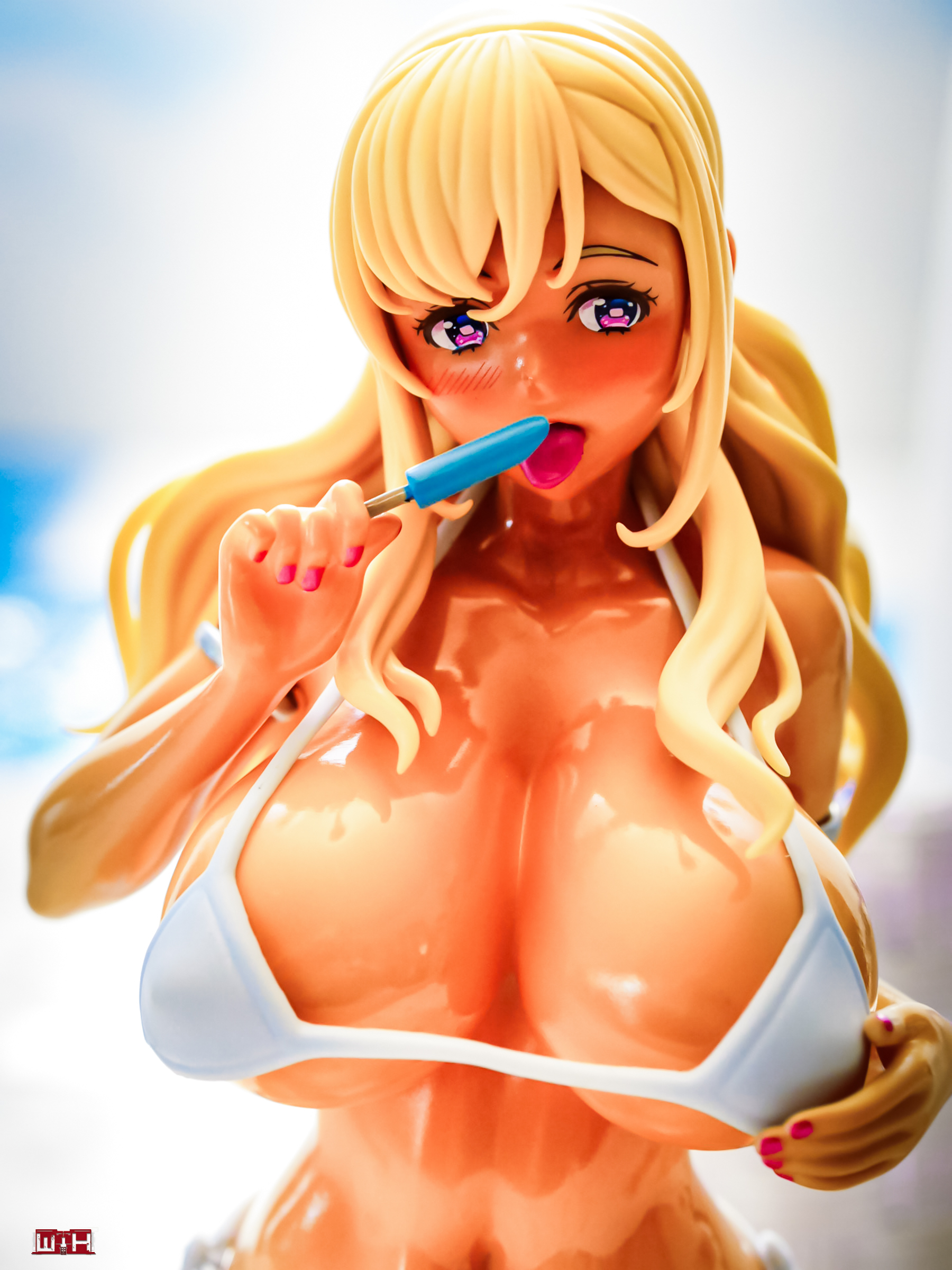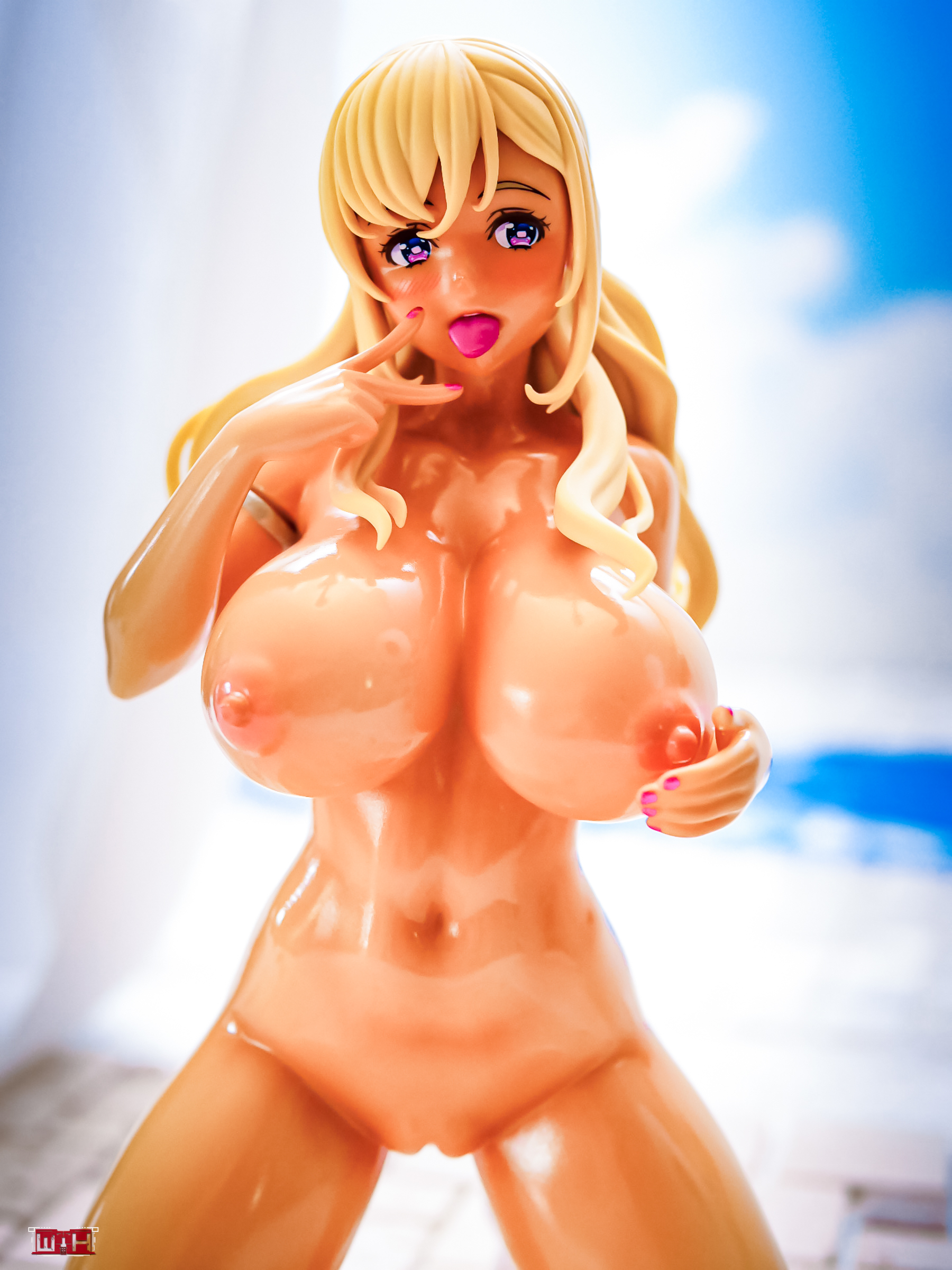 The face is not as shiny as the body, the effect is moderately reduced, it won`t get in the way of admiring Chieri chan. It is very cute with these lively purple eyes. Her gaze points to the left makes her expression flirty and sweet. The eyebrows are thicker than usual, it`s actually quite nice. She also has a simply adorable mouth with accentuated lips.The alternative face comes off as a bit naughtier in appearance with her cute tongue sticking out, the sculpted upper front teeth is very nice in addition to her expression.
The popsicle comes along as neat item and can be use in such context without she seems to be in heat.The outfit consists of a skimpy designed bikini and loose socks, the top is a bit thick and in general not so convincing, We should probably not use it anymore. The lower part is better and align better with her body.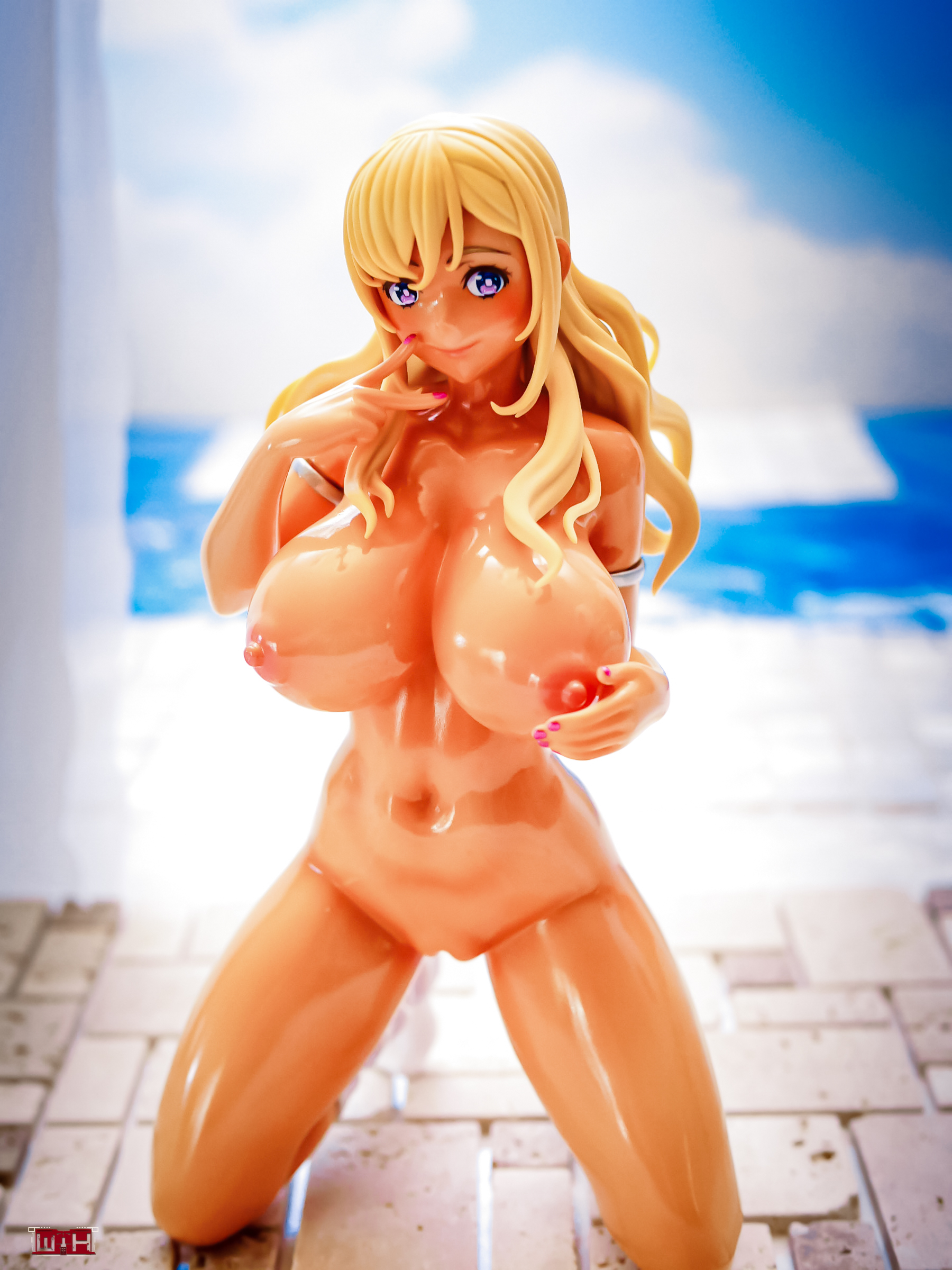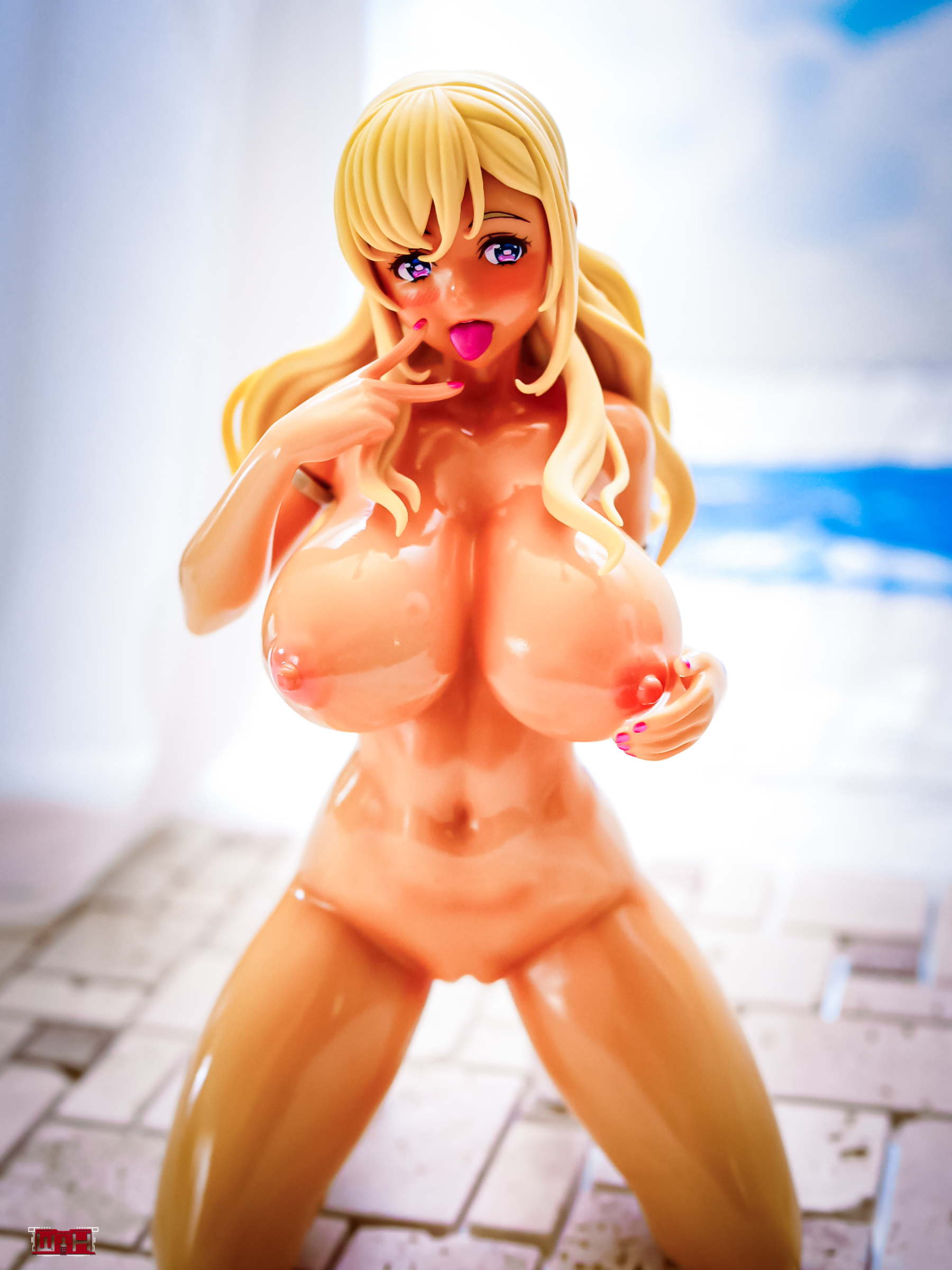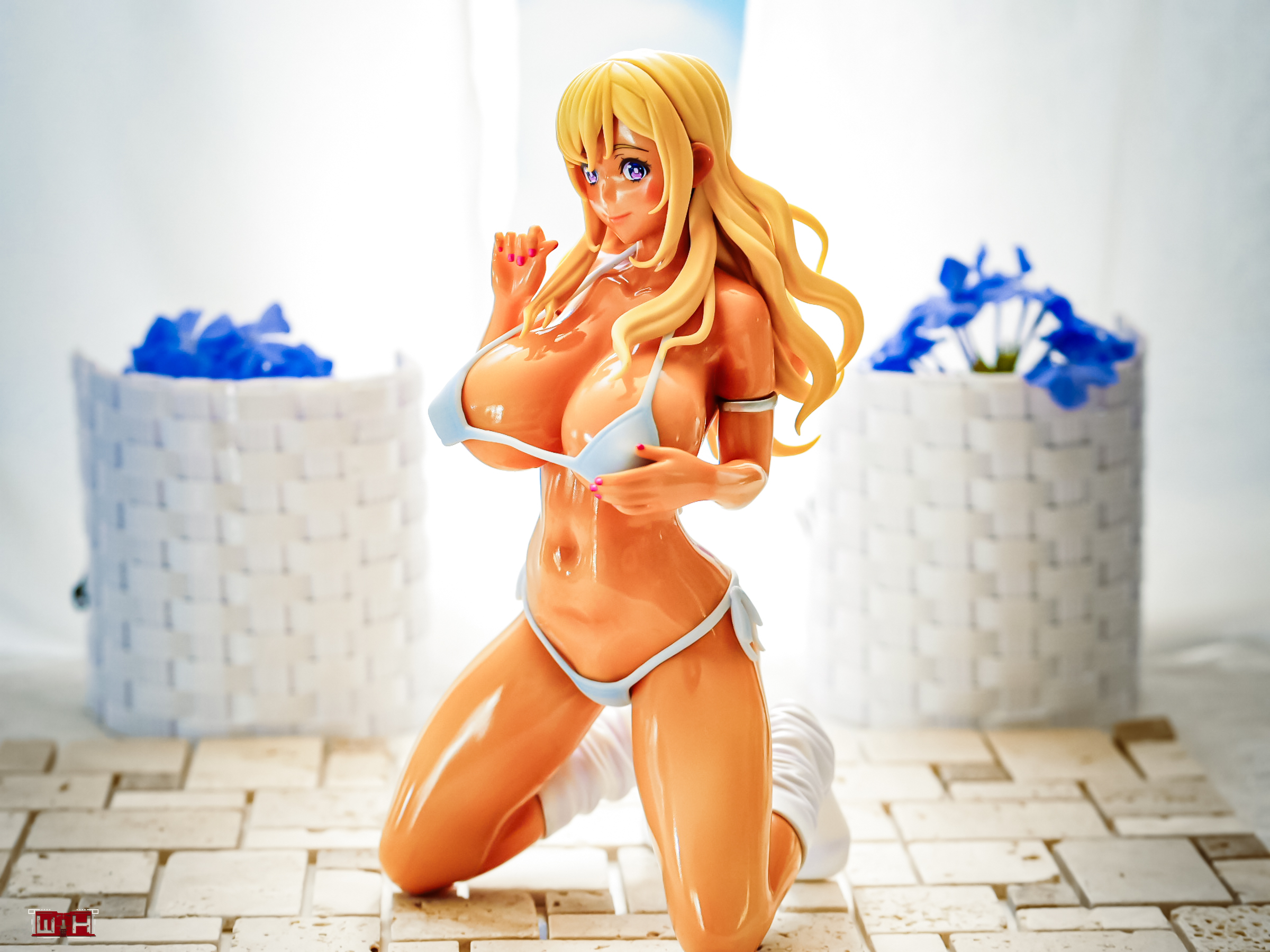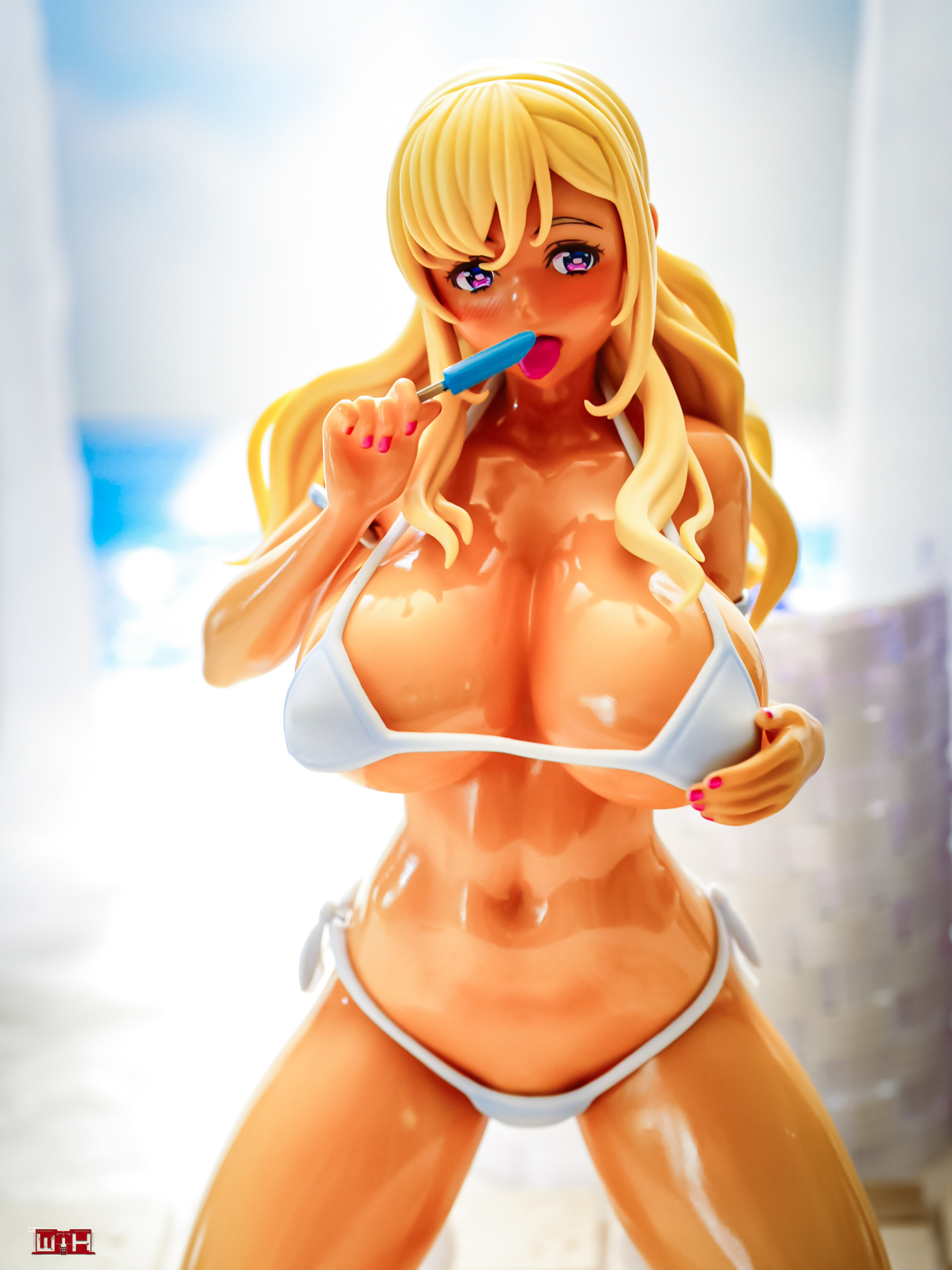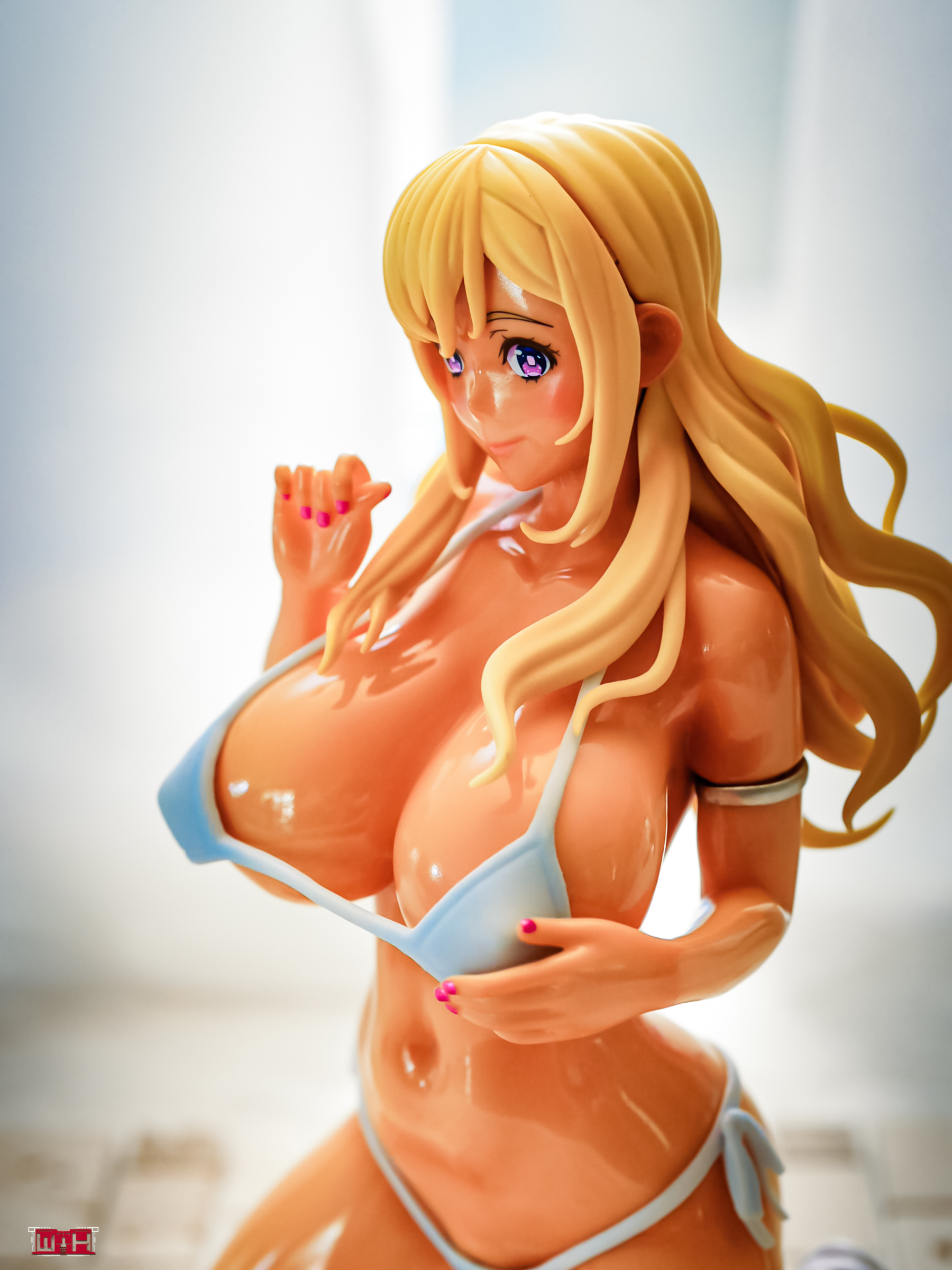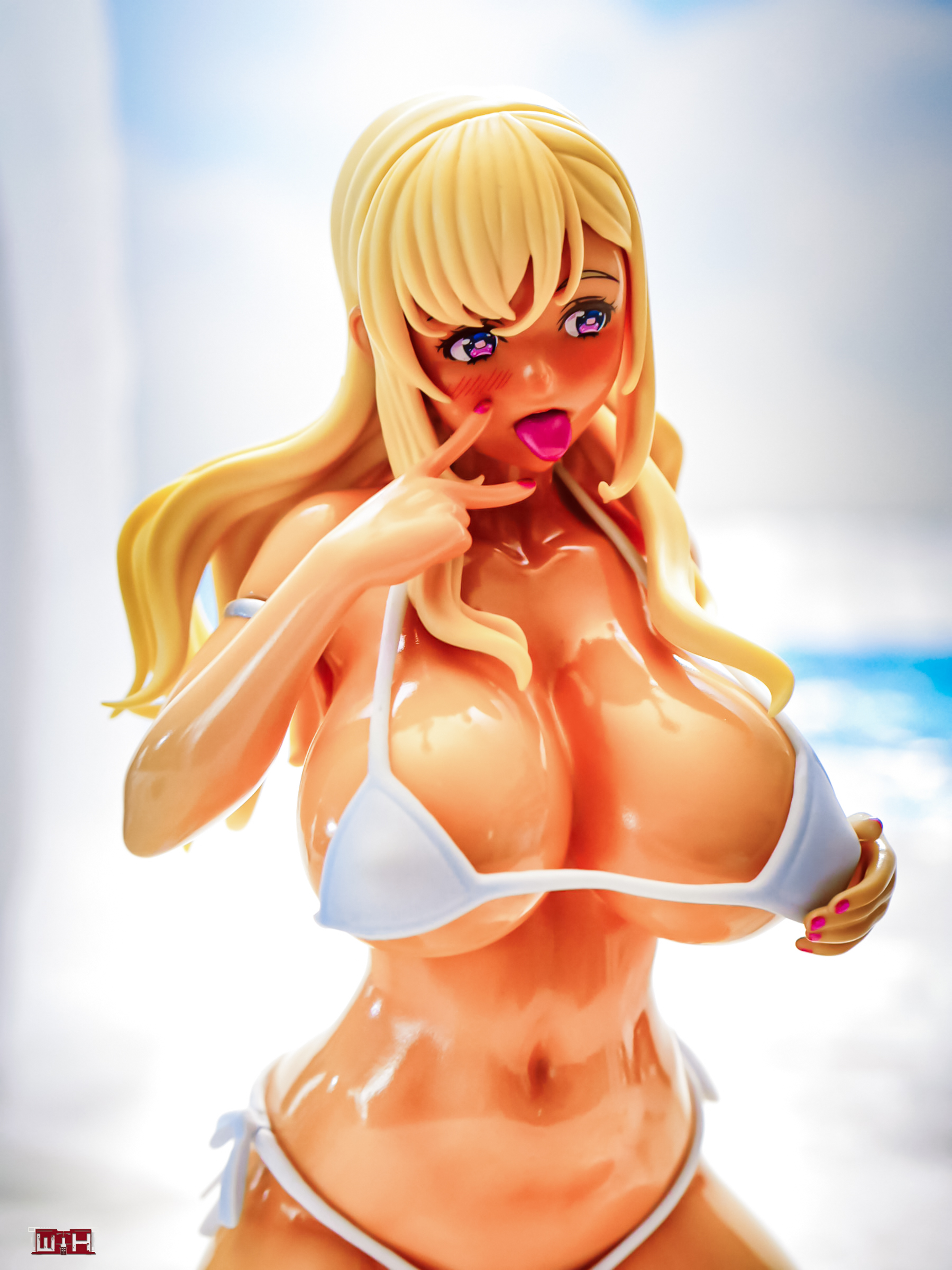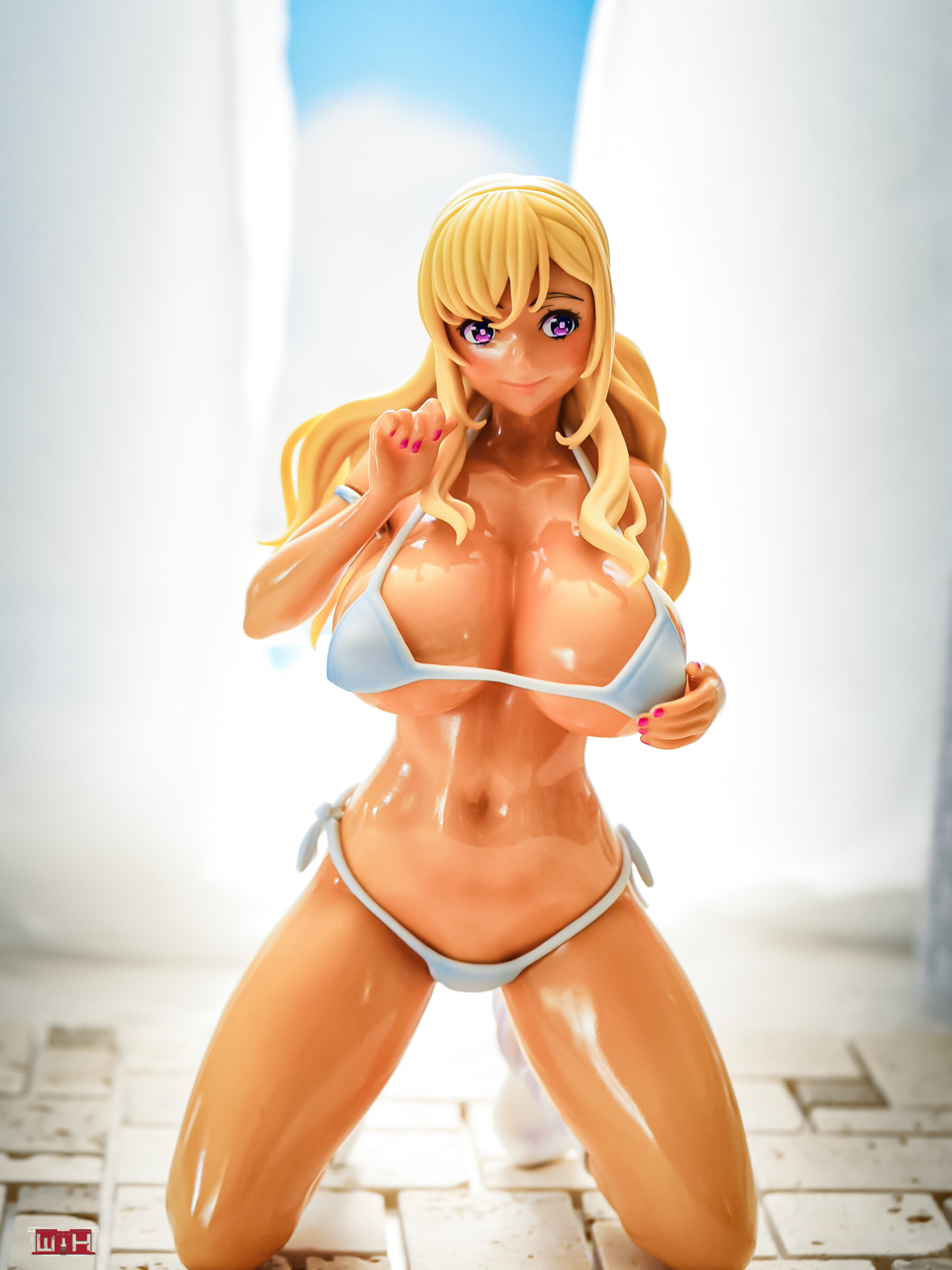 Speaking of her body Shiina Chieri is so hot ♥♥♥
Her wide hips look really sexy as well as her nicely sculpted belly, I like that the sculptor made it soft looking and a bit squishy. Most prominent though are probably her generously sized boobs, common for your hentai heroine next door. In this figures case they are huge, but don`t defy gravity, I see no place for complains. Also her pink nipples look great next to the tanned skin. Her butt is nicely shaped, it just appears a bit dwarfed by the size of her boobs.
The sexy figure is presented in a kneeling pose, which highlights her hips, thighs and belly. The arms allow you to display her in a variety of ways, playing around with the different arms was fun.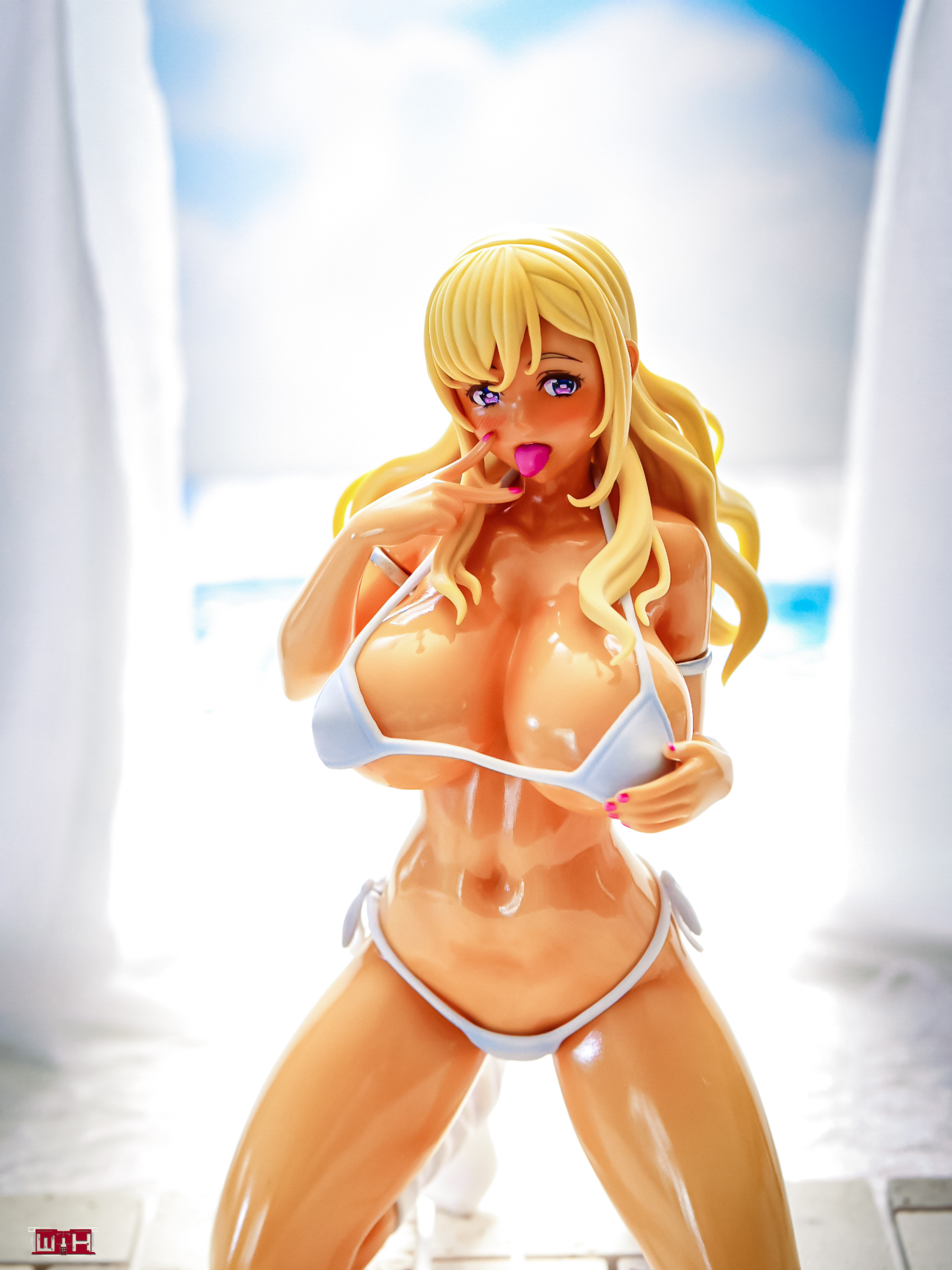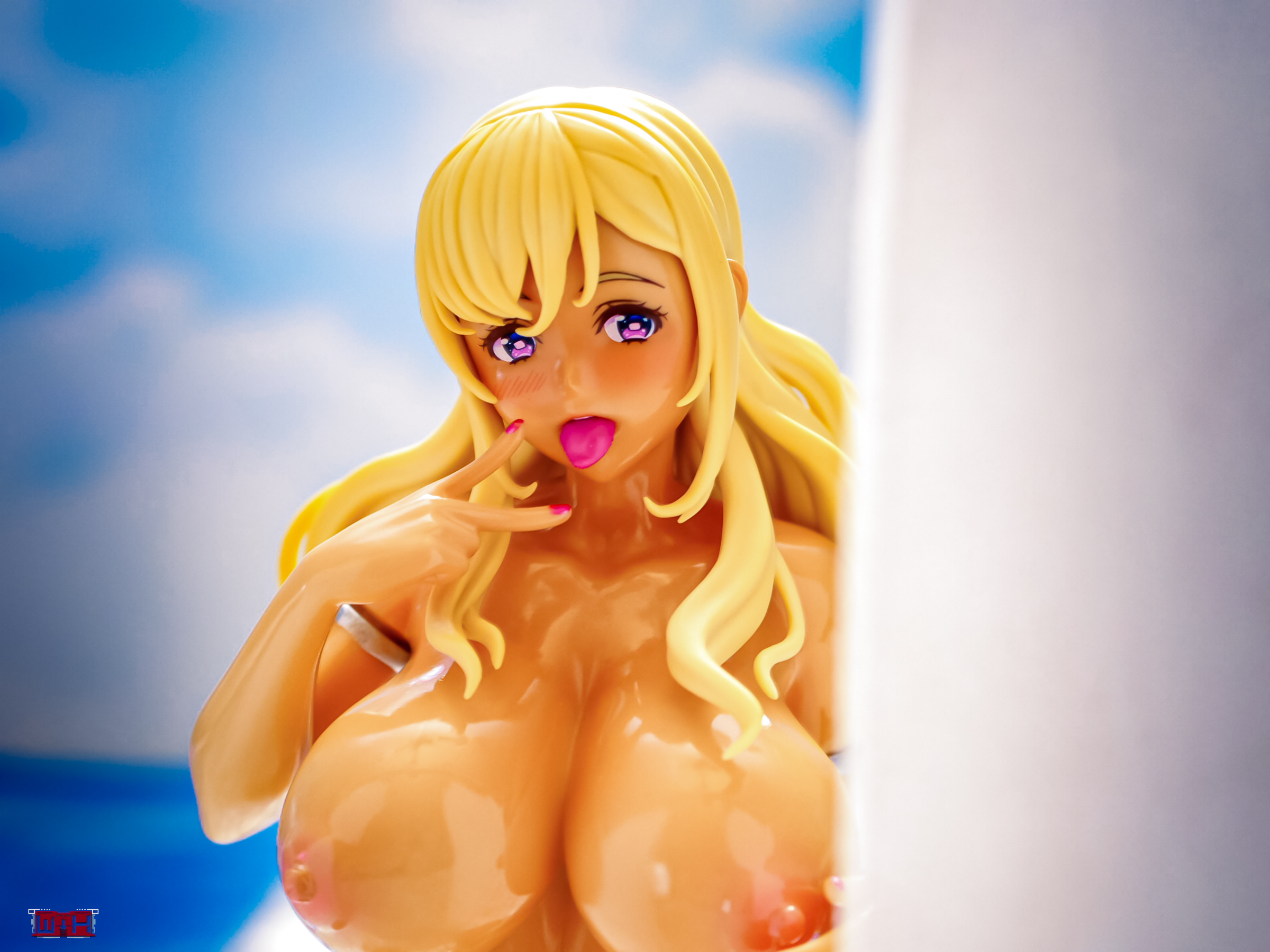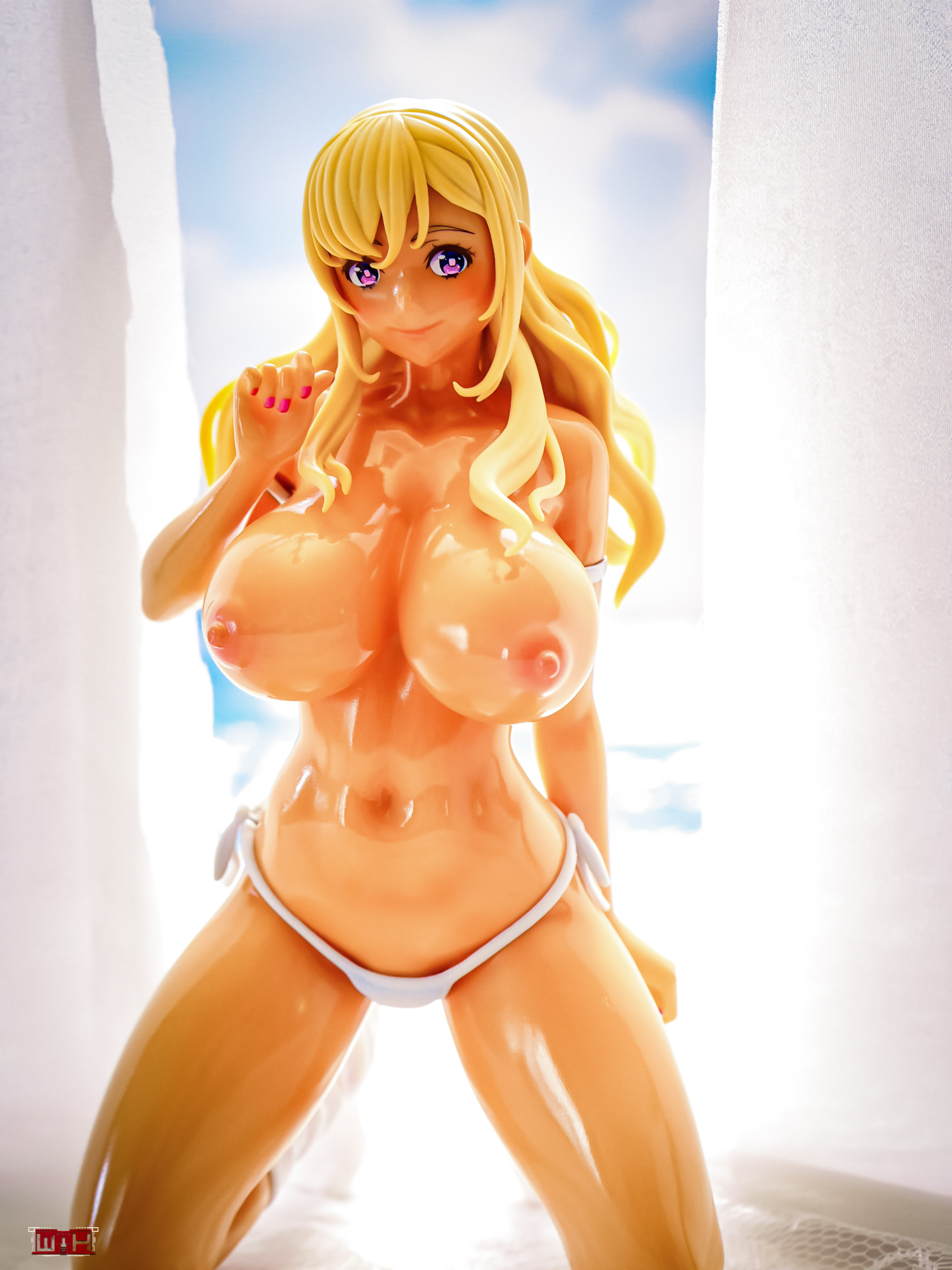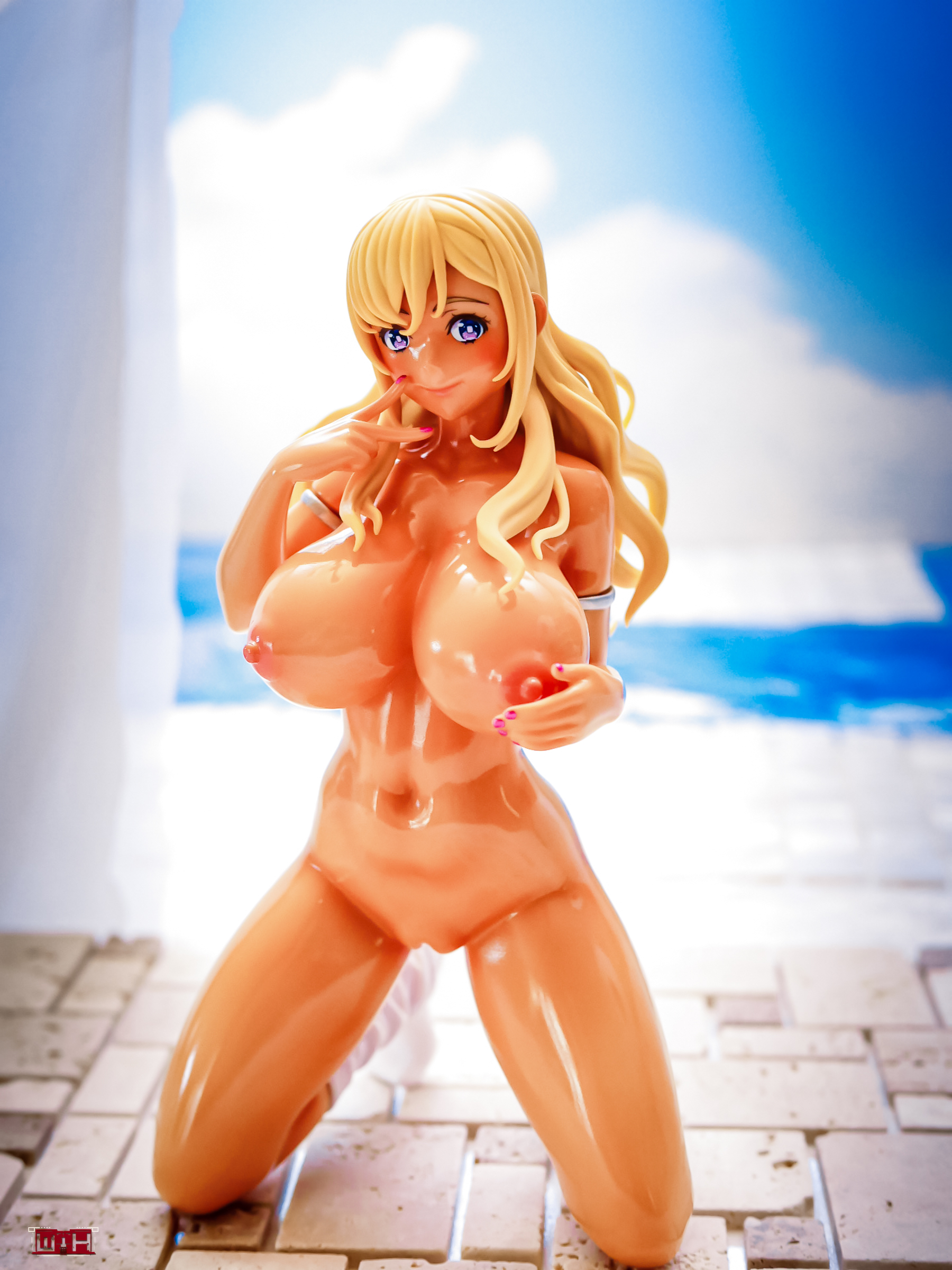 Without her panties Chieri looks quite beautiful as well with full focus on her hips and lower abdomen, you also notice her cute cameltoe, the figure has sculpted genitals, but they are presented in a subtle manner.
And no! you can`t insert anything there, which seems to be en vouge with ero figures these days. But such a figure won`t come into my house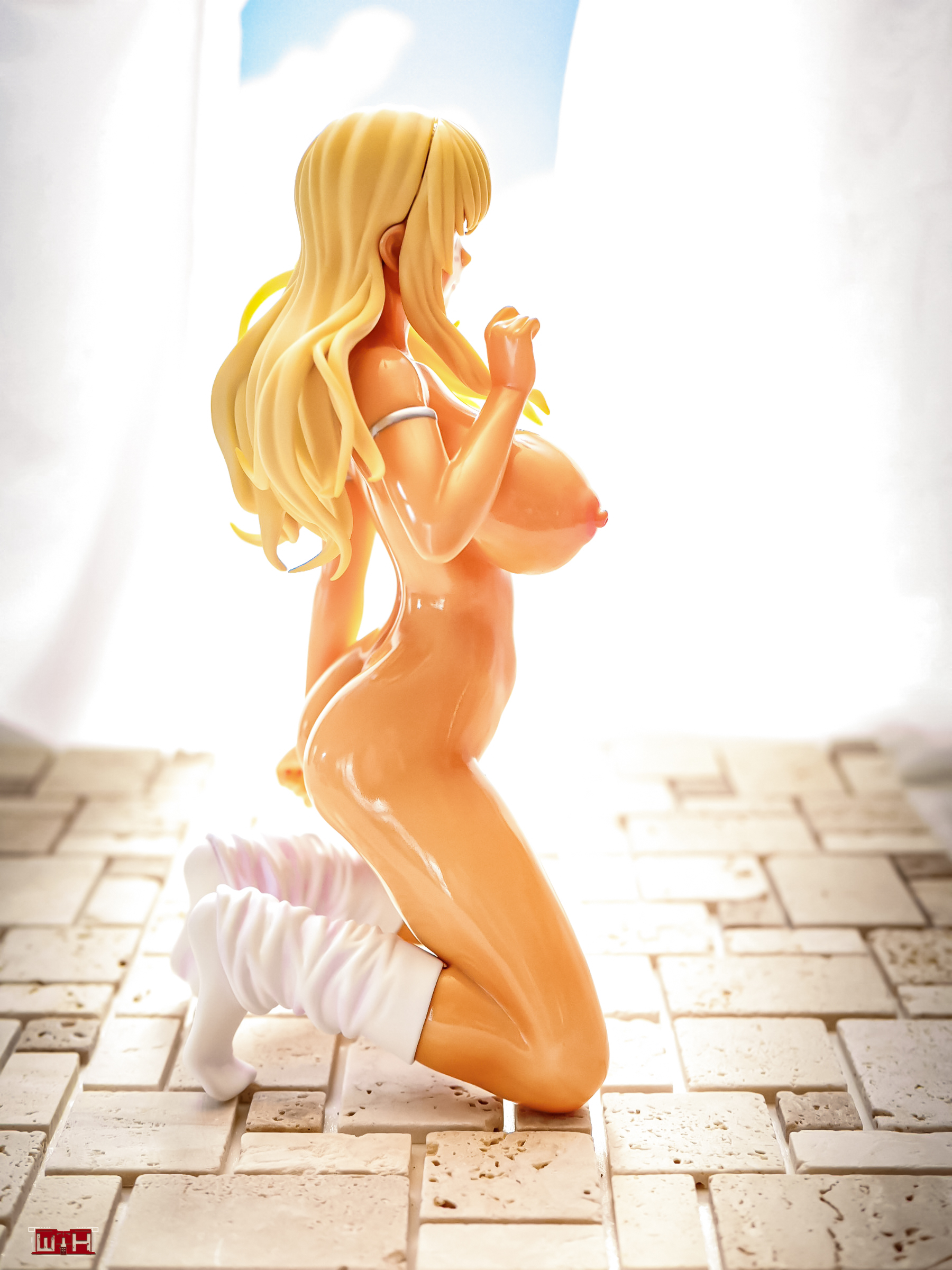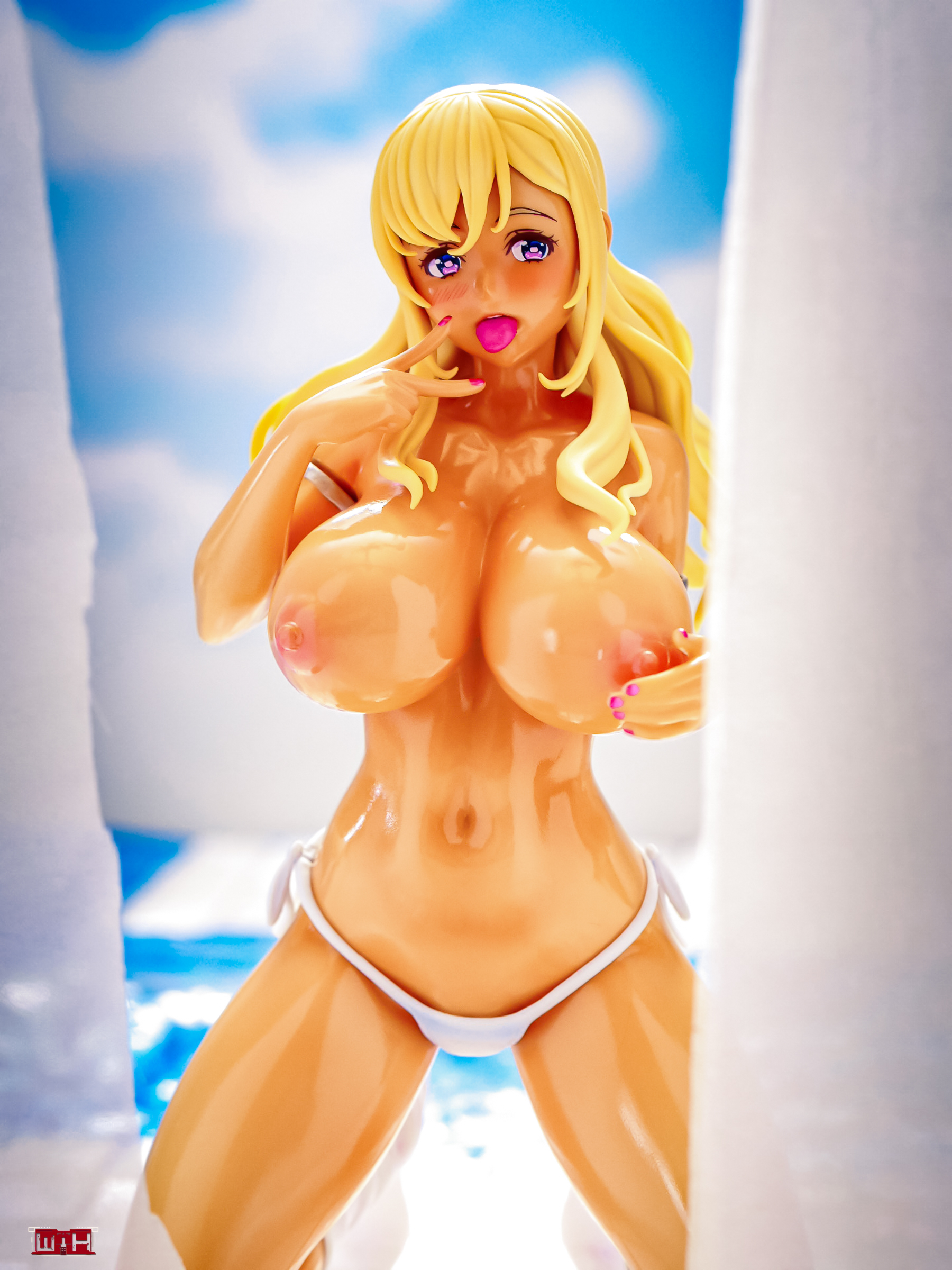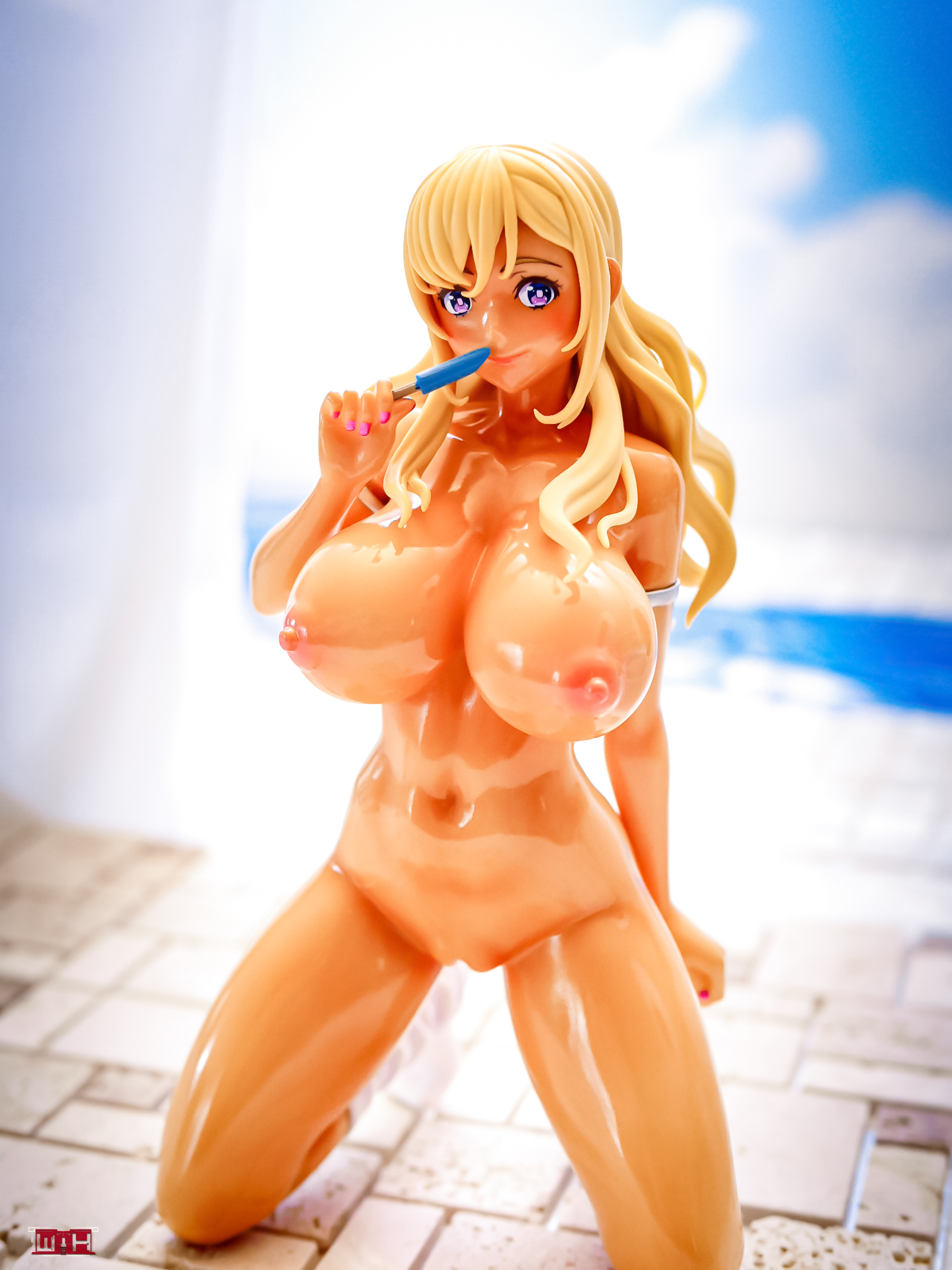 Final Words
Shiina Chieri from Q-six is a very nice figure adaption of the hentai heroine, she has a very cute face, the other face is nicely lewd, but still cute. The figure has a gorgeous body with a splendid bosom and extremely detailed belly.
Her tanned skin looks fantastic and the glossy finish of the Extremely Limited Distribution Edition is very nice to look at. She is so beautiful that she looks best when displayed without clothes or half nude, also since the bikini top is not that great. the different display options of her face and arms are a very cool extra to have. I will try out these pubic hair decals another time. This is my first purchase of a Q-six figure and I'm pleasantly surprised by the quality of it.
I will pay more attention to their future releases, in case they are only mildly lewd I'd get another one.