A new figure review this week, Slingshot Swimwear Girl is here for you, this nice lady already my third figure of Rocket Boy, one of Native's more prominent branches. I like that the company adapt colorful erotic illustrations, the figures always turn out sexy, but also kind of cute and that is a good reason to keep an eye on their future releases.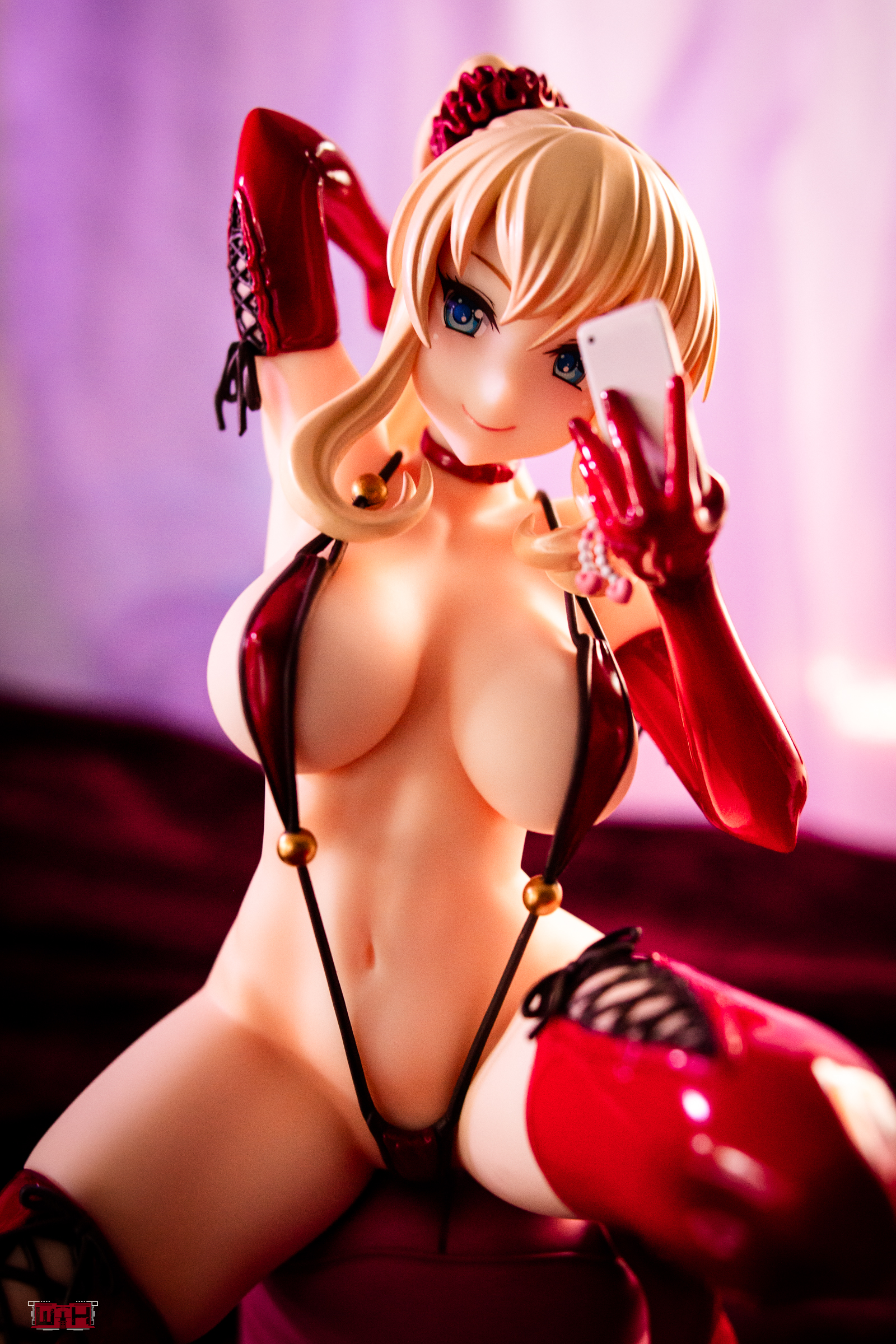 This figure is actually a bit over the top, I won't say that I have a interest in latex fashion, but nevertheless what I liked about that figure is the ojou – sama personality combined with an "interesting" outfit and the captured activity.
Slingshot Swimwear Girl is an Limited + Exclusive figure made by Rocket Boy and distributed by Native, she was released in mid September 2017. The figure was sculpted by Hokke, the character is based on the art of Cle Masahiro, the pixiv works look really nice. The attractive figure is scaled 1/6 and in her pose she measures 22 cm.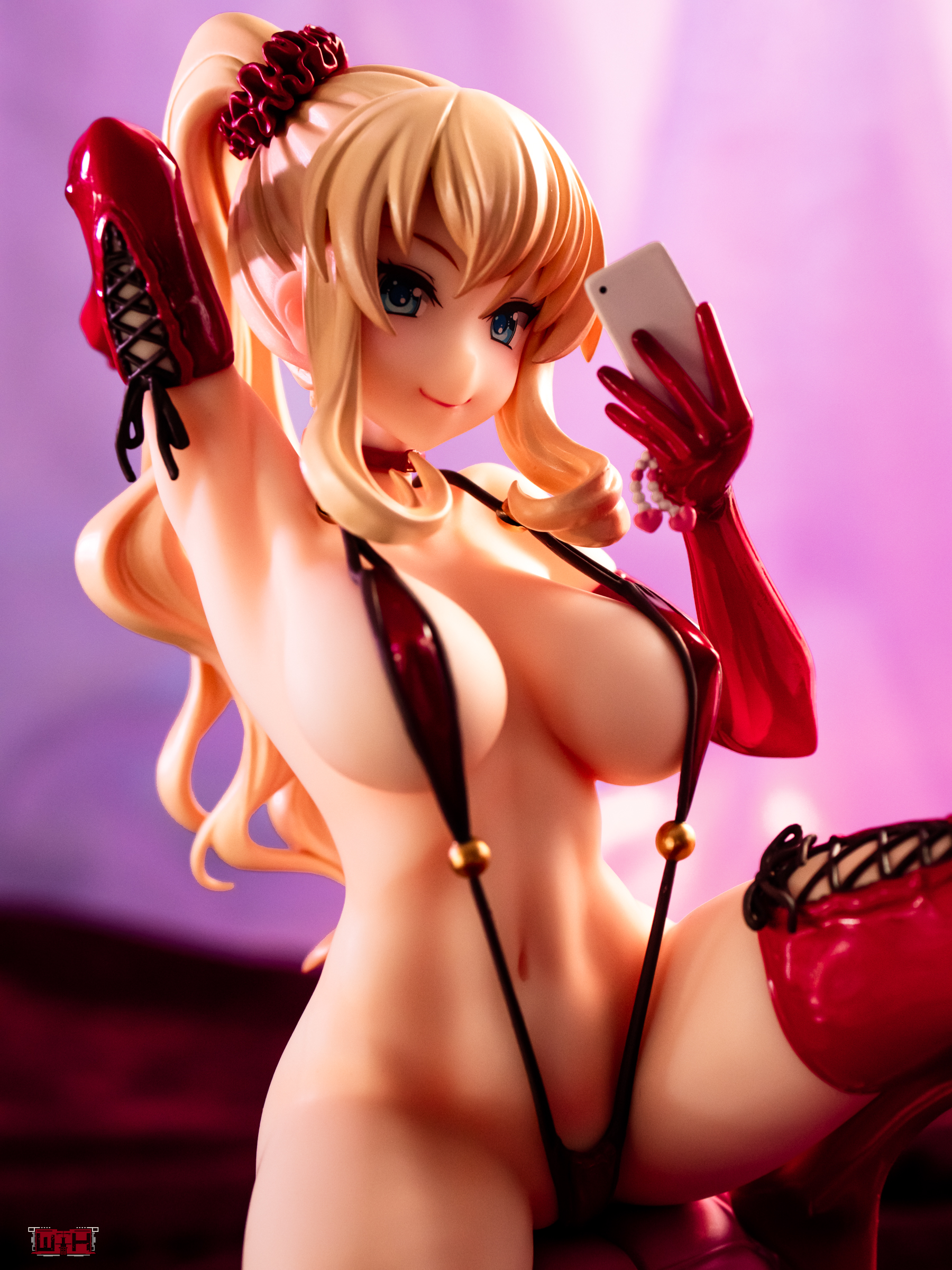 The figure has a red floored base and can be placed on a fancy, pink stool.The stool is a very good base for the figure, she looks great on it. To adapt the illustration faithfully, a high school school uniform and bag are included, it's a combined piece, you can't use the bag separately. A smartphone is included, the figure can hold it in her hand, it shows the figures illustration on the display and has girly, heart shaped straps.
The figure is portraying a beautiful highschool girl with a cute round face and pointy chin. She has brown eyebrows and expressive, detailed, pretty blue eyes. Her mouth shows a gentle smile. Overall she looks like an ojou – sama from a good situated family. Judging by her appearance and facial expression, the girl is well nurtured and happy, she doesn't look like an arrogant gyaru to me. The figure has beautiful, long blonde hair styled into a great looking ponytail.
I really like the smooth, wavy strands with their subtle curl. It's good that the figures hair color resembles real blonde instead of gaudy yellow. The elaborately sculpted fringe gives the figure a cute appearance as well.
So what is this beautiful girl doing here, a selfie to capture her youthful beauty or is it for Twitter? Considering that she is probably still in highschool… Don't upload it! It was interesting that this figure adapted part of the selfie culture or better said sexy selfie. there are many opinions about that on the web, most prominent are the opinions against it, be it women searching for verification of men. Or that people who upload their sexy selfies are overly narcistic or insecure.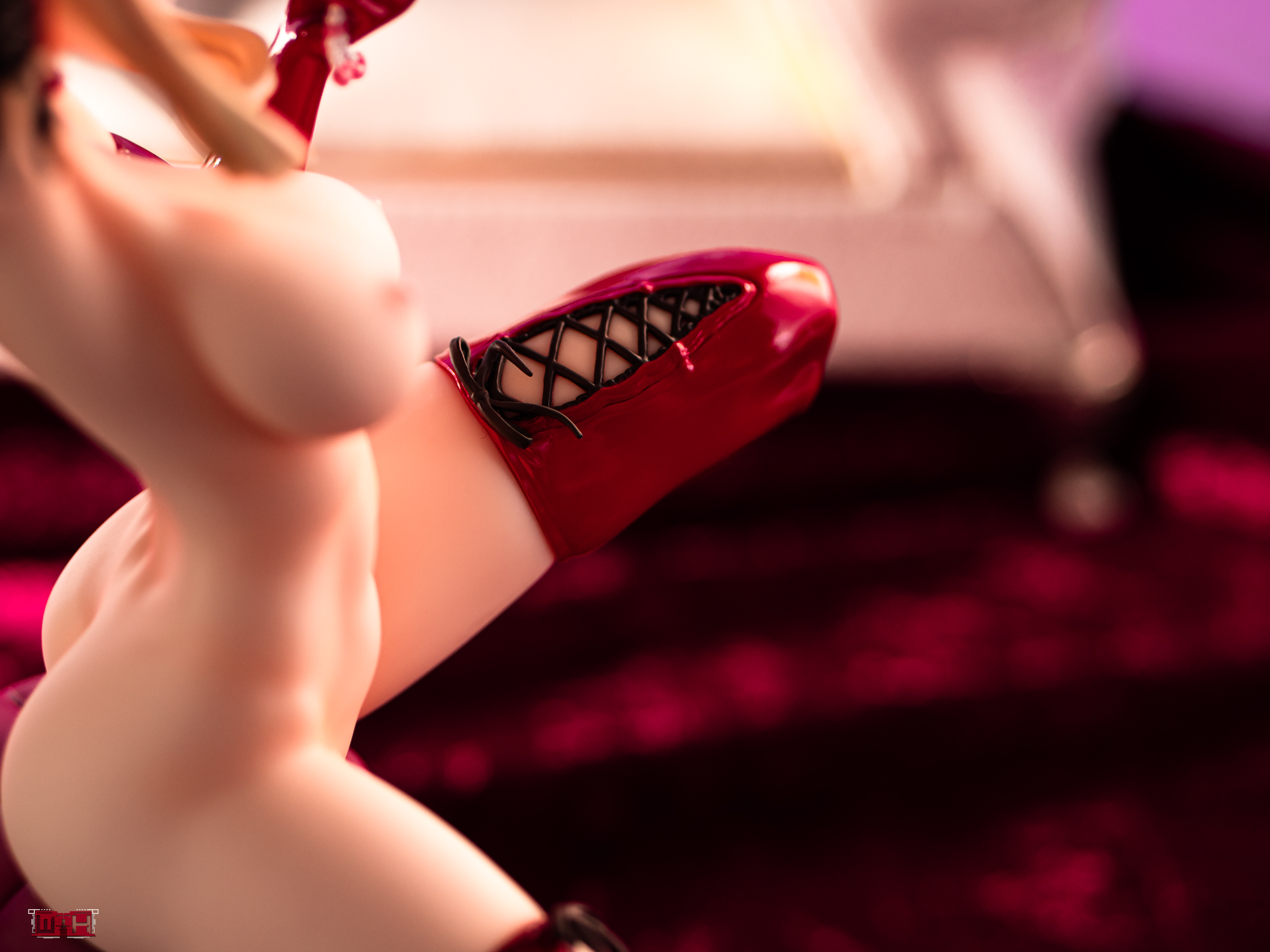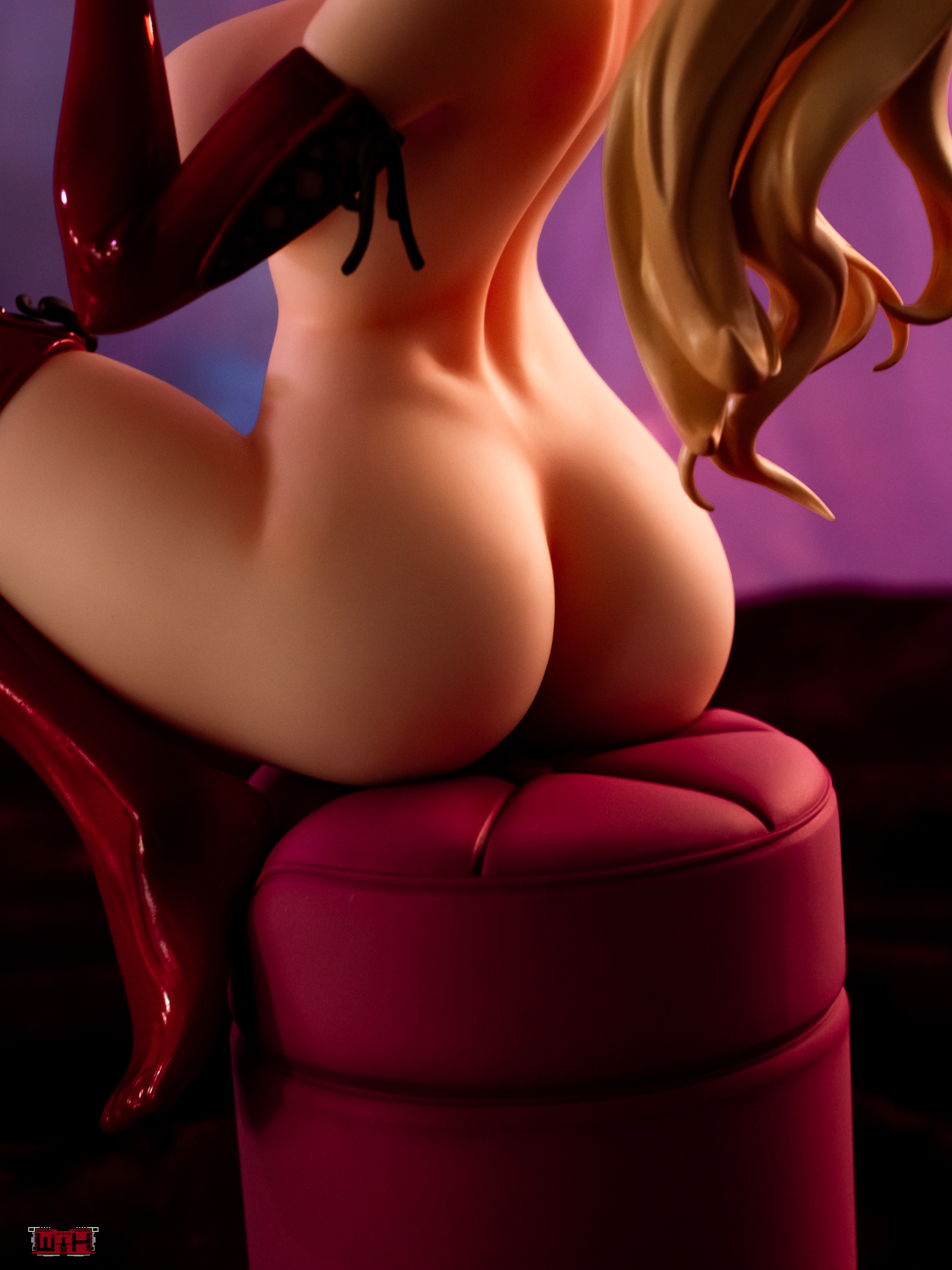 As male I have nothing against pretty girls taking selfies of their faces or body to show them on social media, but always remember to keep it tasteful. When someone is mentally grown up and self aware enough, feels attractive and want to capture that moment it's up to oneself if she or he wants to be seen and judged on the web.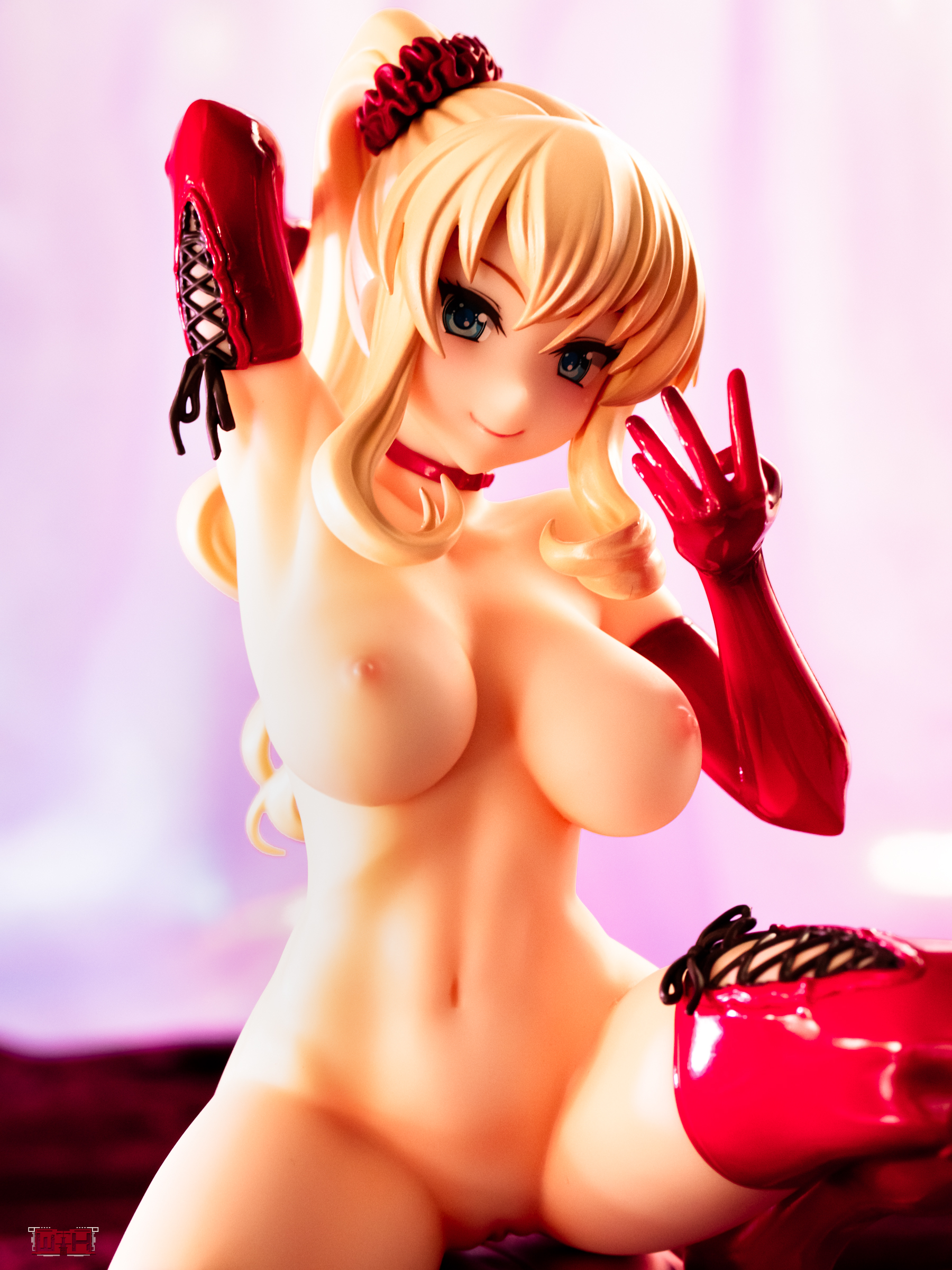 I think it's cute how the girl curiously admires her sexy selfie portray on her smartphone screen with a bit of pride. Our Slingshot Swimwear Girl has a weird perception of a sexy dress, it's actually hilarious what this figure is wearing.
The girl is dressed in a shiny red slingshot bikini accompanied by arm long gloves and latex stockings with lacing. The extremely shiny red looks really good on her. The darker shading gives everything a nice and realistic look.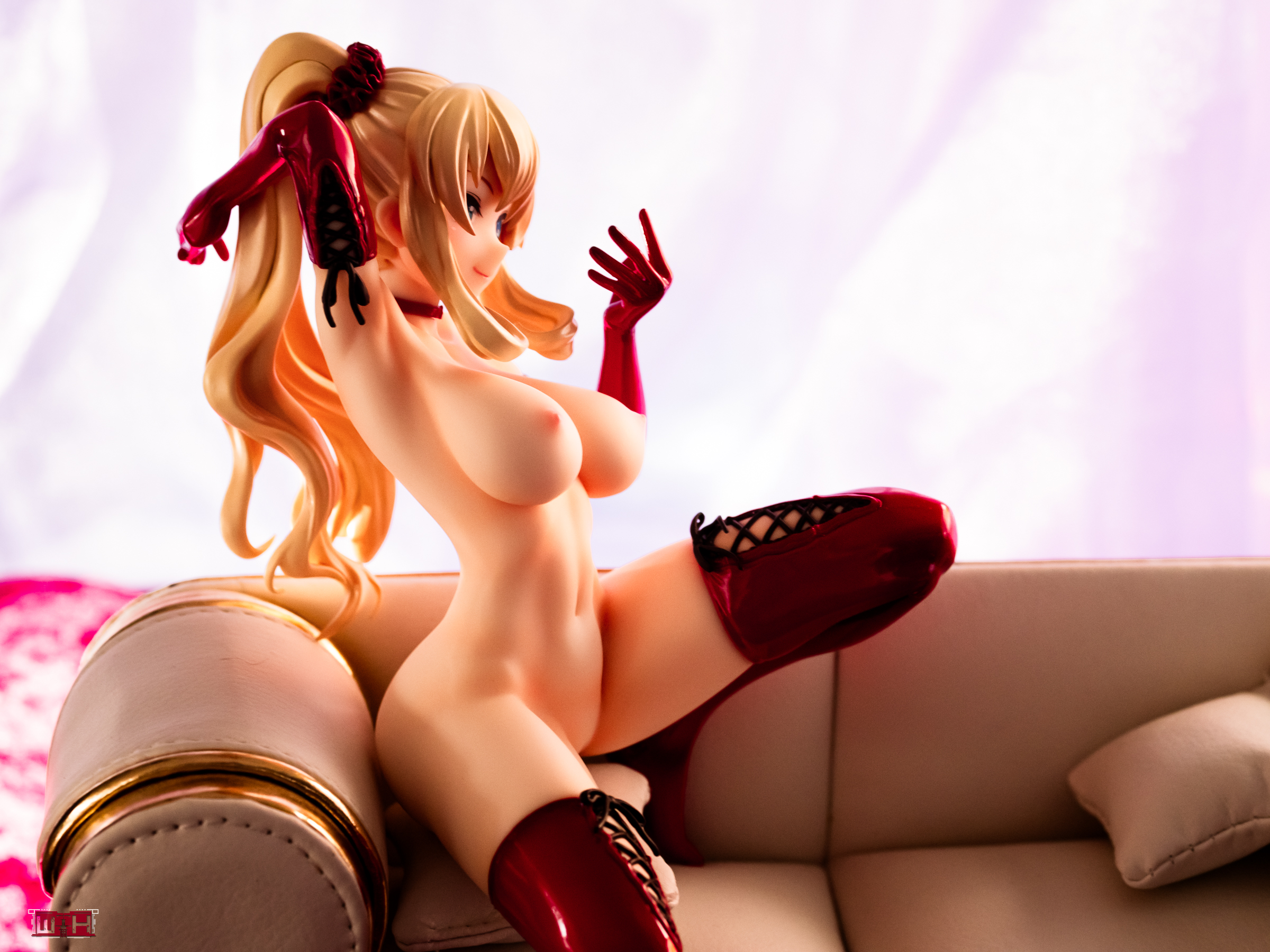 As you have probably already noticed, the figures body sculpting is excellent, she ïs beautiful in every regard.
The figure has an attractive, curvy body and she has smooth looking skin. The figure is equipped with rather big boobs, by ero figure standards it's still a modest size, I think it's nice not to have more normal sizes from time to time. A few people also mentioned the sideboobs which are a nice aspect, too. The pose turns out to be a nicely articulated one, the arched back highlights the figures especially nice butt, I also like how the stockings accentuate these lovely thighs. Of course there is a cast off option, although the outfit is already super skimpy from the beginning. Nevertheless, that way you can admire her beautifully sculpted body a bit more. Her boobs look great and she also has a pretty vagina.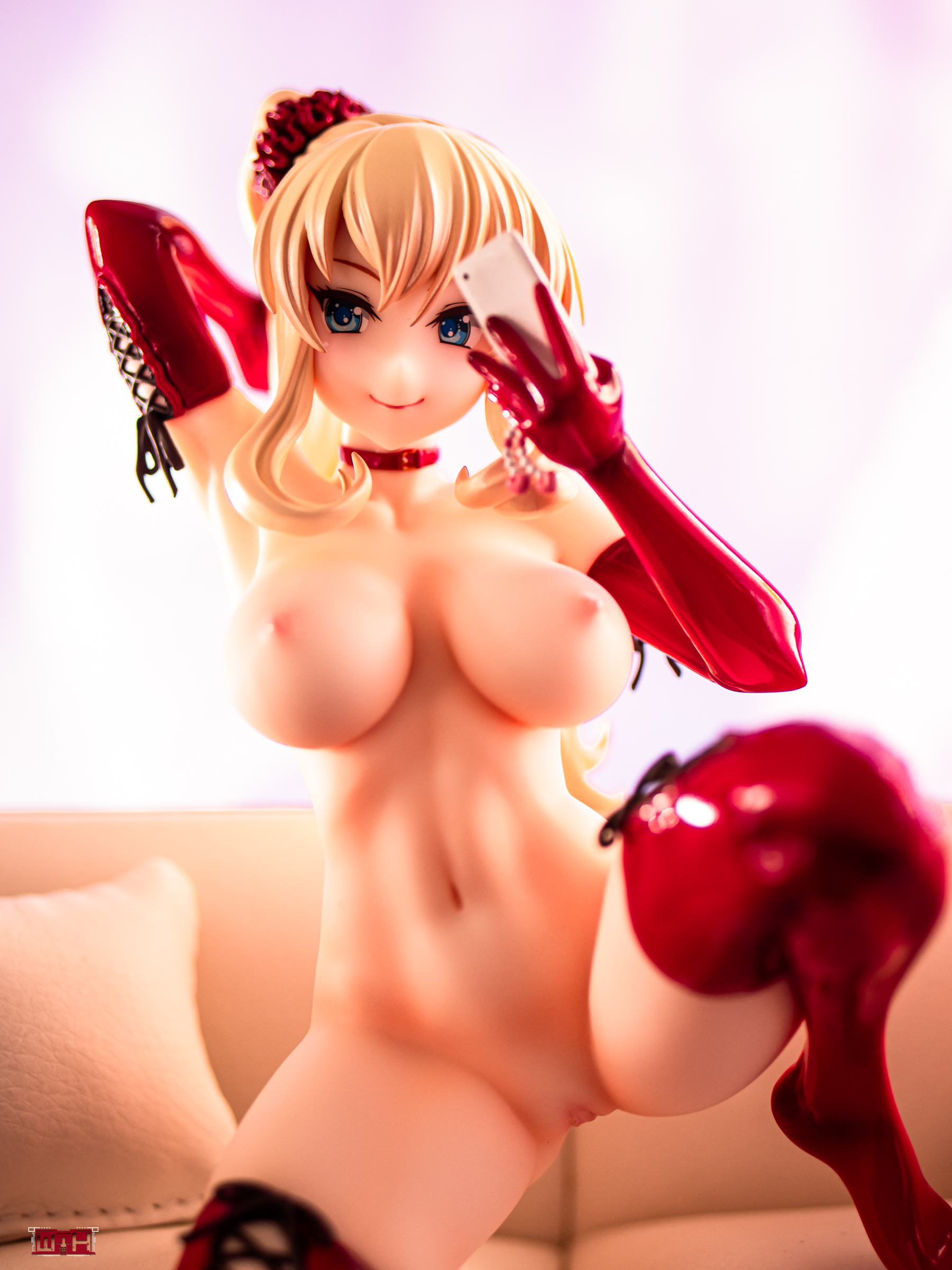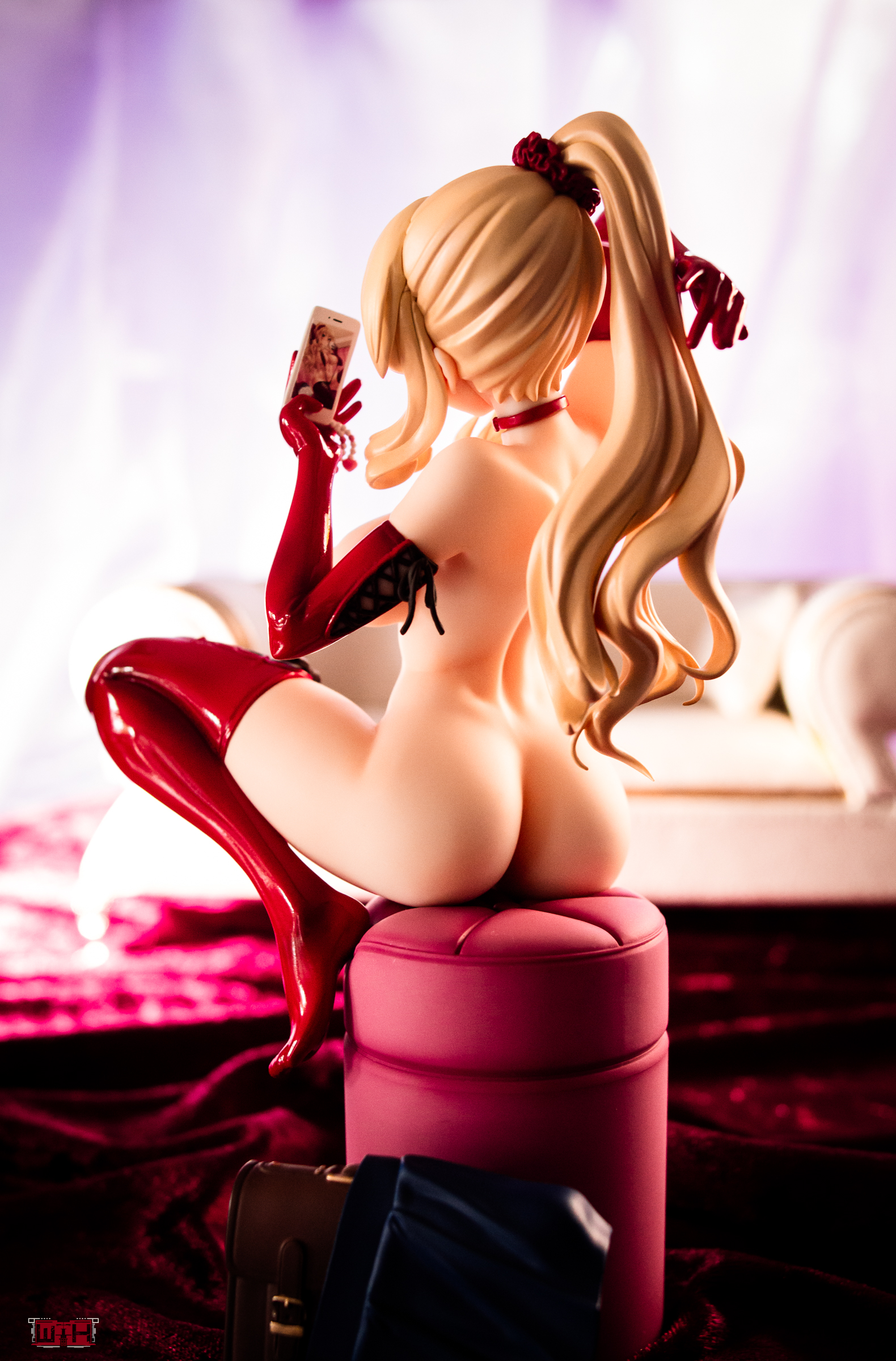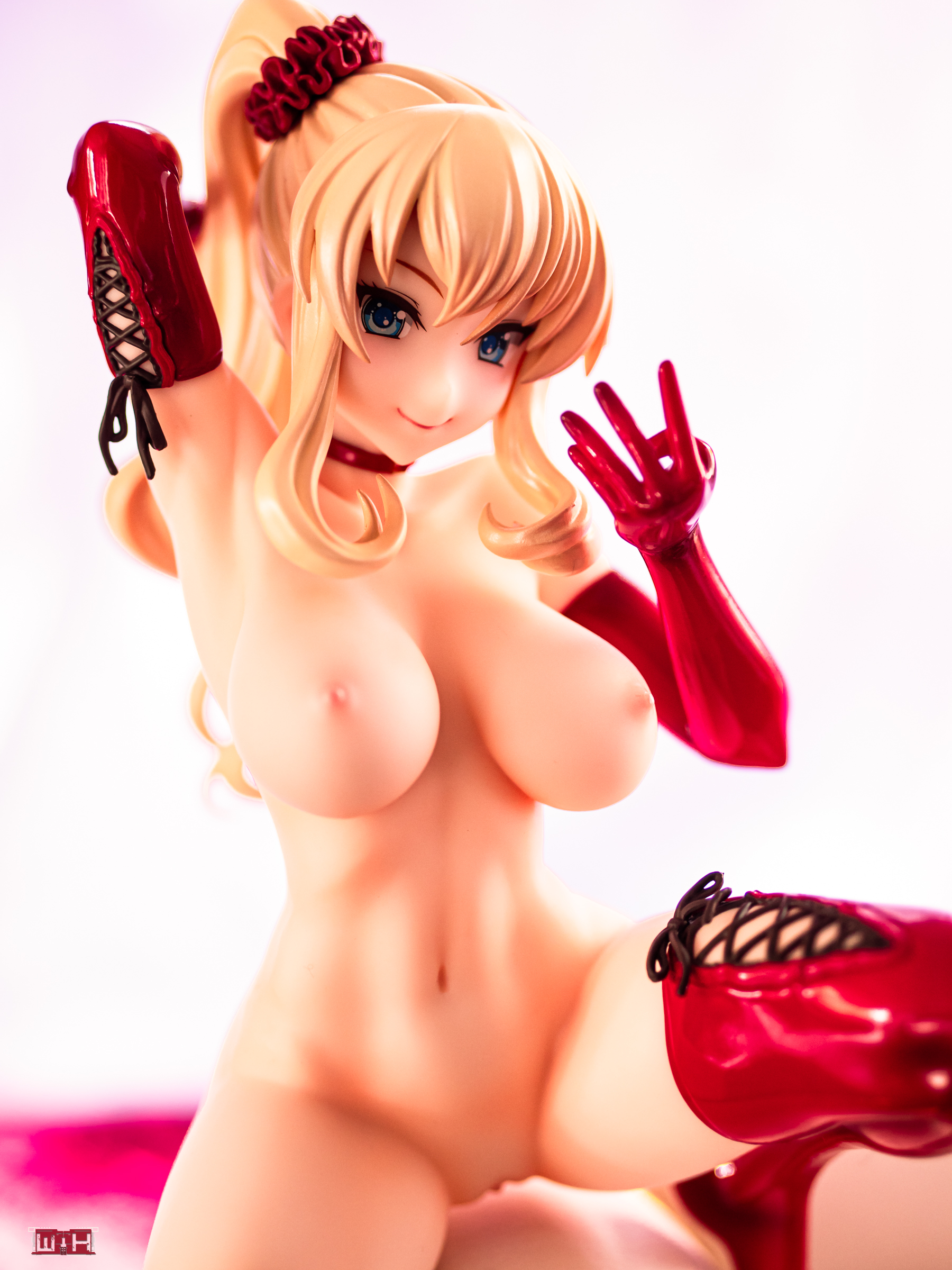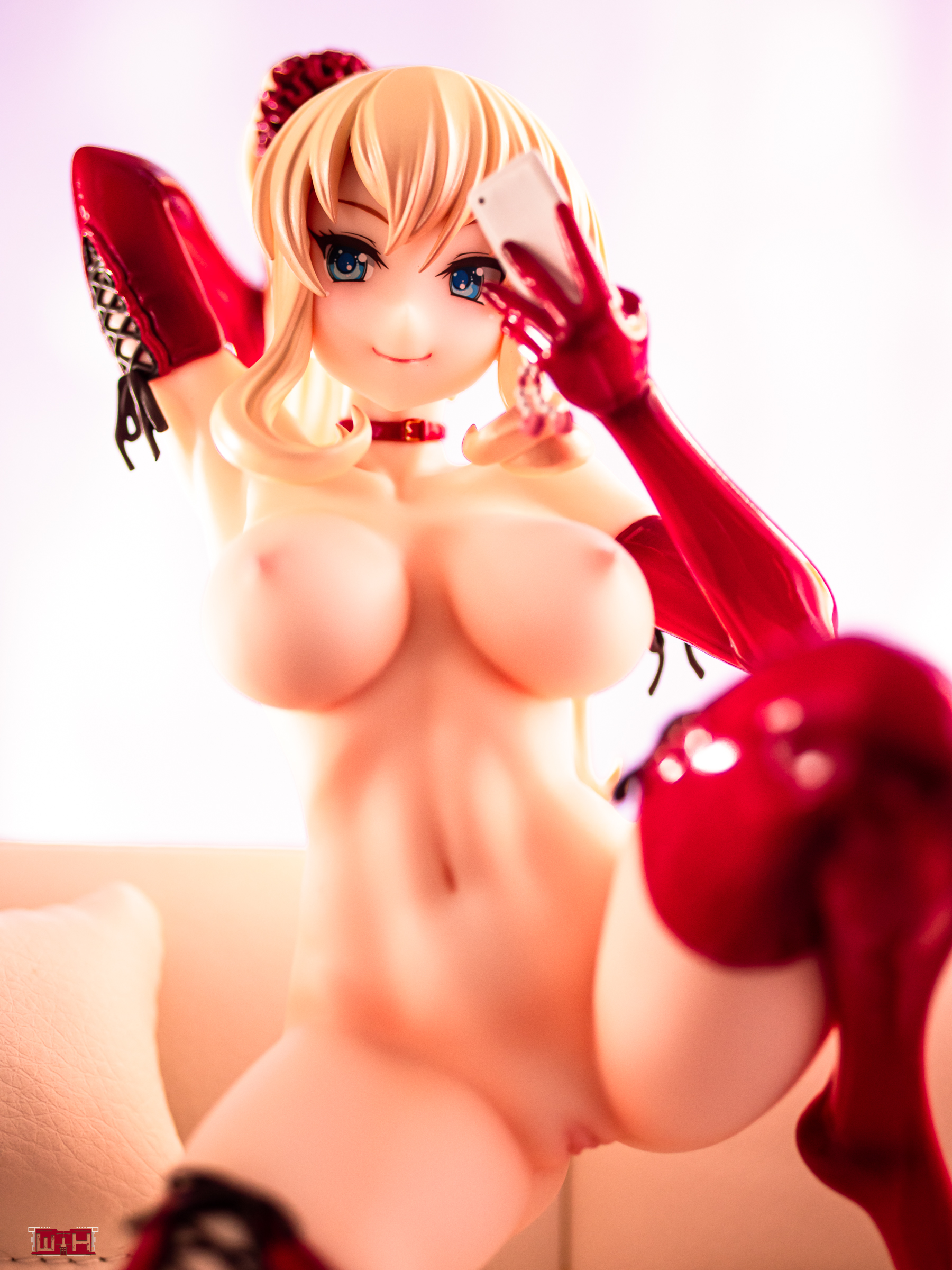 Final Words
The figure is a wonderful adaption of the art of Cle Masahiro, he illustrates especially adorable faces and the ecchi bits aren't bad either. A thing I always like about Rocket Boy, is that they always manage to give their figures a sweet appearance and certain kind of personality. Slingshot Swimwear Girl is a very good example for that, her lovely expression is great. Overall the figure on her base looks stunning, articulation, the perfect body sculpting and the expression of her face, everything is very well done. It's a gorgeous young lady in a quite naughty outfit.